Brands may come and go, but not many reputable ones like TATA exist or are established today. TATA is popular not only because of its presence, experience or vision but also because of the people who have led the company – Jamsetji Tata in the past and Ratan Tata today. In this article, we will inform you about TATA Group net worth, revenue and turnover.
TATA Group Net Worth, Revenue, Turnover
TATA Group is one of the biggest companies in India. Their fingerprints can be found in many sectors. They have contributed significantly to the Indian economy through their various projects. Let us learn more about TATA.
About TATA Group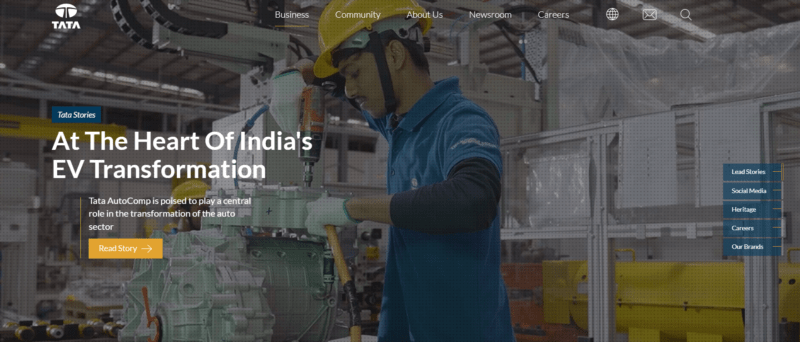 It has been more than 150 years, 155 to be exact since the company was founded in 1868 by Jamshedji Tata. TATA is headquartered in Bombay House, Mumbai, Maharashtra, India.
It is a private company that serves all over the world and they have a presence in automotive, airlines, consultancy, chemicals, FMCG, defense, electric utility, electronics, electric power, finance, jewelry and many other industries.
As of 2022, the company had no less than 935k employees on their payroll. Let us now learn about TATA Group net worth.
TATA Group Net Worth
Ratan Tata's net worth is said to be 3,800 crore rupees which though a big amount is not enough to justify the earning from 29 publicly listed companies and many more that are operated by TATA Group.
As we mentioned above, neither Ratan nor his company TATA features high in lists of the richest people or companies with the most earnings where they should be among the top 10 at the least. This is because 66% of the earnings of the TATA group is set aside for philanthropic purposes each year.
TATA Group net worth in 2022 or the combined market capitalization of all TATA companies stood at 311 billion dollars which translated to 23.6 trillion rupees. Between 2021 and 2022, the revenue earned by all the TATA companies totaled 128 billion dollars or 9.6 trillion.
These contracting numbers should help paint a picture as to why TATA and Ratan both miss out on a lot of lucrative lists where names like Ambani and Adani are frequent. Let us now checkout TATA group revenue.
TATA Group Revenue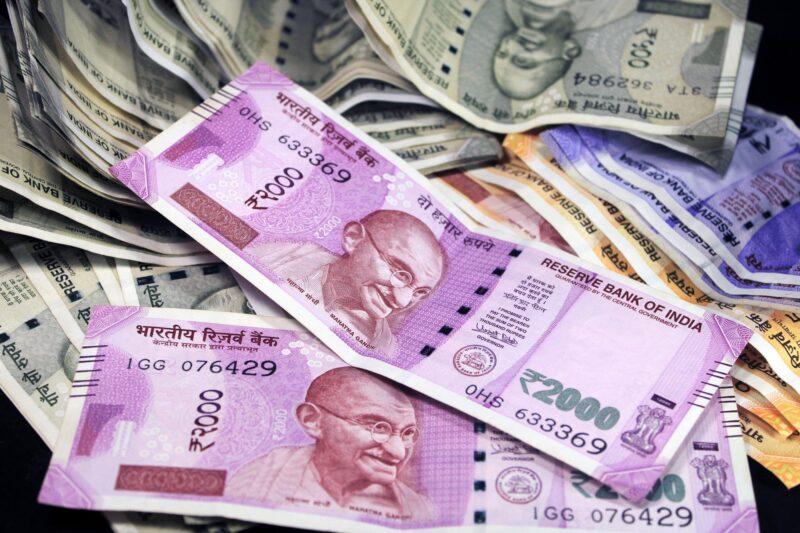 TATA group revenue in 1996 stood at 6 billion dollars and in 2000 it stood at 8.9 billion dollars. Bigger jumps awaited as the company revenue in 2004 hit the figure of 14.2 billion dollars before hitting the figure of 21.9 billion dollars in 2006.
The biggest jump in the revenues came in 2008 when the company revenue almost tripled to 62.5 billion dollars before the growth slowed down and only 67.4 billion dollars were earned in 2010.
In FY 2011 the revenue touched the figure of 83.3 billion dollars before revenue crossed the 100 billion dollar mark in 2012 as the companies registered a combined total of 100.09 billion dollars in revenue. 2013 was the only time the company revenue came down below 100 billion dollars as the group of companies posted a revenue of 96.8 billion dollars before returning to over 100 the very next year.
The figures for 2014 and 2015 stood at 103.27 and 108.78 billion dollars respectively before there was a drop in earnings in 2016 as the figure fell to 103.51 and then 100.39 billion dollars in 2017.
In FY 2018 the figures again rose as the new number was 110.7 and 113 in 2019 before falling again in 2021 to 103. However, in 2022 the company achieved its all-time high revenue of 128 billion dollars.
Also Read: Ratan Tata Net Worth, Income Per Day, Assets
Valuation of TATA Group
TATA Group has a whole list of companies in no less than 100 countries spanning across 6 continents and their products and services are available in 150 countries around the world.
They have 29 companies that are publicly listed which helped them bring in 128 billion dollars in revenue in FY 2021-22. These huge figures took the valuation of TATA Group to 311 billion dollars in March 2022.
From a revenue of just 6 billion dollars in 1996 to a revenue of 128 billion dollars in 2022 the company's revenue has multiplied over 20 times in 26 years. However, because 66% of the earnings of TATA companies are donated each year to various trusts under TATA the figures don't look as huge as they are expected to be.
TATA Group Turnover
As stated TATA Group turnover has constantly been on the up from at least 1996 to 2022 in which period it has multiplied the yearly revenue by 20 times. The company revenue did see setbacks now and then as the growth slowed down a few times or the revenue for a succeeding year went down as compared to the previous year.
Even when the company revenue hit the figure of 100 billion dollars the first time it didn't put the figure again the next year but returned to the new norm a year after that. After seeing its latest fall in revenue in 2021 when the company just made 103 billion dollars, an all-time high of 128 billion dollars in revenue was earned in 2022. Now you know about TATA Group turnover.
| | |
| --- | --- |
| NAME | TATA Group |
| Founder/CEO | Jamshedji Tata |
| Net worth | Rs. 3,800 crores |
| Valuation | 311 billion dollars |
| Revenue | 128 billion dollars |
| Stock price | – |
TATA Sons Net Worth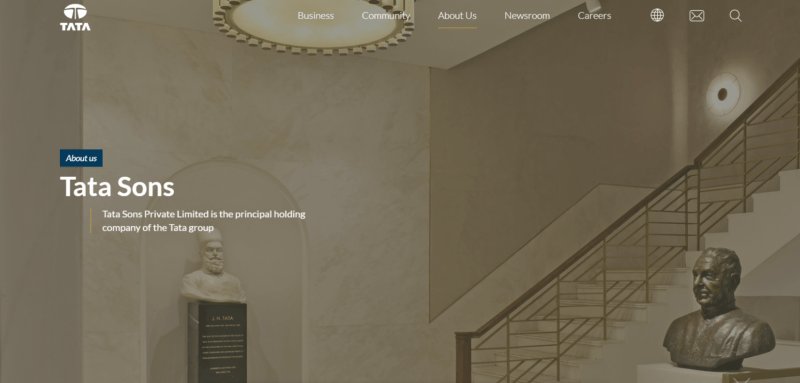 TATA Sons is the parent company of TATA Group and was founded in 1917. Tata Trusts are 66% owners of TATA Sons whereas Shapoorji Pallonji Group is 18% owners. TATA Sons was established as a trading enterprise but later on, went on to become the principal holding company of TATA Group. Now since they are the parent company of such a big group of companies and hold the bulk of shares, properties, etc. associated with their other businesses surely TATA Sons net worth must be huge.
Well if Fortune India-Waterfield Advisors are to be believed, TATA Sons has a net worth of 176 billion dollars or 14.04 lakh crores. The company holds shares of 15 listed group companies of which 1 is a non-group company and 40 unlisted subsidiaries.
Acquisitions Made by TATA Group
Not everything that owns today came from their company, as a successful business there were a lot of times when they had to acquire other companies for reasons ranging from boosting their own business to cutting out competition, etc.
Now not many of you might not have an idea of the companies that were not originally owned by TATA but rather acquired by them and so let us enlighten you a bit about it. Before we list out these companies, don't forget that these companies have contributed significantly to improving TATA revenue and their net worth as well.
From 2000 to 2010
In February of 2000, Tetley Tea Company was acquired for 407 million dollars. In March 2004 Daewoo Commercial Vehicle company was acquired for 102 million dollars, NatSteel's Steel business for 292 million dollars in August 2004 and Tyco Global Network for 130 million dollars in November 2004.
In 2005 they first acquired Teleglobe International Holdings in July for 239 million dollars then they acquired Good Earth Corporation in October and in December they acquired Millennium in Steel, Thailand for 165 million dollars and Brunner Mond Chemicals for 10 million dollars.
In 2006 they first acquired Eight O'Clock Coffee for 220 million dollars in June then in November they acquired Ritz Carlton Boston for 170 million dollars.
Corus Group was acquired for 12 billion dollars in January 2007 after which they acquired PT Kaltim Prima Coal (KPC) (Bumi Resources) for 1.1 billion dollars in March and Campton Place Hotel, San Francisco in April for 60 million dollars.
In 2008 they first acquired Imacid Chemical Company, Morocco in January then in February they acquired General Chemical Industrial Products for 1 billion dollars.
In March 2008 Jaguar Cars and Land Rover for 2.3 billion dollars and Serviplem SA, Spain. In April they acquired Comoplesa Lebrero SA, Spain, and in May Piaggio Aero Industries S.p.A., Italy which they sold Off in 2015.
In June 2008 they acquired China Enterprise Communications, China, and in October Miljo Grenland / Innovasjon, Norway. Lastly, in 2010 they acquired Hewitt Robins International, United Kingdom.
Also Read: Lenskart Net Worth, Valuation, Revenue
From 2011 Onwards
In June 2013 they acquired Alti SA, France, and then Energy Products Limited, India in December 2014. Next up was Welspun Renewables Energy, India in June 2016 before acquiring Bhushan Steel Limited, India in May 2018.
In February 2021 they acquired 68% of BigBasket via TATA Digital and 55% of 1mg via TATA Digital in June of that year. In October 2021 they acquired Air India, Air India Express, and a 50% stake in Air India SATS for a price of 2.3 billion dollars before making their last acquisition in 2022 when they acquired Nilachala Ispat Nigam Ltd in January for 1.5 billion dollars.
The TATA Group has established itself as a formidable entity in the business world, displaying impressive financial performance and growth. Its net worth, revenue, and turnover reflect its strong position in the market and highlight its consistent success.