Looking for best virtual trading platform or stock market simulator in India? We have jotted down some of the best websites where you can learn virtual stock trading.
Do you want to fetch a prodigious sum of money in a short time? What if we tell you the way to make easy and fast money; that too, without taking huge risks! Hold your horses; you will be informed about the best way that can help you become wealthy without risking your hard-earned money which is stock trading. But how?
It is always said never to invest your money in the market initially, especially when you are in the learning phase. As the saying goes: 'The more you sweat in training, the less you bleed in battle.'
Instead of putting your money in the market, you should paper trade without using money to gain experience. Isn't it a good idea! It is, as it helps you save ample money in the long run.
You might be wondering how can you learn stock trading without investing and risking your money. The best way to become familiar with the stock market is to use virtual trading apps for stock trading.
Have you ever heard or tried using them? If not, then this is the right time to try learning stock trading with these apps and become a pro stock trader. But before we know anything about virtual trading websites, let's get to know what exactly is a stock.
Best Websites to Learn Virtual Stock Trading in India
Definition of Stock
A stock or shares, also known as equity, is a security representing the ownership of a fraction of a company or corporation. The units of stock are determined as shares. Primarily, stocks represent the proportionate claim on its assets (what it owns) and earnings what it generates in revenue and profits.
How Does a Stock Work?
Companies or corporations need public funding and hence sell shares in their business to raise money. The shares of a company can be bought and sold among investors once the company's stock is on the market. That means you cannot purchase the stock directly from the company but from another investor who is looking to sell the stock.
One can choose among five different types of stocks, including common stocks, preferred stocks, growth stocks, value stocks, and income stocks.
What is Stock Trading?
Stock trading is the purchase and sale of stocks in an attempt to time the market. It is done frequently to capitalize on short term market events by buying stocks at low prices and selling them when the price rises go higher at considerable profits. Some people are day stock traders which means they buy and sell shares numerous times in a day.
Owning a stock of a particular company means you own a piece of the company. Hence, a stock trader is known as a shareholder.
Ways to Learn Stock Trading
Buy your first shares of stock and practice through Virtual Trading websites/apps/stimulators.
Read books and articles.
Find an avid stock trader or some of your friend to learn with
Study successful stock traders
Be updated and vigorously follow the activities of the stock market
Scrutinize paid subscriptions
Explore seminars, online courses, or live classes comprehensively
Stock Trading vs Investing in Stocks
Stock trading is all about buying stocks or shares for a short duration and selling them off for a short-term gain with a focus on share prices. However, investing in stocks is about buying stocks for long term gains.
Stock Investors have a longer-term outlook, whereas Stock Traders cautiously notice the direction in which the stock is about to move next and how can they earn profit out of that move.
What does Virtual Stock Trading Mean?
Virtual Stock Trading is very similar to the actual trading where you can buy and sell stocks; the same way you do in the real market. It is also known as paper trading. However, on virtual trading platforms, no real money is involved, the investment is made with virtual money. The platforms offering these virtual trading facilities are called stock stimulators.
How Does Virtual Stock Trading Work?
When you register and create your account in a Virtual Stock trading website or an app, you get virtual money- For instance, 10 lakhs in your account. You can use all the virtual money to buy and sell stocks the same way you do in real life. This will help you evaluate your profits and losses over time.
When you realise you have made several trades and learnt how stock trading works, as well as successfully grasped market comprehension, then you are eligible to open a real trading account and begin your stock trading journey. It is just that once you are pretty confident about your abilities, go for it!
Are you not willing to wait to practice stock trading? We will guide you about the Best Websites to Learn Virtual Stock Trading in India that will help you developing and enhancing your skills in stock trading.
9 Virtual Trading Apps for Stock Trading in India
1. Dalal Street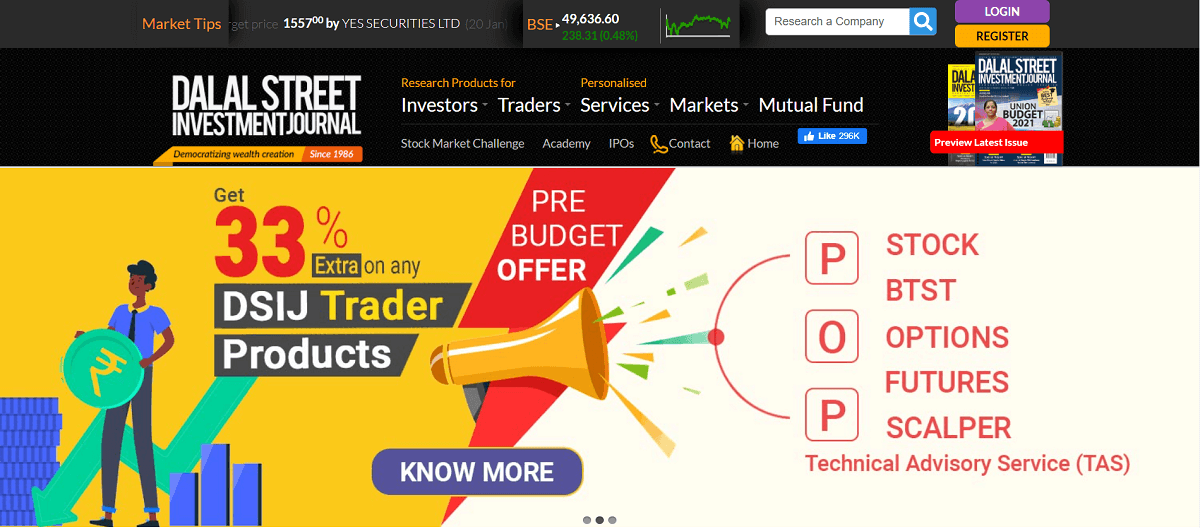 Dalal Street is one of the best websites to learn virtual stock trading in India. It is an investment journal offering you Rs.10 lakhs as virtual money as soon as you register and sign up to your account. The best part about this website is that it allows all its users to experience a real-time stock trading experience.
This platform also provides you with an opportunity to discuss your strategies which further helps in enhancing your skills by learning from other people's experiences.
Visit Now
2. TrakInvest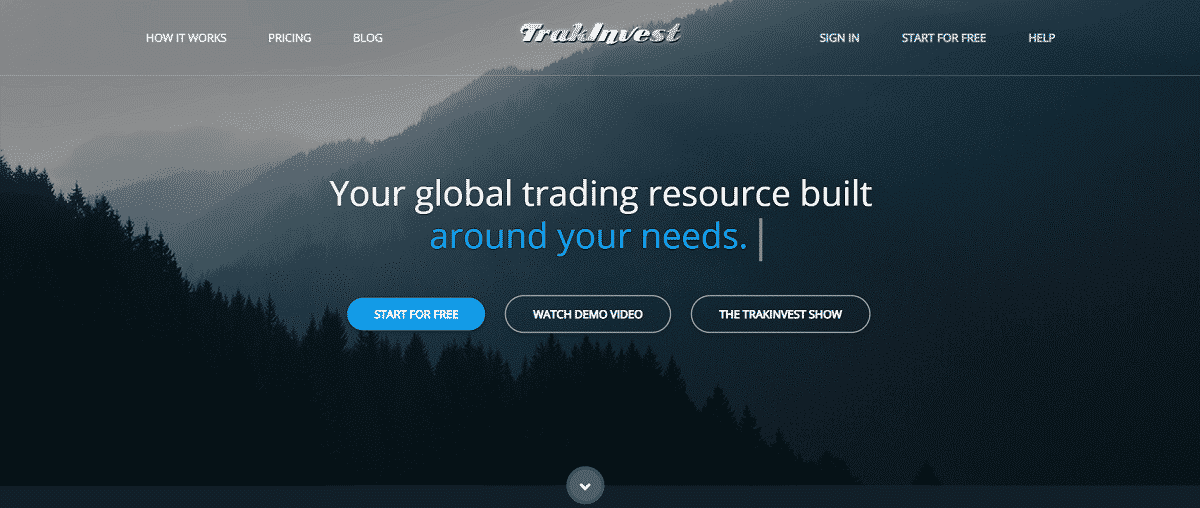 TrakInvest is a renowned virtual stock trading website and app that helps you develop your skills and strategies on how to invest your money in stock market cautiously. It is a global trading platform that provides curated data from 10 exchanges.
This platform also offers a tracing facility that allows all users to track other traders. You can also replicate their trades using 'Copy Trade' facility.
TrakInvest is designed with a simple interface and is user-friendly. It helps you improve your market skills as it is embedded with various options where users can watch beginners guides and videos, stimulation for competing for rewards, and certification courses designed by industry experts.
Visit Now
3. Moneybhai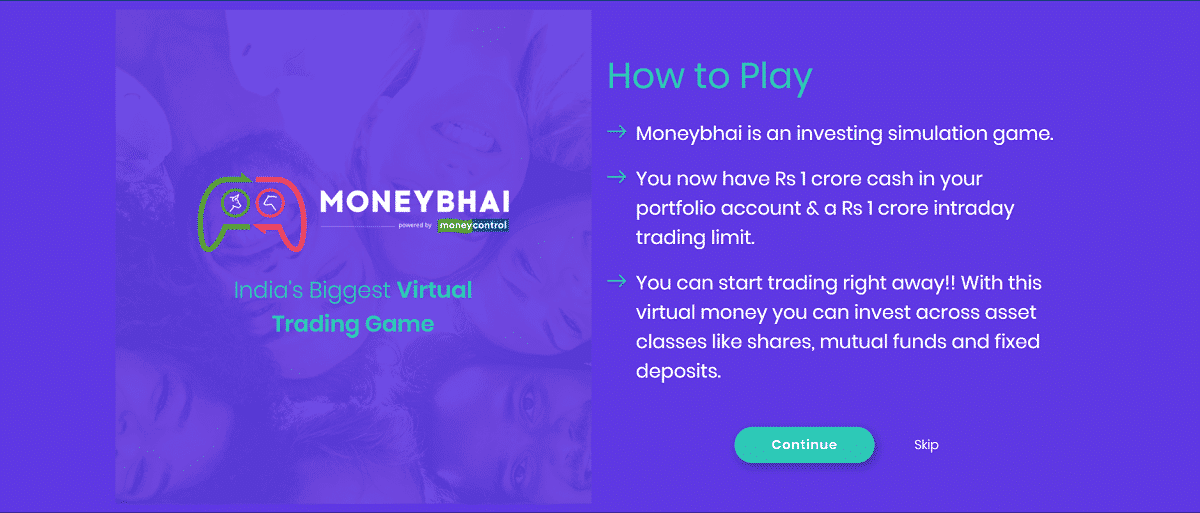 Moneybhai is a free virtual trading platform where the users get Rs.1 crore virtual cash once they sign up. This website helps you learn the fundamentals of the stock exchange where you can use the virtual cash to invest in commodities, shares, fixed deposits, mutual funds, bonds, etc.
While you buy any commodity or stock, the brokerage charge of 0.50% is levied on the virtual trade market. This is one of the reasons why Moneybhai is considered to be the best virtual trading app for stock trading in India as even in the real stock market; the brokerage charge is supposed to be paid.
You can also participate in on-going discussion threads along with numerous users on this platform. Moneybhai website also allows all it users to reset their portfolio by enabling them to back to the original corpus of Rs.1 crore and start practising again.
Visit Now
4. Trading View

The trading view is a paper trading simulator which is not tied to any broker. This simulator offers a pro version option for the users who want to understand the real stock market scenario in depth. Although, its free version provides you with full access to all charts.
When you register yourself and finish setting up your account, you get Rs. 1 lakh as virtual cash which can be used to buy all types of stocks, bonds, FD's, dividends, etc.
Visit Now
Also Read: How To Invest In Foreign Stocks From India
5. MoneyPot

Moneypot is the virtual stock trading website that aims to connect an online investment community through a social media platform. Once you sign up to the website, you get  Rs. 20 lakhs to trade with. The amount is good enough to have the profound understanding of the stock trading.
It is a recommended platform for new investors and traders. This platform also offers a prize for leading traders. Moneypot's biggest drawback is that it does not offer a stop loss facility.
Visit Now
6. Chart Mantra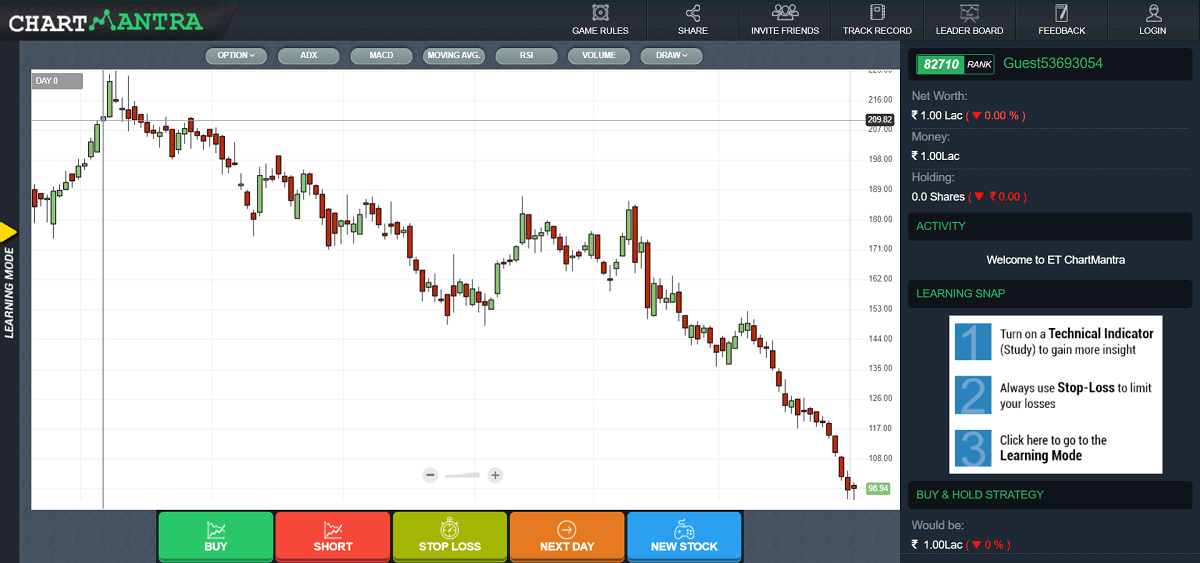 Chart Mantra is a platform of virtual stock trading owned by Economic Times that has helped numerous students, corporates, and investors. This website offers a seamless sign-up process as it can be joined via Facebook or Google ID. Signing up will credit Rs. 1 lakh virtual cash into your Chart Mantra account that can be used to purchase commodities, shares, bonds, etc.
Users are allowed to play the game on single stock at a time. It offers historical data, where apart from buying and selling, you can short on the stock.
Visit Now
7. Market Watch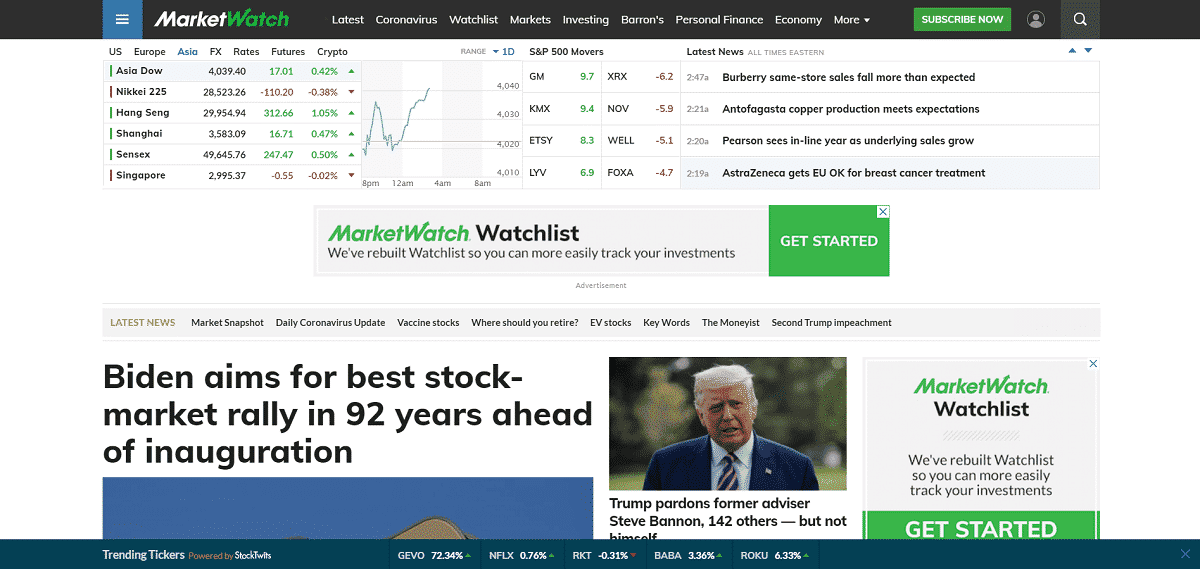 The basics of technical analysis in stock trading can be learnt from Market Watch platform. When you apply these learnings in the actual stock exchange, you will see the difference. This website is the most ideal for beginners as well for the ones who want to analyse their portfolio and evaluate their improvement.
You can join group discussions to discuss strategy. It also offers advanced features like limit and stops loss orders. The users are also allowed to join custom built-in games as per their desire. The best part about this platform is it offers an impeccable real-time experience which helps the users in a quick transition to the real stock market after using this website.
Visit Now
8. Investopedia Stock Stimulator

Investopedia is a magnificent platform when it comes to financing. It also has a virtual stock trading tool which is called Investopedia Stock Stimulator which provides you with Rs.50 lakhs virtual cash. You can invest this amount as per the need and desire.
This platform also provides you with an option to compete with other virtual traders that gives a sense of motivation and eagerness to see who is the top stock trader at the moment.
It also allows its users to do other intriguing things such as creating challenges, analysing your investment results, participating in challenges with other virtual traders, and most importantly; learn from other traders.
Visit Now
9. Wall Street Survivor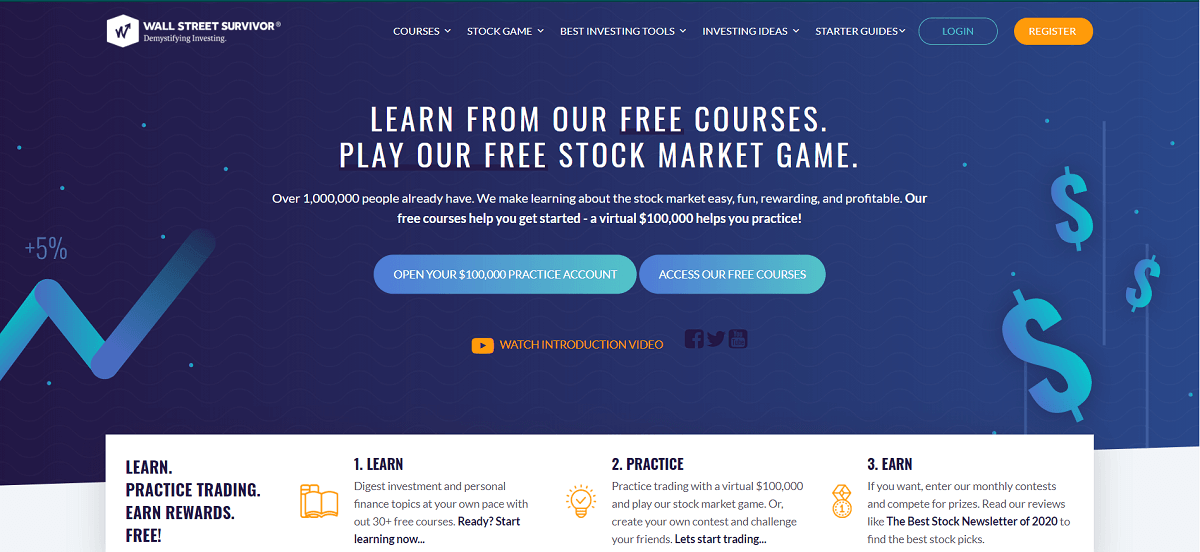 Wall Street Survivor is one of the most visited virtual stock trading websites in the United States. It is based on the financial district in New York City and currently used by more than 2 million people.
This website provides all the new users with $100000 virtual money which they can use to invest in real named companies. The best part about this website is that all the stocks and companies are based on real financial markets which gives a realistic experience.
Moreover, the website offers some valuable features such as beginner guides, group training programs, investment advice for free, community discussions, competitions, and other useful courses that facilitate the learning of stock trading.
Visit Now
Features Offered by Virtual Stock Trading Websites
Create watchlists
Create a virtual portfolio
Join discussion groups to discuss strategy
Use advanced features like limit and stop-loss orders.
Join custom-built games as per your desire
Advantages of Virtual Stock Stimulator
No need to go through any documentation process similar to when you open a demat or trading account
The best platform to get a realistic idea to learn and practice the stock market
It minimises risk and enhances your trading strategy without losing money
A free platform that can help you learn the basics
It makes you proficient in maintaining the trading journal, facilitating the calculation of your profits and losses over time
It is okay to take risks and make mistakes as there is not any real loss involved
Disadvantages of Virtual Stock Stimulator
You may not get emotionally attached as no real money is involved, which may lead to boredom after some days
The real market scenario might not be precisely the same as that in virtual stock trading platforms because of the market conditions and other factors
This platform may ignore certain aspects as it does not include slippage brokerage, traded practices, and other minor details
Recommended: 10 Best Demat and Trading Account in India
It is advisable to use and learn through paper trading initially and then jump into the colossal stock market. All your dreams might come true once you start using these virtual trading apps and hop into the real stock market to make money.
We have done extensive research and jotted the Best Virtual Trading Apps for Stock Trading in India in this guide. If you have any further questions, you can write to us in the comments section below.
We hope this guide has helped!