Handling debts, receivables, creditors, vendors, clients, etc., can cause sleepless nights to businesses regardless of their size and industry. From keeping track of the receivables, invoicing the receipts and payments, collaborating with clients and customers, to managing a team; there are multiple tasks that need to be maintained on a daily basis. If you are looking for a user-friendly and comprehensive cash flow management tool, then Credflow is the answer to your worries. Today, we bring to you a detailed CredFlow review that will cover CredFlow funding, CredFlow founder, CredFlow vs Biz Analyst and CredFlow download desktop app.
CredFlow Review: Features, Pricing, Pros and Cons
Businesses have expanded rapidly in the age of technology and with that comes many calculations and budgeting. Back in the day, people use to do accounting manually with pen and paper, but now doing that can lead to discrepancies, confusion and delays as there is so much data to go through. This is where a tool CredFlow can do wonders, let us learn more about it and CredFlow founder in this CredFlow review.
What is CredFlow?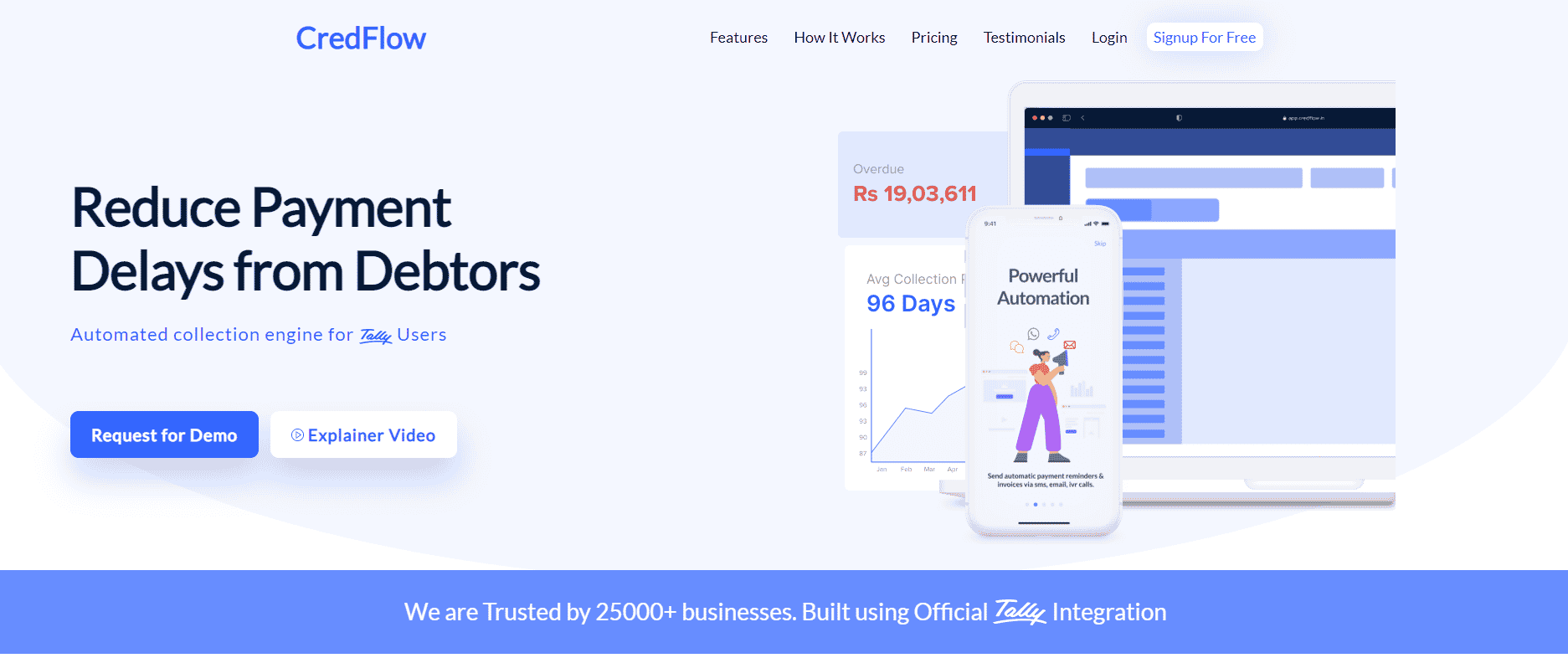 Credflow is web-based comprehensive cash flow management software for managing receivables and developing credit solutions. It was established in 2019 and has its headquarters in India. This application is a full-stack financial solution that was created with the single goal of making managing vendors and collecting debt simple. Without frequent manual intervention, the tool's automation enables organizations to streamline the processes of billing, issuing notifications, collecting payments, managing cash flow, etc.
It can be coupled with a variety of other applications, such as Tally ERP 9, to gather and manage account receivables data. The software collects data as it moves from one step to another in the supply chain. Now let us continue this CredFlow review and inform you about Credflow founder.
CredFlow Founder
Kunal Aggarwal, a chemical engineer from IIT Delhi and a seasoned businessman, is the Credflow founder. At this time, they have served more than 10,000 clients nationwide. Their main target is the SME sector regardless of the industry they are functioning in. They also have a network of around 35 lakh businesses and invoices worth INR 8,00,000 crore on the platform.
They are slowly building up a strong market presence by expanding to various clients and vendors looking for B2B SaaS platform for cash flow management. Recently, they received seed Credflow funding from Marquee VC Funds worth $2.1 Million. You know now who is CredFlow founder and how they are funded. The next section of this CredFlow review will cover its features.
Features of CredFlow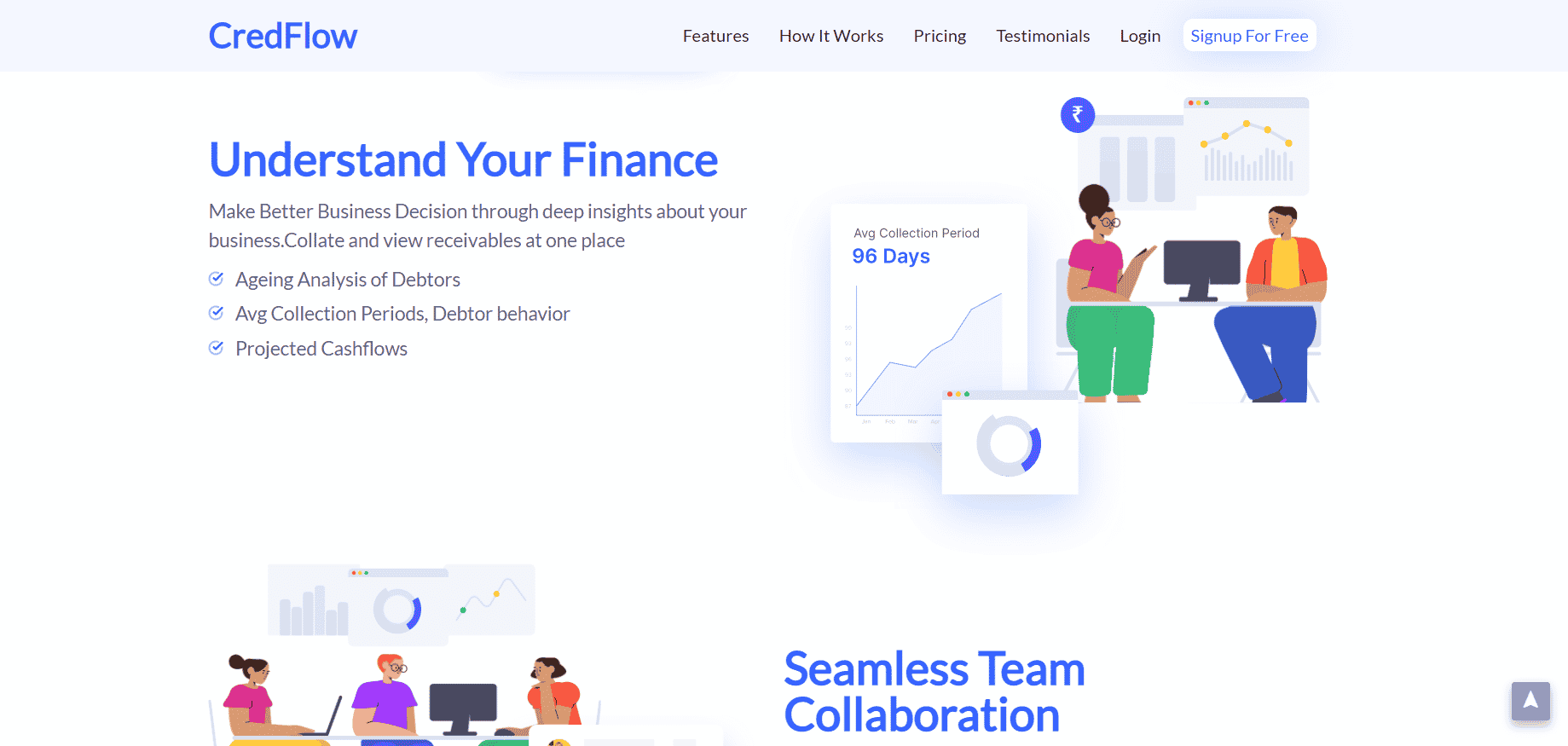 After learning about Credflow founder, let us explore the features of this amazing app. The main features of Credflow that can be highly beneficial for your business are:
Cash Flow Management
Managing the cash flow is one of the biggest tasks when it comes to collecting receivables and dealing with debtors. Credflow is a powerful tool that will help manage receivables accounts, generate incentive schemes and business reports for promoters. One can view and collate all the data in a single place. The software allows reporting and controlling the extended credits and also avoids bad credit situations. This makes cash flow management an easy and hassle-free task.
Team Collaboration
Working with a team and customers can be hassling if the tasks, reports and processes are not well managed and if everyone is not kept in the same loop. This can cause disruptions in the workflow and managerial issues. With Credflow all these things can be effectively avoided. You can share information and data with the whole team regardless of their location. This reduces wasting time on unnecessary meetings and also reduces dependency on report mailing.
Users can be given access easily and data sharing with clients and team can be done with a few clicks only. Communication history can be tracked with both teams and customers. Lastly, you can integrate your task management with any CRM easily.
Financial Reporting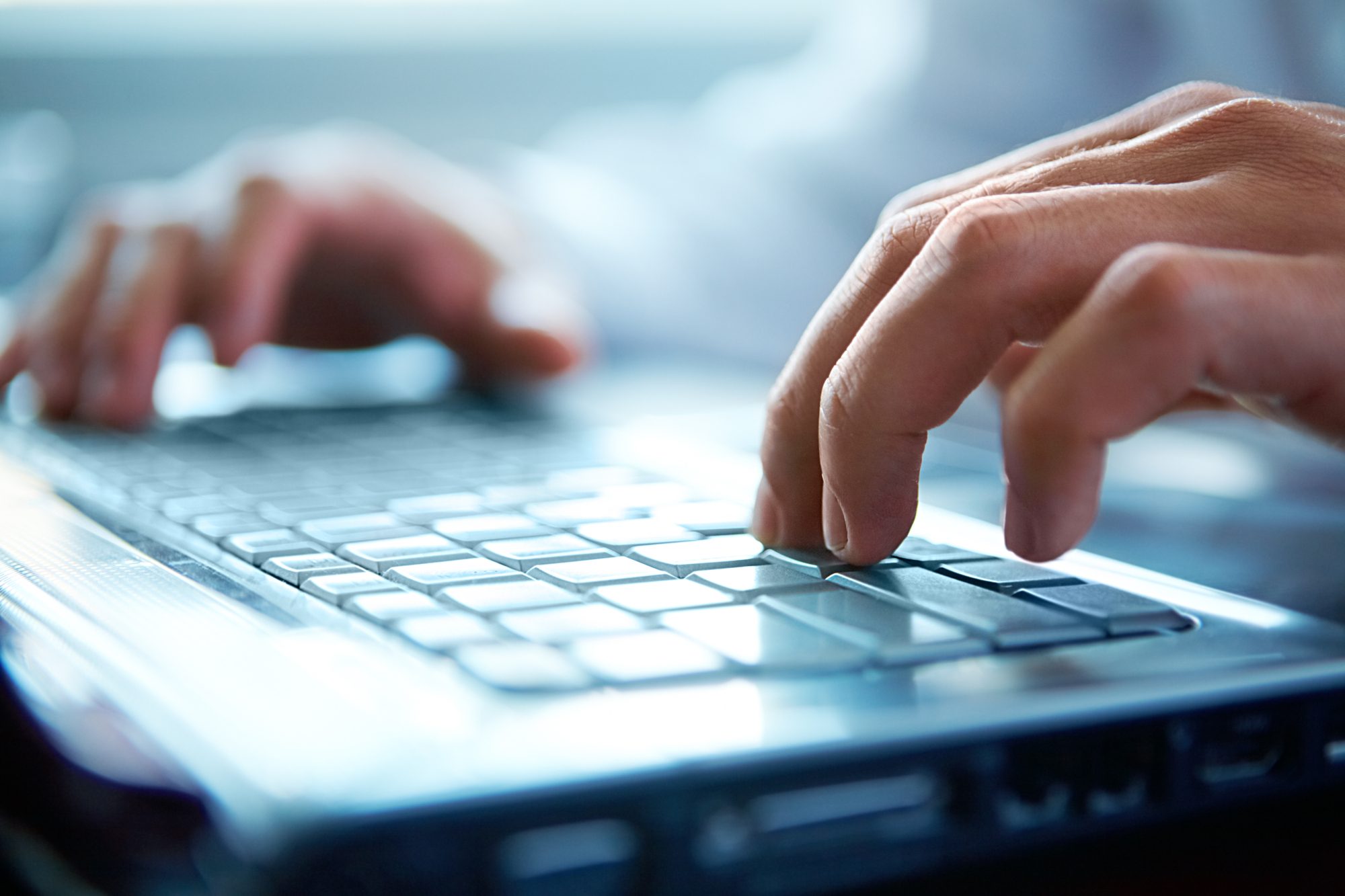 Credflow has a powerful interface that will help you get the needed reports and analytics of the receivables. It is a one-stop shop for all types of financial insights and reports related to your receivables. The software provides multiple types of reports like projected cash flows, debtor behavior analysis, average collection period, aging analysis of debtors etc. All these reports will help in understanding your business's financial health and will help take better decisions related to receivables and payables accounts.
Automation
Credflow has an intelligent automation system in place. This makes everything easy for the users. You will not have to hire collection managers to collect debt. Credflow will do most of the work itself. The software will help in generating invoices, delivering the invoices to debtors and allocating payments to invoices. Credflow also helps in sending automated SMS, emails and calls to the debtors to remind them of the pending payments.
Tally ERP 9 Integration
Tally ERP 9 plays a major role in cash flow management and invoicing. With Credflow you can use them on an integrated interface. You can access the client's business from the Tally ERP 9 portal and then add it to the Credflow software. This way all the data in your tally portal will be accessible with Credflow. You should have licensed Tally ERP 9 software to use this feature.
Also Read: Money Robot Review
Pricing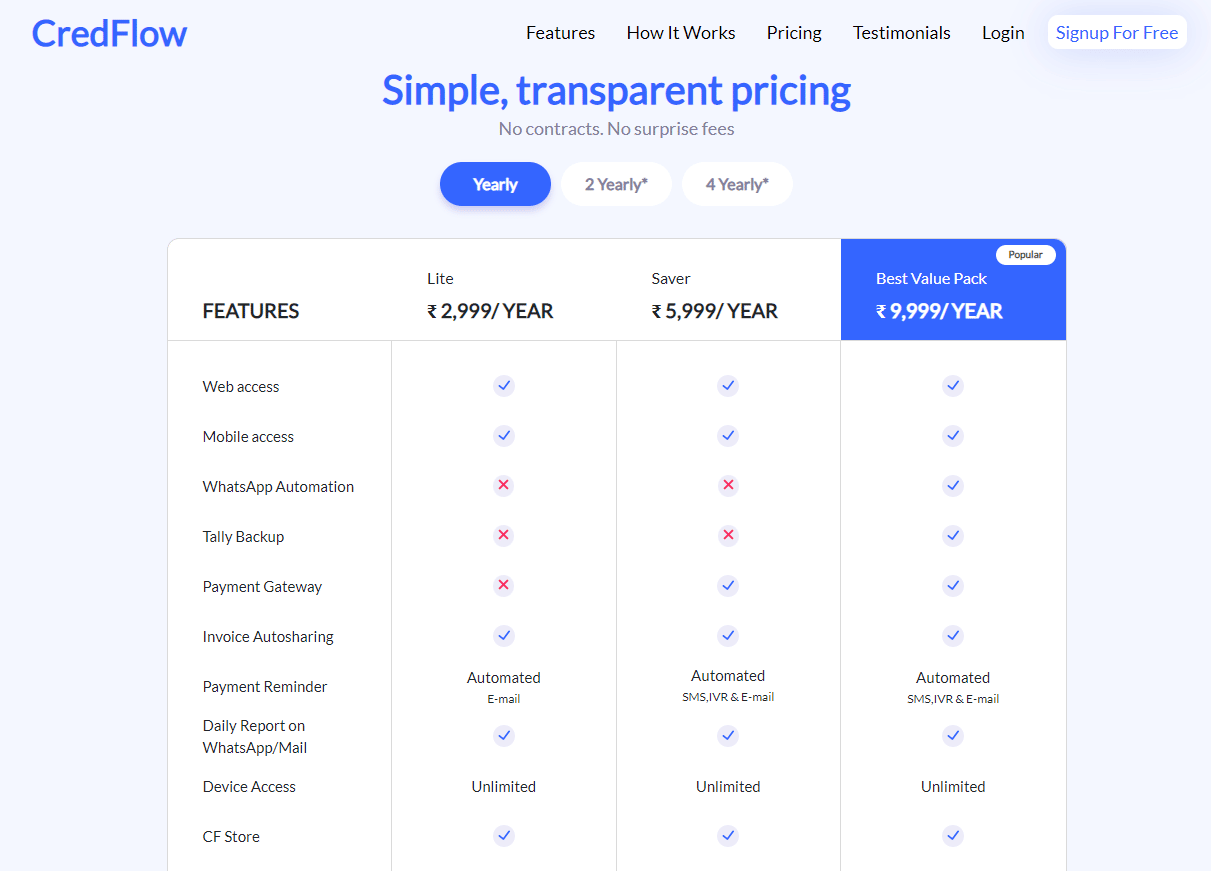 Pricing is an important aspect that we will cover next in this CredFlow review. Credflow has multiple plans and packages for businesses and their needs. You can choose between yearly, 2 yearly and 4 yearly plans based on your objective. Every plan has some special added features which make them attractive as per your budget limit. Choose a plan, complete Credflow download desktop app and you are good to go. Here are the pricing plans that you can choose from:
Yearly Plans
Credflow offers three types of plans to its users. Here are some more details about them.
Lite Plan: This is a mid-range plan for those looking to buy the services for one year. In this, you will get limited benefits like, only one user is allowed along with one company in the rooster. The plan allows unlimited emails and WhatsApp with 1000 credits for SMS and IVR calls. Price: INR 2,999 / 12 months, INR 5998/ 2 years and INR 11,996 / 4 years.
Saver Plan: Saver plan is both budget-friendly and rich in features for SMEs. Under this plan, you can access the features and benefits of the starter plan along with several additional benefits. The plan allows 2 users and 2 companies. The main advantage of the plan is that it allows IVR calls and SMS services to interact with the debtors. You get 7,000 credits in this plan. You can send unlimited WhatsApp and email notifications without any credit system. Price: INR 5,999 / 12 months, INR 11,998/ 2 years and INR 23,996 / 4 years.
Best Value Pack: It is one of the most popular plans out there in which you get all the features of Lite and Saver plan along with additional features like Tally backup and Payment gateway. You also get 10,000 credits and up 3 users and organizations can use this pack. Price: INR 9,999 / 12 months, INR 19,998/ 2 years and INR 39,996 / 4 years.
Data Safety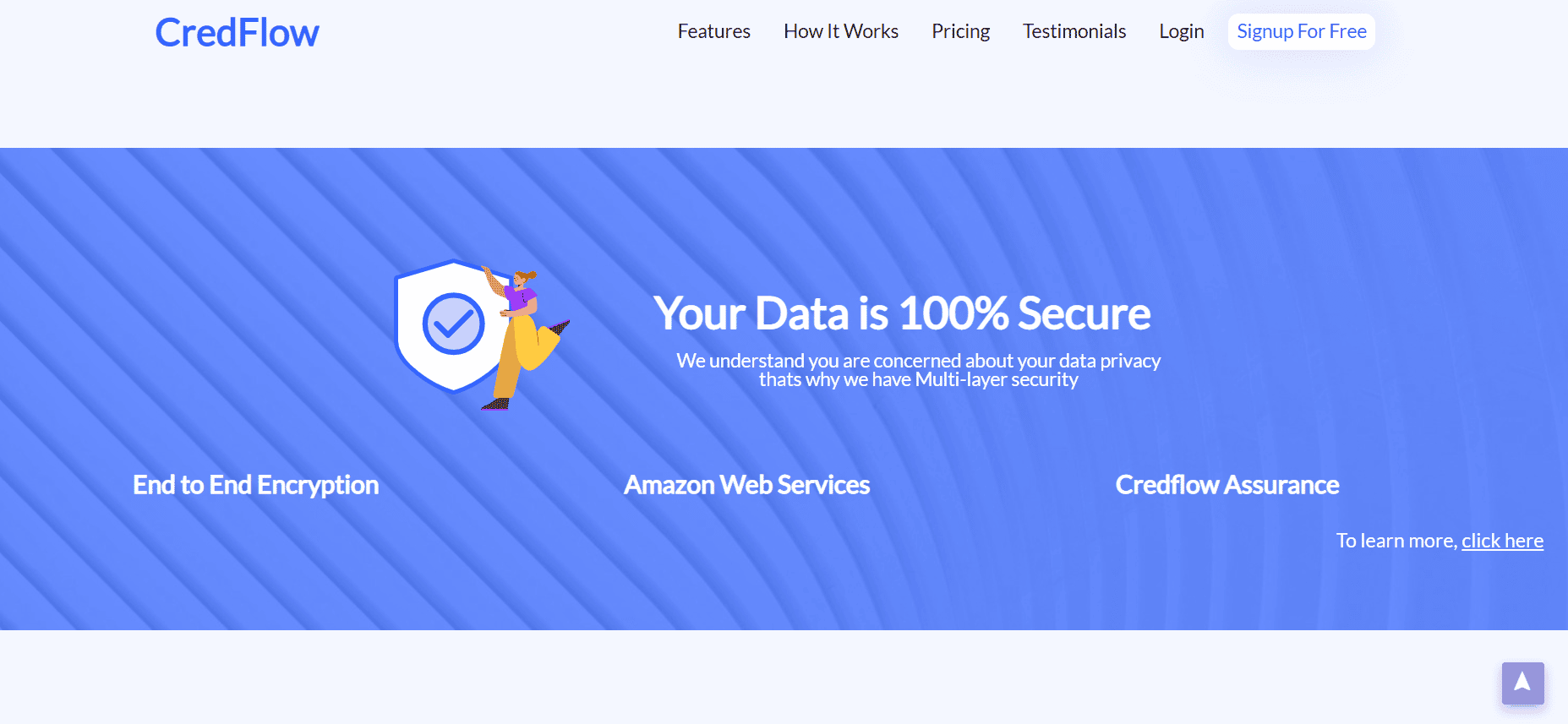 Every organization worries about their data and their privacy. If you are choosing cash flow management software, then it is inevitable that you are putting down a lot of data and numbers. This can make one feel skeptical about using the software. With Credflow, you can have absolute peace of mind regarding your data.
Credflow uses end-to-end encryption to keep your data safe. This will help safeguard your passwords, log in information, and other details. They also use Amazon Web Services which allows easy integration and boost safety of the data that is transacted on the platform. Their multi-layer security will not let any third party usage of your data and will also keep your information from getting hacked.
Customer Support
Let us discuss customer support of this platform in our CredFlow review. Navigating any new software and integrating the same in your organization is not an easy task. You have questions and queries during the early phase and even at later stages. Credflow takes care of that as well. They have a 24×7 customer support desk, which is ready to help you with any kind of issues related to installation, integration, pricing, etc. You can reach them by phone or email. They will help with all types of technical and non-technical issues.
CredFlow Download Desktop App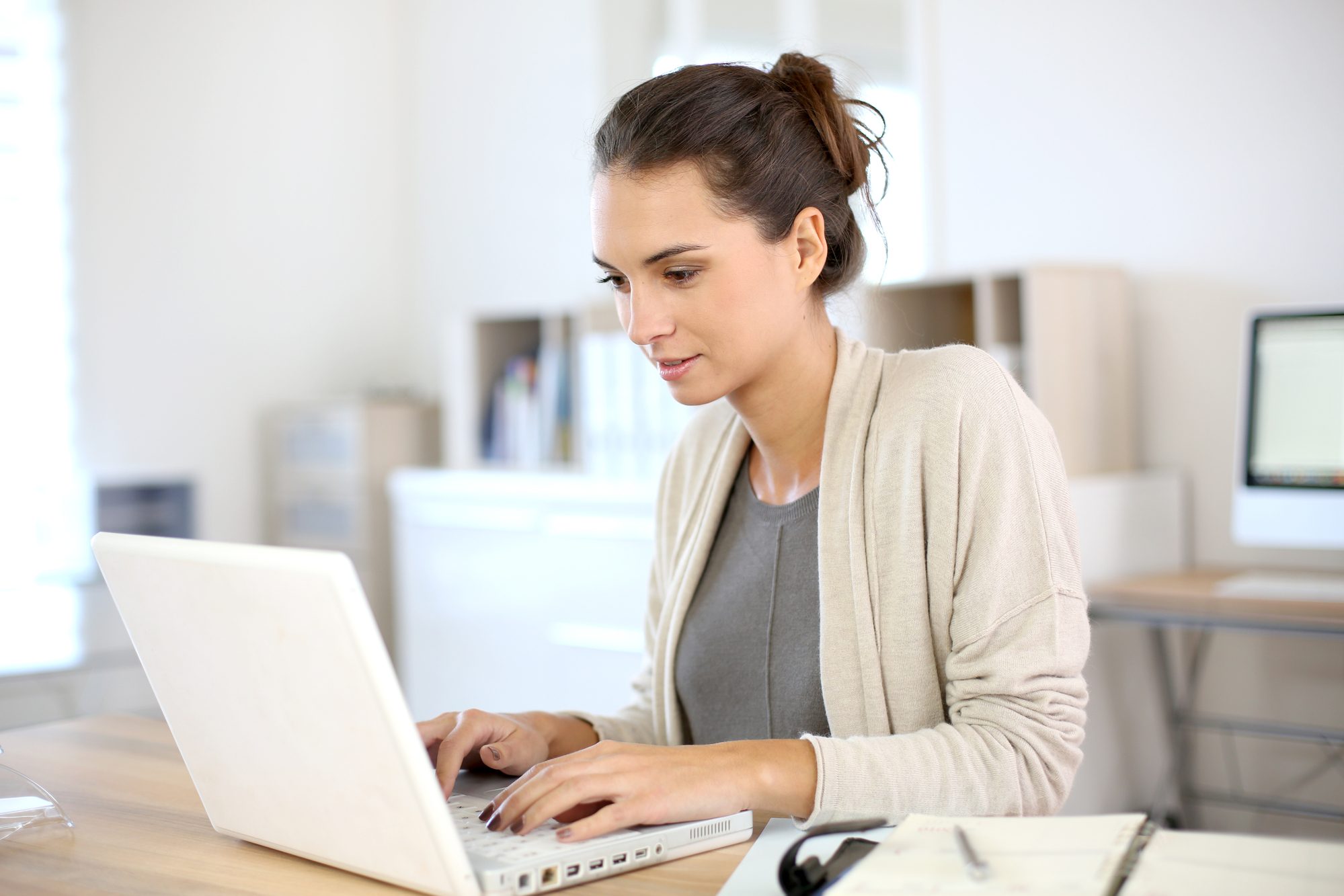 Using Credflow is quite easy to sign up and use, as it has a user-friendly interface for a smoother experience. Here is how to complete Credflow download desktop app and sign up for it:
Sign Up
1. Go to Credflow official page and click on Signup For Free button. After this, you will be redirected to the registration page.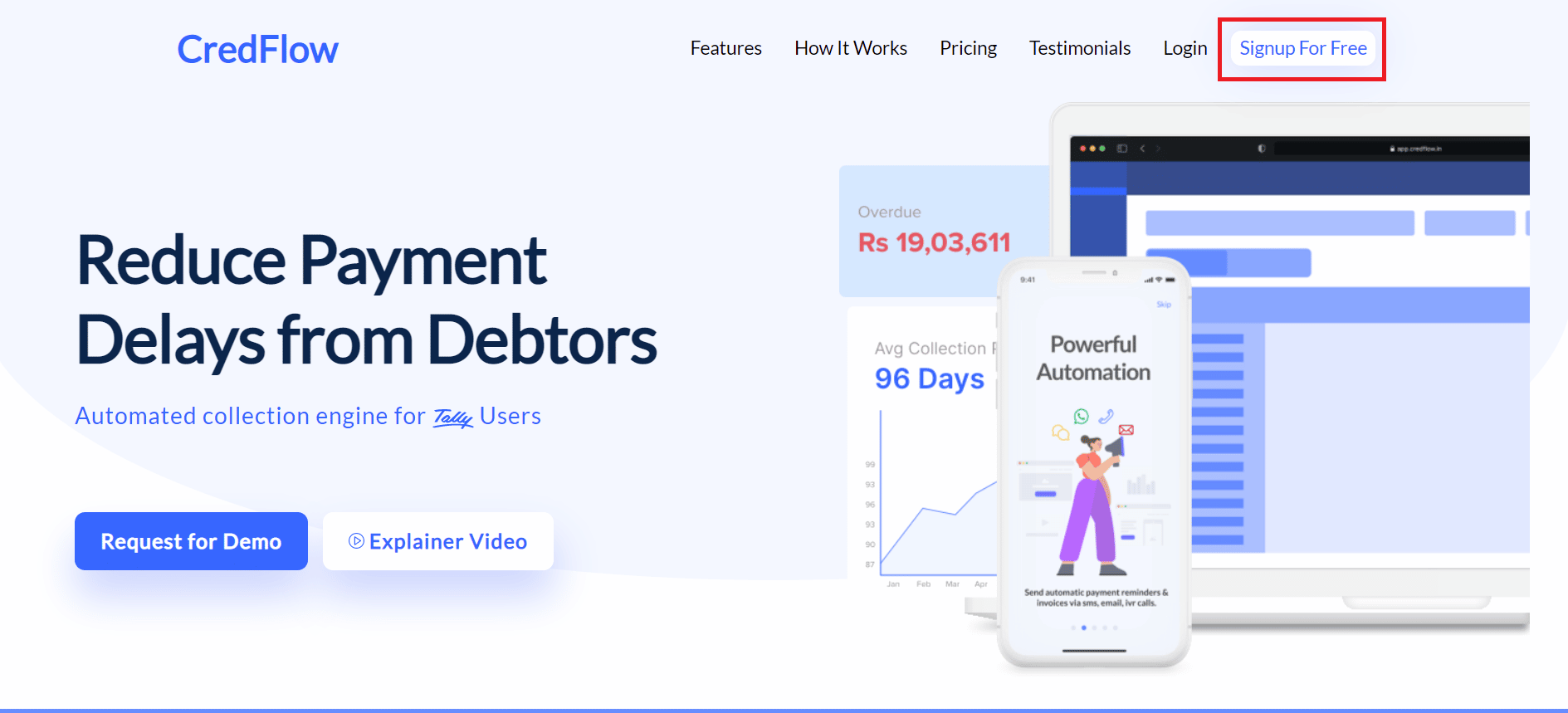 2. In Register page, fill in the details like name, email, phone number, accounting software name, etc.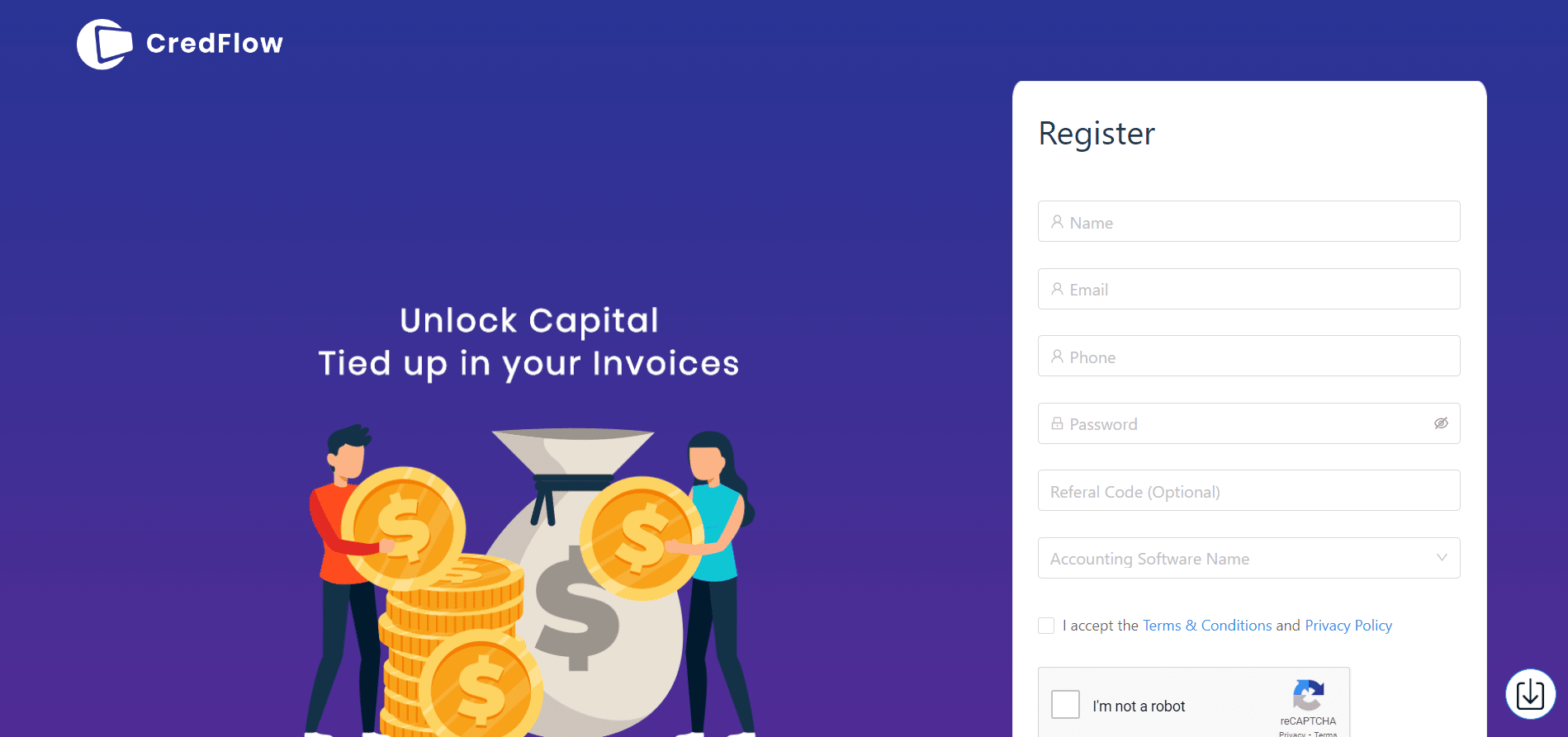 3. After filling in the details, click on Register button and you are ready for the next step.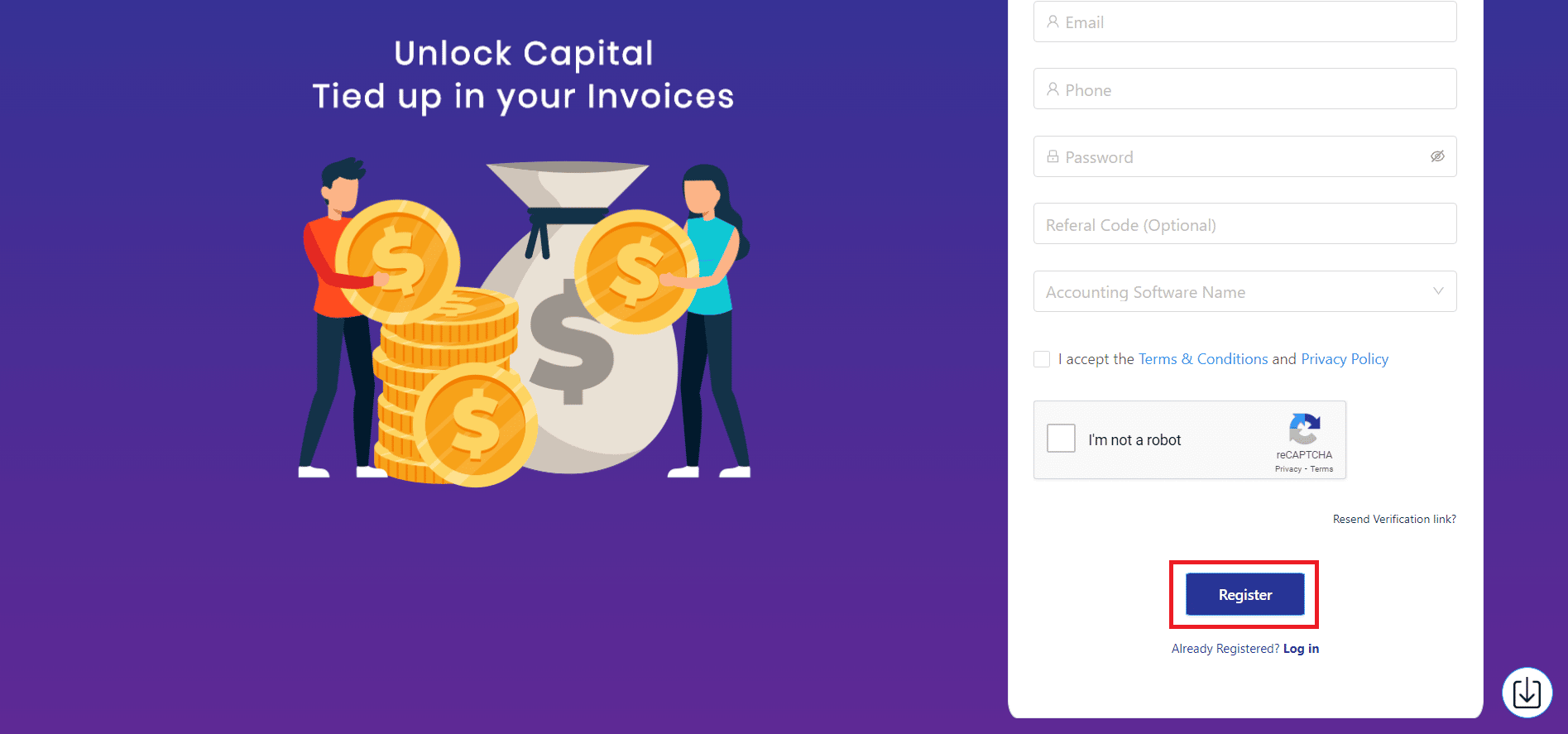 4. Now choose a plan according to your requirements.
Download the App
After signing up, you will have to download the application on your computer or mobile phone. For mobile, you download it from the App store or Play store.
For PC, you can go to the register page and click on downward arrow icon and CredFlow setup will start downloading. Now you know the full process of Credflow download desktop app.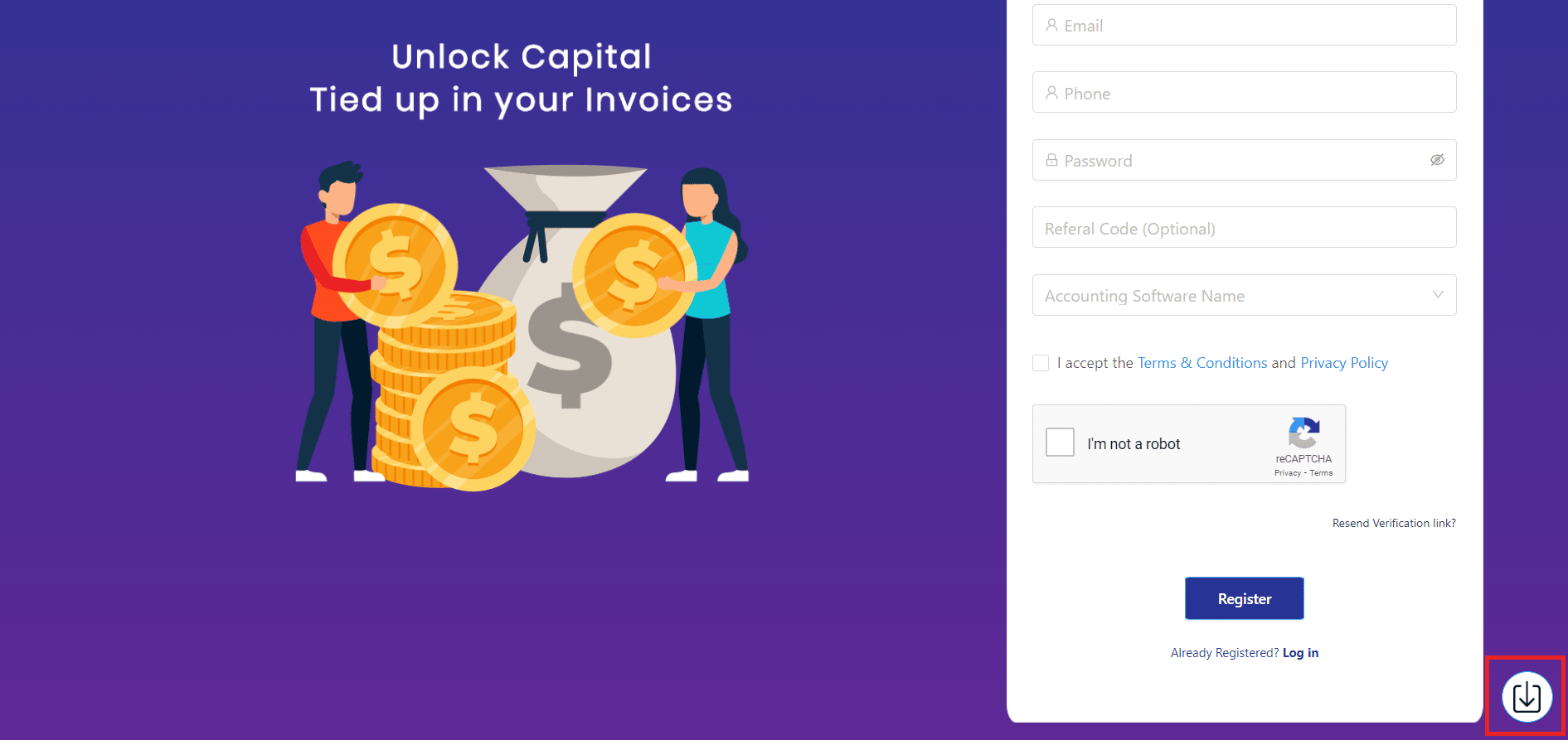 Sync the Data
After downloading the app on your device of choice, you will have to sync the data. All the other platforms like CRM, Tally ERP can be integrated with the application directly. This way you and your team can handle the tasks remotely with the help of Credflow dashboard.
Sign In
Lastly, you can sign in using your credentials following the previous steps mentioned in this Credflow review. You can add members to the team so that they can use the same credentials to get access to the software from their respective devices.
Credflow vs. Biz Analyst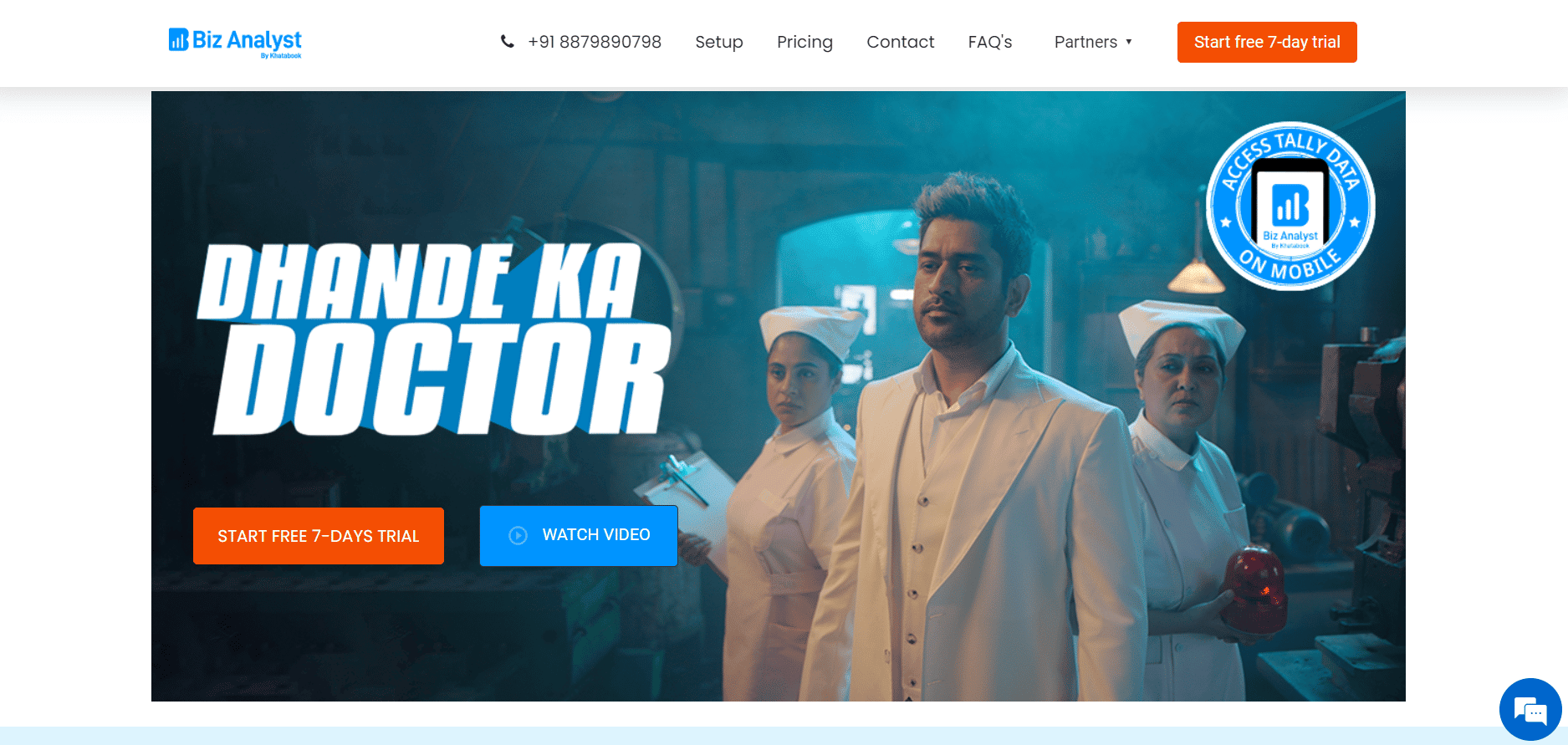 There are multiple types of platforms that allow easy accounting and financial management for your company. Credflow here is discussed in detail. But one of the most popular competitors of Credflow in the market is Biz analyst. 
Biz Analyst makes Tally easily available on every mobile device. To obtain sales orders, purchase orders, as well as other financial information, you are not required to rely on company accountants or have to go to the office itself. You can monitor and control payables, receivables, cash, and bank balances using Biz Analyst Tally on mobile.  Along with sophisticated tools for managing daybooks, transactions, and costs, it offers capabilities for managing cash flow, inventory, and sales.  Let us compare Credflow vs. Biz analyst in more detail. 
Features
Given below, we have divided the features of Credflow and Biz Analyst in a table so that you can understand them better.
CredFlow

 

Biz Analyst

 

Complete Automation:

CredFlow uses email, SMS, and IVR calls to automatically remind users to make payments.

 

 

Analytics & Reports:

The program provides thorough business analytics, allowing businesses to keep track of receivables.

 

 

Identify Your Finances:

CredFlow provides comprehensive information on debtors, anticipated cash flows, and typical collection times.

 

 

Team collaboration:

Organize activities in CRM, communicate with clients, and keep track of customer interactions.

 

 

Payment Notifications:

Send automated payment reminders to clients and customers at regular intervals. 

 

 

Cash Flow Management:

CredFlow creates reward programs and automatically generates company reporting based on promoters.

 

 

Dashboard

: For examining the data and controlling sales and cash flow, Biz Analyst provides actions, metrics, and filters in one place itself.

 

 

Timely Reminder

: Sending several payment reminders at once is made simple by this business intelligence software.

 

 

Inventory Management

: Using this BI tool, you can see your inventory items easily.

 

 

Multiple Users

: It assists in managing multiple users and allocating them to various levels of access.

 

 

Regular Business Reports

: Software provides thorough reports on sales and purchases for dealing with clients and suppliers.

 

 

Multiple Companies

: To view the data for each firm, the program makes it simple to add numerous Tally ERP9/Prime companies.

 

 

Import Data

: With the help of the data analysis software Biz Analyst, manage sales, procurement, and invoice orders by importing data and figures as and when needed. 

 

 

Checking In And Out

: The module supports the maintenance of geotagged check-in and check-out reports for each client visit.

 

 

Payment Reminder

: Utilize the business intelligence software Biz Analyst to send follow-up reminders and cut payment delays in half. 

 
Specifications
After their features, let us check out how these platforms compare when it comes to specifications.
Specifications

 

Credflow

 

Biz Analyst

 

Language

 

English

 

English

 

Devices

 

Desktop and mobile

 

Mobile

 

Supported platforms

 

Windows, MAC, Ubuntu, Linux, Android, iOS

 

iOS and Android

 

Industry

 

All industries

 

All industries

 

Business

 

All businesses

 

All businesses

 

Deployment

 

Web-based

 

Perpetual

 
Pricing
Now we will compare the prices of these platforms.
Credflow

 

Biz Analyst

 

Lite plan 

INR 2,999/ year

Free trial

 

INR 0 for 7 days

 

Saver plan

INR 5,999/ year

Essential plan

 

INR 250/ month

 

Best Value Pack

 

INR 9,999/ year

 

Growth plan

 

INR 275/ month

 
Also Read: Wint Wealth Review

CredFlow Pros and Cons
So far we have covered a lot of things in this Credflow review including Credflow founder but it is crucial that we provided a balanced perspective for you to judge this app. To do that, we have compiled some pros and cons of this app and they are as follows.
Pros
It is a useful software that is compatible with every industry and business type.
There are multiple features that provide hassle-free usage of services.
Compatible with different operating software.
24×7 customer support is helpful for new users.
Cons
Price is on the higher side.
The learning curve of the software can be steep as it needs practice and patience to understand.
Well, there you have it! A complete CredFlow review that will help you understand the features and benefits of this incredible and user-friendly software. You can easily manage your cash flow, receivable and payable accounts, collect debt, manage invoices and also maintain good teamwork. We have covered CredFlow funding, CredFlow founder, CredFlow vs Biz Analyst and CredFlow download desktop app for you, now it is your time to make a decision.