If you are an avid YouTube enthusiast, then you must have heard of Bhuvan Bam already. His caustic videos on real life using various characters as part of his sketches are loved by many. Though some may condemn the use of vulgar language in his videos, it is a fact that he is one of the most successful YouTube content creators out here in India. In this article, we will look at Bhuvan Bam earnings. We will also uncover Bhuvan Bam monthly income and Bhuvan Bam net worth.
Bhuvan Bam Monthly Income, Bio, Net Worth
Youtube has given creators the status of celebrities. Bhuvan Bam is one of those creators. His fan following is huge and he gets tons of views in all of his videos. Behind the camera, he is a humble person who doesn't allow fame to take over his authenticity. Before we get to know Bhuvan Bam earnings, let us learn more about him.
Who is Bhuvan Bam?
Bhuvan Bam is one of the richest and most highly-paid YouTube content creators in India. More than Bhuvan himself, people and many YouTube users, know his channel as BB Ki Vines. Ever since Bam started posting various comedic sketches or vines on his channel BB Ki Vines, success and rise in the number of followers have been tremendous. The 'YouTube Partners' program is one of the main reasons why BB Ki vines could be monetized. BB Ki Vines has more than 186 videos that have been posted to date with more than 25.6 million subscribers.
But it all began as a playful experiment with the new phone's camera. The first focus was not at all on fame or wealth. With his new phone, he created these vines, which he then began to share on Facebook and YouTube. These videos gained popularity immediately, amassing a million views in no time. As the user base grew, it opened the door for Bhuvan Bam to start making money on YouTube. Read on to know more about Bhuvan Bam's monthly income and Bhuvan Bam earnings.
Net Worth and Monthly Income
Bhuvan Bam's primary source of revenue during and after his college days came from live musical performances. But today he is among the best-known YouTubers and highest-paid comics in the country and the globe. According to reports, Bhuvan Bam is worth $4 million, or roughly INR 30 Cr. Bhuvan Bam monthly income is around INR 25,00,000 and his annual salary is around INR 3 Cr. for every 1 lakh video views, he makes an average of INR 2500.
This is because Google compensates the uploader with money for each video ad that is aired on YouTube. The majority of his net worth and income comes from his YouTube channel BB ki Vines, which has close to 25 million subscribers.
He currently has more than 3 billion views on videos uploaded and an average of 28 million views per month. In the last few years, Bhuvan Bam, alias BB ki Vines, has seen a 1400% increase in net worth. It is anticipated that Bhuvan Bam earnings and net worth would increase by 500% per month in the future. Now you know all about Bhuvan Bam earnings.
Personal Life
The comedian, now 28 years old, was born on January 22, 1994, in Baroda, Gujarat, India, in a middle-class family. Bhuvan Bam real name is Bhuvan Bam but is popularly known as BB. Avanindra Bam is his father, while Padma Bam is his mother. Also, the comedian has a younger sibling.
He attended Green Fields School in Delhi and graduated from Shaheed Bhagat Singh College with a bachelor's degree in history. Between the end of high school and the start of college, Bhuvan developed a deep interest in music. He desired a career in music. But his parents didn't support his desire to become a musician. Following his training in classical singing in college, Bhuvan was offered the opportunity to perform as a vocalist for a Delhi restaurant.
The comedian also revealed that he was in a relationship in 2019. Bhuvan Bam is reportedly dating Arpita Bhattacharya, according to some news reports. In 2020, the parents of Bhuvan Bam passed away due to COVID-19. Earlier, he took to social media platforms to inform his followers about this sad news.
Income Sources
His source of net worth has diversified ever since he has become popular in the YouTube India circuit. Here are some of the sources of income in the last few years:
1. BB Ki Vines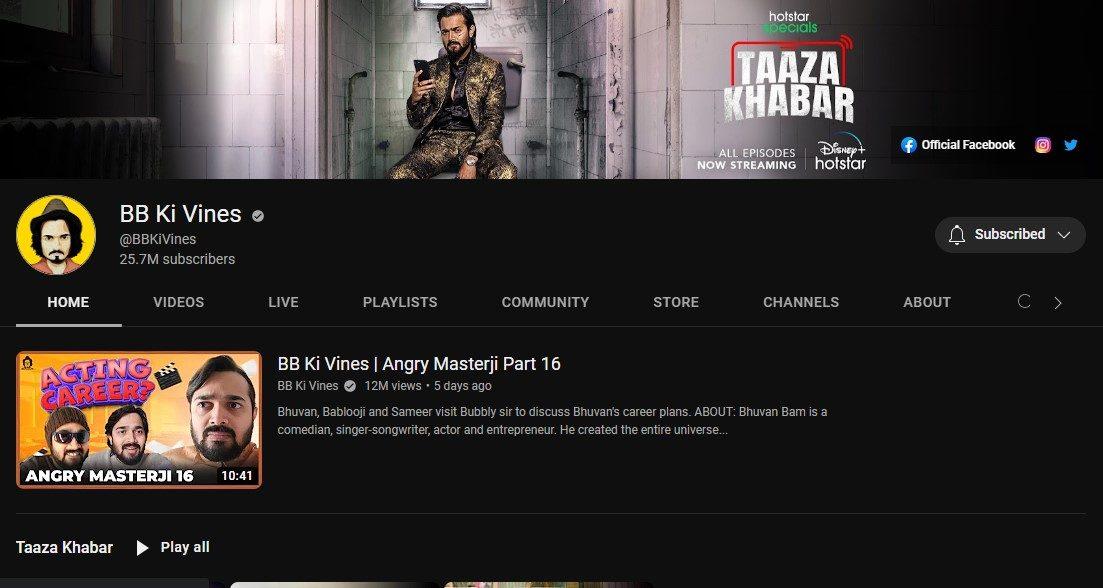 The initial and main source of his income is his YouTube channel 'BB Ki Vines', where he posts lengthy vines. He recreates traditional conversations in his videos while dressing up as various characters, including women, and adds fun and comedy to them. The dialogues are both incredibly funny and appealing.
Several of BB's characters include Bhuvan Bam, Babloo J as a father, Jaanki Ji as a mother, Sameer Fuddi, Banchoddas 'Bancho' Chhatriwala as a best friend, and Titu Mama. His mother displays stereotypical female qualities like sympathy and sensitivity, whereas his father exhibits an extraordinary amount of technological incompetence in the vines. Some of his videos, which include characters from his family, reflect on both his life and the lessons he has learned. His humor is largely motivated by raising people's awareness of delicate problems.
2. Music videos
In August 2016, Bam released the video for the song for Teri Meri Kahani online. The following were Sang Hoon Tere, Safar, Rahguzaar, and Ajnabee.
3. Movies
He and Divya Dutt co-starred in a movie called Plus Minus, for which he received a Filmfare. In the short film directed by Jyoti Kapur Das, Captain Harbhajan Singh's life narrative is converted into a slice-of-life tale. Captain Harbhajan Singh was posthumously awarded the Maha Vir Chakra medal for bravery in 1969.
4. Titu Talks
Bhuban Bam's Titu Talk, an Indian internet success, is currently among the most well-liked interview shows. It began with Shah Rukh Khan, who was the first guest on the show. To better comprehend the difficulties individuals are facing as a result of the COVID-19 shutdown in India, Bam posted a Titu Talks episode titled Lifeline of Society in May 2020. This program included interviews with an electrician, a housekeeper, farmers, transgender persons, and milkmen.
5. Web Series
One Mic Stand, TVF Bachelors, and Dhindora all featured Bhuvan Bam. On October 5, 2021, Bhuvan posted the Dhindora trailer to his YouTube page. It topped YouTube's trending list within mere few hours of its release.
Bhuvan Bam starred alongside Jitendra Kumar, Shivankit Singh Parihar, Jasmeet Singh Bhatia, etc. on TVF Bachelors by Amrit Raj. The show was released on June 15, 2016.
The 2021 comedy-drama web series Dhindora, created and directed by Himank Gaur, features Bhuvan Bam as its lead actor. Along with Bam, who portrays numerous roles in the series, Gayatri Bhardwaj and Jeeveshu Ahluwalia are also present. It centers on Bhuvan and his family's regular lives before an unforeseen purchase sets off a chain of events. All these projects have aided in increasing Bhuvan Bam net worth.
Upcoming Projects
Taaza Khabar on Disney Plus is set to host the social media star's OTT debut. According to reports, Taaza Khabar will be created by Bam's production company, BBKV. It is produced by Rohit Raj and Bam and directed by Hussain Dalal and Abbas. Numerous well-known individuals and other content creators have commended Bam for his debut. Both producer Guneet Monga and Indian actor Anup Soni were present.
| | |
| --- | --- |
| NAME | Bhuvan Bam |
| Net worth | $5 million |
| Monthly Income | Rs. 25 lakhs |
| Yearly Income | Rs. 3 crores |
| Wealth | Rs. 41 crores |
| Properties owned and their valuation | Rs. 41 crores |
| Miscellaneous assets and their valuation | – |
Also Read: How Much Does CarryMinati Earn? Salary, Bio, Family

Achievements and Accolades
Bhuvan is the first ever YouTuber from India to be invited to the World Economic Forum 2020. For someone who rose to fame from social media by creating content, it was a major deal because several national leaders and CEOs from very large nations were in attendance. His name was included in Forbes India's list of the 30 Under 30 India's Brightest Young Stars in 2020.
He is also one of the very first Indian YouTube content creators to reach 10 million followers on his channel called BB Ki Vines. Bhuvan is also one of the very first YouTubers from India, to have an actor from the adult film business featured on his channel. It is also not surprising that today due to his successful career, people are eager to know about Bhuvan Bam cars, his lifestyle, etc.
Today Bhuvan Bam monthly income is one that many young professionals can envy. He even gave a TEDx Talk at the IIT in Delhi and presented his 'Success Mantra.' He attributed his ability to reach such a massive audience to his creativity and distinctive writing style. Looking at Bhuvan Bam one can say that uniqueness is something that will make one's aspirations come true.