Abhishek Malhan, popularly known as Fukra Insaan, has already made a name for himself in the world of Indian YouTube. His reaction videos and vlogs are a source of entertainment for many across the world. However, his recent stint in the second season of Bigg Boss OTT has elevated his popularity and economic status. In this article, we will look at Fukra Insaan net worth, his annual income and the house he owns.
Fukra Insaan Wiki
Abhishek Malhan, renowned by his online alias Fukra Insaan, is a prominent content creator hailing from Delhi, India. Fondly referred to as Abbu by his mother, he was born on May 24, 1997, making him 26 years old as of now. Abhishek is known for crafting engaging and thrilling videos, which have garnered him a substantial and dedicated fan base.
Birth Date and Age
May 24, 1997; 26 years
Birthplace
Pitampura, Delhi
Residence
Pitampura, Delhi
Education

Lancer's Convent School, Delhi
Bachelor of Commerce (B. Com.), Delhi College of Arts & Commerce, New Delhi

Debut Videos

Rs. 20 Water Vs Rs. 600 Water (on Fukra Insaan)
Pochinki Pe Humla

!!! (on Fukra Insaan Live)

Most Popular Appearances

Giving 

@triggeredinsaan

RS 2,50,000 to spend in 1 Hour challenge!! (challenge video)

Big Life (music video)
Bigg Boss OTT Season 2 (reality show)

Accolades

Gold Creator Award, YouTube
Talk Of The Town 2023 award, Influencex Awards
Fukra Insaan Net Worth, Annual Income, House
Abhishek Malhan has become a prominent figure in the Bigg Boss house, rumored to be among the highest-earning celebrities on the show. His charm and popularity have captured considerable spotlight. Abhishek produces content that includes a variety of challenges, musical performances, playful pranks, and thought-provoking social experiments. His infectious enthusiasm and witty humor resonate effectively with a wide and diverse viewership.
| | |
| --- | --- |
| Net Worth | $1 million |
| Monthly Income | Rs. 12 lakhs |
| Yearly Income | Rs. 1 crore |
| Wealth | Rs. 8 crores |
| Properties Owned and their Valuation | Rs. 16+ crores |
| Miscellaneous Assets and their Valuation | Rs. 1.14 crores |
Source: Fukra Insaan Net Worth
Personal Life
Abhishek was born on May 24, 1997, in Pitampura, Delhi. His father, Vinay Malhan, is a businessman, while his mother manages a YouTube channel called Dimple Malhan Vlogs, where she shares her culinary expertise and posts vlogs on her daily life. He pursued his schooling at Lancer's Convent School in Delhi, followed by obtaining his Bachelor of Commerce degree at Delhi College of Arts & Commerce in New Delhi.
The passion for creating content evidently runs in the family, as Abhishek's brother, Nischay Malhan, is a well-known YouTuber known as Triggered Insaan, boasting an impressive subscriber count of 20.3 million and ranking among India's most successful YouTubers. Within the Malhan family, Abhishek's sister, Prerna Malhan, may not be in the spotlight like her brothers, but she certainly plays an essential role in their lives. Her husband's name is Harsh Gupta, who features prominently in her videos.
Career
Abhishek is a dedicated YouTuber who embarked on his YouTube journey back in 2019. His video content has collectively garnered an impressive 60 million views. Beyond his YouTube fame, Abhishek wears many hats, being an entrepreneur, rapper, and singer.
His primary YouTube channel goes by the name Fukra Insaan, boasting a subscriber count of around 8.64 million, while his second channel, Fukra Insaan Live, has 2.8 million subscribers. Abhishek made his foray into the music scene with Big Life in 2021 and has since produced several notable music videos, including Tum Mere (2021), Fly High (2021), Ranjhaa (2022), Din te Raat (2023), and Tum Mere 2 (2023). His collaborations with renowned YouTubers such as Carry Minati and Ashish Chanchalani have further boosted his channel's popularity.
In an interview, Abhishek revealed his lifelong ambition to become a businessman and shared that he founded a company called Mr. Bond during his college years, though he eventually closed it down in 2021.
Abhishek offers diverse original content encompassing challenges, gaming, and prank videos. Notably, in 2023, he and his brother Nischay Malhan made a guest appearance on the famous YouTube talk show The Thugesh Show. His innovative content creation has earned him the moniker The Mr. Beast of India, a fitting title given his immense popularity and influence. Beyond YouTube, Abhishek's success extends to Instagram, where he boasts a substantial following of 6.8 million followers.
In the year 2023, Fukra Insaan participated as a contestant on the second season of Bigg Boss OTT, a popular reality show. During the premiere episode, Abhishek garnered the highest number of audience votes, establishing himself as the most famous contestant. He maintained this position, captivating his fans for a remarkable eight weeks on the show. In the end, he narrowly missed out on the title, finishing as the first runner-up to Elvish Yadav.
Fukra Insaan Net Worth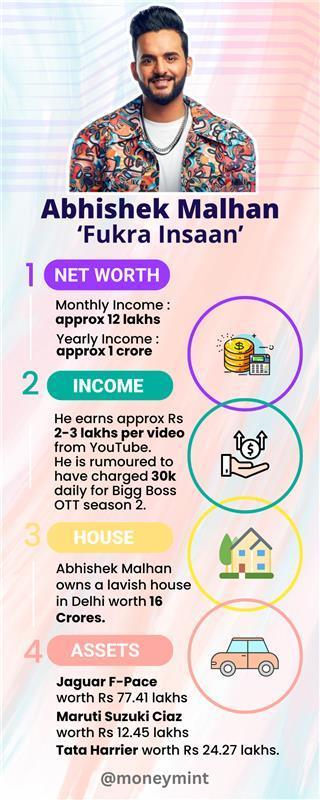 In 2023, Fukra Insaan is believed to possess a net worth of approximately $1 million, equivalent to Rs. 8 crores. his achievements on YouTube have enabled him to capitalize on his content and generate a significant income. Apart from his YouTube earnings, Abhishek also secures income through partnerships with brands and sponsorships.
Fukra Insaan Income and Salary
Abhishek Malhan's YouTube channels brings in over Rs. 8 lakhs per month. Additionally, through influencer marketing, he commands fees of over Rs. 5 lakhs for sponsored Instagram Reels, more than Rs. 3 lakhs for sponsored Instagram Stories, and over Rs. 4 lakhs for sponsored Instagram posts, which encompass normal posts and Carousels.
Abhishek Malhan also made an appearance in Bigg Boss OTT Season 2, where he earned over Rs. 30,000 per day, totaling more than Rs. 2 lakhs per week. Fukra Insaan salary is estimated to be around Rs. 12 lakhs per month, which equates to an annual income of approximately Rs. 1 crore. These substantial earnings are a testament to Abhishek's thriving online presence and the unwavering support of his dedicated fan base.
Fukra Insaan House
Abhishek Malhan currently resides with his family in their family house. Recently, he achieved another milestone by purchasing a bungalow as a personal gift. The reported value of the house is a staggering Rs. 16 crores.
Assets
Abhishek's passion for luxurious automobiles is unmistakable, as evident from his social media handle. Among his impressive collection, he owns:
Jaguar F-Pace, the luxurious SUV with a price of Rs. 77.41 lakhs in India,
Maruti Suzuki Ciaz, which has a market value of Rs. 12.45 lakhs,
Tata Harrier, priced at Rs. 24.27 lakhs.
Abhishek's affinity for extravagance extends beyond cars, encompassing an array of high-end brands such as Gucci and Armani, among others.
Achievements
Abhishek Malhan has been honored with prestigious accolades such as the Gold Creator Award, recognition on the Trending Page of the Year, and the esteemed Pari Match Award.
Only two weeks following his exit from Bigg Boss house, he was honored with the Talk Of The Town 2023 award at the Influencex Awards 2023, due to his achievements on his YouTube channels and his impressive performance on the reality show.
Philanthropy
Abhishek has gained recognition not only for his accomplishments but also for his philanthropic endeavors. He has leveraged his influence to raise awareness about pressing matters such as mental health.
Also Read: How Much Does CarryMinati Earn? Salary, Bio, Family
Fukra Insaan's financial standing reflects his success in the field of social media, solidifying his position as a successful content creator. His achievements reflect the opportunities and potential in the digital landscape.
Source: Fukra Insaan House