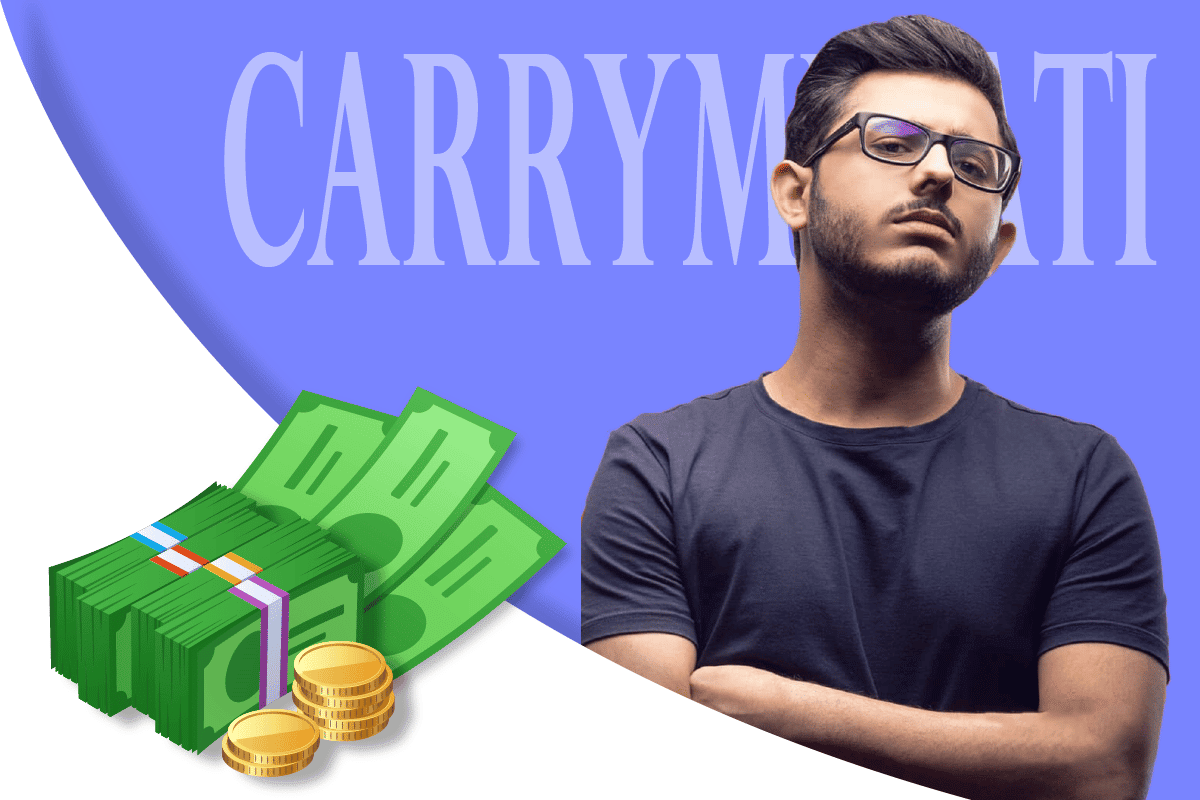 'Toh Kaise Hain Aap Log' is one of the most popular intros on Indian YouTube. If you are an avid YouTube watcher and have watched Indian content, then you must have stumbled upon this intro once or twice. This is the intro of a popular YouTuber and one of the most successful content creators in India, CarryMinati. Wondering who is CarryMinati? His real name is Ajey Nagar and he is a YouTuber on the Indian circuit with more than 37 Million subscribers and various brand endorsements under his name. But how much does CarryMinati earn? how does CarryMinati earn? We will answer all these questions and much more in this article.
How Much Does CarryMinati Earn? Salary, Bio, Family
With cheap internet and the high demand for smartphones, YouTube exploded in popularity in India. It became a great way to pass time and enjoy all kinds of content. It made YouTubers megastars with following in the millions. CarryMinati is among those stars who have accumulated a lot of money using YouTube channels. Let us learn more about him.
Who is CarryMinati?
Ajey Nagar, better known online as CarryMinati, is a 23yrs old streamer and YouTuber from the Indian city of Faridabad. On his YouTube account CarryMinati, he is well known for his roasting videos, comedy sketches, and responses to numerous internet subjects. His second channel, CarryisLive, is devoted to games and live streaming. He was the first YouTuber in India to surpass 30 million followers and has the highest subscribers among non-corporate channels.
Ajey began creating YouTube videos when he was 15 years old. Ajey persisted in producing various roasting and commentary videos of other videos by other artists, which he refers to as 'bakchod'. Since this format was relatively new for Indian YouTube at the time, his channel began to expand around this period. LeafyIsHere, an American commentary YouTuber who frequently makes fun of similar sorts of footage with games in the background is the source of Carry's inspiration.
Though many know, who is CarryMinati but many followers have no clue why he calls himself CarryMinati. Now, it is because there was a persistent joke about him having joined the Illuminati. Therefore he gave himself the nickname CarryMinati. He quickly modified his identity and even the design for his YouTube channel to match the concept, using the Illuminati pyramid as his symbol and adding the eye of the Illuminati after each of his videos. He was accumulating subscribers quicker than ever at this stage in his career, which ended up making him one of the most successful Indian YouTubers.
How much does CarryMinati earn? 
Ajey Nagar is thought to have a net worth of $5 Million which is approximately Rs. 31 Cr. His revenue comes from social media, brand sponsorships, tie-in videos, and YouTube videos. As per reports, CarryMinati income per month is around Rs. 25 Lakhs to Rs. 30 Lakhs. His annual income rakes up to Rs. 3 Cr. approximately. He can earn up to Rs. 1 Lakh for each video he posts.
Nagar has three YouTube channels, out of which most of his earnings come from the main and oldest channel CarryMinati. His 'CarryisLive' channel also generates an average income of $5K (40,000 rupees) for every video, excluding brand-sponsored agreements, for which he may charge up to $20K per video.
With over 16.4 million followers on Instagram and 2.9 million followers on Twitter, Nagar also clearly dominates the social media landscape. This has also aided a lot in reaching his current net worth. For a brand-sponsored post on Instagram, he might get as much as $10k, according to estimates. He has also endorsed various brands and is the brand ambassador for Arctic Fox.
Personal Life
Ajey Nagar was born on June 12, 1999, in Haryana. His mother's identity has not yet been made public, and his father's name is Vivek Nagar. He only has one sibling, Yash Nagar, a DJ and record producer known by the stage name Wily Frenzy. Nagar went to Delhi Public School and studied there till 12th class but dropped out before finals due to his fear of not passing the economics board exams. He took his 12th-grade examinations from a distant education board after a year.
Also Read: Top 50 Most Subscribed YouTube Channel in India

CarryMinati Income Sources
After learning, how much does CarryMinati earn, one must be curious about how he makes this much money. Well, here is how! CarryMinati's main source of net worth and income is uploading videos on the YouTube platform. His revenue comes from commercial sponsorships, tie-in videos, and YouTube videos. It is not easy to estimate his revenue accurately from YouTube because profits rely on a variety of variables, including the number of views on his videos and the presence of advertisements.
CarryMinati Channels
The 23-year-old content creator started early at the age of 10 years. His primary YouTube account which is currently known as CarryMinati was launched in 2014. At that time it was called AddictedA1 and the initial videos Nagar uploaded were recorded video game footage and his commentary on the game on the channel. However, later he changed the name of the channel to CarryDeol in 2015 and began uploading gaming videos of Counter-Strike: Global Offensive while imitating the voice of popular Indian actor Sunny Deol. And then after a year or so, he finally changed the name to CarryMinati.
CarryMinati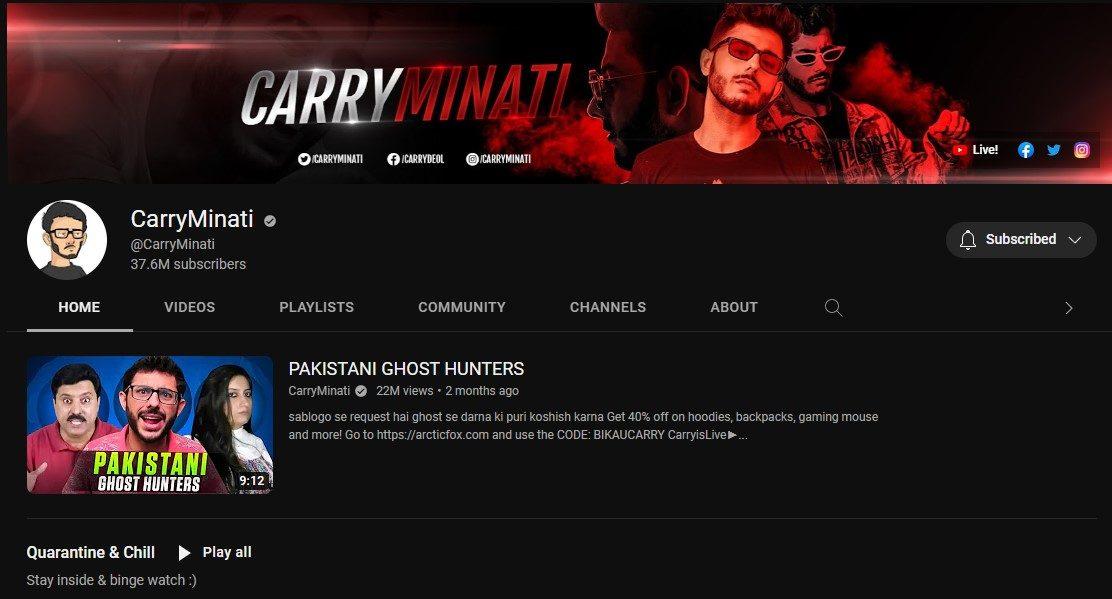 Nagar's main YouTube channel, CarryMinati posts a variety of content in the Hindi language. One of the main content types under the channel is live game streaming which Nagar puts in his commentary in it. In addition, to live gaming, Nagar also produces roasting content and comedy skits and sketches in the Hindi language along with diss songs, and sarcastic parodies. Nagar works with his crew to create videos from their Faridabad house. His main channel has 37.3 Million subscribers and has around 3 Billion views approximately.
Other than his main channel, Nagar also has a secondary channel on YouTube called Carry is Live. This channel was launched in 2017. Unlike his main channel, this one is only for the live streaming of games. It was initially focused on PubG but then later it got diversified to stream a variety of other games. But, that is not the only objective of the channel. As Nagar has used it multiple times for different humanitarian efforts. He goes live practically every day between 9 and 10 pm and 11:30 and 2:30 pm IST. Currently, this channel has 11.3 Million subscribers and approximately 1.4 Billion views.
He occasionally accepts super-chat contributions and offers shoutouts from the stream chat. Through this approach, numerous fundraising events have been held. For the victims of the flooding in Assam and Bihar in 2020 and the storm Fani in Odisha in 2019, he has broadcasted live streaming on this channel and raised relief funding and donations.
Popular Videos and Achievements
CarryMinati's channel is filled with various types of videos and live streams. We have already informed you how much does CarryMinati earn, now let us discuss some videos and achievements that helped him make big money.
Like any other artists and content creators, certain creations tend to take the center stage and become popular among the masses. Likewise, there are certain videos by CarryMinati that have received major popularity with millions of views within the first few hours of upload, making them viral and trending on the platform.
Three of his most popular videos are:
PUBG India: Life Battle Royale- this video is a live streaming of the game when the popular game title was launched in India. The video has around 39 Million views.
Film the Flare: This is a comedic satire on the Filmfare awards that took place in 2021 and has around 54 Million views.
YouTube vs. Tiktok: The end: This was a controversial video and was trending with millions of views piling up in a single day itself. However, the channel deleted the video later. In more than 5 days, his video received more than 65 Million views and 10 Million likes.
He has spoken with several of the celebrities on the list, including teen environment activist Greta Thunberg, actor Tessa Thompson, Henry Cavil, and Tom Cruise. In 2019, TIME named him one of the top ten next-generation leaders. He is also featured in the 30 under 30 in Forbes Asia.
Carry is known for producing his rap music videos, many of which are sarcastic and parodic depictions of the 'bakchod' musicians he mocks in his writing. He also once went to the YouTube FanFest 2017 in Mumbai at Jio Gardens, where he enthusiastically made his live performance debut.
| | |
| --- | --- |
| NAME | Ajey Nagar |
| Net worth | $5 million |
| Monthly Income | Rs. 16 lakhs |
| Yearly Income | $2.43 million |
| Wealth | Rs. 31 Crores |
| Properties owned and their valuation | Rs. 31 Crores |
| Miscellaneous assets and their valuation | – |
Also Read: 25 YouTube channel ideas without showing your face

Controversies
YouTube Vs TikTok The End, is the only controversy Nagar ever faced. In May 2020, Nagar responded to a video released on Instagram by TikTok user Amir Siddiqui, in which Siddiqui criticized YouTube creators for mocking TikTok users with this video. Based on several reports of harassment and cyberbullying, YouTube removed it, alleging breaches of its terms of service. LGBTQ+ advocates had filed many concerns over the video's harsh homophobic or transphobic content.
Many of Nagar's supporters criticized YouTube over its actions, and his name appeared in several new trending hashtags as a result of the removal. Millions of people saw the video, and a deliberate attempt was made to review bomb TikTok on Google Play Store. Many other Nagar supporters however defended YouTube's choice to take down the video.
As a response to all the drama from YouTube Vs. TikTok: The End, 'Yalgaar' was released on June 5, 2020. Indian pop musician Babu Haabi claimed that the song's rhythm was taken from him after it was released. However, to make matters worse, YouTuber Kunal Kamra got involved and claimed ownership of the beats.
Carry refuted this once more, claiming that his brother Wily Frenzy had produced them, putting a stop to this small dispute. However, things became much worse when it was discovered that the rhythms of Oliver's 2013 song 'Night Is On My Mind' were also used in Haabi's song 'Bobocanta'. After some time passed, the conflict ended in mid-June 2020.