Looking to convince your target audience about the product or service you are offering? We have got a solution! The best way to engage your potential clients, gain recognition, increase traffic, amplify profitability, and boost ROI is to use well-written copyrighting software that drives your audience towards your business. If you can make robust use of copywriting, you can literally increase your sales and revenue around 10 times.
There is a myth that great copywriting skills can be achieved by hiring a professional copywriter, which is not true.
In contrast, hiring professionals can increase the budget and overall expenditure of your business.
To solve this issue, especially for people who are unwilling to spend a hefty amount on hiring copywriting experts, copywriting software like Funnel Scripts, is one of the best sources for creating dynamic copywriting content. However, the price of using funnel scripts is quite high. But we have a solution. The best way is to use funnel scripts alternatives, that will allow you to get your copywriting done affordably.
What is Funnel Scripts?
Before we get to know the best funnel scripts alternatives, let's first understand the concept of funnel scripts. It is a type of copy-generating SaaS platform allowing users to create exceptional marketing copy that boosts the conversion rate and increases engagement.
The funnel scripts are standalone marketing tools best known for generating highly customized, automated, compelling marketable copy.
10 Best Funnel Scripts Alternatives for Copywriting
Let's dive in and get informed about the funnel scripts alternatives that you can use instead of spending immense money on creating sales copies through funnel scripts: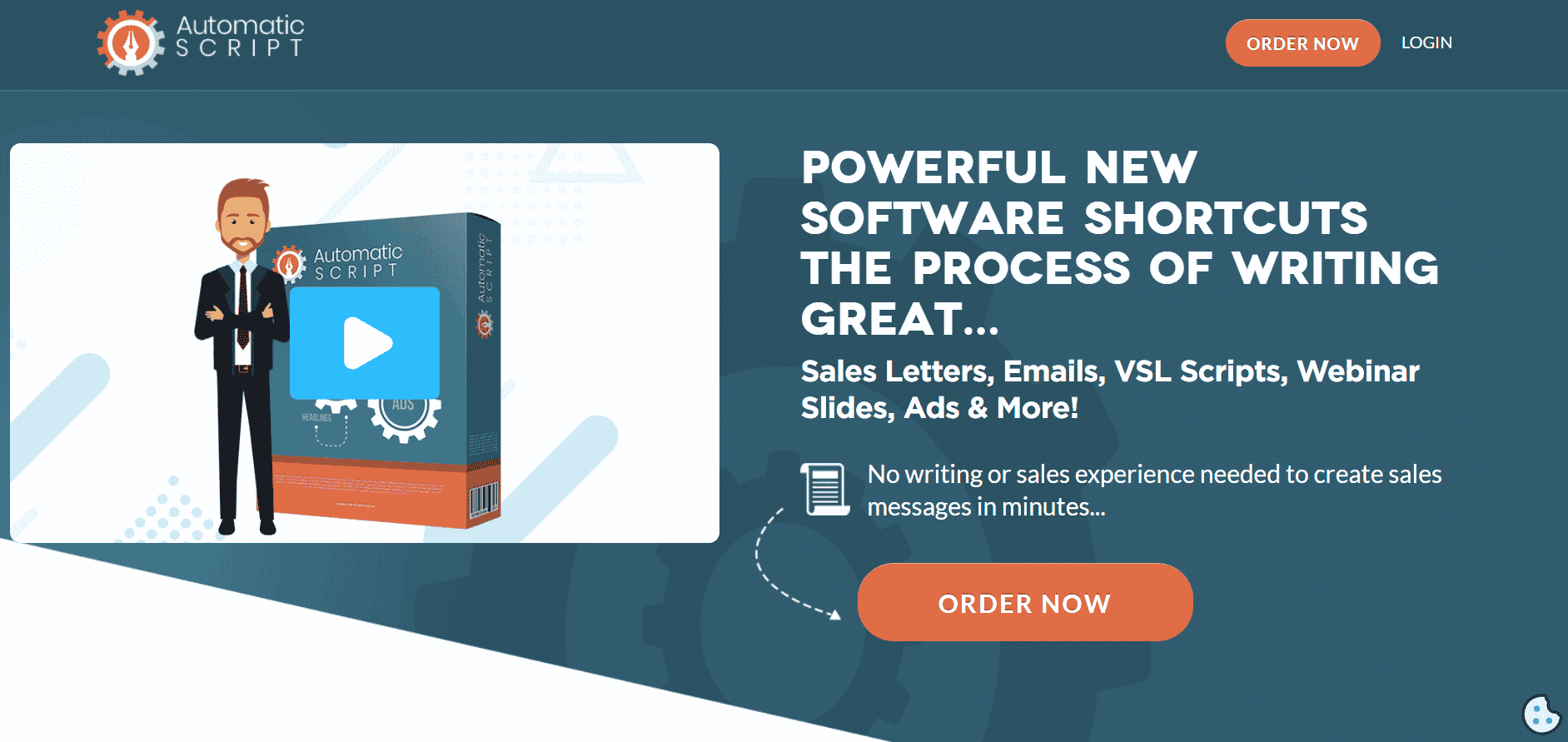 Automatic Scripts is one of the best alternatives that might work even better than Funnel Scripts. Undoubtedly, this amazing copywriting tool facilitates the process of creating your sales letter.
It also allows its users to take advantage of different sales writing formulas produced by proficient copywriters to create sales letters, headlines, call to action, Facebook ads, video sales, testimonials, email subject lines, email sequences, upsells, info products, phone scripts, etc.
The tool is designed with modern technology that helps you create a compelling sales message from a blank page. It also offers extensive in-built copywriting templates and examples to model from. The best part about this software is its high flexibility as all sized businesses can use it, be it small, medium, or large.
Pricing & Comparison 
Automatic Scripts is an impeccable option if you have a temporary requirement or only for a few months or maybe a year or so. The platform has 2 different price plans ranging from $39 (Standard) in which you get 3 sales letters to $69 (Enterprise) with 10 sales letters a month. Plus, you can save up to 49% if you purchase them on a yearly basis.
However, suppose you have a long-term requirement for copywriting software. In that case, Funnel Scripts still prove to be a cheaper option compared to Automatic Scripts as this platform believes in one-off payment, allowing you to create unlimited sales letters and providing more copywriting resources compared to Automatic Scripts.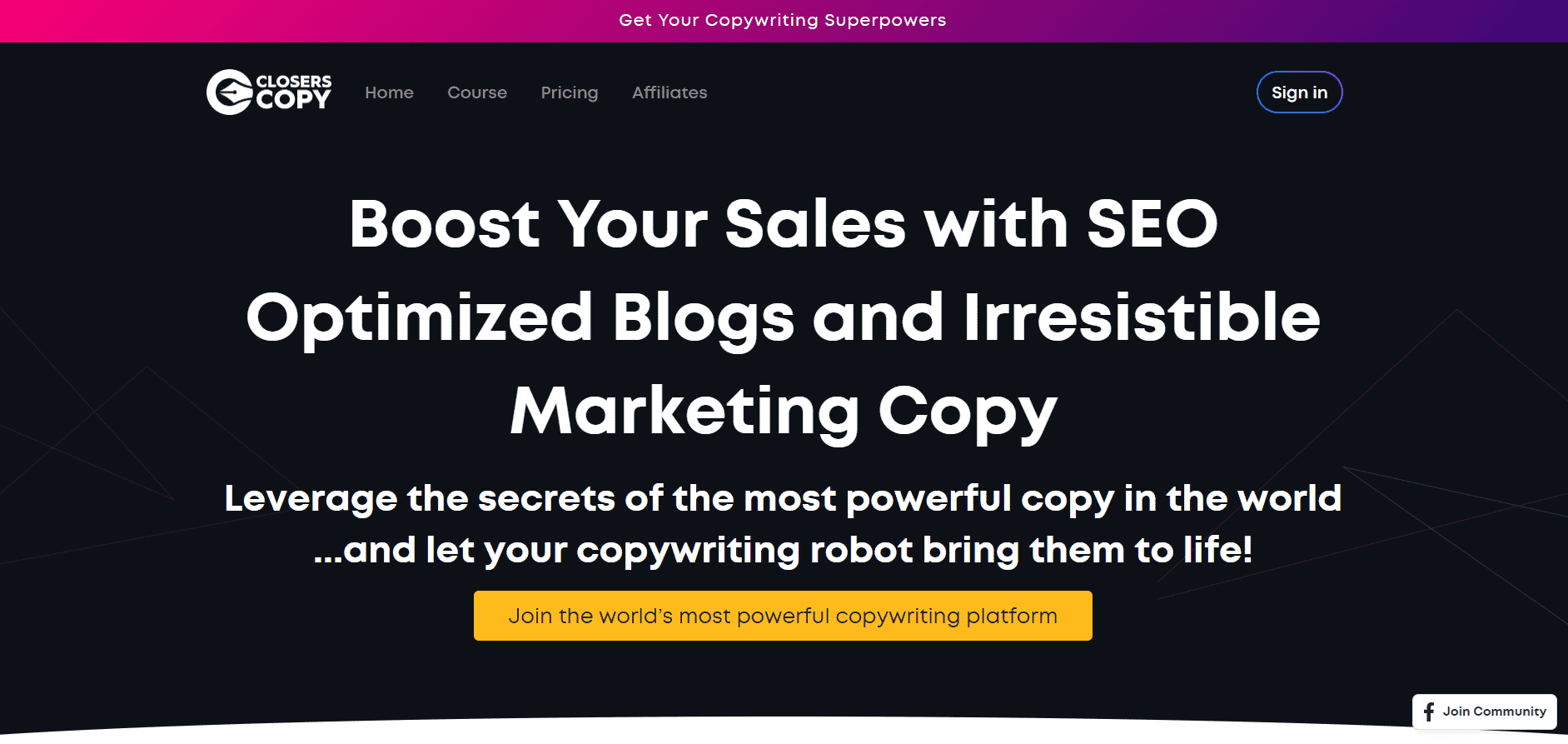 Want to create unique sales copies? Closers Copy is the appropriate choice if you are looking for building a masterpiece with exquisite content. Unlike other copywriting tools, it does not let you generate a robotic copy by filling a long form with questions. As the process of signing up and the interface is user-friendly.
The software is featured with an ever-growing high-quality templates library, and AI-based spam analysis, which helps in delivering maximum performance.
Powered with GPT-3 tech, the software is best known for eliminating all of your writer's block and effortlessly developing influencing marketing sales copies. In addition, it helps you create multiple types of copies, including paid ad copy, advertising power words, marketing headlines, website templates, email series, etc. It is a great tool for creating their own template, looking up synonyms and antonyms, and collaborating with their team or coworkers.
Pricing & Comparison 
You can avail of all its exclusive features by paying $49.99 monthly for the Power plan. They also have a Superpower plan at $79.99 per month and a Superpower Squad plan at $99.99 per month. A negative part about Closers Copy is that it does not offer a free trial just like Funnel Scripts but offers generous discounts on annual plans.
If you are a beginner, then Closers Copy will be a better choice for you as the fee is minimal, and you do not need to spend an extraordinarily high amount for buying a Funnel Script subscription which is a whopping $797 for a lifetime. Although, you get lifetime access once you pay this fee to access Funnel Scripts features. But, if you are professional and budget is not an issue and you are planning for a long term, then do not hop on to other platforms, stick to Funnel Scripts.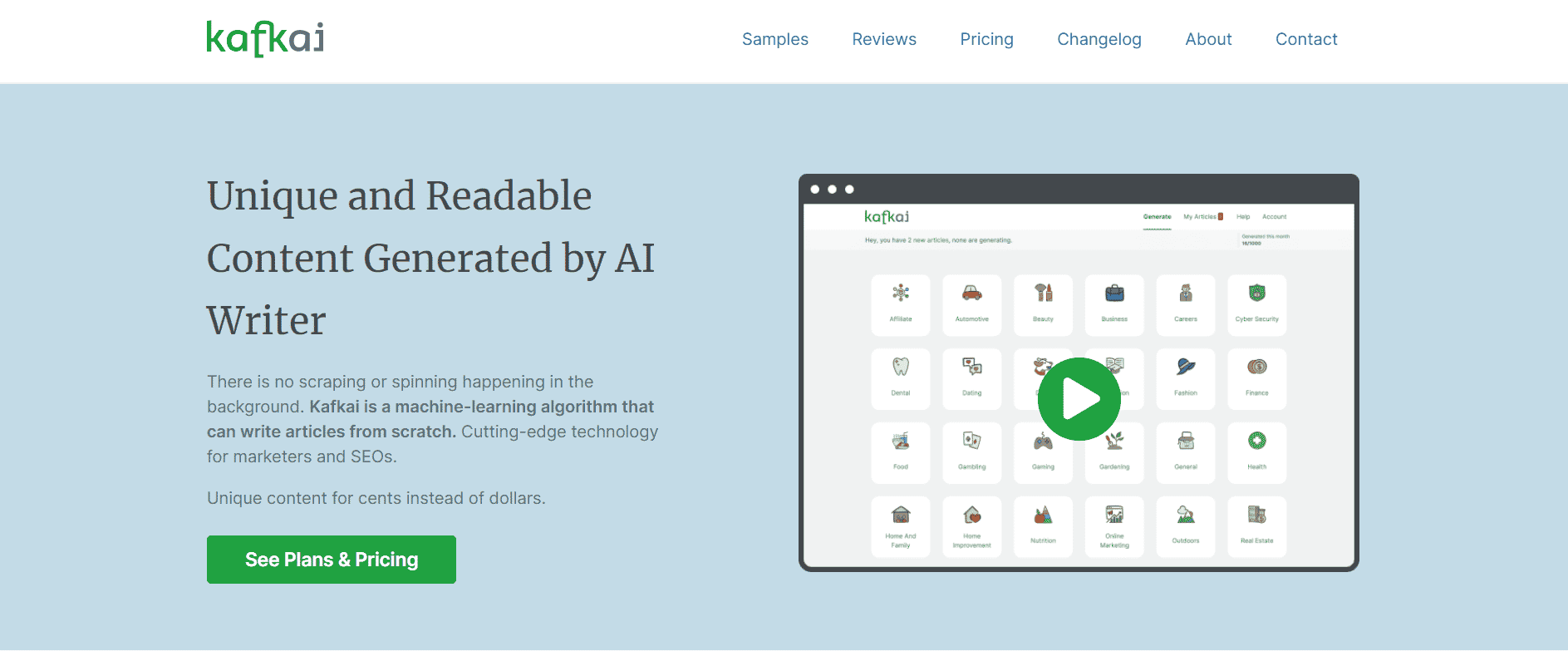 One of the best Funnel Scripts alternatives for copywriting, Kafkai is powered by Artificial Intelligence and is best known for generating high-quality and engaging sales letters and market copies.
This content writing tool understands very well that a consistent growth of business immensely relies on copywriting and content marketing. The platform helps in both aspects and helps you produce quality blog posts and competent articles whenever required.
The tool features a machine-learning algorithm that allows you to write from the beginning and supports up to 900 words per article.
Predominantly, the software is used by affiliates, bloggers, and SEO experts to generate high-ranking content.
Pricing & Comparison 
You can use Kafkai for 3 days in a free trial for all the plans. If you like their services, then you can opt for a paid subscription. The platform offers 4 price plans, including a Writer plan for $29/month, a Newsroom plan for $49/month, a Printing Press plan for $129/month, and an Industrial Printer plan for $199/month. The price range of plans varies depending on the number of articles you can write and post. The major difference between Funnel Scripts and Kafkai is that Kafkai does not allow you to create sales funnels. Consequently, Kafkai does not develop copy templates for the sales pages or emails, but Funnel Scripts does.
Another important thing to consider is the time duration. For the long-term, opt for the Funnel Scripts, as Kafkai will prove to be expensive. However, Kafkai takes the lead against any other article writer in the same price range.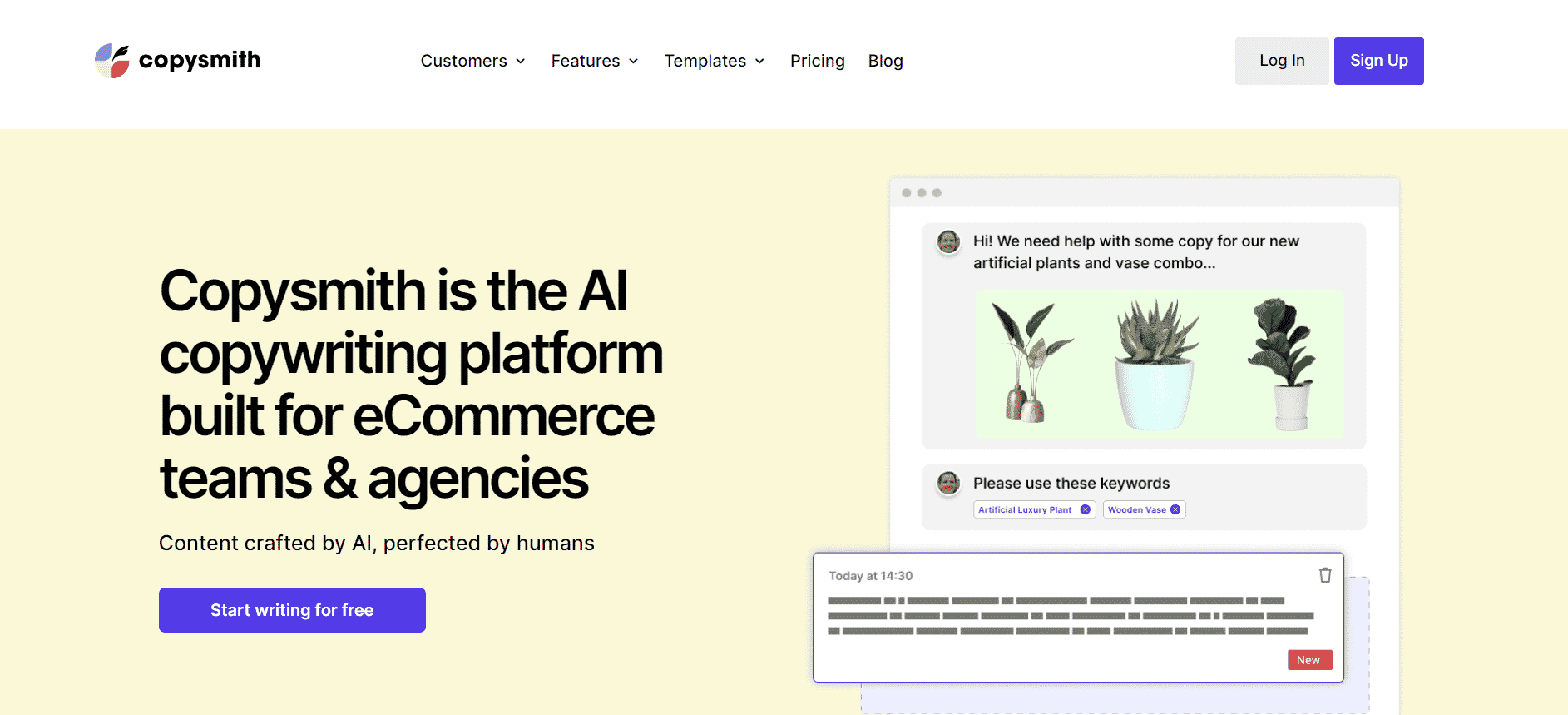 If you are looking to create a high-quality copy in minutes, then Copysmith is a platform serving as a one-stop solution. It is a leading funnel scripts alternatives that are best-known for boosting the revenue of plentiful businesses by creating compelling copies such as email newsletters, Facebook and Google Ads, headlines, landing pages, blog posts, content ideas, product descriptions, SEO taglines, and metadata.
The platform is designed by experts from various backgrounds and industries that allow users to brainstorm, manage, and evaluate the copies it creates. It also provides you with ample copy templates and full tutorials, helping newbies get a fair idea of how it works.
The copywriting software is ideal for Ad agencies, marketers, growth teams, and e-commerce businesses.
Pricing & Comparison 
You can get a starter plan from Copysmith by paying just $19 per month, which provides you with 50 free credits and 20 plagiarism checks. However, if you are looking for unlimited credits, up to 100 plagiarism checks, and limited long-form content, you can opt for the Professional plan by spending $59 every month.
They also offer a custom Enterprise Plan whose price will depend on your requirements. While Copysmith also offers a free trial, you can check it out by subscribing to it and analyze whether it solves your problems or whether Funnel Scripts is well suited for you.
Also Read: 12 Best AI Writing Software 
One of the predominant reasons why ScriptDoll is considered one of the best Funnel Scripts alternatives is the uniqueness it offers in all types of sales letters and mail sequences it helps to generate automatically. The topmost strengths of the platform include creating long-form sales letters, captivating video sales letters, creating press releases, e-commerce listings, building robust email marketing campaigns, generating sales copy for squeeze-or opt-in pages, and promotional content.
The software facilitates many tasks, plus you do not need a large amount hiring a copywriter. As it performs all the tasks that a copywriter is capable of.
Pricing & Comparison 
Script Doll offers a monthly plan costing you $99.95. They also have a yearly plan priced at $799.95. As we compared both the platforms, Script Doll proves to be much more expensive than Funnel Script's one-time payment.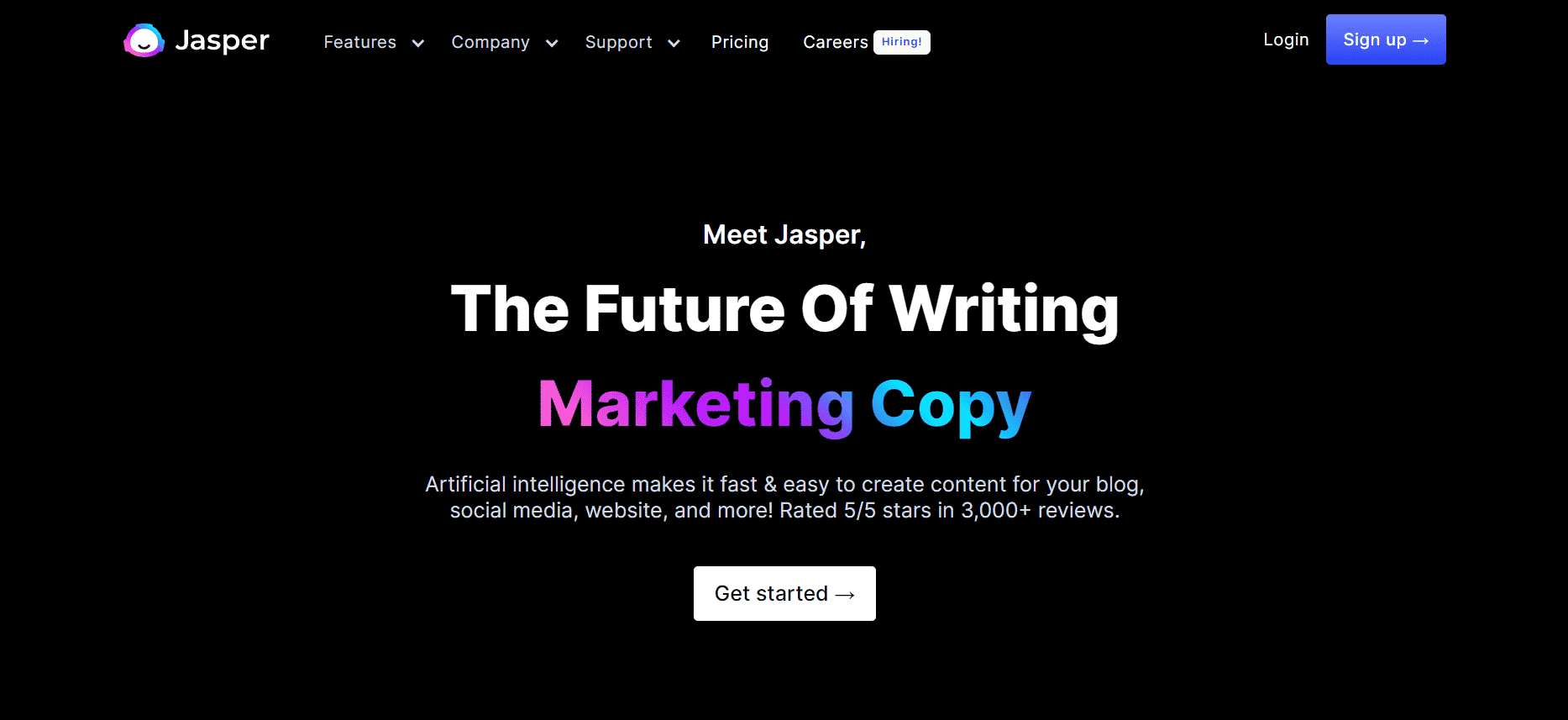 There are many reasons why Jasper is listed in the top Funnel Scripts Alternatives. It is an excellent copywriting tool that allows you to create effective sales copies, generates high converting copies, boost conversions, and promote ad campaigns.
When you register to this magnificent platform, you are provided with 10k credits and 5 days free trial period. Moreover, it enables you to create high-quality SEO content, product descriptions, photo captions, about and bio pages, landing page copy and headlines, email subject lines and body, Facebook and Google Ads, and dynamic social media posts.
You can set the tone of your sales copies in the best possible manner as per your need. Plus, it allows you to choose among a bunch of templates for any copy you wish to create.
Pricing & Comparison 
Due to its affordable pricing, the platform is used by many newbies/beginners. It offers 2 price plans ranging from $29/monthly to $59 a month. However, professionals mostly prefer purchasing Funnel Scripts as you are not required to pay every month/year. Furthermore, opting for Funnel Scripts means you only need to make a one-time payment, enabling you to access a wide array of features.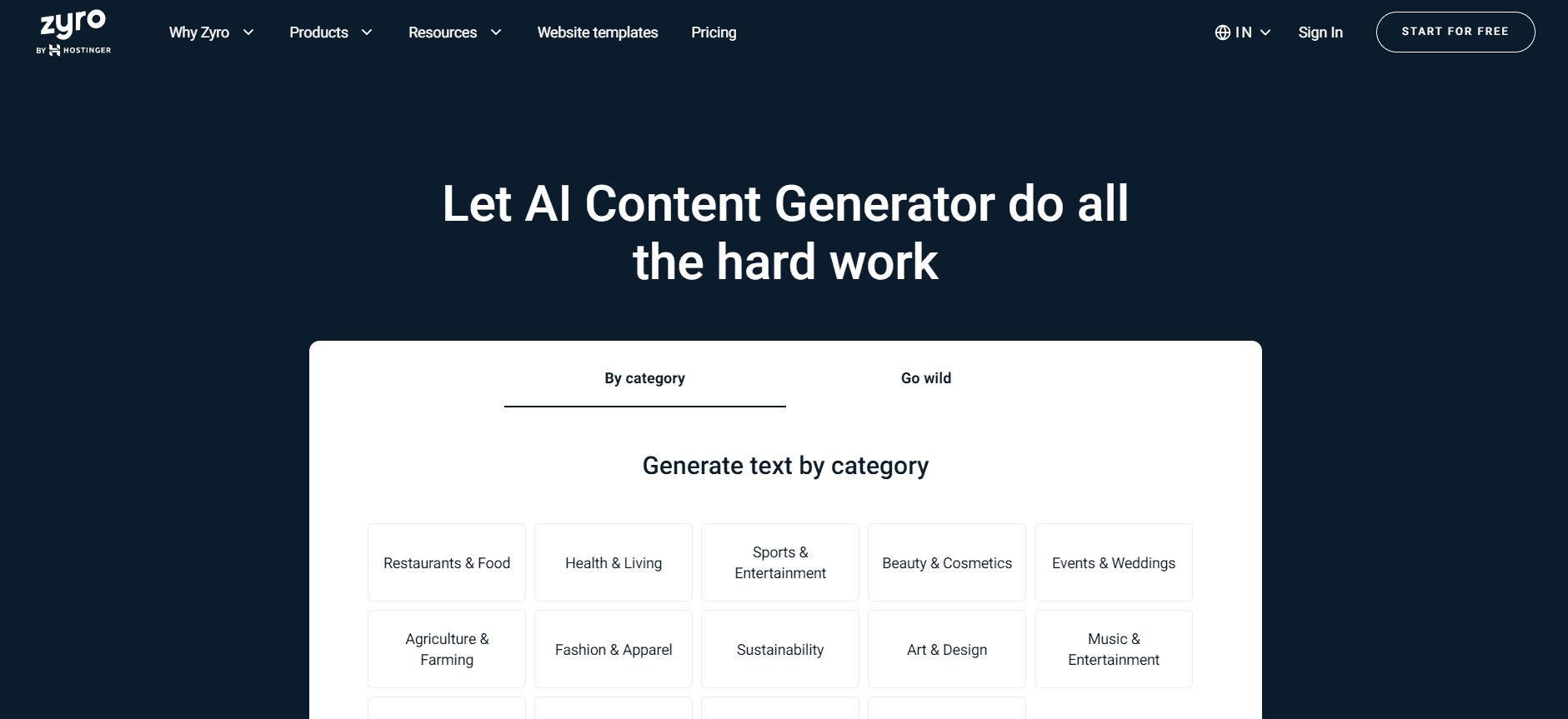 The prominent reason why Zyro Content Generator deserves to be on the list of the best Funnel Scripts alternatives for copywriting is the uniqueness it offers. The platform is slightly different from other platforms mentioned in this list as it focuses on generating content for the upcoming website.
Featuring AI branding powers, Zyro Content Generator facilitates the creation of a business page, an article/blog, and even the online store hassle-free, simply with a drag and drop feature.
The leading software helps generate content by category and lets you instantly create texts flawlessly.
Pricing & Comparison 
Zyro Content Generator is the most affordable copywriting software amongst all others mentioned in this list which allows you to generate new website copies within minutes while covering multiple niches.
The basic plan is priced at $2.99 and they also have a Business plan ($3.99) and an Advanced Store plan priced at $15.99 a month. All the pricing plans provide you with different features, be it storage spaces, domains, or products.
An ideal platform for beginners but not suitable for advanced users.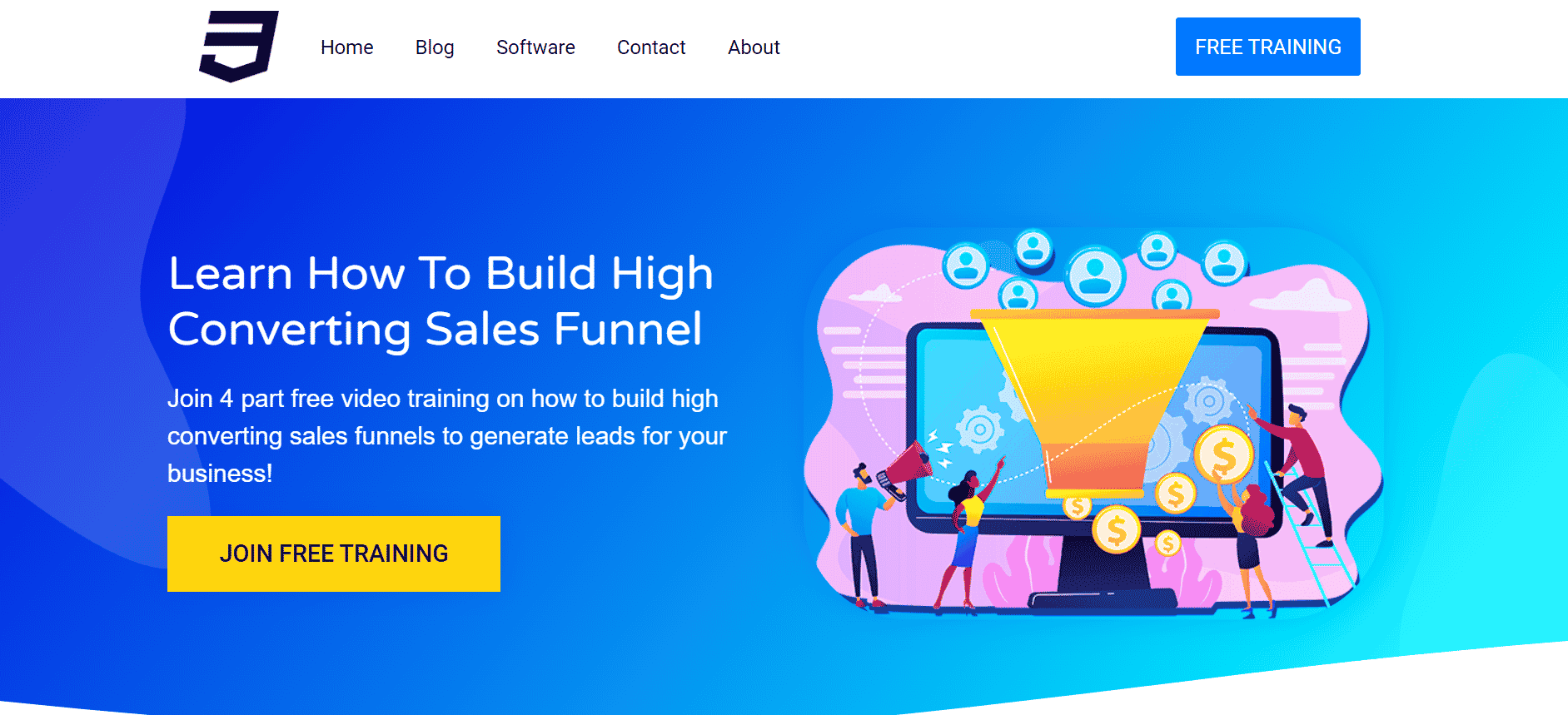 Builderall Script Generator is a renowned copywriting software featured with multiple marketing tools helping you grow your business online. The software facilitates various tasks such as creating compelling headlines, emails, ads, webinar scripts, and e-commerce content.
One of the best aspects of this software is that it lets you tell the system about your target audience, problems faced by your clients, and the niche you have covered. As a result, you can enhance your brand value and thrive your business online with a great piece of content on niches including health and fitness, consultant, tutoring, doctor, and author.
Pricing & Comparison 
The platform offers 4 types of plans that start at $16.90 a month and goes up to $87.90 a month. When you compare the prices of the Builderall Script generator with the Funnel Scripts, it becomes evident that Builderall proves to be much more expensive than Funnel Scripts.
Although, Builderall offers a 30-day money-back guarantee and free hosting with every plan you opt for, just like Funnel Scripts. However, comparing all the features and pricing, funnel Scripts take the lead.
Also Read: 51 Ways to Make Money Online For Beginners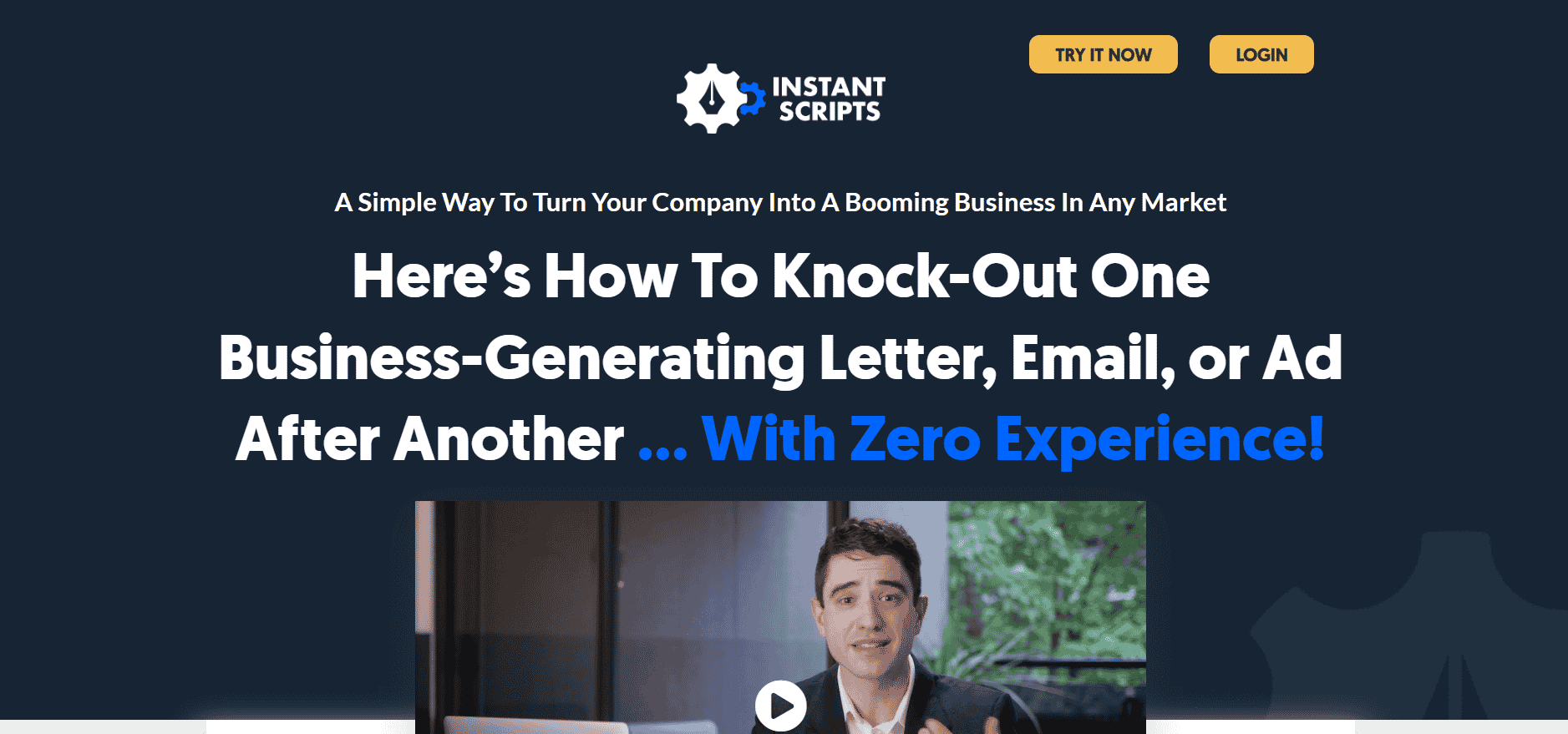 The hunt for looking at the best Funnel Scripts alternatives has become easy once you go through this entire guide.
Instant Scripts was created by Dan Lok, also known as the master of high ticket closer.
The software facilitates writing by allowing you to generate effective business letters, emails, and promotional ads. The best part is even if you are a newbie, you can still do wonders if you are using this copywriting software.
It holds the potential to turn your business into a booming one, be it in any market. The software helps you generate ample leads every week and uplifts revenue by creating great sales copy, leading to increased sales. Sounds good?
Pricing & Comparison 
Instant Scripts is leaning towards the type of copy you want to create. It does not provide you with real elements that comprise the material. However, Funnel Scripts allow you to create a storytelling copy, sensational clickbait copy, and much more.
You will have to pay $29.95 every month to avail of the features offered by Instant Scripts. In contrast, Funnel Scripts is just about paying one time. Unlike Funnel Scripts, Instant Scripts does not allow the users to conduct live webinars, which is justified because of its low cost.
If you are looking for a one-stop solution, Script Engage is the ultimate solution. It provides automated sales copies and produces effective promotional materials, marketing, and ads to increase the number of conversions.
The platform is best known for maximizing the potential of any campaign or promotion, which helps increase your sales, leads, and revenue. Plus, it also allows you to generate more sales to promote your product and services.
With Script Engage, you can build intriguing content, including upsell pages, lead generation pages, headline scripts, thank-you, and download pages, Facebook ad scripts, script collaboration, order from pages, webinar scripts, high ticket offer scripts, and one-time offer scripts.
One of the unique features provided by the software includes Complete Email Sequences enabling individuals having proficiency in email marketing to leverage high converting emails.
Pricing & Comparison 
When you compare both platforms, Script Engage is much cheaper than Funnel Scripts. Script Engage offers a monthly Elite plan, priced at $39/month. They also offer a pro plan at $47/month.
For beginners, opting for Script Engage is a recommended option. However, Funnel Scripts is unbeatable if you can afford to pay a hefty amount and get monthly coaching from its creator Jim Edwards.
Funnel Scripts Features
Funnel Scripts provides you with appealing sales copies to easily market any product or service and help you witness the best results. The platform includes the scripts for Email Sequences, Webinars, e-Commerce, and Sales Pages. The leading attributes that you will get with Funnel Scripts include:
1. Wide Variety of Scripts
The platform offers multiple ad scripts for Facebook, opt-in scripts, video sales scripts, and an excellent webinar script that enabled Russel Brunson to earn millions of dollars.
2. Downloadable Script Wizards
It includes the Easy Studio Wizard, Perfect Webinar Wizard, Story and Solution Wizard, and Video Clip Sales Letter Wizard.
3. Easy To Fill Forms
Every script you choose will be featured with a sample of advice.
4. Training Videos
The platform provides month-to-month training telephone calls.
5. Live Training
Wandering how to use Funnel Scripts efficiently? Make the best use of it by live training sessions recurrently.
Also Read: 30 Best High-Income Skills to Learn
Pros and Cons of Funnel Scripts
Funnel Scripts is perfect for an advanced and inexperienced copywriter to step up their game while creating powerful sales copies. However, just like all other software mentioned in this list, Funnel Scripts have some pros and cons that our writers have penned down. 
Pros:
Prompt onboarding process.
Auto Generate Scripts to save time.
Intro videos for all scripts.
User-Friendly platform.
Script generator with input fields for seamless customization.
Solitary input has the potential to create numerous scripts.
Provides users with unforeseen bonus items.
Provides an opportunity to create different types of scripts for distinctive business niches.
Downloadable wizards for longer to provide detailed scripts.
Provides users with live-training sessions after every third day.
Money-back guarantee.
Cons:
Turn out to be expensive for small enterprises or startups.
Downloading some scripts can be complicated.
Some scripts include limited personal inputs.
It is an incomprehensive platform
It may take you a lot of time to set up Wizard as it asks you many questions, which you need to answer to proceed.
Types of Scripts Offered by Funnel Scripts
Funnel Scripts is best-known for offering a wide array of scripts, including:
1. Expert Secret Scripts
Ask Campaign Scripts
Big Domino Scripts
Webinar Scripts
Epiphany Bridge Scripts
Hooks Curiosity Scripts
Sales Opener Question Scripts
Short Epiphany Bridge Scripts
Sales Copy and Video Scripts
Order bump
Special Offer Scripts
Title Scripts
2. DotCom Secrets Script
Live Event Invitation
Lead Capture Scripts
Call to Action Scripts
E-commerce Script
Magic Bullet Scripts
Order Bump Scripts
3. Email Scripts
Fast Teaser and Tweet Scripts
Onboarding Email Message Funnel Sequence
Webinar Follow-Up Scripts
Free Info Request Email Sequence
Auto Email Follow-Up Scripts
4. Titles & Headline Scripts
Dirty Little Secrets Scripts
Lucrative Sales headlines
Compelling Headlines
Email Subject Line Scripts
Profitable Title Scripts
Timeless Classic Headline Scripts
Short Headline Scripts
5. Content Creation Scripts
Decision Tree Scripts
Story Idea Brainstorming Scripts
Free Report Scripts
Seinfeld Email Topic Idea Scripts
About Me Scripts
Also Read: 42 Games That Pay Real Money
 Who are Jim Edwards and Russel Brunson?
Jim Edwards, one of the founders of Funnel Scripts, is a copywriting and market professional from Virginia. He is the pioneer of 'The Jim Edwards Method', suggesting the elimination of multitasking by investing in copywriting 'Plug and Play' formulas. Using this method, it becomes very easy to bring in more leads and write compelling copies. On the other hand, Russel Brunson is a marketing specialist who studied computer information systems at Boise State University in Idaho, focusing on sales funnels. He is the second man behind the emergence of Funnel Scripts.
Is Funnel Scripts Worth Buying?
Funnel Scripts is a robust solution that allows you to create copies for every sale scenario. The worth primarily depends on your needs and budget, whether you are willing to spend a one-time hefty amount and hire a professional copywriter to uplift your copies or you are fine paying a nominal monthly amount and managing your sales copies.
In a nutshell, Funnel Scripts is a king amongst all the copywriting software and has existed for years. It has advanced features and powerful capabilities when compared to its alternatives. However, these alternatives can work for you as well, if you are willing to make adjustments. They provide you with something different from Funnel Scripts. In the end, the choice is yours!