Ritesh Agarwal is a prominent Indian name associated with innovation and entrepreneurship. His journey in the world of business and technology has garnered attention from all over the world. His achievements and financial success at such a young age have inspired millions in the country. In this article, we will look at Ritesh Agarwal net worth, monthly salary and house.
Ritesh Agarwal Net Worth, Monthly Salary, House
Ritesh Agarwal, a college dropout, stands as the wealthiest self-made individual in India below the age of 40. Renowned as the owner and CEO of OYO, he is a billionaire entrepreneur hailing from India. Ritesh achieved a remarkable feat by attaining the title of the world's second-youngest self-made billionaire at the age of 26.
| | |
| --- | --- |
| Net Worth | $2 billion |
| Monthly Income | Rs. 10 crores |
| Yearly Income | Rs. 100 crores |
| Wealth | Rs. 16,462 crores |
| Properties Owned and their Valuation | – |
| Miscellaneous Assets and their Valuation | Rs. 170.05 crores |
Source: Ritesh Agarwal Net Worth
Personal Life
Ritesh Agarwal was born on November 16, 1993, in the picturesque town of Bissam Cuttack, located in the state of Odisha. His family background centers around a lineage of small-scale entrepreneurs, who managed a modest business in Southern Orissa. Ritesh Agarwal's immediate family includes his parents. Notably, his father, Ramesh Agarwal, tragically passed away on March 10, 2023, due to a fall from a multi-story building. Ramesh Agarwal was a businessman, while his mother dedicated herself to being a homemaker. Ritesh Agarwal is part of a larger family with three siblings.
At a tender age of eight, Ritesh unearthed his affinity for coding and dedicated substantial hours to mastering software development. However, despite his deep fondness for the tech realm, his innate entrepreneurial zeal gradually took precedence. This drive compelled him to embark on his first business venture during his early teenage years – the sale of SIM cards in a small Indian town. This initiative served a dual purpose: generating income and drawing him closer to his aspirational goal of becoming a triumphant entrepreneur.
Upon completing his education at St. John's Senior Secondary School, Ritesh pursued studies at the Indian School of Business and Finance, part of the University of London's International Program. Nevertheless, he swiftly recognized that his true pursuit wasn't confined to academic credentials but rather tangible real-world experiences. This pivotal realization led him to make a momentous life choice at the age of 17 – the decision to forsake formal education and commence his journey into entrepreneurship.
Career
Ritesh possessed an entrepreneurial drive that burned as intensely as his unwavering dedication to aiding others. When he identified an issue within India's budget hotel sector, he recognized the urgency of taking action. Drawing from his passion for travel, Ritesh observed the arduous challenges faced by budget-conscious travelers in his homeland when seeking respectable lodging that fulfilled their basic requirements. This realization prompted him to inaugurate his inaugural ambitious business venture in 2011 under the name Oravel Travels.
Ritesh adopted a unique approach to managing his company – one rooted in a customer-centric perspective rather than a conventional businessman's stance. To fully embody this approach, he opted to experience travel firsthand within the constraints of a tight budget. He understood that the true predicament extended beyond economically viable accommodations in India; the crux of the matter lay in the deficiency of service quality. Armed with the knowledge that these issues could be rectified through a blend of innovative design, technology infusion, and skilled personnel, Ritesh recognized the pressing need for financial resources to bring his vision to fruition.
The year 2013 marked the rebirth of Oravel Travels as OYO (On Your Own) Rooms. This revamped iteration introduced an innovative framework that empowered small, independent hotel proprietors to enhance their service standards through a spectrum of both major and incremental upgrades. Ritesh's ingenuity went a step further, extending comprehensive support to these establishments in realms such as customer assistance, revenue optimization, and online reservation systems.
As the popularity of OYO surged, a wave of investment poured in from diverse quarters. Eventually, the company earned the distinction of entering the esteemed group of unicorn startups – denoting private enterprises valued at over $1 billion. The transformation of OYO Rooms extended its footprint, culminating in the evolution into OYO Hotels & Homes, a comprehensive hotel chain encompassing a staggering portfolio of more than 43,000 establishments spanning 80 nations globally.
Ritesh Agarwal

Net Worth
Ritesh Agarwal's ascent to the pinnacle of the hotel industry, starting from humble origins, stands as a testament to his unwavering determination and entrepreneurial spirit. His current net worth is of $2 billion, equivalent to Rs. 16,462 crores. The majority of his wealth has been amassed through his venture OYO Rooms, a highly prosperous startup that has achieved remarkable success on a global scale. Notably, in 2021, he made history as the youngest Indian entrepreneur to be included in Forbes' Billionaire list.
Ritesh Agarwal

Income and Salary
In the financial year 2022, Ritesh Agarwal saw a substantial increase in his earnings, with his remuneration soaring by 250 percent from Rs. 1.6 crores in FY21 to Rs. 5.6 crores. Notably, his compensation in FY20 was Rs. 21.5 lakhs.
In addition to his primary startup venture, Agarwal has diversified his investments across several sectors including hospitality, real estate, and education. His portfolio also includes investments in various venture capital and private equity funds, which have significantly contributed to his overall wealth accumulation. His total earnings include a monthly income of Rs. 10 crores and an annual income of Rs. 100 crores.
Ritesh Agarwal

House and Property
In July 2019, reports emerged stating that Ritesh Agarwal had acquired $2 billion worth of shares in the company, thereby tripling his ownership stake. He owns an opulent residence in Mumbai.
Assets
Ritesh Agarwal possesses an array of opulent automobiles, including:
Mercedes Benz S 350D valued at Rs. 1.4 crores,
Audi A4 priced at Rs. 45 lakhs,
Range Rover Sports costing Rs. 1 crore,
Mercedes Benz E200 worth Rs. 64 lakhs,
Toyota Fortuner valued at Rs. 36 lakhs.
Beyond his collection of luxury vehicles, Agarwal is also the proprietor of a private jet, with an estimated value of $20 million.
OYO Net Worth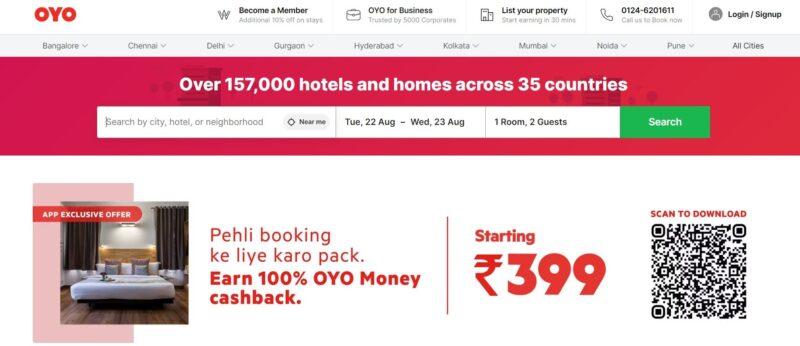 OYO net worth currently exceeds $10 billion, firmly establishing it as one of India's most valuable startups. Throughout its journey, the company has secured over $2 billion in venture capital funding, counting prominent investors like SoftBank, Sequoia Capital, and Greenoaks Capital among its backers. Additionally, OYO has attracted investments from various other venture capital firms, including Lightspeed Venture Partners, Hero Enterprise, and China Lodging Group.
In January 2022, over 500 present and past employees made an investment in the company, acquiring approximately 30 million shares. The collective value of these shares was estimated at around Rs. 330 crores (equivalent to US$41 million), based on OYO's last valuation of $9.6 billion.
Achievements
In 2013, Ritesh Agarwal achieved a significant milestone by securing the esteemed Thiel Fellowship, a coveted prize granted to budding entrepreneurs, which granted him financial backing and mentorship for his entrepreneurial endeavors. Following this accomplishment, Ritesh went on to garner a series of accolades and acknowledgments, notably including the Business World Young Entrepreneur Award. He found his name featured in Forbes' 30 under 30 Asia list both in 2016 and 2018.
Philanthropy
Apart from his business endeavors, Agarwal also engages in numerous charitable undertakings. He founded the Ritesh Agarwal Foundation, dedicated to assisting young entrepreneurs in India, and has committed to giving away $2 billion from his own wealth towards philanthropic causes.
Also Read: Coca Cola Net Worth, Stock Price, Revenue
Ritesh Agarwal net worth reflects his success in the business world. His financial success highlights his entrepreneurial acumen and strategic decision-making skills. Keep following us for more!
Source: OYO Net Worth