Are you a teenager or student looking to earn extra income by doing micro jobs online? You have come to the right place, we are India's leading blog on earning online. We have provided guidance to thousands of individuals since 2010 on how to increase their online income. As a student it is difficult for you to enroll for many online jobs, this is because many websites require you to be 18 years and older to sign up. Also, you are required to have a bank account to receive your earnings.
You can open a bank account even if you are only a teenager, however, without a bank account, it is difficult to earn money online. Once your bank account is ready to link it with a Paypal Account and now you can begin working online. Given below are some of the techniques by which you can start earning immediately. These jobs do not require any investment or advance payment. All you need to do is spend time and put in a genuine effort to complete the work.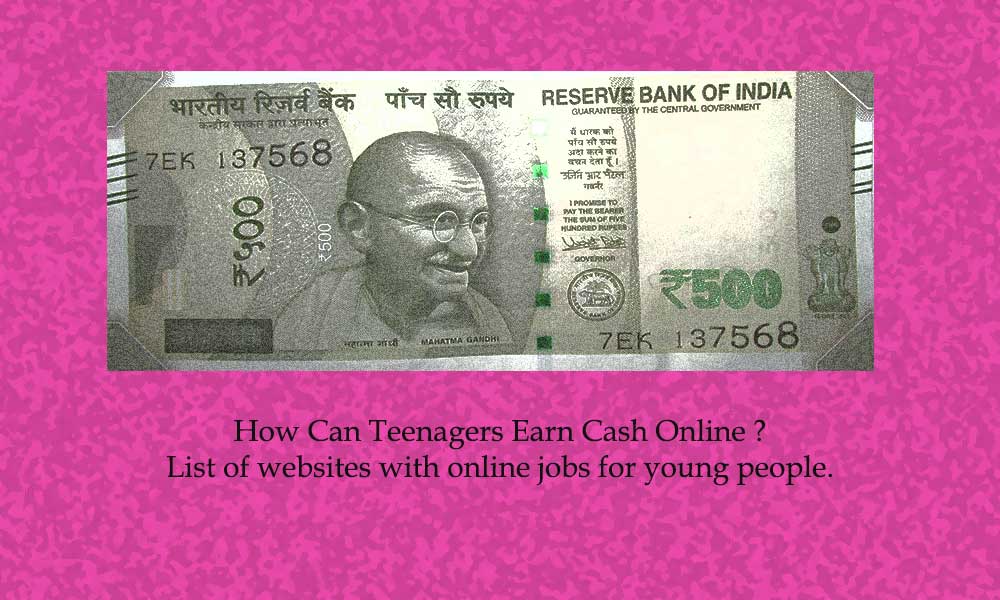 Online Jobs For Students And Teenagers
The ability to write long essays on different topics can help you earn money easily. You can earn upwards of Rs 500 for each article you submit. Remember to spell check and do not copy content from other websites as these can be detected by sophisticated programs used by content generation companies. This is one of the easiest jobs that any teenager can do.
By completing online surveys you can accumulate points that can then be used to redeem them for vouchers. You can then use these vouchers on Flipkart.com and Amazon.in. Filling surveys is very easy and it takes only ten minutes to complete. You will need to sign up on 10-15 survey websites if you want to earn a large income from this activity. Some survey websites pay you up to Rs 3000 every month.
On this website, you can earn 2-3 dollars every hour by writing real and fake reviews of apps, products, and services. Since customers are influenced by reviews many companies are willing to pay you good money to leave positive reviews. These positive reviews encourage customers to try out these apps. Sign up and try to determine if these jobs fit your skill profile.
Learn New Skills And Work As A Freelancer
In the last 2-3 years, there have been many websites that teach you new skills for free. Some of them are Udacity, Coursera, and edX. Once you complete these courses you can add these skills to your resume and apply for a job online. As a remote worker, you earn upwards of Rs 30,000 every month. The skills which are in demand are web designing, big data analytics, mobile app development, and programming.