In this fast-paced world, people often look for convenient and quick ways to carry out their banking transactions. One such convenient option is cash deposit machines. HDFC Bank, one of the largest private sector banks in India, has a wide network of cash deposit machines across the country. If you are wondering where is HDFC Bank cash deposit machine near me then this article is for you. We will guide you on how to find HDFC Bank cash deposit machines near you.
How to Find HDFC Bank Cash Deposit Machine Near Me
By locating HDFC Bank cash deposit machine near me, you can now deposit cash into your bank account anytime. There is no need to go through the hassle of visiting a branch or waiting in a queue. With the help of this machine, you can quickly and easily deposit cash. So, let's get started!
Here are some steps that will guide you in finding your nearest HDFC CDM:
1. Visit the official website of HDFC.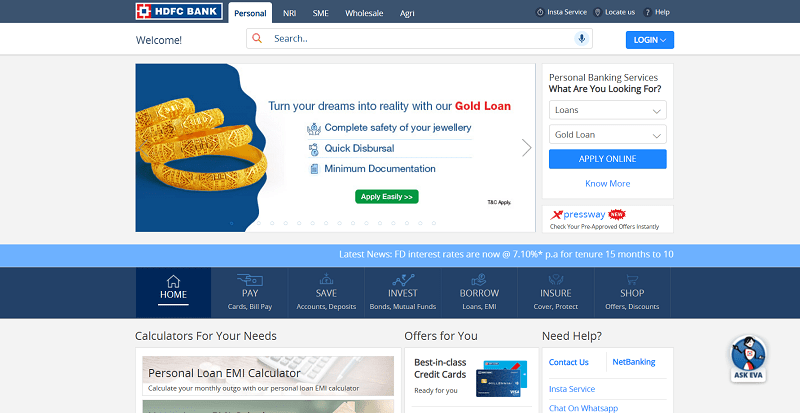 2. Move to the footer section to find Resources and click on Ways to bank under it.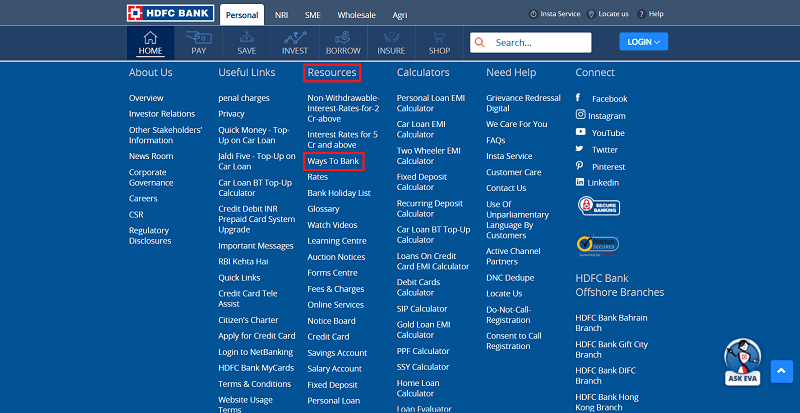 3. Now click on In Person banking option.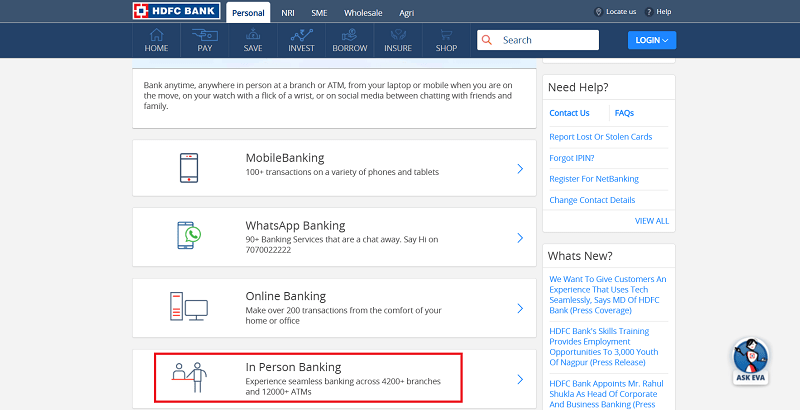 4. You will be given a Cash deposit machine section, where you will have to click on to Locate Us option.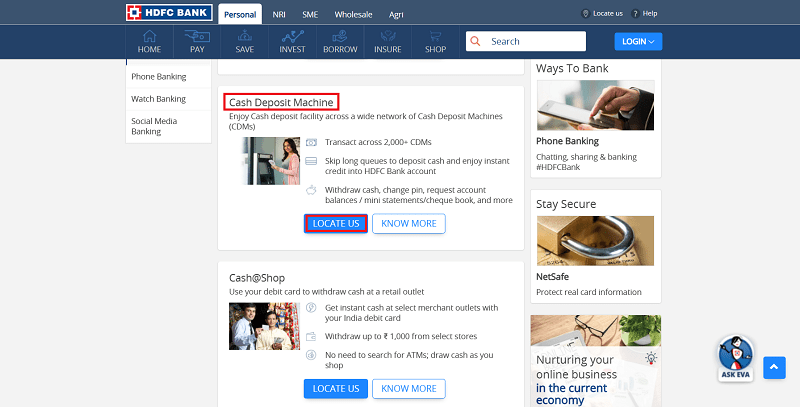 5. Provide the necessary details as asked by the webpage.
6. Finally, check the Cash Deposit Machine box and click on Search.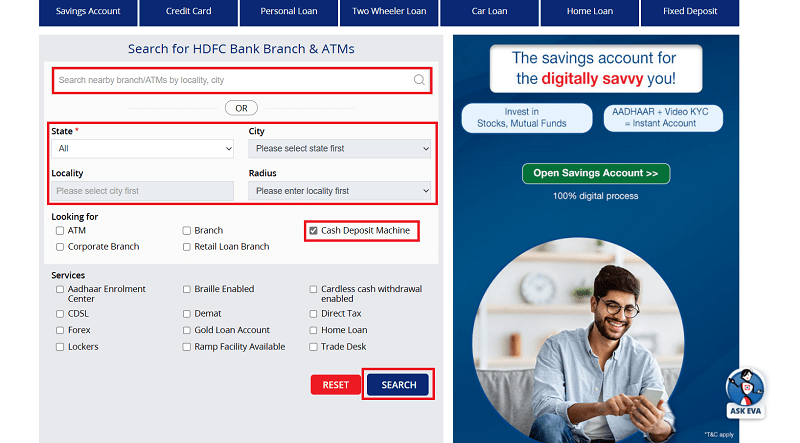 How to deposit money in your bank account using HDFC CDM?
There are two ways to deposit funds you can use when you locate HDFC Bank cash deposit machine near me. First with the help of your HDFC card and the second without the card. Here are a few steps that will allow you to make a successful money transfer via HDFC CDM into your bank account:
Deposits with HDFC card
On the HDFC CDM monitor screen, click on the Press here to continue option.
Select the language you prefer-English/Hindi.
On the next screen, click the Deposit with card option.
Insert your card into the machine for the transaction.
Now follow the instructions stated. You can deposit a maximum of 200 notes in a single transaction.
After the transaction is over, remove your card only when asked. Do not forcefully take out your card as doing it might damage the card chip.
Wait for your deposit transaction receipt once the transfer is over.
Finally, click the Cancel button before leaving.
Deposits without HDFC card
Click on the Press here to continue on the CDM monitor.
Select the language you prefer-English/Hindi.
Select Cash Deposit without card and follow the instructions.
When asked, enter the correct HDFC Bank account number in which you want to funds to be deposited.
You can deposit a maximum of 200 notes in a single transaction.
After the deposit is processed, collect your deposit receipt.
Do not forget to click the Cancel button on the screen before leaving.
How to use HDFC Bank Cash Deposit Machine?
The HDFC CDM machine at your nearest branch will help you start the Net banking registration process. Once it is complete, they will send over an IPIN (Internet PIN) for confirmation to any address that has been registered with them in advance.
The CDM will provide a cheque book and a formal statement for any funds you need.
The HDFC CDM facility allows you to withdraw without any penalty.
Deposit Limit in HDFC Bank Cash Deposit Machine near me
In the case of a current account, the HDFC Bank CDM deposit Limit via a CDM machine implies depositing the maximum amount of money in a single day in your HDFC Bank account. The limit is set at Rs.2 lac per transaction. One can deposit the maximum amount of Rs.6 lacs on a day.
In the case of a savings account, if you are doing a cardless deposit then Rupees Twenty-five thousand can be deposited in a single transaction, and the deposit limit is set at Rs.2 lac in a day. If you do a card-based deposit, then the per transaction limit is Rs.1 lac.
Although HDFC CDM does not incur any extra fees, certain restrictions are to be kept in mind while using HDFC CDM:
One can only deposit cash within HDFC Bank accounts and not any other banks.
You will only be able to withdraw 40 notes per transaction if you want to use the ATM facility in the CDM.
The CDM facility does not work if you try to pay off your loan or credit card bill amount.
How much does HDFC CDM charge?
HDFC CDM does not charge any extra fees for any transaction performed. This is another advantage of finding HDFC Bank Cash Deposit Machine near me.
Current account VS Savings account – Which one to pick?
Both the accounts offer different features in terms of interest, overdrawing facility and minimum balance requirement. Savings account offers around 3-4% interest per annum on the deposits you already have in these accounts. In contrast, no interest is offered to current account holders.
In the case of current accounts, account holders are granted the benefit of overdrawing the funds which means they can withdraw more money from the account than it holds. However, savings account holders are not offered any such facility of overdrawing.
You can also deposit more cash in current accounts because of the high minimum balance requirement in a current account, as compared to a savings account, which requires a low balance requirement.
Where can you trace HDFC CDM machines?
You will mostly find HDFC CDM machines attached near every HDFC branch these days.
Important facts to remember while using CDM
Keep a sharp eye out for suspicious activity near or around your CDM transactions. Don't let any stranger engage with you in conversation while performing the activity. Avoid taking help from strangers while depositing cash.
If you find any unusual device/ gadget attached to the CDM, do not proceed with any further transaction.
If the notes get rejected, you need to collect the money from the machine.
Check whether there are any pins in the notes before depositing them into the machine.
Maintain depositing cash within your prescribed account limits. For example, you can only deposit a maximum of 200 notes in a single transaction.
While entering your pin, cover the board with your hand or body.
Before leaving the CDM, ensure to press the Cancel button.
You must have your mobile number and email registered with your bank account to get alerts regarding transactions.
If you don't receive the deposit, you must report to the bank immediately.
Advantages of HDFC Cash Deposit Machine
Seamless withdrawal.
One can request for generating the net banking pin from the CDM machine. The account holders will get the Internet Banking PIN on their registered postal address.
A request for a formal statement and a new cheque book can also be placed through HDFC CDM machine.
Have you ever used an HDFC Bank Cash Deposit Machine? If not, this is how you can use one. An HDFC Bank Cash Deposit Machine (CDM) allows customers to deposit cash and cheques into their bank accounts and receive mini account statements without going through a bank teller.
As a private bank, HDFC has CDMs for all types and amounts of deposits. So now you can deposit your funds without facing the challenges of standing in long queues or dealing with restrictive timings because HDFC offers a variety of convenient options to suit the needs at hand.
Finding HDFC Bank cash deposit machine near me can be a huge time saver if you run errands and have some extra cash on hand that you want to deposit into your account effortlessly.
We hope this blog about HDFC CDM near me was helpful and informative. If you have any doubts related to the topic, feel free to drop a comment below. We will get in touch asap! Keep reading for more money-related content.
Source: Cash Deposit Machine