If you are planning to open a savings account for your kids, then you should know the best kids savings accounts offered by banks in India.
The habit of saving money should be fostered from the tender age of 11. There are many ways parents can make sure that children start saving money for the future. It is a healthy habit that will pay off, quite literally, in the long run. If you are a little more traditional, investing in gold is a good option as well.
It is widely believed by parents in India and abroad that the most convenient and efficient way to save money for your children is to open a savings bank account for them. A savings bank account is like a regular bank account, but it is primarily used to save and accumulate money and not spend it regularly. A savings account also usually has a higher interest rate than other current accounts.
Opening a savings account will help your children build a corpus for future needs, such as college fees, school fees, or money required to study abroad. It also helps children inculcate the habit of keeping some money aside every month or every year from what they earn in the future to take care of emergency needs, big expenses, or just to foster financial security for themselves or their future families.
Below are some of the best savings accounts in 2020 that you can open for your children to inculcate the habit of saving. Please go through all the savings accounts meticulously to choose the best account for you and your children. Since this is not a short-term endeavour, you need to make the correct choice.
10 Best Savings Bank Accounts For Children In India
Here is the list of best savings account for kids in India with their features and benefits: 
1. HDFC Bank Kids Advantage Account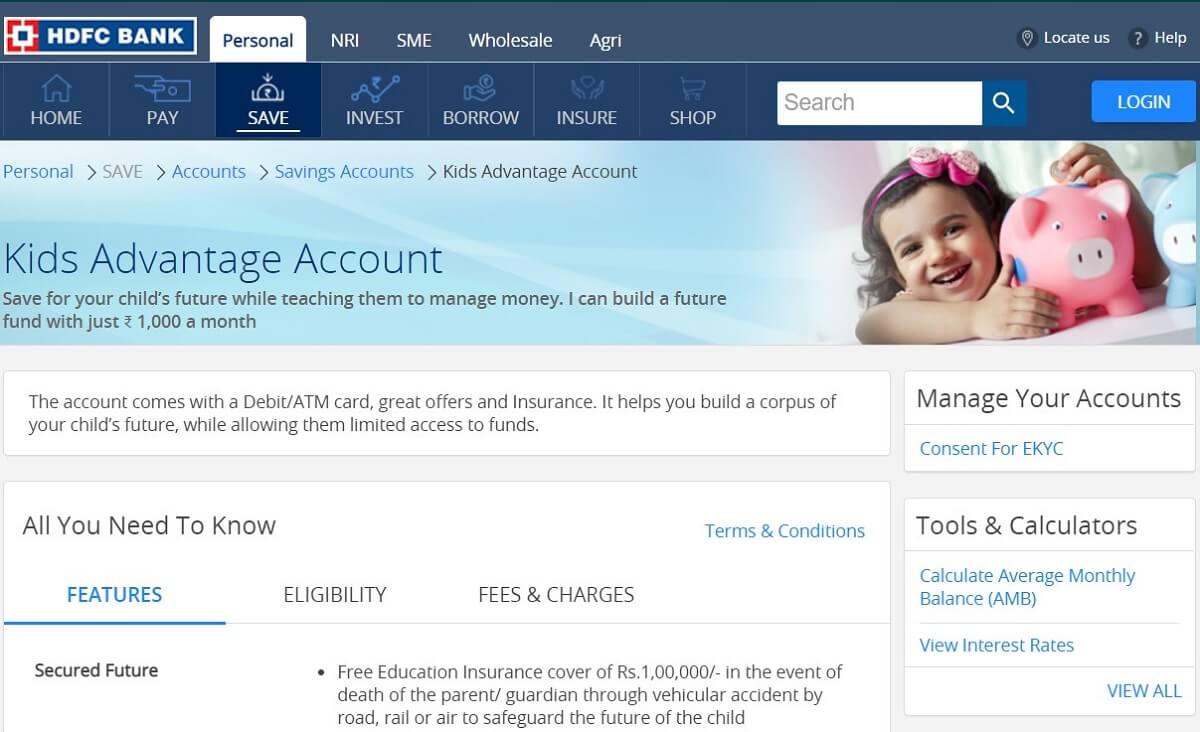 In this account, an ATM or debit card (which can function internationally) is issued to children of up to 18 years of age. The debit card will bear the child's name and the guardian's name. The child can withdraw up to ₹2500 from the ATM, along with the daily shopping limit of ₹10000.
With HDFC Bank's kids' advantage account, your child can enjoy cash withdrawal from other ATMs for free, and get a personalized cheque book. As a parent, you can get free email alerts on your child's transactions with the debit or chequebook and maintain a passbook to keep track of all the transactions that have occurred with the account. This account also gives you the facility of net banking, phone banking, and keeps you updated about every little thing that happened with your child's account.
Visit Now
2. Young stars and Smart Star account by ICICI Bank

It is one of the best savings account for kids in India which is loaded with features such as Mobile & Internet Banking, Debit Card, Low Monthly Average Balance etc. While this young star's account can be used for minors who are below the age of 18, the smart star is designed for children between the ages of 10 and 18. These savings accounts are available at all branches of ICICI bank all over India.
Parents or guardians can avail of a debit card with these accounts completely free of cost. The daily withdrawal limit of this account by an ATM is ₹5,000. Parents can also receive monthly email statements and keep track of transactions via this account closely. The parents can also collect these transaction reports from the bank branch itself.
This account, however, comes with a minimum monthly balance average of ₹2,500. The monthly balance average has to be maintained in the account on an average throughout the month by the account holder. In any case, if you fail to do so, you will be charged a 5% of the shortfall that is required monthly minimum average balance by the bank on your account.
Visit Now
3. My Junior Account by Kotak Mahindra Bank

Kotak Mahindra Bank realizes the need for children to start saving for the future and has come up with an efficient solution to facilitate the same. It offers one of the best saving accounts for children in India This junior account comes with a personalized junior ID card, and it offers a wide range of privileges across many entertainment options like shopping, dining, and movies.
Also Read: Savings Account vs Current Account: Difference and Benefits
The junior account also offers an annual interest of 6% on a savings account that has a balance of over ₹1 lakh, up to a balance of ₹1 crore. You can also earn the privilege of having a 5% interest rate per annum on accounts with a balance of up to rupees ₹1,00,000. These interest rates are subject to change as per the bank's current policies from time to time. The bank also offers debit cards for kids with a withdrawal limit of 5000 rupees every day.
Visit Now
4. Future Stars Savings Account by Axis Bank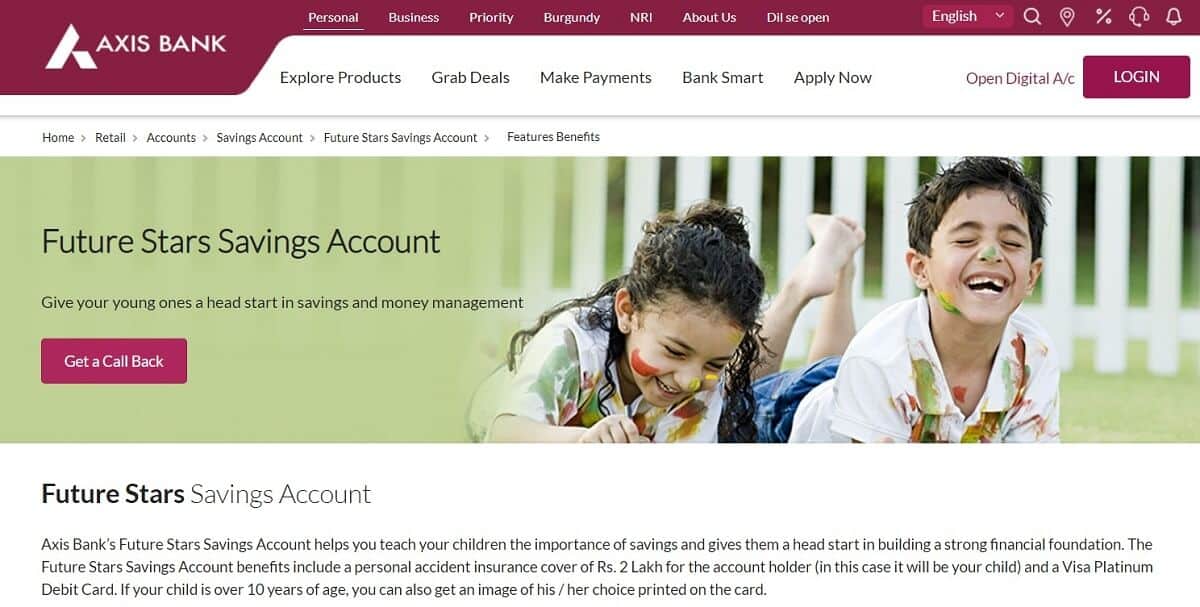 These accounts, like all other savings accounts featured in the market, are designed to teach children the value of money and the tips and tricks that they need to learn early on to manage their money properly in the future. Children usually benefit a lot by getting involved with banks and banking procedures early on in their intellectual lives.
Parents can open this account for the children with an opening balance of ₹2,500. Here, the parents and guardians are in full control of this account and contract this account through monthly statements that are issued by the bank to them. They can also avail of the free service of email and SMS alerts every transaction.
Some special features of this account are that it comes with a personal accident insurance cover worth ₹2,00,000 if the card is swiped once in six months. Parents can also obtain a purchase protection liability, and a combined lost card liability at the bank's branch at a moment's notice to protect their child debit card from fraudulent or illegal use. These policies are worth around ₹50,000.
Visit Now
5. Power Kids account by IDBI Bank
This is an attractive savings account proposition because it requires a minimum account average balance of only ₹500. No penalty charge will be levied if you are not able to maintain the MAB every month. The bank has, however, set a daily withdrawal limit of ₹2,000 on its ATM withdrawal rules with a debit card.
Free monthly email statements, a free passbook, and a personalized cheque book are also some of the features that are offered by IDBI Bank power kids account. However, this is not the best part. The best part of this savings account is that your child can avail of Education Loan at lower interest rates in the future if your child decides to study high school or college in India or abroad.
Visit Now
6. Pehla Kadam and Pehli Udaan by SBI Bank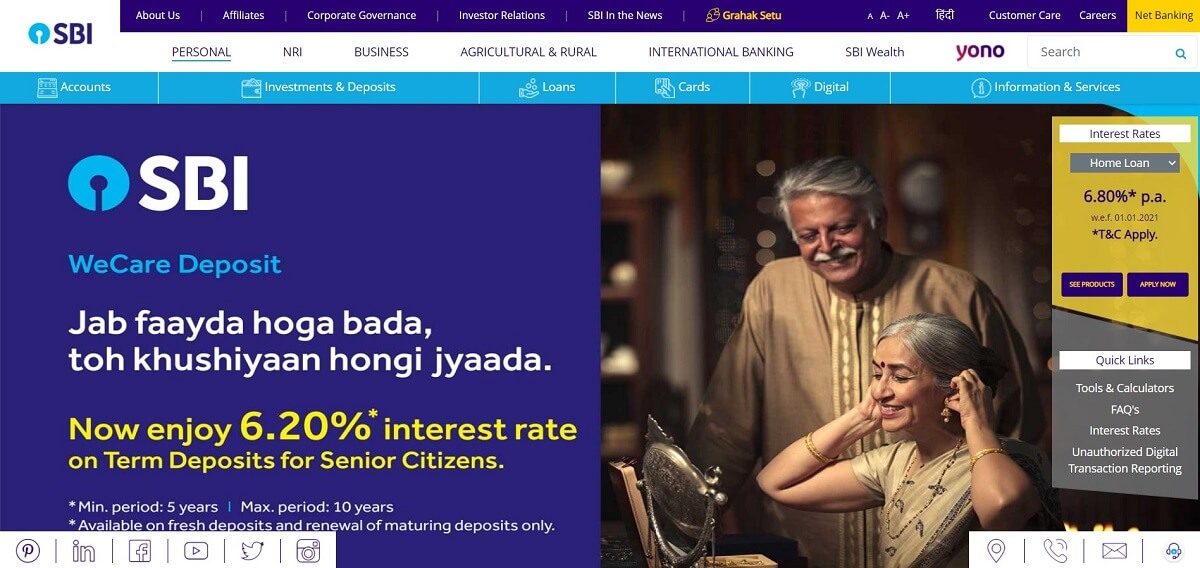 SBI offers two great options for opening savings account for your child, which are Pehla Kadam and Pehli Udaan. These bank accounts are loaded with several banking features like mobile banking and internet banking that help to familiarise children with the modern ways of transferring or accumulating money.
Also Read: SBI Savings Plus Account Review: Interest Rates, Minimum Balance
The minimum account balance requirement for the savings accounts is set at ₹5,000 in metropolitan cities, ₹3,000 in urban areas, ₹2,000 in semi-urban and ₹1,000 in rural areas. This bank, however, also offers a maximum balance that can be maintained in this account, which is kept at ₹10,00,000 only. A personalized ATM cum debit card is also offered to customers, which has your child's photograph embossed on it. This card helps in the recognition of your child in case this card gets ever lost or misplaced.
Visit Now
7. CitiBank Junior Account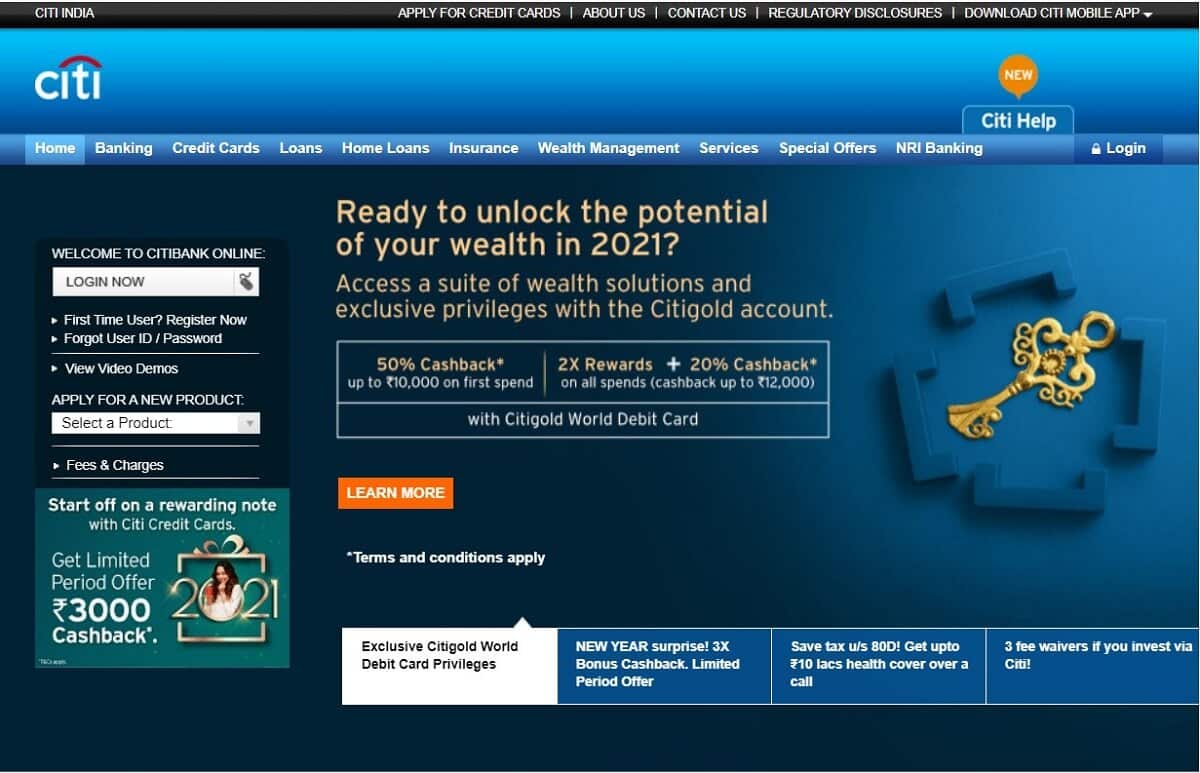 The junior debit card, however, is available to children only who have attained the age of 15. As a parent or guardian, you can set a limit for the daily withdrawal of money from this account via your child debit card. Your child can continue their habit of earning monthly pocket money by issuing a standing instruction facility from your account to their account and make these monthly transfers very easy for both you and your child.
This account also comes with a host of online banking features, including but not limited to online transfers mobile banking, internet banking, and phone banking. Online transfers to any bank account within India and 24/7 customer service in which city phone banking is one of the most attractive amenities available to this account. This bank also lets you invest very easily if you want to do the same in the future for your child. These investments can be made for your child's future education, college fees, or other expenses that come with growing up. The bank offers a really simple procedure for this that is facilitated by SIP, which is a Systematic Investment Plan.
With the Citibank junior account, you can benefit from dual insurance for both you and your child, which is a built-in policy that is the continuous benefit within three different investment funds that you can choose from. With these accounts, the BSLI classic child plan or dream also becomes available to you.
Visit Now
8. Karur Vyasa Bank Jumbo Kids Savings Account

In modern times, parents want to ensure that their kids get the best of everything. The way to do that is to teach your kid how to deal with finance well and involve them in planning their financial future.
Karur Vysya Bank has introduced a savings account for children named Jumbo Kids. This account, which is a savings account, provides more benefits for children, which helps them understand not only the value of money but also how to handle it responsibly. This account is available only for children of up to 12 years old, and one of the most important features of this account is that it does not require a minimum balance. The bank provides a visa backed ATM or debit card, and it does charge any amount for withdrawing money from the ATM. The incredibly attractive feature that they offer to attract children is that they give a huge Jumbo doll as a signup gift to their little customers!
The bank teaches children how to be responsible for their money and how they can shape their lives in the future. They teach children how money has the potential to direct their overall wellbeing and make it possible for them to do whatever they want to do. Karur Vysya Bank's savings policy helps children save enough money for the future to ensure that they don't misuse their money and handle it responsibly.
Visit Now
9. HSBC Premier Junior Account 

For getting your child an HSBC premier junior account, you have to be an existing HSBC premier customer. You can go for junior savings account for a supplementary admit card. You are also given an option where you can acquire an HSBC premier Platinum debit card for your child's purposes only.
There are several new and best features that are offered by HSBC Premier Junior Card. They are:
The option to opt for a monthly statement which gives your overall view of the transactions that the child has made over the former month
You get text messages after every transaction that occurs through the account to keep track of what your child is doing with their money.
You can keep your child updated through modern banking channels by acquainting them with internet banking, phone banking, mobile banking in a global safety net, which includes Overseas education benefits and lower education loans when they decide to go to college.
Visit Now
10. United Bank Children Savings Account

United Bank children's savings account gives your child the option to run their own bank account. This bank account will be government-owned indirectly by the franchise United Bank of India. The prime motive of creating this account is to give children the idea of banking and get themselves familiarised with modern-day banking facilities so that they don't face a lot of problems when they grow up. It also teaches the habit of savings to make them get used to banking.
For opening a minor savings account, the minimum age should be 10 or above, and the nature of the account will be a savings account. There is a detailed process of opening these accounts, which starest by filling a form. A mark will be given to the account opening form, which will say the following: 'United children's savings a/c.' 
Under this scheme, the initial minimum deposit and the minimum balance that the account must have at all times during the month is ₹50 only. Owing to this low minimum account balance, this is suitable for children and parents and makes it feasible for them to maintain this account balance throughout the month.
Account-holders of United children savings accounts will get a personalized, colourful, and attractive passbook. Even if the passport gets lost or misplaced, the bank supplies another Passbook for free with the usual formalities.
Visit Now
These were some of the best savings account for minors in India which you can opt for your child. Giving your children the privilege of having a savings account at a tender age, before they get into their teens has many advantages. They can form a basis for paying for their own education insurance that covers them in the event of the parent or the guardian's death, which safeguards their future no matter what. It also shows the issues in ATM or International debit cards for children with the parents' prior consent. It also familiarizes children with modern-day banking channels and facilities that they might use when they grow up in the future, such as internet banking and mobile banking, phone banking, and paying utility bills and writing checks all via SMS.
Recommended: Post Office Saving Schemes for the Boy Child in India
We hope that this article on the best savings bank accounts for children in India has helped you to get a clear understanding of the various child savings accounts in the market presented by different banks.