Want to pay your bills on EMI but don't have a credit card? If so, then this article is definitely going to be helpful. You can avail EMI on your debit card. Top Indian banks like ICICI and HDFC provide a fantastic chance to do EMI transactions on their debit and ATM cards. Customers of ICICI Bank Debit Cards can also use this feature to break up large transactions into manageable payments. Today we will inform you about ICICI Debit Card EMI, EMI check as well as EMI payment online and ICICI Debit Card EMI eligibility check online process.
ICICI Debit Card EMI: A Complete Guide
Debit card holders can often not make purchases using EMIs. It is generally for Credit Card owners. The ICICI bank permits a small group of members to use debit card EMI without tying up their savings accounts. Anything can be easily purchased with an EMI debit card. You must determine if you are qualified to take advantage of this offer. Let us learn more about it.
How to Use ICICI Debit Card EMI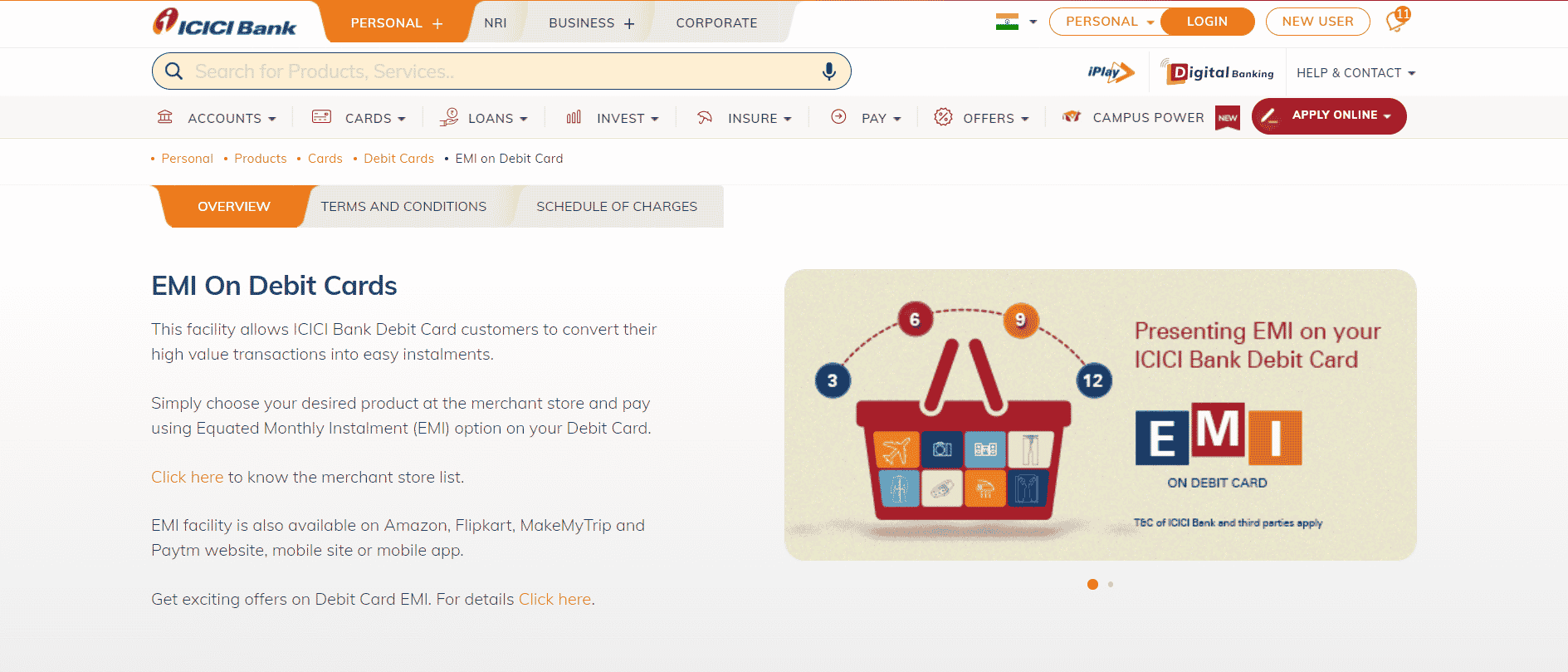 Getting EMI on your debit card is straightforward. Simply select the item you want from the merchant's shop, then use the EMI feature on your debit card to pay. The list of retailers who can use the service, however, is subject to revision by the bank.
On several online stores, including Flipkart, Amazon, Paytm (mobile app and website), and MakeMyTrip, the debit card EMI option is also accessible. Consumers of ICICI may also be eligible for generous discounts on their purchases when utilizing EMI option. However, these discounts are subject to change at any moment at the bank's decision. We can now proceed to know about ICICI Debit Card EMI check and ICICI Debit Card EMI payment online.
Debit Card EMI Eligibility Check Online
When you check out for an online transaction, such as ICICI Debit Card EMI check, the choice will show up on the payment page if you are qualified to use the ICICI Bank Debit Card service. By sending the following SMS from your registered mobile number, you can successfully proceed with ICICI Debit Card EMI Eligibility Check Online.
SMS DCEMI<space>XXXX to 5676766. Here XXXX represents the last four digits of your debit card.
Debit Card EMI: Fees and charges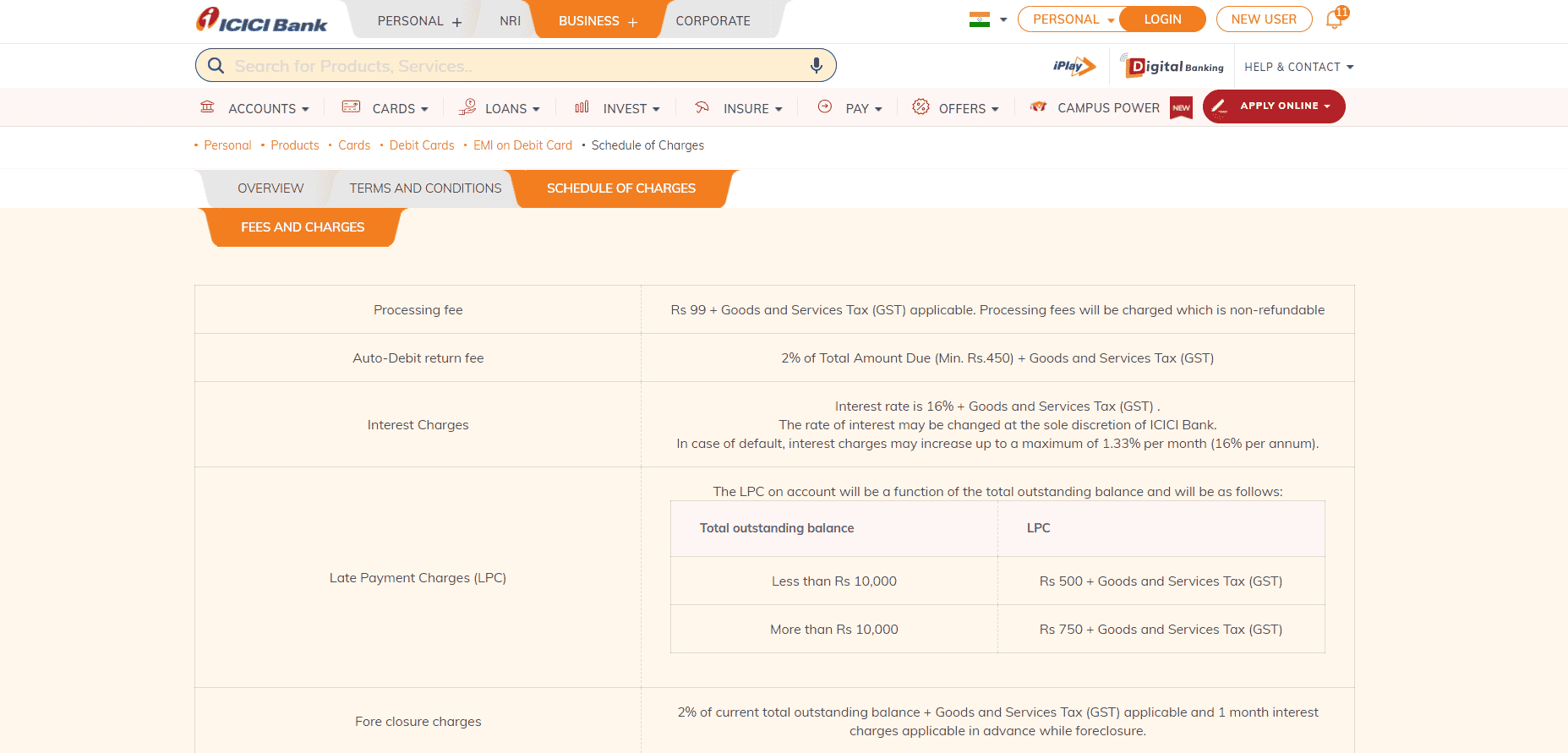 Given below are all the details about the Fees and charges of Debit Card EMI:
Fee type
Details
Processing fee
GST (Goods and Services Tax) is applicable plus Rs 99. Processing costs that are not refundable will be applied
Auto debit return fee
2% of the total amount due (minimum Rs. 450), plus the Goods and Services Tax (GST)
Early Closure Fees

One month's worth of interest charges in advance throughout the foreclosure process, plus 2 percent of the remaining sum in principle plus any applicable Goods and Services Tax (GST)
Late payment fee

Less than Rs. 10000 – Rs 500+GST
More than Rs. 10000 – Rs 750+GST

Interest charge
The interest rate is 16% + GST
Debit Card EMI Payment Online
Given below are steps showing how you can do online payment of EMI:
1. Visit the merchant's physical location, ICICI website, or mobile app.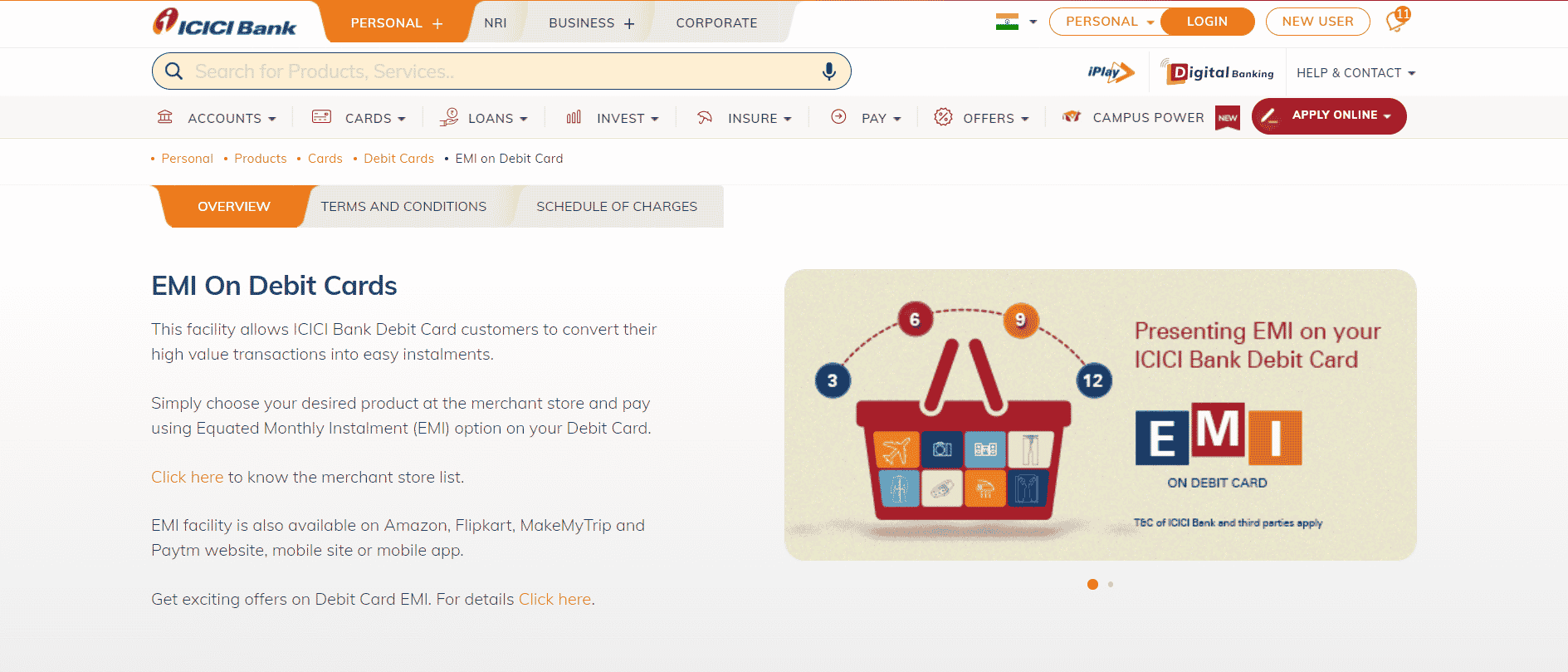 2. Select your preferred product and complete the payment.
3. Select ICICI Bank Debit Card EMI option.
4. Select from 3 months, 6 months, 9 months or 12 month term period.
5. Authorize the transaction for an online purchase using your debit card information viz:
Debit card number,
Expiration date, and
CVV.
6. To finish the transaction, authenticate your identity with an OTP or 3D Secure PIN.
Also Read: Best Credit Cards with No Annual Fee in India
Points to remember
Customers will receive a Virtual Credit Card Number (VCC number) after using this service. For CIBIL-related reporting, the allocated virtual credit card number will be utilized. Here are some things that you should keep in mind when using EMI on Debit Card Service:
You will be required to pay back the bank in Equated Monthly Instalments or EMIs over the selected EMI Term in addition to the relevant interest rate of 16 percent per year (for purchases made through the facility on Amazon, Flipkart, MakeMyTrip, Paytm, and merchant outlets). The 3, 6, 9, or 12 months that you choose are the EMI Term.
The amount of the monthly EMI will be automatically withdrawn from your card-linked savings or current account each month on the day shown in your EMI statement.
The bank will charge applicable processing costs when you use the facility, albeit these fees could be reduced for special occasions or marketing initiatives.
Every month, an e-statement will be delivered to the customer's registered email address.
Refunds will be handled by the bank in accordance with the ICICI Bank Pre-Approved EMI Terms in the event that you decide to cancel the purchase transaction that was carried out using the Facility.
In addition, you can use this facility to buy things from the platform at any given moment, with prices ranging from Rs 5,000 to Rs 500,000.
ICICI Bank is providing some great features by offering their customers EMI on their debit cards, whereas most banks do not provide such a facility. We would recommend you opt for this and buy your favorite products with a simple EMI system and a low-interest rate. We hope you found this article helpful and now you are fully aware of everything related to ICICI Debit Card EMI. Make sure to go through all its details before using this service.