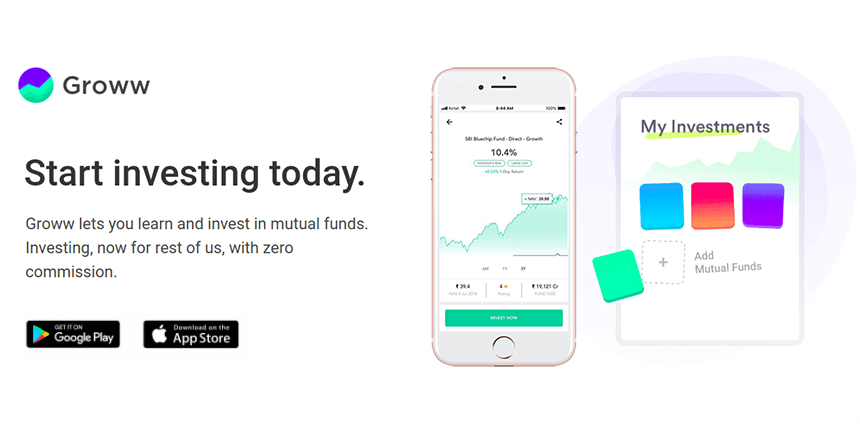 If you refrain yourself from investing in mutual funds, then refrain no further. Here is our extensive Groww App review and discover why this app is useful for you?
If you want to invest and grow your money, then mutual funds are the safest option, which has a low risk-reward ratio. Not long ago, mutual fund was considered as something only meant for the elite class or experts in the financial industry. And even today, investing in mutual funds or stock is quite difficult as people generally depend on their relationship manager to either place an order for them or to help them navigate around the trading platform.
But due to the recent increase in internet consumption and decreasing data prices, people have started investing in the stock market. Also, the rise of the market in the past few years have begun attracting young individuals to start taking the markets seriously. But even though a lot of people want to invest in the market, they hardly find the time to learn about the basics of investing, and that's why they focus more on Mutual Funds or Systematic Investment Plan (SIP). So, if you are considering investing in Mutual Funds, then you must know about different apps or platforms that let you easily keep track of your investments. One such app is called Groww, and in this article, we will do an in-depth Groww app review of this app.
Groww Review
Launched by the former Flipkart employees, Harsh Jain, Lalit Keshre, Ishan Bansal, and Neeraj Singh in December 2017, it is the fastest-growing investment platform in India. With the fierce competition in the Wealth Management space, Groww has certainly made its mark and has maintained an impressive growth trajectory. Since its launch, the user base has grown from zero to 2 million.
The Groww App – What is it?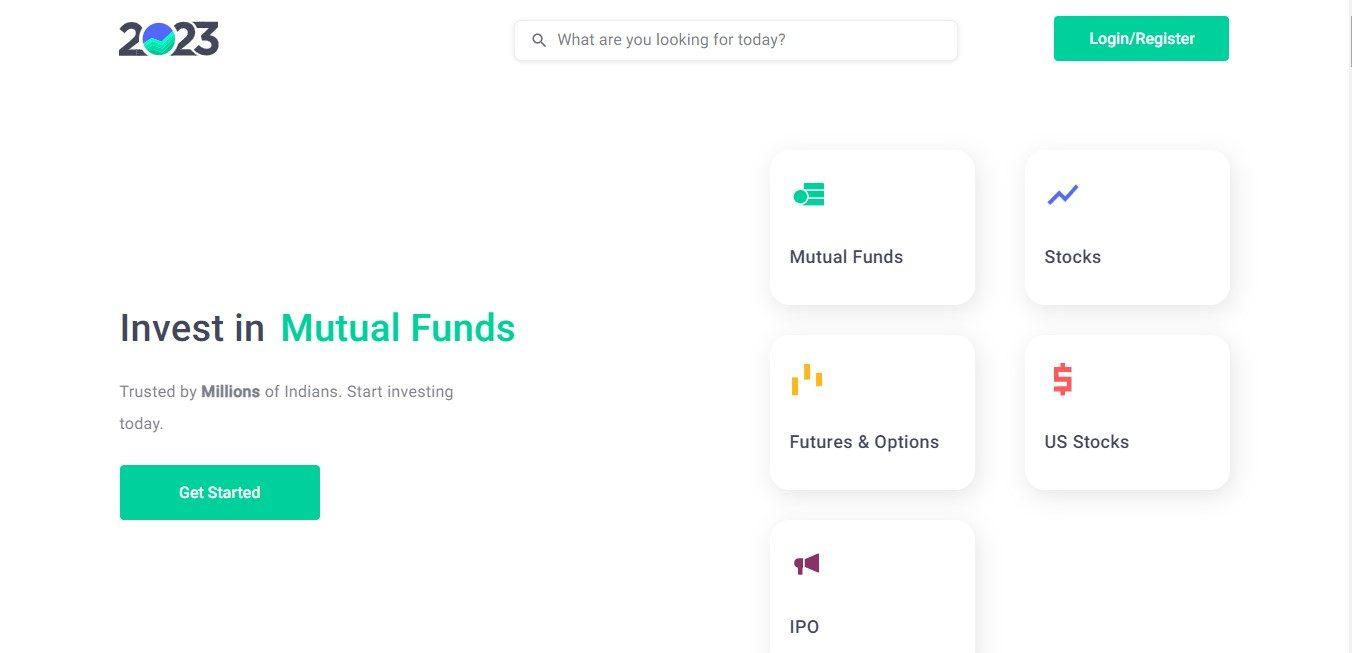 The Groww application is available for both Android as well as iOS. Here, users can invest in mutual funds. The process is simple and free, which means you don't need to do any paperwork. You can simply buy and sell. The best part is that you can directly invest in mutual funds, you can do SIP for free with zero commission, and you can also track invested mutual funds.
The Groww app simply focuses on simplicity and transparency, as these are its key USPs.
What are the must-haves for registering on the Groww App?
You can register in Groww App very easily. You just need some important documents that are:
Aadhar Card
Pan Card
Bank Detail
Internet Banking
Google Account / Gmail
How does the Groww App make money? 
The foremost question that could pop up in anyone's head is, how does the Groww App make money? Since it does not charge any commission like other consultants and agents, then how does it make money?
Well, let's end the dilemma here as the answer is very simple: the Groww app makes money by offering advisory services and from add-on premium features, such as portfolio/investment advisory, premium features on the platform, etc. in the app.
Also Read: Best Stock Market Trading Apps In India
What can you do in the Groww App?
Groww Balance (allows investors to invest using UPI, just in a single click), SmartSave (helps users to get better returns as compared to bank deposits) are some examples of the primary and popular features of the Groww App.
Groww gives you a plethora of features:
Invest in any Fund (SIP and One-Time):
You can invest in any type of fund, such as Groww stocks, whatever you choose from the given AMC. You get the option to make a lump sum (one time) payment for any fund, or you can even set up a Systematic Investment Plan (SIP) in any of the funds wherein the fixed pre-decided amount would directly be debited from your linked bank account every month and invested in the selected mutual funds.
Add more money in existing mutual funds:
If you have already invested in the mutual funds, you can make further investments in the same portfolios with the help of the Groww app.
Redeem from any funds with just one click:
If you want to redeem your accumulated units or money in mutual funds, then you can do so in the Groww App itself with just one click. The proceeds will be transferred to the bank account linked with the respective AMC.
Cancel/Stop an Ongoing SIP:
May someday due to a financial emergency, you might want to cancel or stop your ongoing SIP in any mutual fund scheme, then you can do so via the Groww app.
Switch from Regular Funds to Direct Mutual Funds:
If you have invested in regular mutual funds before knowingly or unknowingly but would like to switch to regular funds, then you can do so with the help of the Groww app.
Please note: Switching refers to selling units within your existing schemes and buying another scheme, so it may be subject to taxes and exit loads (wherever applicable)
New features of the app: 
Invest via UPI: Investing through UPI was launched in May, and now more than 50% transactions that take place are via UPI.
Portfolio Insight: Currently, this feature is only available on the website. The portfolio Insight works like an X-ray of your investments.
Compare MFs: This feature is for those who prefer to compare before investing. You can compare a maximum of 3 mutual funds at a time.
SIP Journey (change, delete mandate): This feature brings transparency in the SIP process. You can now see your SIP payment history on the app.
Is Groww SEBI Registered?
Fortunately, Groww is a SEBI registered advisor under the name of Finvantage Investment Adviser Private Limited based out of Bangalore. Their registration number is INA20008981. You can check out their Certification of Registration with SEBI & Certificate of Registration with AMFI & BSE.
Is the Groww app safe? 
The Groww app is fully secure and reliable. They have mentioned on their website that the user's data is 100% safe, and they employ bank-grade security features on their platform. It uses the BSE Star MF platform for transactions, so all your transactions are direct with the respective mutual fund AMC. So, by any chance, if someday Groww shuts down, you can still continue your investment directly with the AMC.
Groww is more than just an App!
Groww is more than an app, it is accessible on both web as well as a mobile platform, but the experience on both the platform is similar. Yet, the app that contributes significantly to the business because 75% of the user base is via the app.
According to Harsh, the co-founder of Groww, the app is specifically designed to be like a buddy who would understand millennials with the help of intelligent UI and UX.
The Groww app designer spends a lot of time with users every day trying to understand their likes, wants, frictions, and triggers, which, in return, helps them to deliver a better product experience. It's not like other wealth apps out there that just bombard customers with queries on investment goals, Groww answers queries.
The app offers custom-made investment options, concerning each aspect, such as returns, pros & cons, average growth during aspects such as returns, among others, helping users make a wise decision.
Also read: Long term investment vs Short term investment (Difference)
Latest news: 
Groww is hoping to make investment opportunities more widely available to young people in India. Recently it has closed a $6.2 million Series A funding to grow its operations.
Founded in 2017, Groww was a part of Y Combinator in the U.S last year, and it raised a $1.6 million "pre-Series A" round in June of last year.
Groww Customer Care Number
You can get support from the Groww customer care team from their Help page, or you can directly email them @ support@groww.in. There is also a live chat option on the platform using which you can chat live online with their customer support representative. 
The Groww App Review: Final Verdict!
In our Groww app review, we have found that it is a great solution for mutual fund investors. You can easily invest in the mutual fund of any AMC from the app. This app is also beneficial for investors who want to track their portfolio and goals. 
The best part about the app is that there is no commission charge to use this service, and the commission goes in direct mutual funds where no commissions are paid to agents/advisors, which also save you money. 
Based on our Groww app review, we would suggest every mutual fund investor to at least try this app as it will make your mutual fund investment hasssle-free. 
Download the Groww App