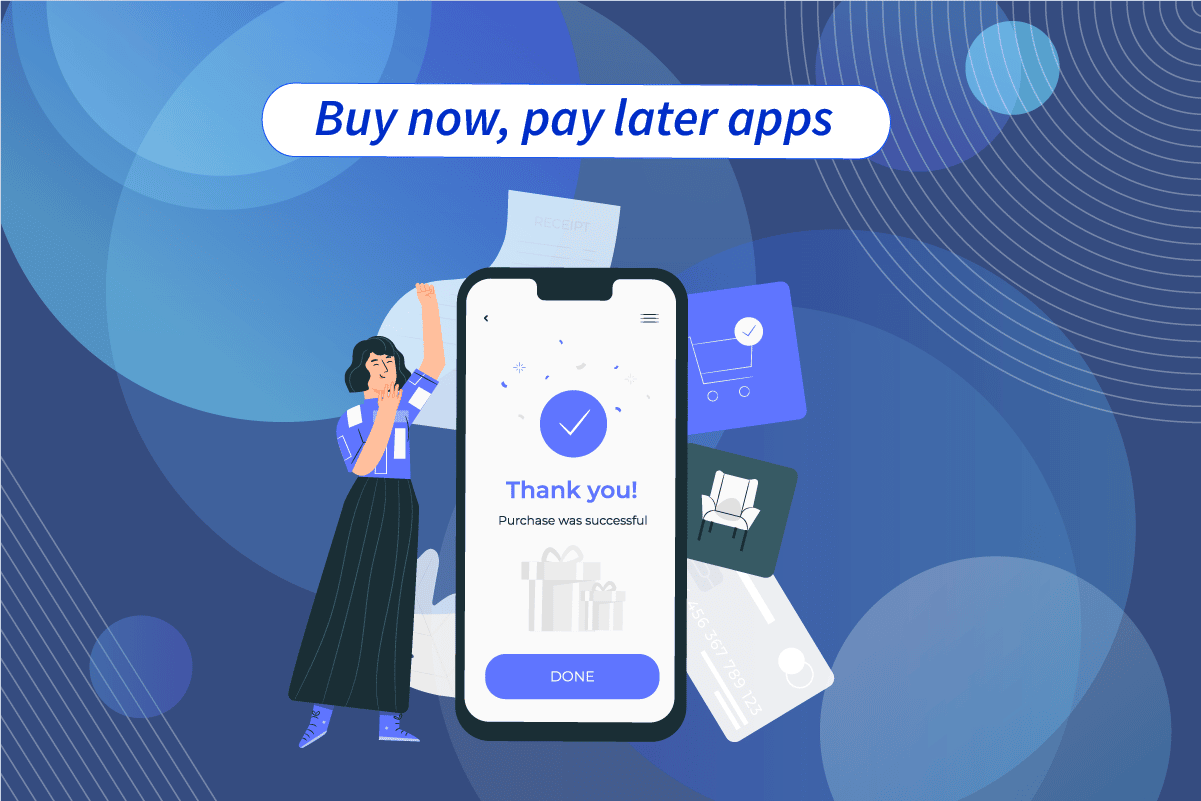 India is growing at a speed that no one ever expected. Earlier Indian culture was about spending less than they have in hand, basically earning first. But times have changed. The Millennials have brought various changes to society, buy now and pay later is one of those changes generation Z can thank millennials for. As the name suggests, buy now pay later apps in India is a service that lets you consume now and pay after some time for what you have consumed. In this article, we will learn more about the best pay later apps, buy now pay later in EMI, and pay later apps for students.
Top 15 Buy Now Pay Later Apps in India
With credit cards, it started. For a long time now, Indians have been dependent on credit cards. Buy now, pay later is a credit card-based stuff itself but evidently a better version of credit card where you will not even need a physical card or long processing applications and formalities.
With such apps, you can avail the benefit of EMI using buy now pay later in EMI. Though, it has a shorter period to pay, almost 15 to 30 days. Seems like a billing cycle, right? Well, why not? Everything is shifting to post-paid nowadays.
So, isn't it fascinating for you to think that one can pay for everything on a monthly basis just like an electricity bill? It does sound amazing. In short, BNPL is nothing else but a way to raise the flexibility of credit which is interest-free and available for everyone.
Buy Now Pay Later Apps – Merits and Demerits
Buy now pay later apps in India must be understood before we jump into what they offer us. So here are some basics about how buy now pay later app works:
Add to the cart whatever you want.

Choose buy now pay later instead of making a payment.

One can also pay a little as a down payment.

If you opt to buy now pay later in EMI and keep paying in installments, you enjoy no-cost EMIs.
It is important to remember that no-cost EMI is where you need not pay interest in installments as only the principal amount is paid back.
Merits of Buy Now Pay Later Apps in India
Get credit instantly – Buy now pay later is the easiest way to get credit. All you need to do is purchase and opt to buy now, pay later and it's all done. A great thing, right? As well as it is a highly customized option for buyers. Also, it allows customers to interact with various platforms.
Safe payments – Pay later apps are RBI approved and are great to use as a safer method. No harm other than your budget maintenance.
Simple to do – The process is simple, all new users would need is basic info to initiate the application process. Upload KYC documents and choose merchant and EMI plan. Most of the apps have similar requirements like age should be more than 18 or 21 years and all.
Choose to pay in interest free EMIs – Buy now pay later in EMI is the best option for those who want to opt for EMI plans. Mostly, it offers no cost EMI.
Easy way out for improving credit score – With timely payments, you can maintain your credit score quite well and in the most affordable way. So, pay later but on time. Try to keep the best reminder for it as the opposite would cost you a lot.
Demerits of Buy Now Pay Later Apps in India
Impulsive shopping – With buy now pay later apps in India, people tend to use a lot of money, thinking they can pay whenever they will have plans. This is misleading information. With buy now pay later apps, one needs to pay in the time decided.
Penalty for not paying dues on time – On huge non-payments or even the slightest delay, it's all a pain when there is a penalty levied. As such apps charge a lot of penalties using the advantage of a higher rate of interest.
Opposite reaction on Credit score – When there is a delay in payments, that tends to disturb your discipline in repaying and end up in spoiling your well-baked credit score. Well, the negative impact on the CIBIL score is what no one desires.
15 Buy Now Pay Later Apps in India
After understanding the advantages and disadvantages of buy now pay later apps in India, let us discuss some best pay later apps for you to choose from.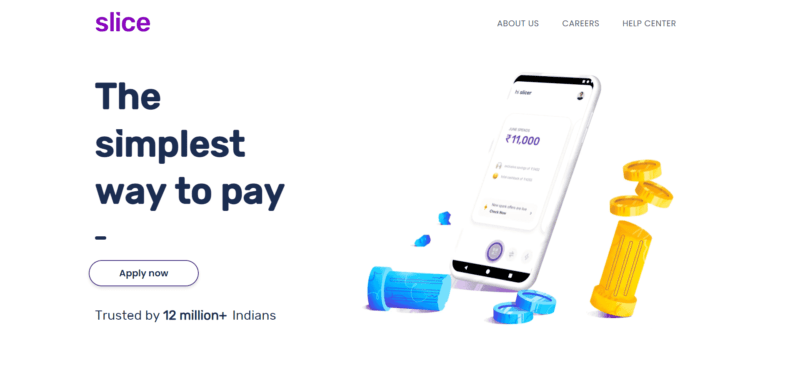 Slice is one of the best pay later apps for students. The reason being slice works like a miracle for those who don't have credit cards. Get cashback up to 50% with this when you shop from Myntra, Flipkart and other such platforms. This feature in Slice is known as Sparks.
Another benefit is a slice card. It helps you with 1-2% cash back option over sparks and helps you with timely payments. The best part here is that it's all free even on international transactions.
The catch here is that do not go for more than 3 months for EMIs that will attract 12% to 15% interest.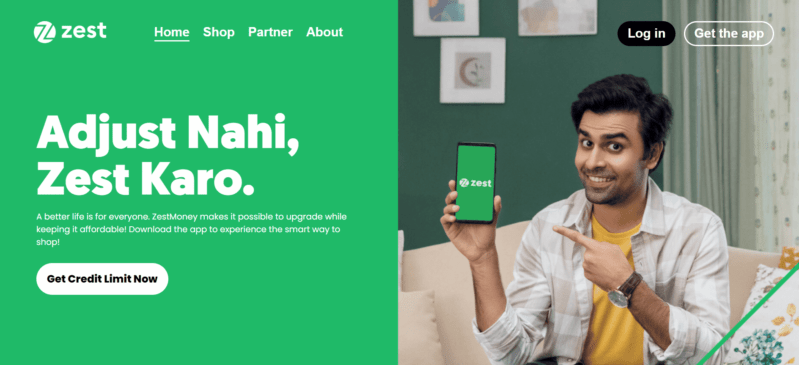 With the tagline 'less price to pay, more time to pay this app is sure to deliver. Just download it, complete your profile, upload your KYC, use automatic repayments and use it like you want to. ZestMoney offers the following features:
Zero Percent interest but only on selected offers.
No paperwork, no credit card.
3-step fast approval process.
Personalized credit limit of up to 2 lacs.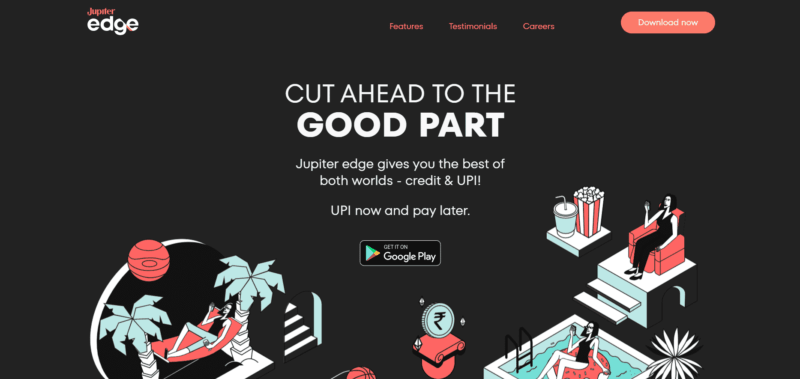 Jupiter Edge Pay Later App seems to be an amazing combination of speed and convenience. It claims to be the fastest UPI app. Here are some more things you get in this app:
Get a UPI credit of Rs. 20,000 with zero interest.
15 days repayment cycle.
Scan and pay offline.
For both android and iOS.
No Annual fee.
Hassle free statement.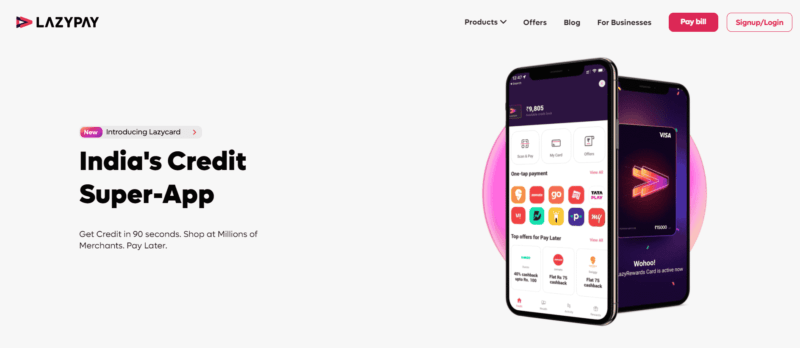 This is a famous buy now pay later app. The best features of LazyPay are:
Paperless KYC process.
Quick credit line.
Scan, pay or use UPI.
15 days interest-free period.
Payment dates are generally 3rd and 18th with autopay options.
The maximum credit limit is ₹100000.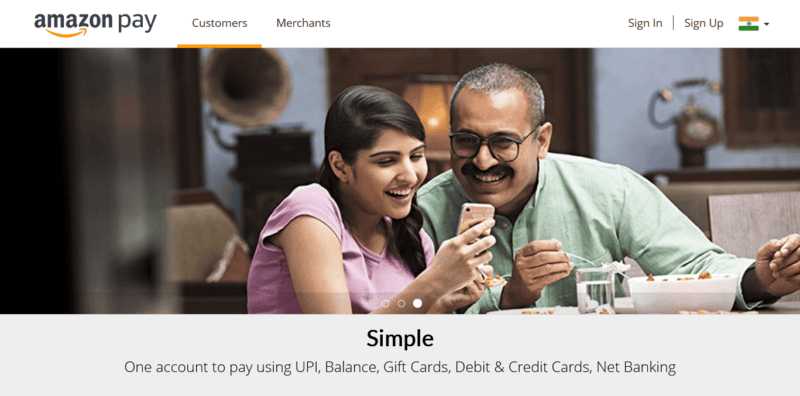 Amazon is the best e-commerce luring most of the customers in the incredible stuff and with great offers. Not only that, now a feature of pay later has popped up as well. Some things one should know about Amazon pay later are:
Zero interest credit line.
Use it for bills, groceries, and shopping as well.
3 to 12 months EMIs available.
Auto repayment on every 5th of the month.
Maximum limit of up to ₹60000.
Loan partner is IDFC First Bank and Capital Float.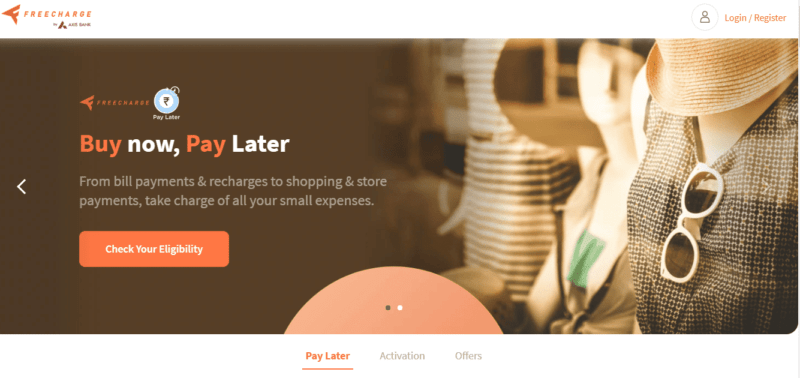 From DTH recharge, electricity bill or shopping, whatever it may be, Freecharge pay later is a life saviour. Simply, it's like a friend you can take money from, no questions asked. But, yeah this friend needs a pay back option too for it to work. The primary features of this app are listed below:
Get a full month delay in your payments.
Receive interest free credit immediately.
Pay with a single tap.
Secured payments with OTP or PIN.
No additional charges.
Keep a track of your expenses.
Exclusive offers on apps like Myntra, Swiggy, Amazon, Jio Mart etc and amazing cashbacks.
Here's how to get started:
1. Login into the Freecharge website or Mobile application
2. Click on Pay later
3. Choose Get Freecharge Pay Later.
4. Provide your info & KYC details like AADHAR and PAN.
5. Start getting benefits by checking out everytime using freecharge.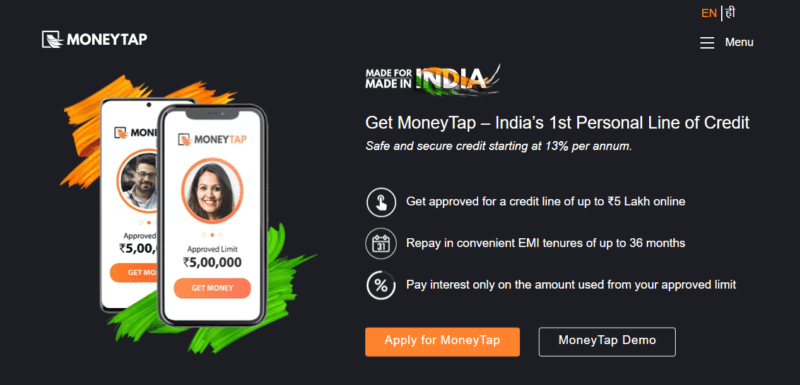 Get up to Rs. 5 lakh credit with this app and pay later easily in the fastest manner possible. Get a pre approved limit within minutes and access to money within 24 hours. Some features differentiating this app from the rest include:
Governed by RBI that means security is guaranteed.
No collateral required.
Top up feature is available.
Flexible EMIs Option to choose from.
Other things you can do with Money tap is getting various loans, might it be education loan, medical loan, repair loan etc. in easy steps. It is important to note that it charges interest on money borrowed.
If you are wondering how to get started it's pretty easy.
1. Download the Money tap app and create your profile.
2. Wait for your KYC to be verified which takes a couple of days after registration.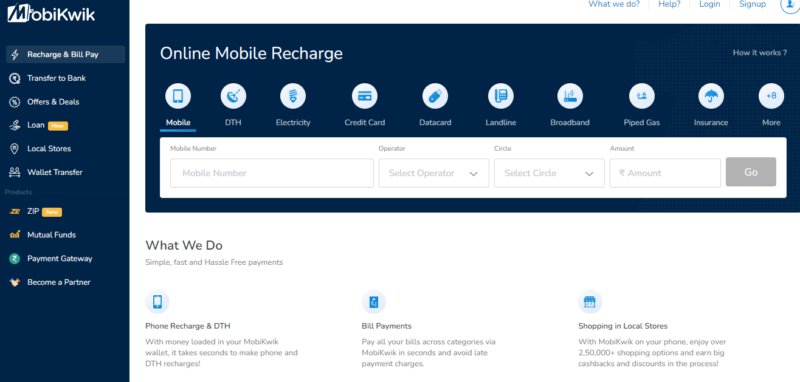 Spend up to Rs. 30,000 every month with Mobikwik Zip buy now pay later app easily. Also, earn cashback on timely payments. It offers hassle free single click real time payments to 120+ million users. Below listed features make this app incredible and one of the finest buy now pay later apps:
You can avail Instant credit for payments.
It is Interest free.
 It is easy to maintain a good credit score.
Minimal paperless documentation required.
Do note that 15 days repayment is mandatory to avoid late fee.
Also Read: 30 Best Paytm Cash Earning Games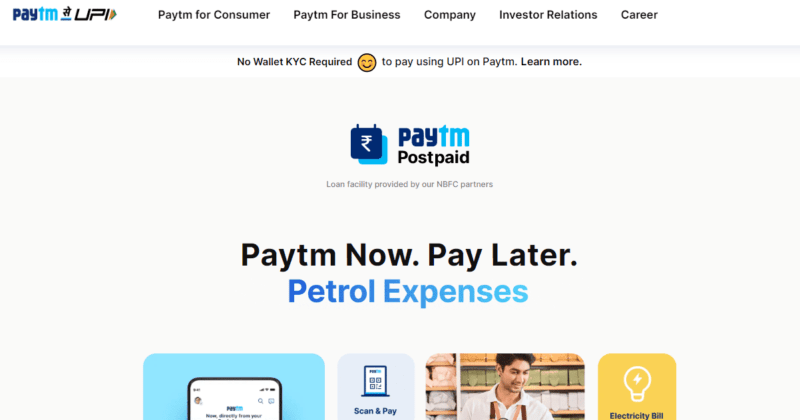 As we all know what huge service paytm has provided in the history of UPI, paytm postpaid is no less. Get amazing credit of Rs. 60,000 in a one-go with Paytm postpaid. It's uniqueness is defines by the following attributes:
Check-out facility with lightning speed.
Interest free credit for 30 days.
Free activation.
Accepted everywhere. Simply, scan and pay.
Totally digital
Option to pay in full or in EMIs.
It comes in three variants :
Postpaid MINI,
Postpaid LITE and
Postpaid DELITE with variation in convenience fee on total expense.
Activate Paytm postpaid in easy steps:
1. Go to Paytm website/app and click on All Services.
2. Choose Loans and Credit card services.
3. Find Paytm Postpaid here and follow the process till the end.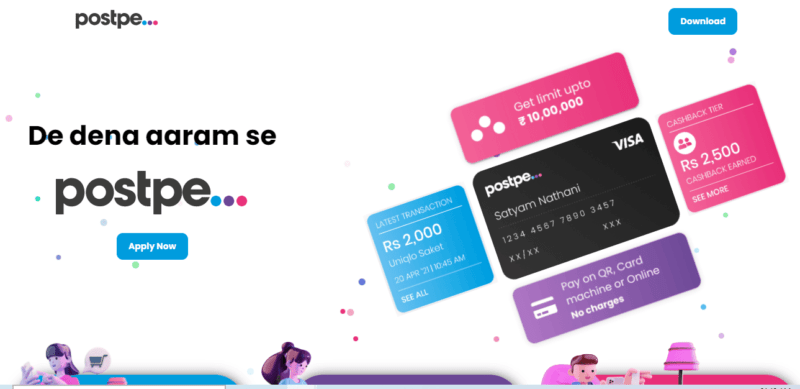 It is owned by Bharatpe that enables users to get credit up to Rs.10 Lakhs based on your CIBIL Score. Scan and get instant credit to make payment and split into EMIs for repayment. It provides:
30 days credit line.
Hassle free transfers.
No interest on credit.
Offline payments too.
So. get registered instantly through its Android app, iOS app, website or via WhatsApp today!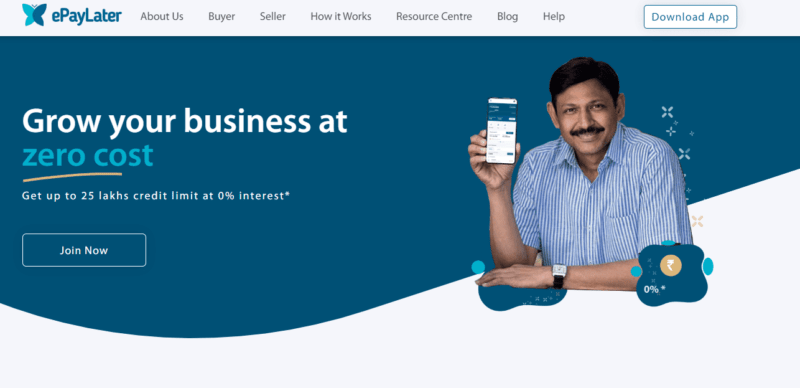 More for businessman app which provides any amount between 25k to 25 lakhs as credit with zero interest during the billing period. These are the things you should know about Epay later:
14 days period to settle dues.
Easy sign up process of a few minutes.
Integration with a lot of merchants.
Manage your account easily via its app.
No compounding of interest.
Also Read: Top Digital Payment Banks & E-Wallets In India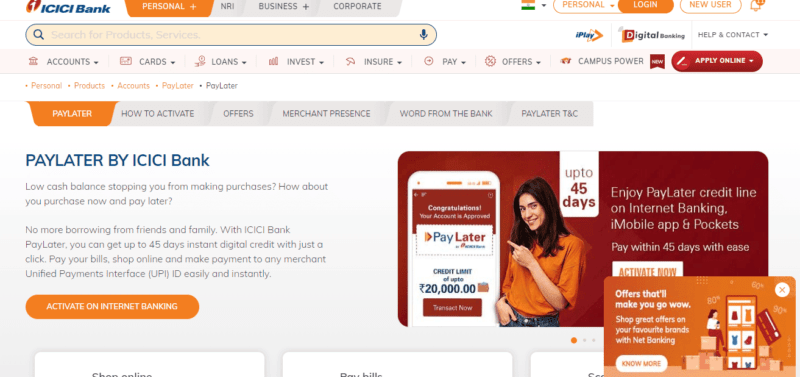 ICICI bank is providing credit online with its pay later feature available on the ICICI bank app. To apply for ICICI pay later, do as follows:
1. Download the ICICI app and click on the pop up saying Activate now.
2. Read thoroughly and accept Terms and conditions.
3. Verify your details and Set up a savings account for auto debit.
4. Create your Virtual payment address and complete the process.
5. Finally, go back to the Dashboard and avail credit.
The following attributes make it one of the best buy now pay later apps:
Start without any joining fee or annual fee for activating the facility.
15 days to 45 days ranging credit period depending on your credibility.
Reschedule payments at just 3% interest rate per month.
13. Ola Money Postpaid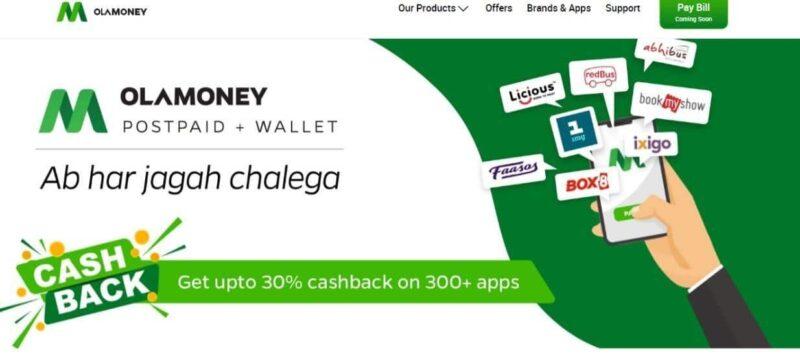 It provides you access to various in demand apps and offers cashback on 300+ apps. Book movie tickets, pay for travel or eat with the best possible buy now pay later app.
Things to know about Ola money postpaid before you get started:
Repayment cycle is 15 days.
Super fast payments assured.
No hidden charges
Pay a single bill for all your expenses.
Accepted in cabs too.
Get Started using Ola app as follows:
1. Go to the profile menu.
2. Select Olamoney postpaid.
3. Pay for anything you want and clear your dues similarly.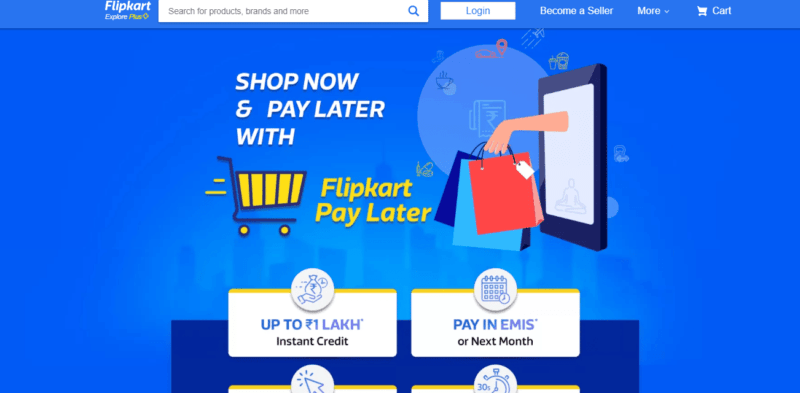 Get credit up to Rs. 1 lakh instantly with Flipkart pay later. No different app needed just go to flipkart and buy without paying for it. Leave with a promise to pay next month. Avail credit easily with PAN and AADHAR after verifying your bank account details. Flipkart pay later offers:
Payment in EMIs or carry forward to the next month.
Single click hassle free checkout.
Apply for credit in 30 seconds.
Pay bills or shop online with it.
Splitting payment is easy.
Also Read: Flipkart Affiliate Program: Detailed Guide
Within e-commerce industry, snap mint is deemed to be the biggest player amongst the buy now pay later apps in India. It is easy to download and provides great EMI options without credit cards. The other merits of Snapmint include:
Shopping on giant stores like Myntra, Amazon, & Flipkart.
Offline credit & repayment too.
Avail no down-payment benefits.
No application fees.
Paperless KYC
Know these things before you start with buy now pay later apps in India
Ready to start with going into a buy now pay later app. But one should know the rules related to these apps in India.
Have KYC docs ready with you. Without KYC, no app will be in access.
Most of the apps demand PAN cards as an important document.
Only start when you know you can pay back on the repayment date as delay will charge higher interest.
User's age must be more than 18 years.
Some apps ask for a salaried person only or give them preference.
Being a resident of India is important.
Is buy now pay later a personal loan?
Though Buy now pay later apps do appear like personal loans, they have some crucial differences:
Maximum limit – Where a personal loan has a Maximum limit of Rs. 25 lakhs. Buy now, pay later is only up to Rs. 1 lakh.
Security matters – In a personal loan, one can avail of both secured and unsecured loans, but BNPL only allows loans in case you offer some security.
Interest – Personal loans have interest levied on them. Buy now pay later also allows interest-free loans but for a certain time limit, and the late fee is at much higher rates.
Restrictions – There aren't any restrictions on how to spend money on personal loans but buy now pay later has limited and restricted usage.
So by now, we are sure you would have understood all about buy now pay later apps in India. It is best to weigh the pros and cons and then conclude whether you want to go ahead with these apps or not. If you wish to proceed with this, then you can consider the above-recommended Buy now Pay later apps.