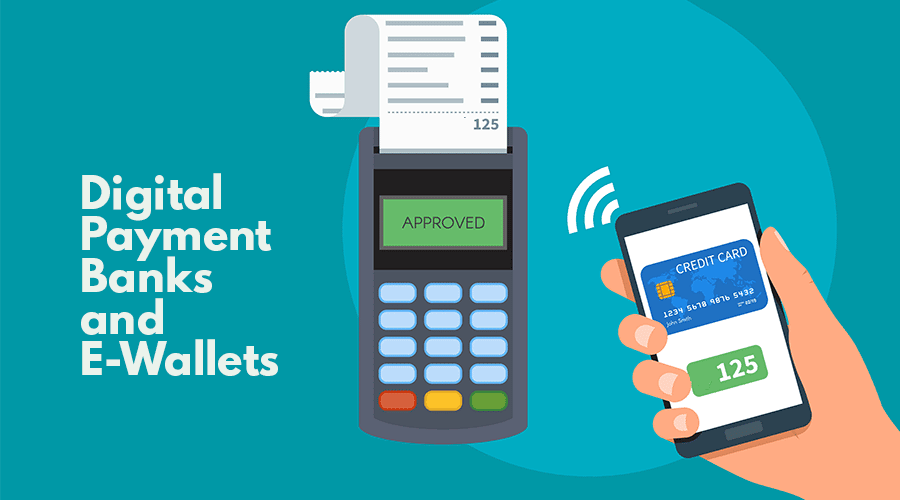 India is emerging as a digital nation now, where almost everything is digitized, especially the way we pay. Here are the best Digital Payment Banks and E-Wallets in India.
Digital Payment banks are one of the recent trends in the online payment world. As the name suggests, it works differently than the usual retail banks. You can deposit up to Rs. 1 lakh in your digital payment bank without any mention of credit cards, loans, or any credit facility.
8 Best Digital Payment Banks In India
The facilities you get are ATM card, debit card, net banking facility, and easy and effortless payments. Moreover, it is approved by the government of India and therefore is very safe and reliable. The initiative to start a digital payment bank in India was to promote awareness of digital banking facilities in remote areas. Also, this initiative opened the account of many people by which they could upgrade with technology, secure their money, most importantly helped in the development of the nation's economy.
Here are some of the best Digital Payment Banks in India:
1. Aditya Birla payment bank
This bank was the 4th one to start digital payment in India and now works with great technology to provide its customers with the best banking experience. It also provides you with the facility of NEFT. Also, it is one of the firms authorized by the RBI.
2. Paytm payment bank
When India was crossing the phase of demonetization, it gained a lot of fame. Today many people are familiar with using debit cards issued by Paytm. To ensure the security of your money in Paytm bank Paytm has created a special, unique Passcode for each of its customers. You also tend to earn 3.5% per annum interest every month.
3. Airtel payment bank
It started in 2016 and was the first bank to start digital payment. It is known for its huge customer base and reliable services. You can receive or make payments using My Airtel app very easily.
4. India post payment bank
This is a government-owned bank. It is operated under the Department of Post. It also provides retail banking services to its customers. As it is a government-owned bank, it utilizes all of 155,015 Indian post offices to reach remote areas and provide door to door services.
5. Jio payment bank
Jio payment bank is a combined undertaking between State Bank of India and Reliance Ltd. It stands in 6th position to start a payment bank in India. You can make payments and receive deposits but do not provide any credit facilities like credit cards.
6. NSDL payment bank
NSDL, National Security Depository Limited, has started giving its services to its customers in 2018. Since then, it has been able to gain the trust of its customers. Its main aim is to carter account services to people, and also it takes responsibility for the economic development of the nation.
 7. Vodafone m-Pesa Payment Bank
Vodafone was already in the market with its large number of users using its telecommunication services. Later it started giving digital payment service as well. It is mainly used for depositing money in other's accounts. For security, it uses the PIN system connected through your SMS text message system.
8. FINO Payments Bank
FINO bank has 400 branch offices all across the nation. It believes in catering to its customer in a way to empower them. As a digital payment bank, it started in the year 2017, truly believing that your hard work must be paid, providing you unmatched banking experience.
Digital Payment Banks – Features
You can deposit the cash amount up to Rs. 1 lakh.
There is a very less transaction fee to be paid by the users.
These banks do not include lending or credit services.
It constitutes of high-interest rates, ranging from 4% to 7%.
Digital Payments Banks – Importance
This is a secure and easy way to make payments.
Most of the work is done over your mobile phone and thus, is easy to use.
It leads to the end of black money and promotes cashless transactions.
A cashless economy need not incur expenses on printing new currency and replace the old ones.
There are minimum chances of fraud and theft.
Most importantly, it is a method to reach rural and underbanked society and open an account for them.
E-wallets or digital wallets or mobile wallets have dominated the Indian market since the demonetization. This has become an easy and secure way to store your money and carry out cashless transactions anytime you need it.
Also Read: 7 Best UPI Payment Apps in India
When you can feel the shopping patterns continue to evolve, then at the same time, the payment platform has also changed. Before you used to rely on the physical cash, then on credit or debit cards, and now is the trend of e-wallets. It is a virtual mobile-based wallet used for making cashless payments. These digital wallets are rapidly growing because they make fast and secure payments.
6 Best E-Wallets In India
1. Paytm

Paytm was launched in 2010 by Vijay Shekhar Sharma. Today it is one of the best digital wallet apps used in India. Over 160 million people have been using this app. Paytm has successfully been able to raise 2.2 billion INR through funding by different investors.
It works as a semi-closed model where you can make e-commerce transactions, transfer money, make bill payments, and also can enjoy services from entertainment, travel and retail industries.
For the record, in 2017, Paytm was named India's first-ever mobile payment app to cross 100 million installs from the android play store.
One of the major advantages of it is that it has been accepted almost everywhere in India.
Visit Now
2. Google pay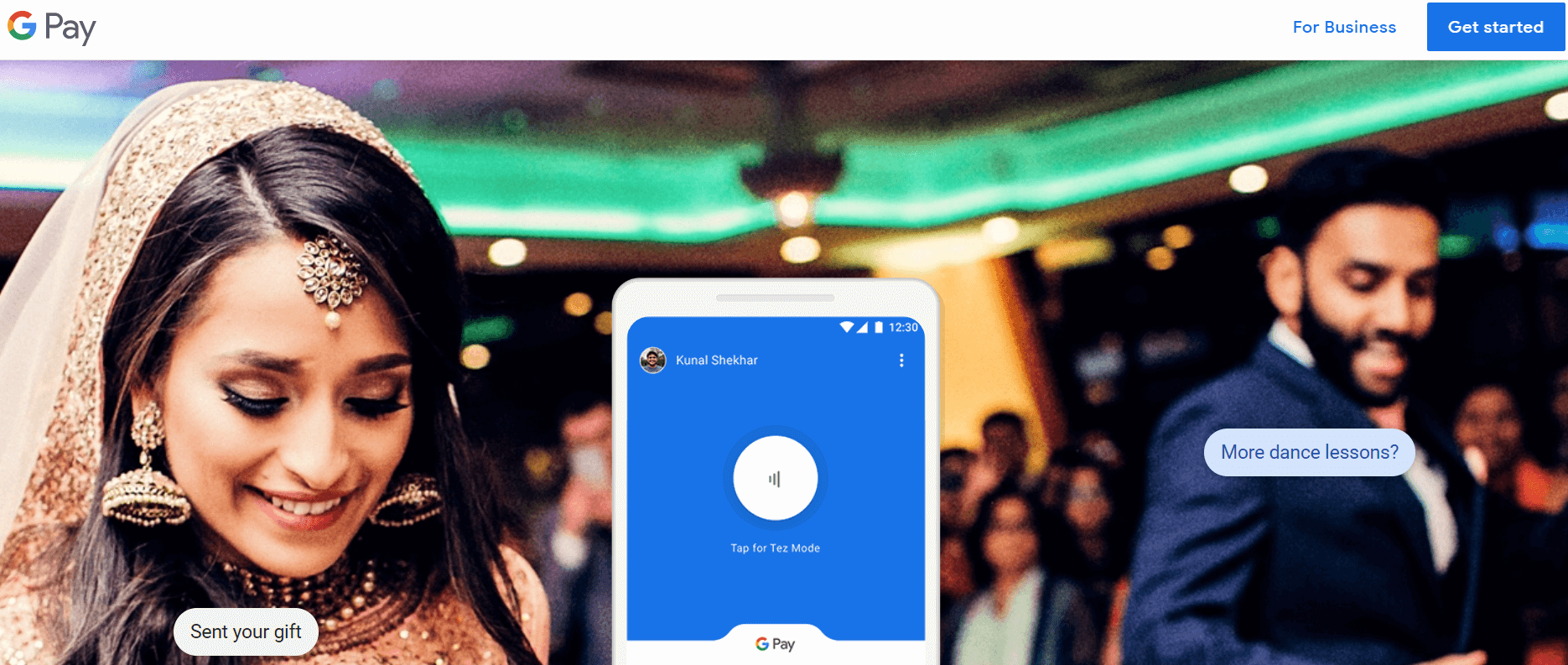 It has been known for years as a search engine. It is almost used by everyone in this world who happens to have an internet connection. But as soon as it launched its digital wallets named Google pay, it instantly conquered the market. Its services are hassle-free. Today, it has more than 25 million users actively using it every month.
You can send money to your friends, pay your bills, recharge your phone, buy things online, and many more facilities are available. It is connected to your existing bank, and therefore you can assure that your money is safe in your bank. You don't even necessitate being troubled about reloading your e-wallet too. All the transactions done are without the intervention of an agent and are connected to your registered mobile number.
Visit Now
3. Amazon Pay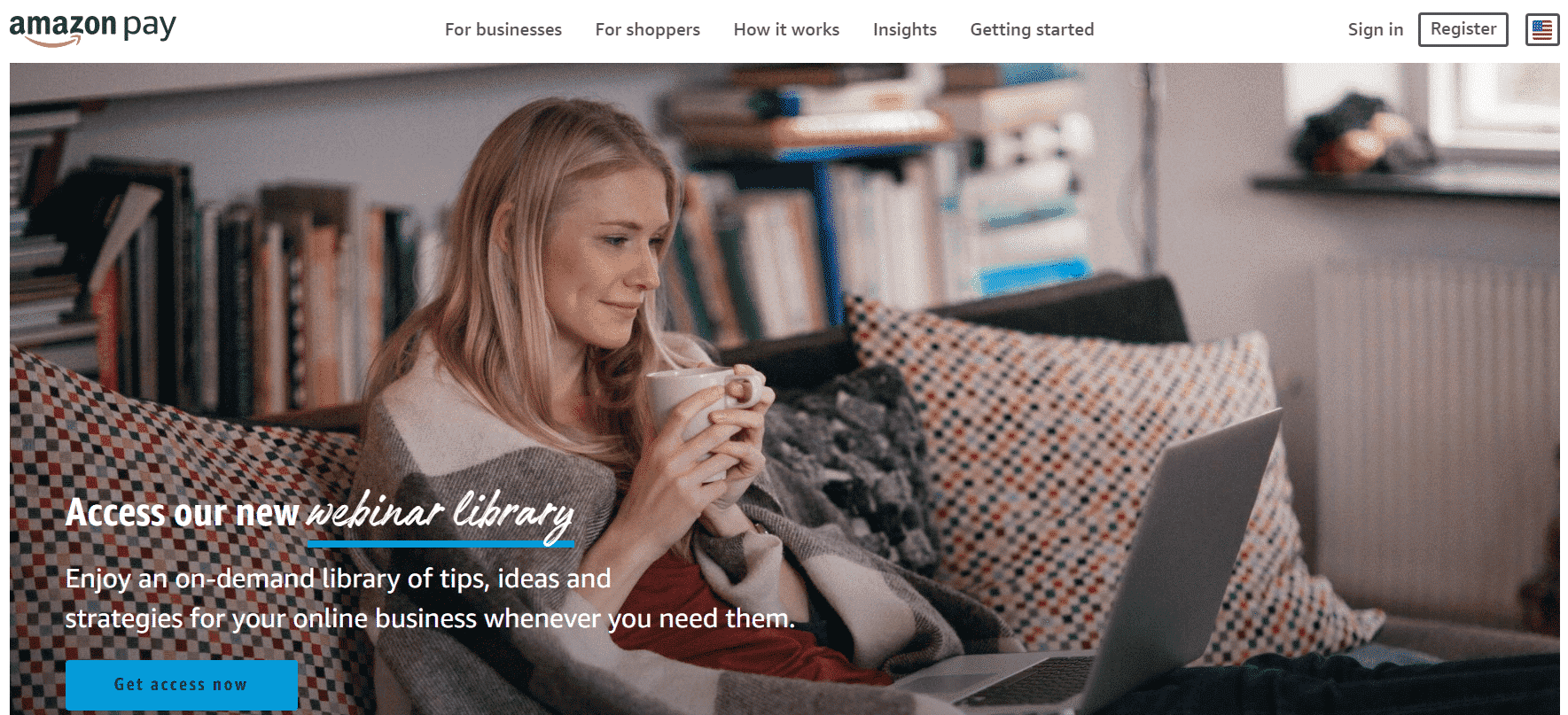 One of the most famous and leading companies, Amazon came up with its own personal Amazon Pay. For the whole world, it launched this digital wallet in 2007, but its launch in India came in 2017. Today more than 33 million people are connected to Amazon Pay and make payments for different online transactions.
Earlier, this e-wallet was used to make purchases from Amazon's official site. Now it has become much vast than that. You can now make payments to selected merchants through this. Apart from them, you also get many cashback and discounts as well.
In January 2019, Amazon invested Rs. 300 crore to develop Amazon Pay. In April 2019, Amazon Pay started is P2P (person-to-person) payment option. Through this, you can make transfers from one bank to another.
Visit Now
4. PhonePe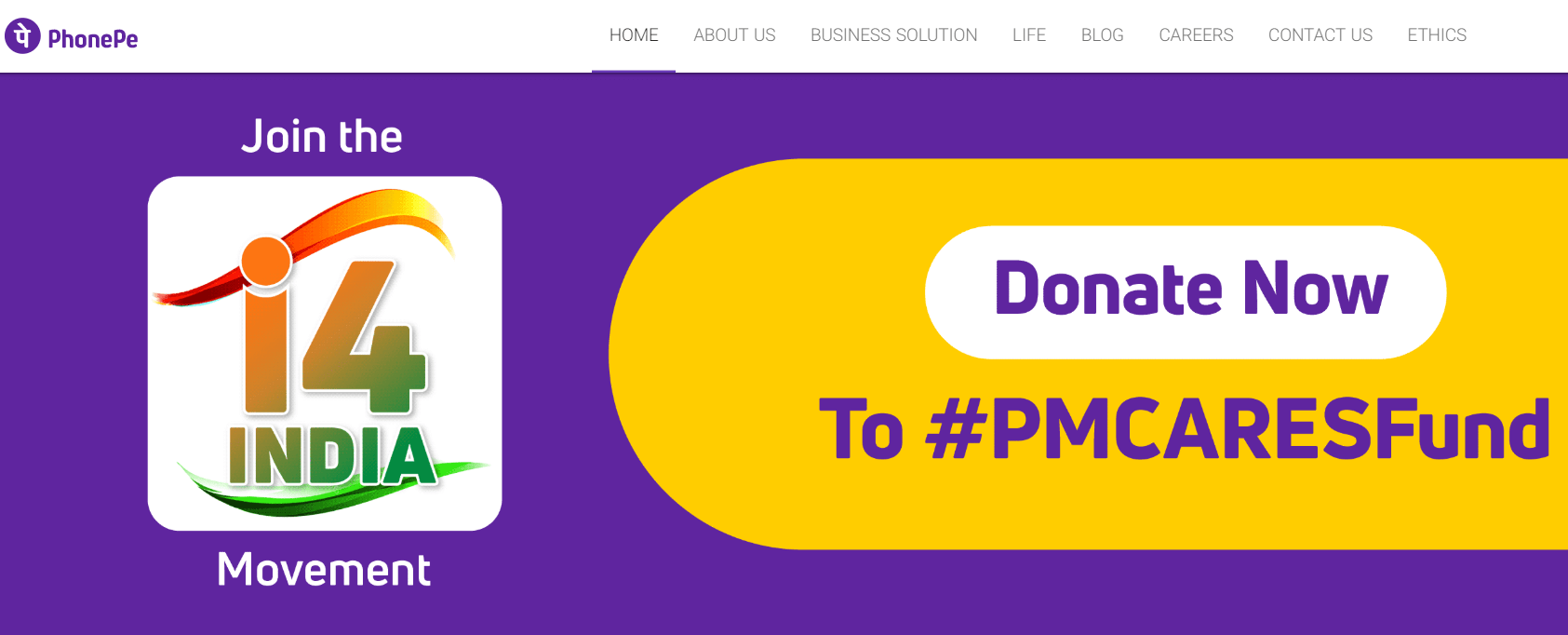 This digital wallet is one of the frequently used and most popular apps used by Indian citizens. It has been able to create more than 100 million users within just 4 years of its launch. Flipkart is the launcher of PhonePe with Yes bank powering it.
It is a UPI-based payment app. You enjoy much cashback and get other deals on food outlets, shopping, bills payment, and many more. It is also a very safe app to use. It assures that no data is leaked or is affected by cybercriminals. It is even available in many languages; thus, it enables different people to understand its usage better in their native language or the language they feel comfortable in.
Recommended: 11 Best Forex Cards in India
It also provides services of Ola, Myntra, redBus, IRCTC, Oyo, Goibibo, Treebo, etc. to its users. They can easily book these services from the PhonePe app. Recently it joined hands with a gaming startup mobile premier league. For the future, it is expecting to be partners with industries like travel, food, mobility, shopping, entertainment, and hyperlocal as well.
Phonepe has been able to extend its services in more than 150 cities in India. It does not aim to stop here and is continuing to expand itself to new lands as well.
Visit Now
5. Mobikwik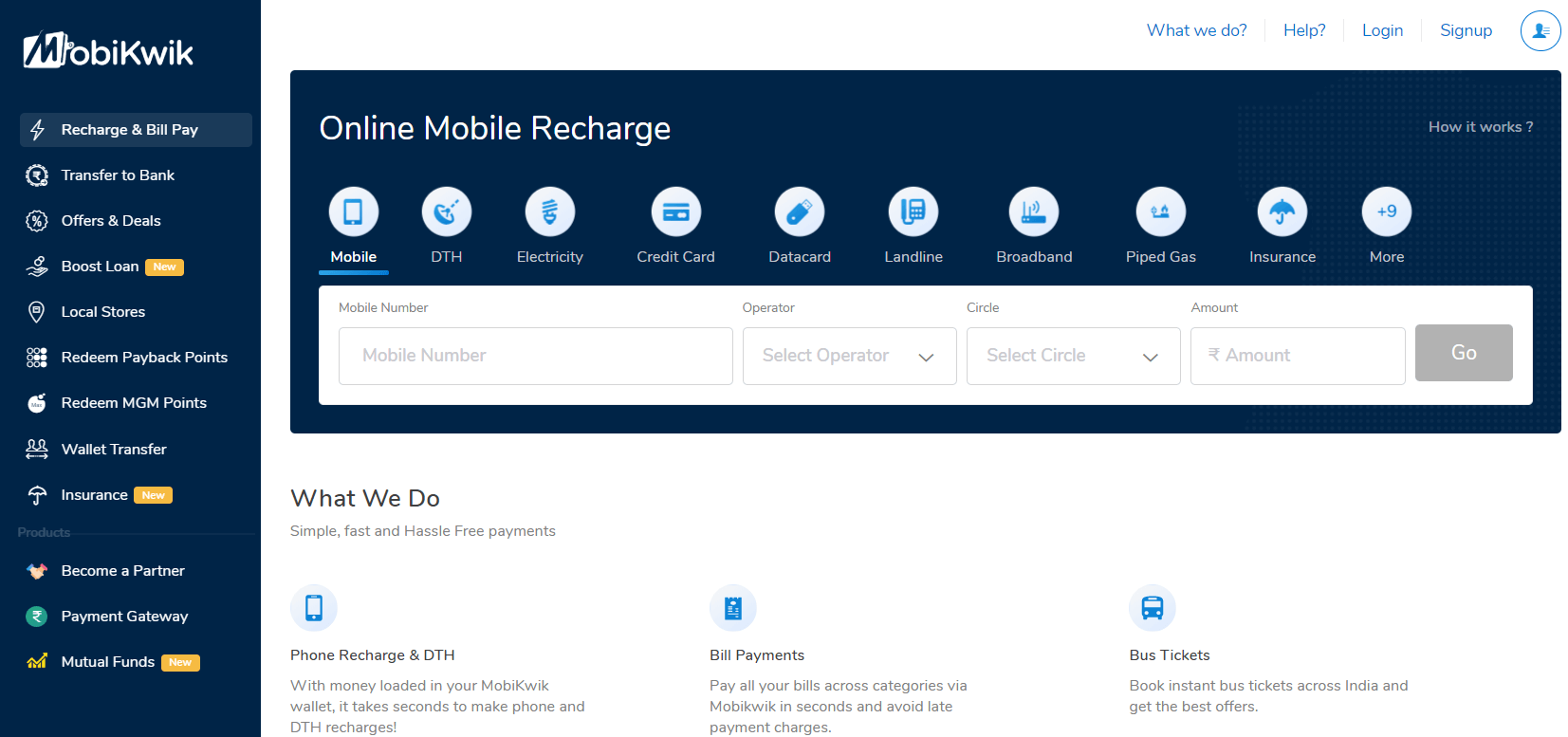 This digital wallet was founded in 2009 by Bipin Singh and UpasanaTaku. It is a great app to store your money safely. It has been able to connect 25 million users and 50 thousand merchants to make dealing online.
You can easily recharge, book travel tickets, pay bills, and make payments to the third party through Mobikwik e-wallet. You can even buy digital gold, personal loan, get insurance, and invest in mutual funds as well.
To add money to the Mobikwik digital wallet, you can use your credit card, debit card, or net banking for the same. For more convenience, it has made provisions for doorstep cash collection too.
Recently, it has been collaborating with large and small-time restaurants, grocery, and other offline merchants. For more control, you can put an expense tracker that uses your SMS data to control and analyze your spending and budget.
Visit Now
6. YONO SBI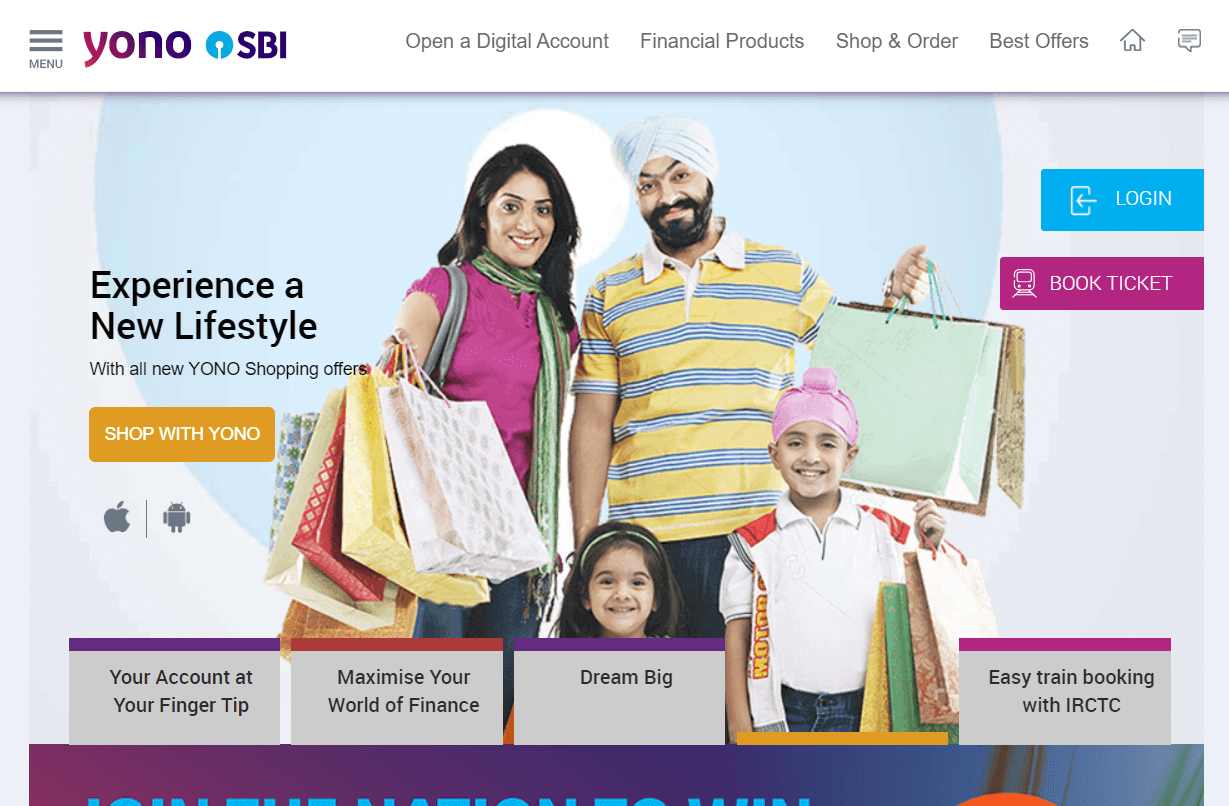 YONO is a digital wallet launched by the State bank of India, which is available in 13 languages. It is not only limited to SBI customers but also can be used by non-SBI customers as well. The route to making digital payments is comfortable. For this, the credit goes to the national reach of the State Bank of India.
With YONO SBI, you can transfer money to other banks, book movie tickets, book hotels, and many more things that can be done. Money transfer reminders can be set for effortless dues transferring. It also provides mini-statement for all your YONO SBI transactions that took place.
You can even invest, book IRCTC train tickets, vacations, flights, etc. through this app.
Visit Now
I hope this guide "Top Digital Payment Banks & E-Wallets In India" was useful to you, and now you can make an informed decision about your selection. If you still have any queries or if you want me to add another e-wallet to the list, reach out through the comment sections and I will happily oblige.