boAt, a prominent player in the electronics industry, has carved a niche for itself in the market with its range of audio products. Renowned for its innovative designs and superior quality, the company has experienced significant growth and success in recent years. With a strong presence both online and offline, boAt has garnered a loyal customer base and has emerged as a leading brand in the audio accessories segment. The company's financial performance and valuation reflect its position as a key player in the competitive industry, making it an intriguing subject to explore further. In this article, we will learn more about boAt net worth and valuation.
boAt Net Worth, Valuation, Revenue
The headphone market has always been dominated by big brands like Sony. boAt provided another option to Indian music enthusiasts which was premium quality and cheap. It became one of the key participants in the industry. Since December 2020, boAt has been ranked as the fifth-largest wearables brand globally. Let us learn more about the company.
About boAt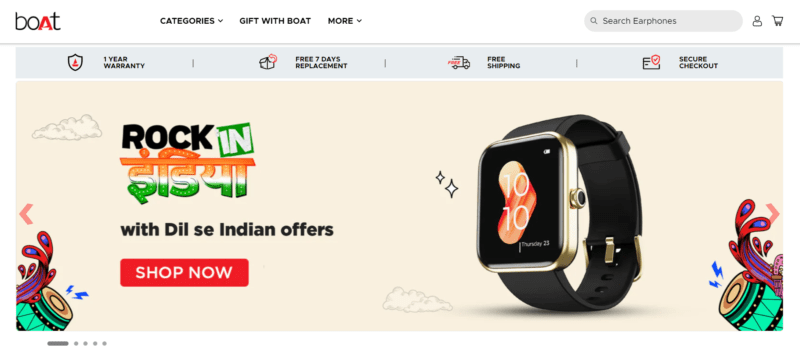 As an Indian firm, boAt sells electronic devices with an emphasis on music, including wireless speakers, earbuds, headphones and earphones, home audio equipment, and a variety of other technical accessories. According to research from 2020, the firm started as a cable producer and supplier before quickly expanding into other markets to service more than 800,000 clients.
The boAt began as a bootstrapped firm with an initial investment from the founders of about Rs 30 lakhs. Aman Gupta along with Sameer Mehta are two founders of the company. Read on to learn more about boAt valuation.
Warburg Pincus boasts of having 36.48% of the shares of the corporation, which explains why it has the bulk of the holdings. Aman Gupta and Sameer Mehta, co-founders of the boAt, are next in line, holding 28.26% of the total shares. Next with 3.76% of the shares is Fireside Ventures, followed by Qualcomm Ventures with 2.6%. Others own the remaining 0.64% of the interest in the company. Read on to know more about boAt net worth.
boAt Net Worth and Valuation

According to the most recent estimates, boAt net worth is about 700 Crore in 2023. The company has secured $177M in investment across 7 rounds. On October 28, 2022, it received its most recent capital from a Convertible Note round.
Six investors have financed the business making it reach its current boAt Valuation. The most recent investors are Malabar Investment Advisors and Warburg Pincus. The firm has purchased two businesses. KaHa Pte was their most recent purchase, made on January 15, 2022.
boAt Business Model
boAt focuses on establishing a relationship with its customers in which it views the customers as members of this family. They also put a lot of emphasis on the brand and portrayed it as an Indian one. Because Indians are huge fans of both cricket and Bollywood movies, boAt decided to employ them as brand ambassadors for the company's marketing efforts.
With clever pricing and an appealing appearance, all of these enabled the business to build a sizeable customer base and grow into a billion-dollar firm in India. boAt currently asserts that four devices are sold every minute or 6,000 units every day.
They prioritize maintaining their clients since the company chose to refer to its users as boatheads, therefore including them in their tribe rather than keeping them nameless. The inventory of boAt goods is likewise constantly expanding.
The company is just introducing new items that are powered by cutting-edge technology and beautiful designs, from cables to chargers to audio equipment. Additionally, boAt is renowned for its improvisations and inventions. It worked quickly to produce the fall-proof, sports-friendly headphones that are currently offered in a range of colors as soon as the company realized how important they were.
The brand's target market is young people and millennials, and the business is doing all in its power to please them. This is how the business is moving forward quickly. This article will focus on boAt net worth and revenue.
boAt Revenue
For two successive fiscal years—FY21 and FY22—the firm recorded scale growth of over 2X in boAt revenue. However, the company's earnings fell 20% in FY22 as procurement costs increased faster than revenue growth. In comparison to the fiscal year ending in March 2021, its income from operations increased by 2.2X to Rs 2,873 crore.
boAt generates the majority of its income from the sale of audio equipment, which together accounted for 79.2% of the overall collections. It submitted a DRHP to SEBI in order to begin its Rs 2,000 crore initial public offering (IPO) and received clearance for it in May 2022. But in October 2022, it decided against going public and went for a $60 million new round from Warburg and Malabar.
| | |
| --- | --- |
| NAME | boAt |
| Founder/CEO | Aman Gupta |
| Net worth | Rs. 700 crores |
| Valuation | Rs. 2,200 crores |
| Revenue | Rs. 2,873 crores |
| Stock price | Rs. 850 Per Equity Share |
Aman Gupta boAt Net Worth
The founder of boAt, Aman Gupta net worth is over Rs. 700 crores. The company is his main source of income. He is currently the company's co-founder and chief marketing officer.
He comes from Delhi from a family of four, comprising his parents and younger brother. He is married to Priya Dagar and has two daughters Ada and Mia Gupta. He started his career by starting as an assistant manager at Citi Bank from March 2003 until August 2005. He and his father launched Advanced Telemedia Pvt Ltd in September 2005, but the firm struggled to make a profit.
He enrolled in the MBA program at the Indian School of Business in 2010. After completing an MBA, he worked for organizations including HARMAN International as a Director and KPMG as a Senior Management Consultant. Later, in 2013, he established Imagine Marketing Services Private Limited, the parent company of boAt.
The firm wasn't founded with a novel concept; rather, it was established to meet the demand among young people. Only a few brands of headphones and earbuds were available in the nation when the company arrived. Additionally, the Indian market lacked a reliable local brand.
boAt has achieved impressive financial success, reflected in its noteworthy net worth, valuation, and revenue figures. Its consistent growth and market presence have solidified its position as a leading brand, captivating consumers worldwide.