In this article, we will discuss some of the best multi-cryptocurrency wallets you can use to store your crypto assets. 
Isn't it best if you can store and retrieve your digital assets quickly and safely? If you think that way, you must require a crypto wallet to help you keep all your crypto safe and secure. Just like you keep all your cash in one place (in your wallet), similarly, if you are investing/trading in cryptocurrencies, ensuring you have a crypto wallet is important.
Cryptocurrencies are in the great limelight in the digital age because many people have started thinking of them as a money-making machine. Although it has made many people wealthier quickly, at the same time, it has also led many people to bear massive losses when one has invested aggressively and not been patient. Remember, investing in crypto is not a game that an impatient investor should play.
Its volatile nature and mesmerizing technology innovation have changed the fortunes of many Indians and people from all over the world. Are you also thinking of investing in one? No matter if you are a new investor or already an existing one, it is essential to know that keeping a crypto wallet is indispensable.
Owning a reliable crypto wallet will help you enhance security, prevent scams, and, most importantly, ensure the safety of your funds. But, what to do if you own multiple crypto assets. Even then, you would want to store all your digital assets in one place. Right? In that case, you would need multi-currency crypto wallets.
What are Multi-Currency Crypto Wallets?
Multi-currency crypto wallet or universal cryptocurrency wallet supports public and private keys that carry operations for more than 1 cryptocurrency. The best part about these wallets is that they let you keep all the cryptos in one place, and you are not required to have many crypto wallets.
These wallets enable you to send, receive, and check the available balance of your cryptocurrencies. But why are they important? If you are an investor or a trader, these wallets are necessary for carrying out transactions.
You can compare them with bank accounts. Just like you need an account to withdraw, deposit, and shop anywhere you want to. Similarly, the crypto wallet will allow you to carry out a series of actions.
List of Best Multi-Cryptocurrency Wallets

The primary objective of this article is to inform you of the best multi-cryptocurrency wallets. We do not want you to get stuck with some illegitimate platform and fall into their fraudulent trap. Hence, it is imperative to know the top multicurrency wallets that will keep your digital assets secure and make them out of reach of hackers and other threats.
Let's dive into the list of best multi-cryptocurrency wallets to ensure your valuable digital tokens are stored in a trustworthy platform: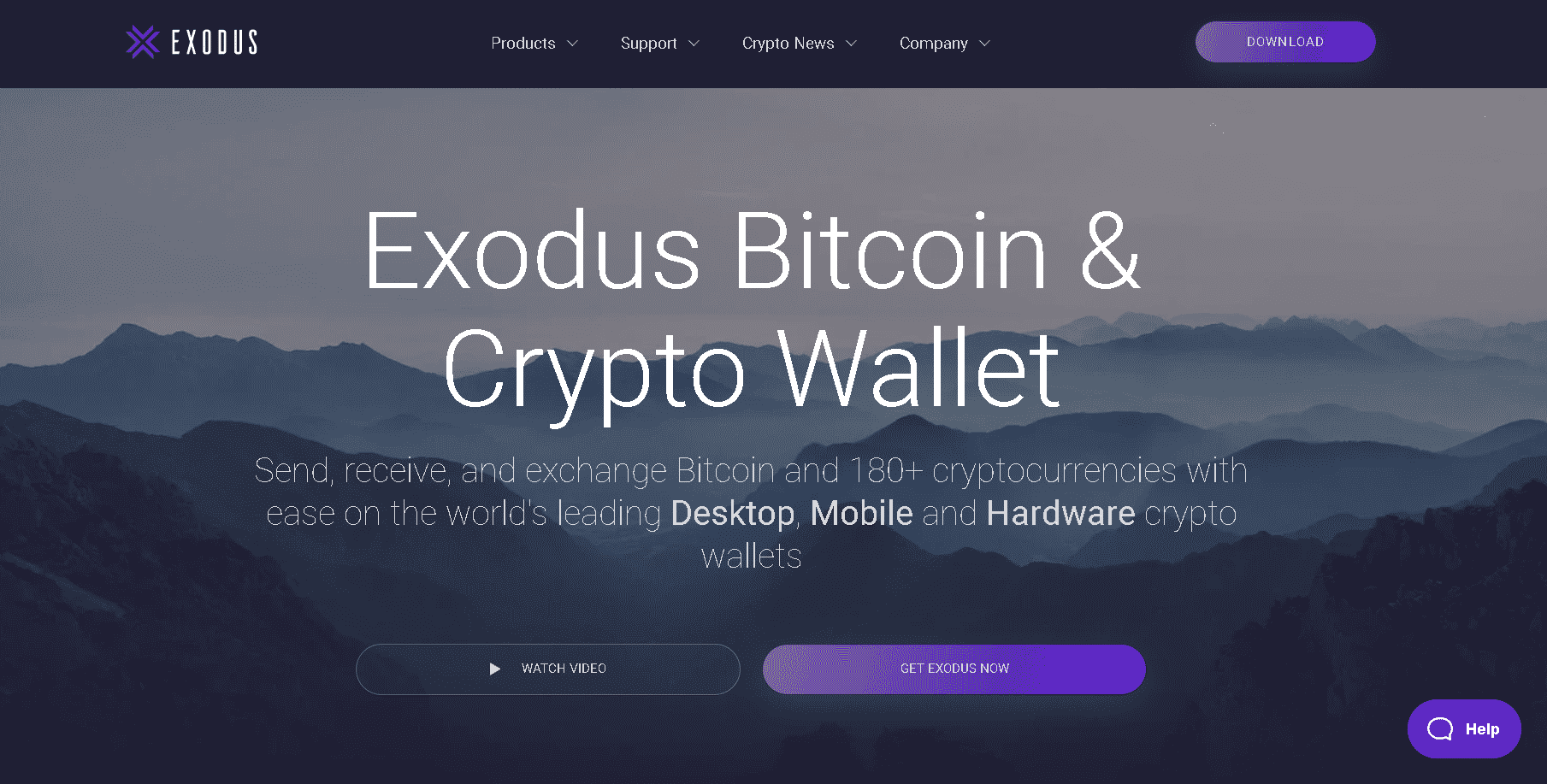 A free desktop wallet featured with an intuitive interface, Exodus is an appealing platform to many beginner traders. It is an ideal wallet for new investors supporting more than 100 cryptocurrencies, including Bitcoin, Litecoin, Ethereum, Binance Coin, and other obscure assets like Serum, FunFair, and many others.
The platform helps keep your private keys secure on your device and can even encrypt the private keys for you. The platform is best known for providing one-click efficient trading options.
The wallet is not an open-source wallet and offers excellent customer support by solving all their queries quickly.
The internal coin exchange is ShapeShift integrated, enabling all the transactions to take place directly through the Exodus wallet. However, the transaction fee is not paid to Exodus. Instead, it is paid to the network itself.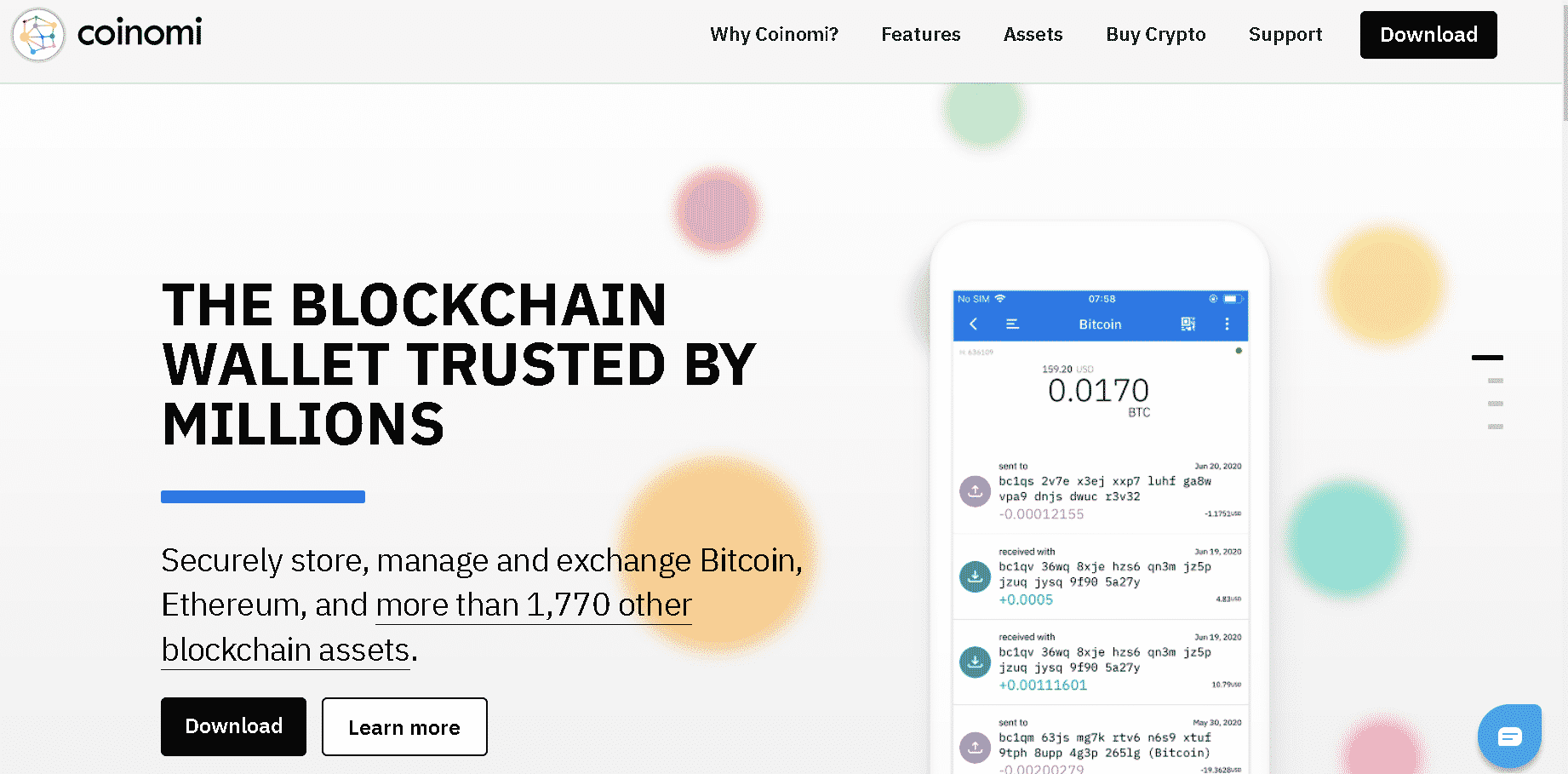 One of the oldest multi-currency crypto wallets trusted by more than 2.5 million users, Coinomi is a platform offering native support to 1500+ crypto coins and more than 125 blockchains while implementing the most substantial standards of security and privacy.
Coinomi is a hierarchically deterministic wallet which implies it uses a special algorithm to create the seed of the account. The crypto wallet supports multi-seed setups, and each seed phrase can have its own encryption settings.
This is an exclusive feature offered by this wallet as the seed is a series of random words that serve as a kind of 'master password.' Undoubtedly, it doubles the layer of security to the account.
If you are using this wallet, it is imperative to record the seed and store it in a safer place while ensuring you are not connected to the Internet.
Also Read: 15 Best Crypto Wallets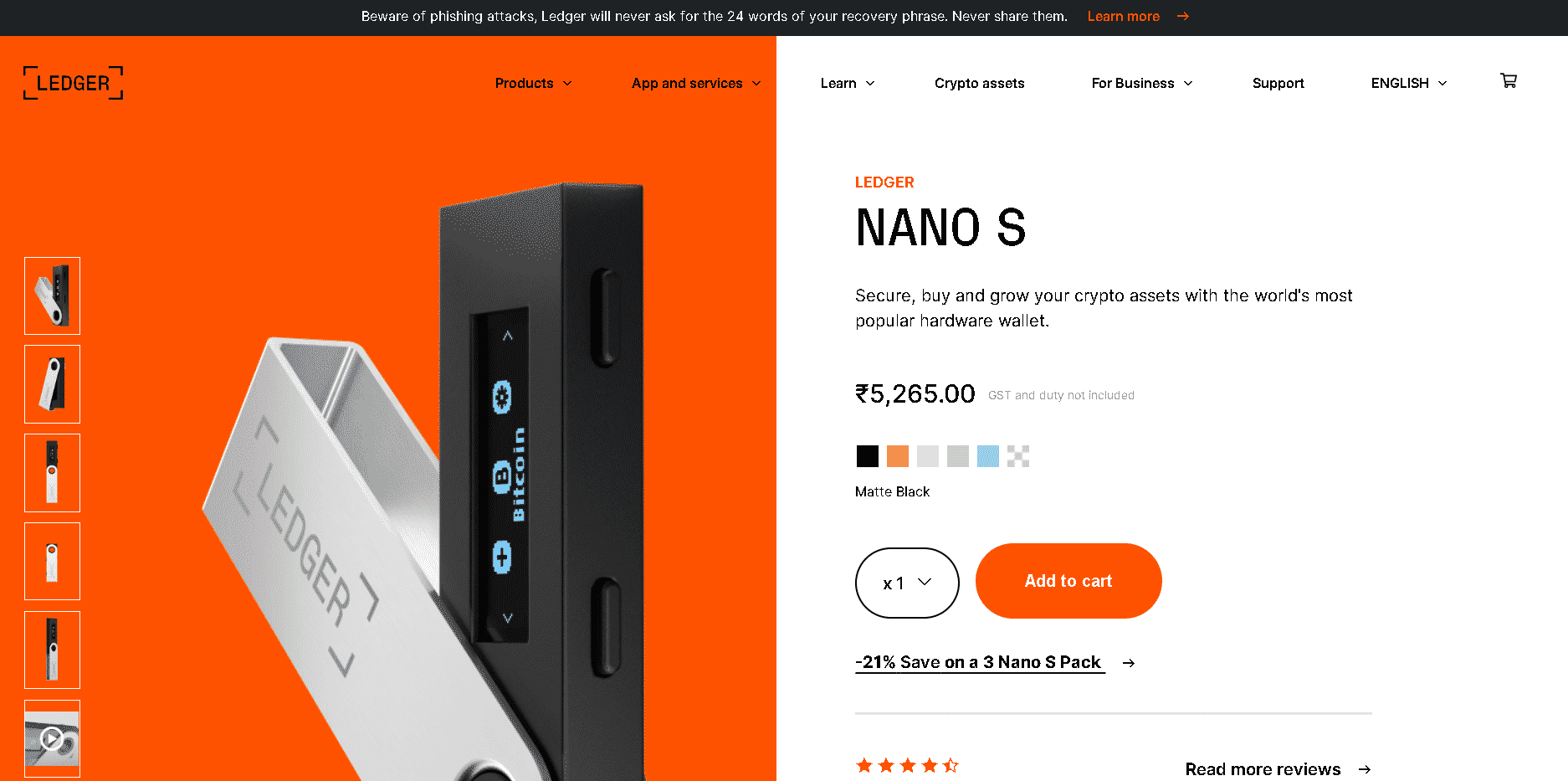 A highly trusted wallet, Ledger Nano S makes it easy to store a wide range of crypto assets. It is a USB-sized crypto hardware wallet, considered the best for Ethereum transactions. The wallet looks very similar to a folder flash drive.
Ledger Nano S is a hardware wallet that can run multiple apps with no risk of private keys being exposed to the Internet. In addition, the wallet is relatively affordable, unhackable, and malware-proofed.
This OLED-based hardware wallet supports more than 30 cryptocurrencies and is integrated with multiple wallets; this OLED-based hardware wallet is competent in generating seeds containing 14 keywords stored in internal resistance to computer attacks.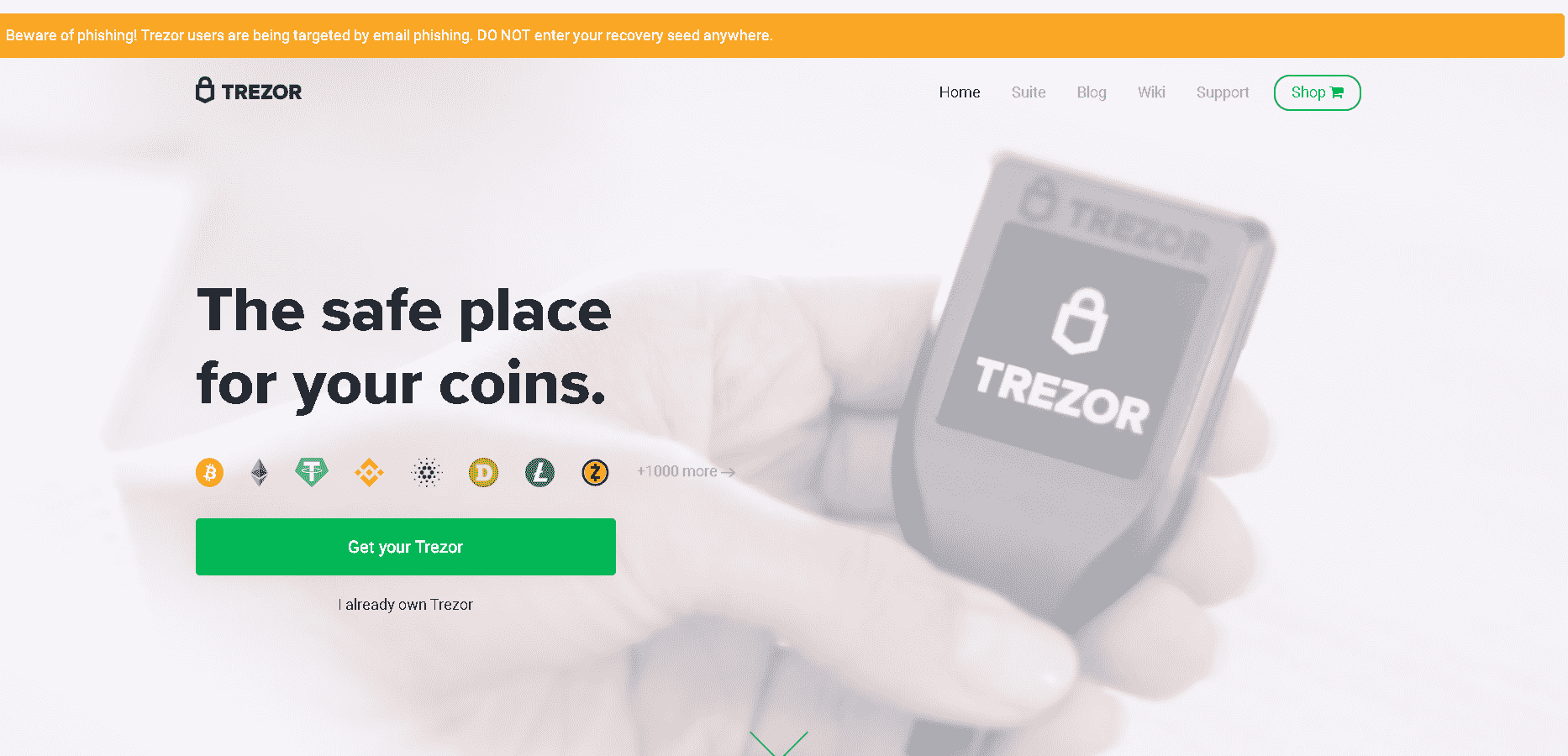 Trezor is a hardware wallet that works on a Zero Trust Approach, which eliminates the risk it being compromised by a third party.
One of the best multi-cryptocurrency wallets, Trezor acts like a USB device and is protected by a PIN. The wallet also provides its users with a recovery seed in case their wallet is lost or stolen.
When the wallet is used for the first time, it displays a 24-keyword seed generated by an RNG without being connected to the Internet. Because of this, the device is best known for creating an isolated environment to execute the signing of transactions.
Although it was mainly designed for Bitcoin, it still supports 14 other cryptocurrencies. In addition, the wallet's intuitive interface prevents the data from hacking and theft by their rugged protection PIN. The only drawback of Trezor is that it limits its communication with other devices, as during the time the USB device is not connected, the wallet is turned off.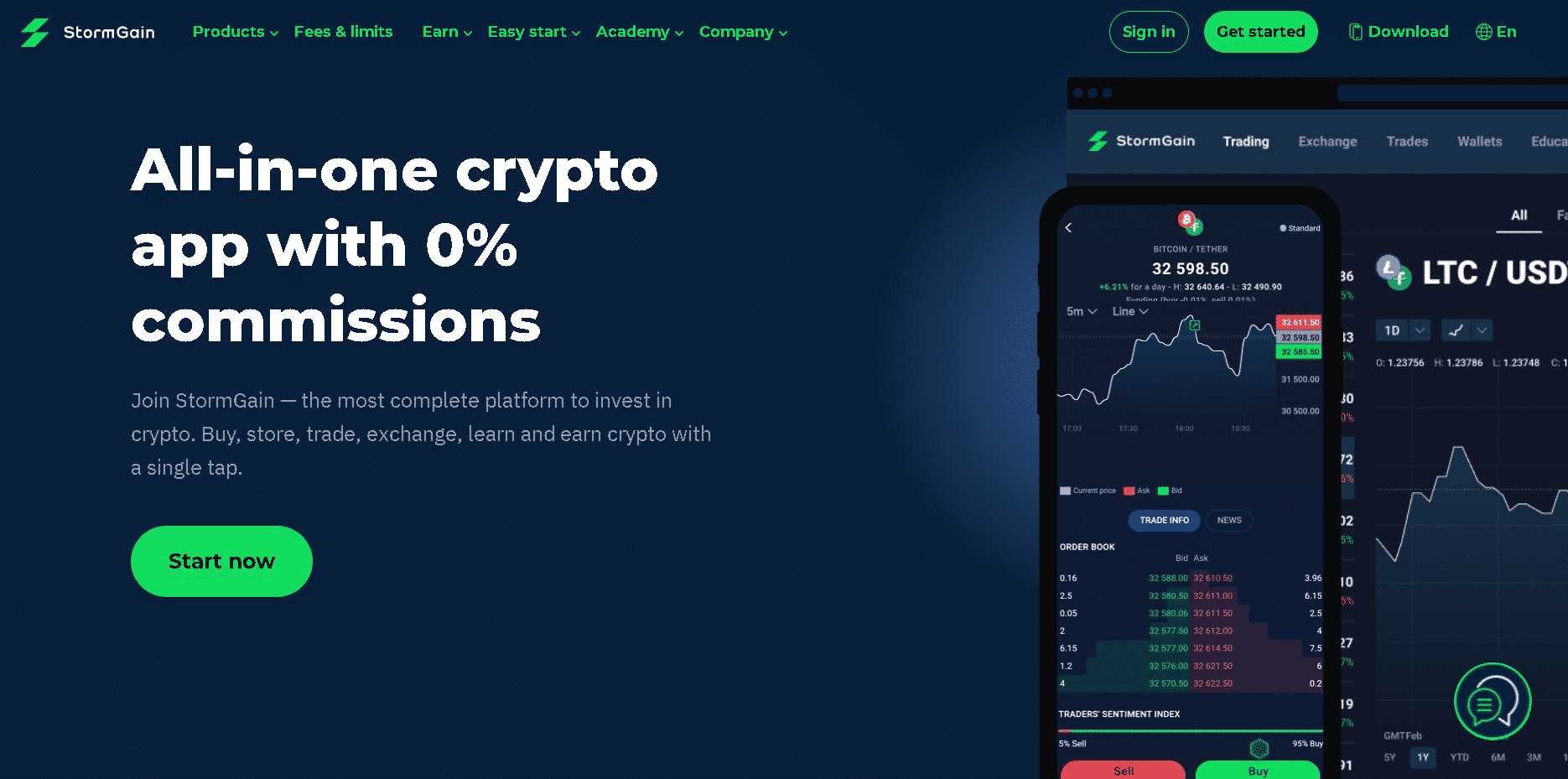 StormGain is a zero-commission platform integrated into the exchange of the same name that is best known for offering a lucrative bonus system. The wallet allows first-time users to earn $25 while registering using this link. The first-time bonus you gain can be used to replenish the deposit.
The crypto wallet supports a comprehensive range of altcoins and allows you to send, receive, exchange, and buy cryptocurrencies with a bank card.
Listed in the top multicurrency crypto wallets, StormGain is a user platform that is easy for novice crypto investors or traders to dive into the world of crypto and enable them to make confidential relevant transactions. Plus, the process of registration is hassle-free.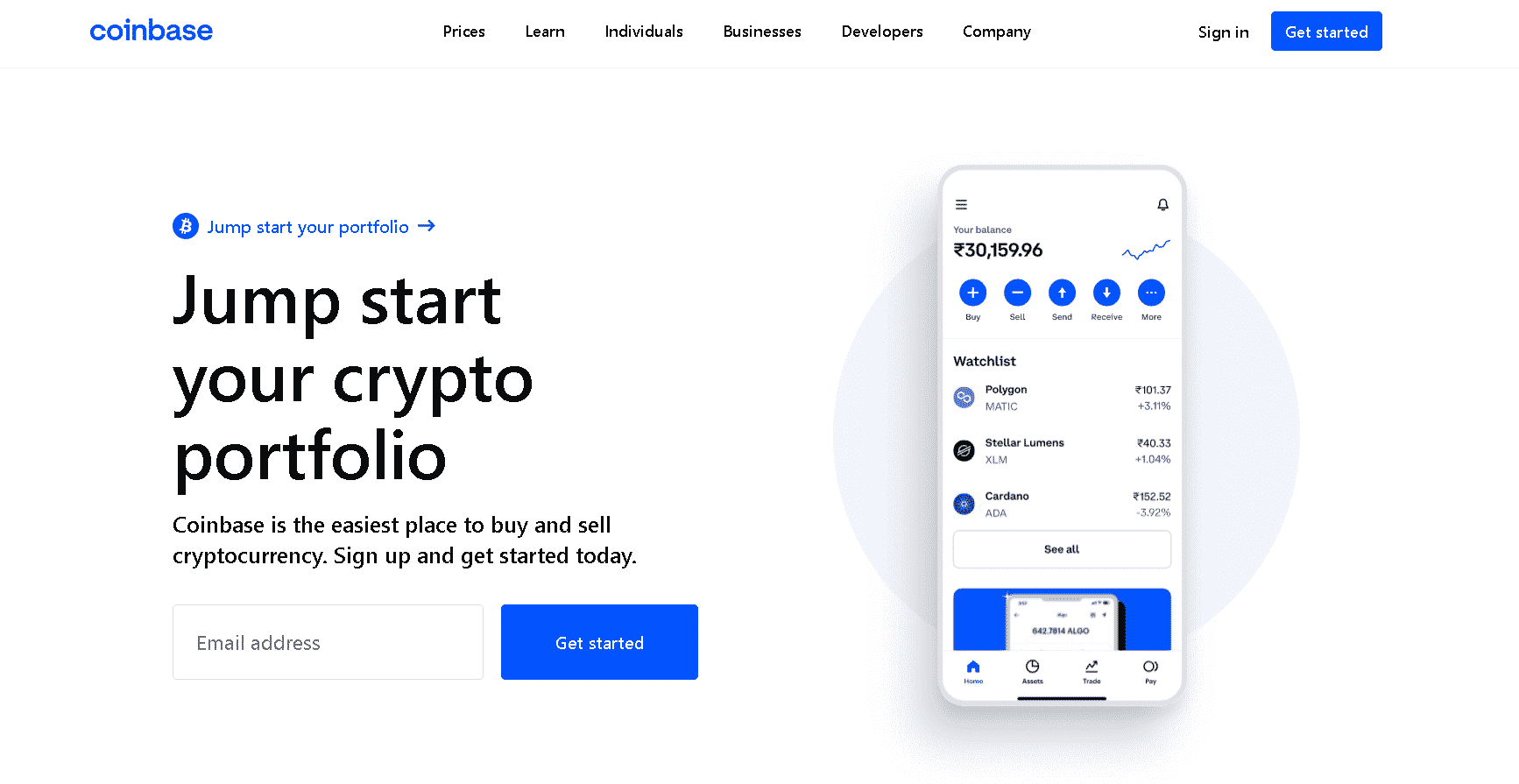 Founded in San Francisco in 2012, the digital wallet has grown exponentially since its launch. It is straightforward to register yourself on this platform by following a specific identity verification procedure.
The platform is a secure wallet used for storing, buying, selling, and transferring altcoins from one user to another. The motto of the digital wallet is to build a transparent financial system in the blockchain.
The wallet operates remote-first and is eponymous with digital asset exchanges. Users can choose among a wide range of crypto coins and store altcoins, including Bitcoin, Ethereum, Ripple, Litecoin, Cardano, etc.
FDIC insures all the money is made via Coinbase Earn, and the cash in your Coinbase wallet is insured for up to $2,50,000. 'Coinbase Earn' facilitates eligible customers to learn about investing in different cryptocurrencies via educational content to make the most out of the amount.
Also Read: 11 Best Cryptocurrency Apps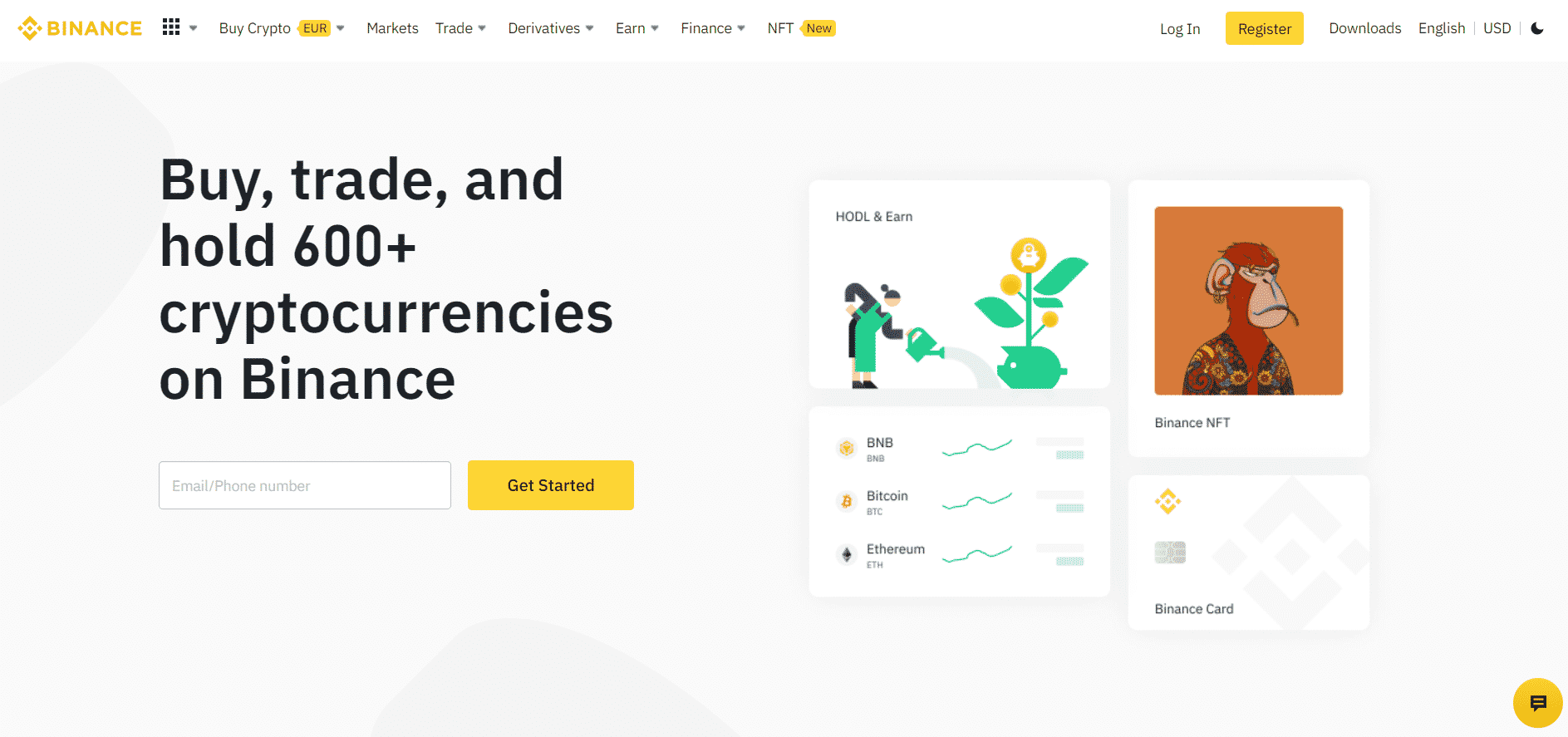 Binance is one of the most secure and reliable cryptocurrency exchanges and wallets that allows you to store, trade, and transfer an array of altcoins. In addition, the excellent reputation of the platform makes it a safe place to trade in all cryptocurrencies it deals in.
Housed on the Binance cryptocurrency exchange, the wallet requires you to verify your identity to avail of specific withdrawal or trading features. This is a drawback and is a major turn-off for some traders.
The digital platform supports hundreds of virtual currencies, making it the most versatile wallet in the industry. The wallet comprises its own BNB token that helps investors to pay the trading fee and provides them with other benefits.
Users are also rewarded for participating and trading on the platform. These reward points can be adjusted in your trading fees. Furthermore, the wallet also enables you to stake assets like ALGO, QTUM, EOS, and buy other digital assets via a market or limit buy.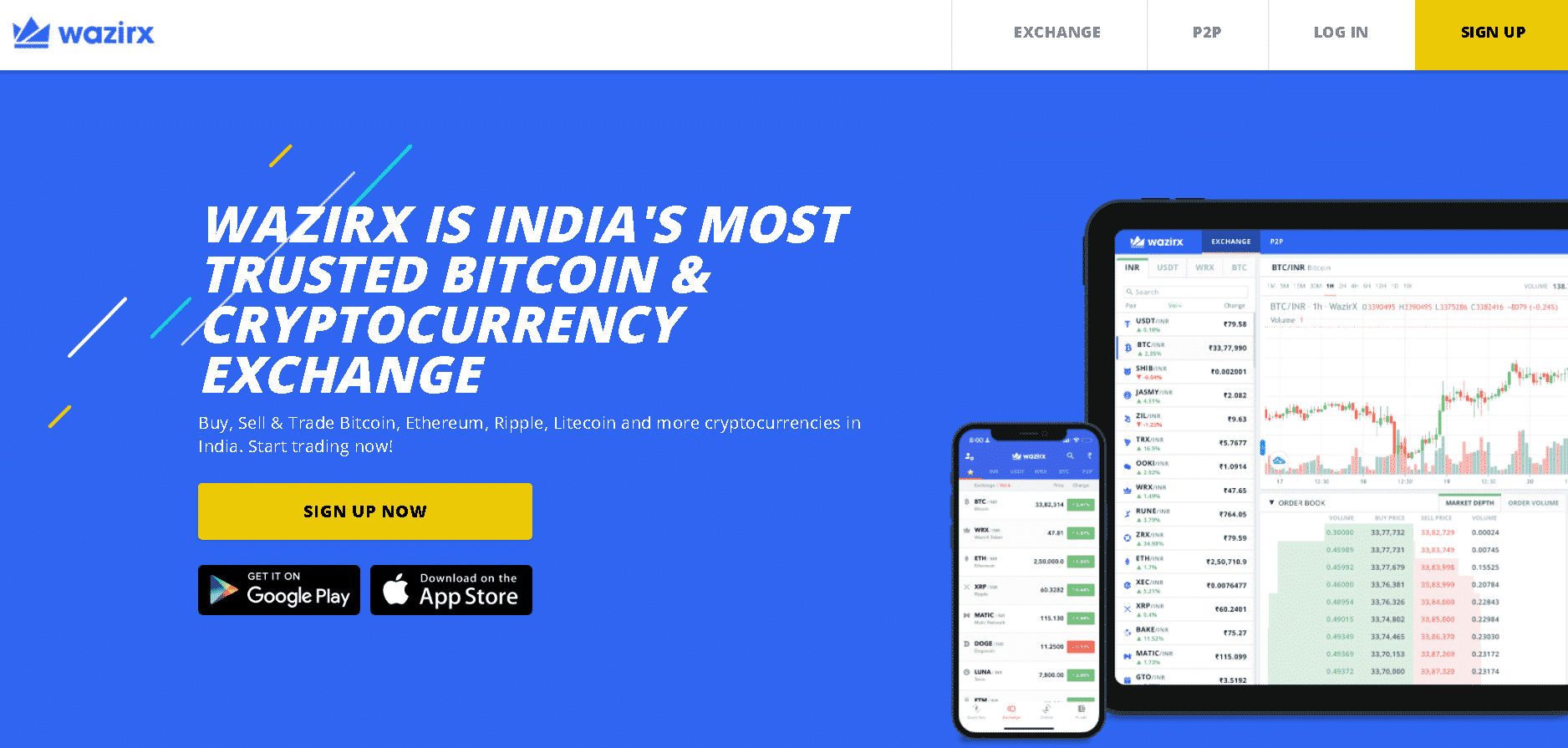 One of the best multicurrency wallets in India, WazirX has gained significant recognition since it was acquired by cryptocurrency exchange Binance in 2019. However, the platform was founded in 2017. The wallet has more than 8 million users as of February 2022.
The multicurrency wallet of WazirX has grown to be the most trusted wallet in the Indian market that helps you securely store hundreds of altcoins.
The platform is available on web-based and mobile devices (iOS and Android). The wallet is featured with 2-factor authentication or OTP-based authentication, enhancing its security that does not allow any theft and ensures safe transactions.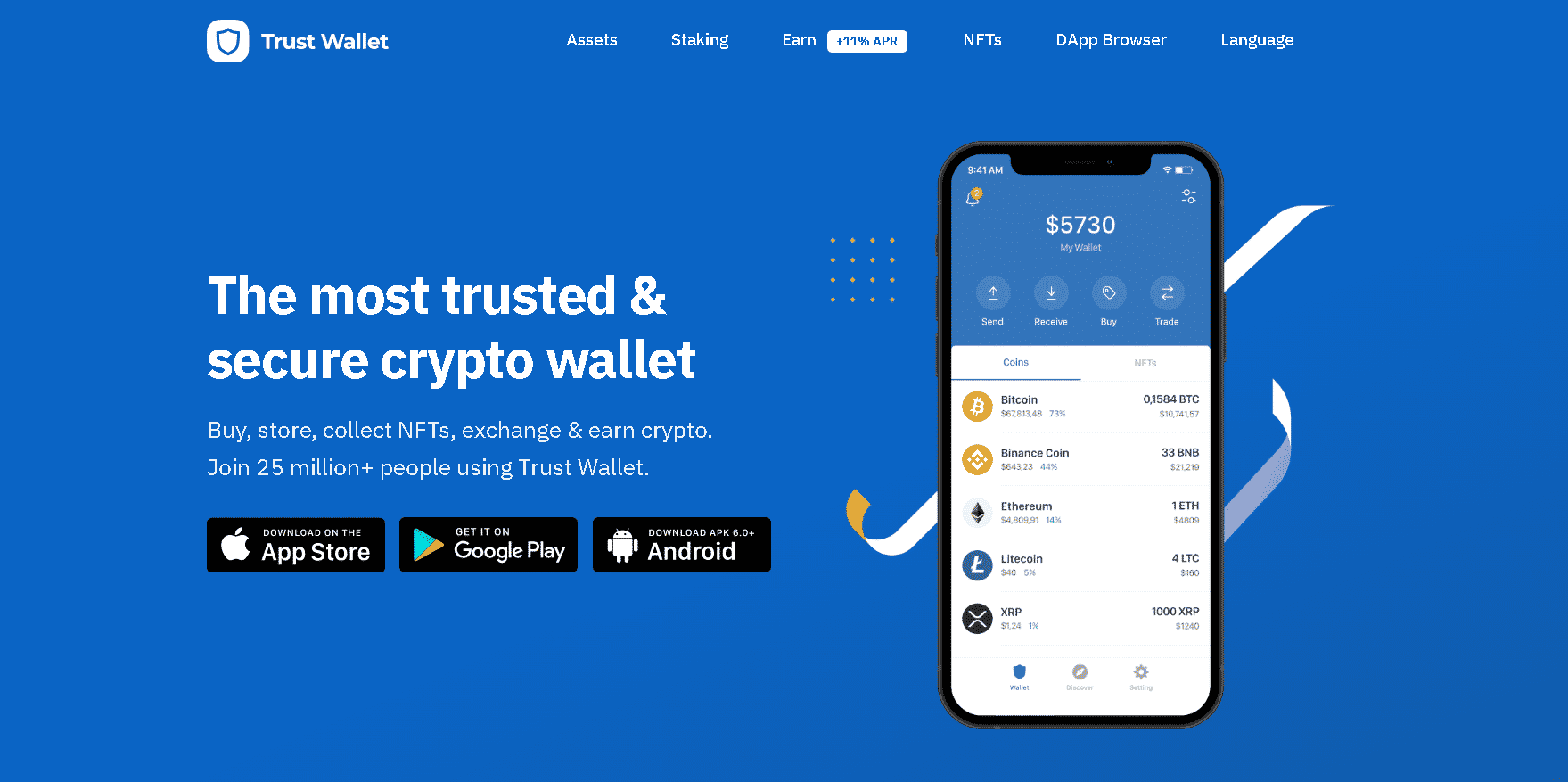 As the name suggests, The Trust wallet is actually one of the most trusted and secure wallets in the crypto market, owned by Binance. The digital wallet is available on iOS, Android, and web-based devices.
This magnificent wallet lets you manage multiple cryptocurrencies, all in one place. Well, there is more to it. The platform also facilitates tracking the prices and charts away from the fear of hackers or fraudsters.
The platform is featured with a unique ability that naively integrates the 'stake' of different cryptocurrencies to help you earn massive commissions for having them stored in the Trust wallet.
Besides storing private keys on your own, this BTC and altcoin wallet allows you to witness the exquisite experience of using dApps, and decentralized exchanges, all by empowering security.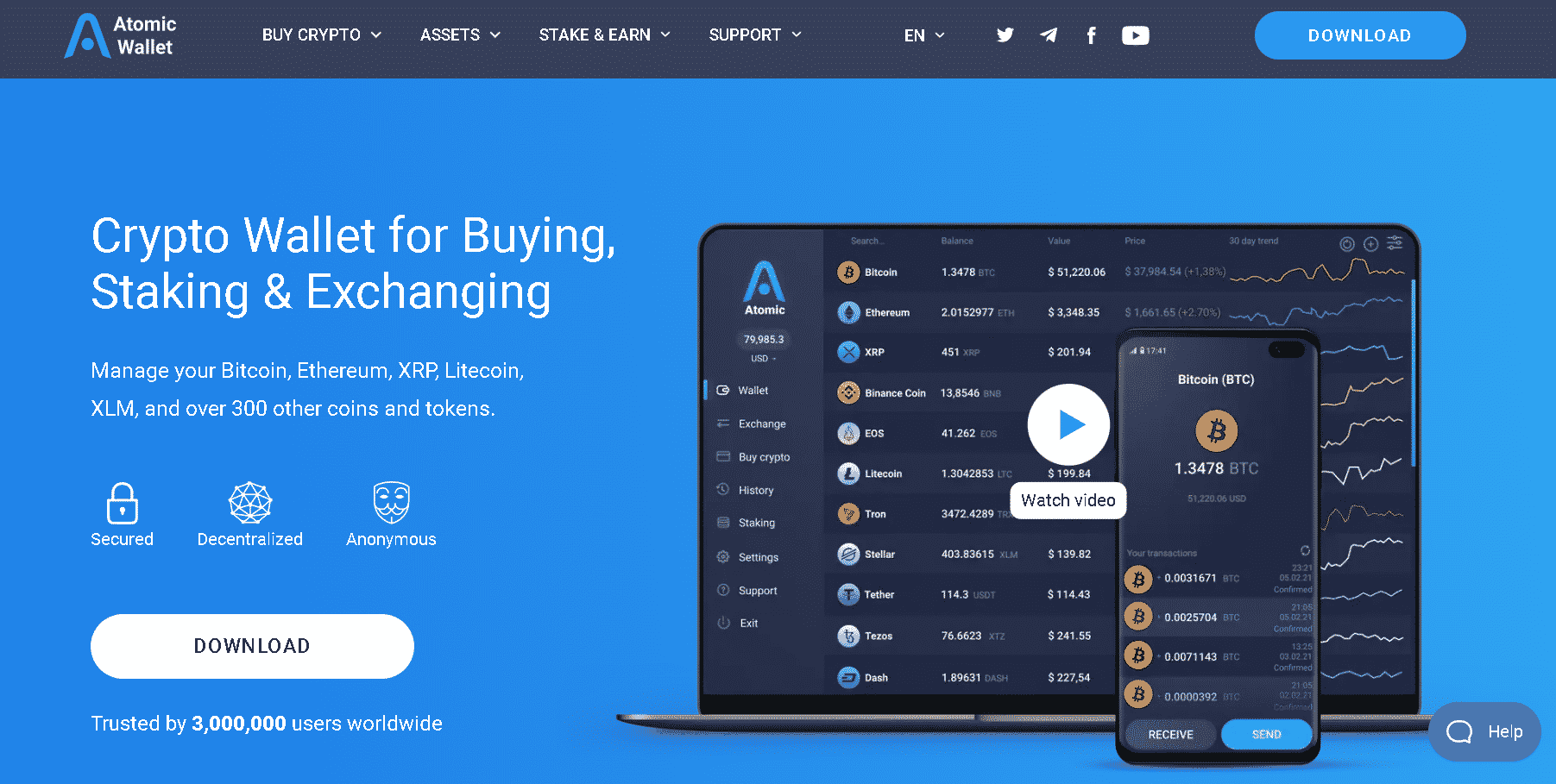 Still, searching for the best multiple coins wallet? Atomic Wallet is a highly trusted wallet integrated with many other platforms to carry out 500+ crypto assets, yes, all under one roof.
The platform has its own eponymous token named AWC that enables you to fetch great discounts on exchanges. The only wallet mentioned in this list organizes an affiliate program, which means one can also earn by bringing new customers to the platform and converting more leads to prospective clients.
The wallet lets you exchange, buy, sell, and hold your crypto assets. Plus, the best part is that you also get to earn a decent amount of interest on your holdings.
To provide the user with an astounding trading experience, the wallet is designed with a streamlined, mind-boggling user interface captivating new users. Furthermore, if you come across any issues with the wallet, its 24×7 customer support will provide you with extensive support to help you solve all your queries.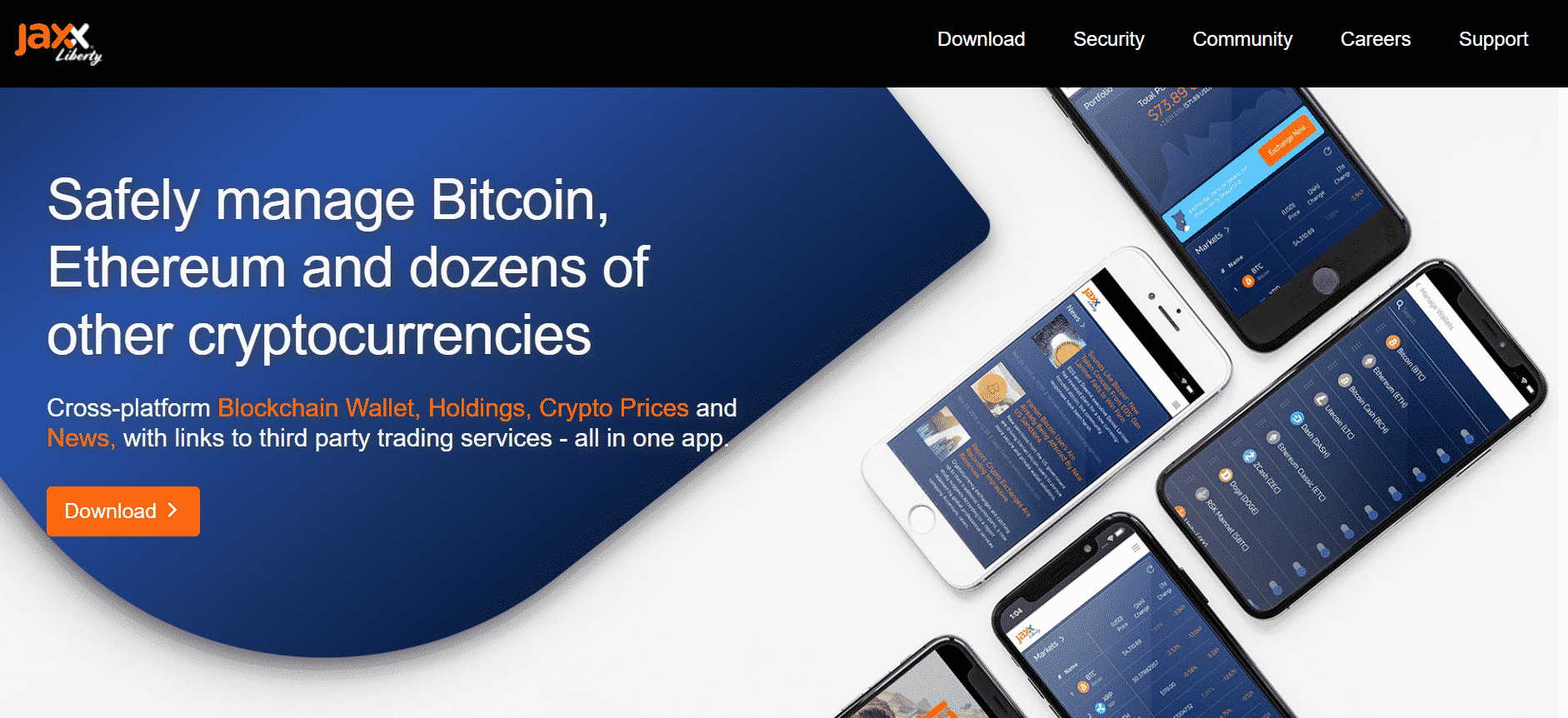 Undoubtedly, Jaxx Liberty deserves to be on this list of best multi-cryptocurrency wallets because of the spectacular features it offers.
The digital wallet supports 12+ crypto coins, including Bitcoin, Litecoin, Ethereum, etc. The platform also provides a 12-word Master Seed phrase for granting control and ownership. The unique thing about this phrase is that it allows users to regain access to their wallets in case they are lost or stolen. Moreover, altcoins can be easily swapped and exchanged.
The dark UI of the wallet is eye-catchy. In addition, users can seamlessly carry out transactions using the wallet's one-click approach. At the same time, the platform allows the private keys to be stored on the user's device, and it does not access them.
Users can install Jaxx on their desktop or mobile as it is available for Windows, Mac, iOS, Android, and Linux. Plus, its dedicated customer support can assist you whenever you run into any issues.
Also Read: 12 Best Penny Cryptocurrency to Invest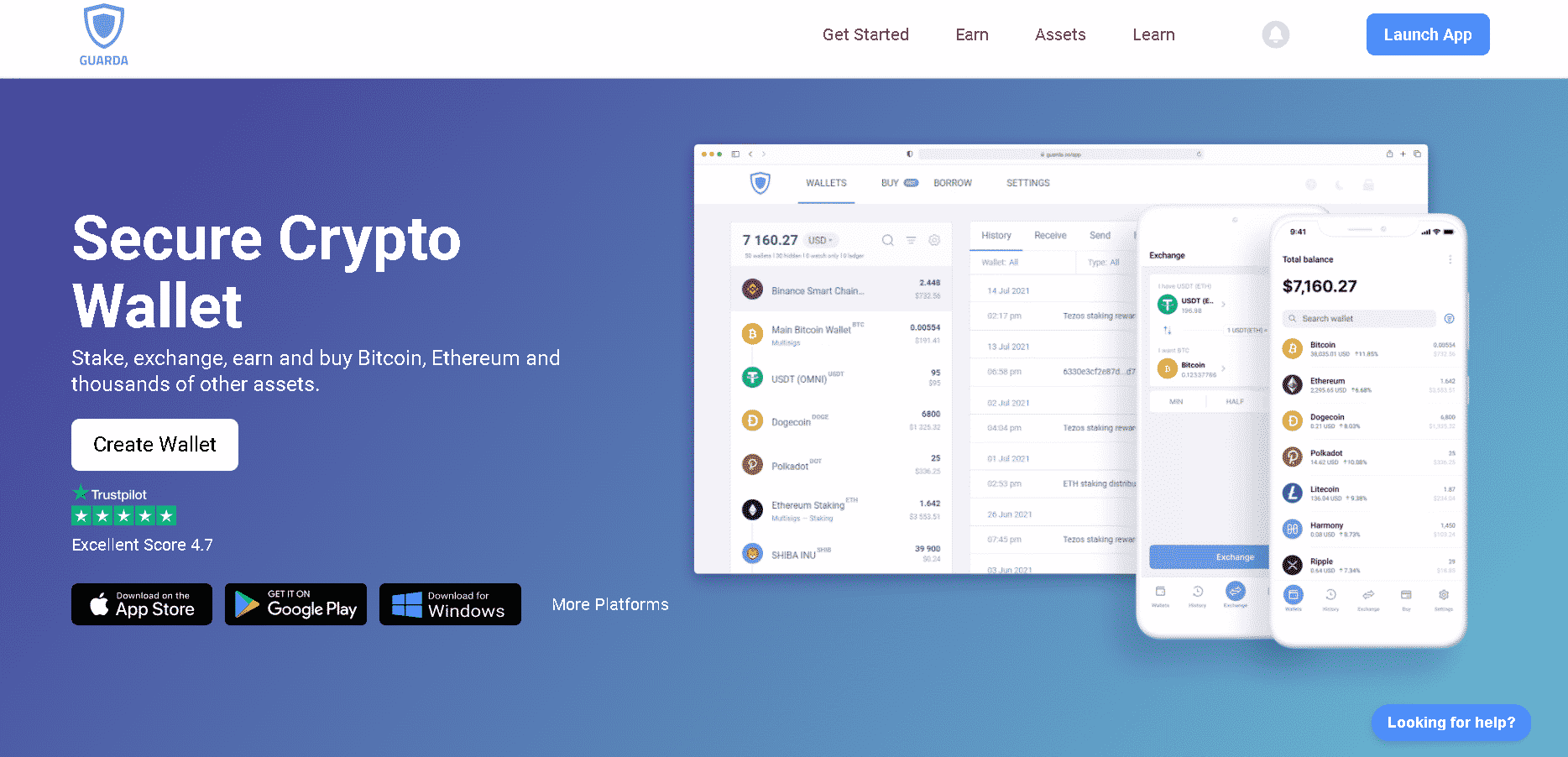 Looking for a custody-free, multicurrency crypto wallet? Why not opt for Guarda wallet? The impeccable platform supports more than 40 of the most renowned blockchains and thousands of their tokens, including Bitcoin, Litecoin, Ethereum, Dogecoin, Ripple, Tether, Binance Coin, etc.
It has an intuitive interface making the storage, transfer, reception, and management of the altcoins really easy. Plus, a trader can also purchase the altcoin using a credit card, unlike other platforms, and exchange the crypto assets through the integrated exchange service while making swift crypto transactions.
The wallets are available for desktop and mobile devices and are supported in Chrome Extension Version. The platform can be effortlessly accessed from each internet-connected device. Moreover, its in-depth support team is known for its efficiency and quick response time.
One of the best parts about the Guarda wallet is that it does not store the user's personal information or private keys as it is non-custodial, which enhances security and minimizes the possibility of hacking.
Besides these top 12 multi-currency crypto wallets, check out these wallets that can also be used to store your digital assets:
13. Cryptonator
14. ZenGo
15. imToken
16. Freewallet
17. Ledger Blue
18. CoinPayments
19. Cobo
20. KeepKey
FAQs
Q1. Do I require a different wallet for each cryptocurrency?
Opting for a multi-currency crypto wallet makes it easy for investors to have more than one type of altcoin by enabling them to keep all their digital assets in one place. It allows them to manage and trade their virtual assets quickly. So, the answer is no; you do not need to opt for different wallets for each crypto asset, as you can store a wide variety of them in one place, which is called a multiple coins wallet.
Q2. What is the Best Multi-Cryptocurrency wallet?
Although all the crypto wallets mentioned in this article are secure and trustworthy, the best ones are Exodus and Coinomi. However, choosing the best multiple coins wallet depends on your investment and trading needs. Hopefully, we have made it easy for you by breaking down all the best options to make the decision today.
Going for a shady and unsecured crypto wallet might cause you to lose all your digital assets. So never take such risks, and only opt for the reliable crypto wallets that keep your private keys in your hands like the ones we mentioned in this guide!
So, this was all about the best multi-cryptocurrency wallets. You can check out moneymint to track the latest update and detailed information on cryptocurrency and blockchain.