In India, an investor either chooses traditional investment methods like real estate and gold or invest in modern-day assets such as stocks and shares. Investments made in stable companies that have the potential to grow over time can prove to be extremely beneficial for investors. However, choosing a suitable company from these many options can be a huge challenge for investors – this is where stock screeners come in handy. In this article, we have listed the best stock screeners that are available for Indian investors for safe and profitable investments.
What is a Stock Screener?
A Stock Screener is a wonderful tool that helps investors and traders to find good quality stocks from a pack of stocks. A screener essentially filters out stocks based on certain user-defined criteria. Most stock screeners provide ratings and metrics, which helps ease out decision making for investors. There are fundamental screeners, technical screener, and also screeners that are a combination of both.
It would help if you kept in mind that a stock screener can in no way predict the future of a company. It only shows a company's past performance and where it stands in comparison to its peer companies.
A good stock screener should essentially consist of the following elements.
A screening platform that helps find companies based on certain criteria

Database of companies

Set of rules
Some stock screeners are free to use, while some screeners can pay a subscription fee. For beginners, free stock screeners can be extremely helpful.
9 Best Stock Screeners For Indian Investors
Here are some of the best stock screeners that are used by Indian investors.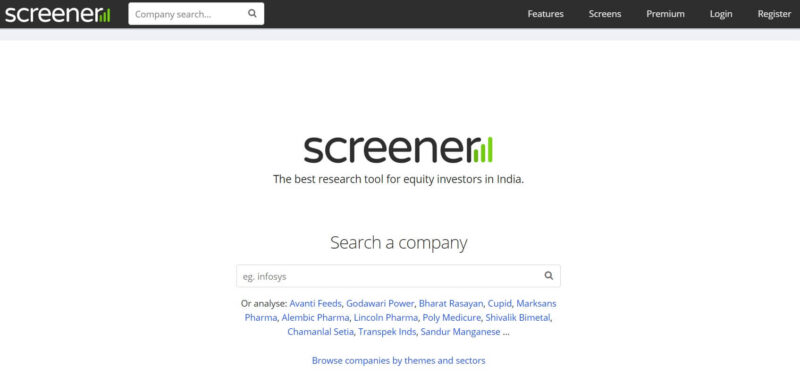 Screener.in is a free and easy to use website that can be used to perform fundamental stock analysis. It can be used to read, analyze, and filter out companies based on a few metrics. It has a huge database of companies and can show company performance for the past 10-12 years. The industry in which the company works, the stock P/E, market capitalization, and book value details about the company are available for users to view. Moreover, the reports presented by this website are interactive, easy to read, and beginner-friendly.
This website has the Query Builder tool that simplifies the search process by bringing out specifically requested data from the website's database. The results are fully customizable, and the screen can be saved for future use.
Best Features
Free easy to use tool which comes with a query builder.
Annual and quarterly results are provided.
List of pros and cons of a company.
A facility to create your own stock screen.
Cash flow analysis.
Latest news and announcements made by the company.
Peer to peer comparison.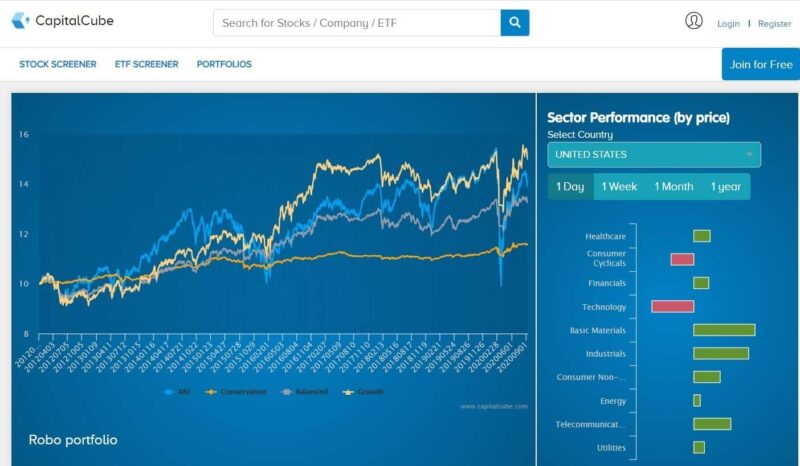 Capital Cube is one of the largest stock screeners available for use. This platform is made by AnalytixInsights, which is an AI company that transforms data into knowledge. Capital Cube provides company analysis along with portfolio evaluation, fundamental research, and screening tools for over 40,000 global equities. It makes decision making easy for investors by providing an in-depth analysis of a company's past performance, earnings and debt, dividend strength and equity, and performance in comparison to peers.
The best part about Capital Cube is that it allows users to search and find companies based on very natural search terms. E.g; you can find companies that are debt-free by simply typing in 'debt-free companies'. Along with stock research and stock screening, this platform also provides ETF research and ETF trading.
Best Features
In-depth analysis of companies.
Search can be done using natural search terms.
A large database which covers 40,000 global equities.
Peer to peer comparison.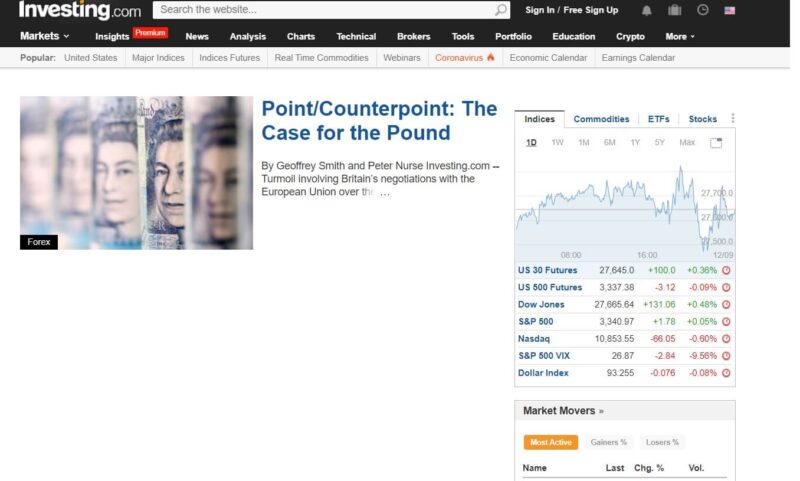 Investing.com is one of the best stock screeners available to Indian investors. It can be used to perform fundamental research as well as technical research. This platform can be used both by beginners and experts. All the list of companies trading on both NSE and BSE can be found here.
Investing.com makes it possible for users to use a large variety of filters, which can be helpful for stock screening. Some of these filters are ratios, dividends, fundamentals, price, and volume. This site also provides charts and quotes along with and the latest news related to the company, live stock market data, and a lot more useful information to investors. It is one of the best sites to look out for if you want to follow the top-down approach.
Best Features
Can be used for fundamental as well as technical research.
It is free to use.
Option to create your own screen online.
Facility to download results for offline use.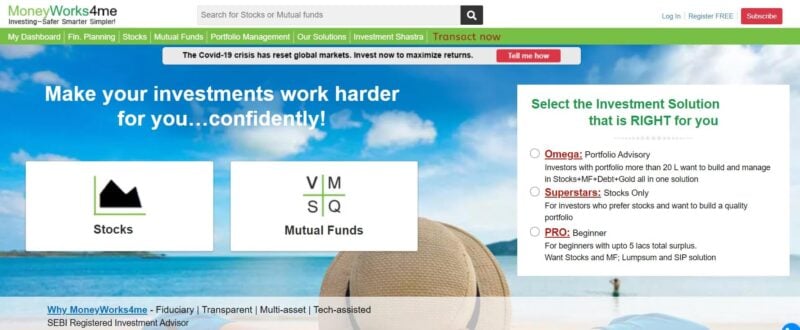 MoneyWorks4Me is yet another powerful stock screener that gives in-depth company analysis. It is a paid service that provides value indicators, stake and price pointer screeners, and compeer filters. The results are displayed using color codes, and they are as follows.
The green color indicates that the stocks are very good, yellow is for moderate stocks, and red indicates that the stock is not worth your money. This platform provides complete past performance of the company, and all its financial records are available for users.
Best Features
It provides a paid decision-making tool.
A readymade research report is provided, which can be used to analyze the future of the stock.
Mutual fund analysis and portfolio managers are also provided.
Details about the business model and its valuation are available.
Ticker Tape is another simple and easy to use stock screener which simplifies your stock screening process to a great extent. What makes it stand out from the rest is the fact that it provides a lot more over 120 filters like market capitalization, sector, close price, etc. to filter out stocks. Whether you are new to investing or a veteran trader, this website can be used. The website interface is extremely easy to use and unlike other screeners, all these filters can be applied only on a single tab. The results provided are also very easily customizable.
Best Features
Over 120 filters to filter out stocks.
Easy to use interface.
Easily customizable results.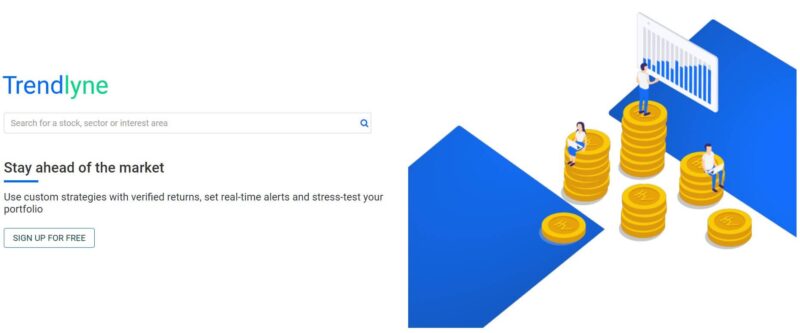 Trendlyne is another useful website that provides stock market analysis, research reports, stock alerts, and trending business news. This website can be used for both fundamental and technical analysis. It is mandatory to register yourself with the website before you can use it. It has free as well as paid services. Trendlyne is essentially a query-based screener.
Best Features
One of the most popular user-created screeners.
Fundamental and technical analysis can be provided.
Query-based screener.
Facility to save screen for later use.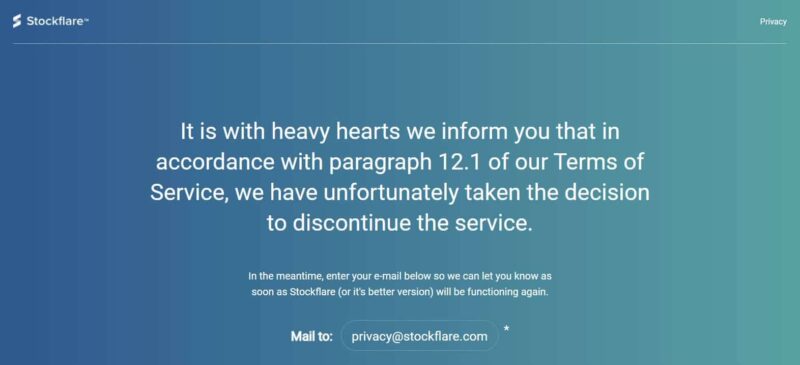 Stockflare is a platform that helps investors analyze individual stocks and the stock market as a whole. It is a free platform that helps find stocks for investor's individual portfolios. It provides 100's of metrics to screen stocks from over 40,000 global entities. The data about companies that can be easily provided by Stockflare can be easily understood even by beginners. Stocks on this platform are rated as per market valuation, valuation, and business metrics.
Best Features
Stockflare is a free and easy to use platform.
It is available even as an app.
Data on this website is extremely well organized.
It has a huge database of companies.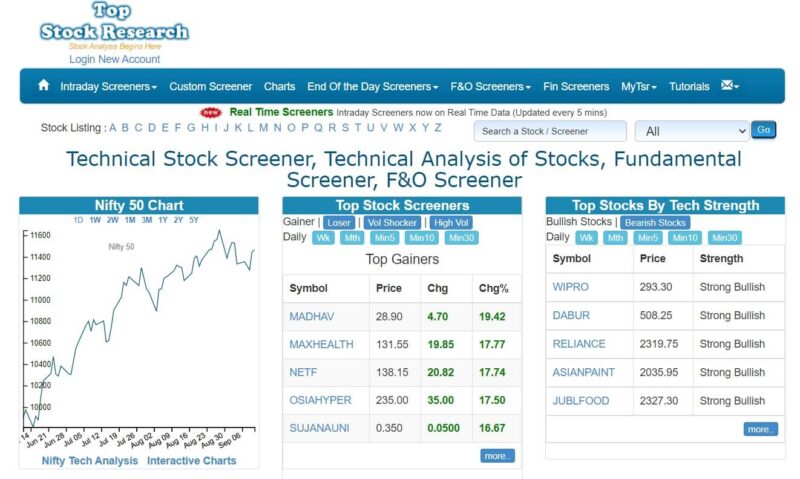 Topstockresearch is an extremely powerful stock screener that can be used for extensive technical analysis. This platform is not very user friendly as it requires a clear understanding of charts and patterns. However, Topstockresearch can be extremely beneficial for veteran investors and traders. This platform provides a detailed analysis of a company's past performance and all its financial reports to its users.
Best Features
Topstockreasearch provides a detailed tutorial for beginners to understand the technical analysis of stocks.
Registered users can save search results.
A watchlist facility is provided.
Advanced technical screeners are provided.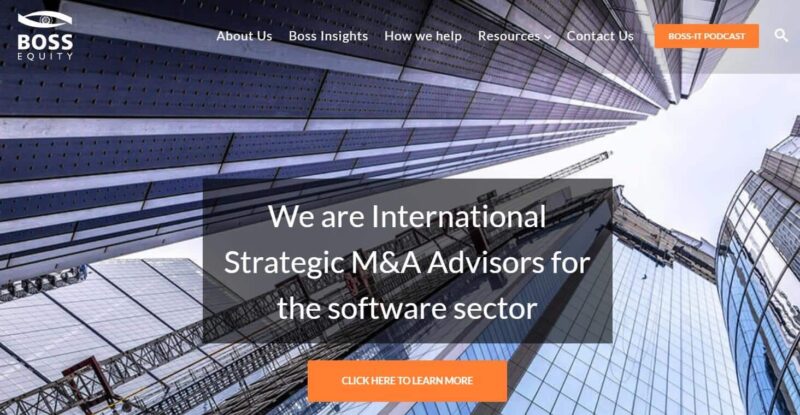 Equity Boss is one of India's leading stock research platforms that helps investors identify the best stocks using a rating and grading engine. This platform gives a unique grade to each stock based on its consistency and market performance over a period of 5-10 years. It helps investors by providing them actionable insights on investments and easy-to-use financial analysis about a company. Moreover, this platform is free to use and beginner-friendly. The EB grades make it all the easier for investors to make investment decisions.
Best Features
The EB grades are as follows.
Excellent- market outperformers.
Good-market performer.
Poor- market underperformers.
The grading system makes it easy to identify good quality stocks at one glance.
Free platform.
Provides actionable investment advice to investors.
These are some of the most popular and best stock screeners that are used by Indian investors. Using any of them, investors can create an appropriate strategy for their investments and earn huge profits.