The boom in the cryptocurrency industry has enabled the quick evolution of the products and services related to it, such as cryptocurrency apps. This instant rise is because of the excessive increase in the price of cryptocurrencies. The prices reached the sky, especially in 2020 when the Supreme Court lifted the ban on cryptocurrency.
There are various ways to trade crypto, but usually, people prefer using apps because of the ease they offer, user-friendly interface, and no third-party involvement.
For new and expert traders, various top crypto trading apps can make your trading experience better and even add crypto to your profile for free.
Best Cryptocurrency Apps and Exchanges
What is cryptocurrency?
It is a digital form of currency that serves as a medium of exchange for assets that are traded on decentralized platforms. They do not work like the other fiat currencies (USD, GBP, JPY, etc.) as their specific states manage crypto; they rely on cryptography to regulate the creation of new units of the currencies.
Cryptocurrencies exist on a network called Blockchain; they are decentralized, transpired, and not controlled by any specific government or authority.
The transactions of cryptocurrency undergo numerous processes inside the blockchain technology, such as:
If you wish to transfer money to someone else, the transaction would appear online as a 'block.'
This block would be then broadcast to each part of the network
People who are within the network validate the transaction and approve it
In the next step, the block will be added to the chain, which creates an inerasable record of transactions
Once this is done, now the money will be transferred.
Cryptocurrency Rules
Not only it is important for you to choose the best cryptocurrency apps, but before investing, you should be aware of some of the basic rules that you need to consider. Some of them are:
Think about the level of risk that you are taking, do not cross the limit. This means that you do not invest the amount you are unwilling to lose, as if you cross your limits, you can be in a bad financial situation.
Never invest in one cryptocurrency; always diversify your portfolio. Divide the risk by investing in numerous digital currencies
Know well about the crypto that you are planning to invest in by reading its whitepaper and understanding if its model makes sense to you
Go through the team behind a particular coin by doing a background check on them. See if they have good knowledge and experience or not.
Assess the market capitalization of the currency and keep in mind that the higher the market cap, the higher would be the liquidity of an asset
Check out if the crypto you are investing in has any partnerships or agreements in existence. If yes, then what can be its impact in the future on the crypto?
Check on its customer support.
Do good research on the crypto that you wish to invest in and read about its reviews and future prospects.
You should also share your views and experience on what you already know about the crypto world.
You do not have to trust everything you hear and read about crypto, as it can be a scam and an act of competitors as well, just to mislead you. So be careful, read the data on their website and various platforms to be sure.
Last but not least, always abide by the reason you decided to invest in crypto. It can be a short-term trading or long-term investment, but you need to stay calm even when the market is down. Trust in the currency you have invested in and wait for it to come back to the price you thought of.
These were some of the rules that one should follow for a better outcome and less loss. But, the next question is how to invest in crypto; what is the process?
Also Read: 12 Best Penny Cryptocurrency to Invest
How to begin investing in cryptocurrency?
You just need to follow a few steps to begin investing in cryptocurrency, irrespective of the coin you choose to invest in. Here are the basic steps for you-
Step 1: Opt for a cryptocurrency wallet
Crypto wallet is one of the most effective tools when you start investing in crypto. However, it is similar to the traditional wallets which you use to keep your physical money; crypto wallets aid in keeping your digital money safe and secure. There are various options from which you can choose, such as online, hardware, and desktop wallets.
It is always recommended to choose hardware wallets as they are considered one of the secure offline methods of storing your digital assets. Also, while electing the wallet, always go for the one that is compatible with various cryptocurrencies.
Step 2: Sign-up on Cryptocurrency trading platform
They are also called exchanges; here, you can purchase, sell and exchange your cryptocurrencies easily. But, a few platforms only let the users buy and sell but do not permit trading and vice versa. You can choose the one as per your requirements.
Usually, all the exchanges enable the users to invest in several coins; there are hundreds of exchanges where you can register easily. Some of the best platforms are Bittrex, Coinbase, Paxful, Robinhood, etc.
There are a lot of things that would affect the choice of exchange, such as your location. It is essential to check prior to signing up whether the particular exchange operates in your country or not. You might need to fill in a few details for registration, such as:
Name
Email address
Password
Phone number
A passport photo
Identification documents.
All these documents and information are not required while signing up, but some of the top crypto trading apps might need it if you wish to get your transaction limit increased.
Step 3: Transfer your digital assets to your wallet
Once you select the platform and acquire the assets, you would have to transfer them to your wallet. There are a lot of platforms that offer this facility for free, but some of them might take a small fee. In the future, if you want to exchange the coins with other currencies, then you would have to transfer the funds back to the exchange of your choice.
This is a pretty simple process; all you need to do is put the wallet address to your exchange, find the trading pair of your choice, and transfer funds to the exchange.
What to look for while searching for the best cryptocurrency trading apps?
Irrespective of the currency you choose to invest in, there are a few points you should always look for and compare before making your final decision:
1) High-level security
The first thing you need to decide upon is whether you want to do short-term trading or hold them for long. If you decide to make a long-term investment, then the app's security becomes a big concern. Therefore, you would have to seek an app with a high level of security.
Bitcoin and other big currencies transactions are tough to trace. Once you start a transaction between wallets, it becomes nearly impossible to stop the transaction or to get back your money. In addition, it is difficult to tell who owns which wallet because of the decentralized nature of the Blockchain.
It is hard to track any unauthorized transaction, which makes it apt for criminals and hackers. Thus, while choosing the app, always review its safety features; it is best if they possess 2-factor authentication and back-end encryption as they keep your coins safe.
2) Real-Time Data
There is a constant fluctuation in the prices of currencies. Thus, look for an app where you can get up-to-date information minute-by-minute as the data would become obsolete even if the price of a single coin increase by 25% or it loses half of its value.
Real-time data and information are important while trading crypto as it ensures that you are not using old information to make investment decisions.
3) The number of cryptocurrencies
You should also check for the number of cryptocurrencies it offers as if they are limited, you would have to use another platform. To avoid this hassle, it's recommended to select the platform which comes with multiple currencies options to invest in.
4) Fee
One of the most important factors is the fee involved in using the app. You need to check on multiple things such as if there is any deposit or withdrawal fee, what is the trading fee, etc. Check all their costs and compare them with the other best cryptocurrency apps to make a sound decision.
This was about the factors you should consider while choosing the cryptocurrency app; let us know about the most secure and reliable platforms.
11 Best Cryptocurrency Trading Apps
Starting anything new has never been easier, and the same goes for cryptocurrency as well. In just a couple of years, they have become a new trend of investments, but you need to keep in mind that the realm of crypto is volatile. There are various types of apps such as phone-based trading apps, general financial apps, and special crypto apps.
Here are a few crypto trading apps that are secure, have good reviews, and deal in numerous currencies:
1) CoinBase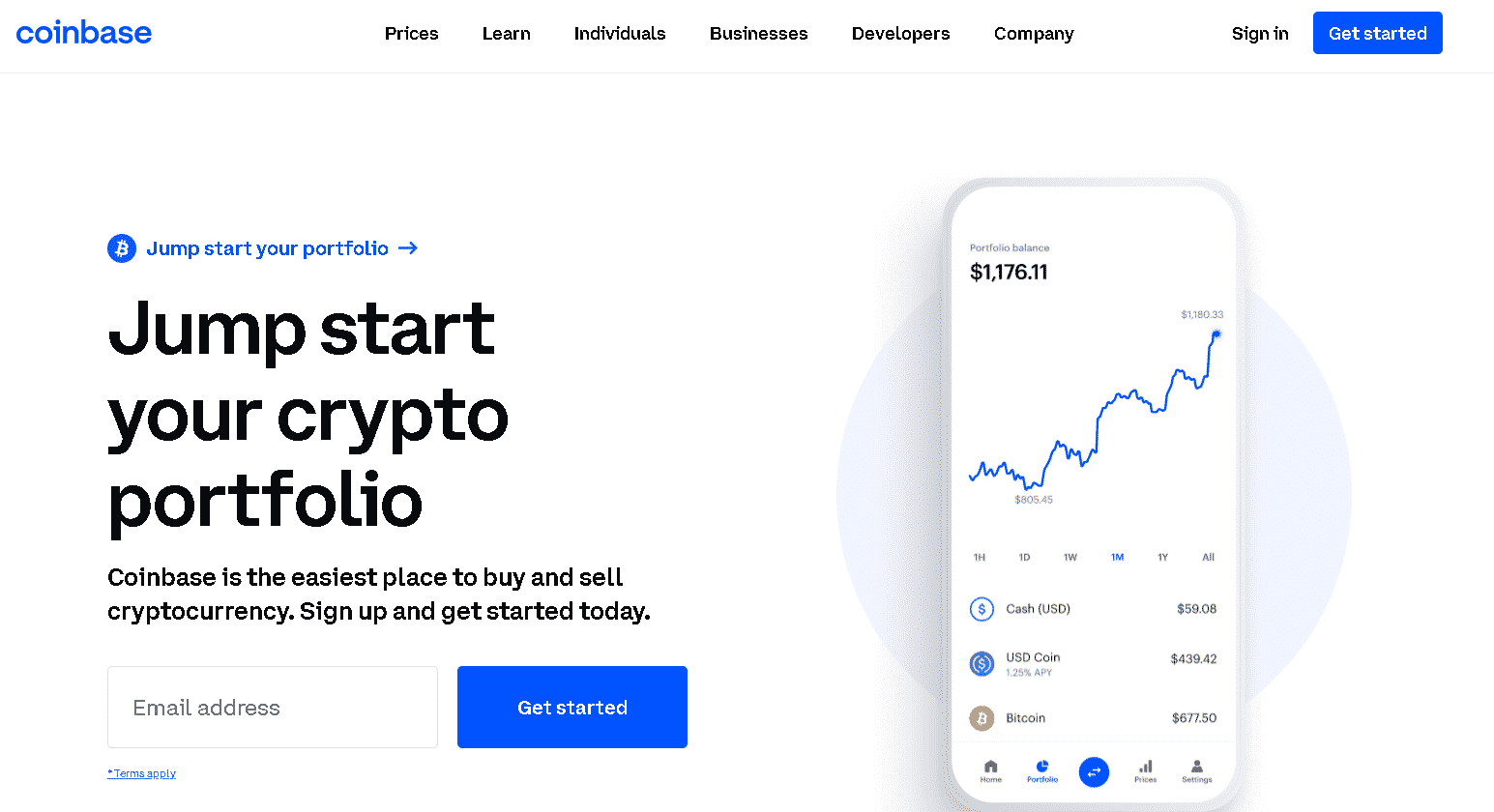 It is one of the best crypto exchanges. It offers its users a great combination of superior products like eCommerce payment features, custodian services, interest-earning accounts, a platform for professional traders, etc.
With them, you can trade in numerous significant currencies like:
Bitcoin
Bitcoin Cash
Ethereum
Ethereum Classic
Litecoin
BAT
USDT
ZRX and many more
In total, you can trade 96 digital currencies to date, and the count is increasing. The best part about them is that they have a user-friendly interface which makes it quick and easy for the users to operate it.
You need to open an account for trading with them, and the process is very straightforward. First, you need to download the app, and after that, you just need to give your Aadhar card for opening the account.
Also Read: How to Make Money with Bitcoin
A unique feature about them is that it also enables its users to deposit fiat currency, but if you wish to trade through your debit card directly, then the cost would be high; it would be 3.99% of the trading amount.
Cost: Typically at least 1.99%.
Download CoinBase on Android || iPhone
2) eToro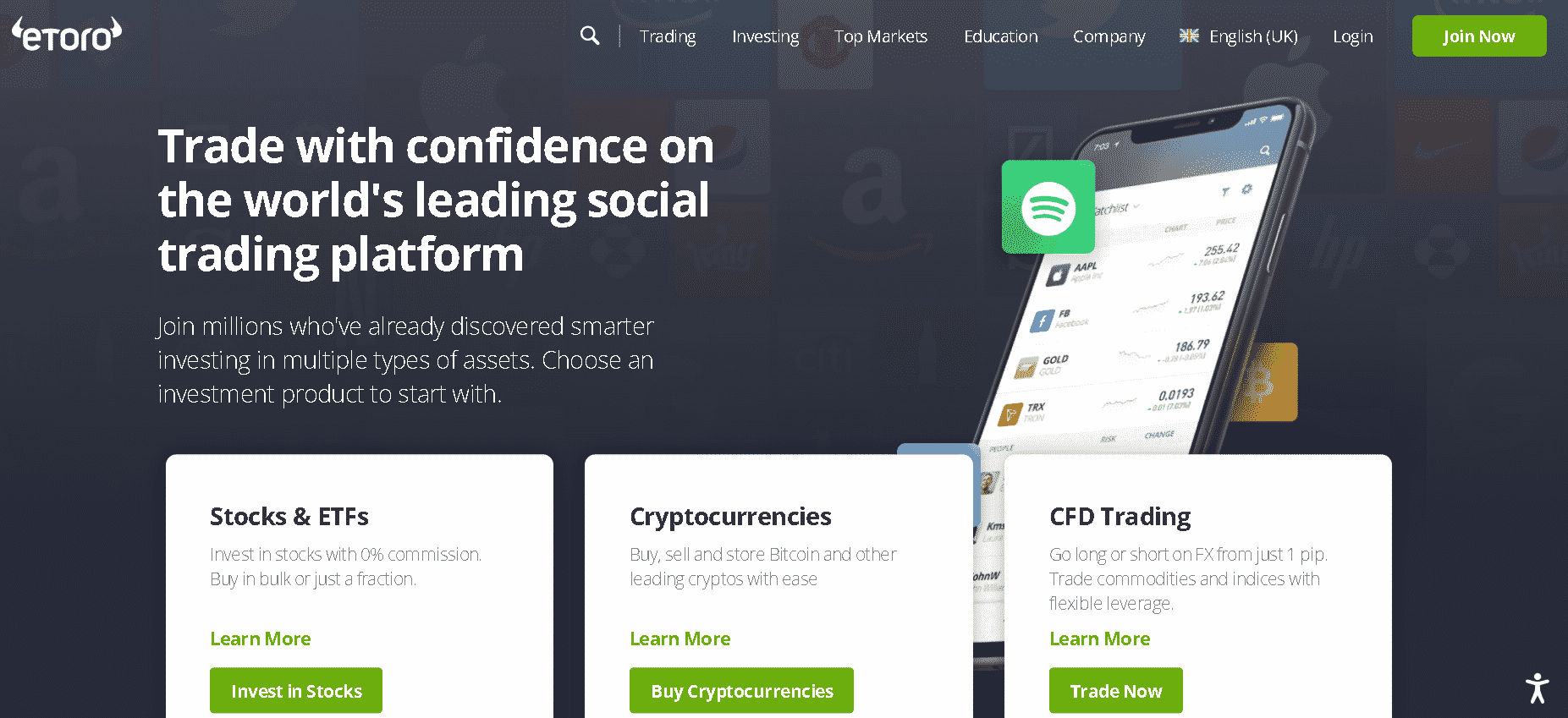 It is one of the top crypto trading apps apt for all kinds of traders and investors in the crypto world. You can trade 90 cryptocurrencies on this platform, and some of them you would not normally find on the other apps such as Polygon, Uniswap, and Tezos.
This app has made trading pretty easy, but it relies more on short-term trading rather than long-term; thus, it is apt for speculative purposes. One of the unique features about them is that here you get the opportunity to copy successful traders and clone their strategies. Thus, you get valuable data from successful traders that can help you make better decisions.
Another excellent features are that you do not have to pay any fee for depositing money with a debit or credit card. But, they charge a small fee of 0.5% for conversion of the non-USD currencies.
Cost: eToro is commission-free, but spread markup varies from 0.75 to 5%.
Download eToro on Android || iPhone
3) Binance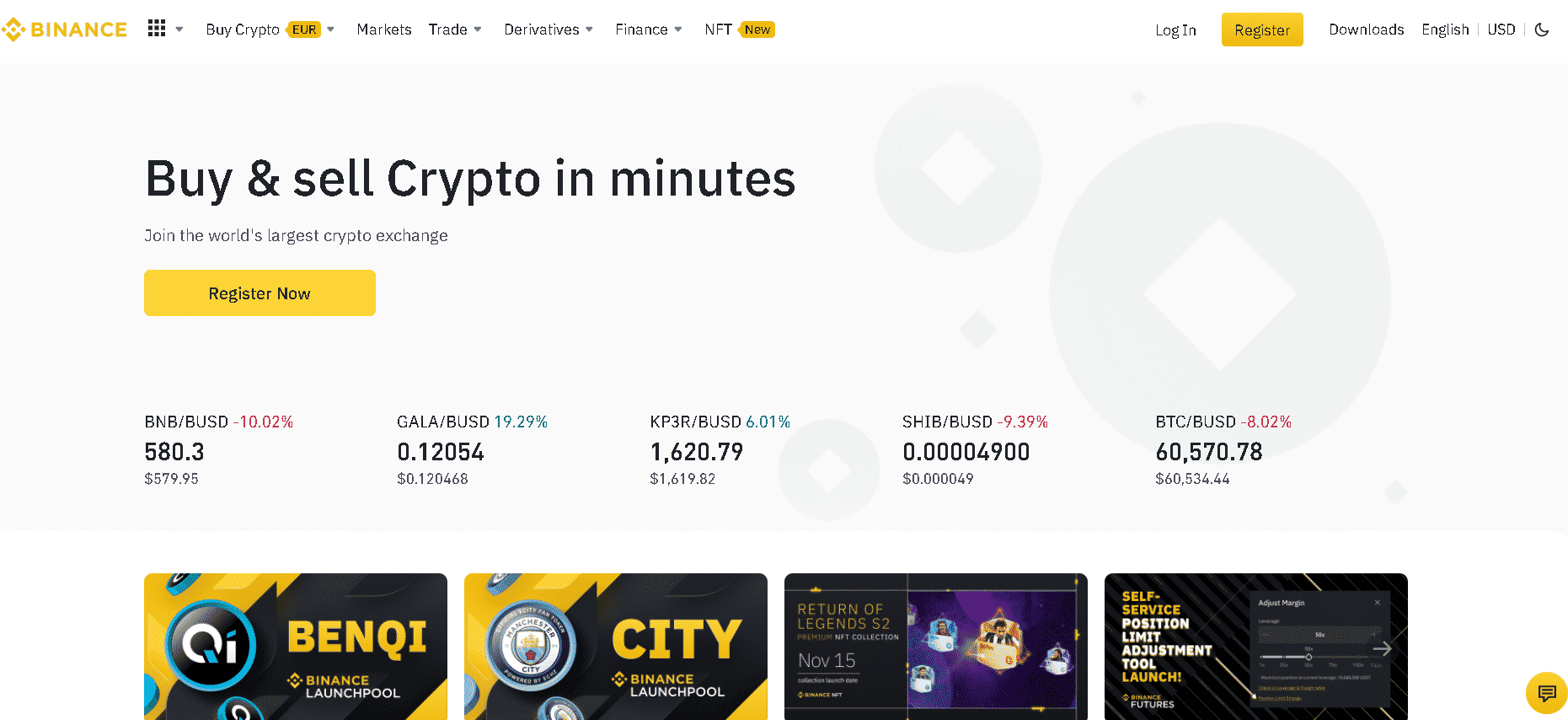 This has become one of the most popular apps worldwide in just a couple of years. You would be amazed to know that Binance has the highest trading volumes amongst all the apps on the list. The highlighting part about this app is that making transactions here is safe as this platform is completely reliable.
They provide you with a plethora of coins that you can trade, and there are many coins that you would find just on Binance. They have a nominal fee for the transactions, such as 0.02% for trading perpetual contracts on this app.
Also Read: 17 Best Cryptocurrency to Mine
But, if you are paying depositing money through debit or credit card, then you would have to pay a huge commission of 3.5% for every transaction or $10, whichever is the highest. Thus, if you are looking for a reliable platform with the most reasonable trading fee, then Binance is the best for you.
Cost: Typically, at least 0.1% trading commission.
Download Binance on Android || iPhone
4) BlockFi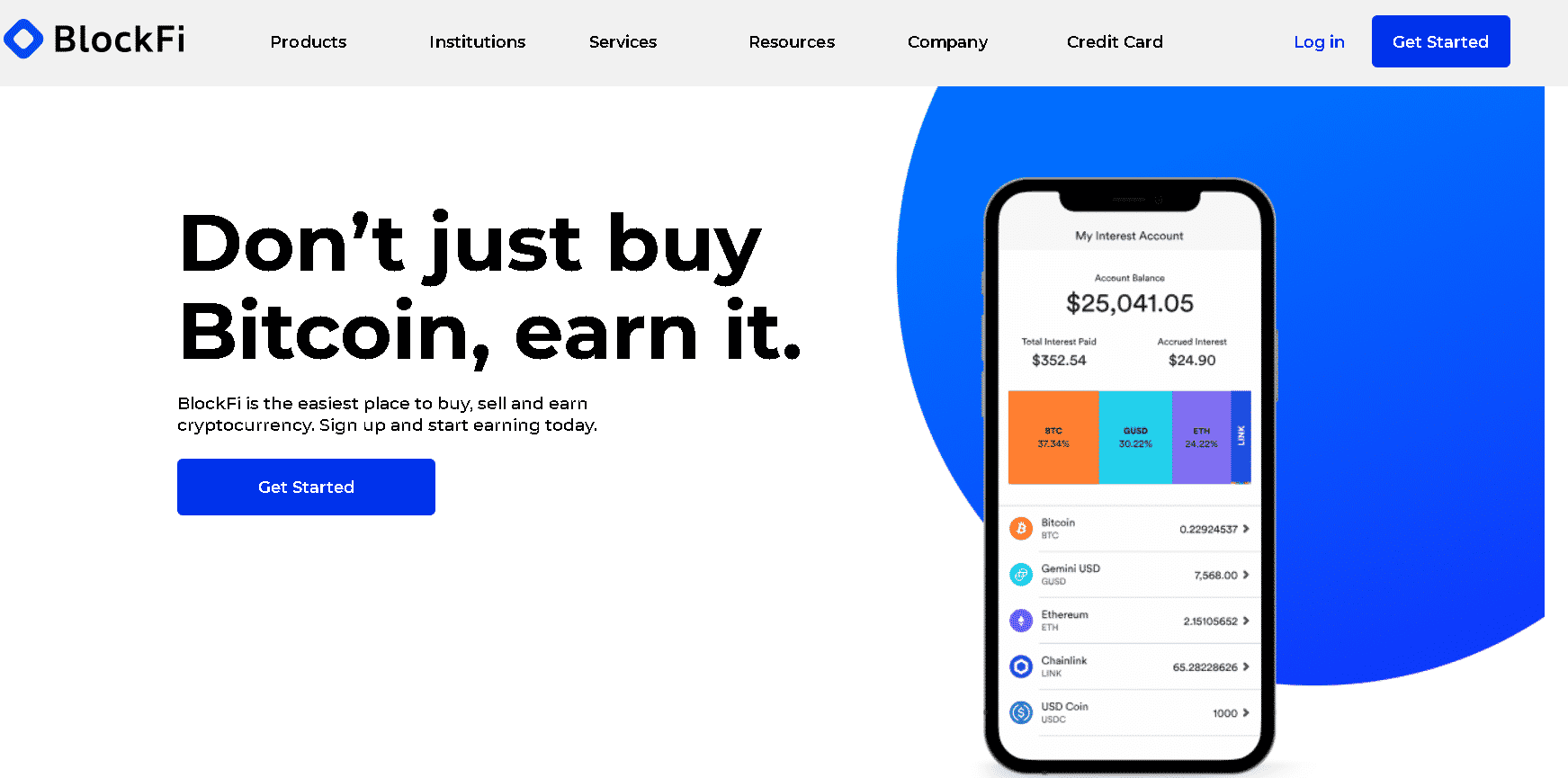 They offer you the best crypto savings account with maximum returns. You can get a compounding interest of around 3% to 7.5% on your crypto holdings. Thus, instead of putting your money in a savings account, you can put your money here and get a good ROI.
You can use your existing portfolio to start earning interest; you need not create a new profile for that. For example, on your existing crypto portfolio, you can earn interest on your holdings such as Bitcoin, Etherium, etc. The annual interest for them goes up to 4%.
The interest you earn is paid at the beginning of every month, and the compounding effect raises the annual yield for BlockFi clients.
People who wish to maximize their interest should consider investing in stable coins such as GUSD, USDC, etc., as you can get interested up to 7.5% on them.  You can also get crypto-based loans at 4.5% APR with BlockFi.
Download BlockFi on Android || iPhone
5) Blockchain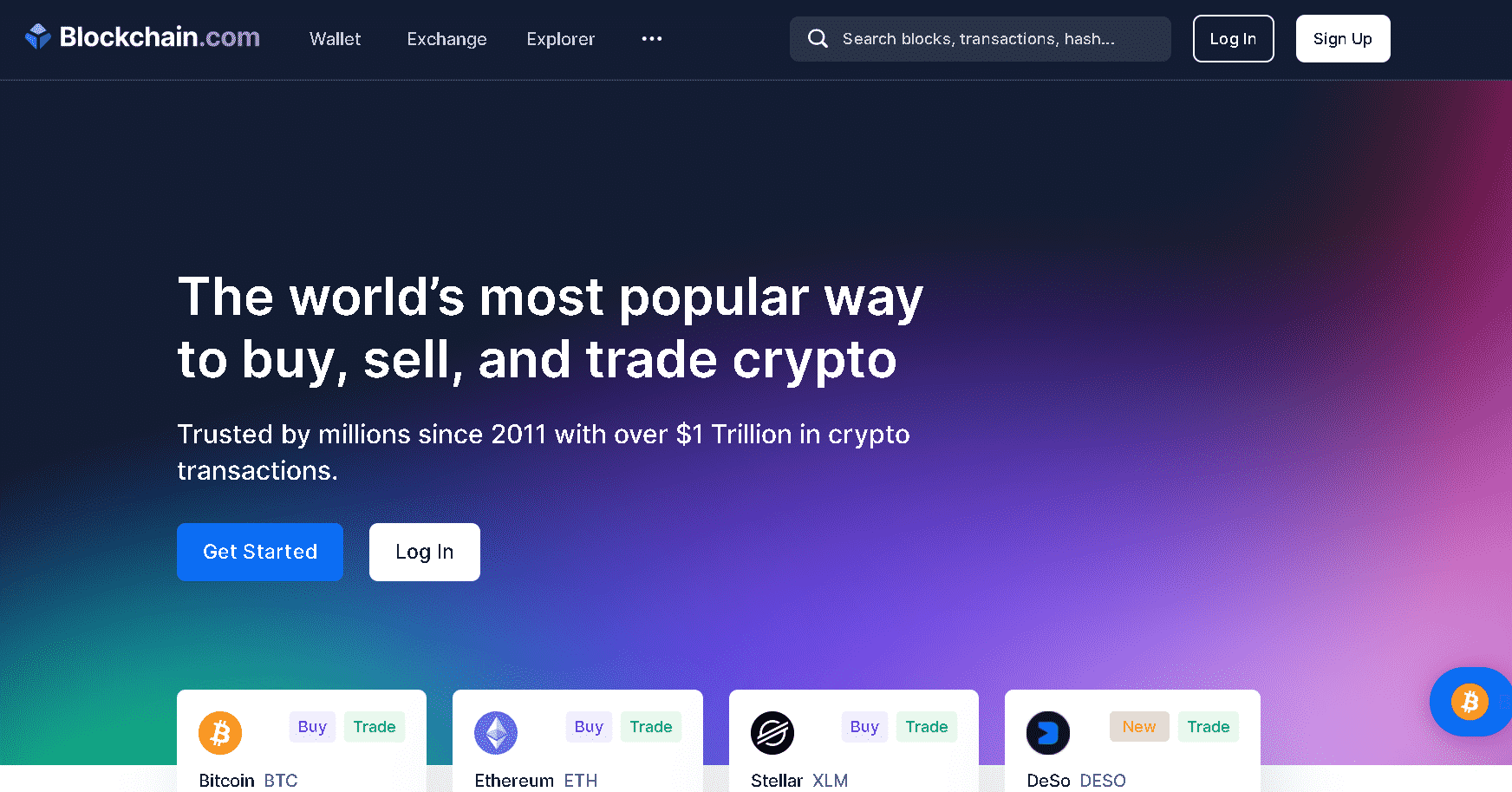 If you plan to trade crypto through your phone, then Blockchain can be one of the best cryptocurrency apps for you. Their app is very user-friendly, and even if you are new to trading, you would have no trouble operating it.
They support numerous big currencies and enable users to buy, sell, manage and store their Bitcoins and altcoins. In addition, on this platform, you would be able to find all the exotic altcoins that you might not get on other platforms.
It was launched in 2013, and today its mobile app serves over 62M users and has processed more than $620B transactions from 180+ countries. You would be amazed to know that its app is available in 21 languages.
Blockchain is loaded with numerous features and has two-factor authentication, TOR blocking, and PIN protection for security measures. You can make the payment here in Bitcoin and can send and receive the crypto as well.
Cost- There is no fee for using this application for trading or investing in cryptocurrencies.
Download Blockchain on Android || iPhone
6) Webull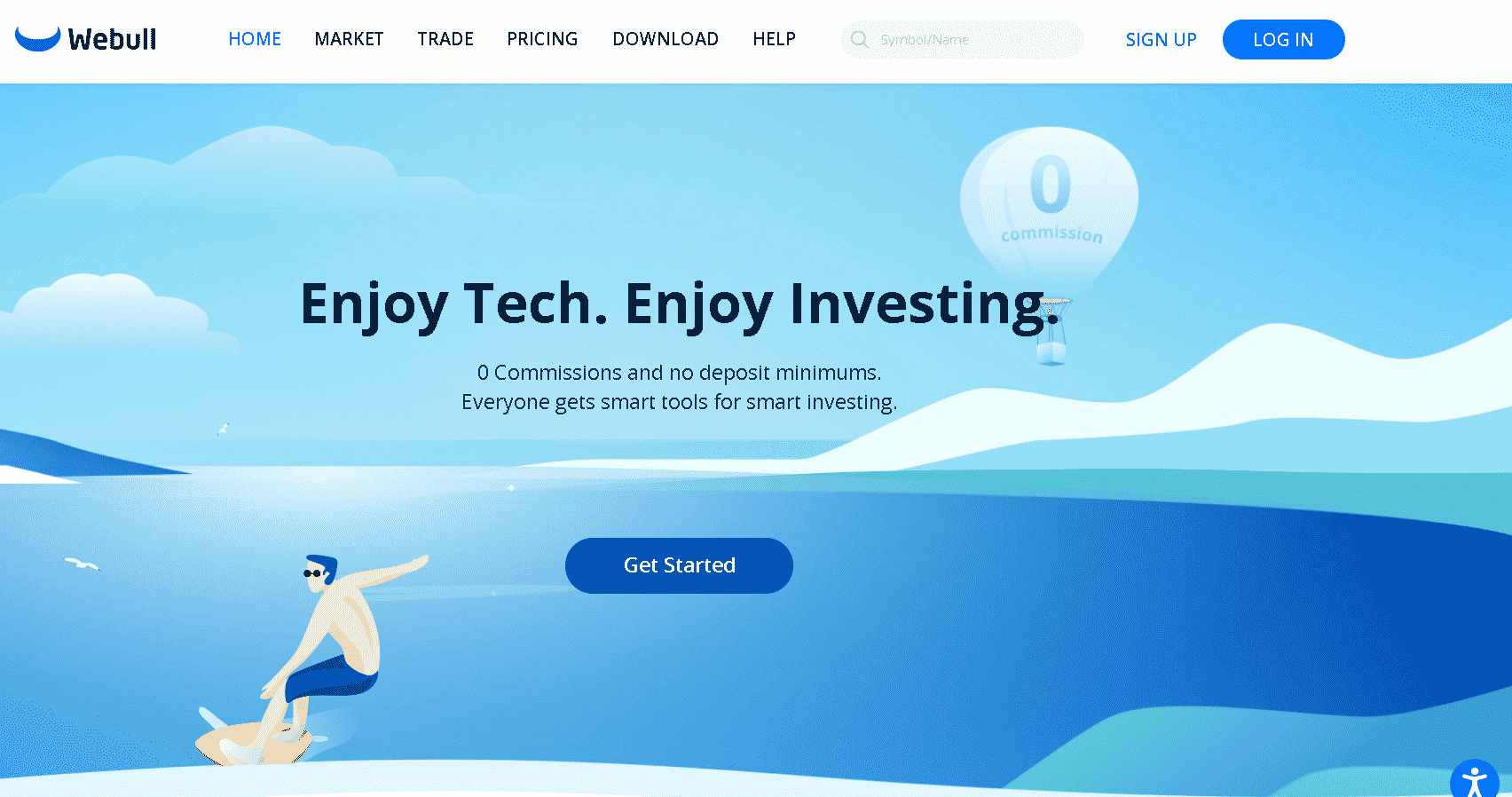 This app has excellent features, which brings it to the list of best cryptocurrency apps. Along with crypto, they also offer stocks, options, margins, and ETFs with no out-of-pocket commission. People prefer using this app because doing transactions from it is pretty simple and straightforward.
The unique thing about Webull is that they run on the concept of spread markups for crypto trades; thus, your cost will be built into the trade. One disadvantage of this app is that they do not provide its users with the news content as this helps the newbies more about their options.
On this platform, you can trade on numerous big coins such as Bitcoin, Ethereum, Cardano, etc. This means they provide you with all the things that you might want in a good app.
Cost- There is no commission on trading, but you would have to pay a spread markup of 1% (100 basis points).
Download Webull on Android || iPhone
7) Exodus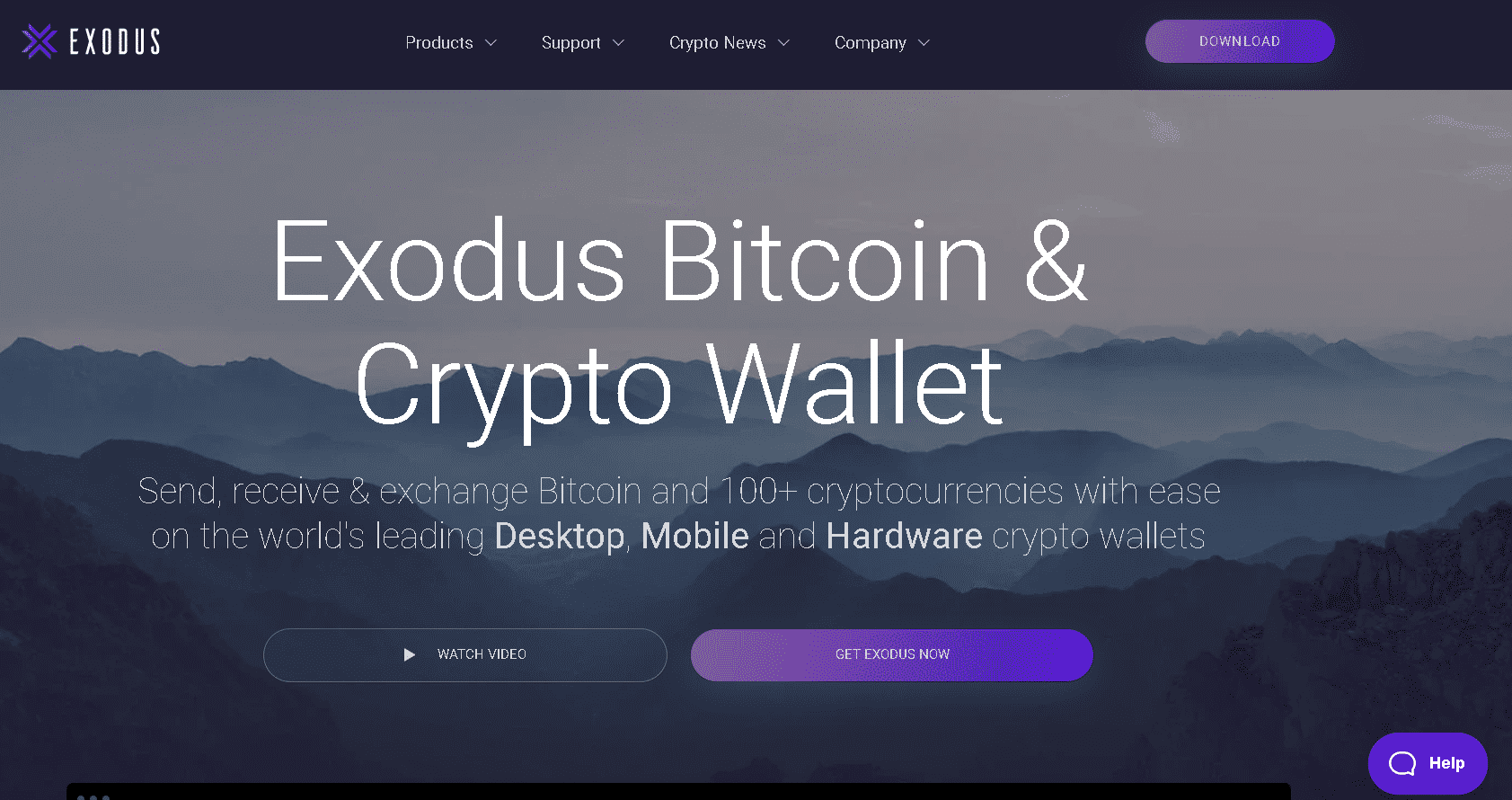 This crypto app is best for people seeking an app that is easy to use, has a functional hot wallet, and is intuitive & secure. You can get all this in Exodus and a lot more, making it the first choice for multiple users. In addition, Exodus supports more than 125 cryptocurrencies which is one of the maxima on the list and making it a trustworthy option for storage.
You can buy and sell digital assets on the go here, plus they also offer you live charts and portfolio tracking functionalities. Some other significant features that it offers are:
Round the clock customer support
Easy integration
Offline transaction functionalities for Trezor devices
Buy and sell digital coins
You can use it on both iOS and Android devices
This is an excellent app with all the top-notch features that is the reason why its trading fee is also a little steep.
Download Exodus on Android || iPhone
8) Coin Stats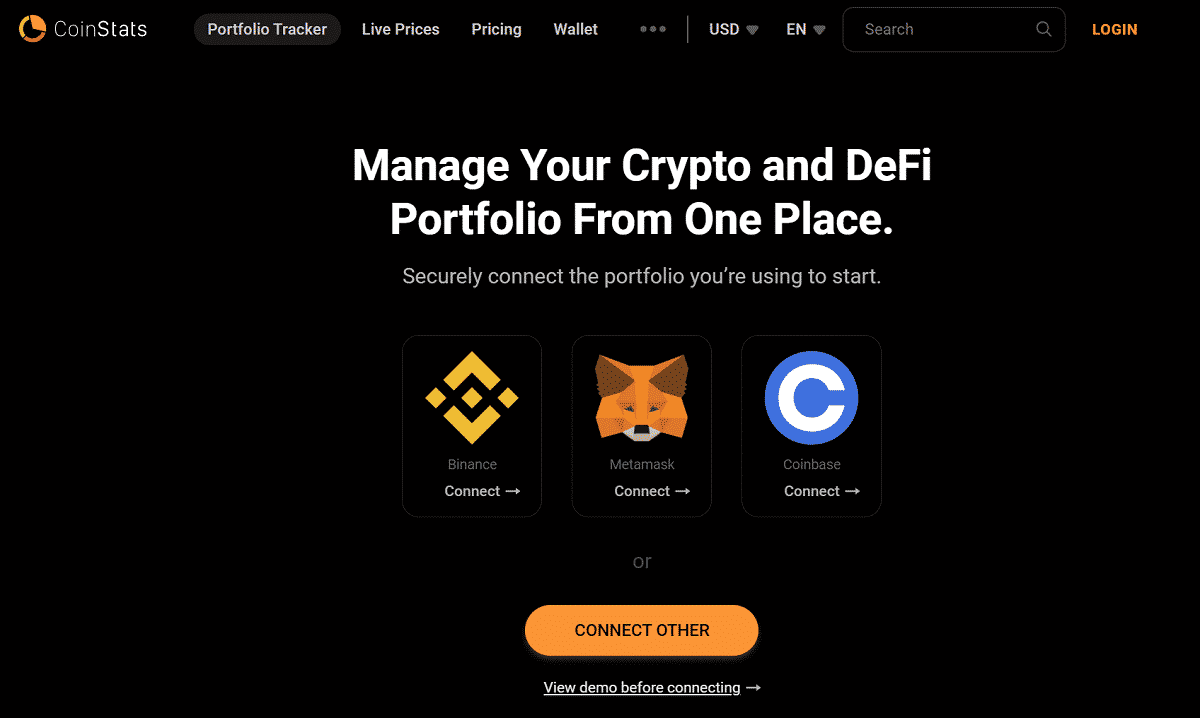 This is one of the best cryptocurrency trading apps as it is best suited for people who want to track the price of cryptocurrencies every minute. This app is particularly for investors who want up-to-date information and can monitor price fluctuations easily.
Creating a portfolio on Coin Stats is very easy and simple; even a beginner can do it without any trouble. You would be amazed to know that you can trade more than a thousand currencies; some of them are well-known while others might be some small and less-known coins.
Also, they provide you with an option to link your wallet with hundreds of exchanges. Thus, all you need is to get started by creating the portfolio and tracking the market. They have two versions: free and paid.
Cost– For the paid version, there is a fee of $4.99 a month and $39.99 yearly.
Download Coin Stats on Android || iPhone
9) Kraken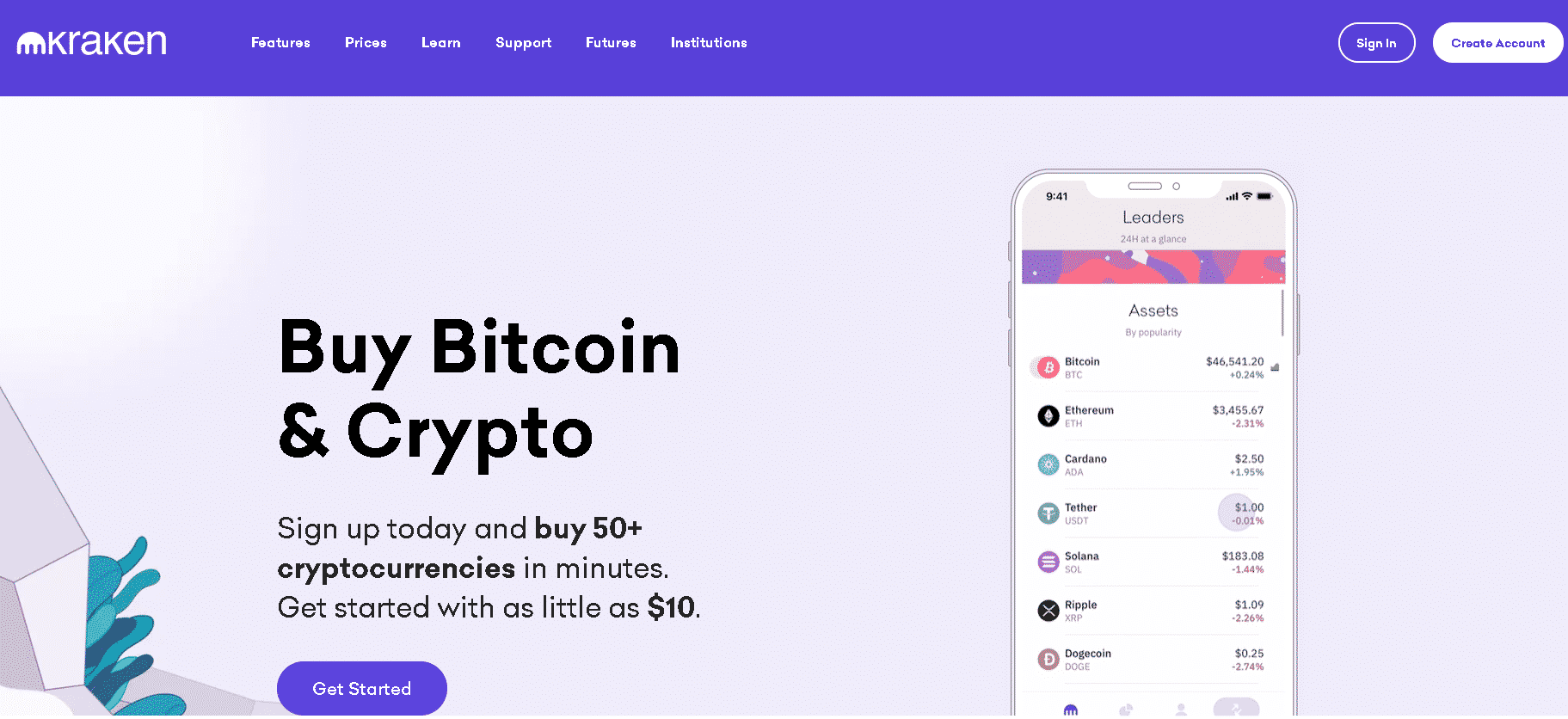 It is an amazing crypto trading platform where you can trade numerous coins, and some of the well-known coins to invest in are Solana, Cardano and Uniswap. There are a lot of coins that you find here that would not be available on other platforms. On Kraken, you can trade 87 cryptos in total, which is a huge number.
They have a free and Pro version; thus, if you opt for the latter, then you would have to pay less fee.
One major drawback of Kraken is that it does not offer services to New York and Washington residents.
Cost- They generally charge a 1.5% fee and 0.9% for stablecoins. If you make a transaction through a debit or credit card, then you would have to pay a 3.75% fee plus 25-euro cents. Also, you might have to bear a 0.5% online banking processing fee as well. If you opt for the pro version, then the charges would lessen, and you would just have to pay a fee of 0.16 – 0.26%.
Download Kraken on Android || iPhone
10) Parity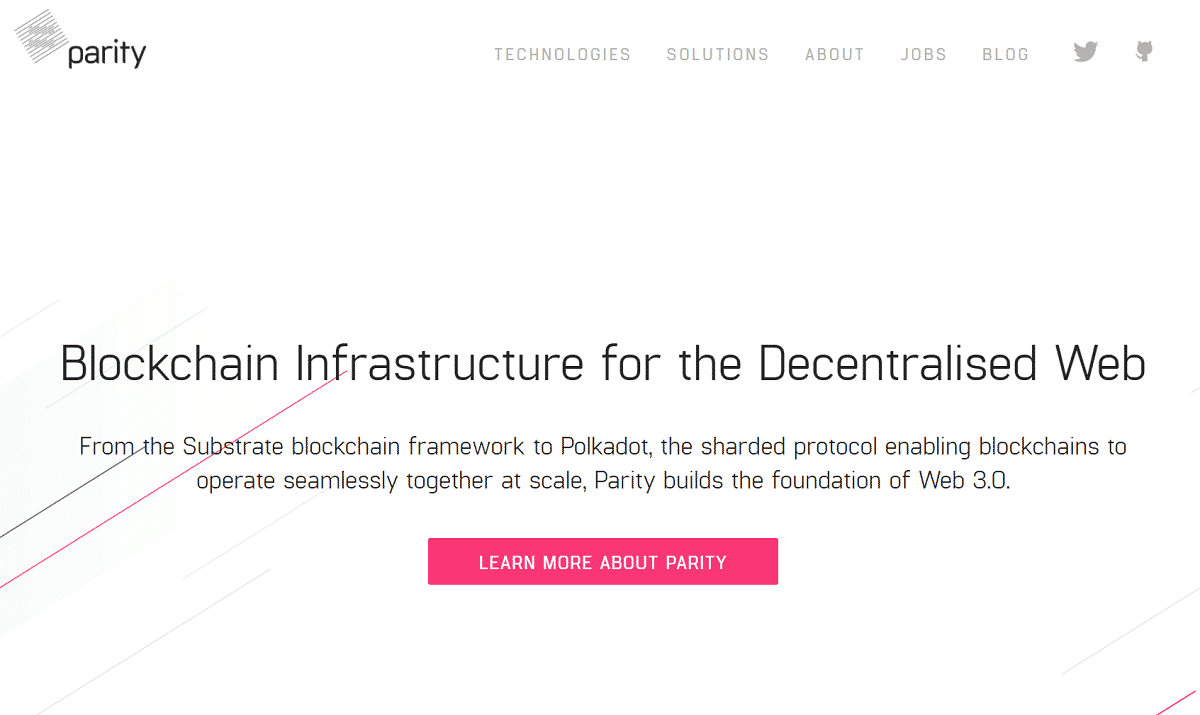 The functionality of this platform is a little different from the others on the list. It enables you to transform your old phone into a completely secure offline hardware wallet; doesn't this sound great? This idea is fresh in the market, and very few people are using it, but everything seems all good till now.
The idea behind creating this platform was to make something different from the conventional hardware crypto wallets. It seems that in no time, it will become the best and easiest solution for cold storage. Another notable thing about Parity is that once you install it after that, it does not need any internet connection. A few other amazing features are:
All the private keys and stored safely
You can factory reset it and run it in airplane mode to ensure there is no external access to your device.
The app went through periodical audits and security checks, so you can rest assured about the safety of your crypto with it.
Download Parity on Android || iPhone
11) Nomics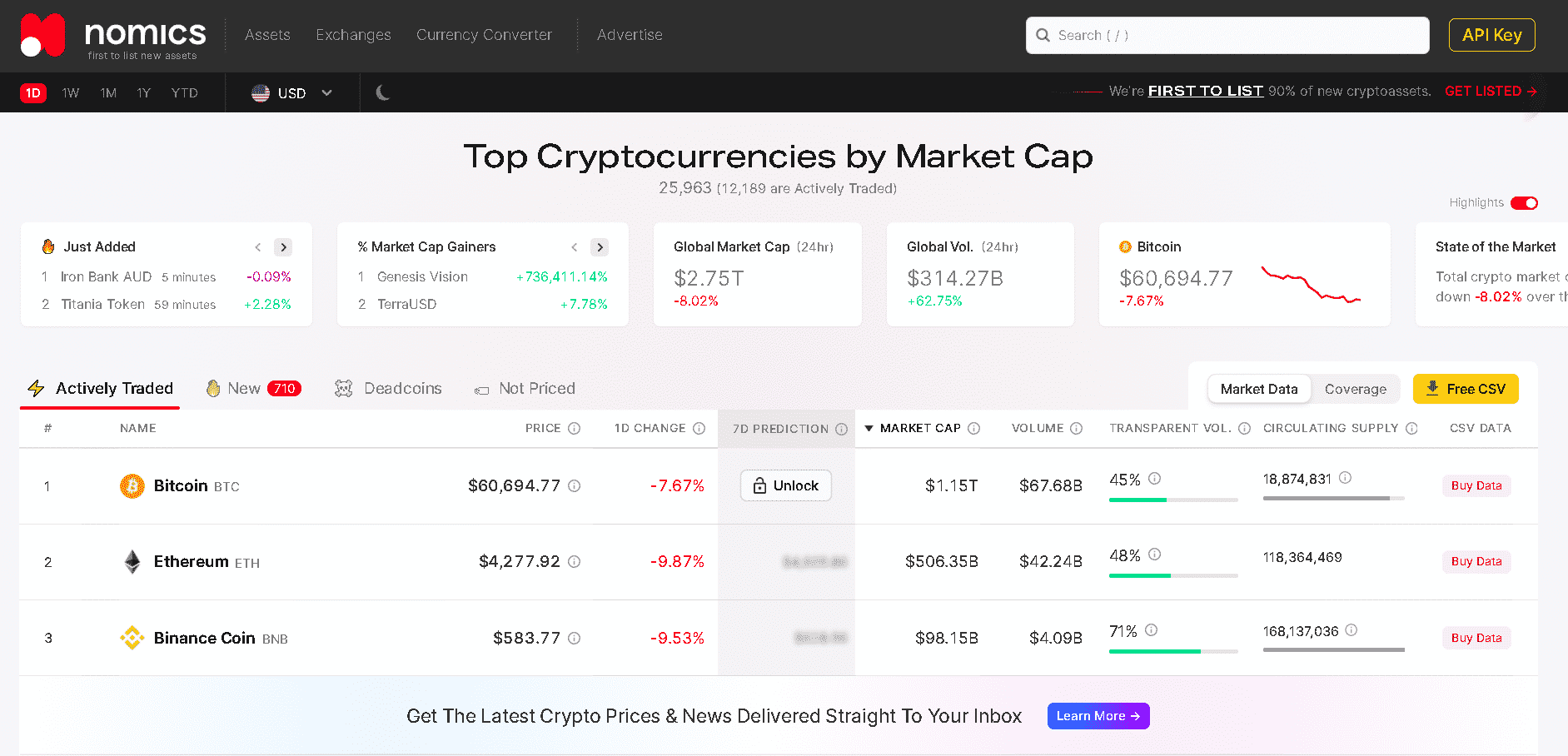 As mentioned above, various service providers offer you the price tracking feature, but did you ever check whether the liquidity and crypto price they represent are correct or not? You would be shocked to know that 50-70% of the Bitcoin and altcoin data that you see is fake.
This means that if you are trading on a particular exchange, then you might get within your order and lose money because of being swindled by misrepresented data. But, you won't face this problem with Nomics as here they show you accurate and transparent information of the prices and liquidity of numerous exchanges and assets.
All this is done by directly integrating its API within crypto exchanges to get you real-time data straight away from the source. On the app, you would get this information and the real trading volume for the assets you are interested in.
These were some of the best cryptocurrency apps which provide you with access to broad range-literally thousands- of crypto to trade-in, plus various other benefits such as low-transaction cost, high-end security, and transparency.
Download Nomics on Android || iPhone
Types of Crypto Applications
You can trade crypto with various tools so that you can choose the one that is easier for you. Some of the major crypto applications are-
1) Cryptocurrency exchanges
This is one of the most commonly used crypto applications; here, you can buy and sell crypto by using USD, Bitcoin, Ethereum, and various other currencies. The good thing is that you can also link your bank account by ACH or use a credit or debit card to buy crypto.
There are a few exchanges where you can trade digital assets and provide their users with a crypto-backed debit card with the help of which you can earn crypto with every purchase you make using it. Furthermore, you can also earn interest in your crypto on various platforms, which makes it an excellent option for long-term-oriented investors.
2) Cryptocurrency Wallets
You can store the private key in the crypto wallet. This key is needed to use or unlock funds from your wallet address on the Blockchain. However, it is not recommended to hold the coins in exchange for long, as they are more vulnerable to hacks, and they do not provide your own private key.
Thus, it would be best if you always use wallets to store them. You can use a hardware wallet for holding your currency.
3) Portfolio trackers
With the help of these trackers, you would be able to see real-time information on crypto prices. Of course, there are a lot of exchanges where you would get this information, but using a tracker app can be beneficial as here you get the precise and correct information.
Trackers are highly recommended if you don't keep your funds on an exchange, as in this case, you would not be able to see your crypto holdings.
For example, if you decide to hold your assets in a hardware wallet but you still want to stay updated with the price fluctuations, then you can download a tracking app as it is relatively easier than using an exchange.
Recommended: 15 Best Staking Coins
This was about the crypto applications that you can use to track real-time information, store your currency, and keep it safe.
These were some of the top crypto trading apps; you can select anyone per your requirements. However, if you are serious about trading and want to trade a huge range of currencies, you should always pick an app that enables you with thousands of crypto with less transaction fee. Thus, keep in mind all the factors before choosing any platform.