If you are a freelancer, then you must have heard of this enormous freelance marketplace called Fiverr. This website assists you in getting a job as a freelancer. It is one of the most well-known platforms where they have more than a million freelancers on their books, and you can easily find people that suit your requirements.
It is an excellent platform to search for work, connect with potential clients, and present your work. Here, you can get talent from all over the world to get the tasks completed instead of hiring a full-time staff. On Fiverr, you can get jobs starting from $5, as the name suggests. It takes 20% commission or you can also say that out of $5, you have to pay $1 to Fiverr.
But, there are various drawbacks with Fiverr such as they do not have a good vetting process; thus, anyone and everyone can be a part of it, which hampers the quality, plus the resolution process is vague and much more. People search for the best Fiverr alternatives to get better people to work for at a reasonable price.
16 Best Fiverr Alternatives – Sites Like Fiverr
Polish your resume and update it with all the skills you possess as below mentioned websites will help you get excellent jobs as per your needs and the best part is that all of them are reliable and have good reviews. Here are some of the best sites like Fiverr, both for freelancers and businesses looking for people to get the job done: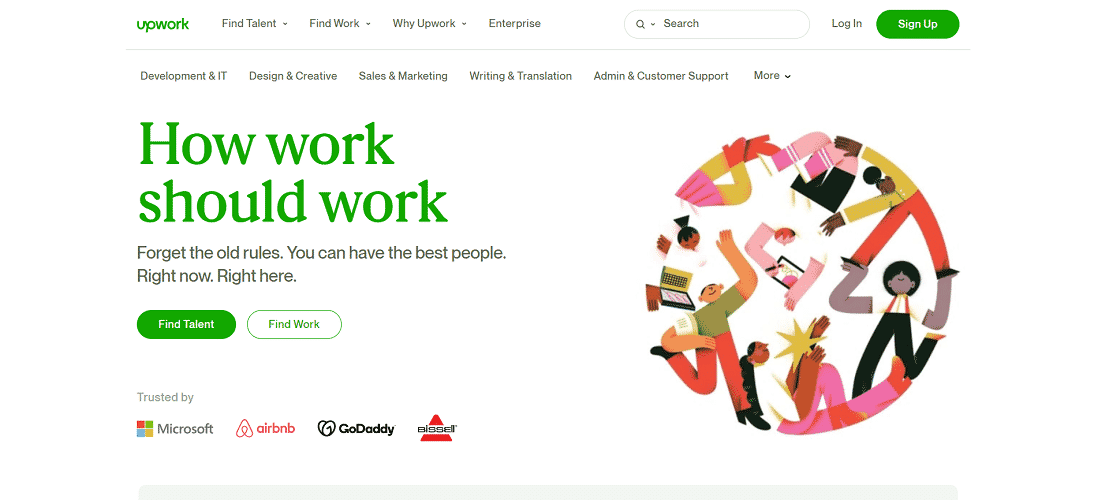 It is one of the biggest competitors and alternatives to Fiverr. This company was formed after the amalgamation of Elance and oDesk; they were formerly top freelance websites. Upwork offers a broad spectrum of services and has set guidelines to ensure that all the transactions happen seamlessly.
On Upwork, you can get jobs related to writing, IT and programming, marketing, graphic designing, app development, and various other niches. As a freelancer, you can make detailed profiles and add links to former projects, and set your own hourly prices. You can opt for their free or paid programs as per your requirement.
Pros:
Upwork offers a wide range of gigs. Here, you would find numerous job categories, from social media management to web design, virtual assistant, writing, blogging, typing, and much more.
The major advantage for freelancers is that they can get a full-time agreement if the client gets pleased with their work.
Flexible options for hiring and payment.
Upwork charges only 10% of the money that freelancers earn, which is half of what Fiverr charges.
Cons:
It is sometimes tough to get work on Upwork as you have to create your own network by getting a huge number of positive reviews. This process can be very time-consuming.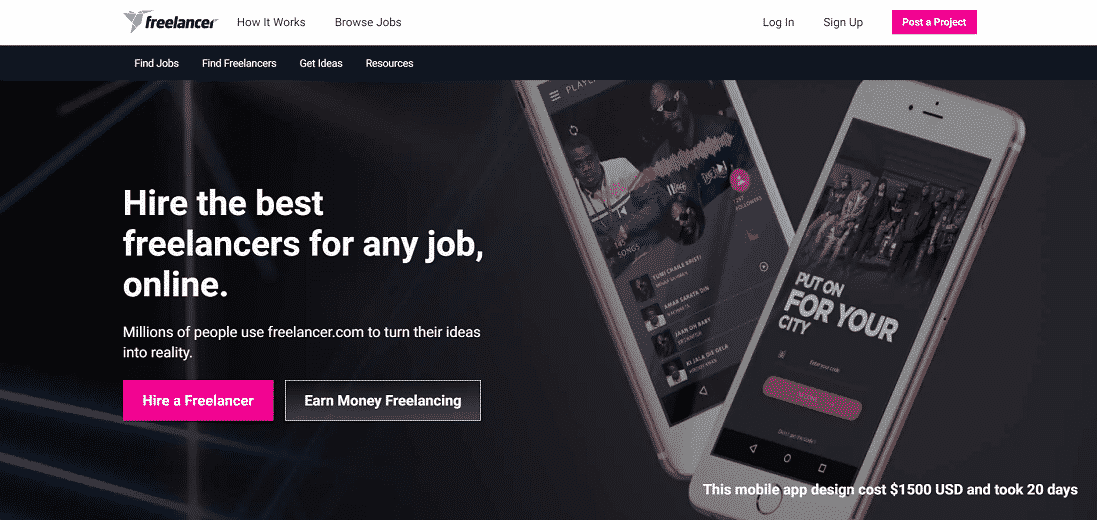 It is a great place for both freelancers and businesses as it is a huge and budgetable platform. Here, you can be sure of high-quality work as they have more than 41 million freelancers working for them who can do even the toughest job for you. They have more than 850 categories to choose from, which means if you have any talent, there is a job waiting for you on Freelancer.
Here you can get jobs related to content writing, data entry, human resources, transcribing, web designing, etc. First, you need to finish the registration process and after that, you can sign up with them. You get 8 free applications with them before you start with the premium version.
Pros:
They have unlimited job options, which means that freelancers have a lot of opportunities that they can grab.
The good part about it is that freelancers have an option to select their own working times. It enables greater flexibility and freedom in choosing assignments.
It comes with a downloadable app that aids you in keeping track of time. This benefits you in payment as you can keep a screenshot of your working hours and send it to the company as evidence of how long you've worked.
An on-hand recruiter makes hiring easier (for a fee)
Cons:
On Freelancer, it has been observed that employers usually choose more experienced freelancers, which makes it tough for beginners to get a job.
Also Read: Fiverr Affiliate Program Review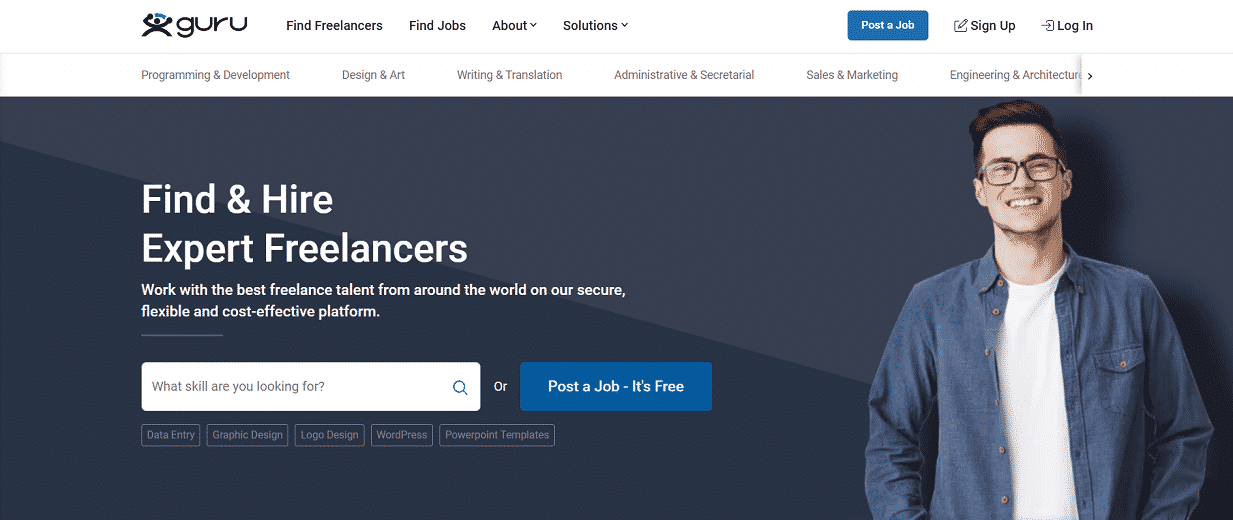 It is one of the best sites like Fiverr as it has a massive pool of talent with more than 2 million active job seekers. It was founded in 1998, making it one of the oldest freelancing job market sites on the list. It is a networking platform that focuses majorly on professional services and offers services majorly related to design work.
You can easily get millions of experienced freelancers here for any of your requirements, starting from designing to making logos or mowing lawns, etc. They also render their users with a distinct feature called Work Room, which makes it easier for the users to manage numerous jobs at a time.
Pros:
Guru is recommended for small companies where a single person can do the full task.
It provides you with easy and time-saving ways to interact with freelancers, get invoices and pay via a secure internal system.
It offers a messaging service that can be used in a browser for both Android and Windows, making it facile for both businesses and freelancers to communicate.
Guru empowers more safety and protection for both buyers and sellers.
Cons:
Not much use for big companies as it would be hard to maintain.

Toptal is a short form of top talent, and they prove what they say. They have a different work strategy compared to the others on the list because they comprise the top 3% of freelance talent in the industry. This means that on Toptal, you will get top-quality workers and you will have to pay them accordingly.
All the freelancers they host are vetted by a five-step process that comprises skills assessment tests, interviews, and a test project that implies that they hire the best talent around. They offer workers some specific skillsets, and you would not find any writers or social media marketers here.
Therefore, if you require some high-end workers and have a high budget, then Toptal should be the first platform you should consider.
Pros:
As a businessman, you can be sure of getting the top technical talent.
It has one of the best screening processes. Toptal eliminates 97% of applicants and makes it to the elite 3%. Thus, if you are able to make it through the screening process, you will surely get high commission gigs.
On Toptal, you get matching services quickly, which eliminates the frustration of hiring.
You don't have to be concerned about scams or low-quality work, as it is a more secure and less risky platform.
Cons:
Their strict screening process limits your possibilities of getting hired, especially if you are a beginner.
Also Read: 30 Ways To Make Money Online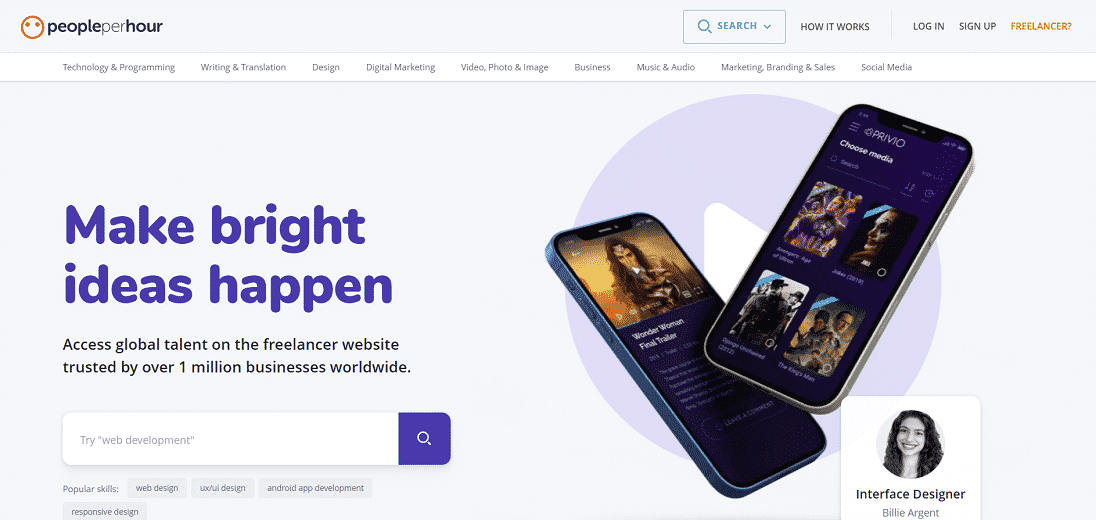 It is one of the best Fiverr alternatives as it has a similar setup. It is open for anyone to join, but they are interviewed before they are added to the platform. It is also more secure than Fiverr. Thus, the platform is more suitable for small businesses where they can meet freelancers who can help them with their projects speedily and efficiently.
You can get jobs in various niches on PeoplePerHour, such as content writing, marketing, accounting, designing, etc. With them, you can be sure that you get high-quality services for the money you pay. The good part is that here you can get hired as per project or hourly; you can choose as per your availability.
Pros:
It has an easy-to-use dashboard that facilitates you to see the entire hiring process. This makes it a transparent process for both businesses and candidates.
Companies looking to cut costs would find it useful as PeoplePerHour is a budget-friendly platform.
PeoplePerHour vets their freelancers and safeguards them against any fraud.
Businesses opt for this platform as freelancers are prone to be more experienced because of the strict guidelines for job seekers.
Cons:
Their user interface is slightly tough to understand.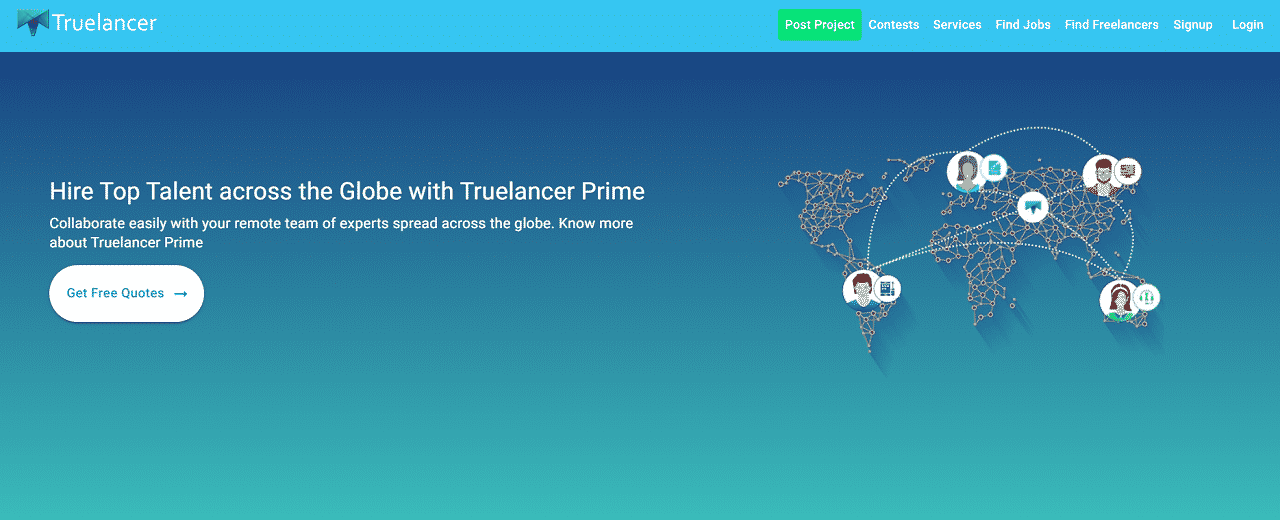 This is a relatively newer tool in the market but is better than various other old tools. They have professionals from all around the world, hence businesses can benefit from this, as numerous people come from areas with a lower cost of living. Hence, foreign freelancers and businesses can benefit more from this as compared to local freelancers.
On this platform, you can get jobs related to numerous niches such as IT, programming, web designing, finance, admin, SEO, etc. Another benefit of using this platform is that it is one of the least expensive platforms mentioned in the list. Truelancer offers you three options to search for a freelancer. You can hunt for them under pre-defined gigs, content-based crowdsourcing options, or by filtering through the profiles of freelancers.
Pros:
On Truelancer, you can explore a wide spectrum of freelance jobs and classify them by the city to locate the nearest job as per your location.
The best thing is that you can also request a sample of work from the candidate before giving them the job.
You can analyze all the freelancers and interview them before picking the final applicant.
You can access Truelancer from a browser, Android, and iPhone device as well.
Cons:
Unfortunately, if your work gets rejected, you get a refund from the client after 30 days, Truelancer charges you around 5% of your total project amount.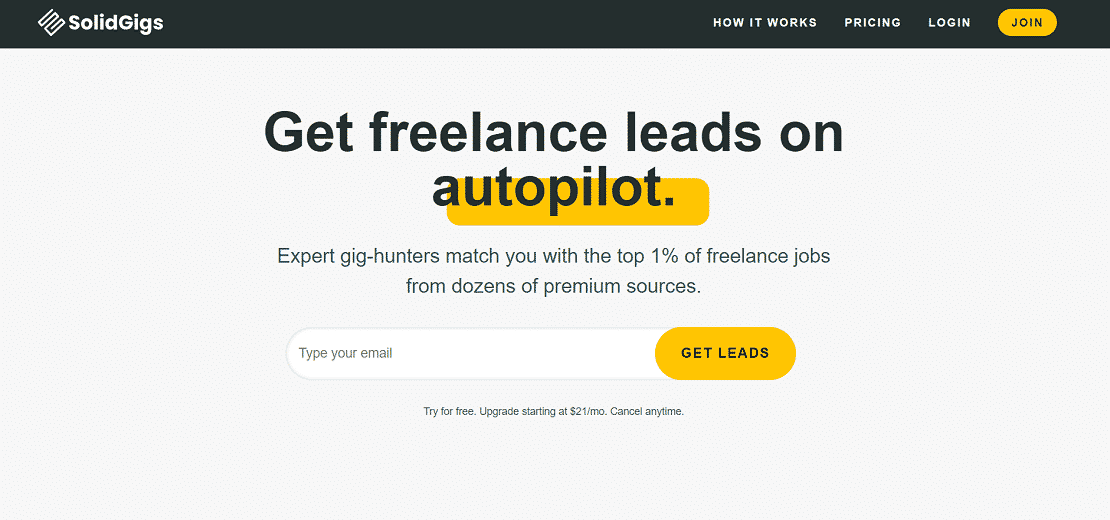 It is a perfect website for freelance beginners as here you can get numerous kinds of jobs related to accounting, administration, designing, transcribing, and much more. They also send you daily notifications of the best 1% jobs that are available on the platform. You can easily find a job here without sparing much time, as their hiring process is pretty simple.
All you need to do is sign-up; once your registration is complete, you start receiving emails about some of the best jobs available on the website. Apart from proving you with excellent job opportunities, it also renders applicants with resources that can aid them in increasing their freelancing skills.
Pros:
It offers more than 127 courses, videos, tutorials, lessons, tools, templates, and other tools to boost your skills and increase the level of your freelance career.
Get daily job notifications, which can be a huge time-saver as you would not have to spend hours or days finding a perfect job.
It provides you prompt access to interviews without any nuisance.
Cons:
SolidGigs is comparatively expensive from others on the list. Their payment is $2 for the first day, and after that, it is $19 per month.
Also Read: 30 Most Profitable Gigs on Fiverr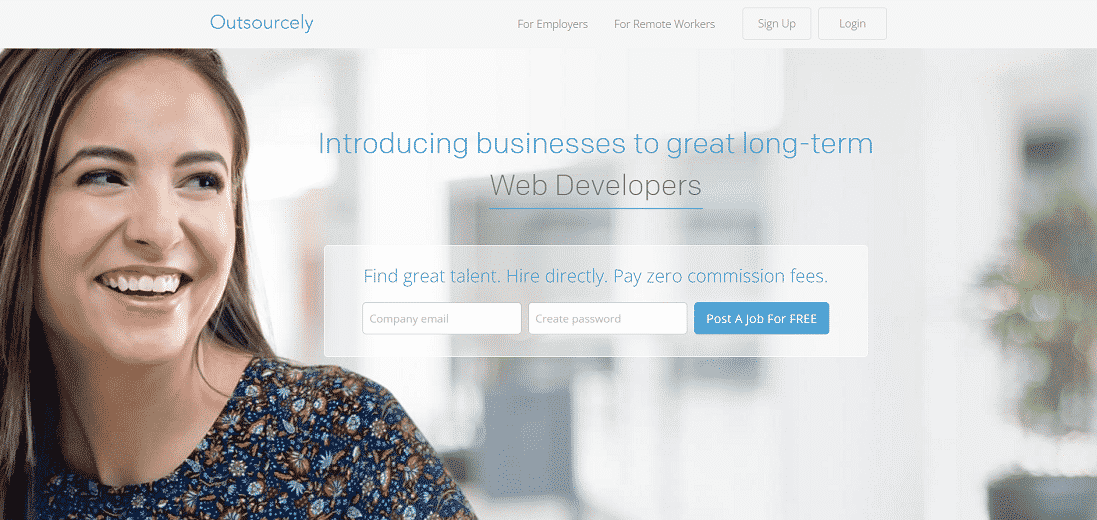 This is one of the top Fiverr alternatives that was founded in 2014. They have set themselves as a network for staffing and monitoring your start-up instead of hiring freelancers for one project. Customers choose freelancers and give them remote jobs that can be either full-time or part-time jobs. You can select the remote worker you want to hire instead of choosing different freelancers to do the job.
This platform is perfect for you if you wish to set up a long-term relationship with freelancers. They have over 2,50,000 people registered with them from all over the world, which means you can get amazing talent and you can choose the candidates as per country as well if your business demands.
Pros:
Outsourcely pays their workers directly without any extra costs.
It is a perfect choice for companies that are searching to hire part-time or full-time positions with remote staff.
The best part is that they serve clients with packages for individual, business, and professional services. All of them come with their own unique features and fee.
Employers can screen workers directly.
Cons:
Outsourcely is not preferable for one-time assignments.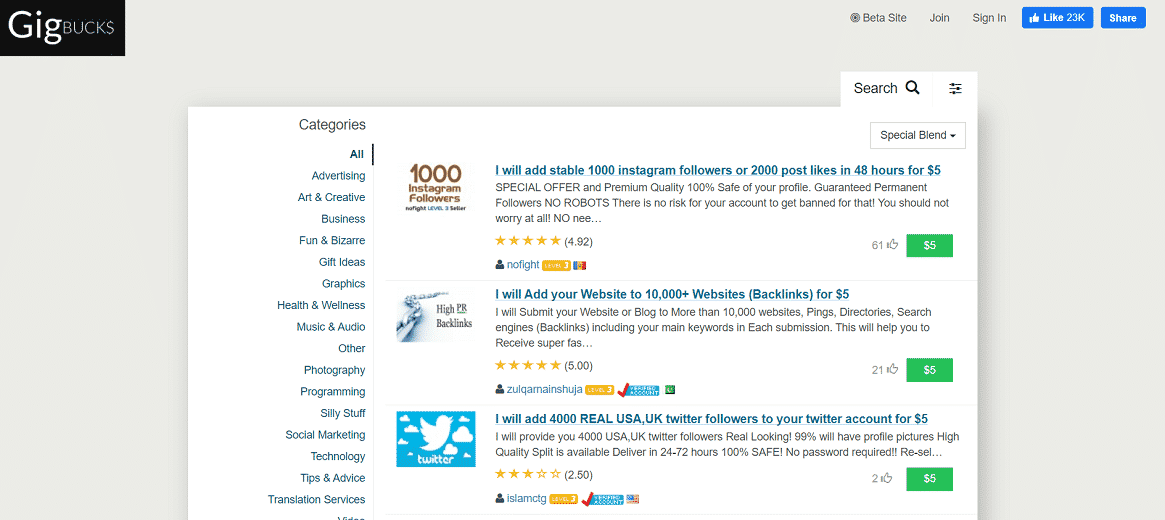 This is an excellent platform where you can find short-term gigs easily. They take a commission of 20% of the paid gigs, just like Fiverr. The best part is that it enables the users to set the prices according to their choice and skillset; they can choose from $5 to $50 for their services.
You can contact the buyers directly, but they can select the one they like the most. Gigbucks facilitates freelancers to post as many gigs as they want, but it is not recommended to post on the same positions again and again as it can lead to your account suspension.
Pros:
Along with the standard digital services, the other categories it offers are silly stuff, fun & bizarre, and gift ideas.
Buyers and sellers both can post a gig for free. You can upload unlimited gigs as it increases the chances of getting a job.
Gigbucks comes with a review and level system, which aids top-performing freelancers to stay on top of the page and get the maximum offers.
They provide excellent customer support with a fast response rate.
Cons:
They have a payment restriction of up to $50.
The major drawback is that until you reach Gig level3, you have to wait for 14 days before withdrawing the money you earned.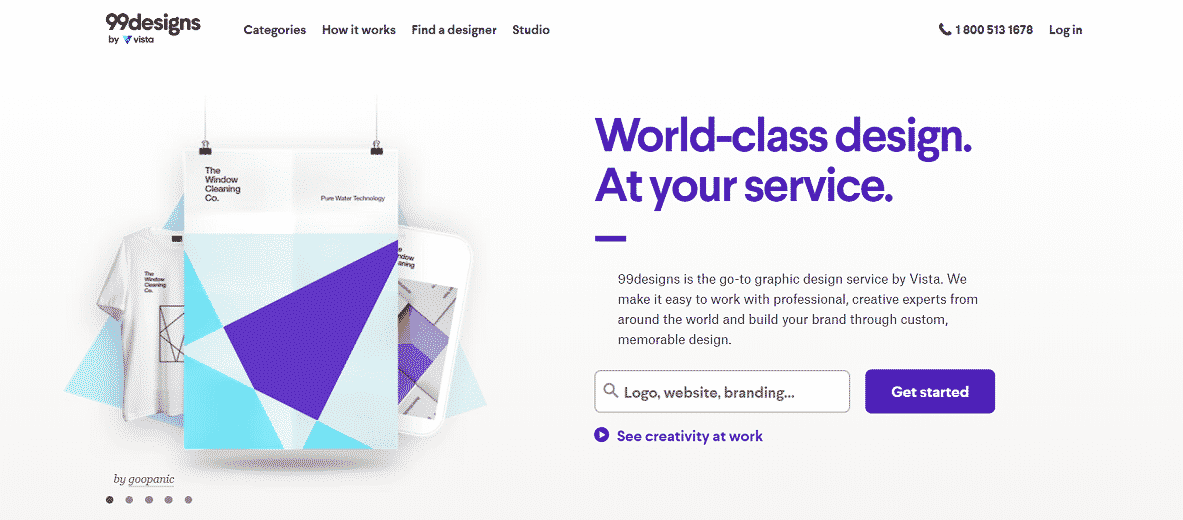 It is a great platform, particularly for designers. Here, you can easily get a job as a designer as they post thousands of jobs every day. It connects designers with clients who have design projects and need high-quality work.
To get a job on 99designs, you will first have to post your design; after that, you can check on the proposals and review the previous work submitted by prospective designers. After that, you can choose the candidate you like and appoint them for your project.
They have so many options that you can easily get the type of job you are looking for. The job type includes product and website designing, making logos & newsletters, and much more. You can advertise all kinds of design work here, and there are a lot of people who are ready to pay you for your skills. As per the data on their website, designers collectively make around $900,000 a month, and they have issued at least $12 million.
Pros:
Get high-quality services without much trouble.
Relatively reasonable than others on the list.
Easy-to-use interface.
Cons:
They have limited job categories as it is particularly for designers only.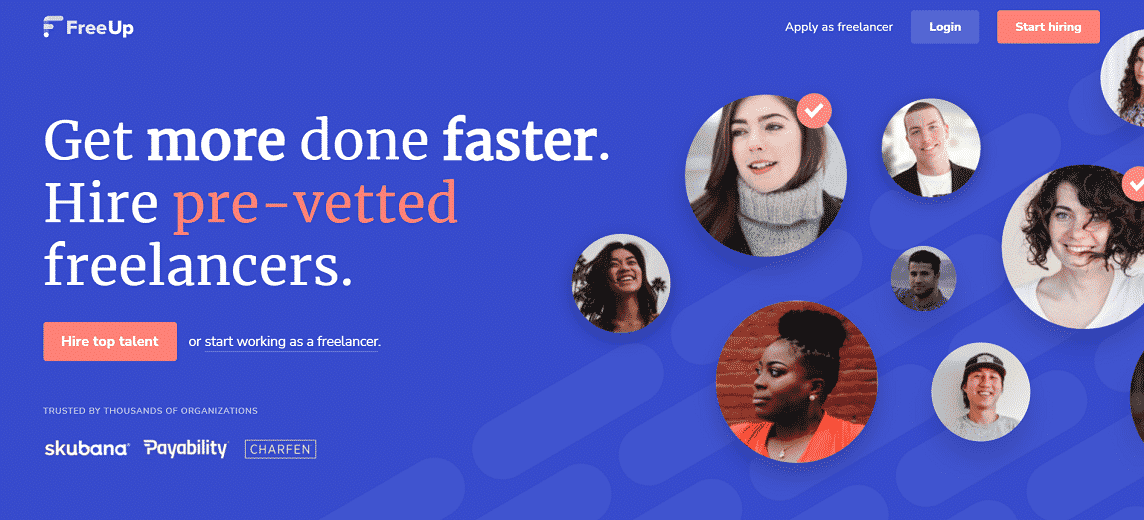 This amazing platform was established in 2015 by two e-commerce entrepreneurs named Nathan Hirsch and Connor Gillivan. This is one of the leading websites for finding jobs as here you get a different kind of job as per your skillset. Here, you can get jobs in various niches such as designing, accounting, writing, advertising, virtual assistant, etc.
They run a background check on all the employees so that the businesses or people hiring them do not have to worry about the credibility of the candidates. You would be amazed to know that they only hire the top 1% of the applicants.
Pros:
The best part about FreeUp is that businesses can sign up and submit jobs for free. Also, they can get top-quality applicants within one business day.
Round-the-clock customer support.
In case a freelancer quits in between, then FreeUp would replace them immediately for the clients and cover replacement costs if any.
They make weekly payments.
Cons:
They cater more towards agencies looking to hire.
Also Read: 120 Best Affiliate Programs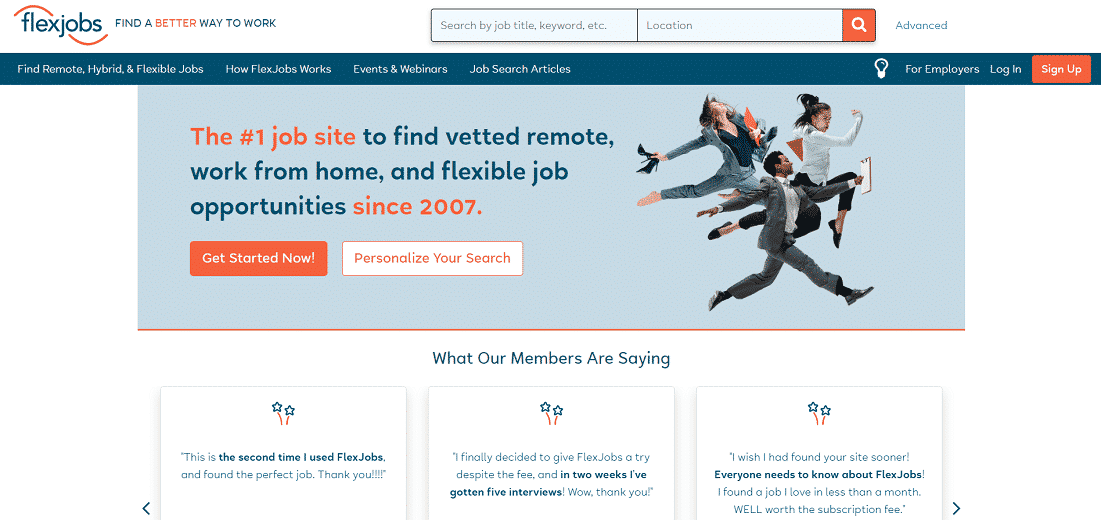 If you are looking for a platform where job search becomes easier for you, then FlexJobs is the best option. You can get numerous kinds of jobs here to match your skills and experience. On FlexJobs, you can get flexible freelance jobs, which means you can work as per your availability.
As soon as you sign up, you can make your profile, and you will have access to infinite jobs in numerous niches. It is a reliable platform, as here you do not have to worry about scams, repeated posts, broken links, or ads here. Also, you don't have to visit the portal repeatedly to check for new job postings as they send an email alert whenever an employer posts a job.
Pros:
On this platform, you can find excellent, hand-screened, professional, and reliable part-time jobs. 5,460 companies are using FlexJob, with more than 29,000 jobs accessible for job seekers.
Candidates have a huge opportunity to get good-quality jobs without much trouble.
FlexJobs offers over 50 gig categories; here, you can get different kinds of jobs, starting from freelance to full-time to part-time, local to global, or anything as per your requirements.
Cons:
Quality never comes for free; hence you would have to pay if you use FlexJobs services.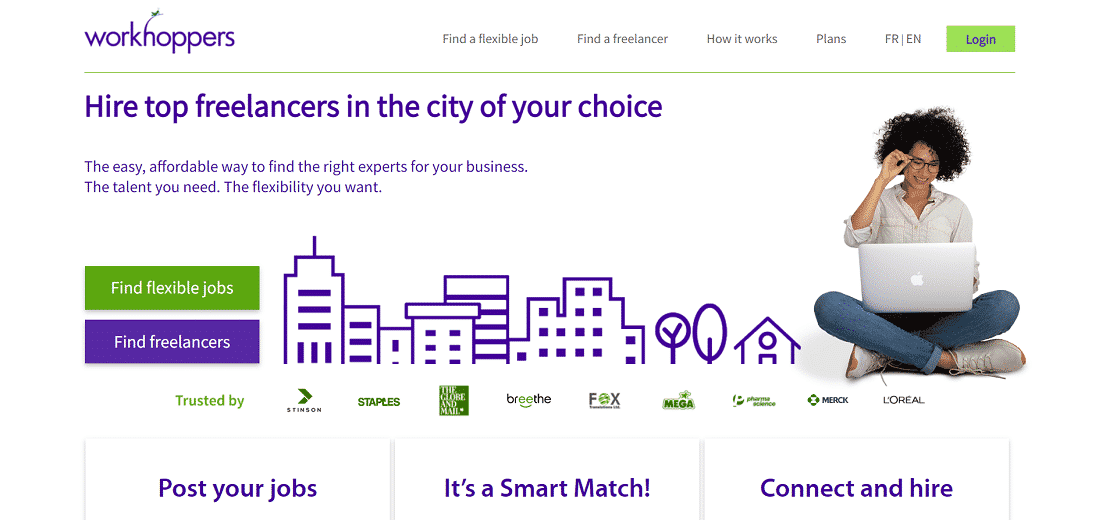 It is one of the best Fiverr alternatives, as here you can get different types of jobs and work at your convenience. Workhoppers can be said to be an online-offline platform that is used by various businesses to search for temporary workers in the city. They provide clients with workers who can work on different working schedules such as temporary, one-time, or part-time.
It has an easy-to-use interface as all you need to do is post the job and the system will automatically show you the list of candidates matching your job description, and you can choose any candidate you like by checking their profile.
Pros:
Flexible payment schedule.
On Workhoppers, you can get freelancers from different niches such as business, technology, finance, media, marketing, article writing, transcribing, health and support.
The best part is that here you can check the profiles for previous projects that the candidates have worked on. Once you choose and hire the candidate, you can message them directly and negotiate terms and conditions for the project.
Cons:
Benefits are not as great as a contract worker.
Also Read: Top 35 Affiliate Marketing Agencies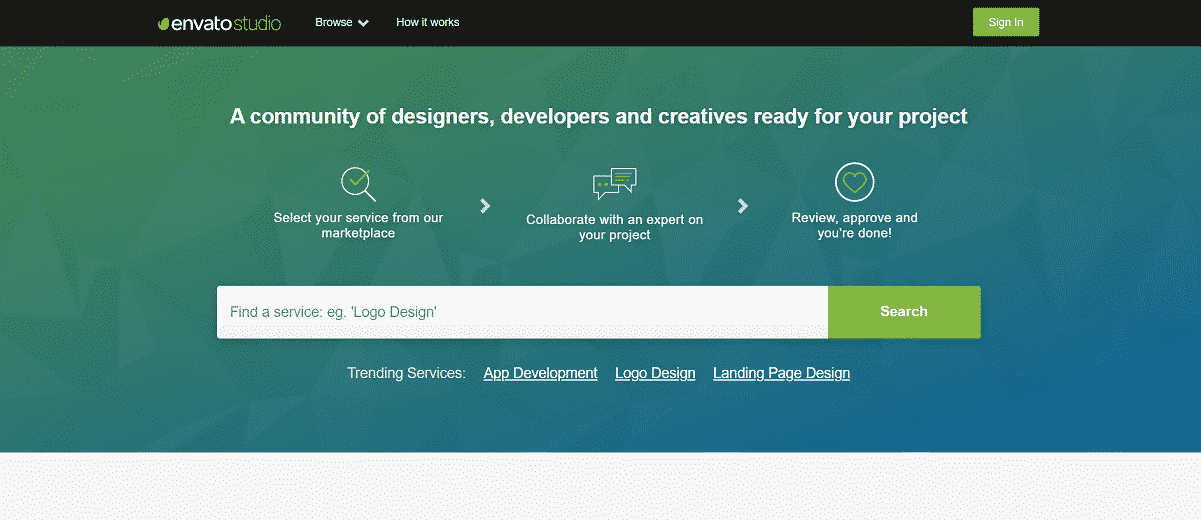 This is an amazing platform where you can get a plethora of jobs in designing, web development, online marketing, programming, video & animation, etc. They have the designers and developers hand-picked, which means you can get top-quality workers for your project. They ensure that you get the best results and enable workers to make money by doing what they love.
If you have an urgent requirement for any of your projects, you will undoubtedly get the right talent for the task in no time. Their hiring process is quick because they automatically provide you with a list of candidates that suit your project. The unique thing is that they allow both parties to share files and communicate with each other.
Pros:
Easy to use. You can post the job in a couple of minutes and that too, in just a few steps.
Envato Studio offers one of the most talented creative designers and web developers on the market.
Employers can carefully compare prices and choose the best freelancer as they have a large pool of professionals. Thus, you can select the worker that best suits your budget; it would help you save money while hiring the best.
Cons:
Envato Studio does not accept custom orders.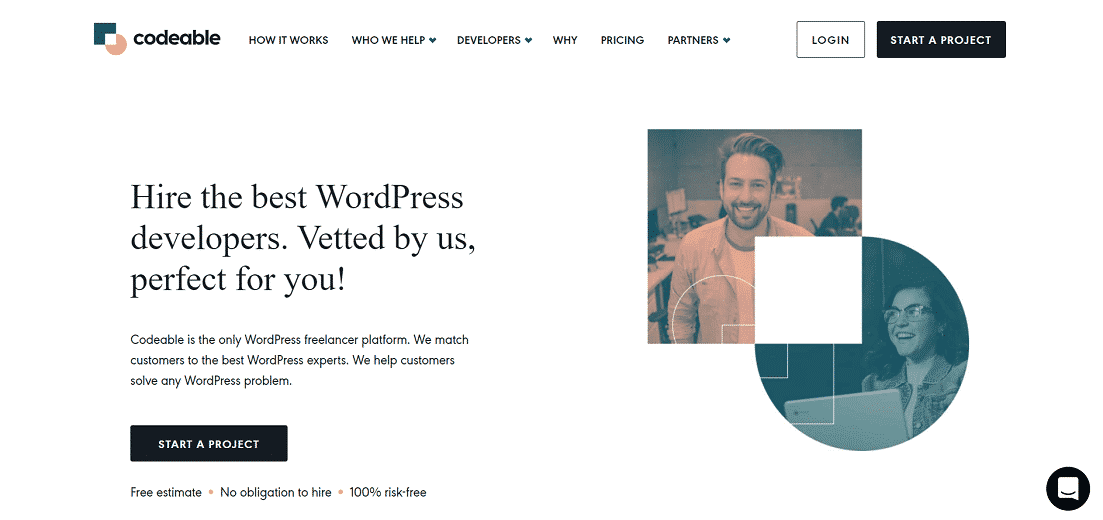 It is one of the best sites like Fiverr as it is full of high-quality professionals that can help you with your projects. It is the only WordPress freelance platform that is full of experts on WordPress. They have freelance developers to do anything, whether you want to get the error fixed on your WordPress website or want to get a custom plugin developed.
You can get candidates that work on every aspect of WordPress, such as its deigning, performance, themes, custom development & integration, e-commerce development, and much more.
Pros:
The best part about Codeable is that they have a full refund policy if you don't like the work delivered by the worker.
You get round-the-clock assistance from their support team. You can contact them through email or phone.
They do a background check of all the WordPress applicants. They check various parameters such as their English, experience in freelancing, technical knowledge (if any), and communication.
Cons:
Limited to WordPress only.
Also Read: 55 Best Online Side Hustles Ideas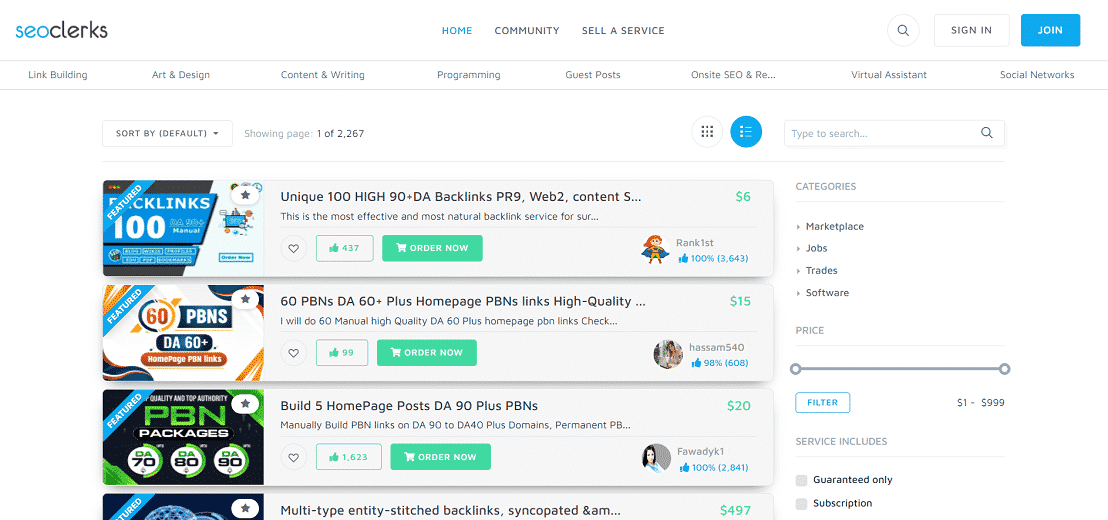 It is a perfect platform for you if you are looking for a job specifically in the field of SEO, online marketing, website development, article writing, mobile app development, and eBook ghostwriting. Jordan Delozier founded this platform in 2011, and since then, many freelancers and businesses have joined it as they offer numerous kinds of jobs in the SEO niche.
You would be amazed to know that, other than hiring, they also aid the businesses in buying social media followers, backlinks for your website, and link wheels. The cost of these services might vary as per your requirement, but it can go up to several hundred dollars.
Pros:
SEO clerk lets you filter jobs by price, level, experience, skillset, etc.
It offers a seamless method for reviewing employers and freelancers.
The best part is that they send you emails about jobs that are related to the job that you have applied for.
To make it easier for buyers, they include the number of likes received from past transactions on the profiles and job listings.
It automatically ranks you into different user levels based on merit. You earn level upgrades through the quality of your work and by making timely deliveries.
Cons:
It is restricted to offering SEO services and jobs.
These were some of the best Fiverr alternatives that you can opt for, as here you can get the best talent and amazing jobs without any effort. Most of them are free and you can choose them as per your skill set and requirements.