Whenever you think about establishing a small business, opening a Current Bank Account is one of the vital requirements. There are numerous public and private banks offering lots of current accounts, which makes it quite challenging to choose the best current bank account for small businesses in India.
For an aspiring entrepreneur or any other small business, these current bank account plays an important role in the development of business. It's vital to choose the best current account to ensure that your business receives new heights of excellence. Let's find out the best current account for you by discussing all the necessary factors that you need to consider before choosing any current account benefits.
Any entrepreneur, if asked to choose a current account, will surely choose the bank account offering maximum interest, but this is the only time where they commit a mistake while choosing the most suitable bank account. The fact is that the current bank account doesn't offer any interest rate. Considering the interest rate is of no use at the time of choosing an interest rate. We need to bother more about many other factors other than the interest rate.
In the way to choose the best current account, at first, we need to know what current account is and what are its features, advantages, and disadvantages. Many of the small businessmen fail to understand what the current account is and thus usually end up choosing the wrong current account.
There are various types of bank accounts offered by banks. Current saving is one of the most popular bank accounts where you can deposit your money, but it offers the feature to do a massive number of transactions in a day, unlike a savings account. Due to a high number of transaction facility, it serves as a boon for a small business or entrepreneur. Unlike a savings account, it doesn't provide an increased amount for your investment by offering interest.
How to open a current bank account?
The process of opening a current bank account can be divided into 5 phases:
Choosing A Bank: You must start by Choosing the bank. Going for a bank that offers the best customer service and transaction facilities. However, you can evaluate the bank based on its net banking facilities, loan and overdraft facilities, etc.
Choose A Current Bank Account: Banks offer a wide range of current bank accounts custom planned to suit the needs of various businesses. Choose the type of account that would be best for your business. Just to be sure, contact the bank's customer to clear all your doubts.
Visit the Bank's Branch: After you have figure out the type of current account you want to open and shortlisted 2-3 banks, then visit the nearest branch of the bank and collect the account opening form and ask them about their account opening procedure.
Documents Required: You must read the terms and conditions and submit all the required documents along with the application form.
Standard documents required by the banks are:
ID and Address proof of all the partners
Address Proof of the company/firm
Partnership Deed (if its a partnership firm)
Proprietorship (GST Certificate)
PAN Number
Declaration in Form 60 and 61 according to the Income Tax Act
Copy of Business Registration
Certificate of Incorporation
Article of Association
Memorandum of Association.
A cheque for opening the bank account
All set: Finally, after all the paperwork, the bank may or may not ask for a reference who introduced you to the bank, but only if you weren't already a customer. After that, the bank will take the time to process your application, and as soon as its approved, you will receive your Current Account Kit on your communication address.
Opening a current account is extremely easy as almost all the banks across India offer service to open and manage the current account.
Some of the peerless benefits provided by current accounts are:
There is no barrier. You are free to deposit and withdraw funds any time you wish without any prior notice.
It offers the facility to issue direct payments through various means like cheques, demand drafts, or pay orders.
Phone banking and internet banking facilities are provided under the current account; this feature is beneficial for business as it saves lots of time and extra effort.
The current account also offers an overdraft facility, which enables the withdrawal of money beyond the possible limit set by the bank. The interest rate is charged on the overdraft amount borrowed by banks.
The current account provides other extravagant facilities like multi-location fund transfer, free pay order, free inward remittance, and free demand draft services. For the current account, dedicated customer support and personalized services are also offered by some of the prominent banks.
After getting detailed information on current accounts and facilities, we need to consider the factors to choose the best current account out of all available ones.
The factors we need to consider are:
The location of the bank is an important factor to consider. The bank must be easily accessible with easy connectivity to serve the business requirements easily. Along with good location, facilities such as good interrupted ATM networks, internet banking, and mobile banking must be provided by the bank.
Overdraft, the limit is one of the most beneficial features provided by current accounts. Overdraft, limit plays an extremely beneficial role in managing the business. So, before opting for any current account, check the ability of the bank to provide an overdraft with an agreed limit.
The minimum average monthly balance is one of the most important factors. For every business and entrepreneur at the initial stage, the money required for input is more. To prevent yourself from getting extra burden during the initial stage of your business, try to select an account with least or zero monthly balance requirement.
Before choosing any current account at first, check the service charges applied. These charges are incurred for the demand draft, checkbook, debit card, online, and mobile banking. All these changes together can enlarge the amount charged.
Many banks offer personalized service. This service can assist you to some extent in your business. Before choosing any bank, it should also be kept in mind.
10 Best Current Bank Account For Small Business In India
Based on all the above-mentioned factors, down below is the list of 10 best current bank accounts:
1.ICICI Bank Current Account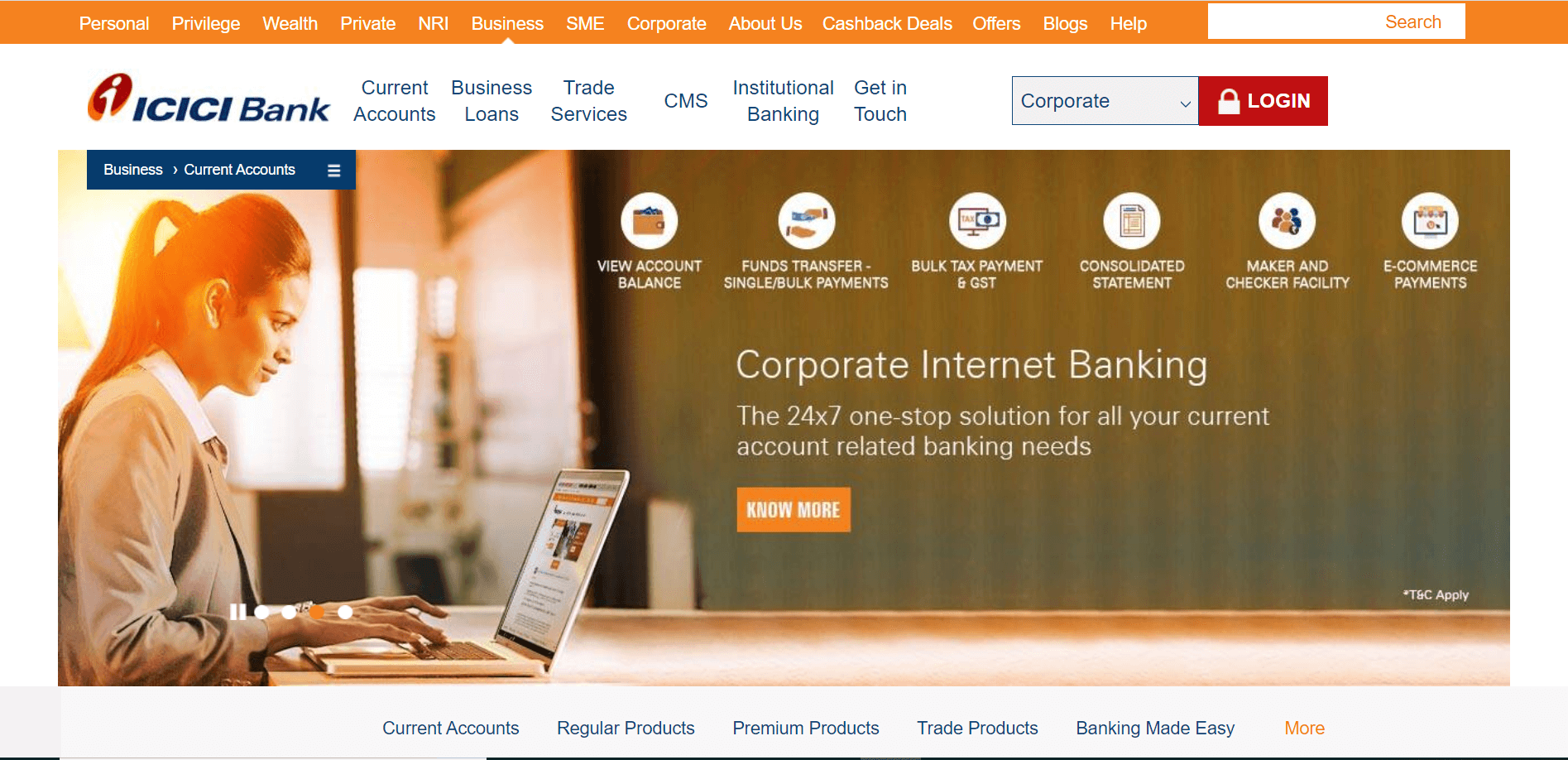 The bank provides many current accounts exclusively for new business like New Startup Current Account, Subhaarambh Current Account, Small Business Account, and Roaming Current Account is offered.
It offers the benefit of zero balance for the first six months, and afterward, INR 25000 is required as a minimum balance. Dedicated Forex Service and advisory provide personalized service. Free cash deposit up to 12 times along with free RTGS, NEFT, cheque book, and mobile and internet banking services.
Accounts Types
Regular Current Account
New Startup Current Account
Subhaarambh Current Account
Smart Business Account
Smart Business Account – Gold
Roaming Current Account – Gold
Roaming Current Account Standard
​ 
Facts:
The bank offers startup specific account to help with registration and networking
Across the country ICICI Bank has 4,882 branches.
Apply Now
2.HDFC Bank Current Account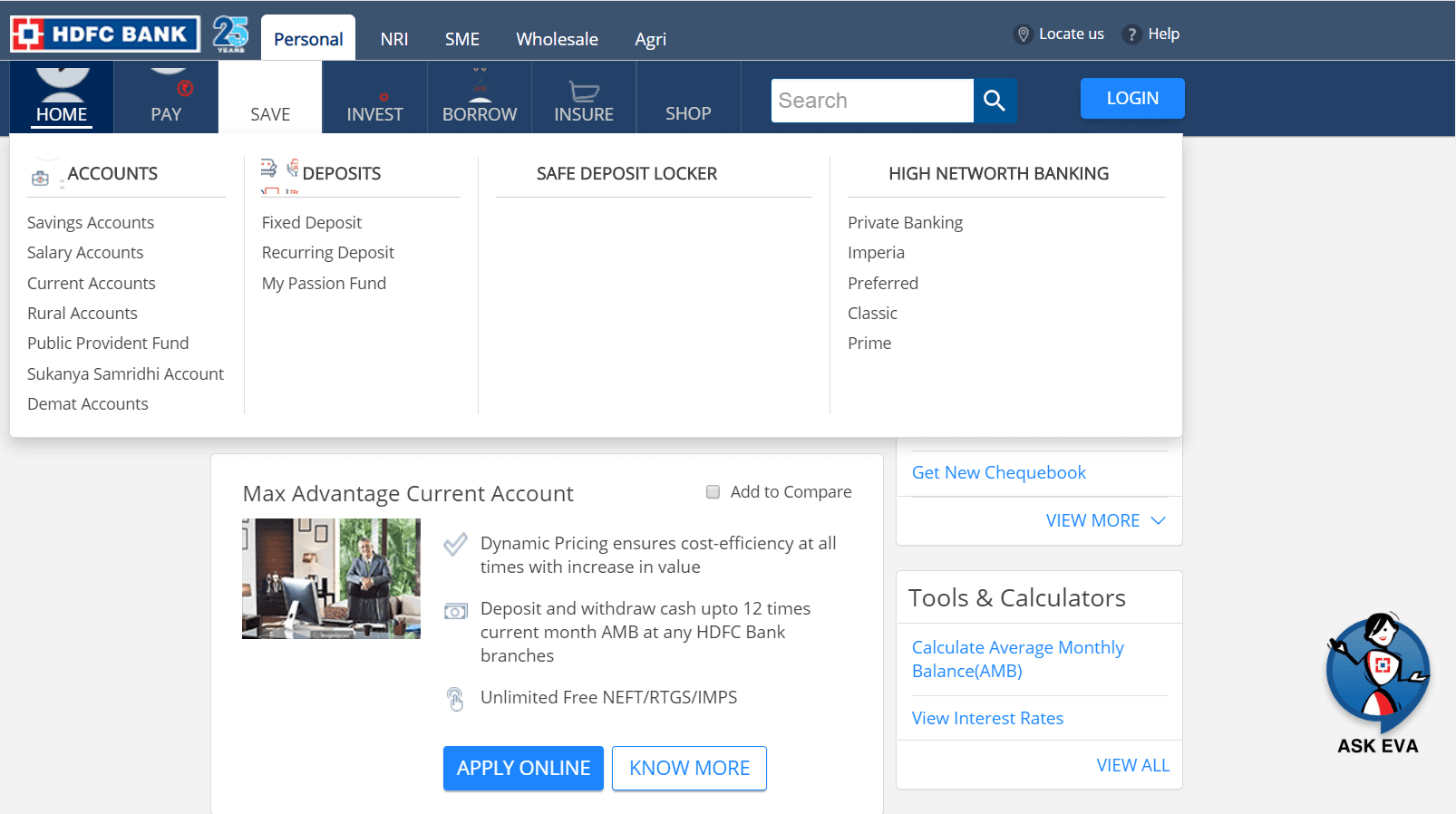 It offers lots of current account options like Ultima Current Account, Apex Current Account, Max Current Account, Plus Current Account, Premium Current Account, and Smart Up solution account.
You are free to select plans ranging from zero balance to any amount according to your preference. Advisory services,co-working space, and digital marketing are its additional services. Along with these additional facilities, free RTGS, NEFT, check collection, and payment services are provided by them.
Account Types
Ultima Current Account
Supreme Current Account
Apex Current Account
EZEE Current Account
Max Current Account
Agri Current Account
Plus Current Account
Current Account for Hospitals and Nursing Homes
Trade Current Account
Current Account for Professionals
Premium Current Account
Merchant Advantage Plus Current Account
Regular Current Account
Merchant Advantage Current Account
Flexi Current Account
Institutional Current Account
Smart Up solution for Start Ups
Ascent Current Account
RFC Domestic Current Account
Exchange Earners Foreign Currency (EEFC) Account
E-comm Current Account
Saksham Current Account
​ 
Facts:
Winner of India's Best Bank 2018 by Euromoney Excellence Awards.
Best Private Bank in India by The Banker Global Private Banking Awards
HDFC has more than 15 current bank account options
Apply Now
3.Axis Bank Current Account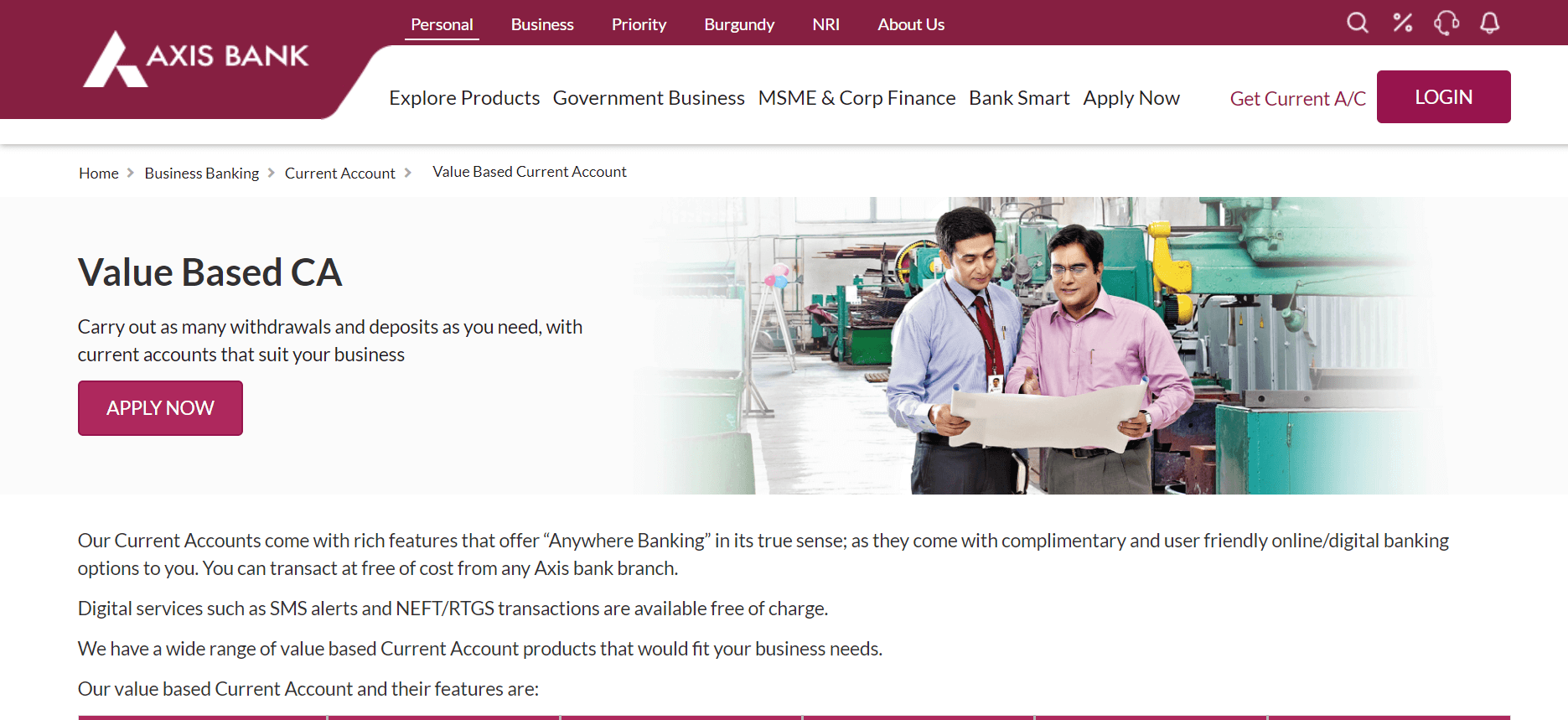 It is the second best-known saving account for small businesses because of its zero balance facility.
Benefits provided by them are 75 free transactions each month. It charges a sum of Rs.1999 as an annual charge, but if your MAB exceeds Rs.50000, no annual fee is charged. It offers a wide network of ATM, and along with it online, and mobile banking.
 Accounts Types
Normal Current Account
Local Current Account
Business Advantage Account
Business Select Account
Business Classic Account
Sweeps Current Account
Business Privilege Account
Channel One Account
Club 50 Current Account
​ 
Facts:
Axis Bank is the third-largest private sector bank in India
Axis Bank offers 7 standard Business Current Accounts as well as industry-specific account.
Apply Now
4.Kotak Mahindra Bank Current Account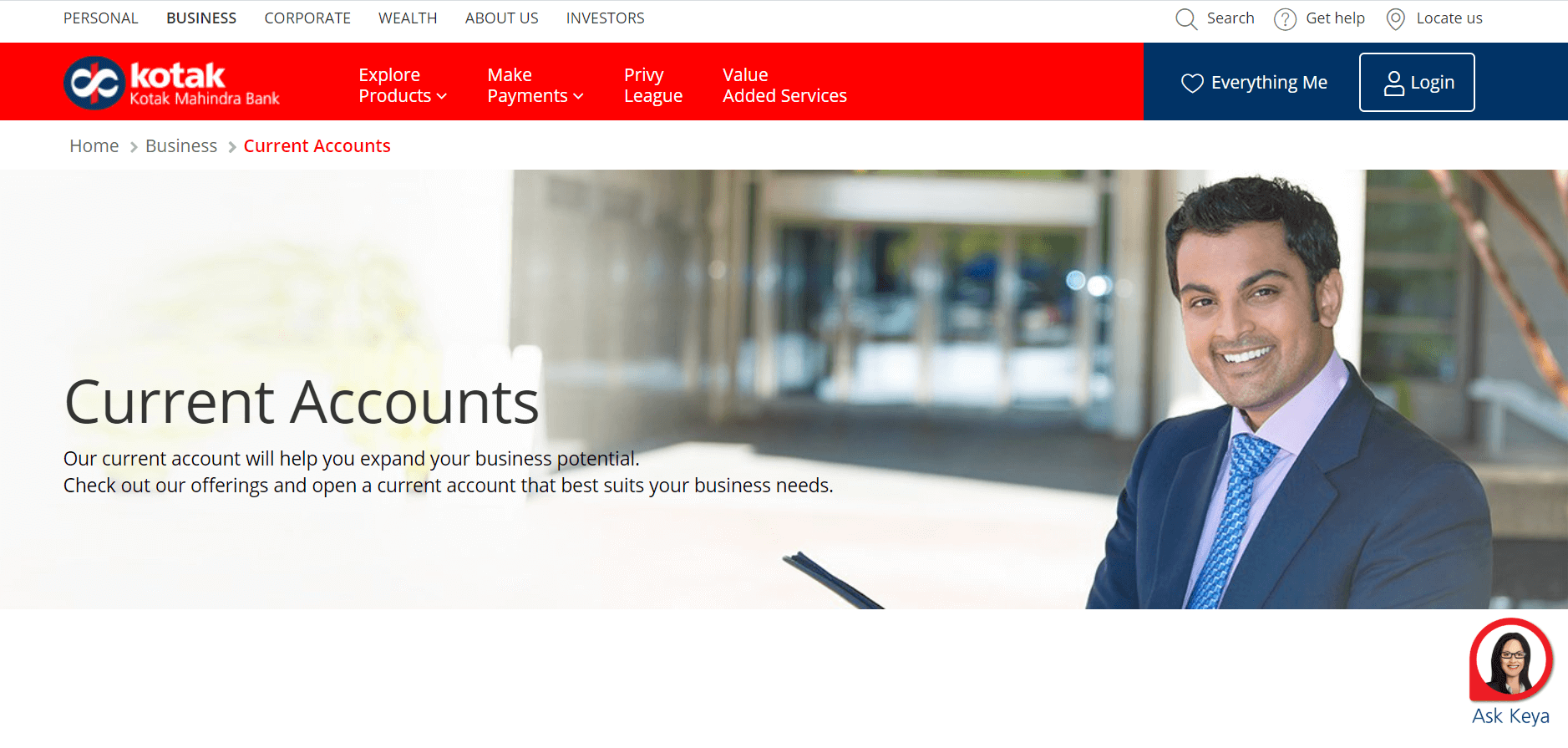 The bank provides many current accounts like Neo, Start-up Regular, Start-Up Premium, Global Trade, and Ace. The Neo current account is one of the most prescribed among all.
Also Read: 20 Tax-Saving Tips For Small Business Owners & Startups
Its minimal quarterly average balance requirement is Rs.10,000. The bank provides better Forex Rates along with free cash deposit, cash withdrawal, cheque payment, collection services, NEFT, REGS, Net banking, and mobile banking.
Account Types
Neo Account
Start Up Regular
Start Up Premium
Global Trade
Ace
Astra 05
Astra 15
Elite
Pro
Edge
​ 
Facts:
ING Vyasa has now partnered with Kotak Mahindra
Kotak Mahindra Bank offers customizable packages for businesses
Apply Now
5.YES Bank Current Account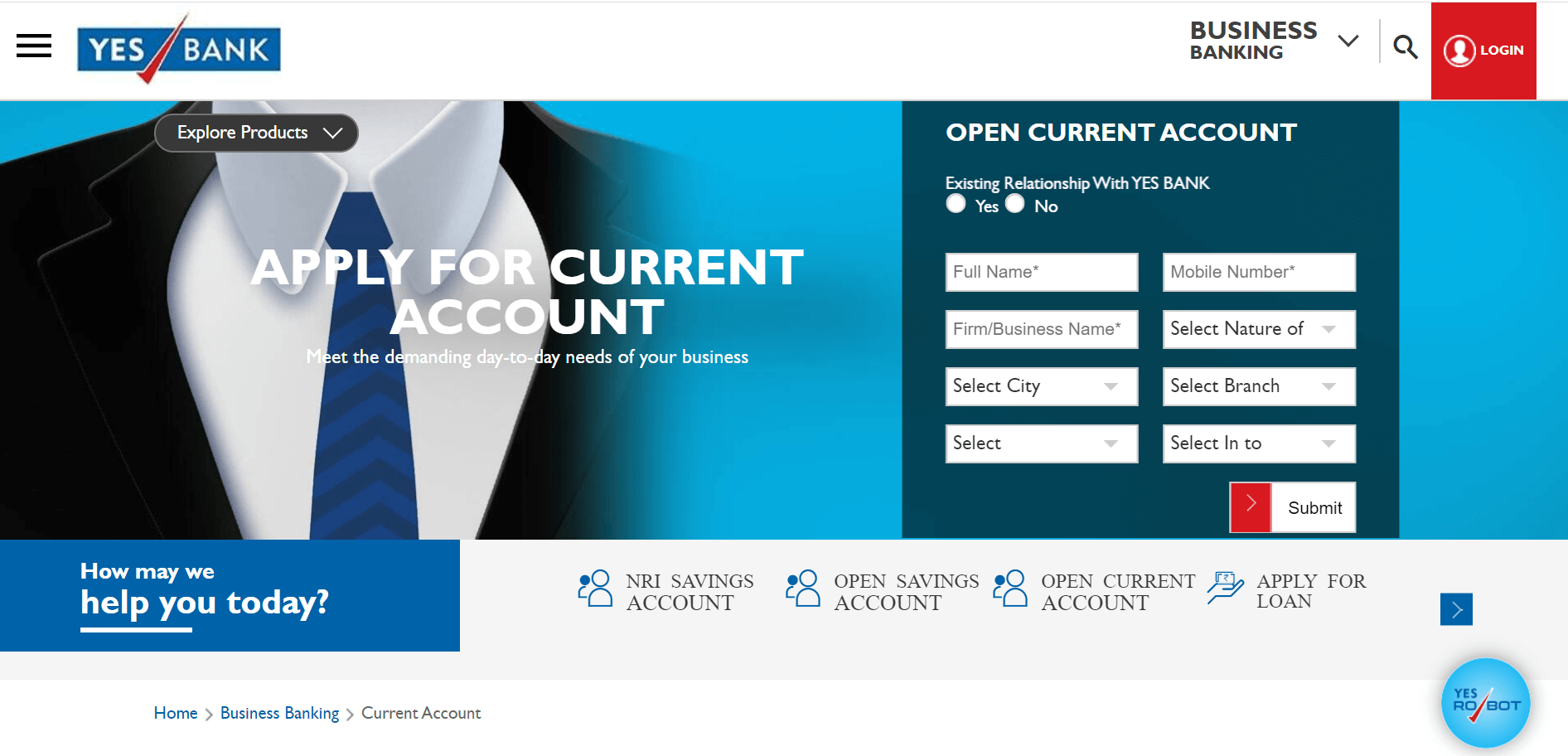 Yes bank offers many current account options like other banks. Some of the prominent current accounts offered by Yes bank are Edge Business, Prime Business, Exclusive Business, and Yes Head-startup account. Yes Head-startup account is most prescribed for start-up and small business.
It doesn't have a minimum balance requirement for the first year. Free facilities like payment and collection through cheque, ATM truncation, net banking, and mobile banking are offered. Value-added special services are provided to new start-up entrepreneurs, and they offer foreign direct investment advisory.
Account Types
Business Value Current Account
Business Growth Current Account
Business Benefit Current Account
Business Edge Current Account
​ 
Facts:
Yes Bank has more than 1,122 branches.
Its equities are listed on the Bombay Stock Exchange and National Stock Exchange of India and have its bonds listed on London Stock Exchange.
Apply Now
6.State Bank of India Current Account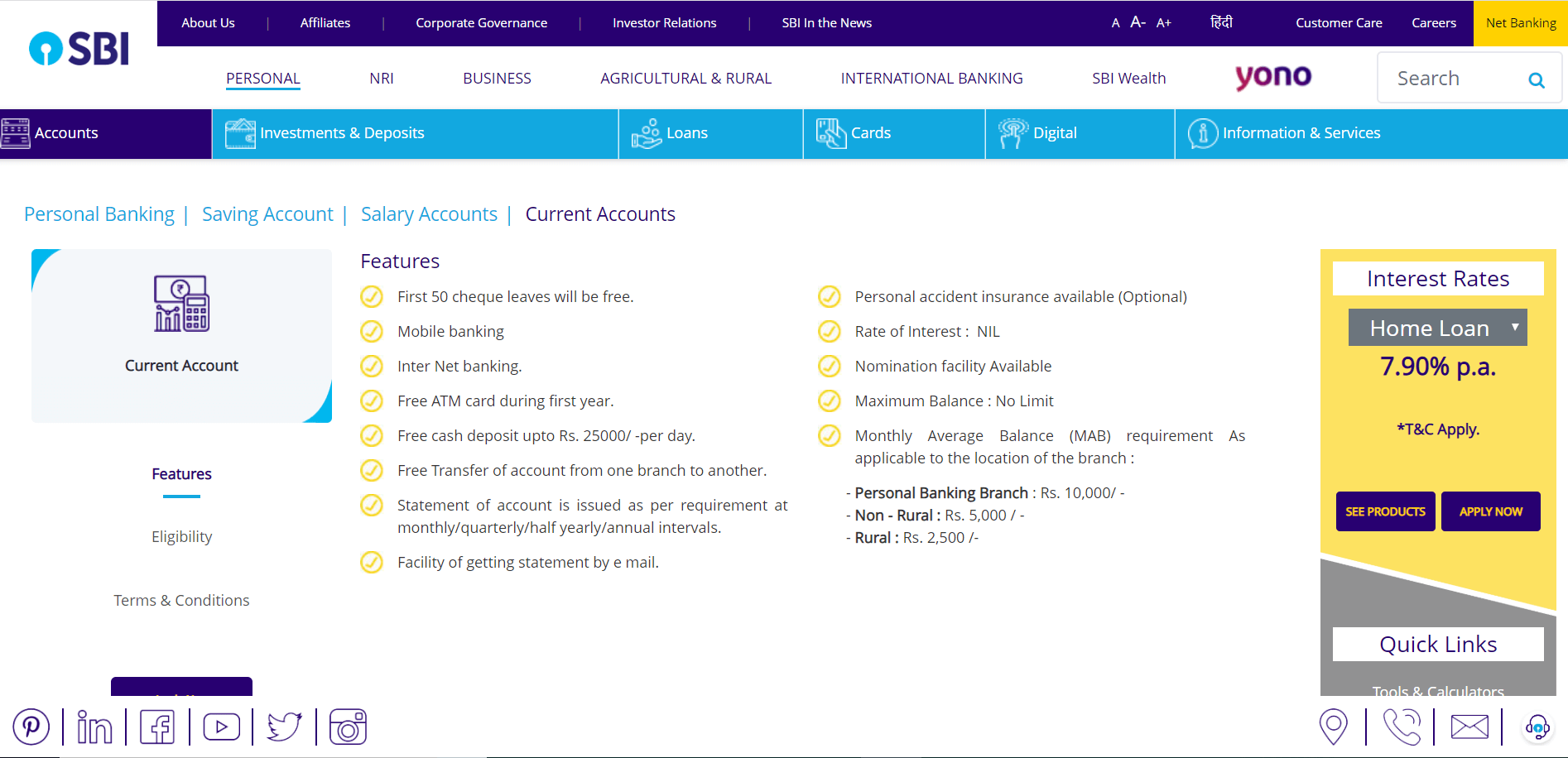 State Bank of India is the most popular government bank in India. In terms of the current account, it is not at the top of preferences like ICICI and HDFC, but its customer support makes it indomitable. Customer support provided by them is really appreciable, and they offer a huge chain of ATM networks, strong online, and mobile banking opportunities along with access to all facilities through easy apps.
Also read: 7 Best SBI Credit Cards In India Review 2020
Account Types
Regular Current Account. Regular Current Account
Gold Current Account. Gold Current Account
Diamond Current Account. Diamond Current Account
Platinum Current Account. Platinum Current Account
Power POS Current Account (With POS Machine)
Surbhi Current Account
Power Jyoti
Power Jyoti Pul Current Account.
​ 
Facts:
In the world's biggest corporations for the year 2018, State Bank of India ranked 216th in the Fortune Global 500.
According to an annual study conducted by Trust Research Advisory, SBI was the 50th most trusted brand in India.
Apply Now
7.Punjab National Bank Current Account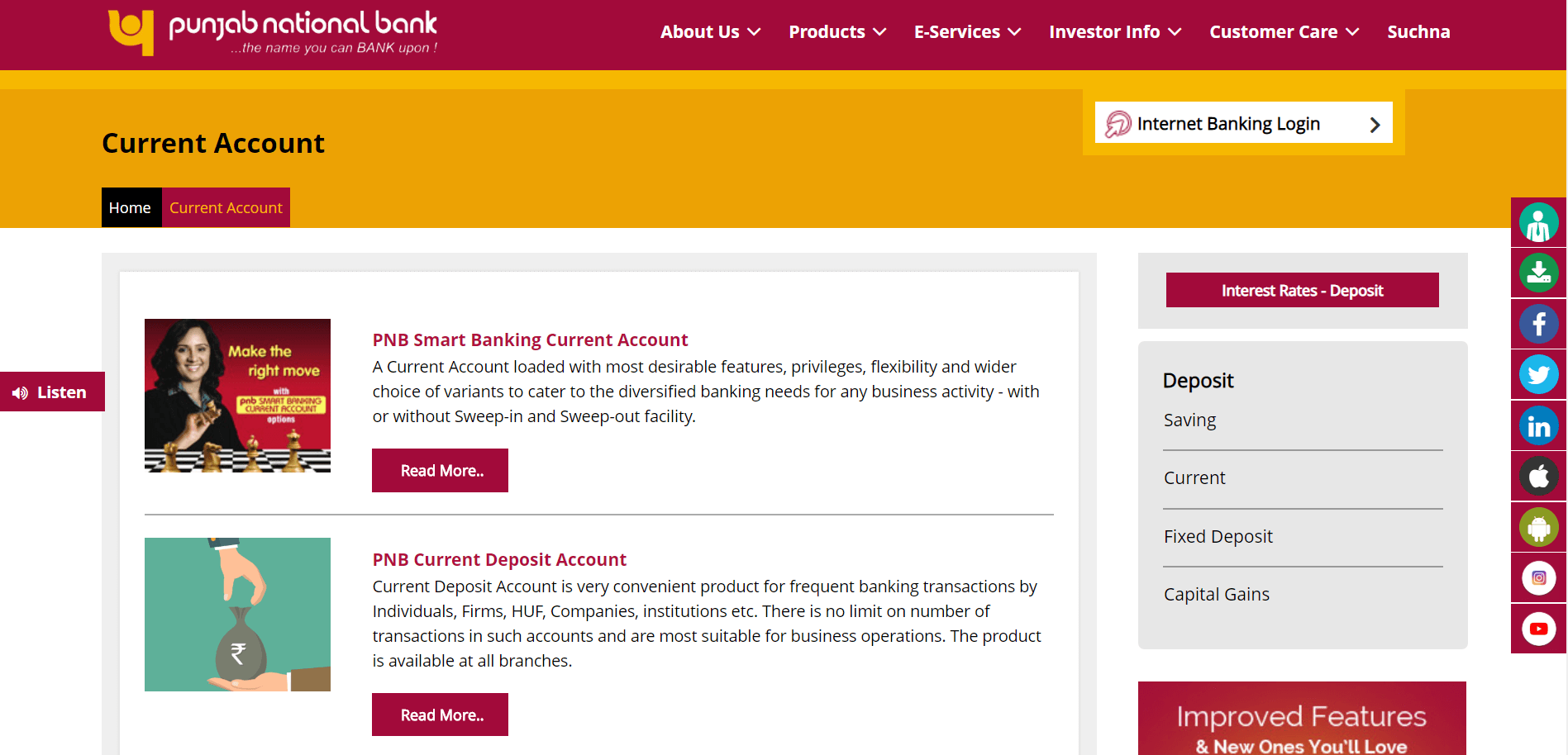 Mainly, two types of current accounts are offered by Punjab National Bank. For a small business, it also seems to be a perfect choice.
It offers the benefit of opening a current account with a minimum deposit of INR 5000. A quarterly average balance starting from INR 1,00,000 is required. It also offers unlimited transactions up to an availed limit along with a wide network to access through ATM, online, and mobile banking.
Account Types
PNB Smart Banking Current Account.
PNB Current Deposit Account.
​ 
Facts:
PNB established its first branch in India in the 1900s.
In May 2013, PNB ranked #717 in the Forbes Global 2000.
Apply Now
8.Induslnd Bank Current Account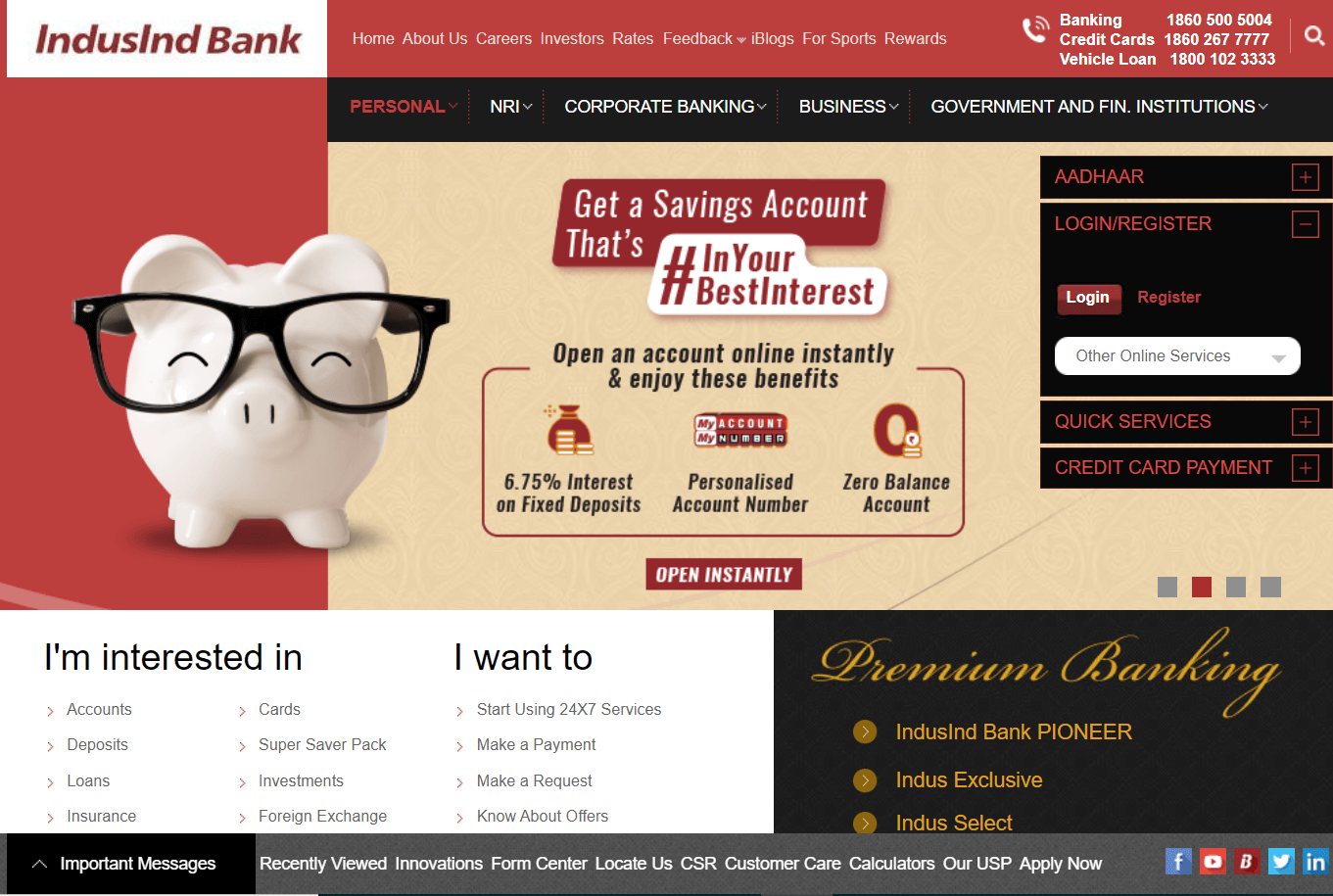 For opening a current account, Induslnd bank is also a good option. It offers a wide range of current accounts with specific criteria. Usually, the current account under Indus Edge Account is mostly preferred and recommended.
Account Types
Indus Infotech Current Account
Indus Textile Current Account
Indus Grain Merchant Flexi
Indus Silver current account
Indus Gold current account
Indus Gold Plus current account
Indus Prestige current account
Exchange Earners Foreign Currency Account
Indus Dollar One – Trade Account
Indus Edge Current Account
Indus EXIM Trade current account
​ 
Facts:
The bank began its operations on 17 April 1994.
IndusInd Bank has more than 1,558 branches, and 2453 ATMs spread across India.
Apply Now
9.RBL Bank Current Account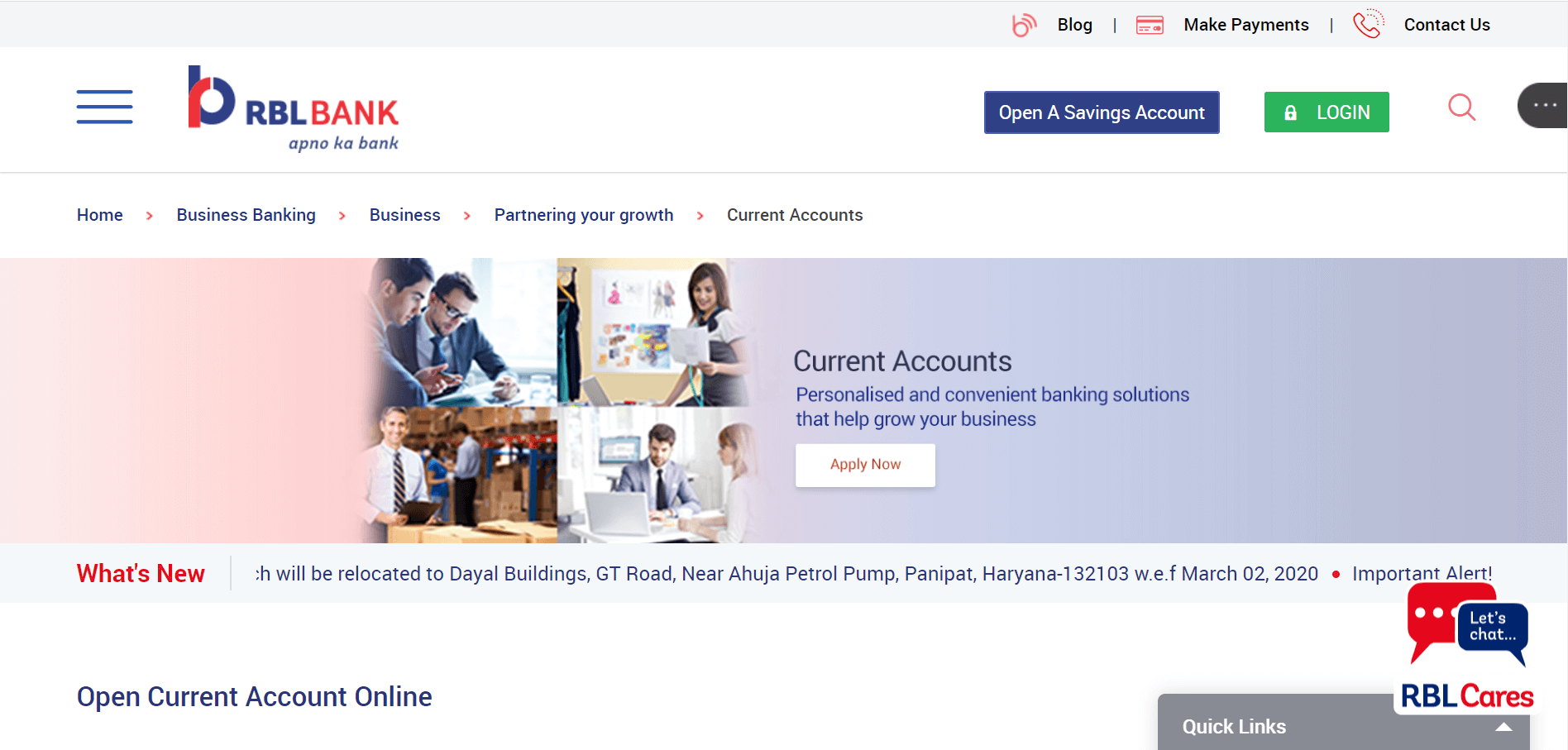 It is an extraordinary account offering peerless facilities. They have a unique way; they organize a hackathon and regular meet-ups for start-ups and collaborate them with accounting software and co-working spaces and accordingly give special discounts for a start-up. Its minimum balance requirement is Rs.20,000, and if you fail to maintain the minimum balance, then an additional charge of Rs. 300 is fined.
Account Types
Traders Current Account
Business Account
Self Employed Professional Current Account
India Start Up Club (ISC) Current Account
Exceed Global Trade Current Account
Exceed Global Extra
Exceed Global Elite
​ 
Facts:
Asiamoney Best Bank Awards 2019 by Euromoney – Best Bank for Microfinance
Money Today Financial Awards – Best Small Bank, Business Today
Apply Now
10.Bank of Baroda Current Account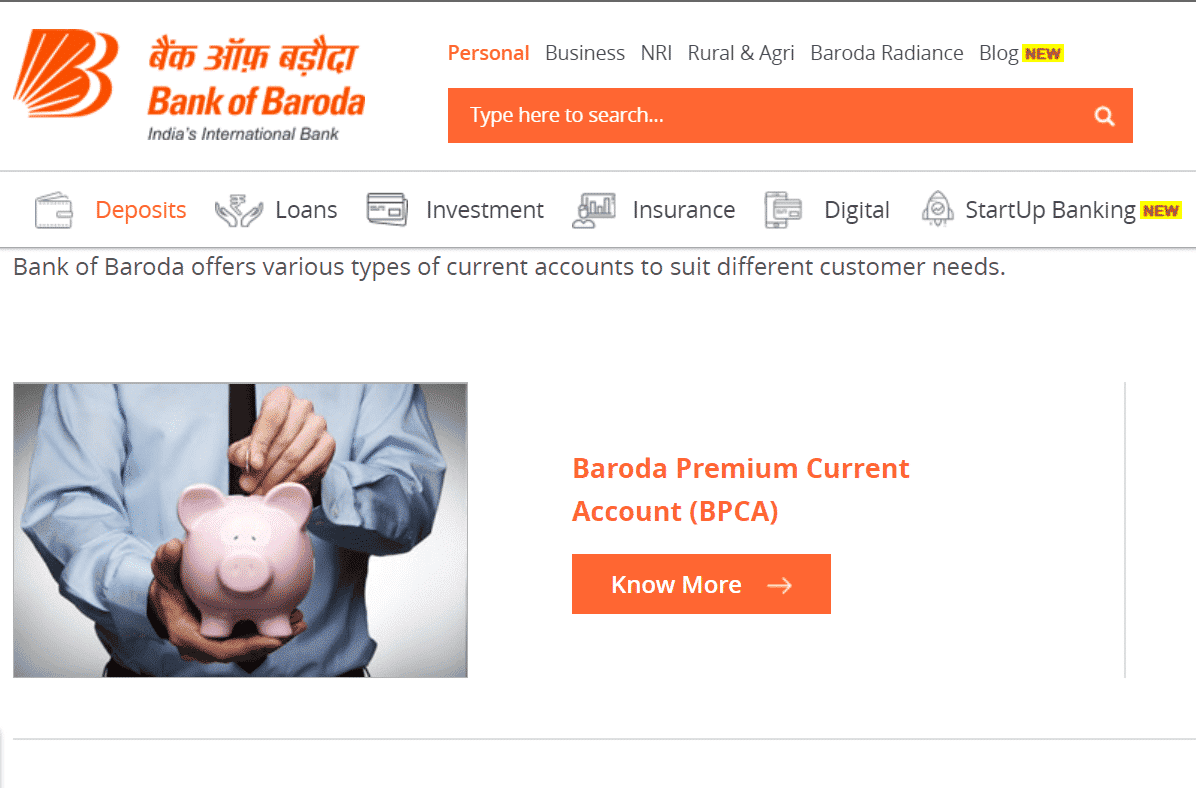 Bank of Baroda offers customized current accounts to meet the requirements of varied customer needs. With Bank of Baroda's current account, you get unlimited daily transactions along with personalized services. These services are most apt for Doctors, consultants, chartered accountants, and businessmen.
Bank of Baroda also offers an overdraft facility which you can use to withdraw money when you need to meet some uncertain capital requirements.
Baroda Small Business Current Account (BSBCA)
Baroda Premium Current Account (BPCA)
Baroda Advantage Current Account (BACA)
Baroda Premium Current Account (BPCAP)
​ 
Facts:
In Polaris Financial Technology Banking Awards 2014 (Overall Public Sector Award in Dun and Bradstreet), BOB won the Global Business Development (Public Sector) & Best Bank.
Under the category of Global Business at the Dun & Bradstreet Banking Awards 2015, BOB won the Best Public Sector Bank Award.
Apply Now
All the current account options mentioned above are made to suit small business and entrepreneur requirements. All of them offer various benefits and facilities. Among all of these, you need to choose the best-suited one for your business to make sure that your business reaches a new height of excellence.