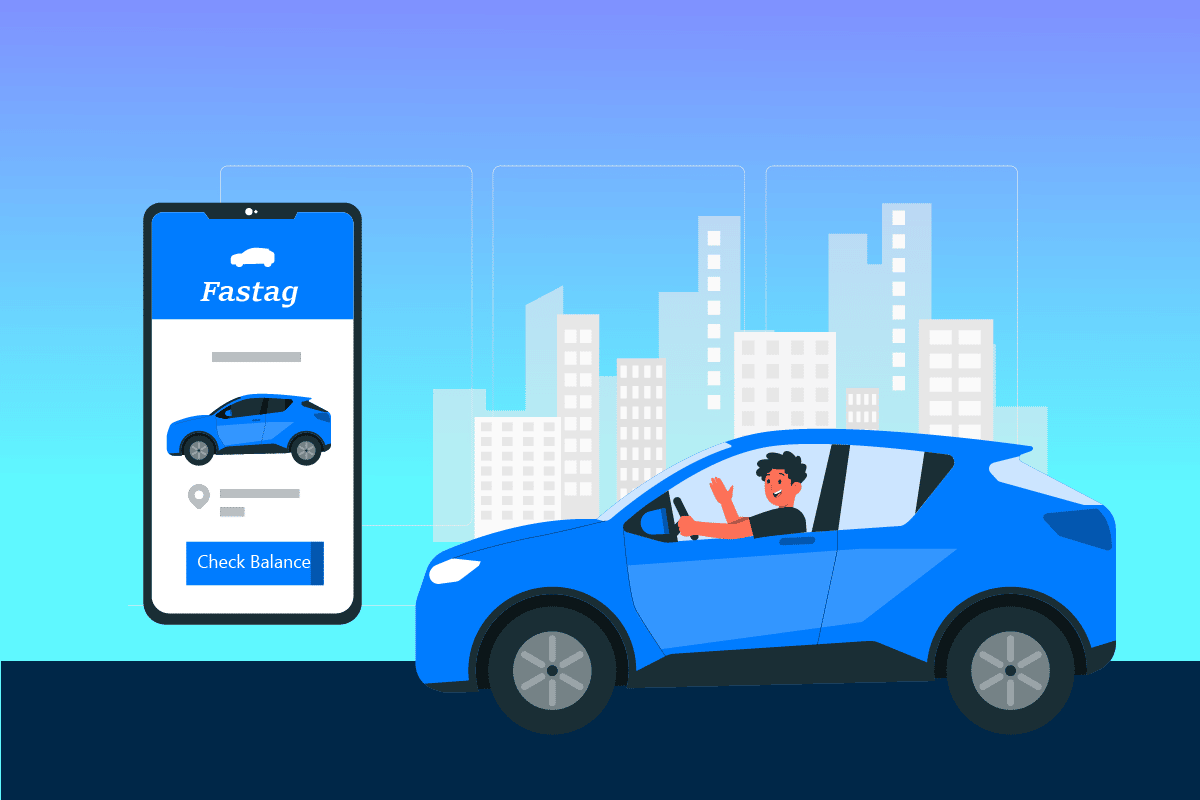 The Ministry of Road Transport and Highways of India, the National Highway Authority of India, and the Indian Highways Company have established My FASTag app to accelerate electronic payment of toll. Before entering a national highway, every vehicle is required to pay a toll. One of the most severe issues that toll plazas cause is traffic congestion since individuals still pay the toll in cash. Toll payment is now quick and straightforward thanks to the government's recent declaration that FASTag will become a required toll payment option. In this article, we will discuss how to check FASTag balance with vehicle number, how to check FASTag balance, FASTag balance check number and how to check FASTag balance in Google Pay.
How to Check FASTag Balance with Vehicle Number?
Banks that offer FASTag services include SBI, ICICI, HDFC, Kotak, IDPI, and IDFC, as well as mobile payment platforms like Paytm, Google Pay, and PhonePe. Recharging FASTags on a regular basis is required due to their prepaid nature and it becomes important to be aware of FASTag balance. But what is FASTag? Let us find out.
What is a FASTag?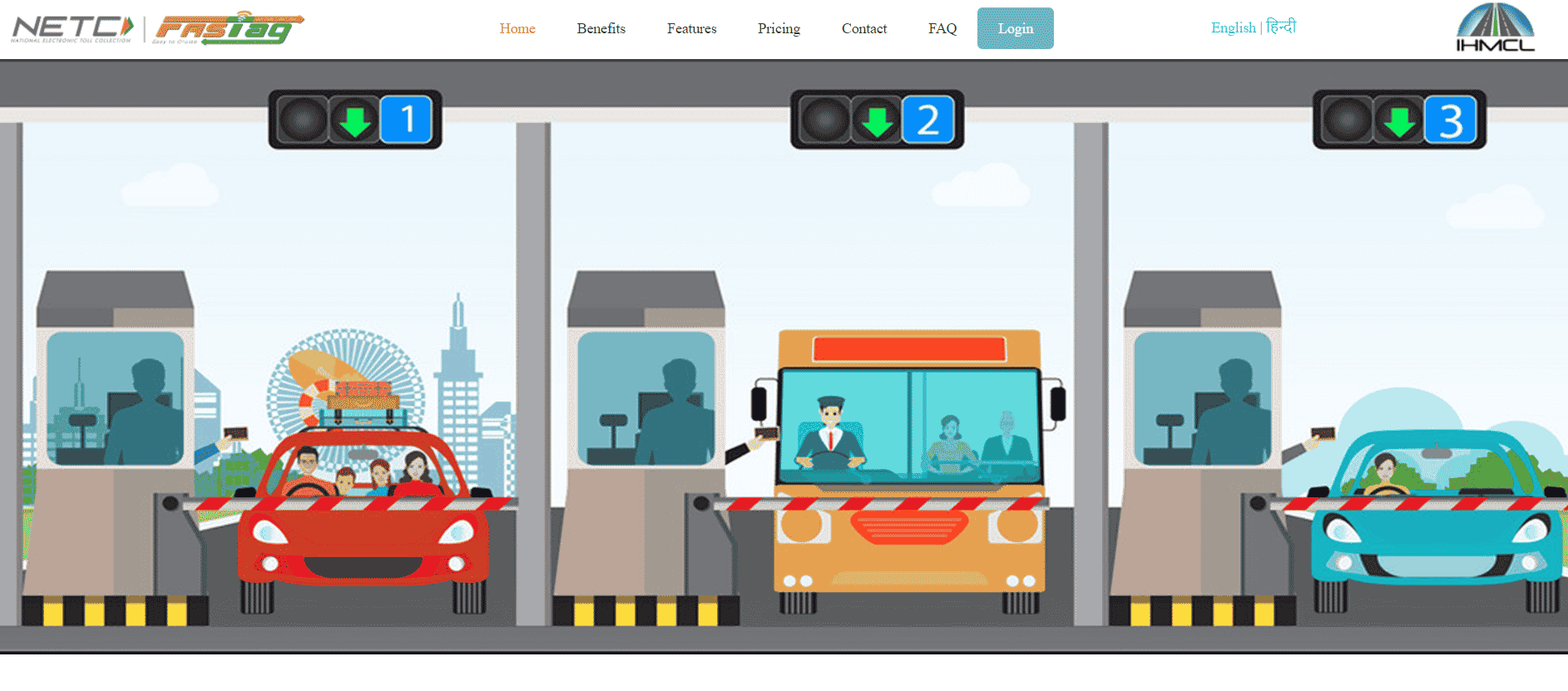 FASTag uses Radio-Frequency Identification (RFID) to automatically deduct toll costs as a vehicle passes through the plaza. As part of its effort to digitize all toll payments, the National Payments Corporation of India (NPCI) created the National Electronic Toll Collection (NETC). The NETC enables vehicle drivers to pay tolls without having to wait in lines. This is done via the use of Radio Frequency Identification (RFID) technology and a device known as the FASTag. After purchasing the FASTag, you must attach it to your vehicle's windscreen. Vehicles passing an Electronic Toll Collection (ETC) lane are scanned for their tag ID by the Toll Plaza system.
Benefits of Using FASTag
FASTag is an update to the old system of toll payment. Before we go over how to check FASTag balance with vehicle number. Here are some of the benefits of this new system.
Save time – You will not have to slow down your car at toll booths. You will save gas and time by continuing to drive through the toll gates.
Avoid traffic jams – There is practically no congestion or traffic jams at toll plazas since traffic does not have to halt or slow down.
Tracks your toll expenditures – FASTag also helps you keep track of all your toll expenses. If you use Paytm to make FASTag payments, you will receive regular in-app alerts and SMS every time you do so.
Removes the complication of cash payments – Toll plazas are common while traveling by car from one city or state to another. You may use FASTag to benefit from electronic payment and a fully hassle-free driving experience throughout your route.
Saves the environment – The FASTag facility reduces paper, gasoline, and car pollution by reducing paper, oil, and gasoline usage.
Long-term validity – A FASTag has a 5-year validity period. This implies that you may keep using your FASTag for the next 5 years without having to re-register it.
Regular Passes – Monthly travel passes are available, and regular passengers can apply to convert their monthly, standard passes into FASTag passes. Corporate and fleet owners may do the same through an online application process.
Documents necessary for NHAI FASTag application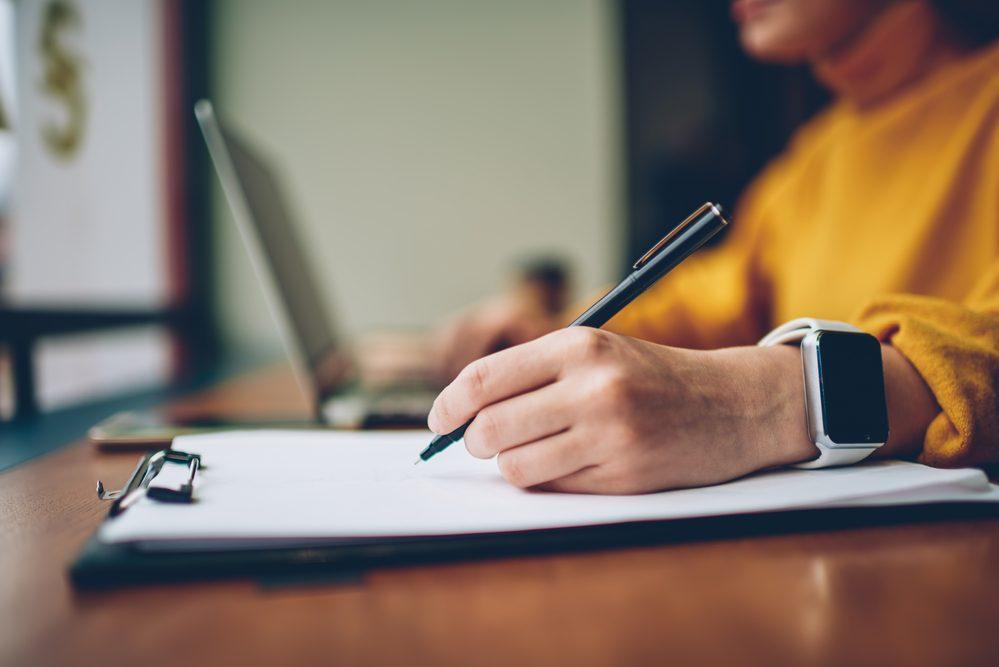 To apply for an NHAI FASTag, you must provide the following documents with your application:
Your passport-sized picture.
KYC documentation (as per the category you fall under).
Vehicle registration certificate.
How to Check FASTag Balance with Vehicle Number
There are numerous ways to check your FASTag balance with a vehicle number. NHAI has released the MyFASTag app, which enables you to perform several FASTag-related actions, such as recharging your FASTag and checking your FASTag balance.
To check the balance in your FASTag with your vehicle number, follow the steps below.
1. To begin, download the MyFASTag app from Google Play Store.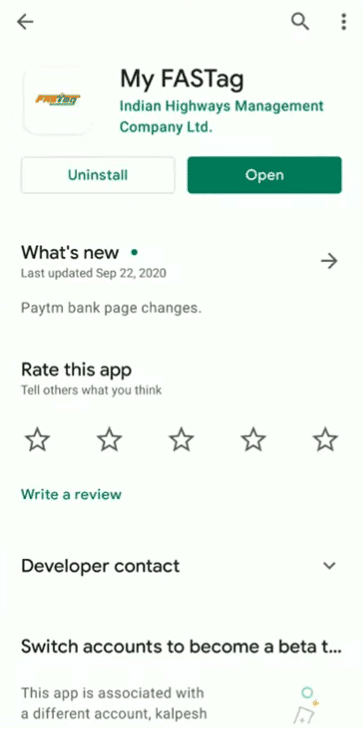 2. Open the app, login using your credentials and tap on Payments option.
3. Tap on Recharge your NHAI Prepaid Wallet option.
4. Enter your registered mobile number and tap on Proceed.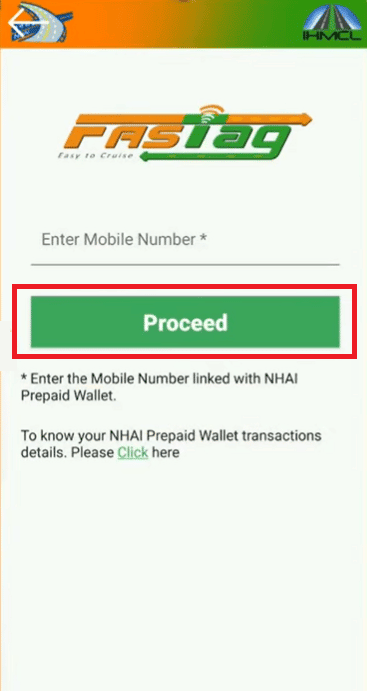 5. You will now receive an OTP, enter that OTP and tap on Submit.
6. Now, you must enter your vehicle number and tap on Submit
7. You can now check the balance of your FASTag connected to your car number under Available Tag/Wallet Balance.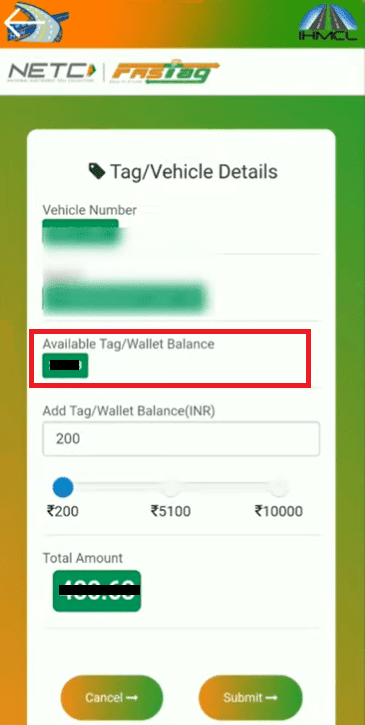 Now you know how to check FASTag balance with vehicle number. There are a lot more methods to check FASTag balance. It is available through websites, applications, SMS, and customer service. Examine the points below to learn about the various approaches. Let's look at FASTag balance check number, and how to check FASTag balance in Google Pay.
FASTag balance check number on the official website
The FASTag official webpage allows customers to check their balance and recharge their cards. You just need sign in and in the home page your account balance will be visible as Tag Balance. NHAI has linked FASTag with 13 banks, a few agencies, and e-wallets to facilitate recharging and other services.
FASTag balance check through SMS
After you apply, you must link your cell phone number to your account. The FASTag balance may now be readily checked. Every time you pass through the NH toll plaza, you will be alerted. You will receive the message on your registered cell phone number, and you will be kept up to date on the FASTag account balance.
FASTag Customer Service Phone Number
If you are a prepaid FASTag user who has registered your mobile number with the National Highways Authority of India's (NHAI) prepaid wallet, you may check your balance by dialing 1300 or +91-8884333331. This is available around the clock.
How to Check FASTag Balance in Google Pay
After learning how to check FASTag Balance with vehicle number, let us learn how you can do that using Google Pay. You can use Google Pay to link and replenish your FASTag account. You can also check FASTag balance by using Google Pay by following these steps.
1. Open Google Pay app.
2. Go to Businesses & bills section and select your bank-linked FASTag option.
3. If your account is linked, you can see the balance by tapping on View balance option.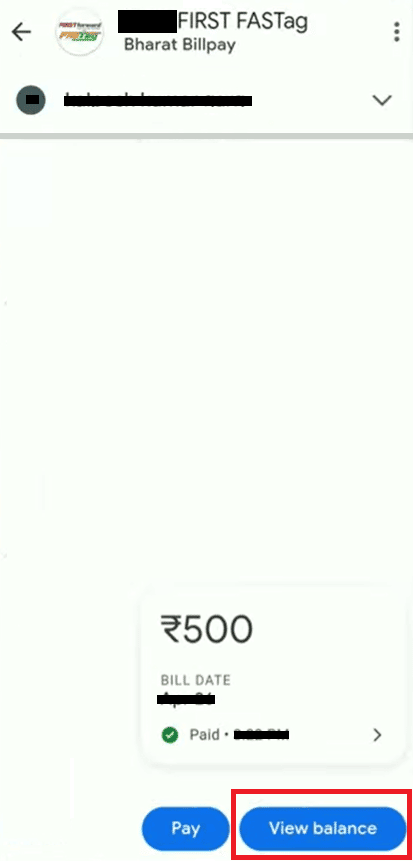 4. If your account is not linked, you will see No accounts linked tab at the top.
5. Tap on No accounts linked and then tap on Link account option.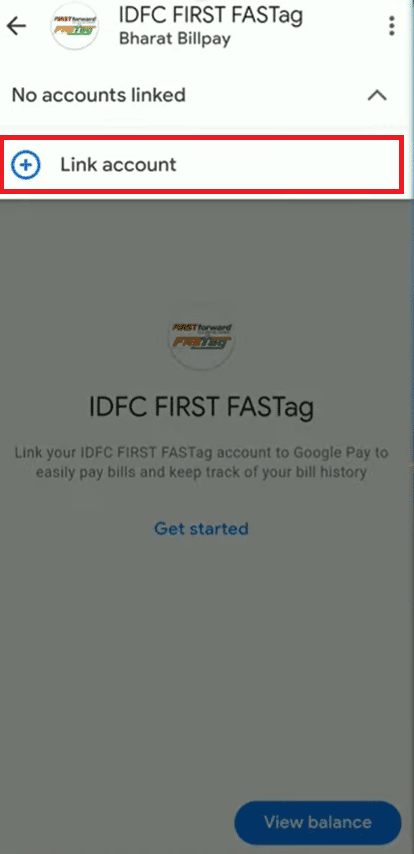 6. Enter your vehicle number and tap on Link account option.
7. After your account is linked you will be able to see your account balance as shown in step 3.
Also Read: How to pay Credit Card Bill by another Credit Card?

Is it Required to have FASTag?
Yes. The government of India has made it necessary for customers to have FASTag installed on their four-wheeler vehicles after February 16, 2021. If the user does not have the FASTag, the toll will be doubled.
What if you don't have your Vehicle's FASTag?
If you do not have a FASTag, you must pay double the toll price at each toll plaza you pass through.
If you utilize FASTag, you may drive past toll plazas and the sticker will be scanned, deducting the toll amounts automatically. This enables contactless transactions and saves time and petrol. It will become mandatory on national highways sooner or later. While some people are concerned about technological failures like scanning errors and improper deductions, the government is gradually but steadily updating the system.
We hope you now understand the complete process of how to check FASTag balance with Vehicle Number, how to check FASTag balance, FASTag balance check number and how to check FASTag balance in Google Pay.