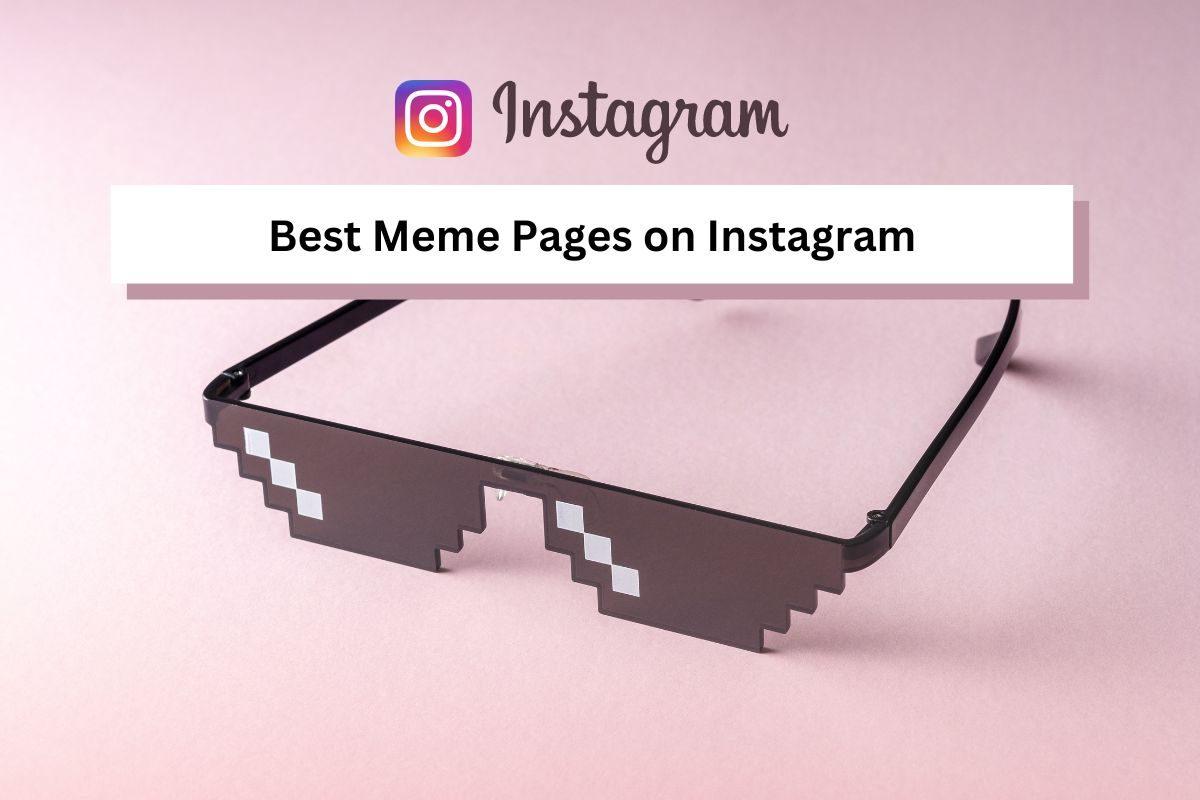 Memes have become trending content on Instagram. The best part is that memes relate to general life and everyday issues. It's a new way to connect with friends, family, visitors, and your target audience. Memes are a great way to cheer yourself up when you are all alone. In this article we will present some of the best meme pages on Instagram that will tickle your funny bone.
Why are Memes Popular?
Relatability is one of the most critical features expressed in memes. Some memes are just out of the box, and it takes a next-level IQ to understand the level of humor.
Viral content is the new way to increase followers for any content creator or for anyone who is a meme creator. The more popular the meme creator is, the more it tells about their earnings, views, likes, etc.
There are different types of memes; some are informative, some are based on general life, some are related to highlighting political situations, and many more. There are many best meme pages on Instagram and Best Indian Meme Collection with different content niches, but all of them are hilarious and entertaining.
20 Best Meme Pages on Instagram in India that will Make You Laugh
Meme creators are now integral to the Instagram creator community, and nobody can deny that. Meme creators now have their whole team working with them to handle the new wave and deliver the best content from best meme pages on Instagram possible. Masses are obsessed with Instagram meme accounts. We keep scrolling and scrolling. Let us begin our list.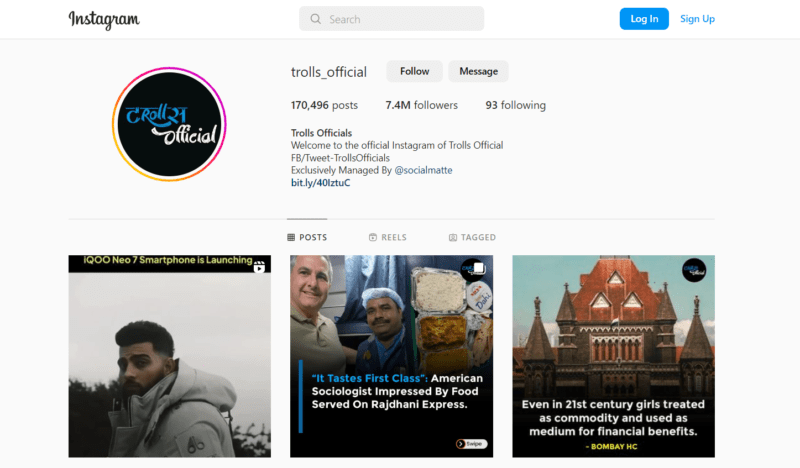 This meme page has 7.3 million followers and is one of the pages we grew up watching. It is among the best meme pages on Instagram in India. This page is administered and managed by the digital and social media marketing agency social matte.
Their posts are mainly created by combining puns with images and creating memes that will take you on a rib-tickling journey. You will be amazed to know that so far, they have posted 168K posts, and all of them are pretty funny and worth watching.
You can also check out this Instagram page; you'll see lots of your friends already following this page. All in all, it is a fun page to follow that can make you laugh every time you see their post.
It seems that the name of this page is inspired by the 90s show "DekhBhaiDekh," similar to this page, it also offers next-level humor. Ommy Patel runs it, and it has a following of 3.3 million and has posted 30.2K posts to date.
This page posts relatable content with a mix of short videos and still pictures with witty subtitles. They post daily content, and every post will make you laugh. You will love their content so much that you will often search for this page specifically for the best medicine in the world, which is laughter.
It has gained popularity because the content is pretty cool, creative, and appealing. They have been working hard to make this page successful by posting humorous stuff consistently. You can follow this page on Instagram for a wonderful time and some crazy laughs.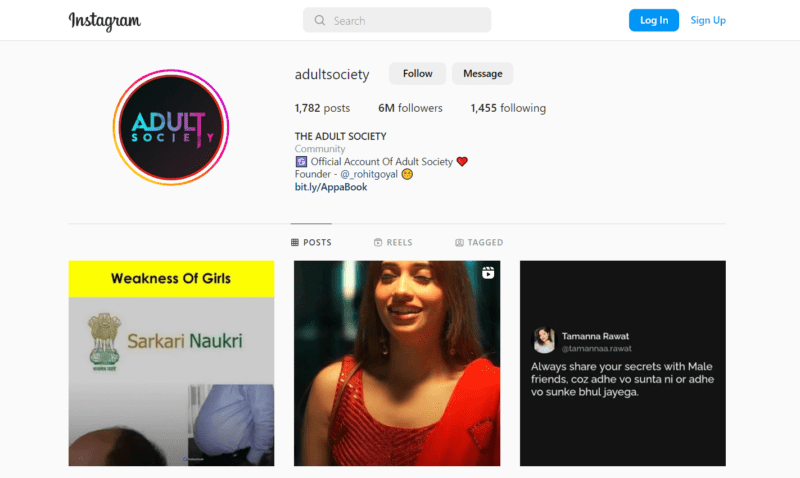 They have a following of over 6 million because of their wonderful work. The amusing videos and pictures with tummy hurt captions are sure to make you find relatability, and you will feel like, yes, this is true, and you've lived through that. This page is owned by Rohit Goyal and the man behind ensuring regular posts and laughter to millions of people.
This meme page is not adult-oriented but is just a meme account, like others on the list. They have one of the best Indian meme collections that comprise memes on different niches starting from marriage to cricket, kids, relationships, and whatnot.
This page has become popular within just a few years, and its followers are increasing daily. People following this page are usually of age from 18 to 25 years.
You will be amazed to know that some Bollywood celebrities follow this account; some names are Rakul Singh, Malaika Arora, B Praak, and Harrdy Sandhu. Warning-following it will make you addicted to it, which is good for your health. This page deserves a spot on this list of best meme pages on Instagram.
This private account page with a following of 3.6 million followers has some unique stuff, and that's the reason for its mass following. The one who created this page is Manpreet Narula, a Delhi Based meme creator who many leading digital brands like Amazon Prime, Hotstar, and Tiktok approached. This page allows you to direct message them and request contribution credit.
This channel started in 2013, and since then, its popularity and followers have grown immensely. The best thing is that they post original and unique videos and memes. They have a huge readership, and the highlighting thing is that they upload sponsored posts which are their primary source of making money.
So, you can also get your products sponsored here for a great response. There is one thing that you will find in every post they upload, and that is they are full of laughter and fun.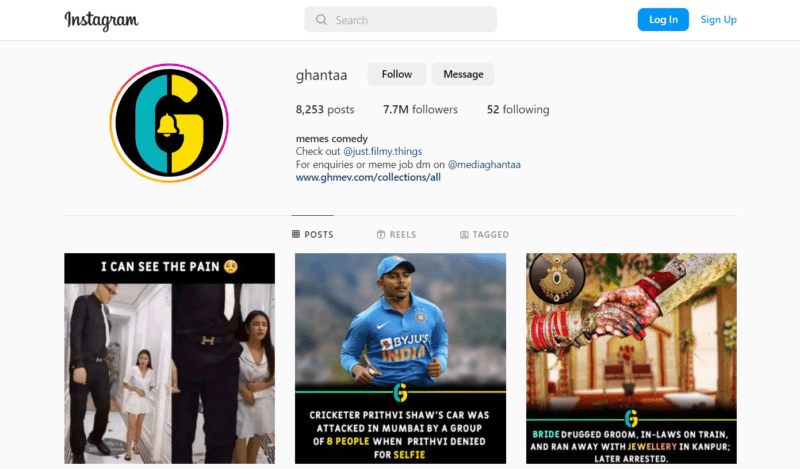 A popular page with original short amusing videos and pictures with relatable content has an astounding 7.6 million Instagram followers, thus making it to the list of best meme pages on Instagram. This is one of the most liked pages on Instagram, as here you will find different kinds of content related to co-workers, education, travel, sports, Bollywood, and much more.
So far, they have posted 7655 posts, and they post 20 to 30 posts every day, which means they have a lot of content to make you laugh.
The earliest meme website on the web leads viewers on a rib-tickling adventure. The page is managed by media and news organizations and has a following of 1.7 million. It offers humorous content you'll want to share with your gang every now and then.
In fact, this website can be referred to as the best desi meme pages on Instagram with best indian meme collection, as they post content related to Indian issues and everyday life.
You will find thousands of jokes and funny videos on this page. It can be said that just like its name, it will give you different laughing colors and keep you entertained.
Also Read: Top 50 Most Subscribed YouTube Channel in India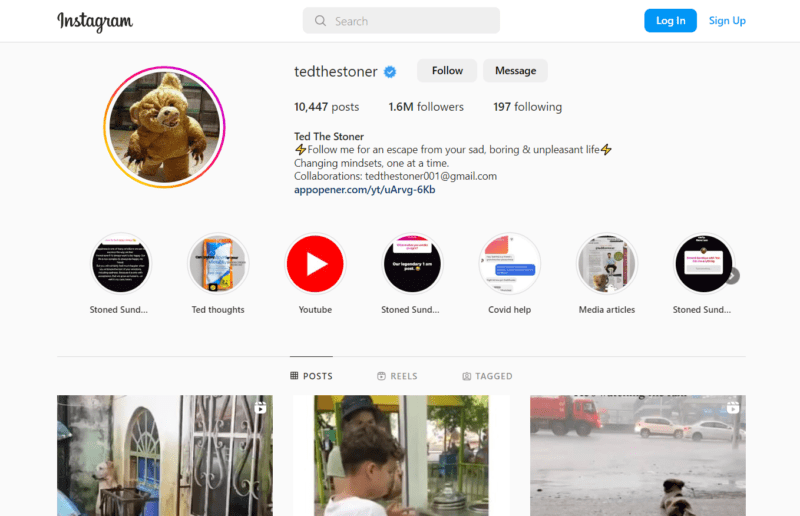 The name behind this page is Jitendra Sharma; it is a verified page with 1.6 million followers and features original meme material. It is a public account, and every day they post around 5 and 10 memes, majorly on animals and children. This page, other than memes, provides awareness of current issues as well.
The best thing about the memes on this page is that they are relatable and are apt to the current scenario. You would love the statement in the bio, "Follow me for an escape from your unhappy, dull & miserable existence," and when you check out this page, you will agree to it.
From the posts, it seems that Jitendra is an animal lover, as many of his posts, he requests and helps people with dog adoption.
It is one of the most successful Indian meme pages; in fact, a lot of celebrities also follow it, making it immensely popular. Some celebrities following this page are Shraddha Kapoor, Virat Kohli, Ileana D Cruz, and many more.
With his humor reflected in carousal posts, this man makes every ordinary situation filled with original viewpoints and still amusing enough that you'll find it relatable every time. It has 457k followers, and so far, he has posted 1500 Indian meme posts that are all interesting and crazy.
From his memes, it can be clearly seen that he has an eye for detail, as you will see that he relates so well with our daily life and day-to-day activities.
He has created some amazing stuff on lockdown, which is a must-watch. His page is definitely one of the best meme pages on Instagram. After checking his posts, all one can say is that he never fails to impress people with his unique memes.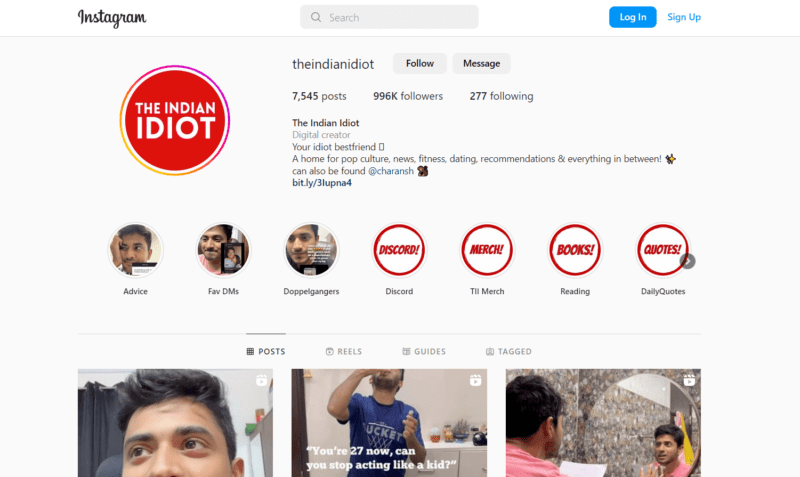 With 996K followers, this has become one of the best Indian meme collection on Instagram pages. It is the country's most popular meme site that brings you to a world full of harsh truths and gives some desi vibes. You will love this page if you're a fan of desi songs, as you will find a lot of content around it.
It has a massive following and has posted 7355 posts so far to share with your buddies and laugh out loud. If you were unaware of this page, check it out and start following it for a wonderful time and some insane laughter.
This page has content related to India's cultural, economic, administrative, and political systems. They also post sponsored posts, which is their major source of earnings. It has 424K followers and 5594 posts so far; within no time, it became one of the best desi meme pages on Instagram.
The reason why a lot of follow this page is that its content is unique and amusing. If you love watching reels, then we are sure that you will get addicted to this page and will scroll it till the end. Do follow and see yourself indulging in it.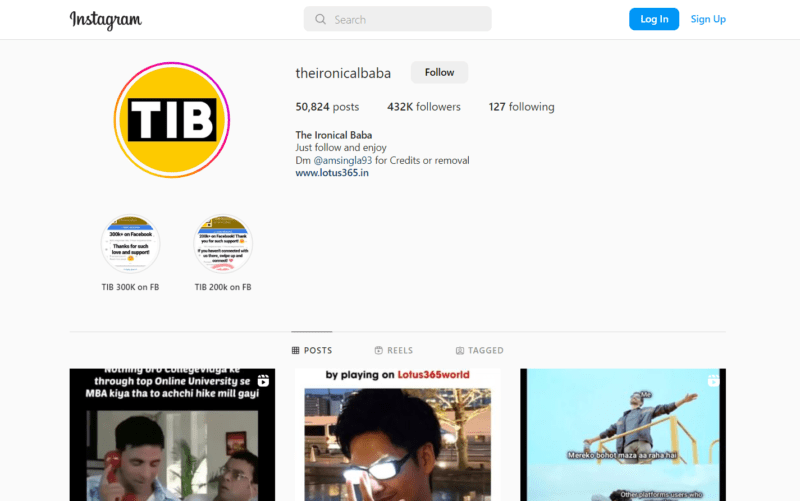 The name in itself is amusing, and going through its page will surprise you. It's an Indian meme page and describes the daily blues of millennials. The founder of the ironical baba meme page is Amit. It is a fantastic Indian meme site that can keep you entertained with its impressive memes and videos.
Their posts are pretty much to the point, which is why they have won so many hearts and have 432K followers. Do check out their incredible content.
The sarcasm is like no other; this meme page is kickass. On this page, you will be able to see amusing videos, animated posts and Indian meme. The memes are posted several times a day.
The content is super-cool and ultra-appealing. Whenever you are feeling bored or gloomy, you should check out this page, as it will make your cheeks ache with laughter.
The memes they post are creative, unique, and full of sarcasm. Thus, if you are not following this page out of the Best Desi Meme Pages On Instagram, you are missing out on a lot of funny content for sure.
Also Read: 18 Cheapest Food Delivery App India to Order Food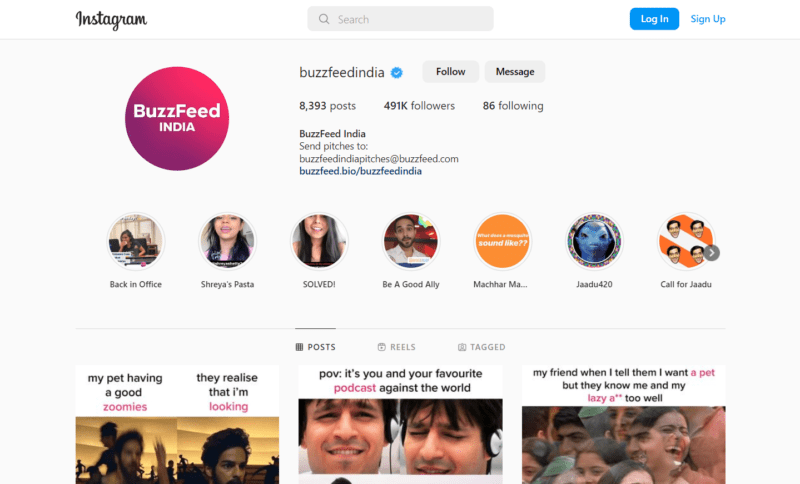 Be there any event, whether celebrations, examinations, or Bollywood, this page feature each event. Furthermore, this page keeps you updated with the latest events. They have one of the best Indian meme collections as they create videos on numerous niches, which can keep you entertained and scroll the page till the end.
The unique thing about their page is upbeat and lively quizzes on different topics, which are pretty interesting to play. Here is an example of how this page differs from others; as you tap on its description, you will see a questionnaire to describe which kind of Samosa you are. Isn't it funny and interesting? They also update or create many memes on politics, which means that by following this page, you will remain updated on current news on politics too.
Are you having a gloomy day? Visit this page and feel the desiness this page offers just like its name. It is one of the best desi meme pages on Instagram, with 524k followers and 4620 posts.
You will find different kinds of posts on their page; all of them are equally good to make your mood good and to keep you laughing. The various categories on which they create memes are politics, recent controversies, athletics, celebrities, and much more.
They create and gather desi memes from all over the internet on a single page to keep you entertained. Being highly relatable, who would say no to a good, tummy-hurting laugh?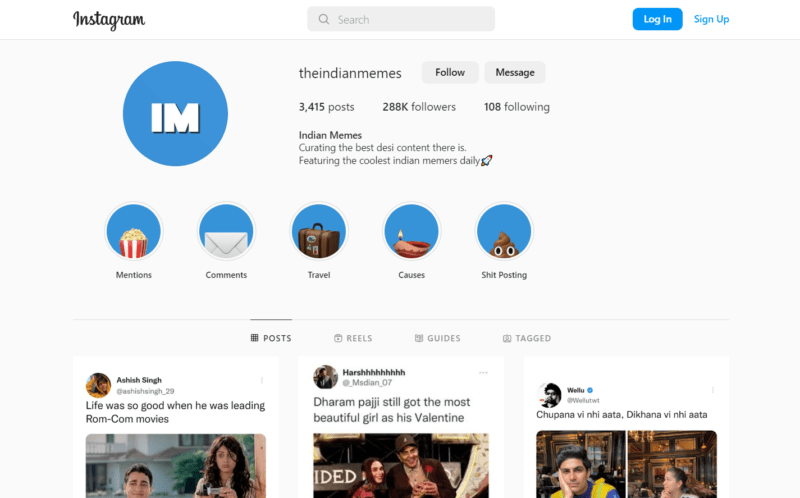 Picking pictures from social media or movie scenes, this page surely knows how to make you giggle, and you would definitely feel like tagging your gang or showing the meme to someone sitting with you so that you can laugh together.
They have 288K followers, and this number is increasing tremendously because of the amazing posts they upload on their Indian meme page. So, if you are not following this page, go check it out, as the content is super-cool and ultra-appealing.
If you want to check out or follow a page where you can get some unique and funny stuff, this is one of the best meme pages on Instagram for you. They have 236K followers, but the content they post will chuckle your way out of monotony. You should follow them for some fantastic content; we are sure you will get addicted to their humorous content.
They make memes, videos, and clips that are amusing and famous among young people.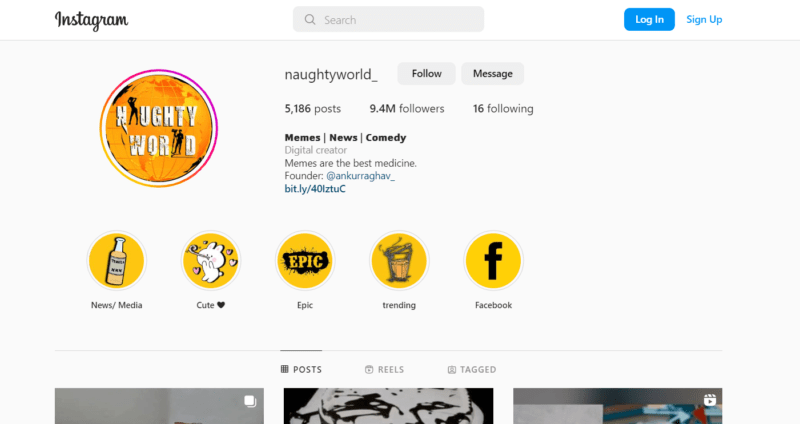 You will be amazed to know that they have 9.3 million followers, and this count is increasing every day. Please don't go by the name, as they post funny and entertaining content only. Young businessman Ankur manages this account and is majorly responsible for providing you with such amazing content. The best thing is that here you will come across content in different niches, such as relationships, sports, kids, and much more.
Along with being humorous, the content is also very engaging and relaxing. Checking their page after a stressful day can make you feel lighter and better. They post 20 to 30 posts daily, so you can also follow their page for some hilarious content.
If you are not following this page, you are missing out on something interesting and engaging. They have 1.1 million followers worldwide, which makes it one of the best Indian meme pages. By just tapping in their username and following them, you will enter into a world full of sarcasm, fun, and entertainment in different niches. They post videos, memes, trolls, videos, and punchlines as well to keep the viewers engaged.
This Indian meme page is owned by Sahil Jaiswal and is the man who ensures the delivery of exciting stuff by posting 10 to 20 posts every day. The best thing is that you can also ask for credit for the content.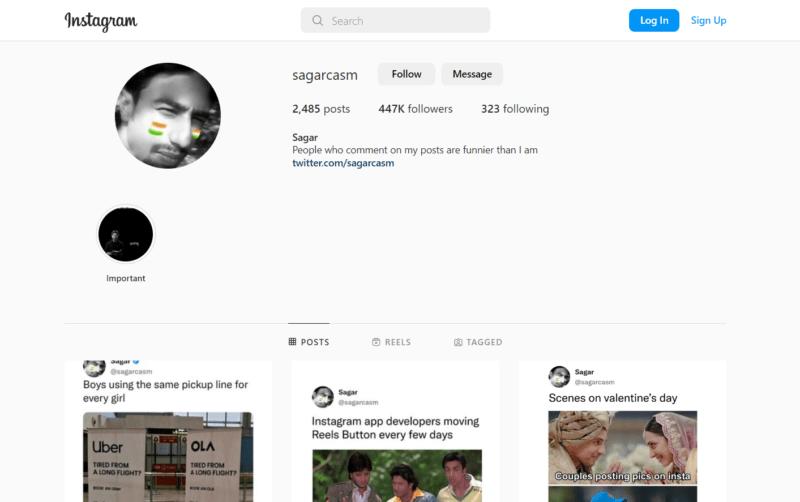 As the name suggests, this page is full of sarcasm and funny stuff. They create the most relatable and to-the-point memes you would not find anywhere on the web. This channel has 447K followers, which is increasing because of the fantastic memes and videos they post. They ensure to post every day to keep the visitors engaged. Their relatable content makes it easier for the audience to connect with their posts.
In fact, this page says that "you are not the only one," which describes that they are directly connected to people and their everyday life. They have posted memes on AP Dhillion's "excuses," which are a must-watch.
This is one of the best meme pages on Instagram with 357K followers, and they have gained this popularity within just a couple of years. You will be able to see different kinds of content on this page related to business, pop culture, sports, celebrities, and much more. Their page is full of funny and exciting memes and videos that will make up for your dull day.
The best thing is that some of the memes will first make you laugh and later let you think and analyze their meaning as well. If you are a pop culture follower, then this page is a must-follow for you as it will help increase your pop culture IQ to a great extent.
These were some of the best meme pages on Instagram; you can follow them for some funny and unique content. Memes have become an essential part of modern social media as, along with being humorous, they are also helpful in creating awareness of what's going on around the world. In fact, a lot of businesses also include and consider meme pages as an essential part of Instagram influencer marketing efforts.