Be it a tiring day at work or a chill Sunday with family and friends, good food is essential to make the day better. But cooking food is a tedious task and this is where food delivery apps come into play. With so many options available, finding the most affordable app can be a daunting task. Luckily, there are several cost-effective options that cater to a wide range of budgets and taste preferences. In this article, we have compiled a list of the cheapest food delivery apps in India, so you can easily pick the best one for yourself. These apps offer a seamless ordering experience and ensure that you can enjoy delicious meals at affordable prices, making them preferable for many food enthusiasts across the country.
18 Cheapest Food Delivery Apps in India to Order Food
We know that ordering something can be costly, thus we tested out a few apps and curated the cheap food delivery app list. These apps will let you enjoy your favorite food in a budget. Let us begin.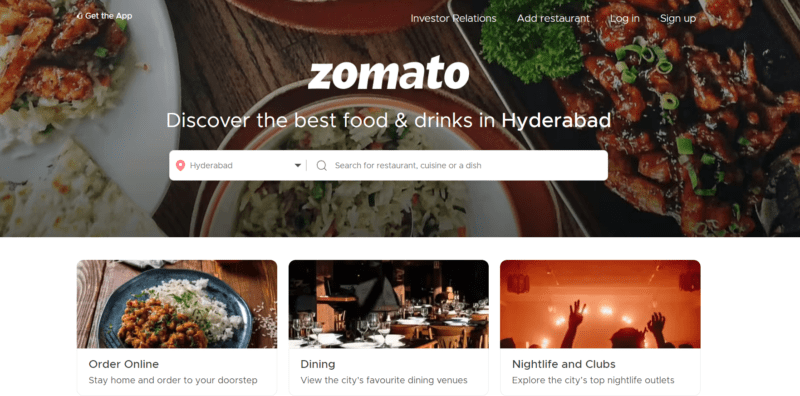 Zomato is one of the best and cheap online food order apps in India. Launched in 2010 by Pankaj Chaddah and Deepinder Goyal, Zomato is one of the fastest growing and cheapest food delivery apps in India. It has its headquarters in Gurgaon, India. Zomato is currently partnered with 1.4 million restaurants to deliver quality food in the comfort of your home. Zomato has a market share of almost 55%. They deliver tasty meals in India, United Arab Emirates, Sri Lanka, Australia, New Zealand, Singapore, Qatar, the United Kingdom, the Philippines, and South Africa.
Why do we recommend it?
Zomato has a curated list of restaurants near you filtered through GPS delivering tempting meals.
It provides the customers with scanned menus from the restaurants.
Genuine customer reviews and ratings help new customers pick out what is actually worth spending money on.
We all are excited to see our food arrive and Zomato boosts that excitement as it provides the feature to live track your order.
Zomato also lets you look through the dining in options with features to book a table, check the vibe of the place, ratings, etc., and also lets you pay at the restaurant using Zomato Pay.
Using the app, you can also purchase groceries and get them delivered right at your home.
Their deal of the day feature and other promo codes and discount coupons have some jaw-dropping offers for a variety of your favorite restaurants.
Zomato launched Zomato Intercity Legends wherein you can order food from the top and legendary places across India and get them delivered to you within 24 hrs. So, if you are in Mumbai, craving rosogulla from Kolkata, you just need to wait for a day.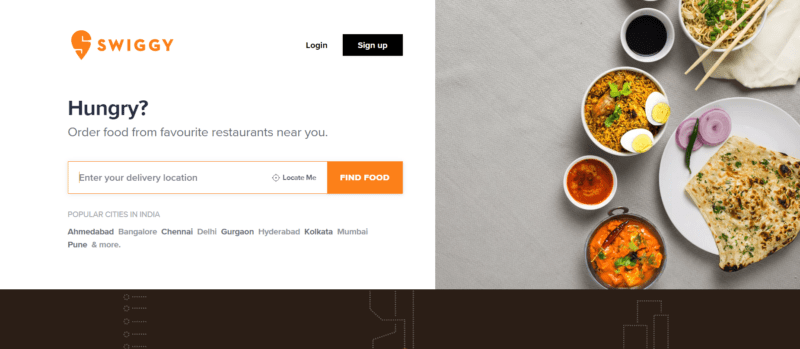 Swiggy is one of the cheapest online food delivery apps in India. It is in tough competition with Zomato for delivering scrumptious meals right to your doorstep. Sriharsha Majety, Nandan Sharma, and Rahul Jaimini launched Swiggy in 2014. It managed to acquire multiple restaurants as partners within the first year in the business. It has its main office in Koramangala, Bangalore. The market Share for Swiggy is close to 50%. They deliver food across 300+ cities in India.
Why do we recommend it?
Swiggy allows customers to search by cuisine, restaurant, or location and check the reviews and ratings before placing the order.
Live-location mapping is an amazing feature for the customers to track the delivery guy.
They introduced a feature called Swiggy Pop, wherein single-serve meals can be ordered at prices as low as Rs. 50. It eliminates the hassle to fulfill the minimum billing condition and eliminates the worry about food waste.
Swiggy has a best-in-town tab that shows you all the best-selling dishes in your locality.
With so many restaurants to choose from, you can find all kinds of foods and cuisines.
Their ventures like Swiggy Instamart for the delivery of groceries and dairy products; and Swiggy Genie for delivery of basically any package from one place to another within the same city.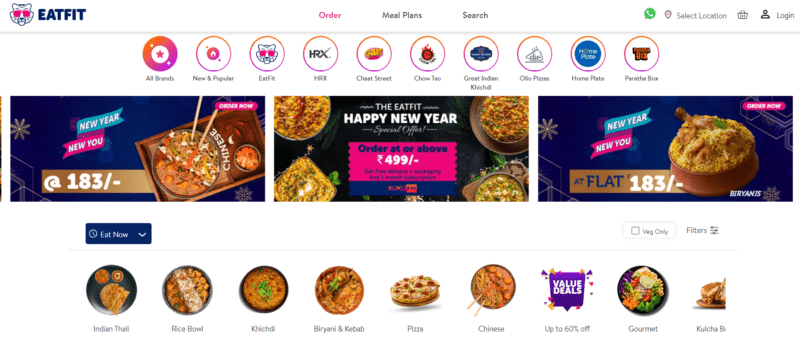 EatFit an initiative by Cult.fit was born out of the need for healthy and hygienic food alternatives. Most of us love to order in but are worried about sacrificing our health and workout routines, thus EatFit offers a vast variety of delicious meals that are homely, and calorie counted. It was started in 2016 by the Cult.fit head office in Bangalore.
Why do we recommend it?
EatFit is known for its healthy food options, customers get baked substitutes for all the unhealthy/ junk food they love.
Meal portions are curated in such a way that they keep your calories in check.
The app lists the calories of each food item next to it.
With EatFit you can order delicious meals even when you are on a diet as they have a variety of diet and keto options to choose from.
They also target the audience by selling homely meals with the tag Ghar ka Khana.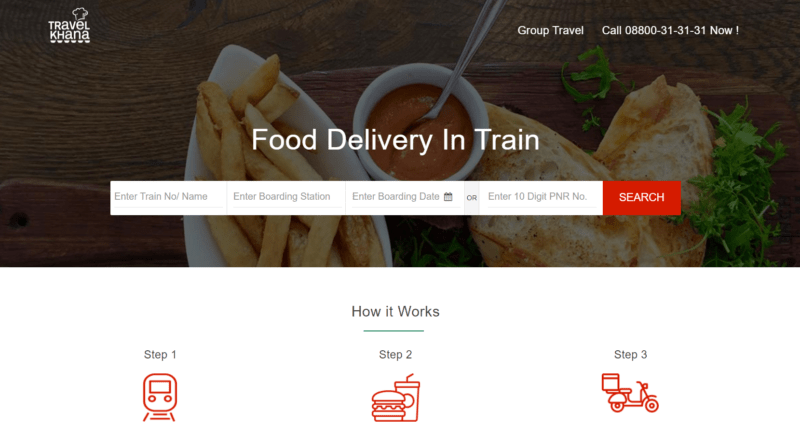 TravelKhana is one of the cheapest online food delivery apps in India founded by Pushpender Singh in the year 2012. It primarily focuses on delivering homely meals to the passengers travelling by the Indian Railways. With its headquarters in New Delhi, they deliver food across 500 cities and serves over 6000 trains.
Why do we recommend it?
TravelKhana gives a break to railway passengers from the not very hygienic food served on the trains.
The food delivered is very affordable so that everyone could easily order and enjoy the food.
They have excellent delivery time, all you need to provide is your PNR number, coach, and seat number to get the delivery.
Their customer service is very helpful.
They deliver food for groups that might need a higher quantity of food.
Mumbai based EatSure, founded in 2020 by Rebel Foods is a comparatively new on the cheap food delivery app list. It is a platform that brings together new upcoming food joints. It works like a food court which is not the case with any other app available.
Why do we recommend it?
EatSure delivers scrumptious food from all the subsidiary brands of Rebel Foods, such as Behrouz Biryani, Ovenstory, Faasos, Homestyle Meals, Sweet Truth, and more.
They run over 200 stringent quality checks on a regular basis for all the QSRs, so as to maintain premium quality while delivering the food.
They send their food in tamper-proof packaging to deliver the food in perfect condition.
They have a Food Court system wherein you can order food from multiple outlets together and pay at once unlike most apps that make you order food at different times if you want it from elsewhere.
They give you free food once you fill your cart with a certain balance.
They also have a reward system, so when you order food, you get awarded points that you can later reimburse for discounts.
The best thing about EatSure is that they give free deliveries. So the users do not have to pay extra even if the food is being delivered from a faraway place.
Also Read: Zomato Affiliate Program with High Payout


Mumbai based EatClub, founded by Anshul Gupta and Amit Raj is one of the membership-based and cheapest food delivery apps in India. It is a platform that has new and upcoming food brands.
Why do we recommend it?
EatClub delivers yummy meals from Mojo Pizza, Box8, Globo, NH1 Bowls, Meatful rolls, etc.
They deliver food from handpicked brands so that the users are saved from the hassle of reviewing each restaurant and the food item.
The customers need to purchase/subscribe to the membership on EatClub app before beginning to place the order.
The membership helps the users get a flat 30% discount on all the orders.
The app provides free delivery and zero charges for packaging.

Box8 is one of the cheapest food delivery apps in India that delivers hassle free and simple meal boxes. Anshul Gupta and Amit Raj founded Box8 in 2012 from Bangalore. They claim to serve around 1 million happy customers every month even with their geographical limitations.
Why do we recommend it?
Box8 provides a variety of meal boxes at affordable price.
You can add dessert and a drink to your meal to have a wholesome experience.
For those who do not get the time to cook and want a homely meal with a little of everything this is the best option available.

GoKhana started by Ankur Marda, Ashish Marballi, Hitesh Sarda in 2018, became a popular hit during the pandemic. It is one of the cheap online food order apps in India. They became popular because of their effective and adaptable work at the time of the lockdown. It is one of the cheapest food delivery apps in India.
Why do we recommend it?
Since GoKhana became a hit during the lockdown, it provides the users with bulk food ordering.
During the pandemic helping others was costing us our health for GoKhana came up with feature wherein you could order food for multiple residents in your society or locale, and they deliver the meals right to each doorstep.
They provide contactless delivery.
They even deliver tea and coffee for a gathering.
Customers can pick what they want beforehand and then select when they want the order to be delivered.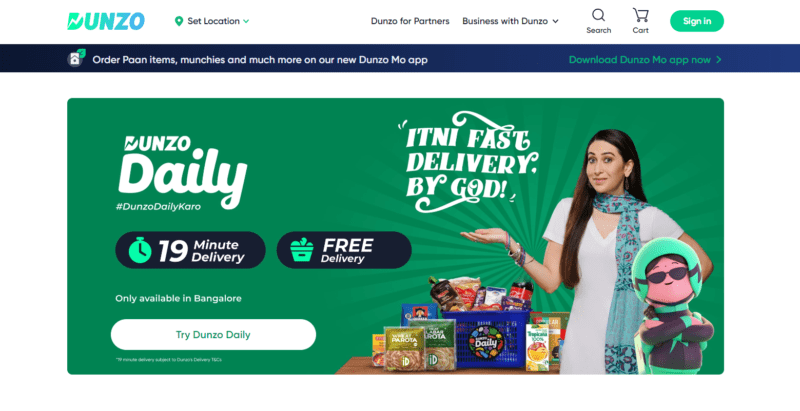 Headquatered in Bangalore, Dunzo delivers groceries, fruits and vegetables, medicines, home supplies, pet supplies and other essentials to customers throughout India. The company was founded in 2014 by Kabeer Biswas and has grown exponentially since then. It is one of the cheapest food delivery apps in India.
Why do we recommend it?
As crazy as it may sound but Dunzo provides delivery within 19 minutes of you ordering.
With Dunzo, you can order any quantity you want, there is no minimum order.
Dunzo accepts all payment options making it a suitable choice for many users.
Not just food from restaurants or food joints, you can order a variety of things, such as groceries, dairy products, poultry, pet supplies, home supplies and more.
You can order food while saving money with Dunzo promo codes and discount coupons.

Domino's entered the Indian market in 1996 from a small outlet in New Delhi and since then has been a favorite for most Indians. It is a go-to when it comes to the cheapest online food delivery apps in India.
Why do we recommend it?
The Domino's app offers the cheapest and best prices for online ordering.
Domino's accepts orders for birthday parties and other catering requirements, which is not a widely recognized fact.
They guarantee delivery within 30 minutes of the order being placed.
Domino's sells a range of pizzas for incredibly low prices.
The menu is made much more intriguing by its extensive range of sides.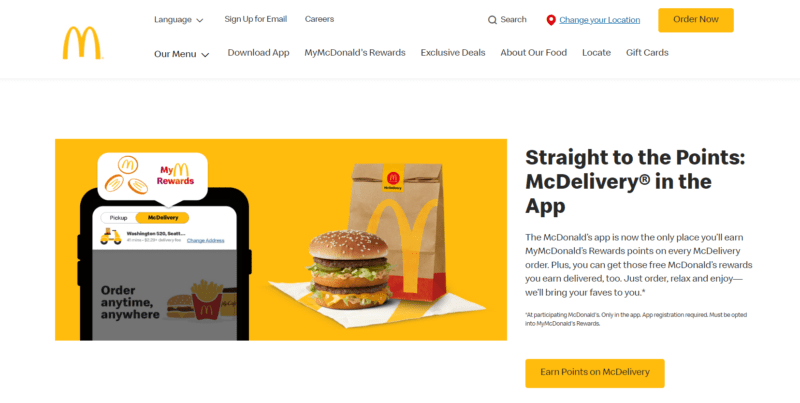 Just tap your way to delivery with the McDonald's Food App! It only takes a few minutes to enter your address, select your preferred food item, and select the time for delivery. Additionally, you can add extra ingredients to your order if you wish and customize it. McDelivery started in India back in 2004.
Why do we recommend it?
The delicious variety in the menu keeps the customers coming back for more and more deliveries.
Besides coffee and shakes, they also have smoothies, soft drinks, and shakes.
It's only made better by the lightning-fast delivery.
Whether you're looking for the best ice creams or the best burgers, this app has you covered.
Also, the platform is fast, secure, and easy to use.
They offer excellent customer service.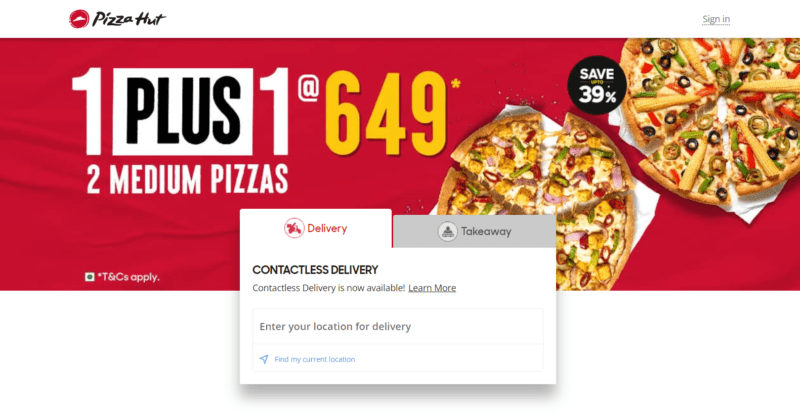 Pizza Hut is one of the cheapest food delivery apps in India. It offers prompt and speedy delivery of delicious pizza and pasta that can instantly make your mouth water. Since June 1996, Pizza Hut is offering the best comfort food at your doorstep.
Why do we recommend it?
Pizza Hut app features a special deals tab that contains the best deals year-round.
Their yummy list of side dishes is not to be missed.
Their innovation ranks at the top. For instance, Momo-mia Pizza. Who came up with that idea? You'll be baffled and have a craving for more.
You can place your orders in advance and set the delivery date and time for a hassle-free order and delivery. You can place an order up to 7 days in advance.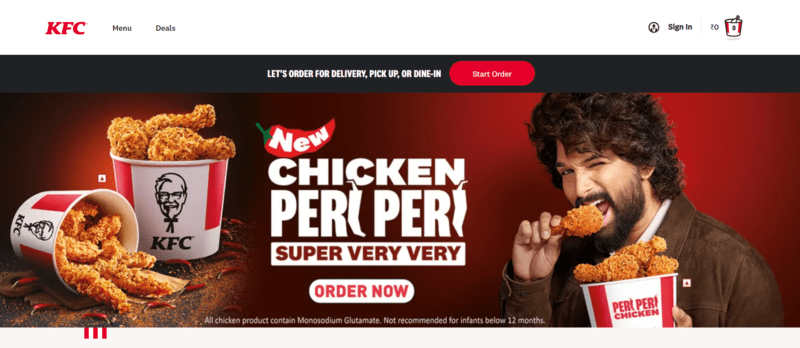 KFC entered the Indian market in 1995 and since then has been the most loved brand amongst meat lovers. It produces chicken that is truly finger-licking good by combining more than 13 secret herbs and spices. It is the one at the top of the list of cheapest food delivery apps in India.
Why do we recommend it?
The combination of Indian flavors with fried chicken is one that most people relish and thus making it the best choice.
KFC always gives its customers something new to try out.
They provide easy deliveries of customized combos.
They offer the taste of KFC we all know and love at an affordable price.
You can buy their sauces from the app too.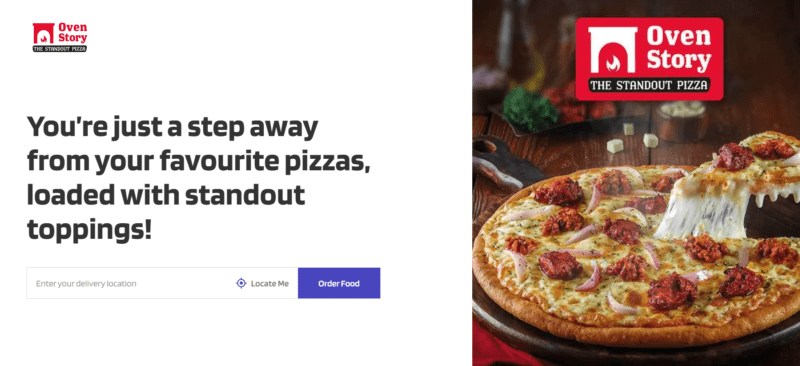 Oven Story Pizza Oven Story Pizza is the subsidiary company of Rebel Foods, it started back in 2011 delivering the most scrumptious pizzas right to your doorstep. It belongs in this list of cheapest food delivery apps in India.
Why do we recommend it?
If you are hosting a party Oven Story provides you with affordable bulk orders and combos to save a lot.
If you are all alone and pizza is your comfort food, you can order a Semiza; a half pizza.
They have some really great and budget-friendly pizza combos.
There are many different fusion foods on their menu.
They give customers the choice of contactless delivery.

FreshMenu is one of the upcoming cheapest food delivery apps in India. It was founded in 2014 by Rashmi Daga. With its head office in Bangalore, it also functions in Delhi, Gurgaon, and Mumbai. It has around 44 ghost kitchens in these 4 places.
Why do we recommend it?
They stand out from the competition, thanks to their constantly changing menu, which offers diversity and lets users sample a variety of appetizing cuisines.
They provide you the choice to book orders in advance so you don't have to place them manually every day.
They promise delicious food on every order using farm-fresh products and chefs with culinary expertise.
FreshMenu promises delivery within 45 minutes no matter what, and you can follow the delivery in real-time via the app.
They offer a variety of international cuisines.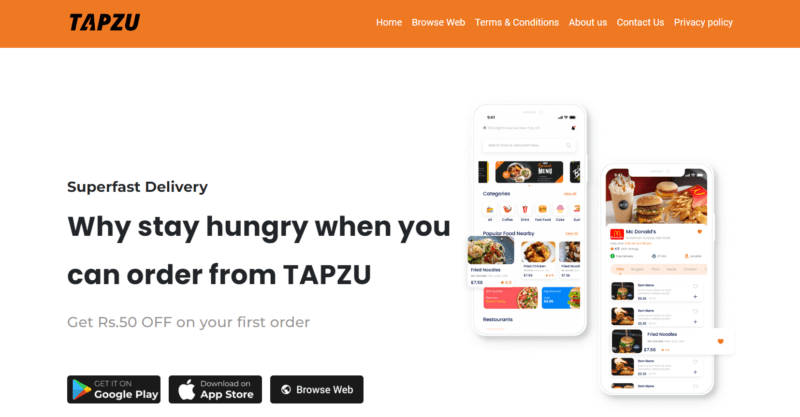 Tapzu is one of the unique and cheapest food delivery apps in India. Pavan Ankam founded Tapzu in 2021, and it expanded as a result of the demand for food and shopping delivery. The hyperlocal delivery software provides food, groceries, meat, medicine, fruits, veggies, and milk deliveries in 30 minutes.
Why do we recommend it?
They allow you to place orders from multiple restaurants at once, Tapzo is like your own virtual restaurant.
For those in a rush, their 30-minute delivery time is incredibly convenient.
Tapzu offers late-night delivery service.
Various discount coupons are frequently available.
Tapzu offers meals from restaurants as well as a marketplace for home cooks to sell their creations.
Tapzu is your one-stop shop for all delivery-related needs.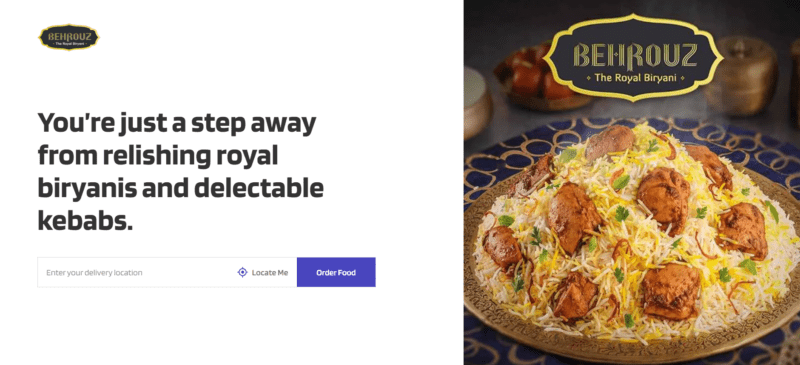 Biryani is an emotion in India, and Behrouz Biryani brings that happiness right to your doorstep. It was started in 2011 by Jaydeep Barman and Kallol Banerjee. It is spread in approx 100 cities delivering sheer love to your homes. It is one of the cheapest food delivery apps in India.
Why do we recommend it?
The burst of flavors in every bite makes Behrouz biryani stand out from all the other competitors.
All the ingredients used are fresh and tested before use.
The poultry and dairy products used are from farms fresh and of premium quality.
The side dishes are not to be missed as they are scrumptious and delightful.
Behrouz Biryani is delivered in earthen pots called handi and it makes the experience a whole lot better.
The food is speedily delivered right to your doorstep.
Also Read: 15 Buy Now Pay Later Apps in India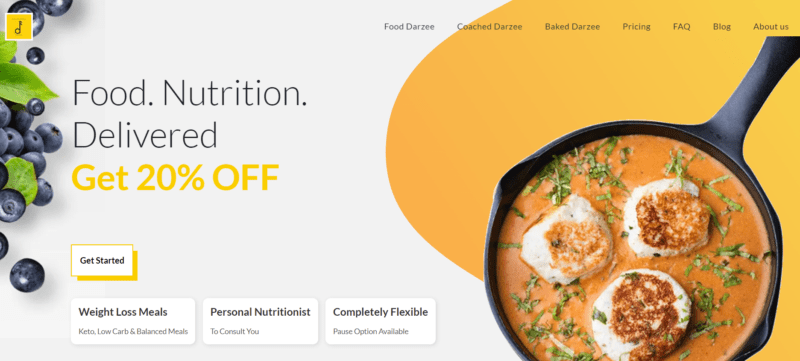 Food Darzee was founded in 2017 by Siddhant Bhargava, Anik Bhandari, Anirudh Ganeriwal, and Devaj Jhunjhunwala. All of them were motivated by the same factor- Health. They aimed to assist people in achieving their health objectives in the most practical, hassle-free, and rational way possible. It is one of the cheapest food delivery apps in India.
Why do we recommend it?
Food Darzee provides users with delicious yet calorie-controlled meals.
They have their focus on delivering homestyle weight loss, keto, and vegan meals.
They have curated the recipes substituting bad carbs with good ones.
Users can also personalize their meals according to their preferences.
Once the user takes membership, meals are planned accordingly a delivered to the doorstep.
We have curated this list keeping in mind the love we have for fast food as well as our resolutions to eat healthy. Keep in mind the customer service provided, ease of use, variety in the available cuisines and restaurants, and speedy deliveries, before selecting any app from this list.