Are you a student looking for ways to earn a living while studying? Making money while in school can not only provide you with financial independence but also help you learn important lessons about time management and the value of hard-earned money.
Ludo is a game loved by millions, and the best part is that there are now Ludo earning apps that offer the chance to win big prizes, including a prize pool of Rs. 10 lakh Paytm cash. With the rise of online gaming, many developers have created Ludo games that allow players to win real money. These games have become a popular pastime for many people who enjoy the thrill of competition and the opportunity to earn extra cash. In this article, we will discuss the best Ludo earning apps that you can download on your mobile device to win money while having fun.
What is a Ludo Earning App?
Ludo earning apps allow you to play games, helping you make real cash on your mobile with real global players. The best part is you can also play Ludo with your friends and family.
The Ludo apps enable you to play Ludo games online in different modes, including 2 vs 2, 1 vs 1, 1 vs 3, and 1 vs 4, multiplayer mode, classic mode, and quick mode. You can choose any mode and win cash prizes if you win the game.
In addition, you can make money with Ludo earning app without Investment. The platform also hosts an impeccable referral program in which you are required to invite your friends and earn magnificent bonuses. Besides this, you can also get access to enormous deposit offers that enables you to fetch money into your wallet and earn a bonus. The best part is that you can withdraw the amount you won instantly into your bank account or Paytm wallet.
You can choose a variety of ludo earning games from the following platforms too:
| | | | |
| --- | --- | --- | --- |
| App Name | Downloads | Sign Up Bonus | Referral Bonus |
| Ludo Empire | 10 Lakh+ | Rs. 10 | Rs. 20 |
| Gamezy | 10 Lakh+ | Rs. 100 | Rs. 100 |
| Mpl | 100 Thousand+ | Rs. 50 | Rs. 75 |
| EWar Games | 50 Thousand+ | Rs. 60 | Rs. 500 |
| Ludo League | 10 Thousand+ | Rs. 25 | Rs. 10 |
| Ludo Ninja | 50 Thousand+ | Rs. 100 | Rs. 30 |
| Ludo King | 50 Crore+ | Rs. 10 | – |
| Ludo Fantasy | 50 Thousand + | Rs. 10 | Rs. 10 |
| Ludo Supreme | 8 Lakh+ | Rs. 10 | Rs. 100 |
| Skill Ludo | 10 Thousand+ | Rs. 25 | Rs. 150 |
| Real 11 | 100 Thousand+ | Rs. 50 | Rs. 25 |
| Ludo Tez | – | Rs. 5 | Rs. 5 |
| Elite Ludo | 5 Thousand+ | Rs. | Rs. |
| Ludo Premium | 1  Lakh+ | Rs. 10 | Rs. 15 |
| India Ludo | 5 Lakh+ | Rs. 5 | Rs. 5 |
| One To 11 | – | Rs. 100 | Rs. |
| Rush | 50 Lakh+ | Rs. 50 | Rs. 10 |
| Ludo Sikandar | 1 Lakh+ | Rs. 5 | – |
| Playerz Pot | – | Rs. 100 | Rs. 50 |
| Khiladi Adda | – | Rs. 10 | Rs. 5 |
| 4p Ludo Pro | 1 Lakh+ | Rs. 10 | Rs. 5 |
| Batball 11 | – | Rs. 50 | – |
| Ludo Hind | – | Rs. 10 | Rs. 10 |
| Winzo Games | – | Rs. 550 | Rs. 50 |
| Ludo Hunt | 10 Thousand+ | Rs. 5 | Rs. 5 |
| Aqua Ludo | – | Rs. 10 | Rs. 10 |
| Ludo Victor | – | Rs. 50 | Rs. 150 |
| Ludo Superstar | 100 Million+ | Rs. 15 | Rs. 10 |
| Ludo Club | 100 Million+ | Rs. 40 | – |
| Ace Ludo | 100 Thousand+ | Rs. 30 | Rs. 15 |
30 Best Ludo Earning Apps to Win Money
Here are some of the top ludo earning apps to win money: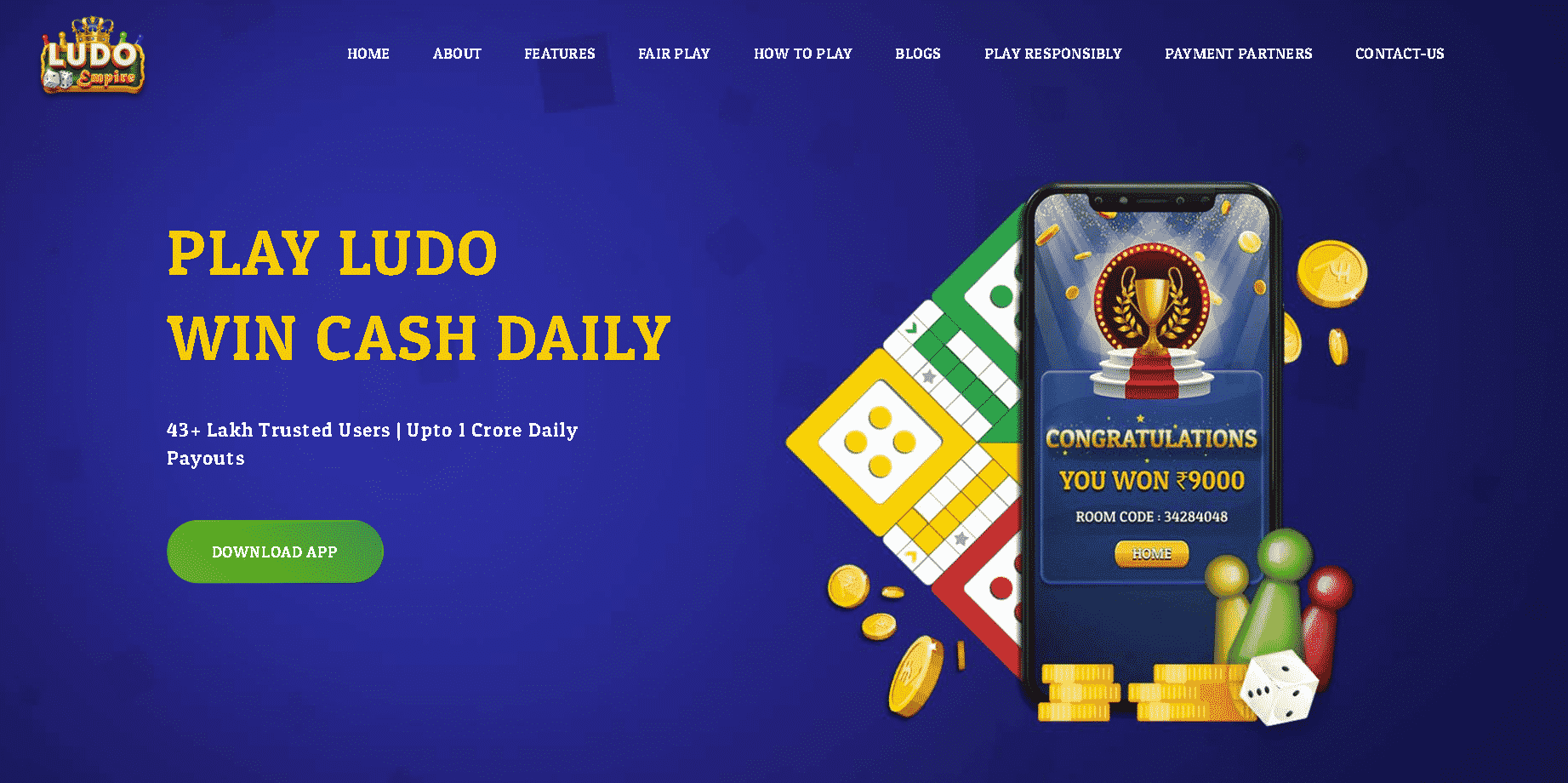 One of India's best Ludo earning apps, Ludo Empire offers incredible ways to win real cash prizes. According to the reviews of numerous people, the app is free from all types of bugs.
The players can create their own private room and join tournaments to amplify their winning prize. The platform also offers Rs. 10 as a signup bonus. You can also refer the app to your friends and win more cash rewards.
Also Read: 30 Best Paytm Cash Earning Games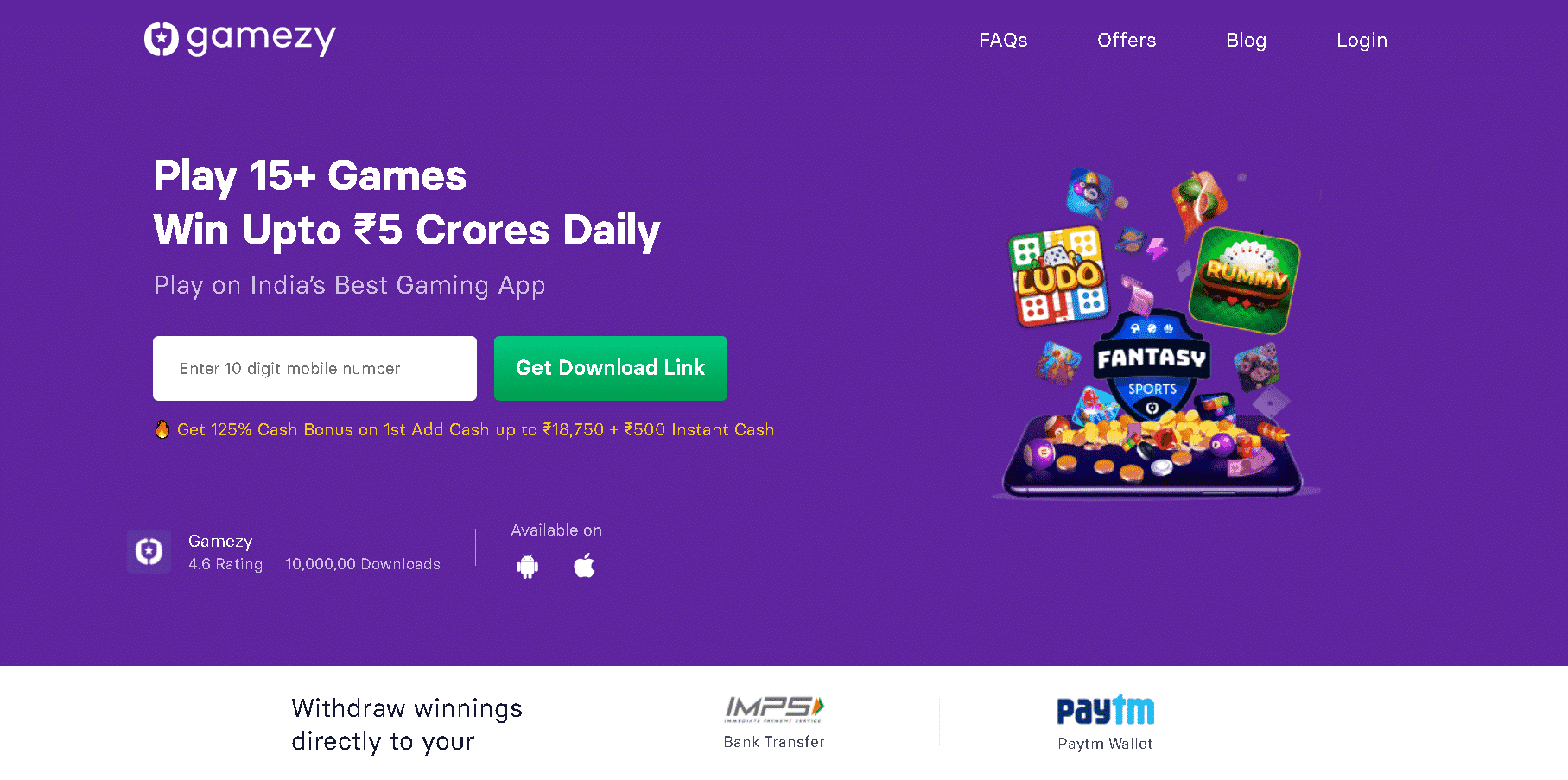 The platform lets you play fantasy games, including Ludo, Rummy, and many more. In addition, all the games featured in GameZy provide an opportunity to win real cash.
The users also get a whooping Rs. 100 sign-up bonus if you have put a referral code. The app allows you to play against up to 3 players. Moreover, you can also participate in Ludo tournaments.
It is indeed the most known Ludo earning app without Investment. One of the best features provided by GameZy is that you are allowed to withdraw your earnings into your bank account, UPI, and Paytm wallet instantly. All you need to do is register your account with the app and start playing among the 14 games it offers. The referral code of the app is INF100.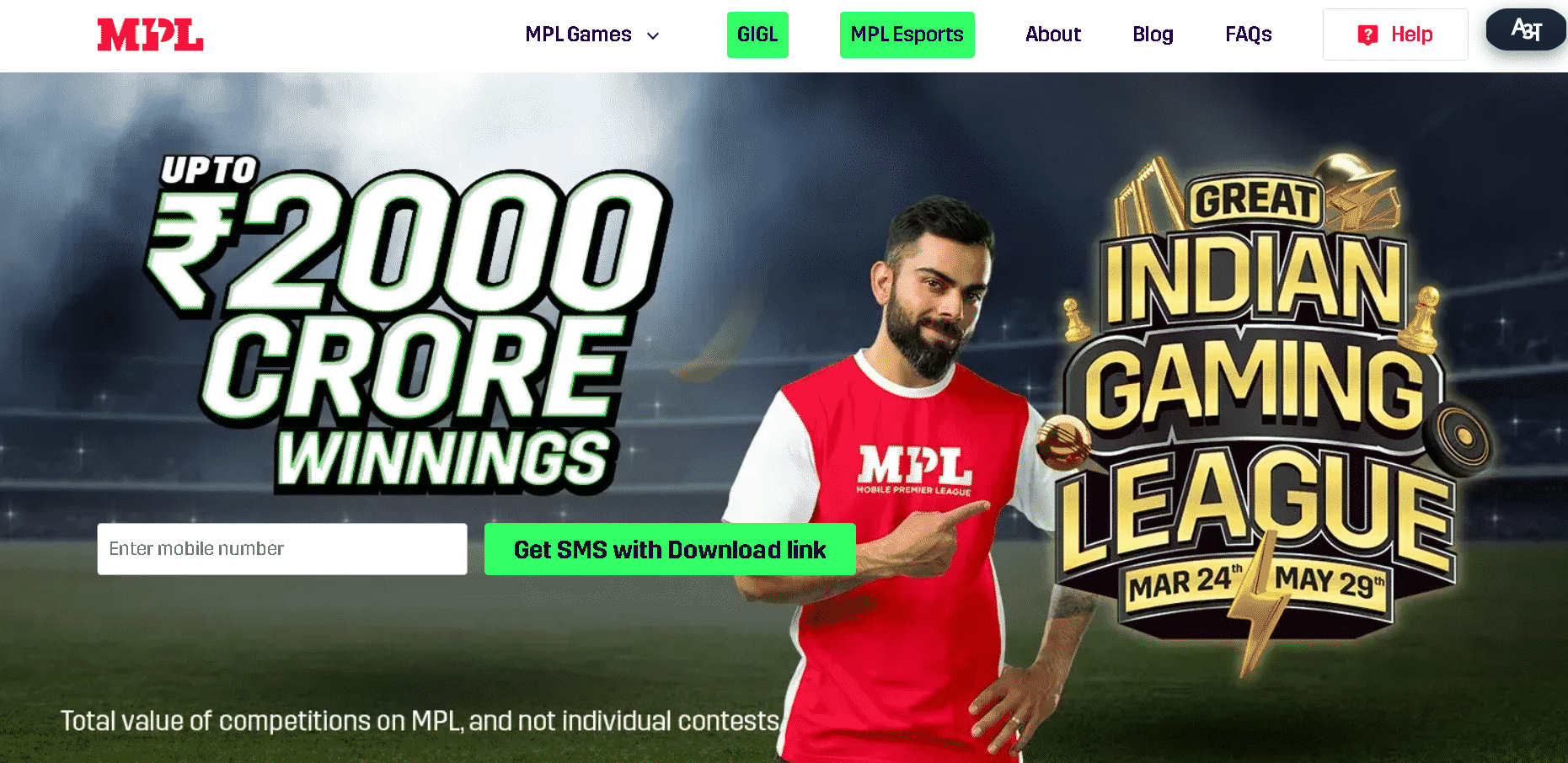 India's top-notch gaming platform has also added Ludo. Wow! Undoubtedly it is one of the oldest and most reliable apps that allow you to play Ludo against other players and earn a handsome amount of Paytm cash.
There are a plethora of other games, from car racing, fantasy, and candy crush to quizzes, which you can try on this platform.
You get Rs. 50 signup bonus as soon as you join and start playing games in this app. The platform also allows you to join contests in this app. However, you can also grab Rs. 75 signup bonus from MPL if you have a new referral. The app has an intuitive interface, having a minimum withdrawal amount of Rs. 20 per day.
Also Read: 42 Games That Pay Real Money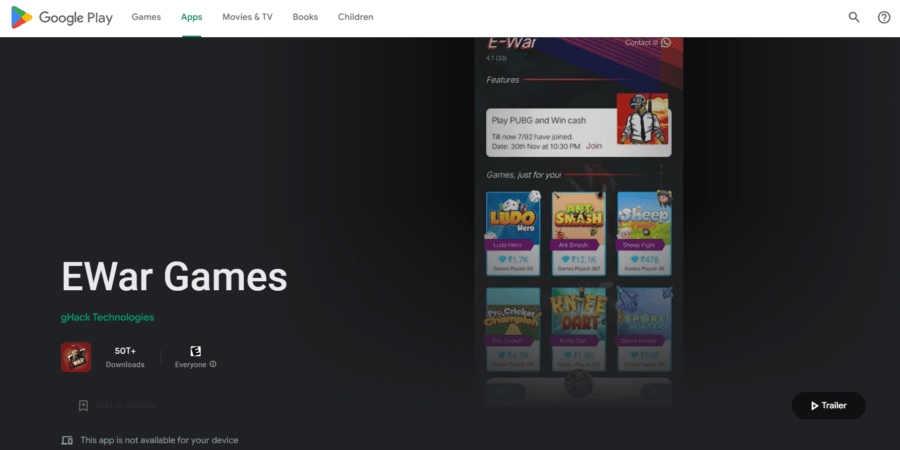 Looking to win real cash? Why not try the EWar games portal? It is one of the best Ludo earning apps that lets you play multiple games, including Ludo, fantasy cricket, and many more. Not just play, but it allows you to win a decent amount of cash rewards that get instantly credited to your bank account or Paytm wallet.
The minimum withdrawal amount is Rs. 10, and all the money you earn can be instantly transferred to your Paytm wallet. Still, thinking about whether to opt for this platform or not? Go for it and double up the chances of earning money by participating in free contests and tournaments.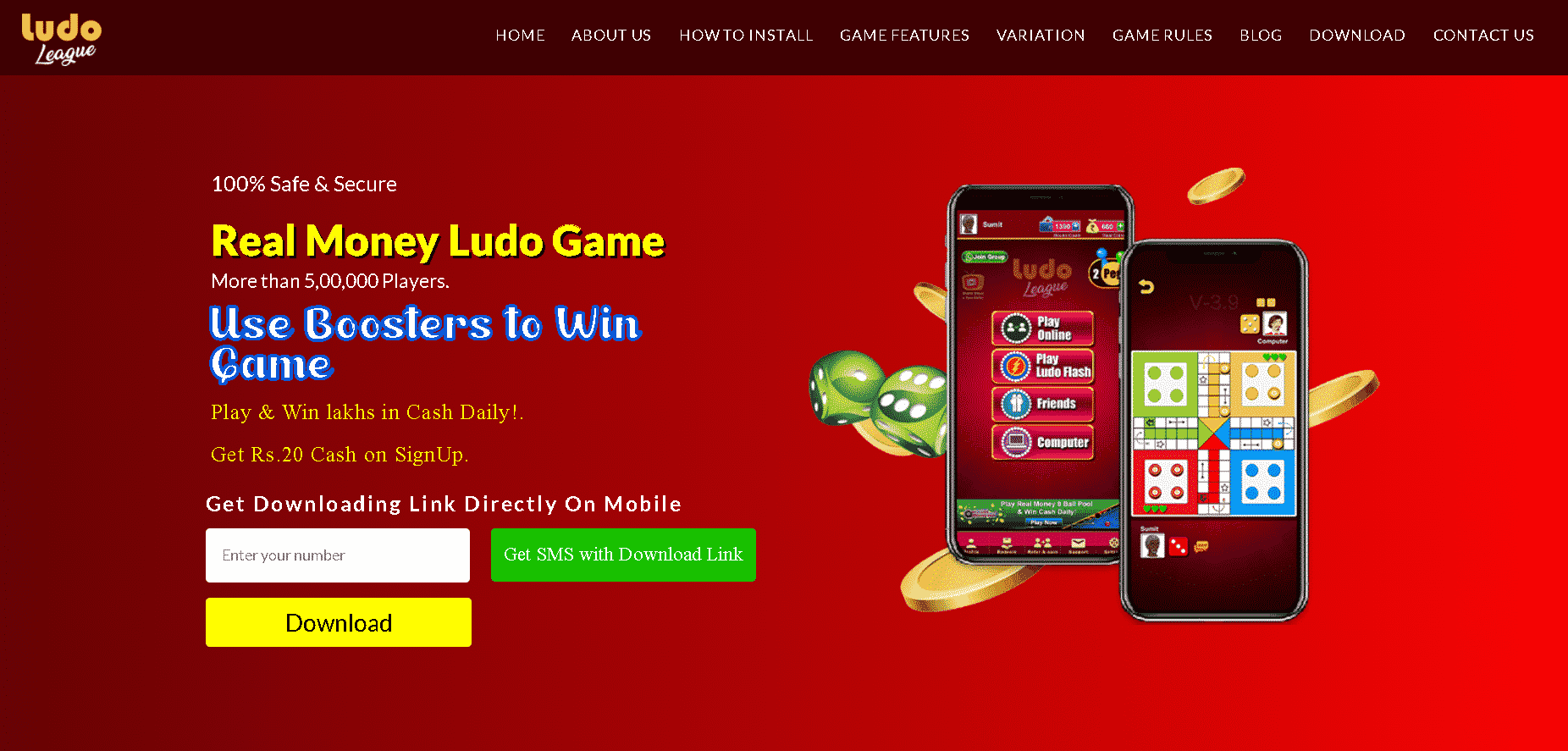 Do you want to feel the same way when you played the offline Ludo game in your childhood? Ludo league provides you with precisely the same experience by offering 24×7 game tables, game variations, instant money withdrawal into your Paytm wallet, and seamless payment options.
The referral code of this portal is SED2UD, and you get a signup bonus of Rs 25. There is no limit to referral earnings. However, the amount starts from Rs. 10. In addition, the players are not curbed by the minimum withdrawal procedure, which is the best part.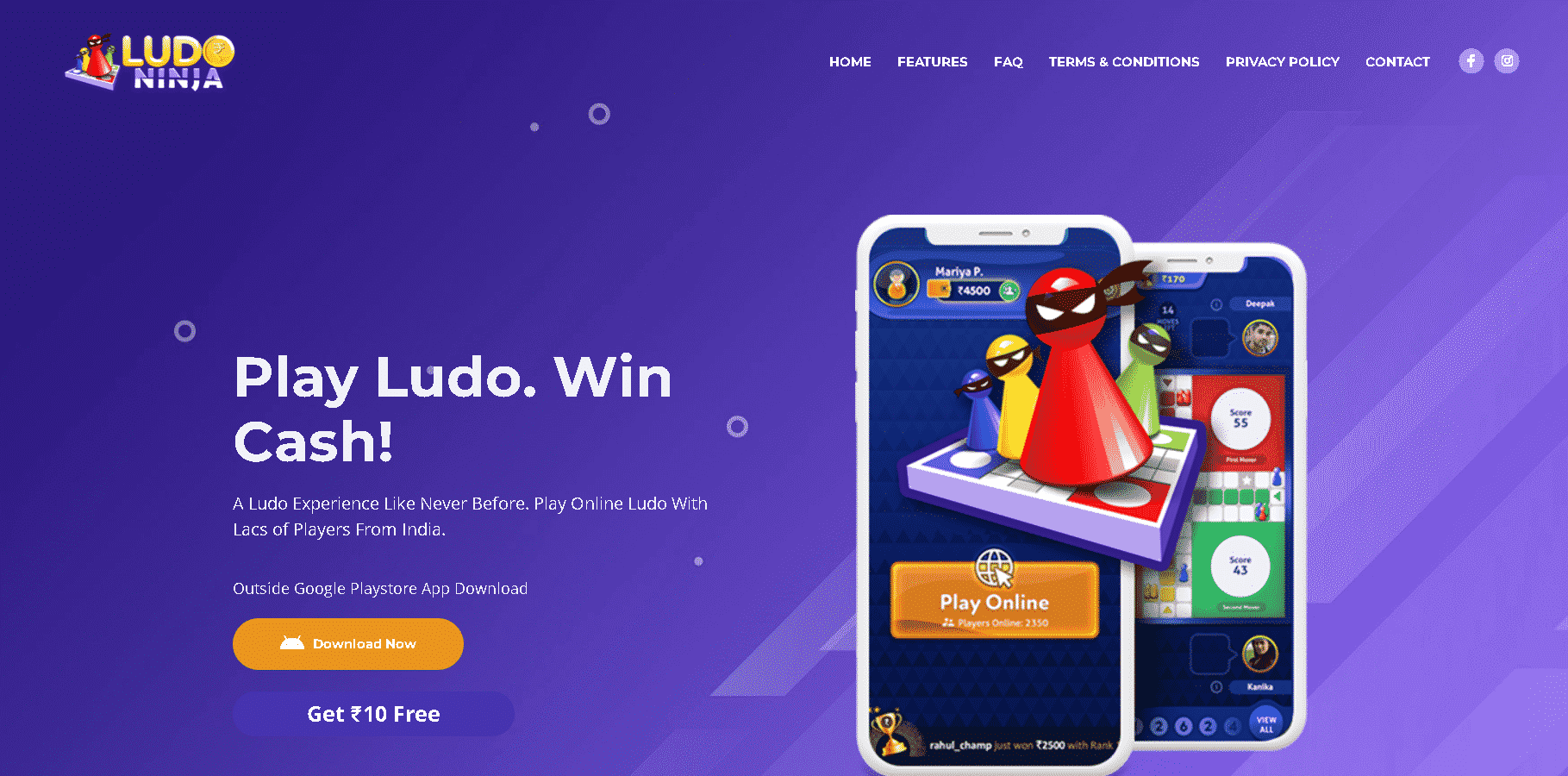 Ludo Ninja offers the highest signup bonuses among all the best Ludo earning apps listed in this article. You can get up to Rs. 100 sign-up bonus from each referral. The best part is you can further invest this sign-up bonus or deposit more amount on this app to claim more bonus.
The platform features a lucrative referral code program and allows you to withdraw even 1 INR into your bank account for the first time.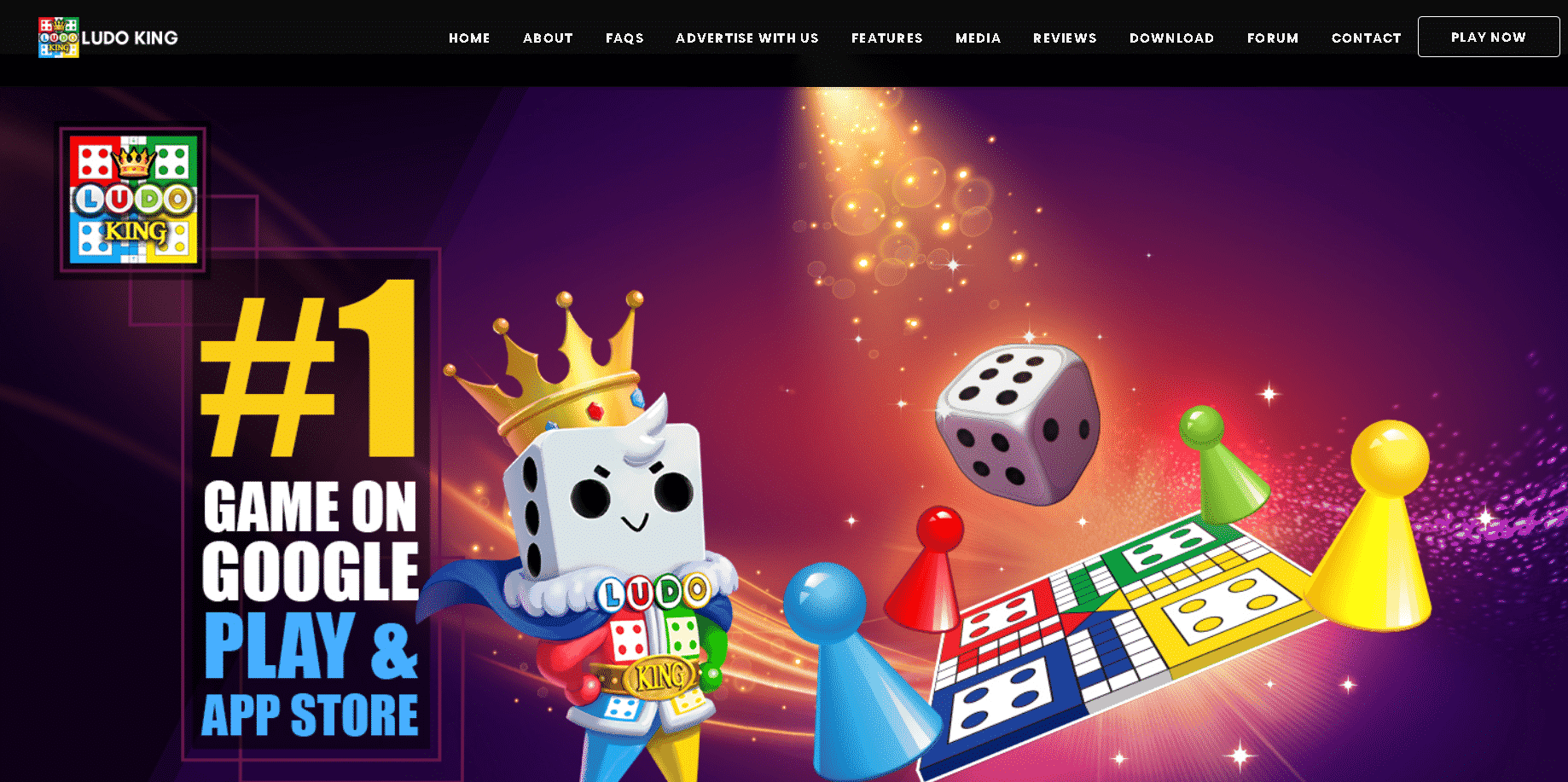 Want to play Ludo and generate handsome revenue? One of the most downloaded Ludo apps in India, Ludo King, has been available on Android and iOS platforms since 2016. The app has more than 50 crore downloads and is the contemporary version of the Royal Game. Winning the daily tournament is as easy as rolling the dice correctly.
The platform provides a simple interface and enhances your overall gaming experience. Plus, users can also play without internet connectivity. In addition, the app is featured with an inbuilt voice chat feature, and the support is also extended to all devices.
You can redeem the cash rewards into your UPI, bank account, or Paytm wallet. It might take up to 72 hours for the transaction to reflect in your account; once it's done, you can withdraw the money at your ease.
Also Read: 65 Best PayPal Games that Pay Real Money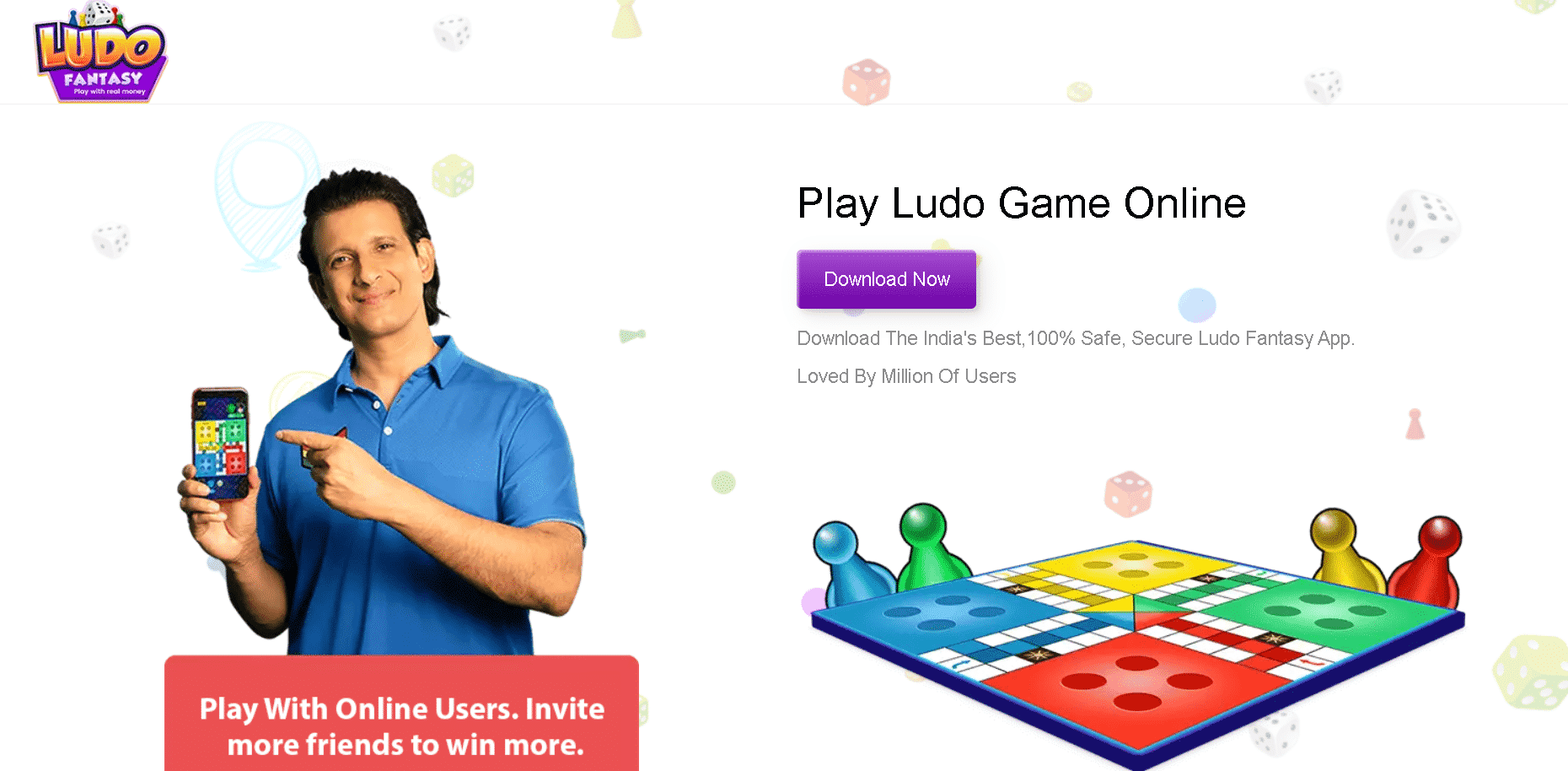 Looking for a trustworthy app enabling you to make a decent amount of cash now and then? Ludo Fantasy is the perfect choice you can opt for. It is a Ludo earning app without Investment facilitating earning money by playing Ludo online.
The app might not be as popular as others but brings out a huge earning potential if you have competitive Ludo playing skills. In addition, the app lets you play Ludo with your friends, family, and people from all over the country.
It supports multiplayer mode in which you can play with 2 or more players together. The platform lets you practice the game with the computer if you do not know how to play Ludo. It will help you learn all strategies and techniques to play and win the game easily. The cash prizes won by you can be withdrawn anytime in your Paytm wallet or bank account.
Ludo Fantasy is available on Android and iOS devices to download and play.
Launched by Hytech Ludo game studio. Ludo Supreme deserves to be on the list of best Ludo earning apps. More than 1 million users have downloaded this app. The best part is that this app size is very low, making it ideal for all smartphones.
The process of signing up for this platform is hassle-free. Moreover, you get to earn a sign-up bonus ranging from Rs. 5 to 10. The referral code of the Ludo Supreme Gold is UMT9RIN.
The app is featured full HD graphics and detailed animation. Plus, the app is free to play for all, just like all other apps mentioned in this list. So, go for it, play Ludo with your family and friends, and win a lot of cash rewards daily.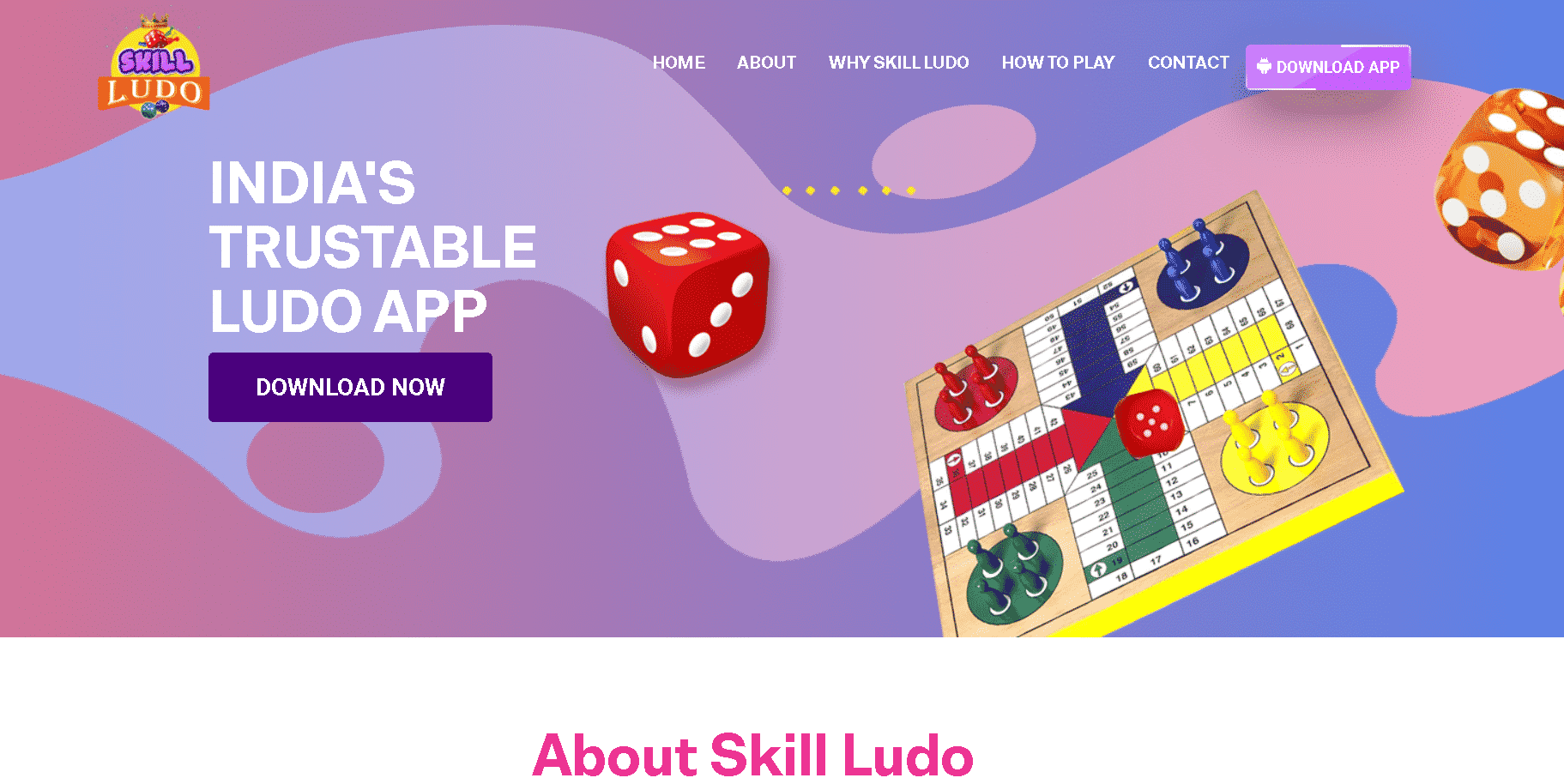 Another great app where you can play and win real money. The platform provides an opportunity to earn a bountiful referral, up to Rs. 150 per referral. In addition, signing up for this app will also give you Rs. 25 bonus. The only drawback of Skill Ludo is that it has a minimum withdrawal amount of Rs. 100.
The referral code of the app is RI28340. The platform is designed with an intuitive interface that attracts various users every day. It also lets players earn up to Rs. 20  per referral.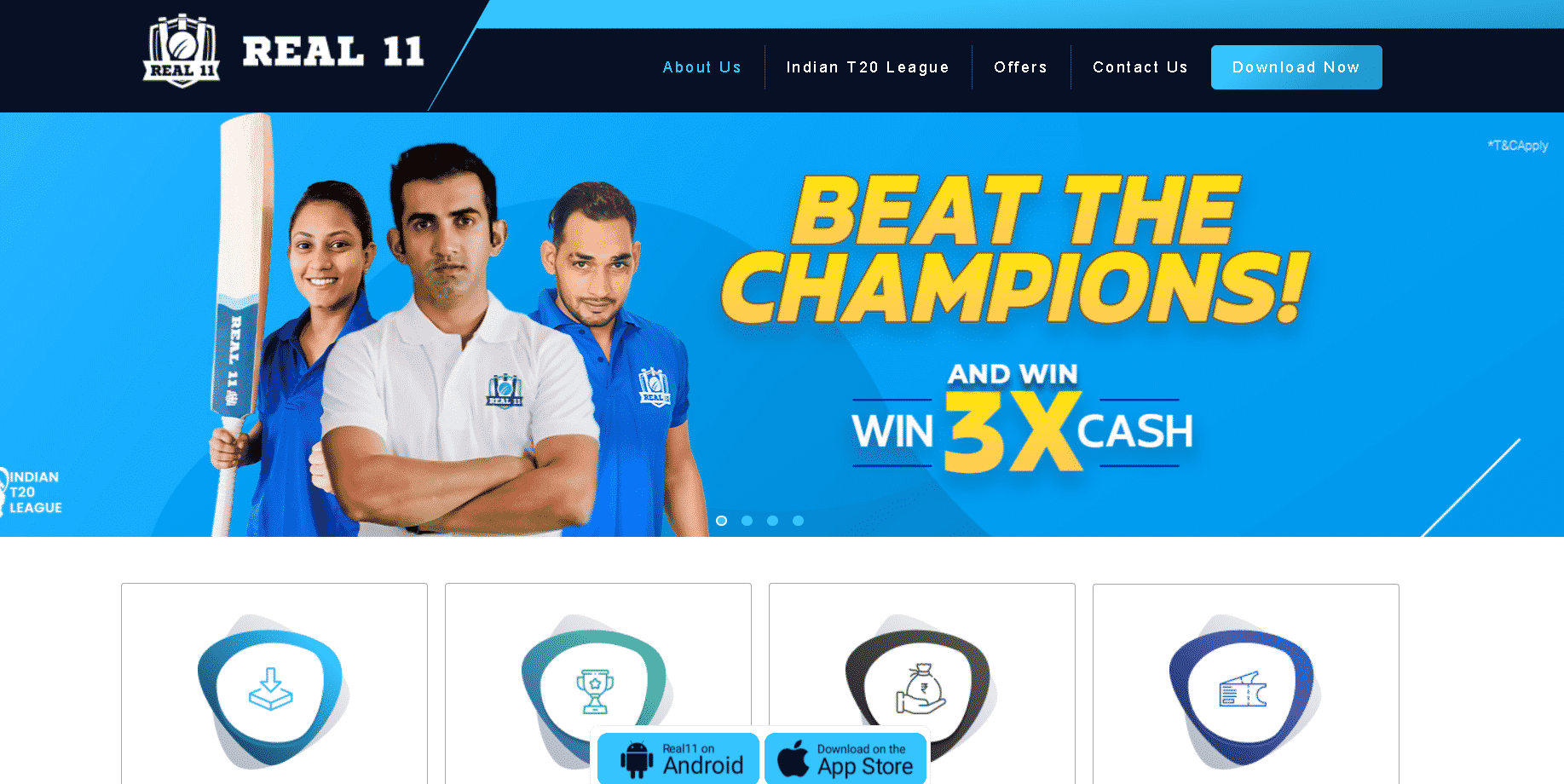 Real11 is one of the top-rated Ludo earning apps famous for playing fantasy cricket and football. However, with increasing user demand, the app developers have added a few more features too. So now, you can play Kabaddi and Ludo games on the app too.
The legendary batsman Gautam Gambhir was the brand ambassador of the Real11 app. The users also get Rs. 50 sign-up bonus and get Rs. 25 extra for every new referral. This money can further be used to join any Ludo or fantasy game through this app.
The minimum withdrawal limit is Rs. 200. Whereas the maximum you can withdraw is Rs. 50000 in a day. However, the platform levies a withdrawal fee of Rs. 10 on every transaction you withdraw the money.
All in all, Real11 is the amazing Ludo earning app without Investment.
A project of Upskillz Games Private Limited, Ludo Tez is one of India's best Ludo earning apps. The app provides you with a lucrative opportunity to earn a lot through its referral program.
Become the ultimate player on the app, and win enormous real cash with your diligence, strategizing your gameplay, and taking calculative decisions after paying full heed.
Once you download the app and register your account, you get Rs. 5 sign-up bonus, plus extra Rs. 5 with referral code 'a3sKzRB.' The minimum withdrawal amount is only Rs. 10 that can be instantly transferred to your Paytm wallet, UPI, or bank account.
Has any app betrayed you by not giving you the cash rewards as promised? Don't worry! With Elite Ludo, users are fully secure as the platform is fully reliable and fulfills what it commits.
The app offers lucrative opportunities to earn money in real-time and instant withdrawals. The platform not only comprises dice games; it is much more than that! Therefore, it will be considered one of India's best Ludo earning apps.
The best part about this app is that you get to play with real opponents. You won't see any fake players participating in the games on this platform.
Once you download the app and enter the referral code, you get eligible for the signup bonus of Rs. 5, which will be credited to your bank account or Paytm wallet. You need to add Rs. 20 more to your wallet, as the minimum gameplay worth is Rs. 25. The more you refer to your friends, the more referral bonus you earn (Rs. 5 per referral).
Another of the best Ludo earning apps in this list, Ludo Premium, provides players with a user-friendly interface and offers different intriguing modes to enhance the users' experience.
The app provides Rs. 10 as a signup bonus that instantly gets credited into your Paytm wallet. You can also refer the app to your friends to earn more money, up to Rs. 15 per referral.
One of the astounding features offered by the app is quick withdrawal which implies that you are enabled to transfer the money to your bank account instantaneously.
However, the withdrawal fee is Rs. 60, which is incurred only when you transfer the cash rewards into your account.
An intriguing platform offering the best experience to play Ludo online is Ludo India. Like other apps mentioned in this list, this app is also designed with an intuitive interface. Therefore, even newbies can easily operate this app in a single go. However, the only downside of this app is that the minimum withdrawal fee is Rs. 300.
You can play with random players and be allowed to create your private room to play with your family or friends. If you want to enjoy an incredible gaming experience and earn real-time cash, this app suits your needs.
Also Read: 30 Ways To Make Money Online
The leading money-making app, OneTo11, is ideal for playing Ludo online and winning enormous cash prizes.
OneTo11 app is best-known for offering an enormous signup bonus of up to Rs. 100. Plus, you can earn endlessly by referring the app to other people. The referral code of the platform is INAA3G8E.
Rush is a legitimate and one of the best ludo-earning apps to win money where you can demonstrate your game prowess and make cash. A gaming website where India's spirit of competition is strong and vibrant. Speed Ludo lets you play free games for real money and get advantages. The software provides a rapid Ludo game that enables players to play the game quickly and easily in a constrained amount of time.
Simply outperform your rivals within 10 minutes to win, and the jackpot amount will be sent immediately away to your Rush wallet. The smallest sum of Rs. 3 is needed to start the game. You can receive a 50 rupee welcome bonus, which is added right away to your gaming account. Additionally, you may recommend the game to friends and receive a referral bonus of Rs. 10.
18. Ludo Sikandar
In the Ludo Sikandar earning app, you compete against other players for real money. By engaging in Ludo games at any moment, you may earn actual Paytm money. It's one of those real money games where you need to have a solid plan and strategy in place to win. Both playing with friends and against random opponents online are options.
Receive 1% lifetime referral revenue for each game your friends play once they join you. Money is instantly deposited into your account with The Fastest Payouts. The live chat support team is accessible 24/7. Games may now be utilized to earn a sizable sum of money; they are no longer just a way to pass the time.
One of the top Ludo money-making apps in India is PlayerzPot. On this platform, you can play fantasy sports other than Ludo, such as football and cricket. With minimal waiting times, The Great Ludo Experience has drawn approximately 1 Cr+ people. They offer excellent ludo gameplay that is seamless and captivating for even beginners.
You can play the Ludo game with rapid matchmaking to win genuine Cash Prizes. They guarantee responsible gaming with a daily deposit, world-class anti-fraud detection, and a dedication to fair play. With daily Real Cash Prizes, you have the chance to win the Best Rewards And VIP Services. They have a fantastic Refer and Earn Rewards program and offer 24/7 customer service. Read on to learn about the best ludo-earning apps to win money.
Another Ludo-earning app that makes it simple and enjoyable for players to generate money while enjoying the venerable classic game of Ludo is KhiladiAdda. Quick cash withdrawals using UPI applications, winning incentives upon referral logins, round-the-clock robust customer service, and many more features are included in this app. They guarantee the prizes that gamers receive after winning a tournament.
KhiladiAdda often holds tournaments where thousands of rupees worth of cash prizes are awarded. Participate to enjoy this board game while using its pretty hassle-free user interface. A sign-up incentive of Rs. 10 and a referral bonus of Rs. 5 are also included.
Put your abilities to use, plan out your actions, come to reasonable conclusions, pay attention, and practice if you want to go farther in this game. If you put in the necessary effort and research, you can be the best player in 4P Ludo Pro. On this app, players will get to play against live opponents for the opportunity to win real money. All this makes the competition even tougher.
This application's user interface is quite straightforward to use. For the best services, there is a customer care line open twenty-four hours a day, seven days a week. You can win different exciting prizes every week and in monthly contests. you will also get a signup bonus of Rs. 10 and a referral bonus of Rs.5 on the app.
BatBall 11 is one of the top Ludo applications available right now. It offers an immediate sign-up bonus and the ability to profit from referrals. And the best thing is that you can play Ludo for free online with their offer. Easy access to games and fantasy sports, and a user-friendly layout makes the app stand out among others.
BatBall11 is one of the best ludo-earning apps to win money guarantees to provide a secure gaming environment with safe payment methods. this app provides a ton of thrilling chances to win genuine cash prizes, bonuses, discounts, and much more. The referral code is present in the BatBall11 app, and gamers may utilize it to ultimately win more cash prizes. New users of the app are already eligible for an Rs. 50 incentive. Additionally, gamers receive an additional welcome bonus if they utilize the referral code.
If you want to play Ludo strategically and win high cash awards, LudoHind is the ideal platform for you. Not only is it a dice game, but it's also a highly strategic game that calls for advanced planning of your play and overall strategy. Using the internet, you may play Ludo in the challenge mode and connect with arbitrary individuals from all over the world.
Depending on the program, Ludo can be played simultaneously by 2 to 6 players in multiplayer mode. You may play Ludo with your loved ones in local mode. You can locate opponents worldwide. you can win exciting offers, gift cards, and cash prizes that can be withdrawn immediately from the account. You will get a signup bonus of Rs. 10 on joining the app.

One of the most popular Ludo-earning apps available is WinZO Games, which allows Ludo enthusiasts to earn money quickly while playing their favorite board game. WinZO promises that each sport it lists is impartial and completely fair.
You can log into your WinZO bank account and enter the amount you want to deposit using any of the available payment options. A player can transfer their WinZO reward money after being authenticated using a variety of money transfer apps, including Paytm, GooglePay, PhonePe, etc.
The app has improved their identity verification methods to better identify malicious participants. They made a conscious effort to make the gaming atmosphere safer, and it paid off with enjoyable gameplay and adoration from all of its players.
By combining the excitement of using real money with the fun of playing games, Ludo Hunt provides an unparalleled immersive experience. Because they engage in safe, reliable, and moral gameplay, they have developed a system where integrity is of the utmost importance. Only fully verified users are allowed to join Ludo Hunt. Players can find multiple tournaments and games to play as per their choice. Well-designed interactive games with consistent performance allow you to deposit your winnings at any time via quick money transfers.
Players can start playing straight away in Ludo Hunt and start earning real money that will be deposited into their bank accounts. This simple, entertaining, fundamental, and conventional board game is available for anyone to play with their peers online for money. You can also enjoy a referral bonus and sign-up bonus of Rs. 5 each. Read on to read more about the best ludo-earning apps to win money.
Also Read: How to Earn 10000 dollars Per Month?
The majority of Ludo players use this new ludo app on their Android devices to play the game and earn money or free PayTM Cash. It is now one of the Top Ludo Earning Apps in India. As one of the trusted Ludo game apps, it provides immediate withdrawals and the opportunity to make money in real time.
You can choose a board with two players or four players. Around-the-clock competitions and 1v1 matches are available on the app. On Aqua Ludo, there are several ways to gain rewards. Utilize the Aqua Ludo App and you can earn rewards by inviting your friends and family to use the app's "Refer a Friend to Earn" feature. Simply play games and add money to your wallet directly. You can also play Ludo in the challenge mode to interact with strangers from across the globe.
Because you can win real money playing Ludo Victor, it is not an easy game. You can add money to your online account and play with your buddies. And you will get a referral bonus as well for inviting your friends to a real money Ludo game. You can also take part in a practice match if you are new to the Ludo smartphone game. One of the unique aspects of playing with friends or family is the private playroom. You can utilize the private space and play with your close circle.
Withdrawing earned money is 100% safe and secure on the platform. Earned money can be credited to a bank account or UPI cash. Users of the Ludo Victor game can effortlessly enter money and begin the game by selecting their preferred table. You can also contact customer support whenever you like by email or WhatsApp.
The most popular Battle Royale game of 2019 and 2020 is PUBG from Tencent Games, and the same studio is the one that launched Ludo Superstar. Ludo Superstar is among the best Ludo games for Android because of this. The app has chosen to have a conventional and uncomplicated style while making an effort to seem as unique as possible.
There are four game modes included in this game: local, computer, online, and friends. These thrilling modes will be adored by players. All gamers may readily understand the straightforward interface of this game. Gamers of this best ludo-earning app to win money will face off against other online players in the online mode. The game may be played with two, four, or even two-on-two team matchups.
There is a new power mode in this game. Players can double the number they rolled and move at twice the speed in this power mode, which consists of double distance. Dice Control allows participants to choose the number they wish to see on the dice from a distance. For one turn, the player will be shielded from the other cunning tokens by a protection shield. One can also enjoy sign-up bonuses along with referral bonuses.
In India, Snapchat debuted "Ludo Club," one of its initial regional Snap Games. To bring Ludo Club to the Snapchat app, Moonfrog Labs, a game studio, teamed with Snapchat. One of the distinctive aspects of the Ludo Club is the ability to play versus pals. The gameplay is exactly like that of a standard board game. Be the first to place all four pieces in the goal to win. Gain the upper hand by catching up to your opponent's pieces and sending them back to where they came from.
All you need to do is enter your Ludo Club user ID, choose how many Coins & Cash you want to buy, finish the payment process, and the Coins & Cash will be added right away to your Ludo Club account. Use Paytm Wallet, UPI, Mobikwik, net banking, etc. to make payments conveniently. You can play the game on your PC or mobile device in the cloud without installing or downloading the game.
Ludo Ace is a gaming app with a ton of features that also offers users the chance to play Ludo. Ludo may be played by logging into the app. By playing games with their pals, gamers may earn a ton of real money. One can easily deposit money and can withdraw the same directly to their UPI apps, or bank account.
With the Refer Program program, you may join any friend or anybody other in this Application and receive a commission of Rs.15. In addition to this, you will receive a 10% commission if the person you refer recharges his account. If these aspects are taken into consideration, your revenue will increase the faster you add new members to this best ludo-earning app to win money.
Also Read: 5 Realistic Ways to Make $1000 a Day?
The exquisite part about all these apps is that you do not need to be a hardcore gamer to make money through them. All the platforms are featured with light games, including Ludo, that are easy to play and enable you to earn real-time cash seamlessly. Let's look at the features of the apps at a glance:
How to Play Ludo Online?
It is very simple to play Ludo online. All you require is to sign up with any of the 30 Ludo earning apps and start playing the game to win real cash rewards.
The next step is to search for different options/modes to play online. Once you register your account, you will be redirected to this page, where you will be asked to choose one option out of all.
The Ludo game can be played between 2 to 4 players.
Each player is assigned a colored token (red, green, yellow, or blue).
The Ludo board is square-shaped and consists of different columns.
Each arm of the square comprises 3 columns of squares.
The middle columns comprise 5 colored squares, representing a player's home.
Plus, each player has 4 tokens.
The 6th colored square is where a player starts their Ludo journey.
The players need to throw the dice and move their token as per the dice indication (numbered from 1 to 6). The player able to bring all their tokens to finish the game at first will win the game.
Conclusion
In conclusion, there are several Ludo earning apps available that can provide users with the opportunity to earn money without any investment. After analyzing various factors such as user reviews, app features, payout methods, and security measures, it can be concluded that the best Ludo earning app without investment is determined by individual preferences and requirements. However, some of the top apps in this category include Ludo Supreme, Ludo Circle, and Ludo Empire. It is essential to exercise caution and avoid fraudulent apps to ensure a safe and profitable gaming experience. With proper research and careful selection, users can make the most of these apps and earn money while enjoying a fun game of Ludo.