Ludo has been a popular board game for generations. Currently a trending online game, several Ludo apps offer exciting opportunities to play Ludo with real money. In this article, we will inform you about the best Ludo app to earn money while having fun.
17 Best Ludo App to Earn Money
As a kid, we all grew up playing board games like Ludo, Snakes and Ladders, Chess, and more. Today in the age of the internet all of these games are available to play digitally and, in a way, our childhood has been recreated and has now become a part of our adult life as well. Let us begin our list.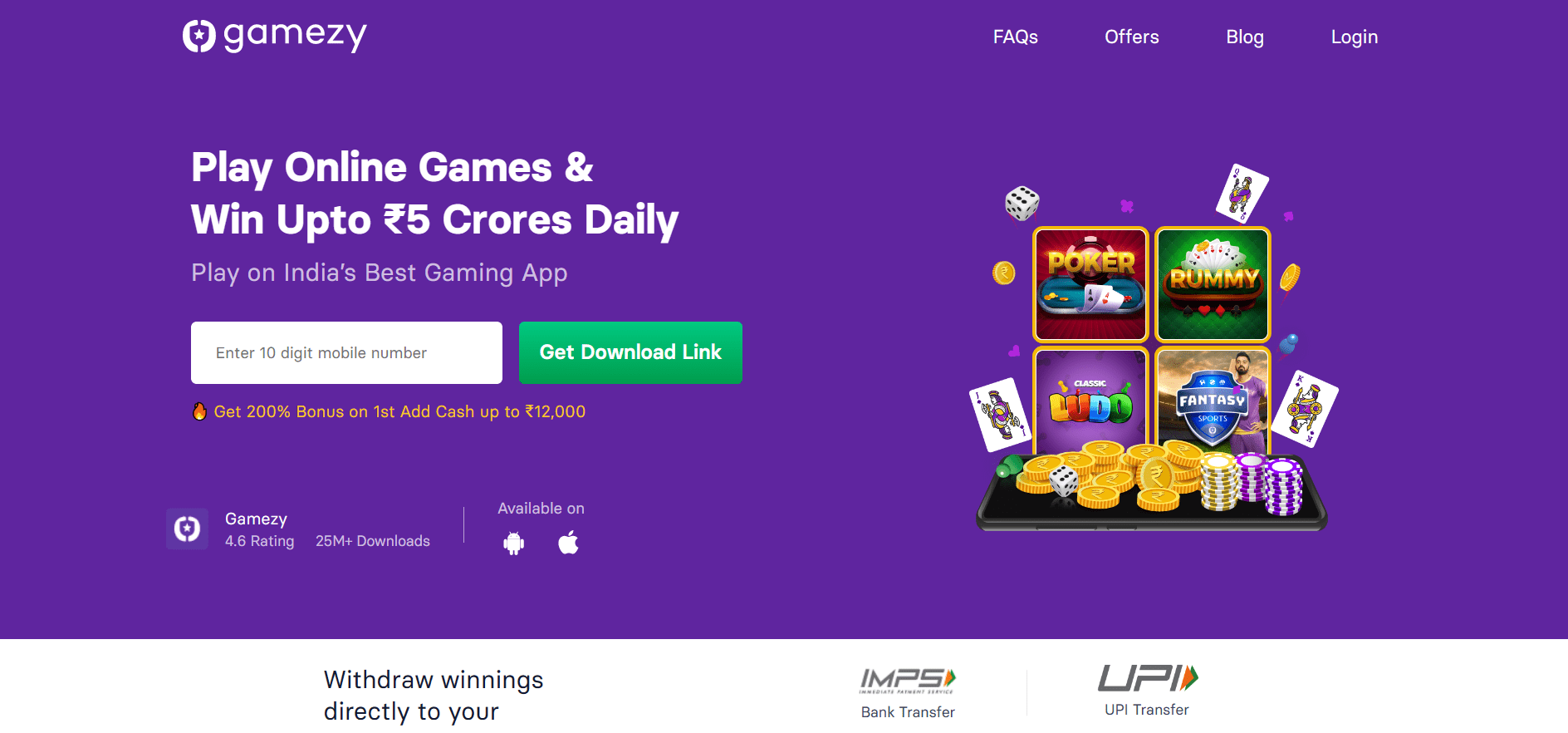 One of the popular platforms to play Ludo on is Gamezy. It is also easily one of the best Ludo app to earn money as you have the chance to win up to 2,000 rupees in sign-up bonuses and up to 10,000 rupees in referral bonuses.
Ludo is not the only game that this app has to offer as you can play rummy and other games on this app as well. All these games allow you to win real cash prizes. It is a four-player game where you can play online against three other players from around the world.
There are also tournaments for you to participate in. This app is more popular for being a cricket fantasy app and has a user base of over 1 crore players and has gotten a rating of 4.2 stars out of 5.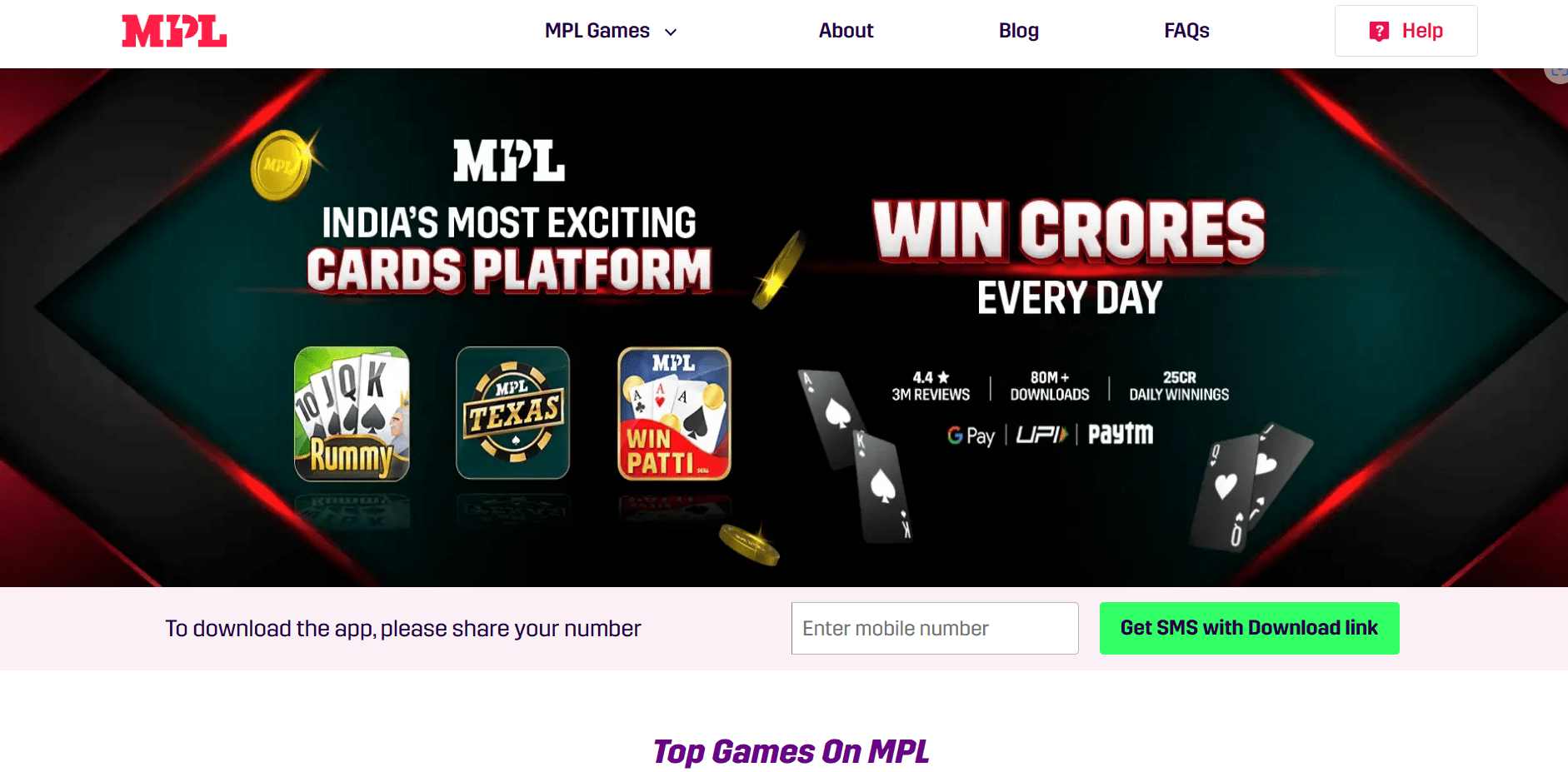 MPL is another popular Ludo app although it is not solely dedicated to it and games like rummy, poker and other such can be played on this platform. The game gives both signup and referral bonuses to its users.
The players playing this game can withdraw 20 rupees or more each day. Again this app is very popular with people which is why 1 crore+ people use this app. On the other hand, the rating of the game stands at 4.6 stars out of 5 which again shows how great the game is.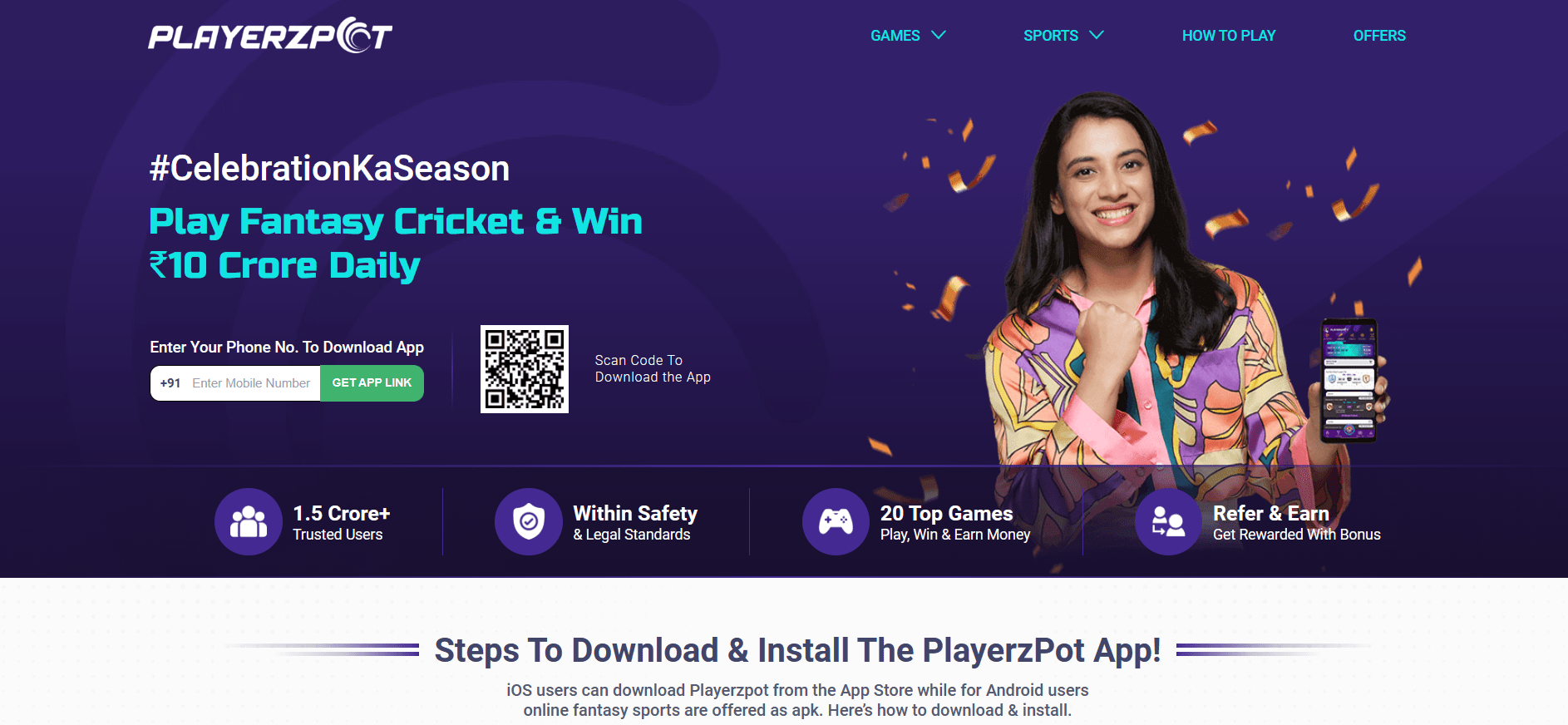 Advertised by a popular figure like Rashmika Mandhana, Playerzpot is without a doubt a good Ludo-playing platform. You can find more than 20 fantasy sports and casual games on this website that you may like in addition to Ludo.
Again the game has sign-up and referral bonuses to give away to the users of the app. Users of this app have the option of making instant withdrawals which is one of the USPs of the platform.
The option to withdraw money includes Paytm and bank withdrawals. This app boasts 50 lakh users and has a strong rating of 4.5 stars out of 5.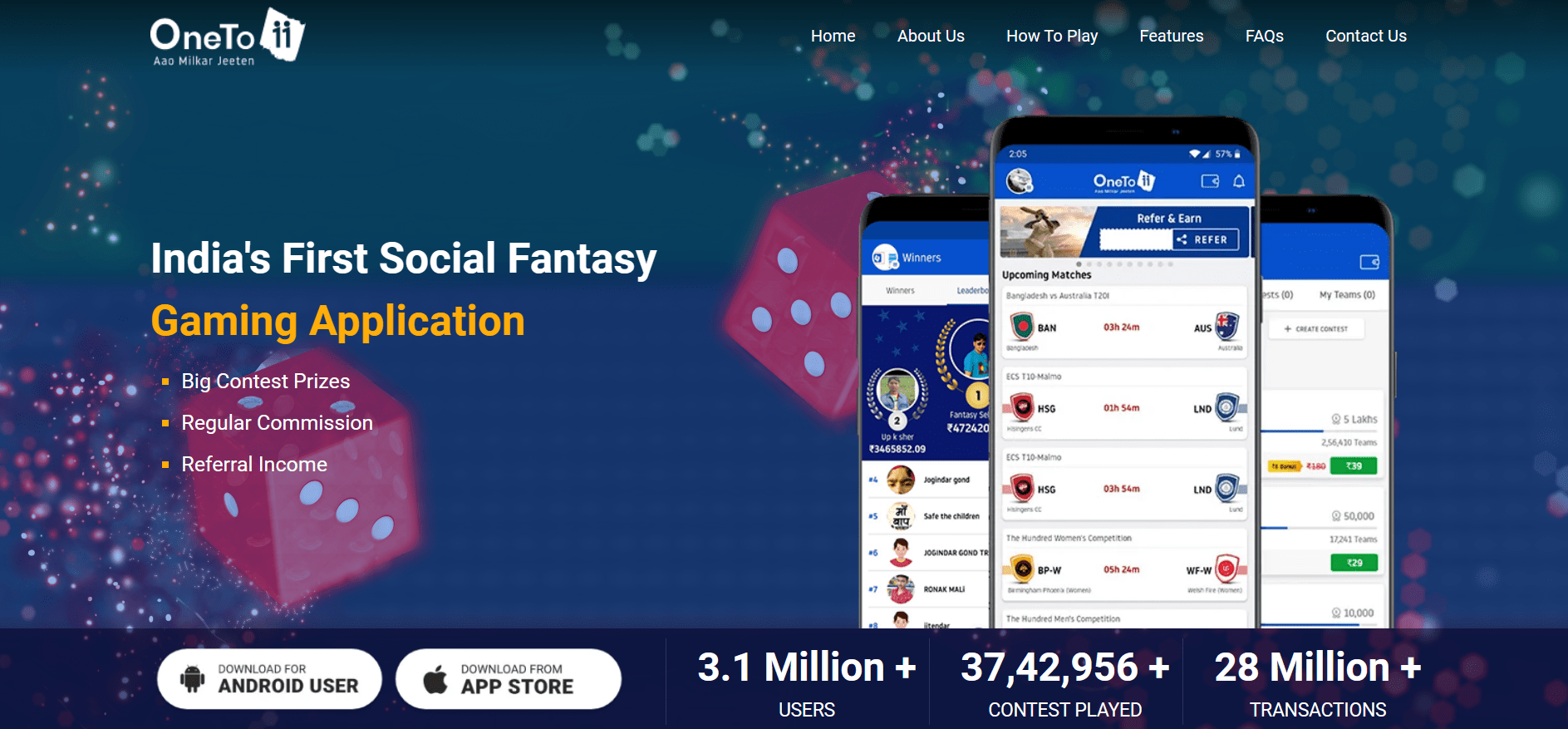 One of the best Ludo app to earn money which allows users to make a withdrawal via Paytm is Oneto11games. The app also has a sister fantasy app that goes by the name OneTo11 Fantasy.
A signup bonus of 100 rupees and a 1.5% commission fee from the contest fee from the person you referred are up for grabs. The game claims to have a user base of 30 lakh plus players which shows its popularity.
Also, more than 30 lakh contests have been played on this game while more than 28 million transactions have taken place. Also, this app has a more than decent rating of 3.3 stars out of 5.
Also Read: Top 50 Money Earning Apps In India (2023)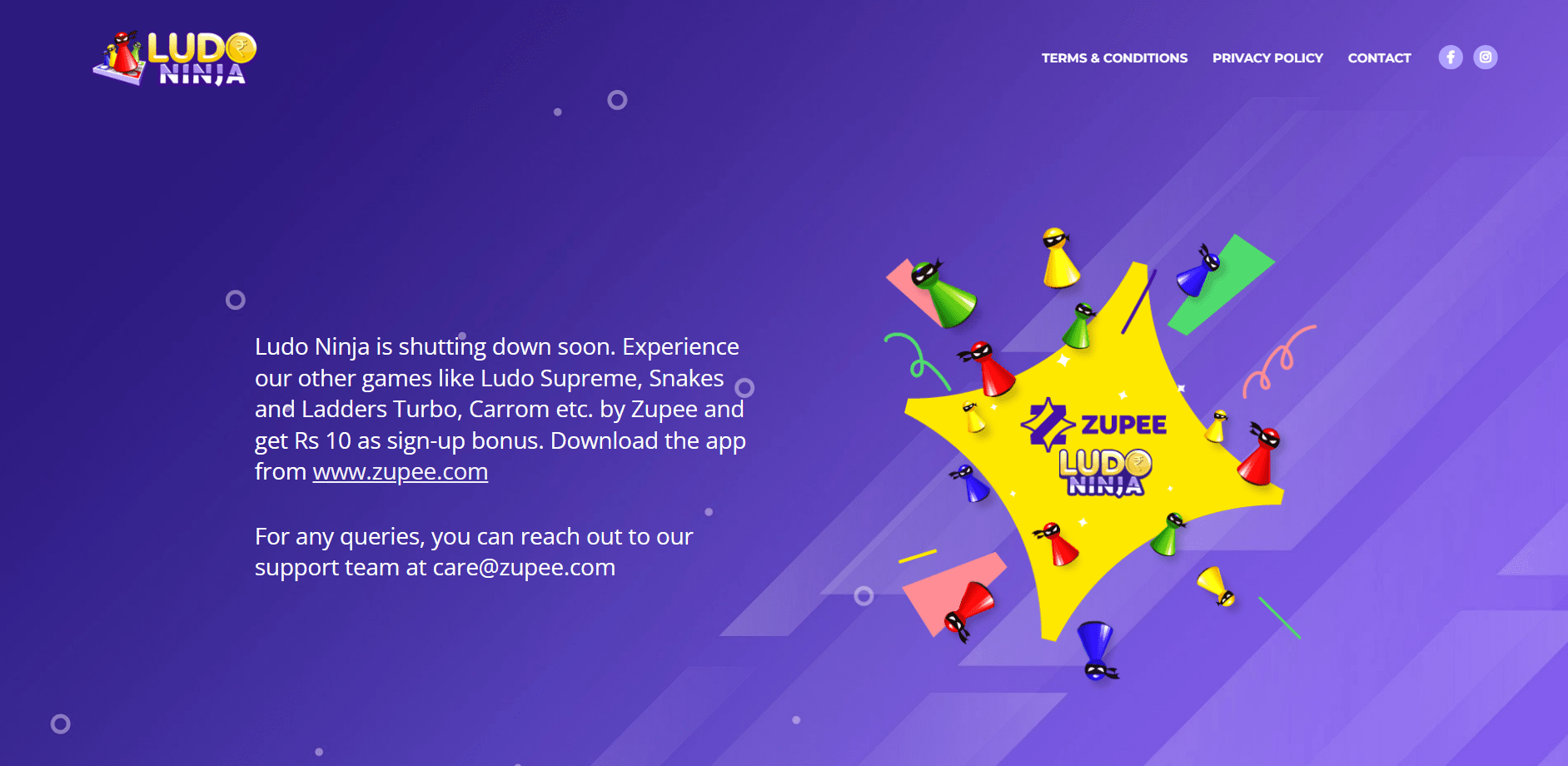 If you want to win sign-up and referral bonuses from a Ludo game then you might want to check out Ludo Ninja. The app has a lot of sister apps where you can play games like Carrom, Snakes and Ladders, and more.
The game has real and verified players which means you can play with people online at any time of the day from anywhere. The app allows instant withdrawals which are very safe.
To win money in this game you need to be able to win within a limited number of moves which makes it different and more exciting. This game has a rating of 8 years out of 10. It is one best ludo cash game.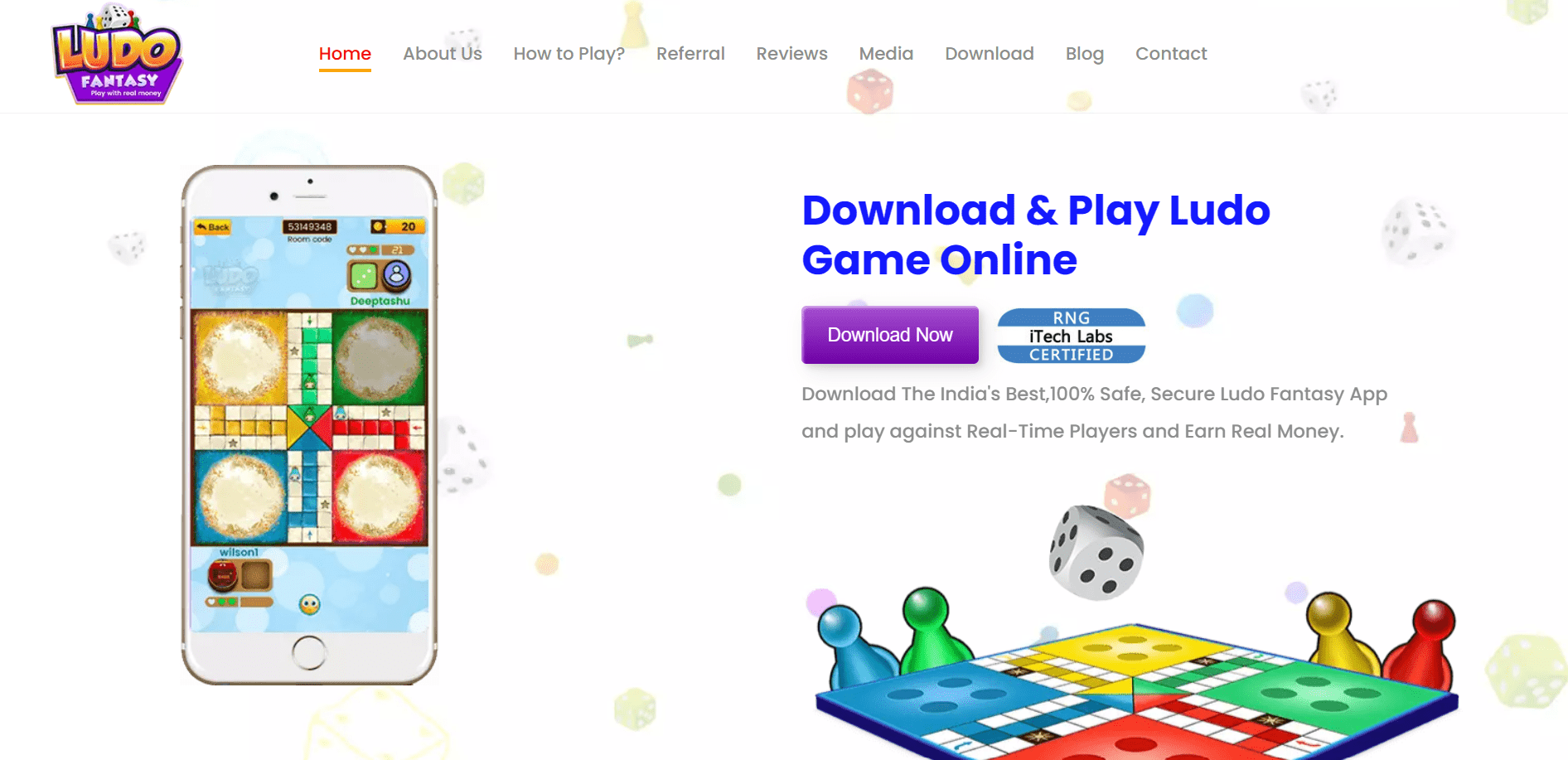 To get sign-up and referral bonuses you need to check out the Ludo Fantasy app. You can play a four-player game on this app and can invite up to 10 people to this app. This game gives you free Ludo credits.
This app is where you go when you want to play for real money. The withdrawal process on this app takes just one click which makes it a better app than many others of its kind. On this app, there are no less than 50 lakh players and the game has a satisfactory rating of 3 stars out of 5.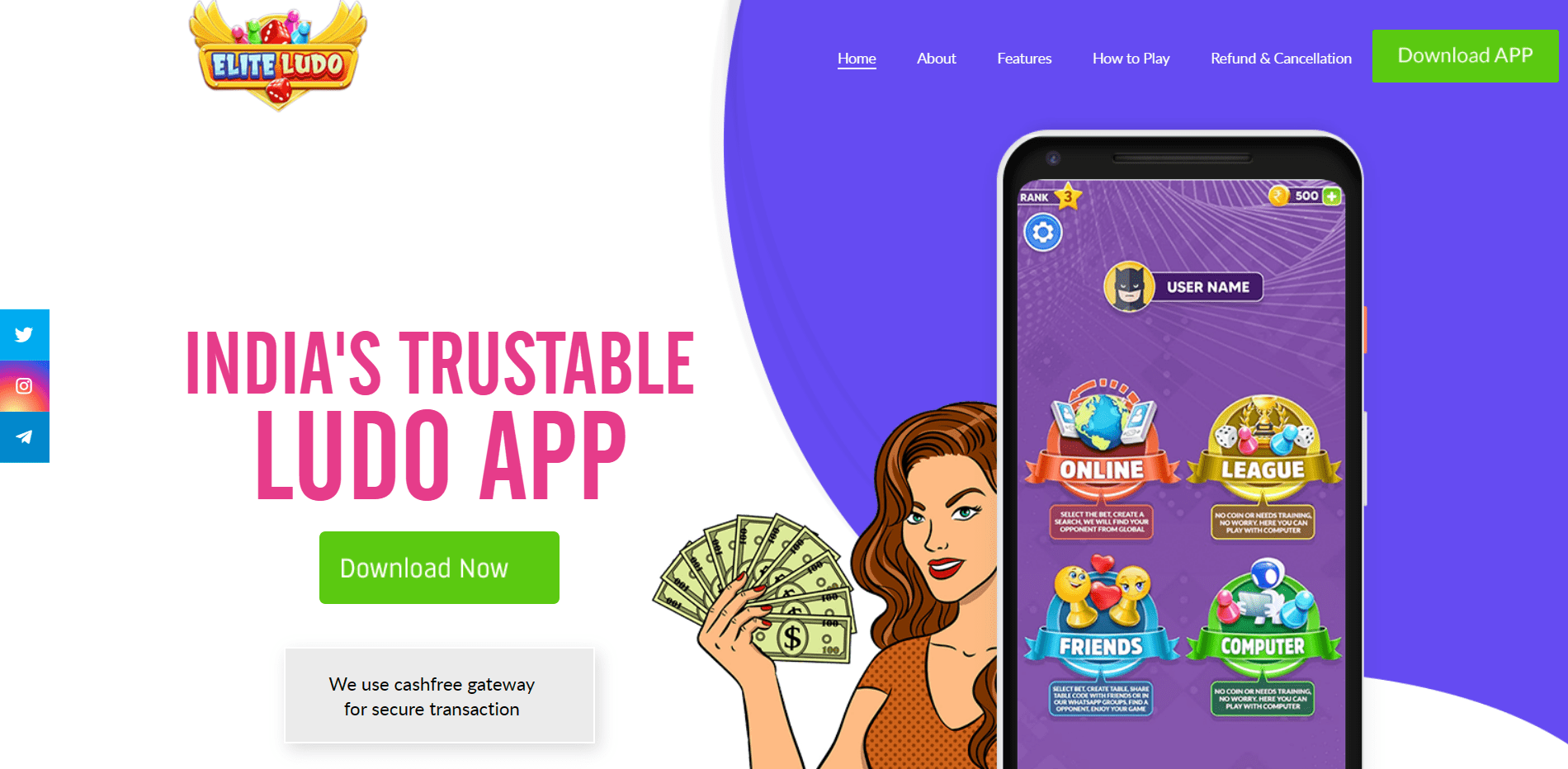 A platform with more than 2 lakh users and 20 thousand plus daily users has surely got to be mentioned in the list of best Ludo app to earn money. This game not only offers a signing bonus to its users but also referral bonuses.
On this app, you can play Ludo with people from around the world and you can also enter the challenge mode. As many as 6 players can play this game at a time which is not something that a lot of Ludo games allow.
Also, if you run out of coins then this game allows you to play with a computer opponent and so you don't have to sit and wait. The app has a rating of 3.8 out of 5 stars.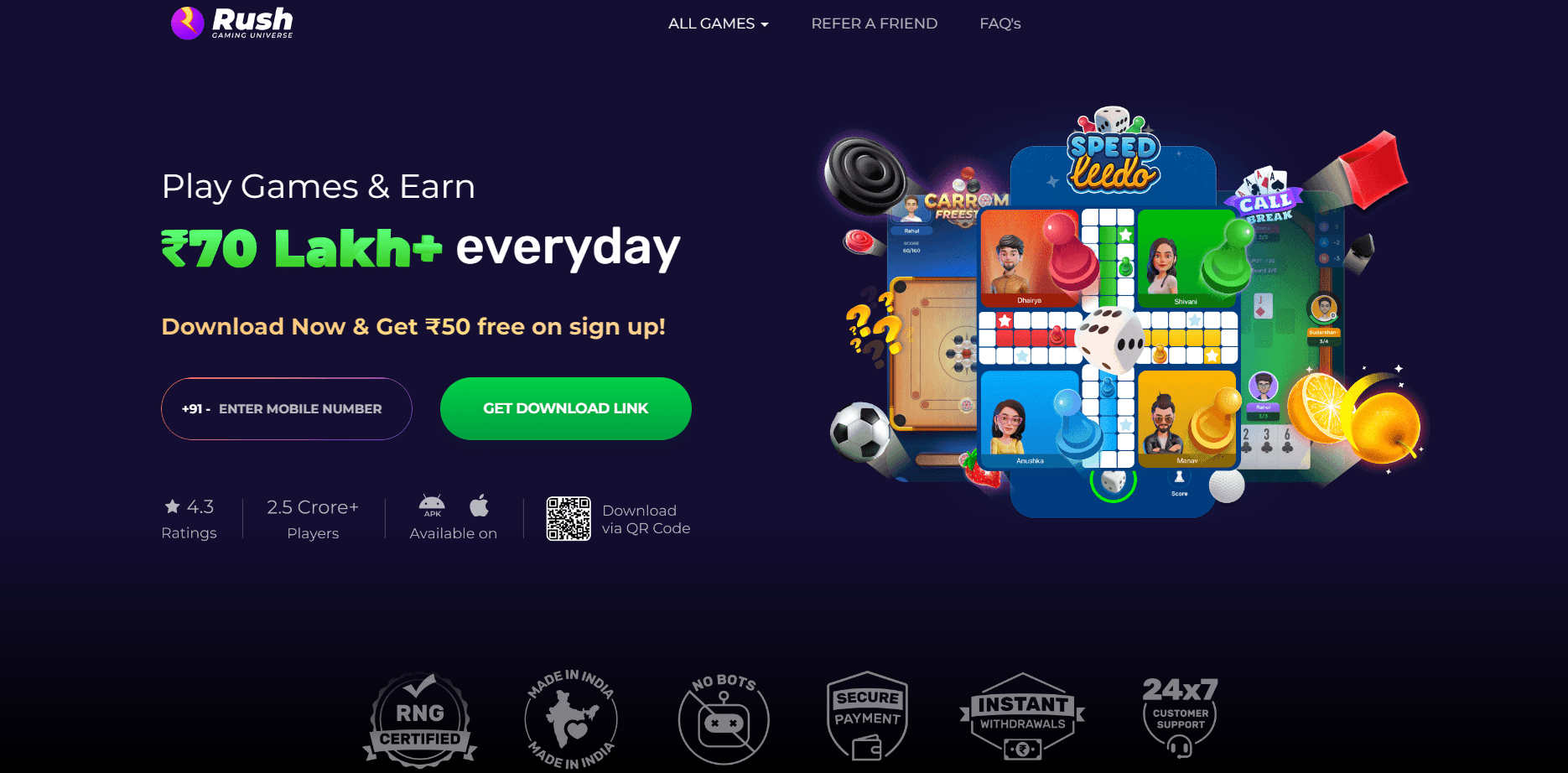 One of the games you can turn to when feeling like Ludo for real money is the Rush app. This app adds extra competition to the already competitive game of Ludo by making it a quick-paced game where you can win money in less than 10 minutes.
The game allows you to withdraw money to your UPI account instantly. The entry price of the game is 3 rupees. It is a free-to-download game and has no risk involved so you can play the game without a worry in the world and focus on quickly pocketing real money and withdrawing it.
Also Read: 42 Games That Pay Real Money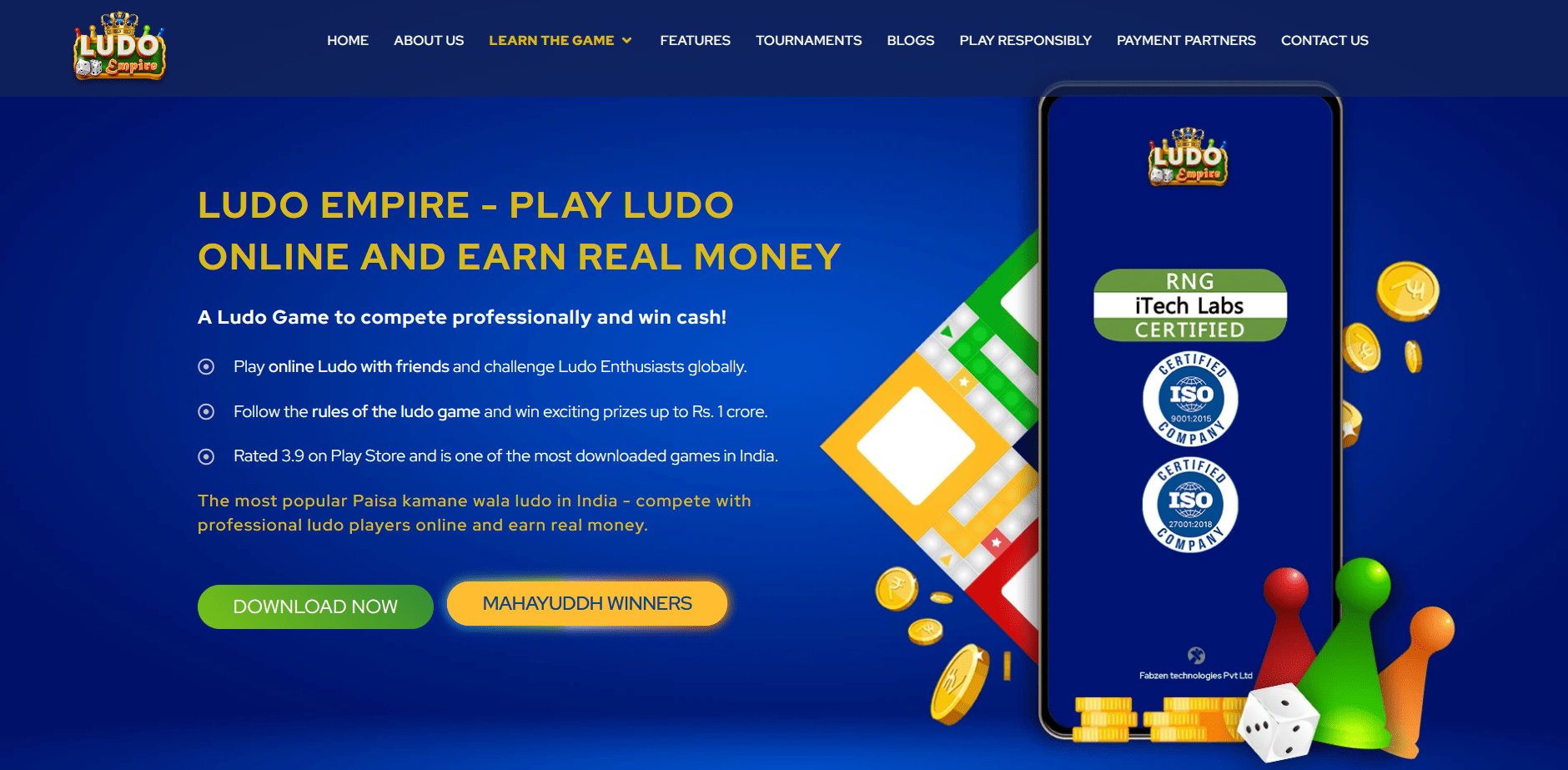 A game played by 60 lakh users has surely got to have what it takes to be a top money-paying Ludo game. It is a multiplayer game that is safe and simple to play. You have the option of choosing among various options of game modes like Classic, Quick, and more.
There are tournaments held in the game on a daily, weekly, and monthly basis where you can win money from. Participation in games costs 5 to 10 rupees while prices worth 1 crore can be won.
Also, the team responsible for this game offers good customer service to its users which makes it an even better app.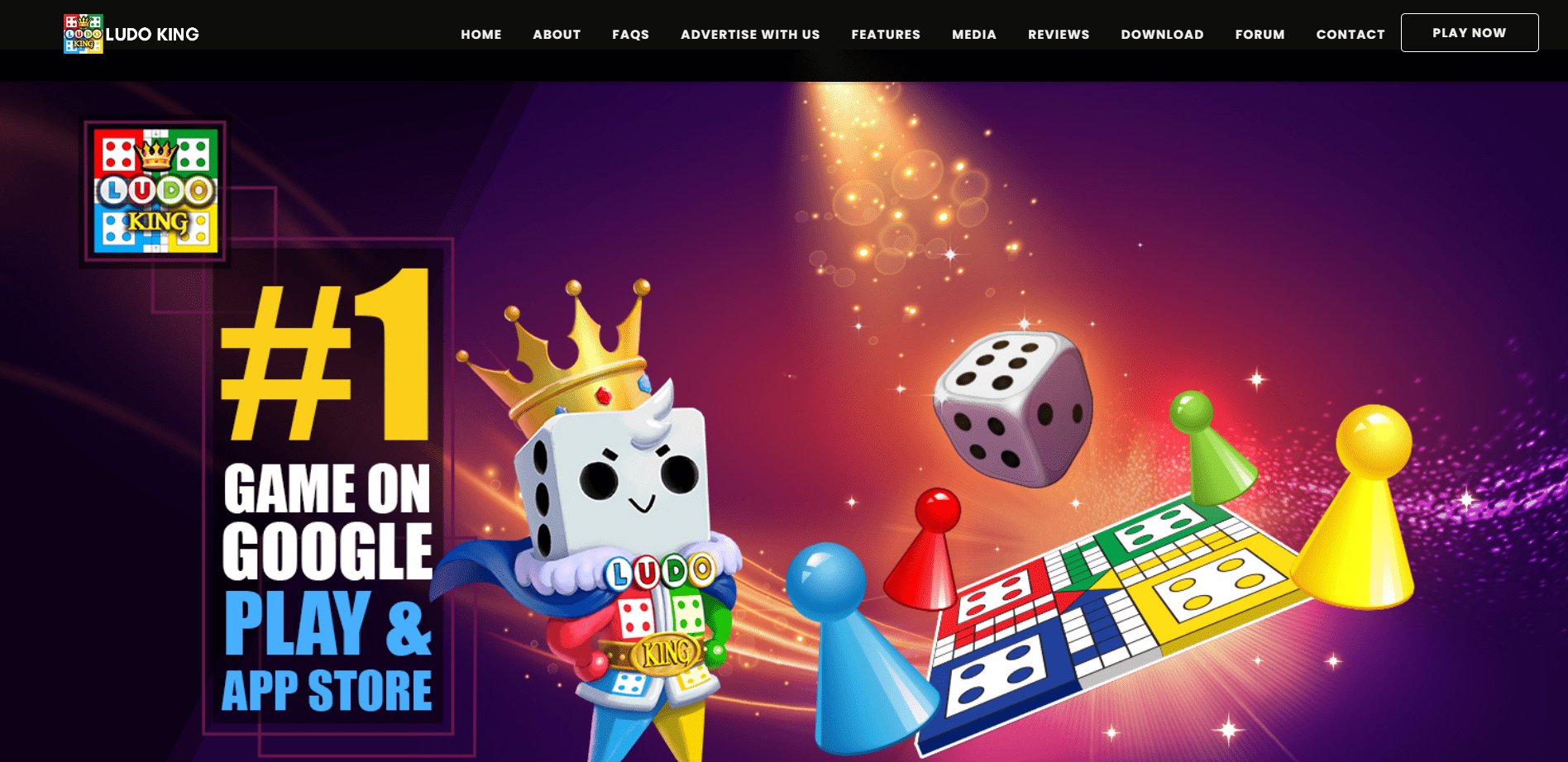 Without a doubt, it has got to be one of the most popular Ludo games on the internet. This game has more than 800 million downloads and won the Most Popular Game Of The Year award at the India Gaming Awards 2022.
It is a free-to-play Ludo game that is available not just on iOS or Android platforms but also on Windows and Kindle devices. On this app, up to 8 players can play the game at a time which has got to be a USP offered by none of its competitors.
The game offers up to 6× rewards and allows you to converse with other players while playing with them. It is one best ludo cash game.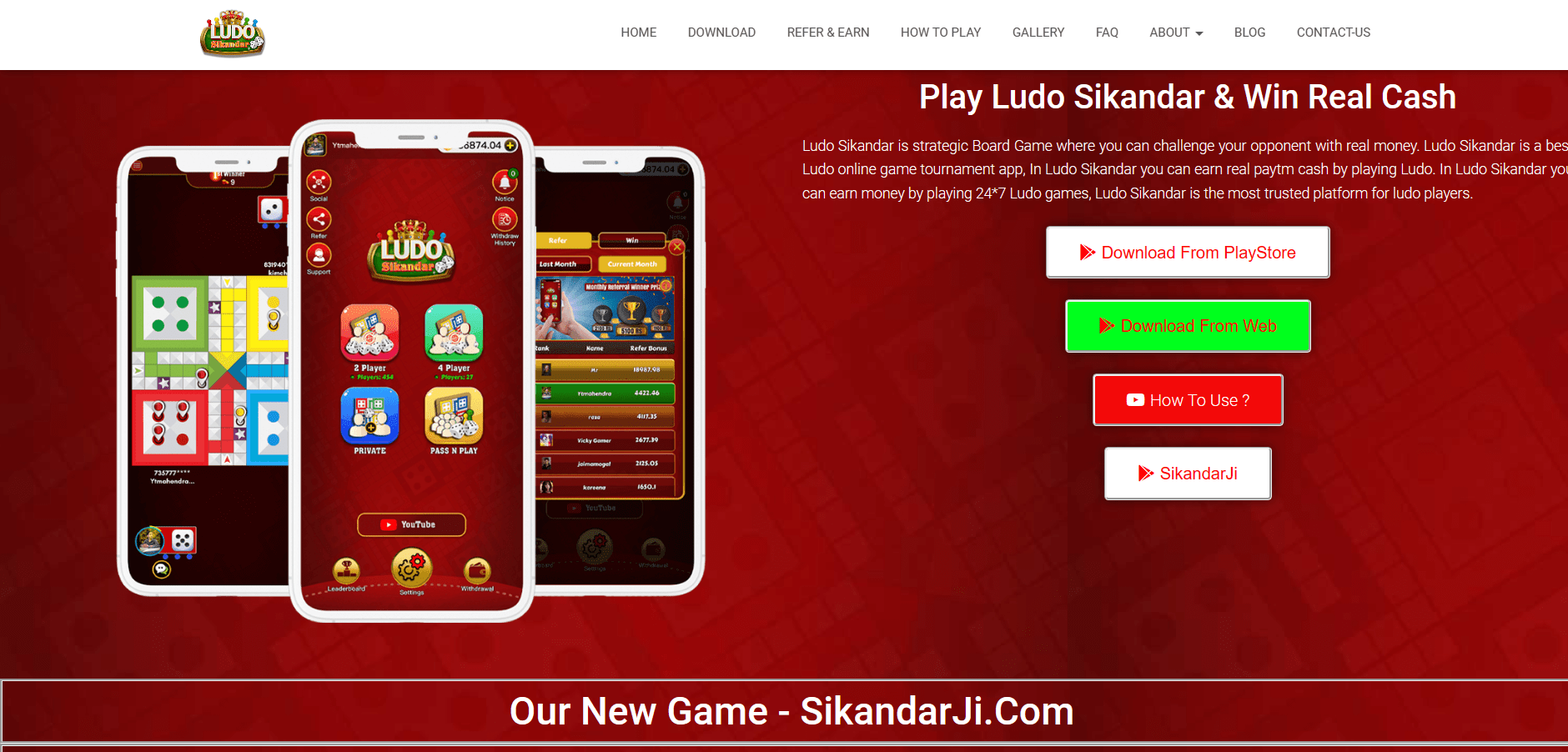 Ludo Sikandar is a Ludo game Paytm cash provider. You can play this money-based Ludo game if you want to win real cash. This game allows you to play a match at anytime, anywhere with anyone over the internet.
What's great about the game is that the referral bonus here is 1% lifetime income from every successful referral. The game comes with a live chat support feature and also the payouts are quick with this game. If you wish to play Ludo and make money from it then you must try out this Ludo app.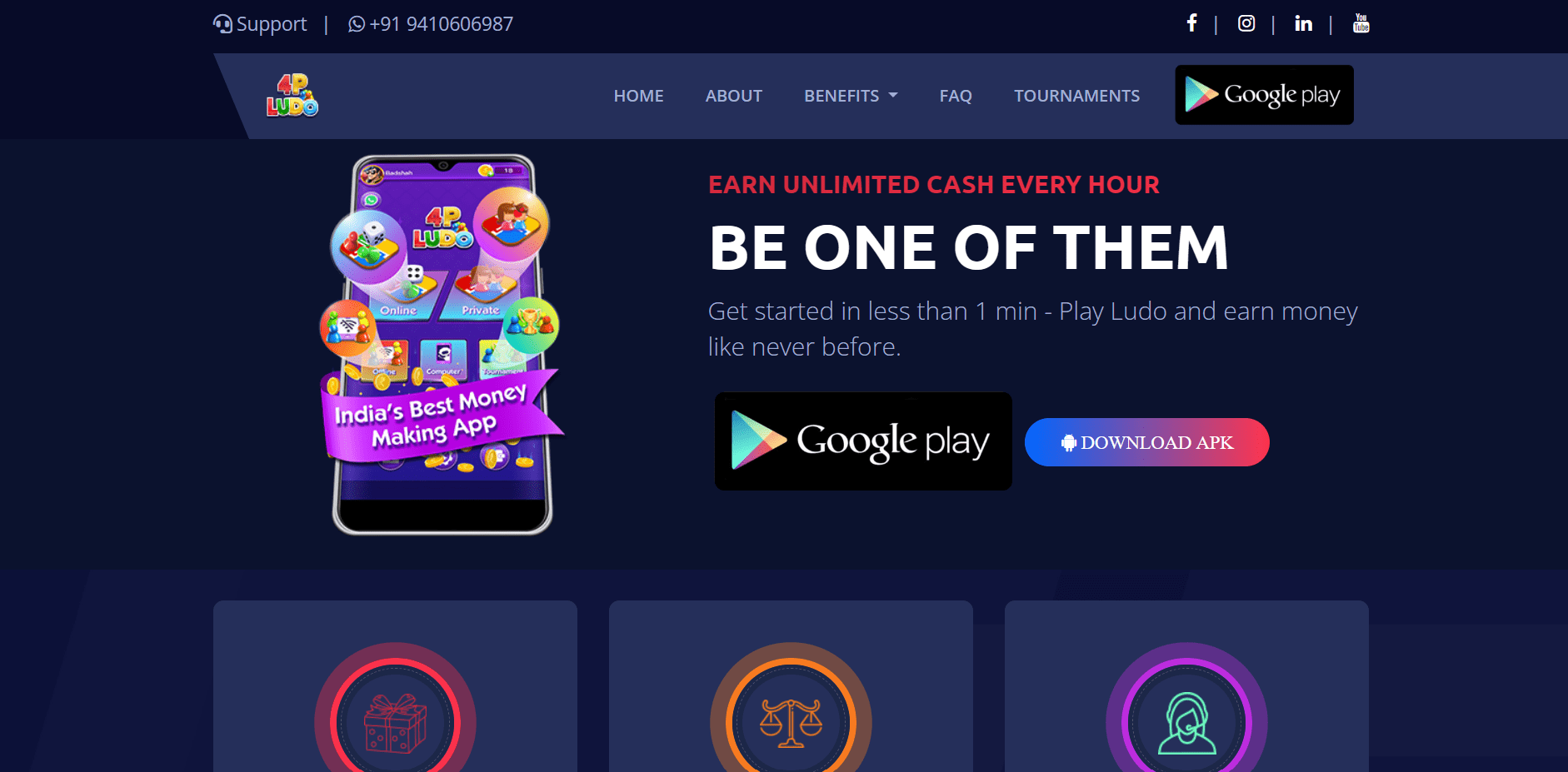 They claim to be the best Ludo app to earn money as can be seen on their website. Ludo is a game of skill and luck and that is exactly what you need to win on this app to be able to bag real money.
This app connects you with real players online. The app also has a 24/7 support line through which players can get help as and when needed. It is a fair game where cheating does not take place and you have exciting prizes at stake.
Almost 1 lakh players play this game and that should tell you a bit about its popularity.
Also Read: 30 Best Ludo Earning Apps to Win Money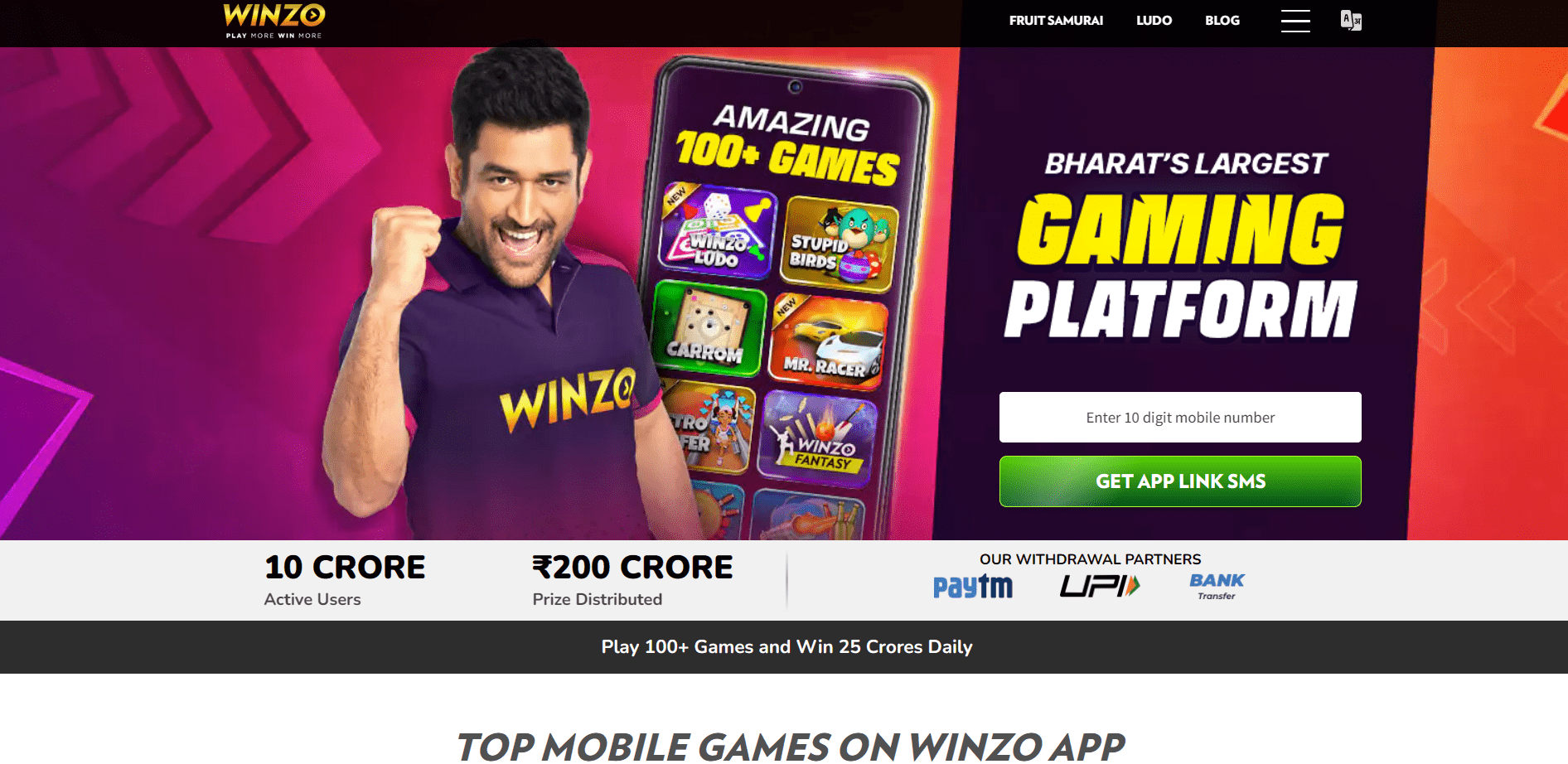 If you see Mahendra Singh Dhoni advertise a game then you better believe it is among the best of its kind if not the best. This app is not only reliable but well protected and so your experience on this app should be a good one.
To make things even better the game has deployed a system to detect malicious players. The money won by playing this game can be withdrawn quickly and via multiple apps such as Paytm, Google Pay, and more.
There are more than 100 games to play on this platform and you can win a jackpot of 25 crores daily as claimed by the app. Of the 150k ratings reviews received by the app, it boasts an overall review of 4.7 stars out of 5.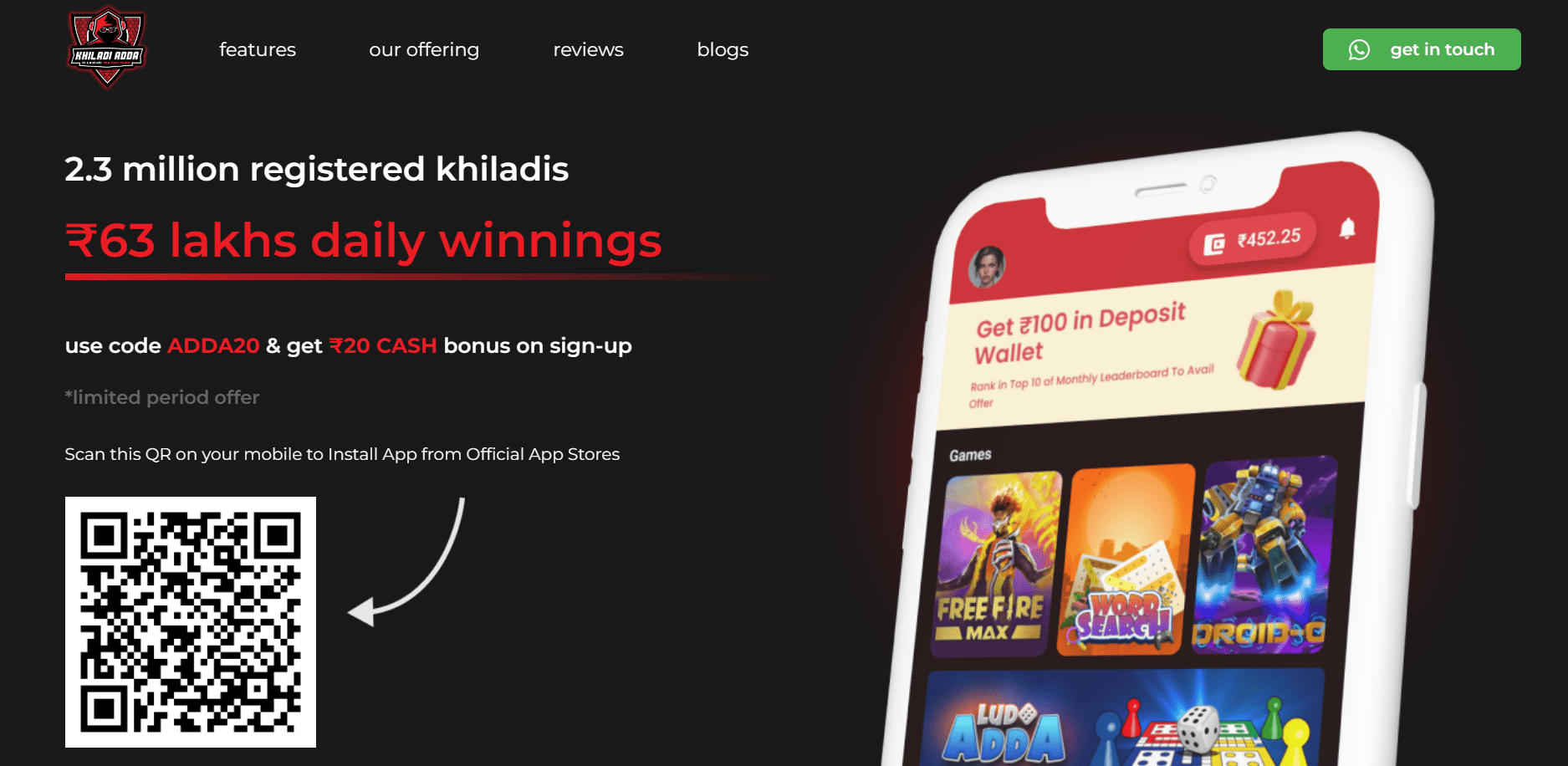 More than 2 lakh players play this game and the daily winkings on this app amount to 63 lakhs. It is a fun game with a good and simple user face which is a good thing for the users.
You can win money by winning games on this app and then this money can be withdrawn via multiple UPI apps. The game also gives away referrals and other bonuses to its users. You also have a customer support team that is active 24/7 to take care of any and every issue that you might face.
The app hosts tournaments from time to time and so if you want to win big cash prizes then make sure to keep an eye out for one.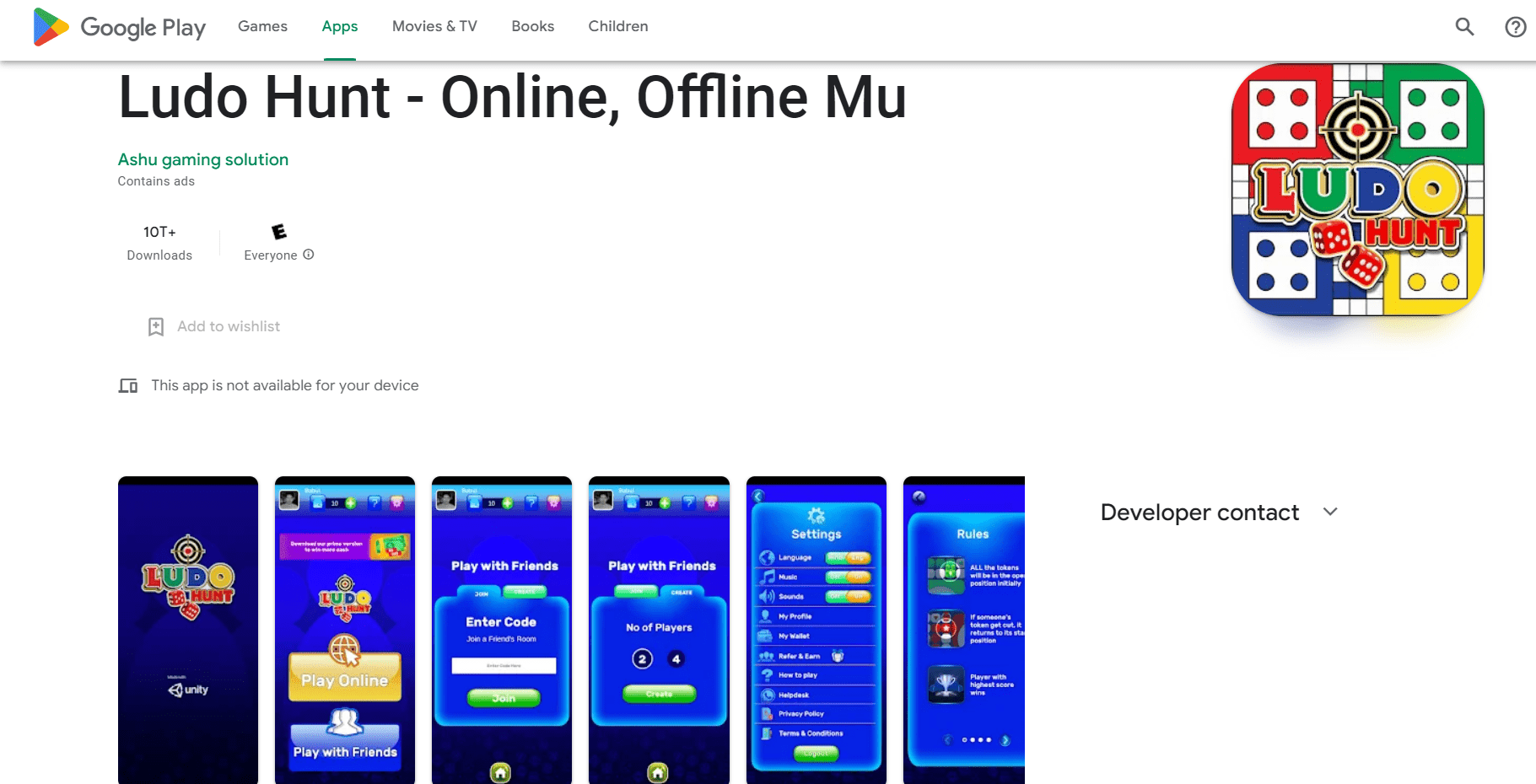 Another great Ludo game to consider playing when aiming to win a real cash prize is Ludo Hunt. It is a safe game to play and there are systems in place to make sure that the players remain ethical at all times.
From time to time the game has great prizes to offer to the winners. You can easily deposit and withdraw money to and from the game without being worried about anything. The game allows you to play the game of Ludo with other online players.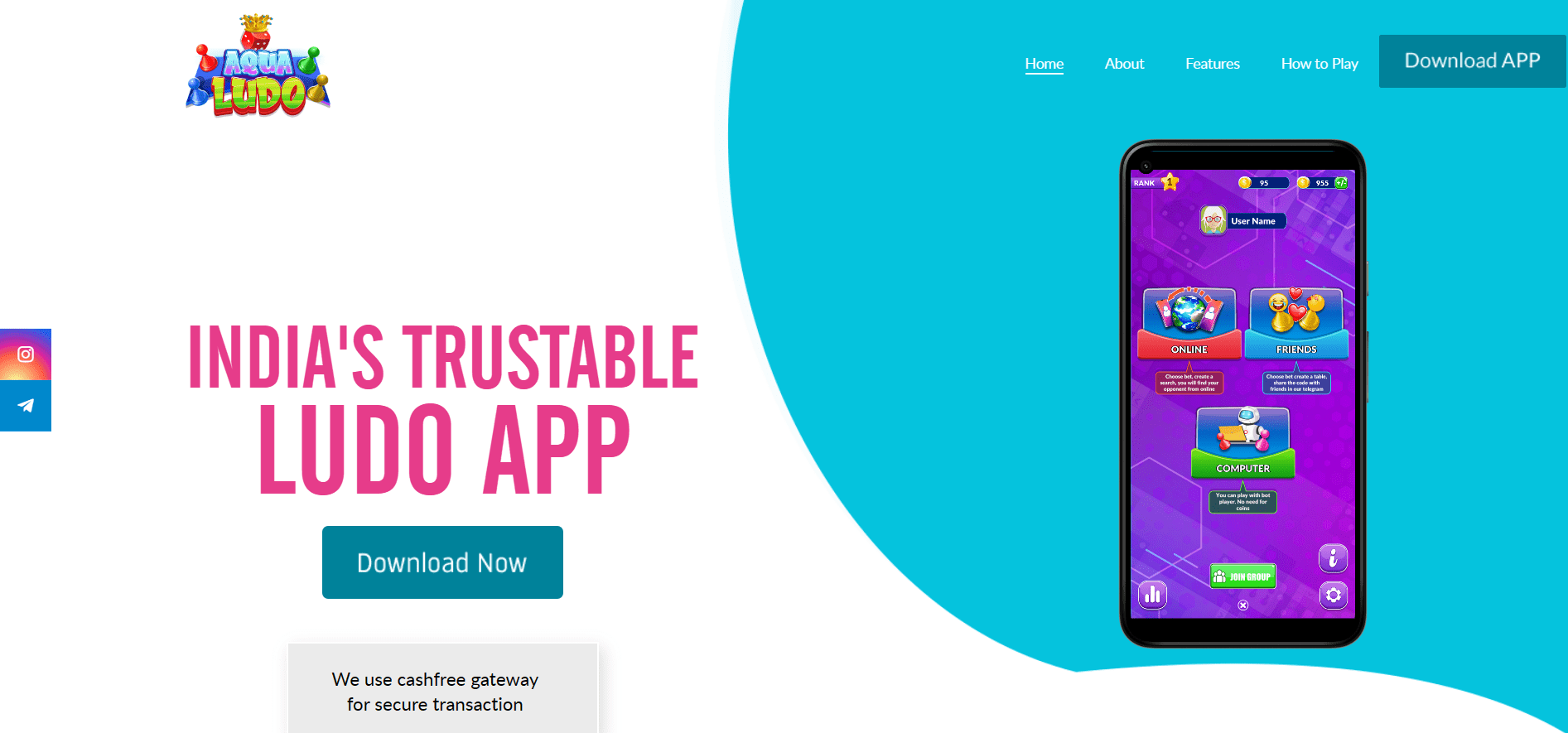 This Ludo game has no less than 1 lakh daily users. The game is available to download for Android users who can play and win money from it. The game has been made by one of India's oldest gaming companies which adds the trust factor to it.
The game is interesting to play and the best thing about the app is that your withdrawals take place almost instantly which is another reason to consider playing this game.
Also Read: 40 Best Paytm Cash Earning Games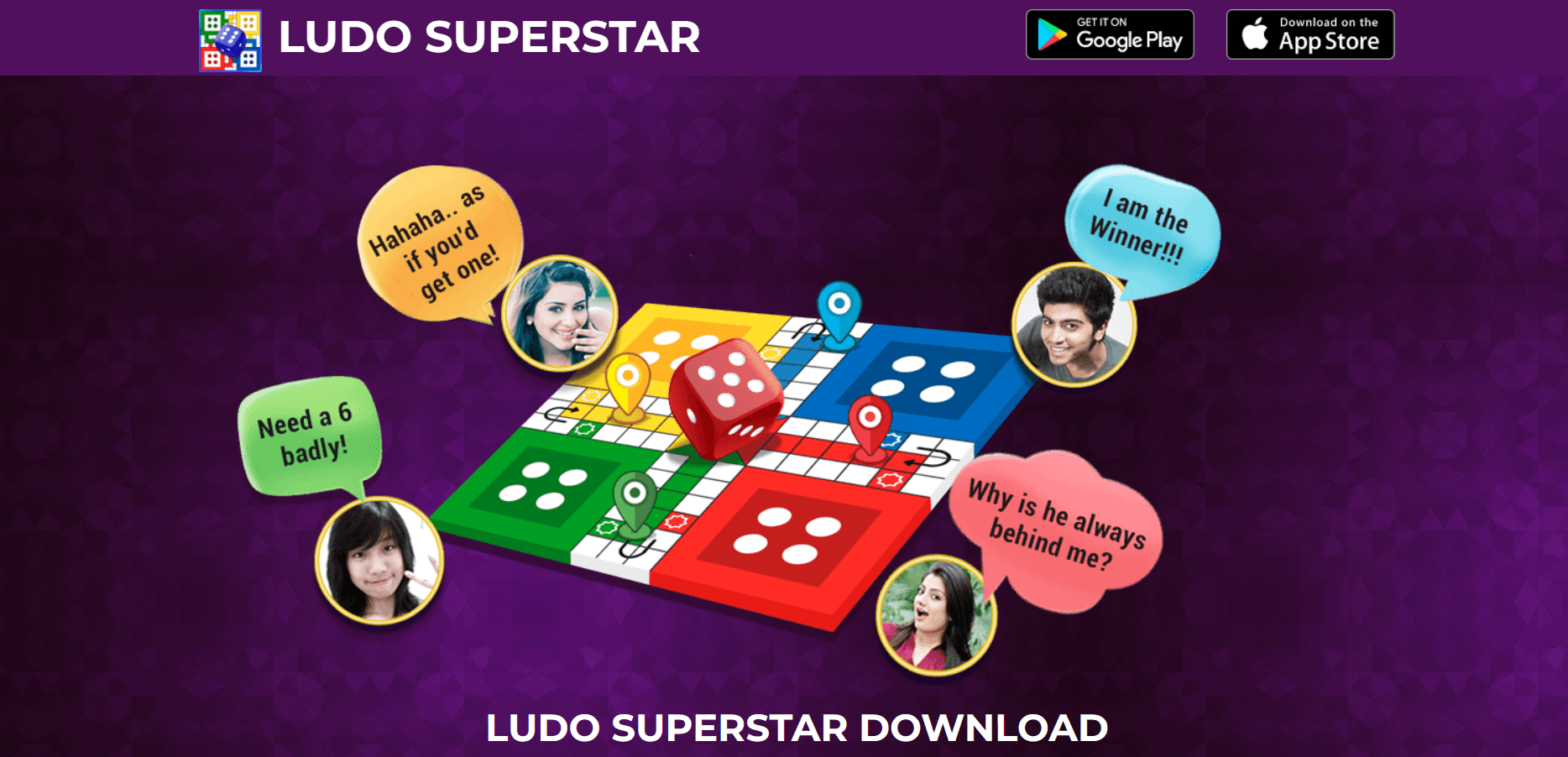 One of the most popular Ludo games online, Ludo Superstar does not need any kind of introduction. It is created by the same company that is responsible for creating the game PubG.
The game is not much old but its popularity would make you feel otherwise. It happens to be one of the top games on Android devices. You can play with players from around the world on this app which makes it even more fun to play.
The game has a simple design and a distinctive mode borrowed from PubG which acts as its USP and makes it even more popular than it already is.
Best Ludo App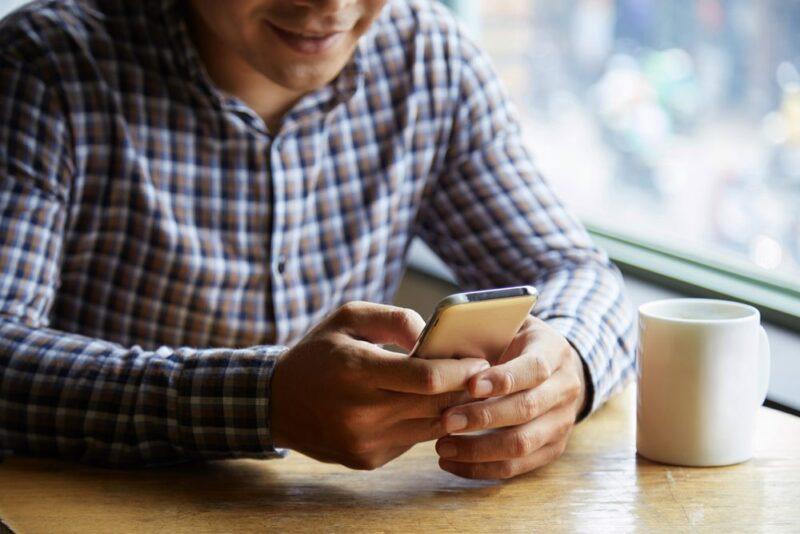 The thing about Ludo is that it was one of the best multiplayer games that we had in our childhood. Be it a house party, a picnic, a night stay, or any other occasion the game always covered our back and could be played on any occasion.
Today it is more of a distraction or something to turn to during boredom but that all changed when mobile devices got Ludo on board.
Today's generation doesn't know Ludo as those in the 1990s, early 2000s, or those before them remember. It can be rightly said that the game has been reduced to a mobile game or it can also be said that it has been reinvented and given a new angle that is capable of bringing more players to the game. We are talking about turning Ludo into a money-based game where you can pay and play and also win real money from.
Ludo might not be what it used to be but it doesn't necessarily mean that it has regressed if anything today the game is more popular and accessible than it used to be back in the day and there are tons of apps solely dedicated to Ludo, or apps where you can go to play Ludo.
So there might not be just one best Ludo app to earn money but there certainly are tons of Ludo games where winning money is possible.
Ludo Earn Money
The best thing about playing Ludo online is that you can play the game anytime and from anywhere as long as you have a working internet connection. And combine it with the fact that you can win money playing a game on your phone and you have got the best way to kill time. There are quite a few ways to play Ludo earn money from it at the same time in these ways mentioned below.
Play and Win: The most obvious way to earn money from a Ludo game is to play it and win it which is the same across any and every online Ludo game. be it the best Ludo app to earn money or just about any random money Ludo app, if you win the game you win money.
Sign Up: Another way to earn cash from a Ludo game would be to simply sign up. Some Ludo games pay money to players just for registering and creating an account with the game.
Referral: Most games today pay money on playing or winning then because they make money from you or get you to bring new users to them in return for money or in-game prices. It is no different with a lot of Ludo games that ask you to refer the game to your friends and family and each additional person that uses your referral code to join the game gets you money or prizes.
Login: Some may find it hard to believe but there are also these games that pay you just to log in daily or stay active on the game and so you could just log in to the game and get in-game prizes or real cash depending on which Ludo game you play. So as you can see, through ludo earn money easily.
Ludo Game Paytm Cash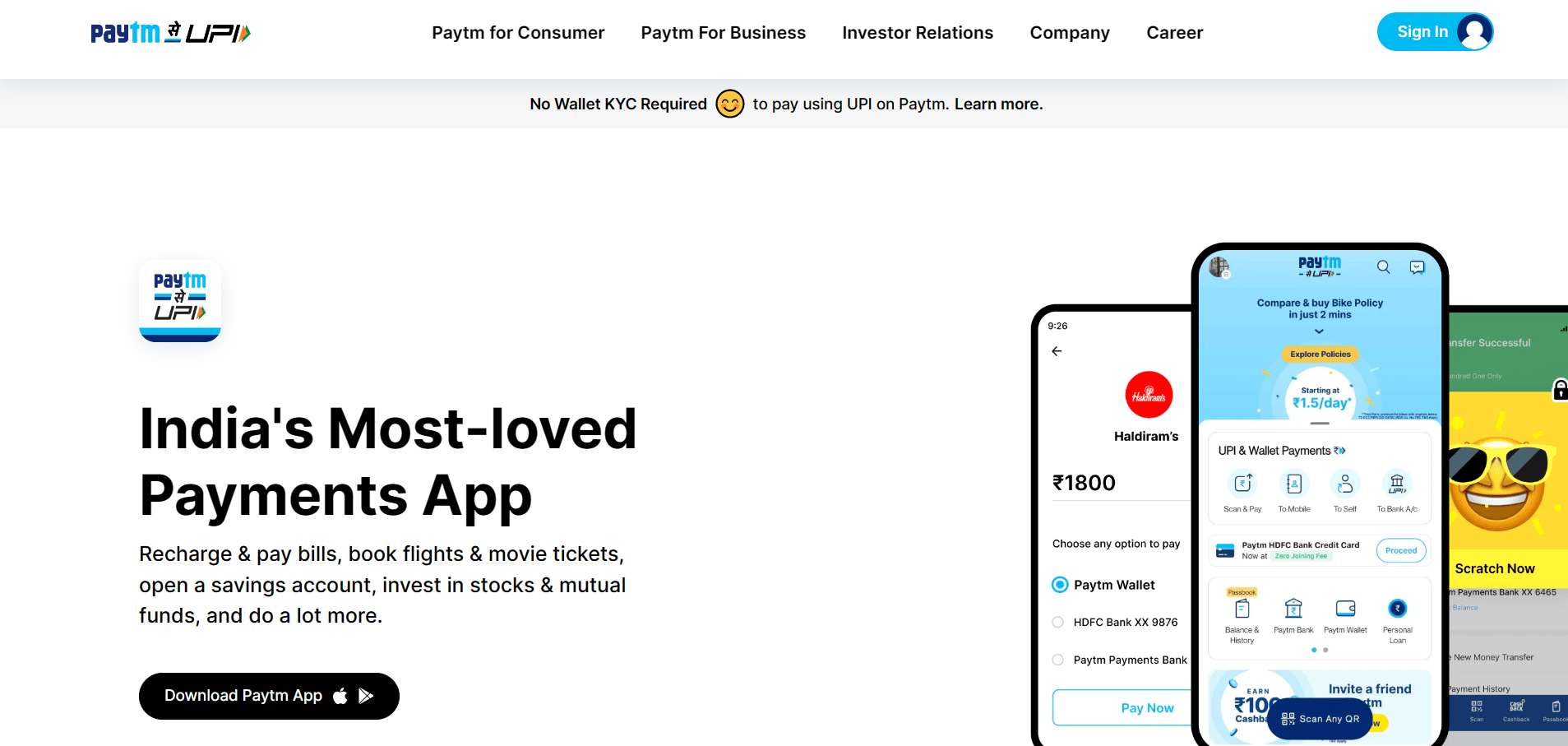 While there are a few ways to win real money from a Ludo game, the most popular method of withdrawal remains Paytm. Paytm is a financial technology company that has made sending and receiving payments over the internet easy.
The company founded in 2010 can be said to be the pioneer as well as the largest digital payments platform around the world. The app is not just facilitating peer-to-peer payments but also enables the users to get hold of various other stuff like tickets, bills, and more.
Coming back to Ludo, most apps give the user the option of withdrawing cash over Paytm. Ludo game Paytm cash option may allow the users to get their winnings in their account in a few business days. Some games may charge a fee or have a minimum withdrawal threshold, however, Paytm doesn't ask them for any kind of charges.
Also Read: Top 50 Money Earning Apps In India (2023)
Play Ludo with Real Money
When you think to play Ludo with real money you can consider any of the apps mentioned in the list above. Most of those apps give you a signup or referral bonus or both and allow you to play with friends and family or random people online.
These apps allow you to deposit money through Paytm or other UPI apps and these are also the means through which you can withdraw your winnings almost instantaneously.
So with that, the list of best Ludo app to earn money comes to an end. Ludo earn money options include playing and winning the game or you could simply log in, signup, or refer the game to others and make cash from it.
With the best Ludo app, you can win when you participate in any of the games mentioned in the list. You can play Ludo with real money in any of these apps and win the same from it if you can come up with a good strategy and skills.