If you are an avid traveler then you already know that taking a flight is the fastest way to reach your destination. There was a time when flights were not frequent and not many airports were connected. However, in the last few years, India's civil aviation sector has seen a rapid expansion. Modern terminals, low-cost carriers, cutting-edge informatics, and FDI in domestic airlines are making the civil aviation sector in our nation world class. Domestic airlines are now offering cheaper tickets and frequent flights to compete in the market. In this article, we will inform you about the best domestic airlines in India.
Rise of Domestic Airlines in India
India's domestic airline sector, which now has the third-largest share of the global market, is expected to surpass it during the next 10 to 15 years. The competitiveness of Indian domestic airlines is largely to blame for this. Today, many private airlines are operating in India, and the list of top airlines in India has significantly grown.
Domestic airlines in India have been instrumental in the development of the aviation industry and in lowering the cost of air travel for the common Indian. Over the past few years, local airlines have consistently offered low airfares while maintaining and improving their services. As a result, more and more customers choose to travel by plane every year.
This expansion has been significantly aided by the arrival of private airlines, and domestic carriers in India, industry deregulation, and developments in airport infrastructure. Additionally, the typical Indian is starting to use the perks of air travel and is becoming more aware of them. Domestic airlines also make a concerted effort to maintain consumer satisfaction by providing more flexible schedules, special discounts, and straightforward booking procedures.
12 Best Domestic Airlines in India
Numerous airlines serving the country run thousands of flights each week between the nation's major cities and foreign destinations. IATA International Air Transport Association forecasts that by 2034, India's air passenger volume would reach 378 million. Therefore one can say that domestic airlines in the country have a fantastic potential to develop. Let us now begin our list.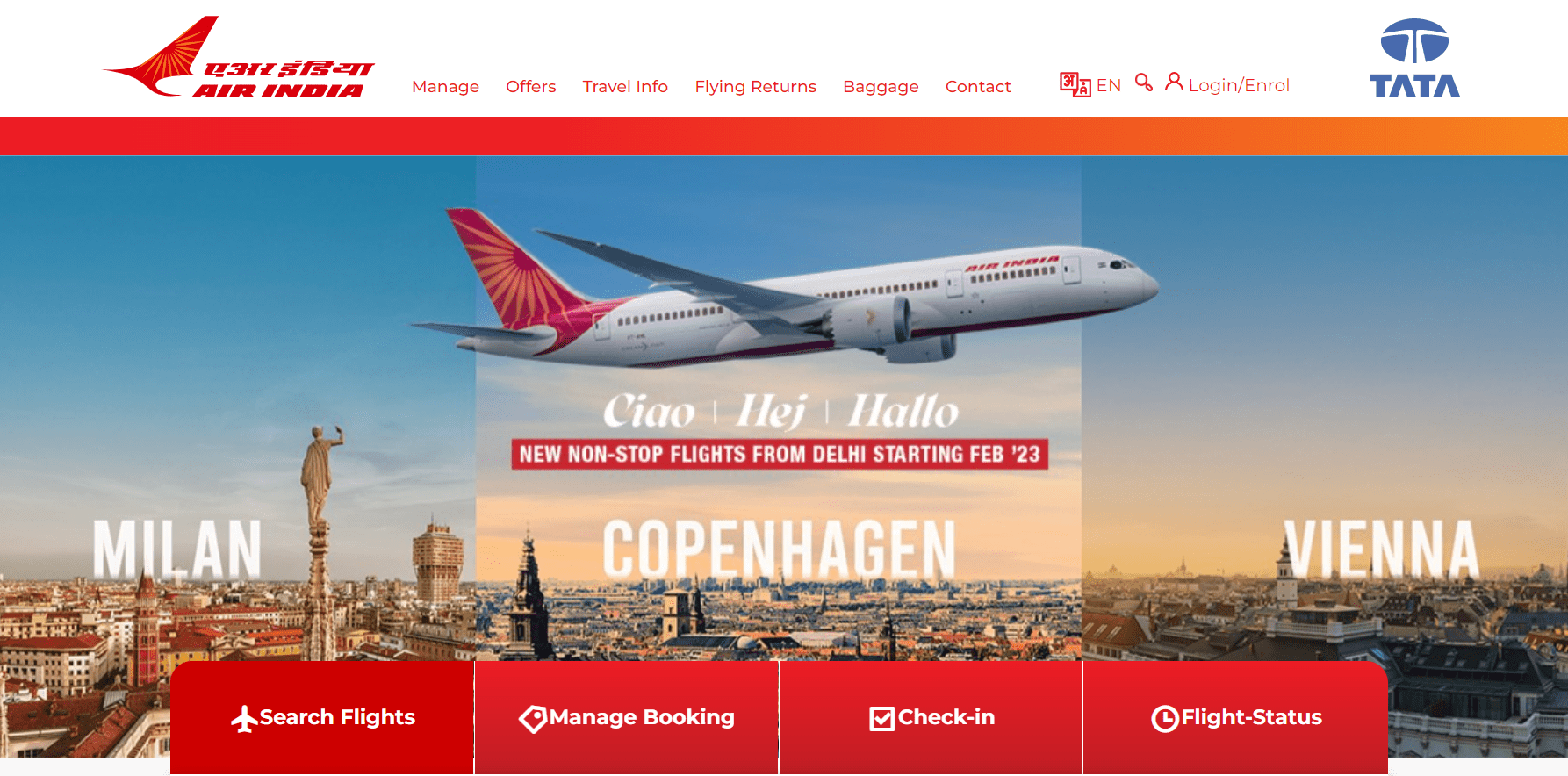 Air India is the oldest airline in India, which was founded by J.R.D Tata. After the transaction was finalized by Air India Limited's previous owner, the Government of India, Talace Pvt. Ltd, a Special-Purpose Vehicle (SPV) of Tata Sons, acquired it. The airline's hub and numerous focal cities around India are located at Indira Gandhi International Airport in New Delhi. This Delhi-based airline serves 84 destinations—48 domestic and 36 foreign—using a fleet of 109 Boeing and Airbus aircraft.
Air India airlines are renowned for its carefully thought-out schedules and timetables, effective luggage management, cozy seats with lots of legroom, and delectable complimentary meals served on board. Among the overseas destinations served by Air India are London, Birmingham, Paris, Chicago, and New York along with 60 other destinations across the globe. It has the most generous luggage allowance of any airline (25 kg for economy class), which is widely prized by travelers. It also has some of the most reasonable ticket prices.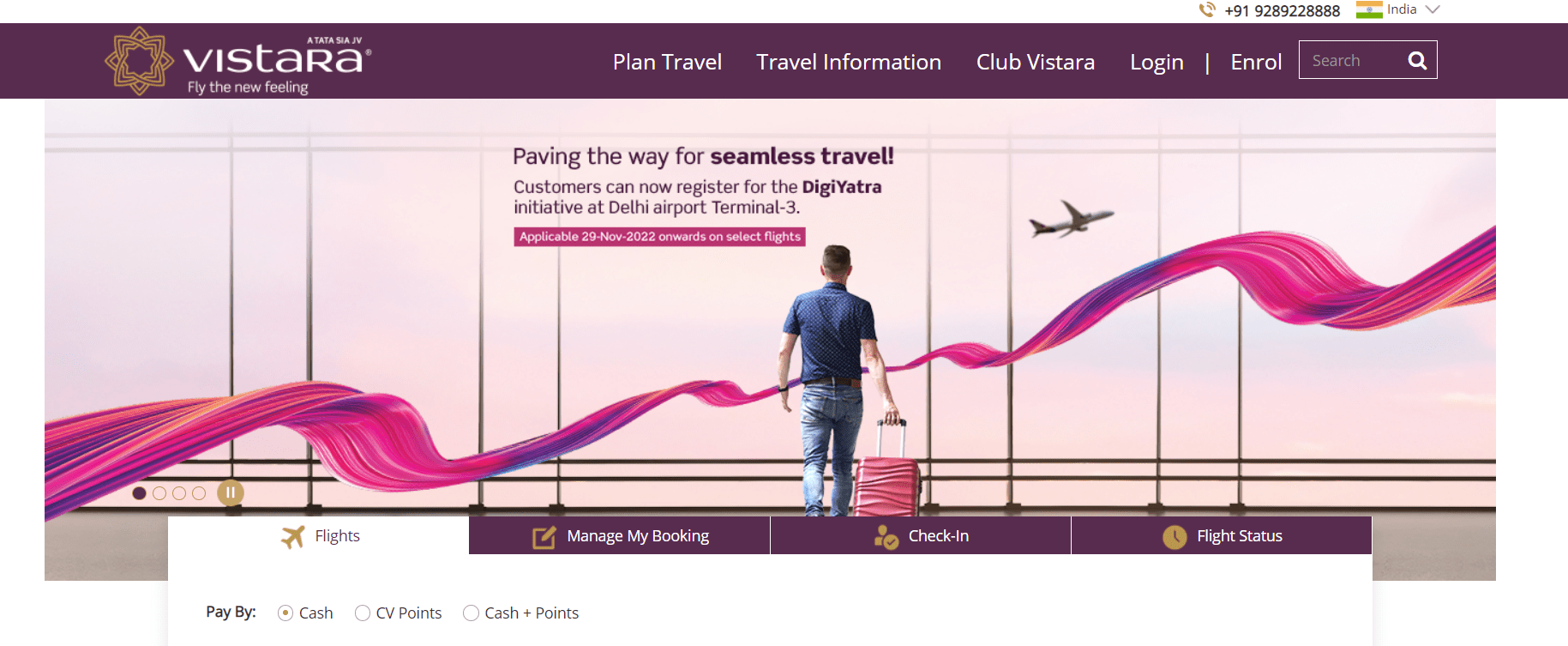 The newest and one of the best domestic airlines in India, Vistara, is a joint venture of Singapore Airlines and Tata Sons located in Delhi. Vistara is steadily building a reputation for offering inexpensive travel with excellent service. This airline has a network of 11 Airbus A320-200 aircraft and offers service to 21 Indian cities. More than 200 flights a day are run between Delhi, Mumbai, Leh, Kolkata, Chennai, and Bangalore.
The name Vistara embodies both the public's desire for the airline to become India's Best Airline and the company's ambition for unending growth. They have currently started international flights to Bangkok and Singapore. In-flight meals are provided by Vistara and are cooked by Chef Arun Batra, a former executive chef for the Taj Hotels organization.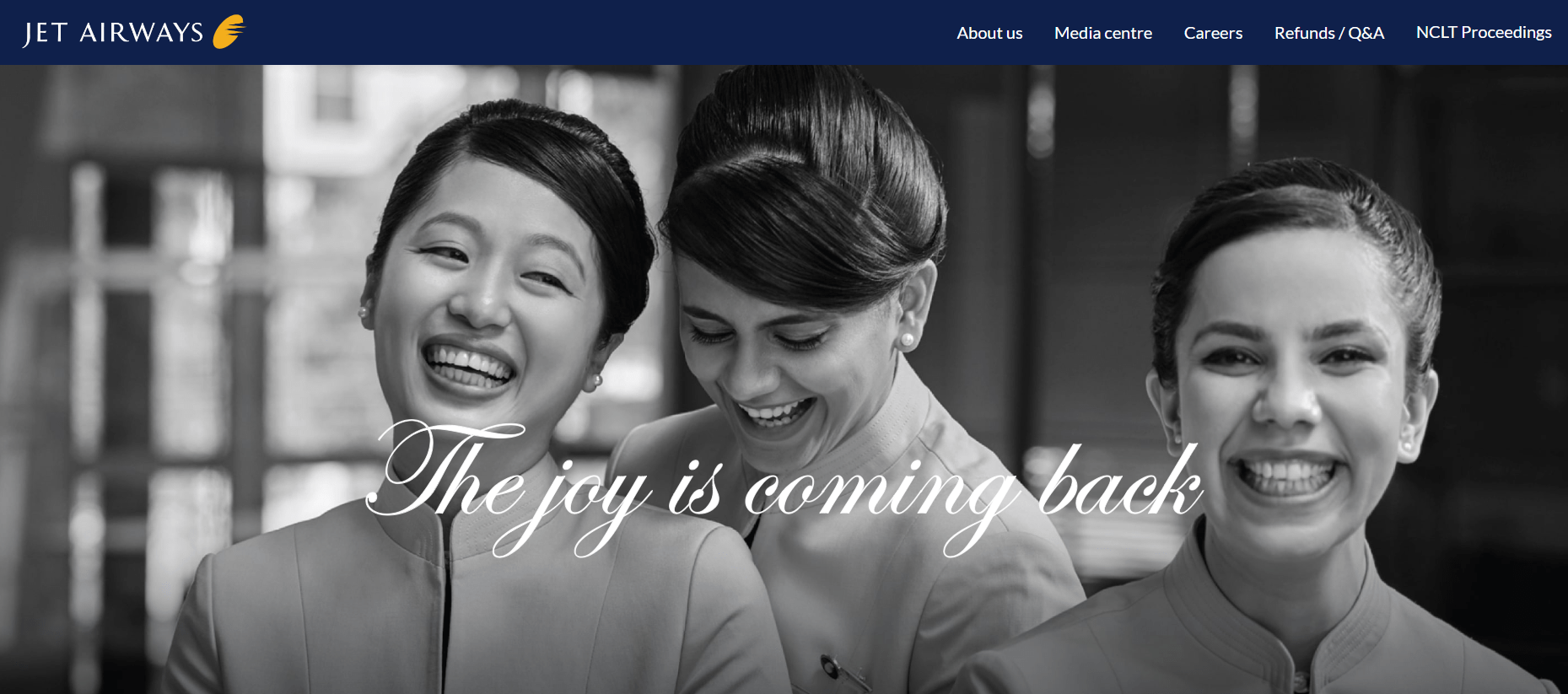 Currently one of the finest full-service airlines in India is Jet Airways, which has captured the majority of the market. In 1993, the airline launched its air taxi service. International flights were introduced in 2004 after they started full-fledged operations in 1995. Apart from Air India, Vistara was the only full-service airline located in India before its creation in 2015. By the end of 2022, the airline is anticipated to resume flying operations, making it the first Indian airline to resume service after discontinuing. Its primary base is at Mumbai's Chhatrapati Shivaji Maharaj International Airport, from which it flew more than 300 times each day to 74 locations throughout the world.
This airline has a reputation for providing excellent cuisine, on-time arrivals, and luggage management. A service for in-flight entertainment is available, and passengers can stream material to any Wi-Fi-connected personal device. Reclining seats, a flatbed, personal LCD TVs, and an in-seat power supply are available in the Premiere and First class sections. The primary base of this airline is in Mumbai, and it also has offices in Delhi, Chennai, Bangalore, and Kolkata.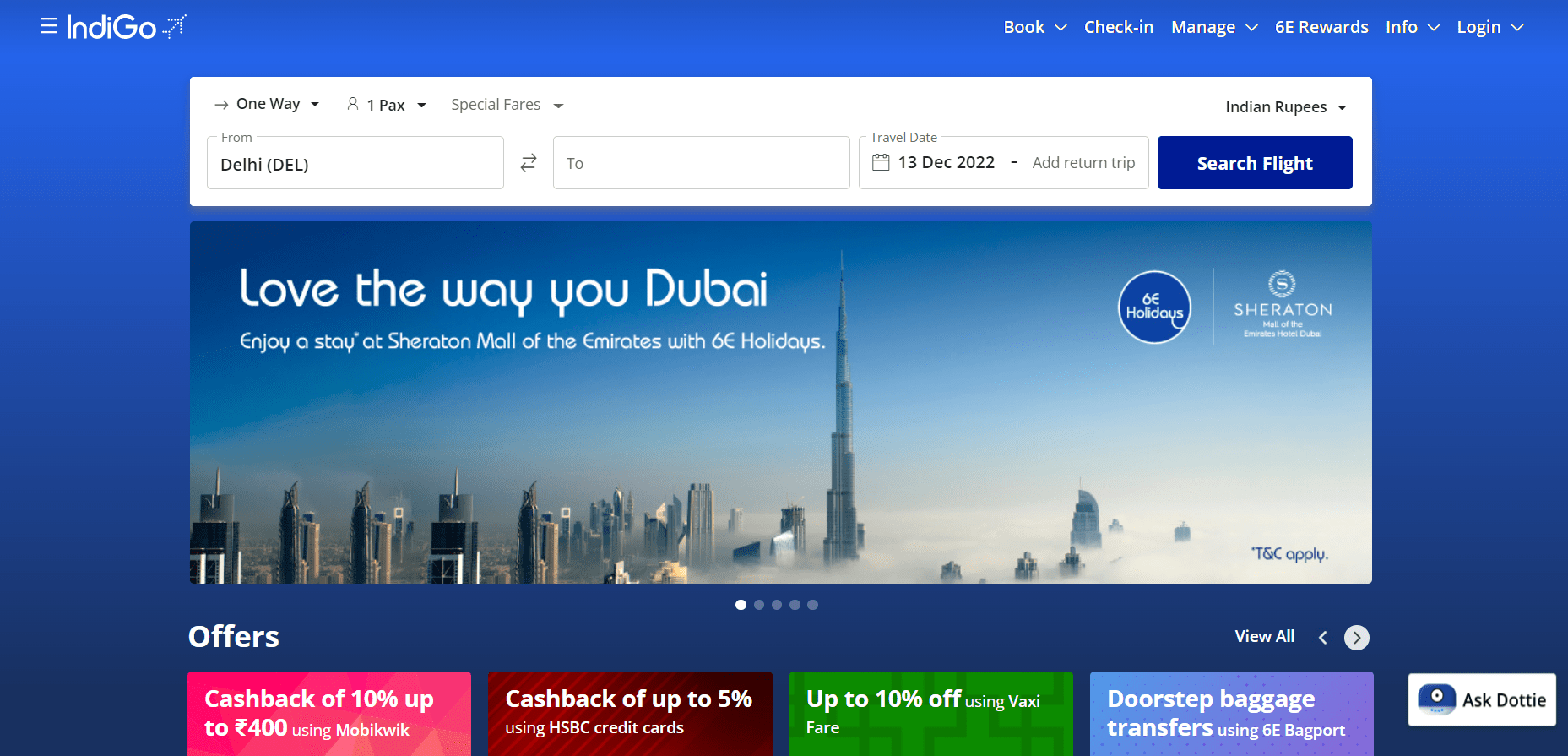 This airline is one of the most popular low-cost airlines in India. By the number of passengers transported and fleet size, it is India's biggest airline. As of August 2022, it has a 55% share of the domestic market. With nearly 64 million passengers transported in the fiscal year 2018–19, it has become the largest individual Asian low-cost airline in terms of passengers carried and fleet size. Delhi's Indira Gandhi International Airport serves as its main hub. 60 domestic and 22 foreign destinations are served by IndiGo flights. There are flights available all day long.
The airline offers service to destinations around Europe, including Athens, London, Vienna, and Zurich. Additionally, they provide more than a thousand domestic flight options between cities including Bangalore, Lucknow, Chennai, and Jaipur. Despite being inexpensive, this airline has a solid reputation for timeliness, the connection between flights, safety, and customer service. It does not, however, offer free meals or in-flight entertainment. As one of the best domestic airlines in India, IndiGo provide several upscale amenities, like priority check-in, cancellations, and allocated seats.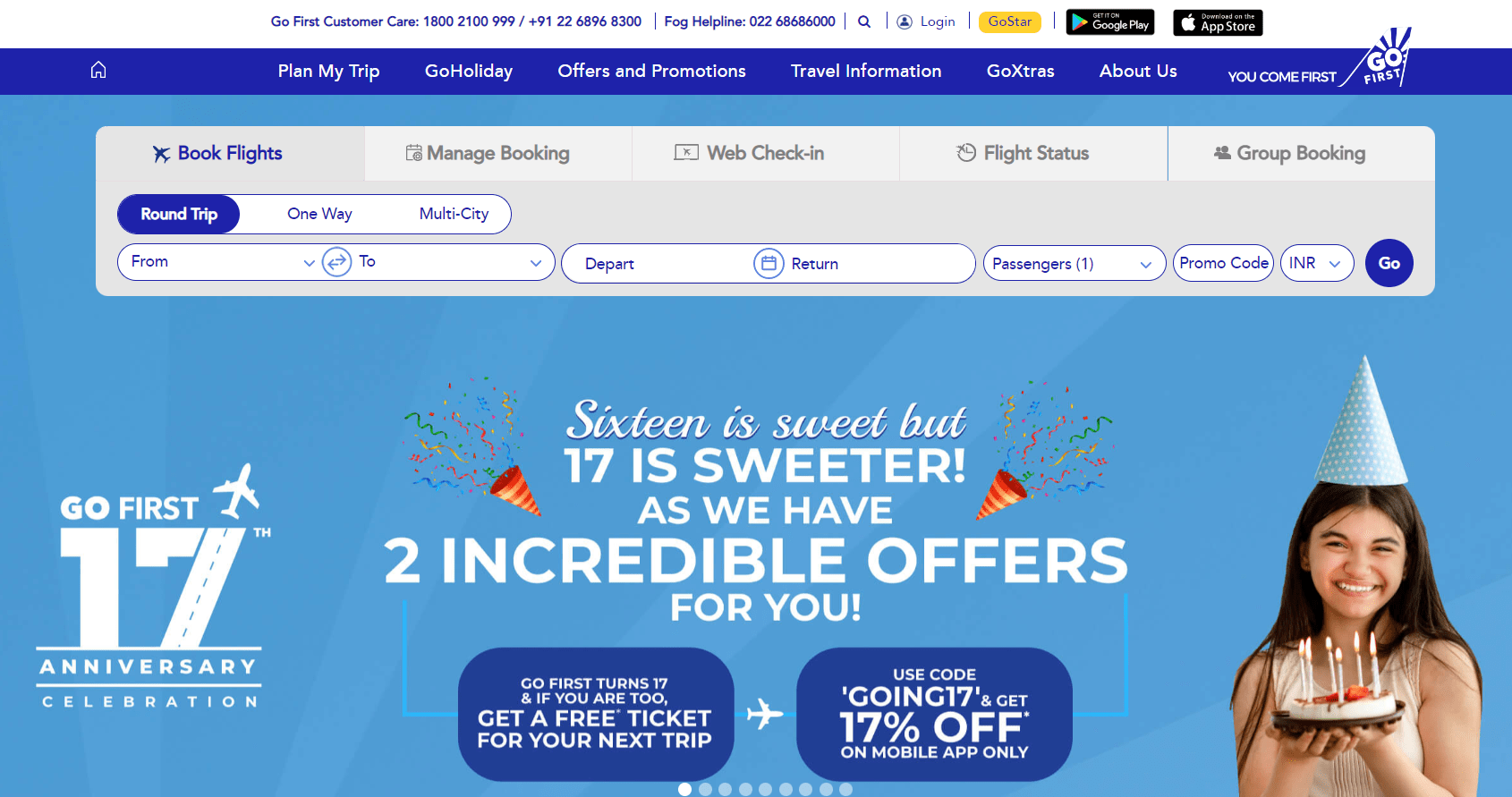 GoFirst is a Mumbai-based, little-known low-cost airline. The Indian commercial conglomerate Wadia Group owns it. It travels to 35 locations, including 27 domestic and 8 foreign, using a fleet of 21 Airbus A320 aircraft. The airline also offers service to far-off locations including Srinagar, Leh, and Guwahati. Additionally, they run around 300 flights per day between Kolkata, Bangalore, Mumbai, and Delhi. International destinations served by GoFirst include Muscat, Abu Dhabi, Dubai, Singapore, Thailand, Kuwait City, and Male.
GoFirst, as a low-cost carrier, does not provide complimentary meals on its flights. At a larger cost, they also offer the Go Business premium service, which includes priority boarding, complimentary meals, seats with additional legroom, and enhanced luggage allowance.

Bangalore is home to this low-cost airline AirAsia India. With Bangalore serving as its main center, it started operations in June 2014. The airline, a partnership between AirAsia Bhd and Tata Sons, is the first foreign airline to establish a subsidiary in India. After AirAsia Bhd sold its final share to Air India airlines, Tata Sons now own the entire airline. There are 17 domestic destinations served by this airline. They have 23 Airbus A320-200 and 5 Airbus A320neo in service.
More than 100 domestic flights are run by the airline every day, going to and coming from places including Delhi, Mumbai, Jaipur, Chennai, Hyderabad, and Kolkata. On these flights, there are no complimentary meals or in-flight entertainment options. For quiet zone seats, flatbed seats, and emergency row seats, they provide premium options. Meals can be ordered in advance or directly. Additionally, there are fees for selecting seats and checking bags.
Also Read: Cabin Crew Salary in India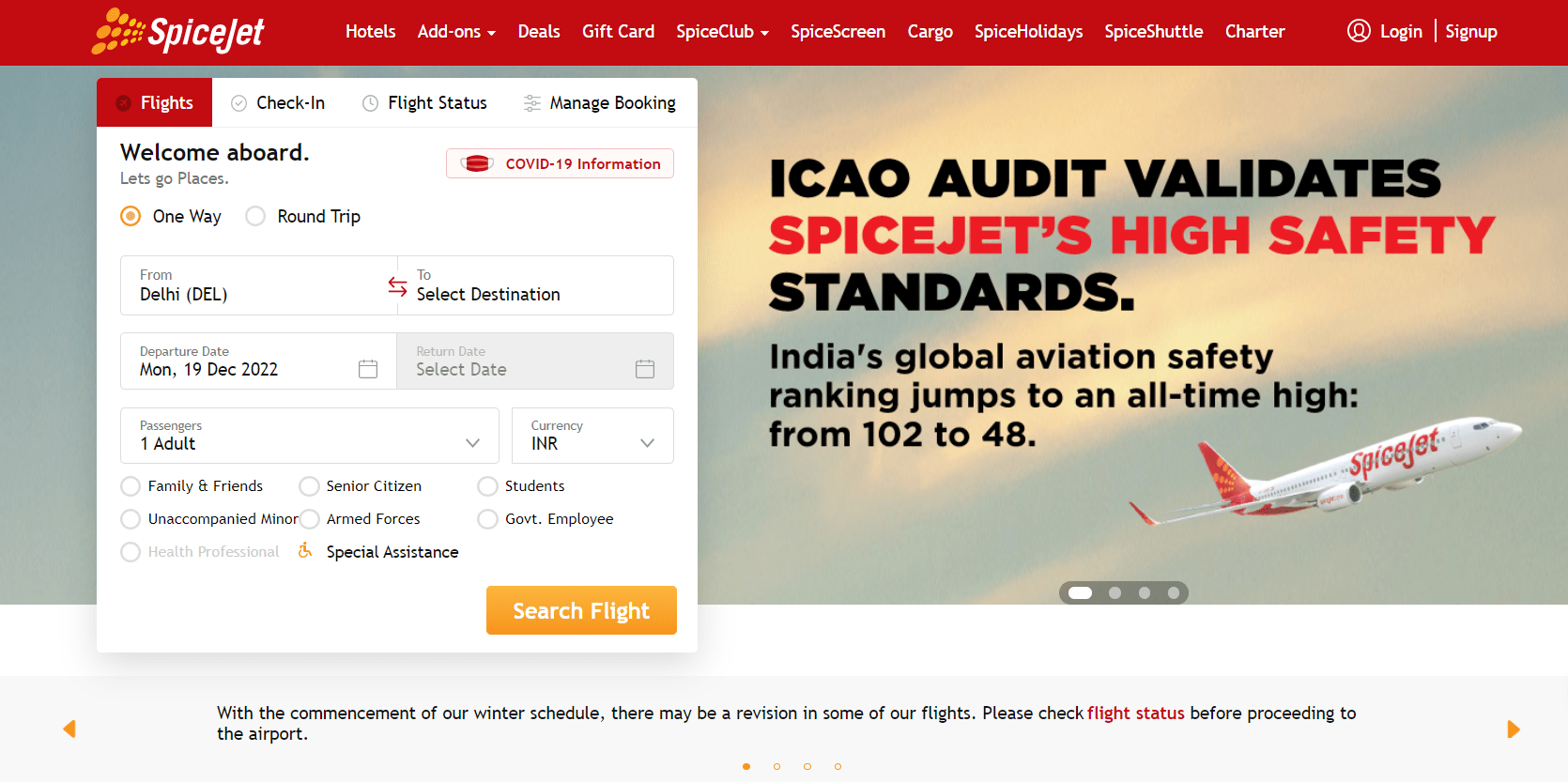 Indian low-cost carrier SpiceJet has its main office in Gurgaon, Haryana. According to the number of domestic passengers it transports, it is the second-largest airline in the nation. ModiLuft, an air taxi service provider founded in 1994, was bought out by Indian businessman Ajay Singh in 2004 and changed its name to SpiceJet. In May 2005, the airline conducted its inaugural flight.
From its hubs in Delhi and Hyderabad, the airline offers 630 flights a day to 64 destinations, comprising 54 in India and 15 abroad. Flights from the airline are available to Bangkok, Dubai, and Hong Kong internationally. Food is not offered for free on any of SpiceJet's flights. On select flights, it does offer complete in-flight meals. The airline does provide premium services under the label SpiceMax, which come with a higher price tag and include priority boarding and luggage handling, complimentary meals, and pre-assigned seats with more legroom, and complimentary meals.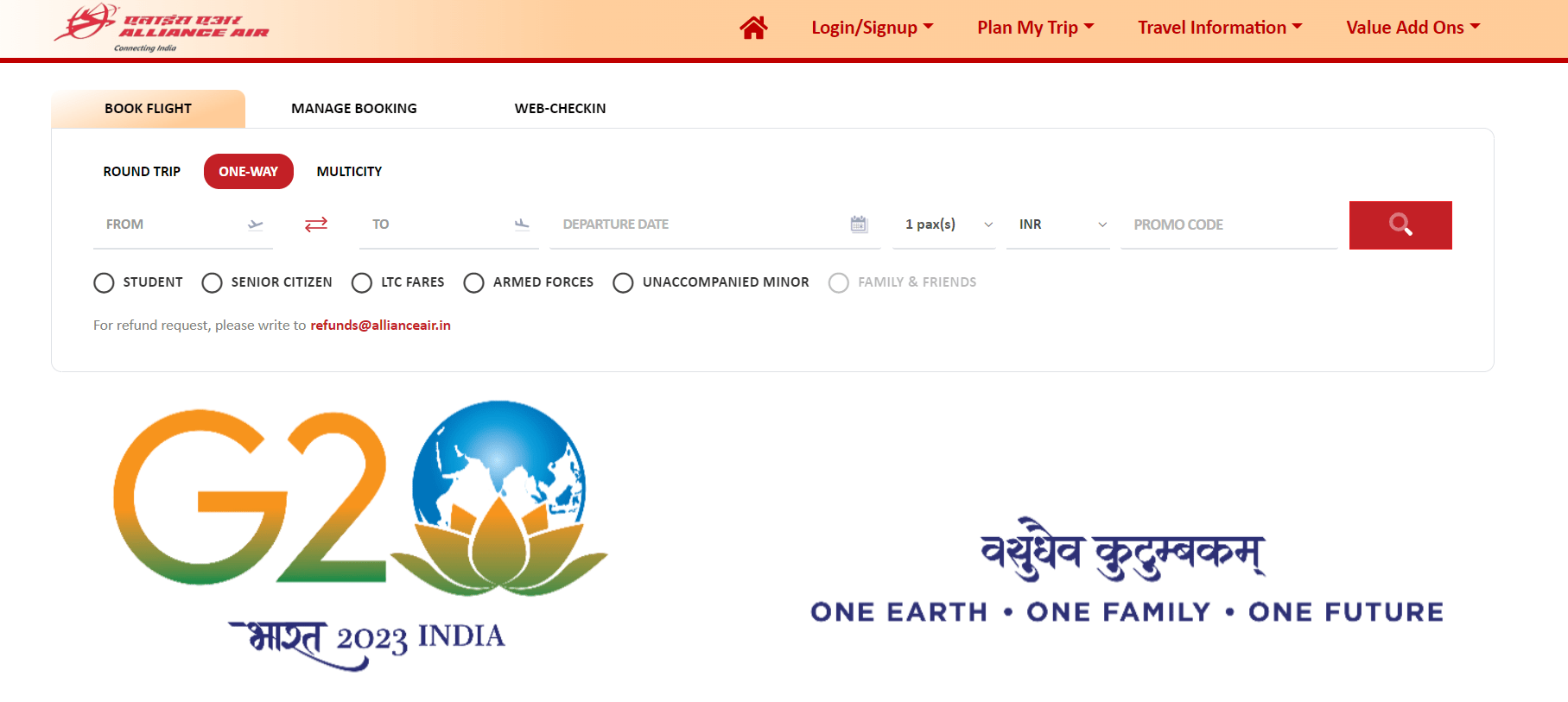 Another Air India airlines affiliate, Alliance Air, is a domestic regional carrier that serves cities like Bengaluru, Hyderabad, Jaipur, Mumbai, and Visakhapatnam. Alliance Air is the most recognizable regional airlines in India among the best domestic airlines in India. Its goal is to link areas with regional airports and low flight demand. It was established as an entirely-owned subsidiary of Indian Airlines in April 1996.
In 2011, it merged with Air India, however, it continued to function as a subsidiary until march 2022. But in April 2022, Alliance Air stated in a statement that it will operate as a separate business entity under the national government as of right away. This airline has a fleet of smaller aircraft that carry passengers from small towns to larger cities. They run 18 ATR 72-600 aircraft and 2 ATR 42-600 aircraft.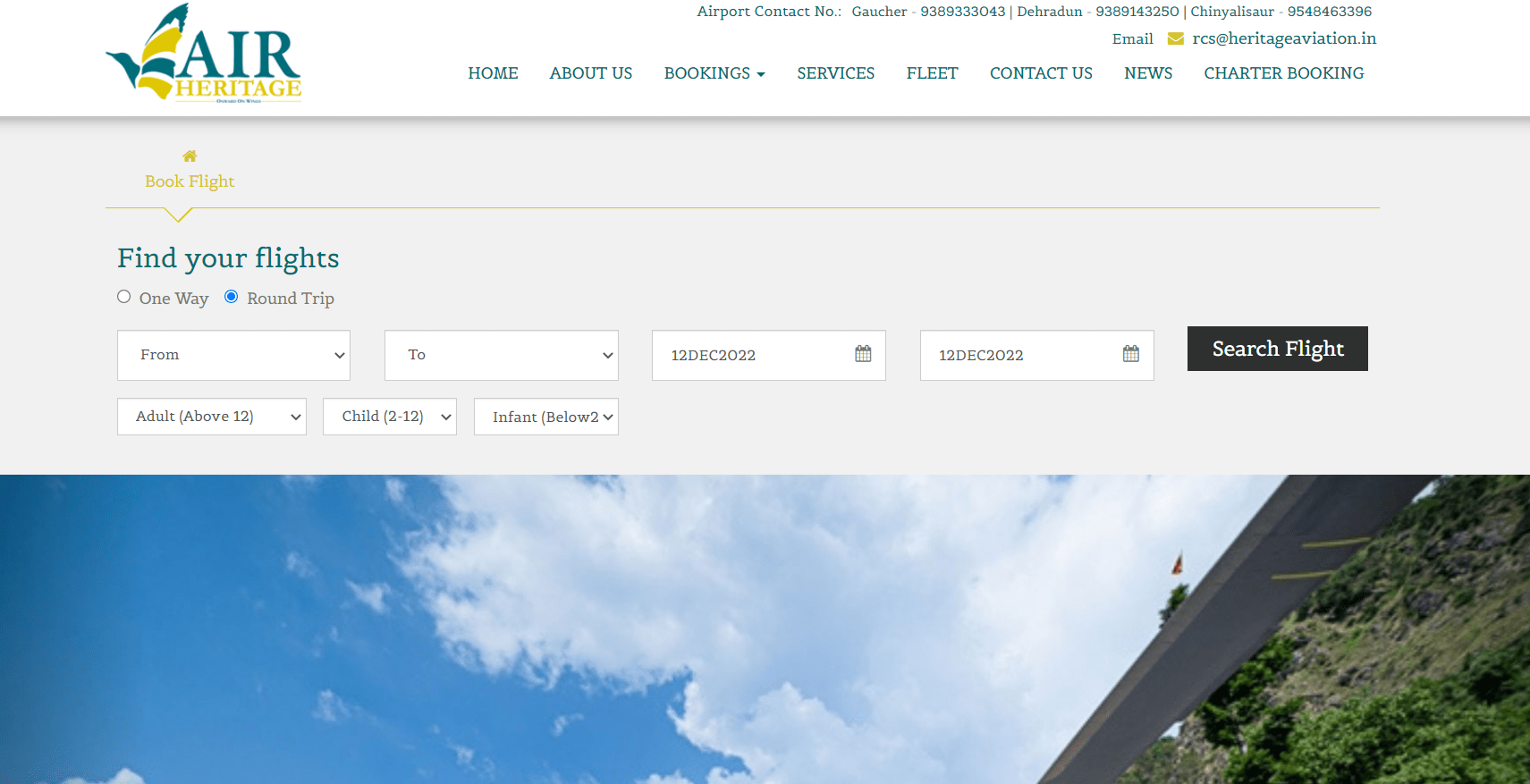 Heritage Aviation owns Air Heritage, an air charter business in India. The airline began operations on January 17, 2019. From its operational bases in Dehradun Airport, the airline serves three destinations. These aircraft arrive and depart from four airports, Dehradun airport, Pithoragarh, Pantnagar, and Hindon airport. Air Heritage airlines operate three aircraft, one Hawker 400, one Beechcraft Super King Air, and one Bombardier Global 6000.
Star Air is an Indian commuter airline operated by the Sanjay Ghodawat Group and is located at Bangalore, Karnataka's Kempegowda International Airport. As part of the Central Government's UDAN plan, it began operating in January 2019 and offers flights inside Karnataka state as well as to adjacent Andhra Pradesh, Gujarat, Madhya Pradesh, Rajasthan, Uttar Pradesh, and Maharashtra. Around 17 of India's domestic destinations are serviced by Star Air. Five 145 LR aircraft are used by the airline for its operations.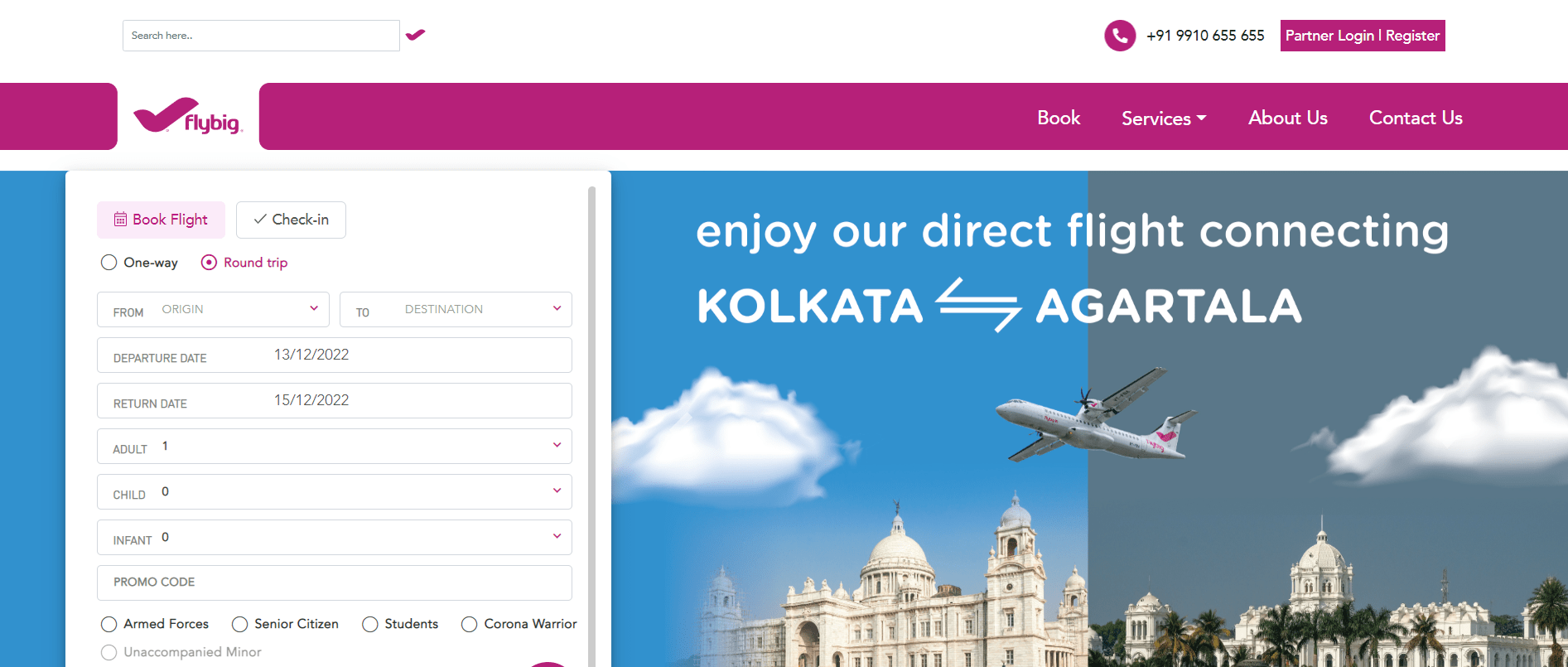 This is a regional airline located in Indore, Madhya Pradesh, India. Big Charter Private Limited, a company situated in Gurugram, is promoting this airline. The airline started flying in December 2020, and its primary goal is to link tier-2 cities in India.
Flight costs are pretty reasonable. A fleet of ATR airplanes is used by Fly Big to carry out its operations. The airline has cleverly promoted its 2×2 arrangement as flights with 'no middle seats.' Fly Big will not offer food service on board, similar to many regional airlines. Because there just isn't sufficient time on the shorter routes, instead, the airline will provide all of its passengers with free snacks.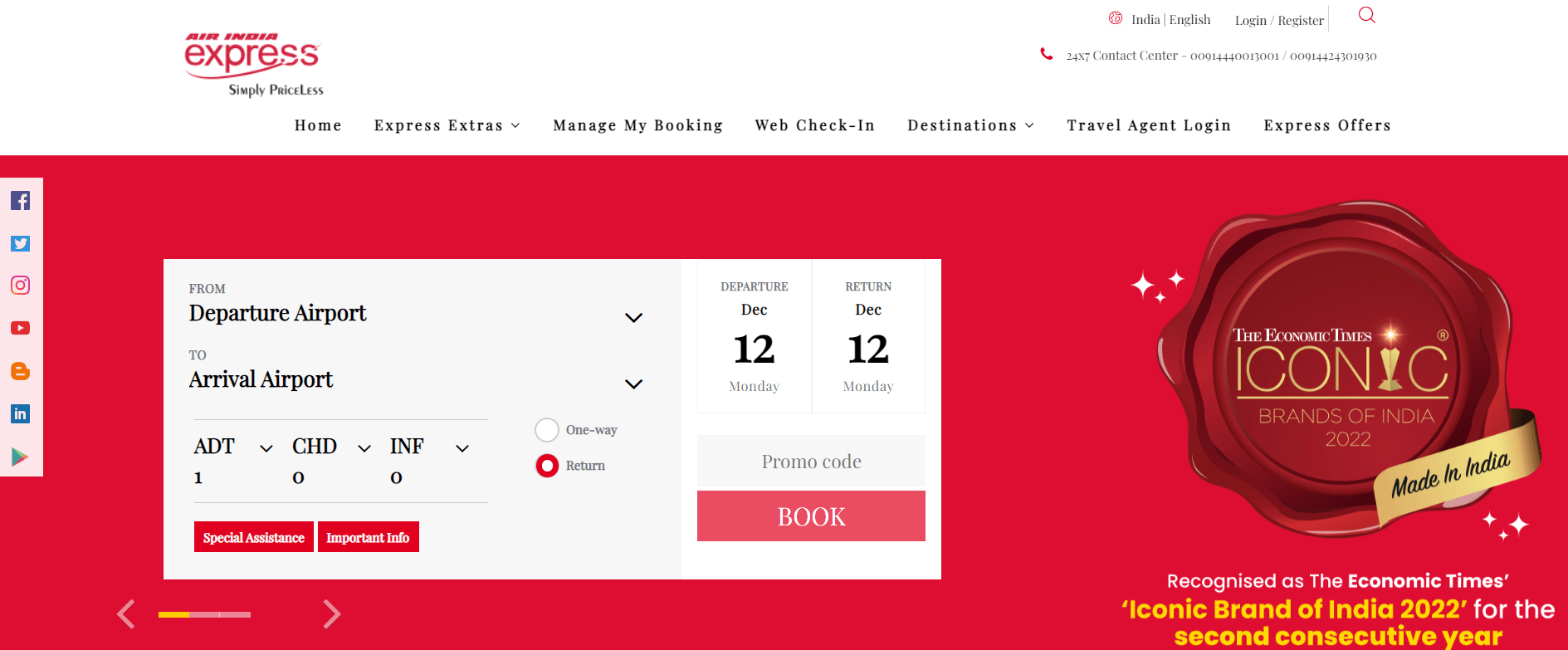 This low-cost carrier, Air India Express has its main office in Kochi, Kerala. Thiruvananthapuram, Tiruchirappalli, Kozhikode, Mangaluru, and Kannur are its secondary hubs. It is run by Air India Express Limited, a fully-owned division of Air India. It flies to 33 locations, such as the Middle East and Southeast Asia, on around 649 flights every week. The airline connects 140 city pairings annually with around 4.3 million passengers. They have 24 Boeing 737-800 in service.
Even though Air India Express is a budget airline, they nonetheless give its customers free tea or coffee and pastries while they're flying. Additionally, you can order reasonably priced a-la-carte meals in advance.
Also Read: How to Use Expedia Points? A Complete Guide

Comparison Table
Given below in the table are all the details about the best domestic airlines in India.
Name of airlines
Airline category 
Type of airplanes
Founded In
Headquarters
ICAO
IATA
Air India
Scheduled/National
Full service
1946
Delhi
AIC
AI
Vistara
Scheduled/National
Full service
2015
Gurugram
VTI
UK
Jet Airways
Scheduled/National
Full service
1992
Delhi
JAI
9W
IndiGo
Scheduled/National
Low cost
2006
Gurugram
IGO
6E
Go First
Scheduled/National
Low cost
2005
Mumbai
GOW
G8
Air Asia India
Scheduled/National
Low cost
2014
Bengaluru
IAD
I5
Spice Jet
Scheduled/National
Low cost
2005
Gurugram
SEJ
SG

Alliance Air

 

Regional
Low cost
1996
Delhi
AIC
9I

Air Heritage

 

Regional
Low cost
2019
Dehradun
–
4H

Star Air

 

Regional
Low cost
2019
Bengaluru
SDG
OG
Fly Big
Regional
Low cost
2021
Gurugram
–
S9
Air India Express
Scheduled/National
Low cost
2005
Kochi
AXB
IX
Types of Domestic Airlines
The size and structure of airlines differ from one provider to another. Some firms buy aircraft to provide specialized services, while others lease them for a set length of time and recruit workers from other businesses to work on board. Regardless, of all the nitty gritty, you can categorize domestic airlines to be distributed in three general categories:
Scheduled or National Airlines: They are smaller than international airlines and most of the best domestic airlines in India fall in this category. The concentration of their services is on domestic or national passengers and locations, although many will also offer services to foreign locations. These airlines offer both medium-sized and large-sized planes. Even though a national airline would carry thousands of passengers, its fleet would be quite small. In most situations, seasonal changes and demand for the flights is the factor that decides the destination flights. A few of the Indian airlines are Vistara, Indigo, and Air India airlines.
Regional Airlines: They are the smallest of the three and have a focus on amenities within certain geographic areas, short travel distances, and limited time. They provide passenger services to several low-demand locations across the world where neither domestic nor international airlines operate. Some regional airlines also run as national or international airline affiliates. Due to this, they offer connecting flights from the region or location they serve to the airline's main hubs.
Cargo Airlines: Air freight carriers are another name for cargo airlines. These are the companies that either focus on cargo or freight transportation separately or mostly. As an example, cargo airlines like SpiceXpress and Air India Cargo are divisions or subsidiaries of airlines that also offer passenger services.
Features of a Good Domestic Airline
We have already mentioned the best domestic airlines in India but what makes them great? Here are some of the top features that make Indian domestic airlines stand out from the crowd.
Customer Services: To increase passenger happiness and customer loyalty, excellent customer service is essential. And most domestic airlines these days are focusing on providing the best for the passengers. The focus has shifted towards welcoming, entertaining, aiding the passenger, and designing experiences for the customer depending on their traveling spectrum. From easy ticket booking to easy cancellation, to good amenities and facilities in-flight helps add to the good customer care.
Good Deals and Discounts: Due to their affordable flights and fantastic rates domestic airlines are quite popular with their passengers. Passengers can save a lot for each round-trip by taking advantage of attractive bargains, making more and more people attracted to fly with a certain airline. Budget-friendly prices and discount packages are essential elements of a great airline. Also consumers these days can evaluate their flight alternatives solely based on price thanks to the advent of price comparison websites.
Proper Meals: Airlines have traditionally struggled with providing decent food and in-flight meals, yet it's one of the first things travelers mention when they have a positive or negative experience. Most domestic airlines are trying their best in providing healthy and tasty food, specifically for longer flights. In addition, several airlines provide a range of cuisines as a taste of many cultures; by meeting the demands of the many (including dietary requirements).
Space And Overall Comfort: Given that the majority of plane seats are getting smaller, it is not surprising that when booking a ticket, travelers rank sitting as one of, if not the top priority. The great news is that comfort is now becoming better. Most domestic flights are now working on providing the needed space. They are also making the seats comfortable to be sat on for a longer period.
Entertainment: This is essential to an airline's success since it ensures a passenger's experience, specifically if they are paying more to fly business class. By enhancing the passenger experience while traveling with these, these flights' in-flight entertainment systems have guaranteed a fantastic journey.
Increasing Demand for Domestic Passenger Airlines
According to figures issued by the Directorate General of Civil Aviation Domestic airlines flew 874.24 lakh passengers between January and September 2022, up from 531.11 lakh over the same period the previous year, representing a growth rate of 64.61 percent annually.
IndiGo, the largest and one of the best domestic airlines in India, carried 59.72 lakh passengers in September, maintaining its 55 percent market share from August. SpiceJet, IndiGo, Vistara, Go First, Air India airlines and AirAsia India all had passenger load factors, or occupancy rates, that were respectively 85.7 percent, 81.3 percent, 85.4 percent, 83.2 percent, 79.6 percent, and 77 percent.
Also Read: 13 Best International Airlines in India to Travel Abroad
Benefits for Indian Passengers by Domestic Airlines
Recently, several domestic airlines have changed their frequent flyer programs, and the majority of these improvements provide some more obvious perks for their passengers. To better serve its customers, Jet, Air India, and Go Air have made improvements to their frequent flyer programs as well.
The amount of miles one may earn on domestic trips with Jet Airways has risen as of March 25, 2022. Before this, domestic flights did not earn any miles at all, whereas all foreign flights did (depending on distance). Therefore, if you frequently fly domestically, you may now go from Mumbai to Delhi or anyplace else, and still accrue the same mileage balances.
For so long, the Air India airlines program was managed as a bureaucratic domain. The modifications are significant, however. Silver status is attained after flying 25,000 miles in a calendar year, Gold status after 50,000 miles, and Maharaja Club status after 75,000 miles. Benefits include an allowance for extra luggage and coupons for airline upgrades, which align the program with other frequent flyer programs.
GoFirst just joined the loyalty market with its GoClub program to attract a group of devoted travelers like some of the other best domestic airlines in India. You can start getting points for every ticket you buy straight from GoFirst after you sign up for GoClub on the airline's website. You will receive upgrades in GoFirst's business class in exchange for discount coupons for more tickets. Additionally, you have access to lounges located in several airports around the nation.