A payment gateway is an online service provided by software companies in collaboration with financial service providers like Visa and Master Card that enables a website to accept electronic payments. In India, payment gateways are offered by private banks like ICICI Bank, HDFC Bank, and Yes Bank, along with international players like Paypal. A payment gateway comprises a secured encrypted connection created between your web portal and the commercial bank. It enables a business to get money into it's chosen bank account through different channels like a credit card, debit card, internet banking, prepaid cards, and mobile wallets.
To put it in simple terms, a payment gateway is a secure page where you have to fill in the details of your financial instrument and complete the transaction.
You will need to set up a payment gateway if you want to accept payments online. If you are a popular blogger  you do not need a payment gateway unless you intend to sell digital goods and services on your blog.
With growing cybercrime, it is important to choose the right solution provider so that you do not suffer any financial loss because of fraudulent transactions. If you are an individual looking to just accept payments in your own name you should instead just opt for a digital wallet like Paypal.
Payment gateways in India are witnessing high growth in recent weeks because of the demonetization of high-value currency notes of Rs 500 and Rs 1000. With only Rs.100 and lesser denominations being in circulation, many entrepreneurs have signed up to accept digital payments. Some services like Instamojo are even offering a free sign up bonus of Rs 500 to every new user.
To encourage the adoption of digital payments in India, the Reserve Bank Of India has announced discounts on services charges along with the temporary waiving of service tax. The government through RBI has also reduced the Merchant Discount Rate (MDR) for transactions up to Rs 2000 until 31st March 2016. So this is the best time to launch your website as you will save a ton of money on transaction charges. Once your website is set up you can easily learn about how to acquire new customers by completing these free online courses on Digital Marketing. Then you are ready to start building your online empire.
The Heart Of Every Online Business
Payment gateways are the heart of any online business without which no digital transaction can take place. India is in the middle of an Internet boom that has seen internet users grow to about 350 million currently and this user base is expected to touch 600 million by 2020. It is thus important to choose your solution provider after conducting thorough research with a long term view.
An online payments service provider could be evaluated on the following parameters :
Payments Accepted: Whether the gateway accepts credit cards, debit cards, internet banking, and other new options like Bitcoin. The more options you have, the higher are the chances of the sale being completed.
Failure Rate: All payments go through multiple hiccups like downtime, OTP delays, and failure to authenticate. So ask your developer to evaluate gateways on failure rates.
Charges: A payment gateway and bank account will usually cost you anything between Rs 10,000 to Rs 50,000 in set-up costs, along with incremental payments averaging 2% on every transaction. You will typically be charged additional fees for any of the charge-backs. There are two fees that you will charge for every checkout software –  bank fees and payment gateway fees. However, there are many free options also available on the market where setup fees are waived.
Plugin Compatibility: Some of the popular payment service providers offer easy to integrate plugins which are easy to maintain and update.
Payment Cycle: The payment can take anywhere from 2-10 days to be credited to your bank account once processed. To inquire about their payment schedule.
International and Domestic Cards: Most payment service providers have different products for domestic merchants and international merchants. If you want to accept foreign currencies the charges will usually be higher.
Customer Service – Without a doubt, you can expect to encounter fraudulent activities on your website at some point in time. Stolen card details and passwords are used by cybercriminals to purchase legitimate goods. So you will then need to contact their customer support to resolve these issues. It thus helps to inquire and determine if their customer support is efficient and timely.
Now that you know what a payment gateway is and how to choose one, take a look at some of the companies listed below :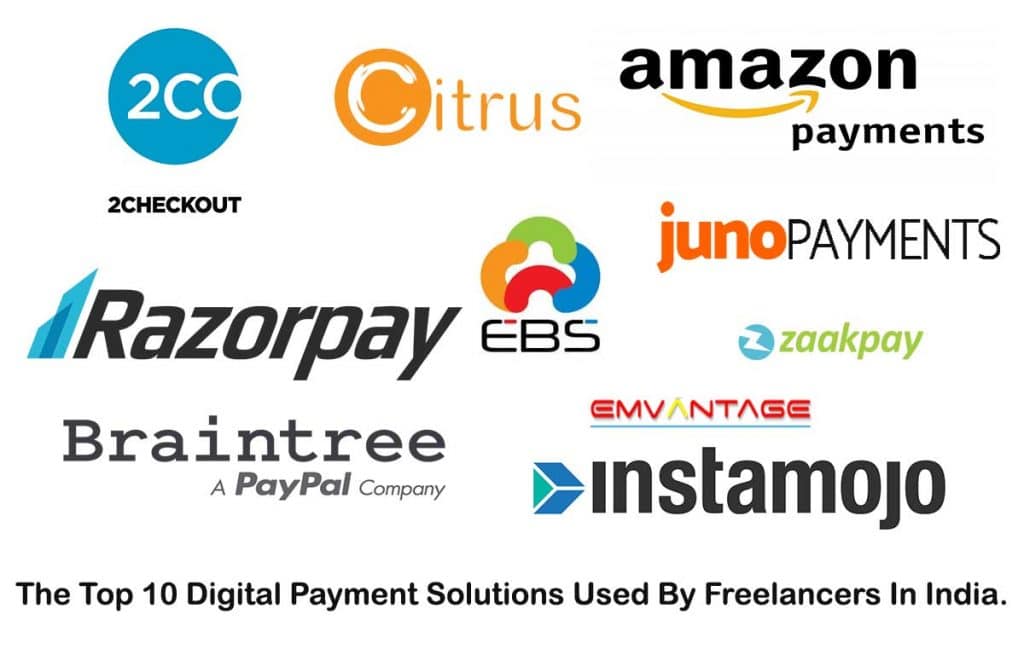 Top Payment Gateways In India – 2017 List
Zaakpay is a new startup that currently powers more than 500 merchants and claims to have conducted over 1 billion transactions internationally. The company has the stated goal of streamlining payments transactions in India. Founded in the year 2011, Zaakpay has two major products to offer merchants – Webpay and Bank pay. It also has different offerings for mobile (Mpay) and web (Webpay) platforms. You can accept payments in multiple currencies like Euro, Dollar, and Rupee. Customers have given high ratings to their services and lauded it's fast merchant approval rates.
Another interesting feature of their services is the T+1 Payment cycle. In such a settlement cycle you receive digital payments into your bank account on the second day after the payment is made on your website. Other companies are known to take 3-5 days to process your payments
Features Of Zaakpay:
100% online registration and approval process. No need for physical documents.
Accept payments through Net-banking, Debit, and Credit cards.
Supports all Indian and International Visa, MasterCard, Discover, and American Express Cards.
More than 52 Indian Banks are supported through Net-banking.
Customized payment streams for your customers and high transaction success rates.
Easy to integrate with instinctive dashboards. API's enabled which can be easily scaled up.
Provides payment settlement cycles of T+1 and T+2.
Has multi-currency support along with the ability to save card details.
Facilitates auto-retry payment and customized reporting.
Integration Plugins are available for almost all PHP and Javascript-based Content Management systems. This includes WordPress, Drupal, and Joomla. Works well with Java and .Net based platforms.
Has 24×7 email support through the contact form, chat, and email.
Maximum Transaction Discount Rate(TDR) for transactions range around 3%. THE lowest TDR for credit card and debit card is 2.25%. They have setup fees that range between Rs.10,000 to Rs 30,000.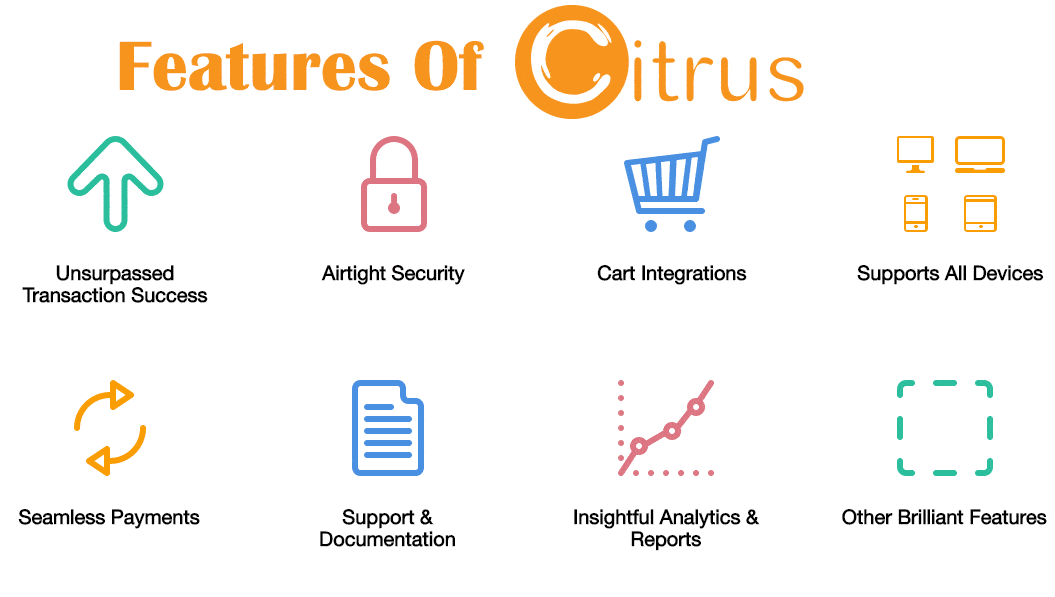 CitrusPay facilitates digital payments and online checkout processes for more than 800 million strong electronically linked user base. CitrusPay was founded in 2011. It has over the years emerged as the preferred choice of millions and has an admirable list of clients. It also counts legendary silicon valley billionaire, Peter Thiel as one of its investors.
It provides a single management panel in which a layout of user-friendly check-boxes aid you in enabling or disabling payment options and refunding trades. It provides excellent customer support and has been winning rave reviews from varied clients across multiple geographies. CitrusPay also allows users the liberty to opt for EMI's while making payments.
CitrusPay has one of the lowest service charges in the industry; they levy a flat 1.99% + Rs. 3 for each transaction done through them. CitrusPay also levies Rs. 1,200 as a yearly maintenance fee. Their superior infrastructure translates into a very high conversion rate for merchants. For big merchants, the company has a steady payment service with a setup fee charged. For all transactions, the merchant needs to pay 2.9 percent of the sale proceeds as a fee. Though, it levies no setup fees to small merchants.
Founded in the year 2012 Emvantage claims to have a very high transaction success rate. It provides users extensive options and also allows them to use prepaid cards and newly launched Rupay Debit Cards. High-level security and user-friendly interfaces enhance its appeal to Geeks.
Provides ready to integrate features for 3D Secure.
Supports QR code-based processing options.
It provides ready options for integration with IMPS and UPI Interface.
Transaction charge on debit card and IMPS is 1.5%, and on Rupay / Master / Visa /net banking it is 2.75%. The international transactions will set you back by 3.25 %. Transaction charges on EMI are 1.5%. There is no setup charge with this payment gateway. Amazon acquired Emvantage for an undisclosed amount in early 2016 and plans to use it to grow its user base among Indian e-commerce websites.
Launched in the year 2007, Pay With Amazon allows websites to accept payments from Amazon customers by using their payment information stored in their accounts. Globally Amazon has millions of customers so you can integrate their solution if you want to target this segment of the population. When you opt for their payment solution you are also backed by their state-of-the-art logistics service called Amazon Easy Ship. In a country like India where delivery of goods is a major pain point because of misleading addresses, these services are a Godsend.
Pay With Amazon has waived off all setup and monthly charges until September 30th, 2017 as part of its a promotional offer. They are currently charging 1.95% of sales volume to merchants based in India.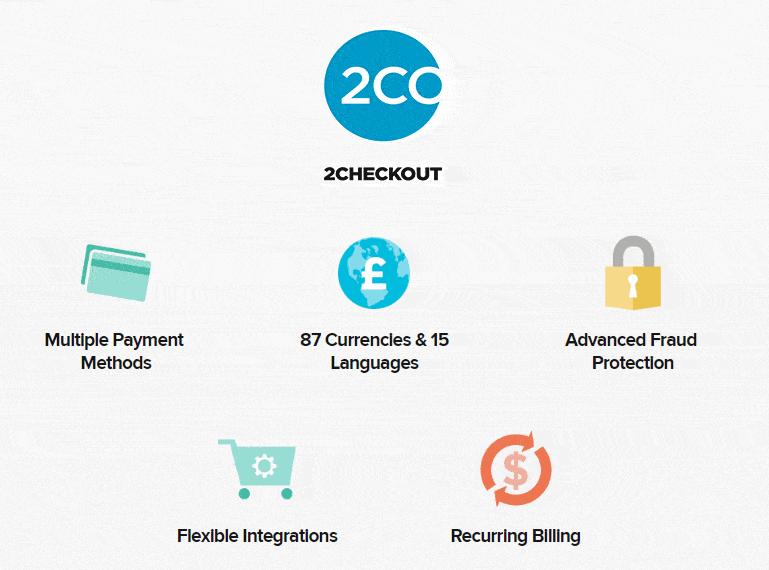 Founded in the year 1999, 2Checkout payment gateway is a global leader in payment services and exploits online sales conversions by providing global buyers with varied payment options. Used by more than 50,000 merchants, 2Checkout provides transactions in 196 different countries through 8 payment methods, 15 languages, and 26 currencies, thus creating one of the foremost processors of virtual transactions across the globe. Its plugin is compatible with more than 100 different Checkout Cart software.
Unique Features:
It provides multilingual merchant support through phone, online discussion, email, and ticketing.
Has a complete suite of analytic software and metrics built into the merchant administration.
It provides recurrent and one-time billing options.
You need not wait for long to get funds into your bank account as it has daily pay-outs.
A 1.5% fee is charged on payments you receive from customers. On the occasion of a charge-back, a fee of $25 will be levied. There are no hidden fees and no additional charges for fraud protection. You need to pay only for what you are using.

E-Billing Solutions (EBS) is a payment gateway established in the year 2005 with its headquarter located in Mumbai. It was one of the first Indian companies to enable online purchases from a dealer's website. EBS is compatible with most of India's leading banks like HDFC, AXIS Bank, SBI, OBC, Canara Bank and Syndicate Bank. They offer a 14-day money-back guarantee if you are not satisfied with their services.
Transaction rates for net-banking and credit cards vary from 2.75% to 3.75%. For transactions on debit cards, EBS charges 1.25% to 1.50% commission. A small setup fee of Rs. 11,999 and yearly maintenance fee of Rs. 2,400 also needs to be paid. Recently they introduced a "Zero Setup Fee Plan" for online payments with multiple currency processing options.
Founded in the year 2007 and having more than 100,000 users, Braintree is a subsidiary of PayPal. Braintree is popular among entrepreneurs for its simple integration, numerous payment options, modest pricing, safety, and support. They charge a transaction fee of 2.9% + 30 cents for most transactions. An additional 1% fee is levied on transactions obtained outside your home currency. A flat $15 fee is deducted for any charge-backs that may occur. Reduced rate of 2.2% + 30 cents is available for qualified non-profits. There are also no setup charges for NGO's.
Juno Payments is an international leader in offering payment solutions. It has deployed custom solutions worldwide for eCommerce and mobile businesses. Founded in the year 2012, it's services have been widely adopted by government departments and educational institutions in the United States and Europe.
Some Salient Points About Their Product
It can be instantly set-up and integrates with Quick-books and other accounting software
Has high-level Enterprise-Level Security. Data collected by Juno-payments is held in a data vault where it is encoded with tokens and protected from hackers. Has the highest security features among all providers.
Special packages and discounted rates for Non-Profit Organizations.
Is a diversified company with varied ERP Products and Custom Mobile Payment Solutions for industries across verticals.
Juno Payments ensures direct operator billing and it operates even when the user is offline. This is the only payment gateway that offers carrier billing access to the whole mobile user base, when using service on 2G/3G/4G or on WiFi and also when the user is offline from data. It takes away the requirement for an OTP to validate any transaction initiated from the mobile phone – flawlessly and securely.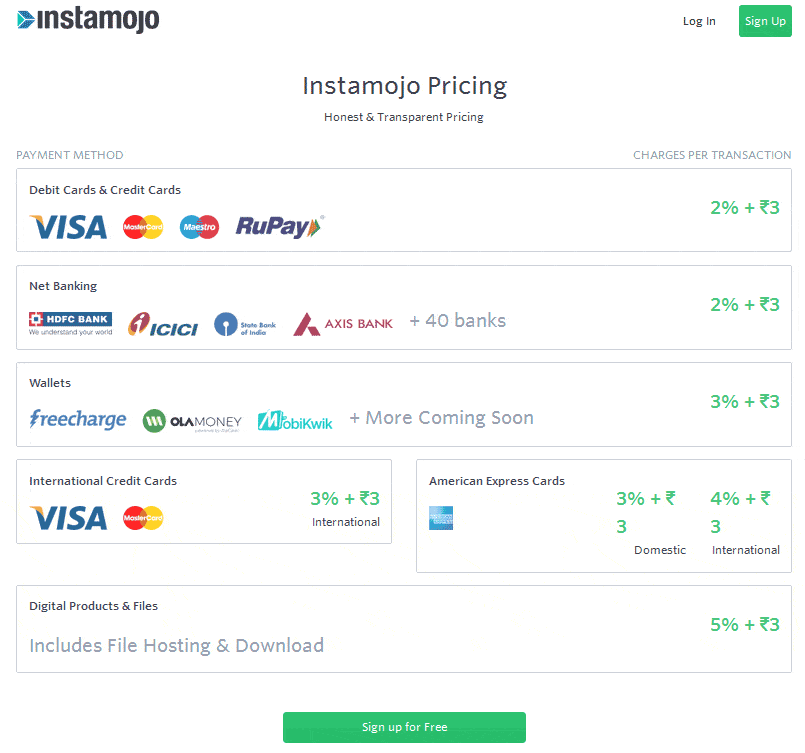 Founded in 2012, Instamojo is a multi-channel payment gateway that permits freelancers and small businesses to collect payments online with the help of just a single link. Whether you are from a start-up or just a freelancer looking to sell digital products, Instamojo is the best choice for your needs. It has more than 150,000 active users and reaches out to 1.5 million users.
Review Of Instamojo
You can upload digital products like E-Books, Photos to their website and accept payments through Instamojo's gateway. The entire sale from collection to delivery of digital goods can be completed through a streamlined dashboard.
There are no setup fees charged and it takes 5 or at the most 10 minutes to set up and accept payments. There are however some limits that can be removed by verifying your Pan Card and Bank Account details.
Google Analytics integration is allowed.
You can make a discount code for your particular product and use it to promote your products.
You can assign distinct commission for separate affiliates.
Instamojo charges a transaction fee ranging from 2% to 5% per sale. There are no setup fees, no maintenance fees, and no minimum commitment. Instamojo has quickly emerged as the alternative choice to Paypal For Indian Freelancers.

Razorpay is a new entrant to this market and it simplifies the flow of online payments through a clean, simple-to-use, and developer-friendly interface.  It was founded by alumni of IIT Roorkee in the year 2013 and has an active base of more than 10,000 users.
USP's:
RazorPay has mobile SDKs for iOS and Android.
It has a powerful mobile API that can be leveraged with your mobile website.
It can support different payment modes and accepts international payments.
There is no redirect. You can begin and end payments on the same page without transferring customers to different pages.
RazorPay is integrated with 3D-Secure and Verified by Visa (VBV). All essential redirection is controlled within a popup. It also accepts Rupay Debit Cards managed by NPCI.
It can be embedded in your website using easy to generate code. No need to know programming or web development.
It has announced a limited time offer of 0% TDR charges on debit card transactions till 31st December 2016. After the expiry of this offer, it will charge 2% for every successful transaction on national and international cards. It also charges 3% on Diners, American Express, and EMI's. These charges are inclusive of service tax.
It has a custom made plan for newly incorporated companies called  'The Startup Plan', which processes only domestic payments, has no setup or yearly fee, and charges 2.5 % + service tax for every successful transaction completed. The business plan for established companies is capable of processing international payments charges with Rs 5000 setup fee and a Rs 5000 yearly maintenance fee.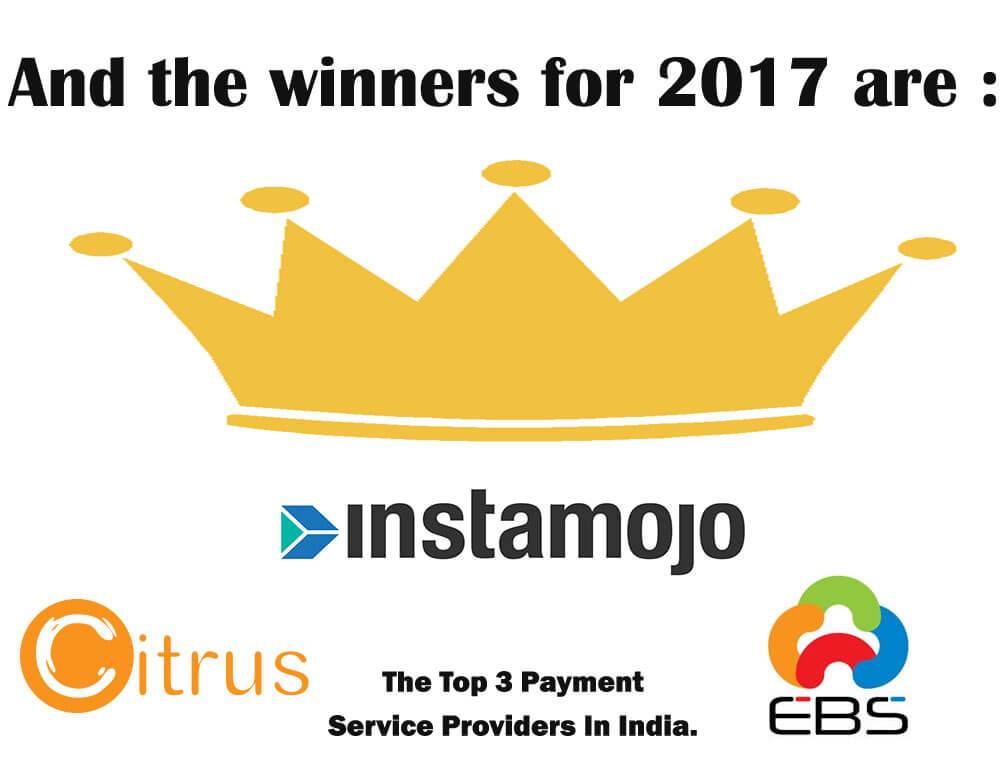 With our review complete, it is now time to announce the winners for 2017. Before deciding on the winners we interacted with several startups and retail consumers asking for their opinions on all the companies listed above. Based on their feedback, our evaluation, market share, scalability, user charges, online reviews, features, user interface, and customer experience we would like to announce EBS, Instamojo, and Citrus Pay as the top three payment gateways in India.