The Prime Minister of India announced his demonetization scheme which involves banning existing notes of Rs.500 and Rs.1000 notes on November 8th, 2016. This move is expected to help catch Black Money Hoarders, Hawala Dealers, Corrupt Officials and Politicians. The decision was announced soon after ICD (Income Declaration Scheme for Undisclosed Income) 2016 scheme announced by the Income Tax department came to an end.
While this move has been applauded by people across the different classes and even the masses, there is another side to the Demonetization story. Even if the purpose of this move was noble and applause-worthy, the lack of a proper framework to implement this decision has left the common man exasperated. Given that India was the largest recipient for remittances in the year 2015 (US$ 69 billion as per World Bank Report – Migration and Development Brief), the domestic, as well as foreign remittances to India have been affected by Demonetization towards the end of 2016.
According to some informed sources working in the foreign exchange departments of a nationalized bank, expatriates are not able to transfer money to their families in India due to the ban on notes of Rs.500 and Rs.1000. This is because the notes which were banned constituted almost 80-85% of cash circulating in the economy. With that now gone, remittance companies are unable to disburse transfers made from abroad. This has affected the families of expatriate workers who are dependent on this income to manage their households. While some companies like Western Union have started issuing cheques, it is difficult to withdraw money from bank accounts because of weekly limits.
There are still a few ways to beat the side effects of demonetization. There are multiple money transfer services, which are well-positioned to transfer dollars to India. These services have adopted several unique ways to let the receiver withdraw or receive money sent by an overseas remitter. Some offer to convert it into a bank deposit while others deliver it to your doorstep.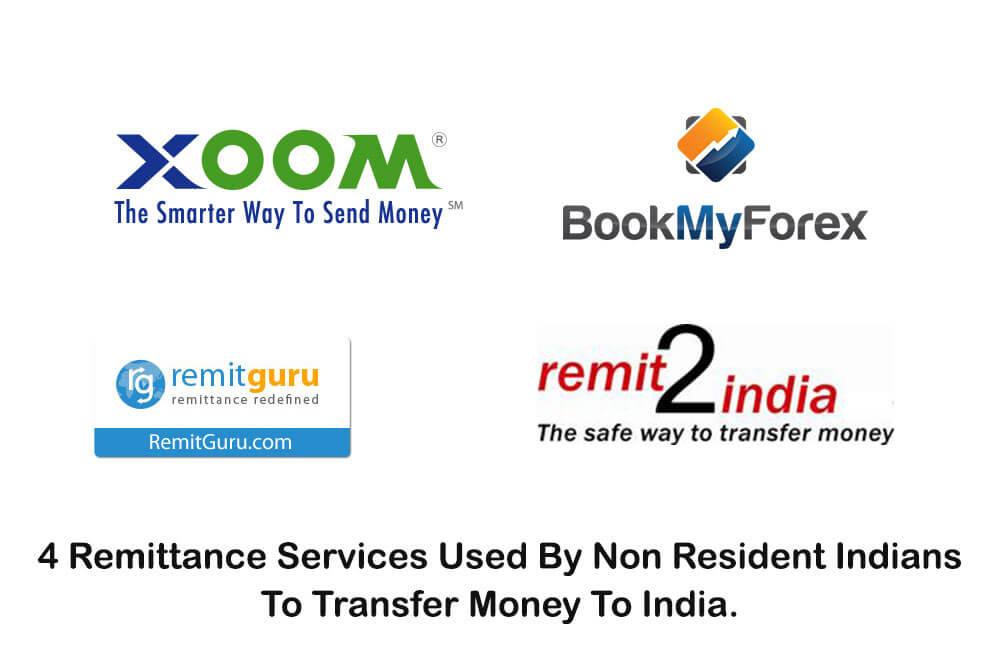 This article will further review some of the best money transfer services to India.
Xoom is a company owned by PayPal. It was acquired in 2015 for close to Rs 5000 Crore and now offers the fastest and most secure way to transfer money, recharge and pay bills globally. Xoom was started in 2001 and is widely used by NRI's living in the United States to send money back home. Xoom has large scale operations in the emerging economies of India, Mexico and Phillippines on which it has been focused since inception.
USP
1. Quickest and reasonable money transfer rates. It boasts of money transfer within 4 hours if such a transfer is made within the working hours of Indian banks. (Usually between 9:00 am to 4:00 pm IST)
2. No transfer fees for the transfer of funds for amounts higher than US$ 1000.
3. Has a dedicated mobile app for instant and convenient transfer through mobile devices.
Requisites
1. Xoom money transfer service transfers funds from a US bank account, debit card or credit card to the receiver's bank account. Hence, the receiver must have a bank account in India to receive it.
RemitGuru is supported by one of the biggest E-commerce Payment Gateway Companies in India, Avenues India Pvt. Ltd. This company also provides a popular payment gateway known as "CCAvenue". Avenues India Pvt Ltd is the first company in South Asia to comply with rigorous global standards on security because of which it has gained popularity and trust among Indian expatriates.
USP
1. Remittance of funds from any location, any bank, anytime.
2. Best exchange rates offered.
3. Lowest or no transaction fees for large sums transferred through RemitGuru.
4. Status tracker for checking the status of remittance.
5. Direct deposit or demand draft facility available for the receiver.
Requisites
1. Recipient and Remitter need to have a bank account
This money transfer service comes from the house of Bennett Coleman & Co who are the publishers of Times Of India and owners of  TimesofMoney. The company has been successfully carrying out secure and convenient transfers of funds to India for more than 15 years. This service has operations in 24 countries and deals in 10 different currencies.
USP
1. Has more than 1 million customers worldwide.
2. Allows referral rewards.
3. The online transfer and wire transfer mode of funds have no upper cap for fund transfer.
4. Smart check transfer (can transfer checks without even going to the bank).
5. Discount offers may lead to lesser fees on the transaction.
Requisites
1. Both the remitter and receiver need to have bank accounts
Drawback
1. It only transfers funds to India, hence the remitter may need to set up an account on other platforms if he needs to remit money to other countries.
This money remittance service is a new startup in the competitive field of money transfer services. It offers various Forex services like traveler's cheques, prepaid cards, demand drafts, etc. It requires the remitter to book orders as per his or her Forex requirements. BookMyForex will choose an appropriate bank or Forex company close to your location. The chosen bank or Forex Company will then schedule door delivery or the order can be picked up from their office.
USP
1. Forex can be booked at live rates.
2. Exchange rates can be locked in for 3 days.
3. It has a network of verified RBI authorized banks and Forex companies.
4. It boasts of savings of almost around 2.5%-6% over other banks or Forex Companies.
5. Has a mobile app with a friendly user interface.