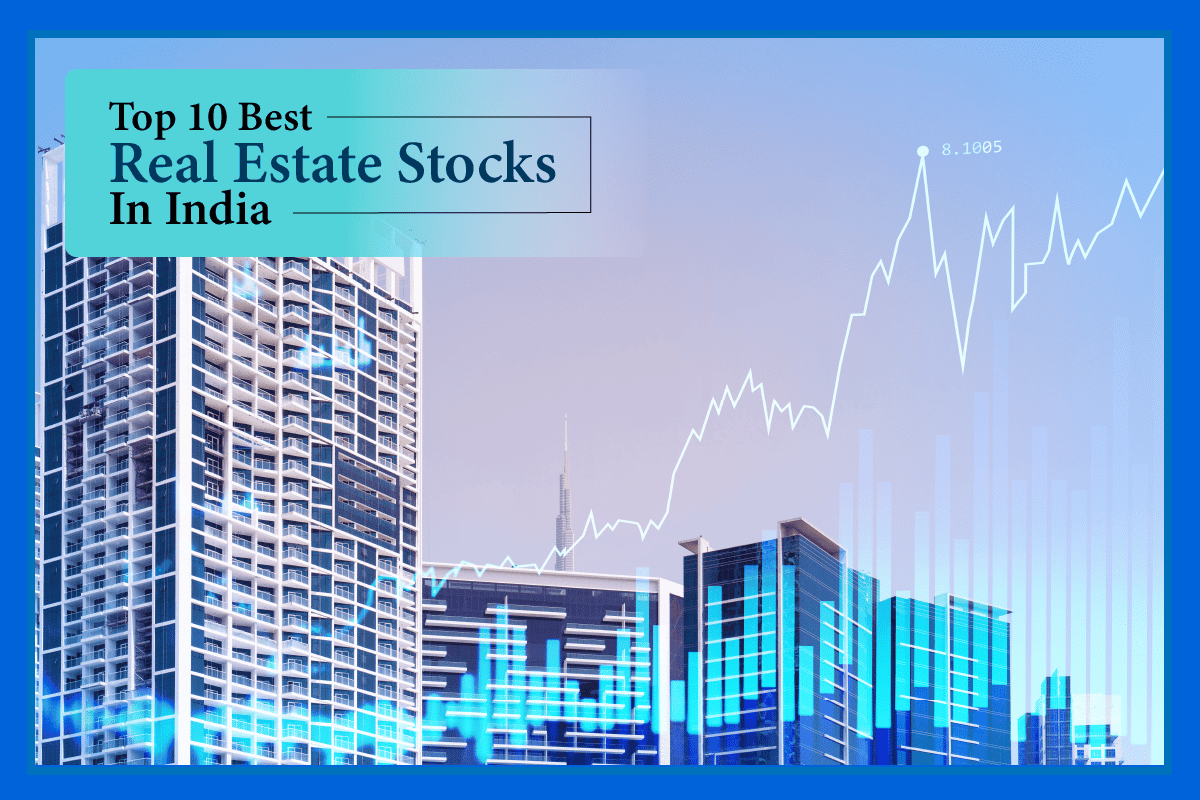 Real estate has always remained one of the most popular choices in terms of investment. People like to buy properties for their future financial security. However, if you want to avoid the hassle of buying any property or land, then real estate stocks are the much easier route to invest in real estate. In this article, we will go through the best real estate stocks in India along with real estate penny stocks, real estate stocks India and provide you with a list of top real estate stocks.
Top 10 Best Real Estate Stocks in India
India has always had a very thriving market when it comes to real estate. People tend to buy houses and land in India so that they can gain capital in the future. Due to ever-increasing demand in every city, the prices of houses are also on the surge. This makes the Indian real estate sector a good place to start investing in.
However, since the pandemic hit the globe, the real state has been one of the most affected sectors due to an absolute dip in demand and lack of raw materials. However, with time, since the 2021 first quarter, the market has taken an upside turn.
Not only residential properties are seeing an increase in demand but commercial properties are becoming highly demanded. The residential property sales have increased 113% on a year-on-year basis from September 2020 to September 2021.
Foreign direct investment and private equity investment in the Indian market have grown significantly in the last year. This has caused an upward movement in the real estate market, making these stocks a favorable choice for investors.
As the market keeps growing and is slowly coming out of the global pandemic effect, investors can expect good returns and steady performance from some of the top real estate stocks.
Read ahead to know which stocks to invest in, how to choose the best one, and what things to consider before investing.
Top 10 Real Estate Stocks in India
Following are the picks when it comes to the best real estate stocks in India:
| | | | | | | | | |
| --- | --- | --- | --- | --- | --- | --- | --- | --- |
| Companies | NSE | Previous Close | Market Cap (Rs.Cr) | 52    Week High | 52    Week Low | Book Value Per Share | P/E Ratio | Dividend Yield |
| DLF | DLF | 382 | 95,534 | 449.7 | 250 | 146.98 | 63.65 | 0.78 |
| Godrej Properties | GODREJPROP | 1,513.00 | 41,911 | 2,598.00 | 1,129.55 | 312 | 119.37 | — |
| Prestige Estate | PRESTIGE | 418.45 | 16,581 | 554.9 | 266.1 | 238.16 | 14.37 | 0.36 |
| Oberoi Realty | OBEROIRLTY | 897.5 | 33,093 | 1,051.90 | 522.3 | 286.47 | 24.16 | 0.33 |
| Macrotech Developers | LODHA | 1,171.10 | 55,120 | 1,539.00 | 587.5 | 253.22 | 41.34 | — |
| Brigade Enterprise | BRIGADE | 488.35 | 11,372 | 554.7 | 268.7 | 100.97 | 134.25 | 0.3 |
| Phoenix Mills Ltd. | PHOENIXLTD | 1,240.05 | 22,389 | 1,279.00 | 708.2 | 409.69 | 93.32 | 0.19 |
| Sunteck Realty | SUNTECK | 515.2 | 7,589 | 589.9 | 250 | 190.58 | 288.83 | 0.29 |
| Ashiana Housing | ASHIANA | 138.7 | 1,400 | 209.9 | 115.3 | 71.91 | — | 0.66 |
| Indiabulls Real Estate | IBREALEST | 73.2 | 3,932 | 195.9 | 58 | 80.47 | 93.32 | — |
Investing in Penny Stocks
When you choose to invest in real estate stocks you have two options, either go for blue chip and defensive stocks of large companies that are well established or invest in real estate penny stocks of smaller businesses. If one has a higher risk appetite, they can easily invest in small business stocks.
Penny stocks are quite advantageous in the market due to their less affinity to suffer due to inflation. When inflation hits, the larger companies tend to suffer as they cannot maintain their profitability. The prices of the products tend to rise, and this can lead to losses in the market.
On the other hand, penny stocks are far less vulnerable in the inflation market. Most small businesses are part of strong industries and have tendencies to change their business strategy when faced with inflation. This makes them less susceptible. However, one should be aware of the fact that penny stocks are quite risky, and in case the business falls into a loss-making pit, you will end up losing all your money.
Choosing Real Estate Stocks
Above mentioned stocks are some of the best-performing options that you can choose from. However, proper decision-making regarding investment is key to growth and investment safety. Here are some of the factors that you should pay attention to before buying the best real estate stocks in India:
Study the Market: Always study the market. If you feel that the market prospects are good and there is a growing possibility, then only choose to invest in real estate stocks.
Compare with Competitors: When choosing a real estate stock to invest in, it is better to compare the companies based on their market position and size of the business. Stable companies will help alleviate risks.
Look into Their Debt to Equity Ratio: The debt to equity ratio is a measure of the financial leverage of a company. It indicates the liabilities a company has as compared to the shareholder equity. A company having a debt-to-equity ratio of 1 to 1.5 is the safe range.
Dividends: If you are looking for stocks that are stable and provide a steady stream of income then choose the ones that pay dividends.
PE Ratio: Price to earnings ratio of a stock is one of the crucial metrics to check before investing in any stock. The market average PE ratio is 20 to 25. Anything above that is not good and below the range is considered an overall good choice.
Management and Leadership: Lastly, you should focus on finding a company that has a strong management value. Strong leadership paired with good management tends to make the business immune to constant ups and downs. Also, reliability and transparency in the management will help avoid scams and other elements that can lead to the downfall of the business.
Pros and Cons 
Pros
Some of the benefits of buying top real estate stocks for the long or short term in the Indian market are:
Avoid Inflation: One of the industries which does not face much downward slope in inflation is real estate. The value of real estate tends to increase due to lessened demand and causing the prices too high. Now, if you are investing in real-estate stocks then it is fair to say that the price will survive the market upheaval over time. Therefore, one can avoid the dangers of inflation unlike in other industries.
Capital Gains for Long Term: If you choose the right stock, you can be assured of their growing value in the market. Real estate is one product that will never go out of demand, and therefore, a good and established company will continue growing and expanding over time. You can build on that and gain a lot if you choose a long-term investment.
High-Risk High Returns: One of the benefits of realty stocks in the Indian market for half a decade is their 'high-risk high return characteristics. Risk-adjusted returns of the real estate stocks have seen a constant growth in this economy. Therefore, allowing the investors a good chance to invest in high-risk stocks and get good returns.
REITs: Another benefit of investing in realty stocks is that you get exposure to real estate investment trusts as well. REITs in the Indian market are known to have a good performance with steady capital returns, immunity from inflation, dividend-based income, and the opportunity to diversify the portfolio.
Cons
Following are some of the drawbacks of best real estate stocks in India that you should know about before investing:
High Fees: It is often seen that the realty stock brokers tend to charge higher overhead fees for both long-term and short-term investment accounts. It can increase the overall cost of the investment.
Slow Growth of Economy: In case the economy of the country faces a slump and there is a period where the real estate market will get affected negatively. When the economic growth of the country is slow, there is a restrictive flow of money, and that means the demand for real estate slows down. It can affect the price of the realty stocks and cause eventual losses to the investor.
Also Read: 10 Best Stocks to Buy in India for Long Term

What are REITs?
A real estate investment trust is a type of alternative investment option who are looking to invest in this market but also don't want to invest in stocks. It is a trust fund in which the investor's money is invested in various types of commercial real estate projects. the earnings earned after paying the maintenance fee on the real estate properties are paid to the investors as earnings.
It is a better opportunity if you are looking to find a high dividend-paying option. REITs pay around 90 percent of the returns as dividends. Also, they are less risky as compared to stocks, have high-income prospects, and provide tax relaxations.
Currently, the real estate market is faring well, thus making it a good time to invest in some of the best-performing stocks in the industry. Real estate stocks are a perfect way to diversify your portfolio to distribute the risk efficiently. You can choose among high-performing large company stocks or penny stocks with high-risk affinity to fulfill your earning requirements.
Real estate stocks are not only safe and stable when compared to other industry stocks, but they are also high-earning instruments. Best real estate stocks in India provide a great opportunity for investors to secure their corpus and gain capital in the long run.
All you need to do is, perform good research, compare the stocks and study their past performance to get an idea about their future standing and growth in the industry.