Survey websites provide one of the easiest ways to quickly earn money from the Internet. All it involves is ticking a few boxes and answering a few short questions and you can begin to start earning money. Signing up is free and no investment is required. Companies spend hundreds of lakhs and crores into developing new products and services in India but most do not know what the consumer wants and are groping in the dark for information about their lifestyles.
In these scenarios, Survey companies provide databases of users who can then be used by the company for feedback and experimentation. Once you join such a website, sometimes you are even given free access to a new product or software with the goal of getting feedback. Companies then use this information in their research and use it to build new and better services.
This is the primary purpose that survey companies have been performing for decades. Before the Internet, people would be sent questionnaires by post asking for their opinions, this is now done by email and the results are collected instantaneously.
Around the world, there are thousands of survey companies carrying out research for billion-dollar corporations. But not all of them accept Indians as users. To find out which websites work from India, read on below:
How much cash can you earn?
By signing up for 4-5 survey websites you can get a substantial large source of pocket money every month but it will not be able to match a full-time salary. There is also another issue with survey websites, not all of them accept Indian sign ups, so we have made a list of companies which provide services for Indians, you can start earning by signing up below.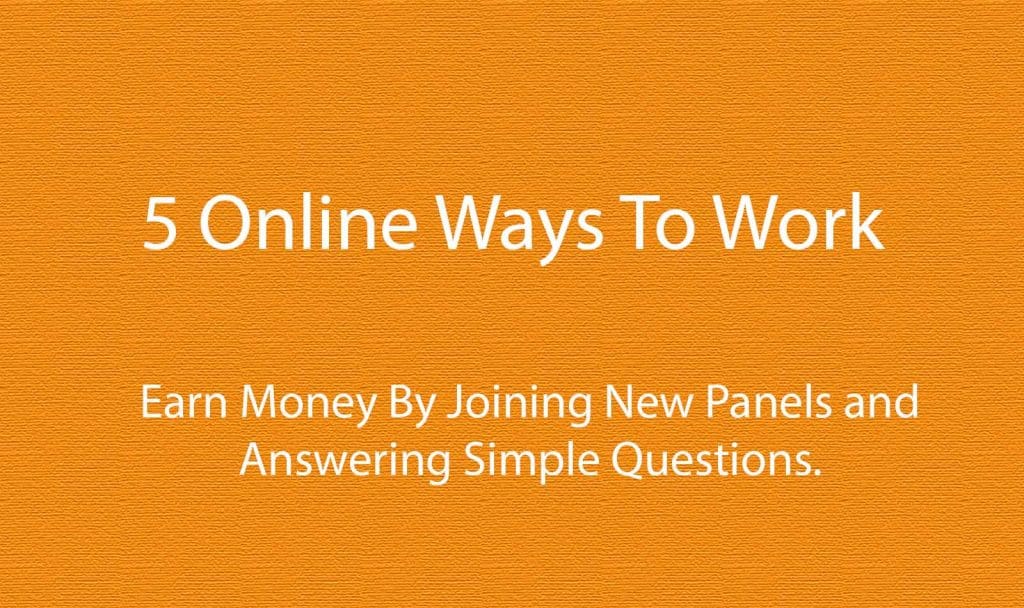 5 New Survey Websites To Earn Income From Home
Survey Compare is part of a global company that only recently began operations in India. They provide gift vouchers and cash transfers for completing their surveys. On average you will receive 5-6 surveys every month as a new member but this will increase depending on how promptly you fill your initial surveys.  To maximize your earnings on Survey Compare sign up for as many different panels as possible. This will increase the number of surveys you get and similarly your earnings will also get a boost. The earnings from this website can definitely provide a secondary income to your household.
Once you join Opinion World, you will be invited by email to take part in online surveys. For each survey you complete you stand to gain points that were then be redeemed for gift vouchers from leading e-commerce companies like Flipkart.com and Jabong.com. The surveys are easy to complete as you are asked general information about new consumer products and your lifestyle. You need to be at least 14 years old to sign up for this service.
The surveys on this website are very short and take 10-15 minutes to fill, once you complete 4-5 surveys you can get your first Jabong.com coupon online.
One of the largest and oldest online survey websites, Swag Bucks has paid hundreds of Crores to its members located across the globe. You earn swag bucks for different activities like answering surveys, searches, and watching videos that can later be redeemed for cash or vouchers. They also have a mobile app for those who want to earn money from their mobile phones.
Swag Bucks has a tie-up Amazon and Freecharge in India through whom you can get Rs 100 sign up bonus. Swag bucks are also the only website that has new daily polls where you can vote to earn swag dollars.
You can get paid for your opinions at Opinion World. You get US$ 5 as a joining bonus when you sign up and can earn up to US$ 10 per completed survey. The website has a huge database of active users many of whom have earned hundreds of dollars while working from home. Your account will be verified and approved after you complete your first survey.
Opinion World enjoys a good reputation in the online world and can be trusted. The website does not charge any enrollment fee. You are also not required to make any investments. If you recommend a friend to enroll, then you can earn up to US$ 5 every time someone enrolls at the website using the link given by you.
One of the fastest-growing panels on the Internet, Quest Mindshare has brought about revolutionary changes in the industry. Their surveys take about 10 minutes to complete and could be about any issue in the world. Some users claim to have earned as much as US$100 (Rs 6000) per month on this website.
Your earnings are dependent on the country. Users from the United States and the United Kingdom are more in demand than Indians on this website. The payment is usually done through Paypal. To find out about your earnings, visit your profile page.