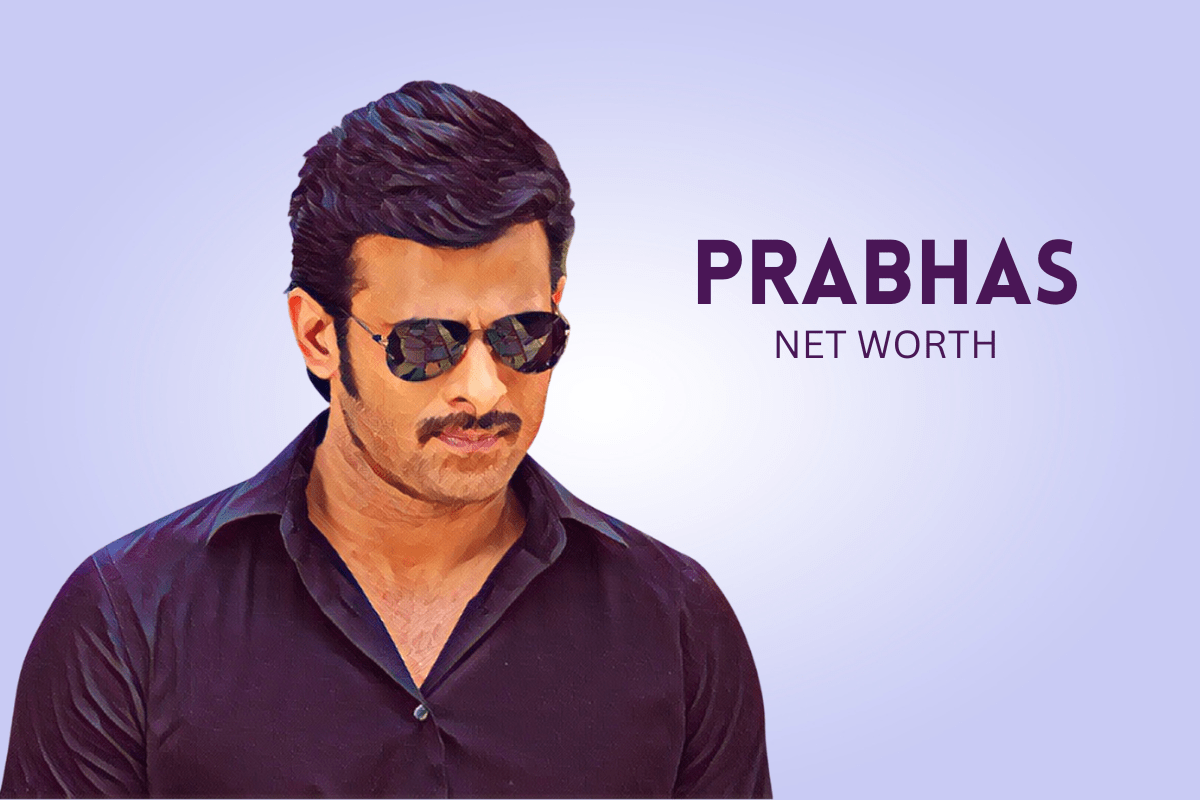 Prabhas, a renowned figure in the entertainment industry from South India, has captivated audiences with his extraordinary talent and charm. With an impressive career spanning several years, he has earned a significant reputation and a substantial net worth. Known for his versatility and dedication, Prabhas has become one of the most sought-after actors in the film industry. His notable achievements and success reflect his immense contributions to the world of cinema, solidifying his position as a prominent personality in the entertainment world. In this article, we will learn more about Prabhas net worth and salary.
Prabhas Net Worth, Salary, Career
Prabhas is at another level and that can be understood just by looking at the scale of his upcoming releases. Prabhas has rocked the national cinema scene in India, and it has made him rich. Prabhas income has also gone up significantly ever since Baahubali came out. Let us learn more about him.
About Prabhas

Prabhas' full name, Uppalapati Venkata Suryanarayana Prabhas Raju, is a name that is as long as the list of accomplishments that the actor boasts. Born in 1979 on October 23rd the actor is referred to by his fans by various names like Darling, Baahubali, and many other popular characters that the actor has played over the years.
Although Prabhas started his journey in the Telugu film industry today he has worked in Bollywood films as well as Pan-India films. Ever since Baahubali came out the actor has been busy signing multiple film and brand endorsement contracts which have helped him feature in Forbes India's Celebrity 100 list 3 times in the past 8 years.
Prabhas Net Worth
Prabhas is not just popular among his fans but also enjoys a good relationship with his co-stars who have on multiple occasions been treated with homemade food by Prabhas while on shoots. However, it's not just his award list, name, heart or list of films lined up that are huge. Even his net worth is huge and when we say huge, we mean something that enters a 9 or 10-digit figure.
Ripping the band aid off, Prabhas net worth stands at 29 million dollars or 215 crores at the very least. The exact figure might be up for debate nevertheless this figure is enough to give anyone a shock.
A home of his by itself in Hyderabad is valued at 65 crores. But surely it is not the only pricey thing he owns as his car collection which we will talk about shortly is also on another level.
Prabhas Salary
When it comes to the salary of superstars, sportspersons, and other such people the numbers mentioned need to be taken with a pinch of salt. But even after assuming that the fee of a star is overstated, a figure like 100 crores is not something that you can make up just like that. Yes, that's right. It is assumed or rather estimated that Prabhas these days charges 100 crores or upwards for a film.
It is reported that Prabhas has charged 150 crores for his upcoming films Spirit and Adipurush. For his film Radheshyam he is understood to have charged anywhere between 120 to 150 crores.
So, anyone who wished to sign Prabhas for their film in the coming time should know that Prabhas salary is well on the rise and one or two more hits might even help him push these figures into the 200-crore range. He has already crossed stars like Shah Rukh Khan, Salman Khan, and Akshay Kumar in terms of salary.
Prabhas Property
Prabhas net worth also includes his amazing collection of supercars that comprises Lamborghini Aventador Roadster which is priced at 5.79 crores. Another car that he owns is the 1.11 crore rupee Jaguar XJL. Range Rover Vogue 3.0 is also owned by the actor, and it costs 2.37 crores. Lastly, he has a Rolls-Royce Phantom priced at 9 crore rupees as well.
Prabhas property also includes cars like Range Rover Sports, Audi A6, BMW 7 Series, and Mercedes Benz S Class, and they cost him 1 crore, 60 lakhs, 2 crores, and 2 crores respectively.
It won't be surprising if there are new additions to this collection post his payday from the number of lined-up films that he has.
Prabhas Income
Prabhas is a B-Tech graduate from Sri Chaitanya College and his acting career began in the year 2002 with the film Eeswar. From there to Baahubali Prabhas income kept changing over the years. At one point the actor charged 10 to 25 crores per project, but Baahubali changed that for him. While he made 20 to 25 crores or so for these films, he also got a share of the profits which helped push his earnings above 100 crores.
Since then, Prabhas salary has seen a significant rise and the 100-crore figure has become his base salary. While doing Baahubali the actor kept getting film and brand endorsement offers which he kept turning down to solely focus on the two movies and that has paid off well for him.
The brand endorsement deal was said to be worth 18 crore rupees and that makes the tuning down even more impressive. However, once Baahubali was over the craze for Prabhas didn't go down as it was beginning to something new. Since then, he has signed a handful of big-budget Pan-India as well as Bollywood films which have consistently seen him bag 100 crores or more per movie.
| | |
| --- | --- |
| NAME | Uppalapati Venkata Suryanarayana Prabhas Raju |
| Net worth | 29 million dollars |
| Monthly Income | Rs. 3 crores |
| Yearly Income | Rs. 40 crores |
| Wealth | Rs. 215 crores |
| Properties owned and their valuation | Rs. 65 crores |
| Miscellaneous assets and their valuation | Rs. 23 crores |
Also Read: Ajay Devgan Net Worth, Property, Family

Prabhas Career Highlights

Prabhas salary has grown over the years but the multiplication that has taken place in the last few years has been nothing short of phenomenal. To put his rise into perspective let's take a look at his march toward stardom over years.
Early Movies
After his debut in 2002, his next movie Raghavendra came out in 2003, and then he had a double release in the year 2004 when he featured in Varsham and Adavi Raamudu. Chakram and Chatrapathi became his next two releases, and these came out in the year 2005.
Chatrapathi accomplished a 100-day run in no less than 54 theaters. His next three films were Pournami, Yogi and Munna. Bujjigadu in 2008, Billa and Ek Niranjan in 2009 were his next few films.
2010 to 2020
His first film of 2010 was Darling which got him the titular nickname. In 2011 the actor starred in the film Mr. Perfect. Then in 2012, the actor starred in the film Rebel. In the same year, he also lent his voice for a cameo role in Denikaina Ready. Then in 2013 his film Michi came out. However, Prabhas' first Bollywood appearance came in a song appearance in the film Action Jackson.
Then came the year 2015 which was about to be the year that was set to multiply Prabhas salary for the coming years and the one that would contribute hugely to Prabhas net worth, Baahubali. And the second part followed in 2017 which broke unprecedented records.
It was also this juncture of his career that truly made him a Pan-India star, a bankable name, and every director and producer's dream signing. In the year 2019, Prabhas' film Saaho was released in cinemas which was his next Pan-India venture post-Baahubali series.
2021 and Upcoming projects
The pandemic slowed down work and delayed projects but that wasn't enough to stop Prabhas as he was on a signing spree behind the scenes while his next movie came out in 2022. In 2022, Radheshyam was released to the delight of Prabhas fans after he was away from the big screen for 3 years. In the year 2023, he has no less than 3 films in various stages of production.
Prabhas net worth is set to increase hugely as Prabhas salary for two of his three upcoming films two are surely over 100 crores each. The three films about to release are Adipurush, a film tentatively titled Project K and Spirit.
Prabhas has established a successful career in the entertainment industry, accumulating a considerable net worth through his various ventures. His dedication and talent have contributed to his financial success, solidifying his position as one of the industry's prominent figures.