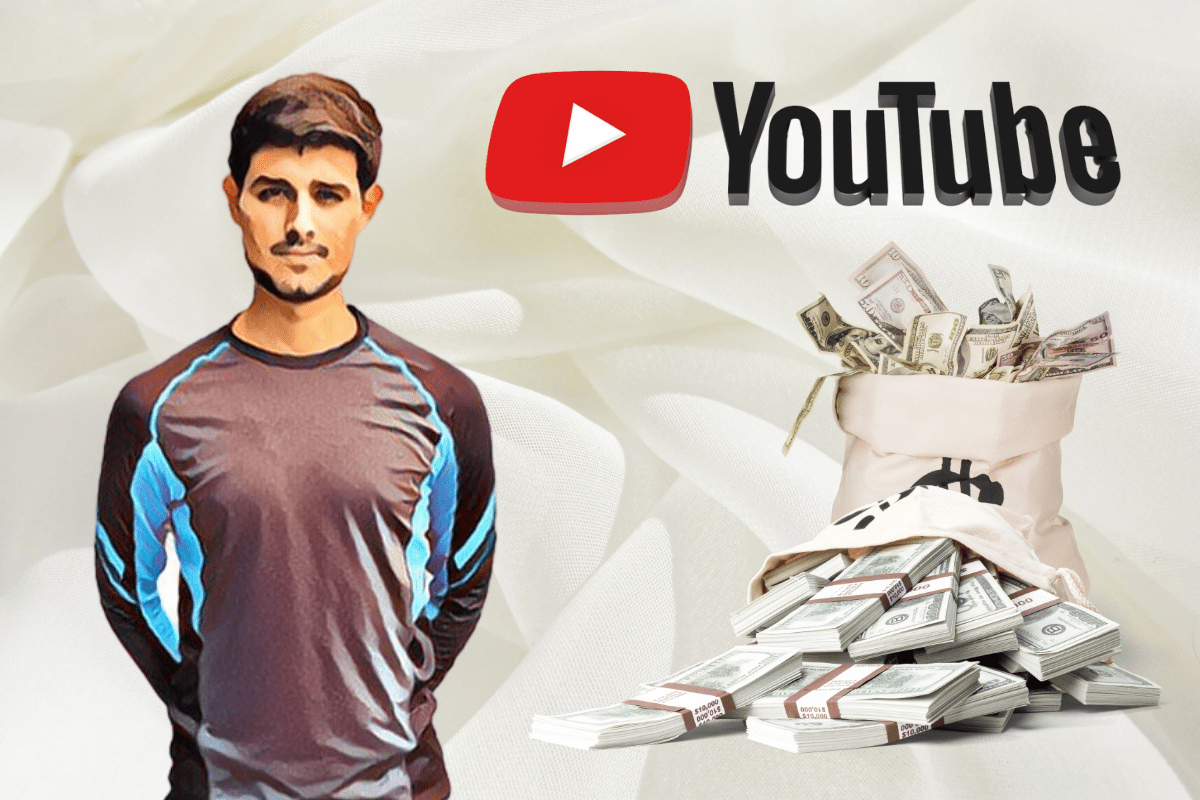 In the realm of digital media and social activism, few names have garnered as much attention as Dhruv Rathee. He has been a vocal advocate for various social and political causes, sparking debates all over the country. As his influence continues to grow, people have been curious about his financial standing. In this article, we will look at Dhruv Rathee net worth, his monthly salary and the assets he owns.
Dhruv Rathee Wiki
Dhruv Rathee, a prominent Indian YouTuber, vlogger, social activist, and political commentator, has garnered significant attention for his video content addressing a wide range of topics, including politics, education, the environment, and social concerns. This diverse content has propelled him to a position of influence, attracting a substantial following across various social media platforms.
Birth Date and Age
October 8, 1994; 28 years
Birthplace
Haryana
Residence
Berlin, Germany
Education
Karlsruhe Institute of Technology
Debut Video

Crazy German Water Park: Filmed on iPhone 5s (on Dhruv Rathee)
Introducing Dhruv Rathee Vlogs | Teaser (on Dhruv Rathee Vlogs)

Most Popular Videos

The Apollo 11 Moon Landing Mystery | Neil Armstrong (on Dhruv Rathee)
Top of Burj Khalifa – Drinking 24 Carat Gold Coffee (on Dhruv Rathee Vlogs)

Accolades
Green Crusader Award, News18 India, 2021
Dhruv Rathee Net Worth, Monthly Salary, Assets
Dhruv Rathee, a prominent figure in the contemporary media landscape, has gained recognition for his insightful commentary and analysis on various socio-political and environmental issues. With a strong online presence, he has amassed a significant following, making him a notable influencer in the digital realm.
| | |
| --- | --- |
| Net Worth | $7 million |
| Monthly Income | Rs. 60 lakhs |
| Yearly Income | Rs. 7.5 crores |
| Wealth | Rs. 58 crores |
| Properties Owned and their Valuation | – |
| Miscellaneous Assets and their Valuation | Rs. 6.304 crores |
Source: Dhruv Rathee Net Worth
Personal Life
Dhruv Rathee was born into a Hindu Jat family in Haryana on October 8, 1994. He tied the knot with his long-term partner Juli Lbr Rathee at Vienna's Belvedere Palace on November 24, 2021. Juli, well-known on Instagram, holds German citizenship.
Rathee pursued his early education in Haryana, attending a CBSE school. Subsequently, he furthered his studies in Germany. He completed his undergraduate studies in mechanical engineering at the Karlsruhe Institute of Technology. Subsequently, he pursued a master's degree in renewable energy from the same institution. Despite this technical background, his genuine passion lies in the domains of Economics and Political Science, for which he pursued a second bachelor's degree.
Career
Rathee is widely recognized for his YouTube content focused on politics, predominantly featuring fact-checking and explanatory narratives. He was among the early Indian adopters of YouTube as a platform for political discourse, initially sharing travel videos in 2013, but pivoting towards political and social subjects by the end of the same year.
In his videos, Rathee delves into a range of topics, encompassing significant events such as the 2016 Uri attack, 2016 Indian Line of Control strike, 2016 Indian banknote demonetization, Gurmehar Kaur row, and the 2023 Manipur violence. Alongside his more serious content, Rathee introduced Pee News, a satirical segment dedicated to presenting fake news. Moreover, between 2017 and early 2020, Rathee contributed opinion columns to The Print.
In July 2020, Rathee initiated another YouTube channel titled Dhruv Rathee Vlogs, where he shares vlogs from his international travels. Beyond travel vlogs, Rathee hosts various shows, including DW Travel by Deutsche Welle and Decode with Dhruv on Netflix India. He also helms a podcast on Spotify named Maha Bharat with Dhruv Rathee. As of February 2022, Dhruv Rathee began a shorts channel to present 30-second factual videos, providing a quick and easily accessible way for viewers to engage with the information he presents. Following Elvish Yadav, there were rumors of Rathee potentially joining Bigg Boss OTT 2, though he promptly denied such speculations.
In August 2023, Dhruv Rathee unveiled his latest venture on YouTube, dedicated to educating individuals about personal finance and investment strategies. Following this, in September 2023, Rathee revealed his plans for an upcoming documentary centered around the Indian economy. Anticipated for an early 2024 release, the documentary aims to delve into the intricacies of India's economic landscape.
Dhruv Rathee Net Worth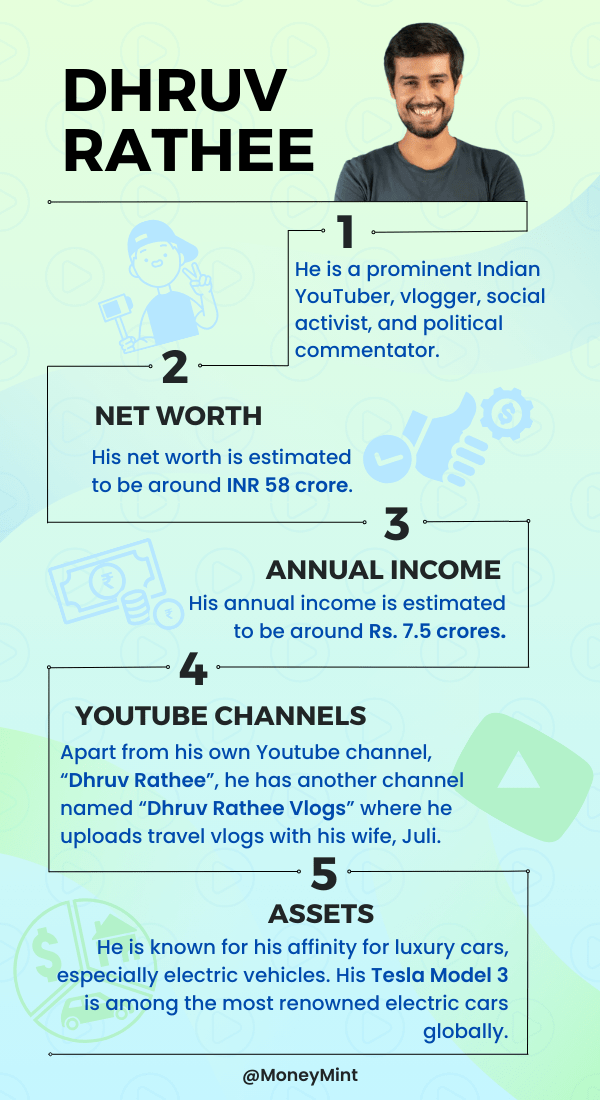 Dhruv Rathee is estimated to have a net worth of approximately $7 million, equivalent to Rs. 58 crores. This estimation takes into account his earnings from YouTube, brand sponsorships, and various other sources of income. Notably, his net worth has seen a growth of 10% over the recent years.
Dhruv Rathee Income and Salary
Dhruv Rathee boasts an estimated annual income or salary of approximately $900,000+ or over Rs. 7.5 crores. This significant sum is derived from a combination of revenue from his YouTube channel, sponsorships, and merchandise sales. Additionally, Rathee supplements his earnings by launching his own app under his name and offering productivity courses focused on effective time management.
Specifically, Dhruv Rathee salary is an impressive $60,000+ or Rs. 50+ lakhs per month from his primary YouTube channel. His vlog channel contributes an additional $2,000+ or Rs. 1.5+ lakhs per month to his earnings. Altogether, Rathee's estimated monthly income or salary amounts to around $72,000+ or Rs. 60+ lakhs. He also adds to his financial portfolio by engaging in Instagram influencer marketing, which brings in around Rs. 1 lakh monthly.
House
Dhruv Rathee lives in a luxurious apartment in Berlin, Germany. He has also invested in several real estates in India.
Dhruv Rathee Assets
Dhruv Rathee, an enthusiast of high-end automobiles, displays a keen interest in electric vehicles, notably favoring the luxury segment. Some of his favored models and their respective approximate prices are:
Tesla Model 3 Long Range: Priced at around Rs. 70 lakhs.
Range Rover P400e: Valued at approximately Rs. 4.17 crores.
BMW 5 Series: Available at an estimated cost of Rs. 68.90 lakhs.
Mercedes-Benz GLC-Class: Priced around Rs. 74.50 lakhs.
Achievements
Dhruv Rathee garnered significant online influence, earning a nomination for the Inspiration of the Year award at the 2018 Outlook Social Media Awards. He was also honored with Silver, Golden and Diamond Play Buttons from YouTube.
Recognized for his efforts in advancing renewable energy and sustainable lifestyle advocacy, Dhruv Rathee has been bestowed with numerous awards. These include being featured in India's Top YouTubers by the Economic Times in 2019 and receiving the esteemed Green Crusader Award from News18 India in 2021.
Controversies
Dhruv Rathee has been accused of disseminating misinformation and propagandistic content through his video productions.
On May 9, 2018, a police complaint was filed against Rathee in Delhi by an advocate representing Vikas Pandey, a self-proclaimed Bharatiya Janata Party Volunteer. Pandey alleged defamation by Rathee and sought damages amounting to Rs. 15 lakhs.
In 2019, Rathee's Facebook page faced a temporary block after he drew parallels between Hitler's rise to power and the emergence of right-wing politics in a post.
In 2020, Rathee released a video critiquing Kangana Ranaut's statements, leading Ranaut to threaten legal action against him for allegedly spreading false information about a notice issued by the BMC regarding her house.
In September 2022, Rathee stirred controversy when a video he posted concerning the political crisis in Pakistan was blocked by India's Ministry of Information and Broadcasting. The video featured a distorted map of India, depicting parts of Kashmir as part of Pakistan or in dispute.
In March 2023, Rathee faced copyright infringement charges from Dabur regarding his video titled The Dark Side of Cold Drinks. The Calcutta High Court ordered the removal of the video.
Also Read: Narendra Modi Net Worth, Salary, Assets
Dhruv Rathee has built a substantial net worth through his various endeavors. His success as a popular YouTuber and social activist has contributed hugely to his economic stability.
Source: Dhruv Rathee Controversies