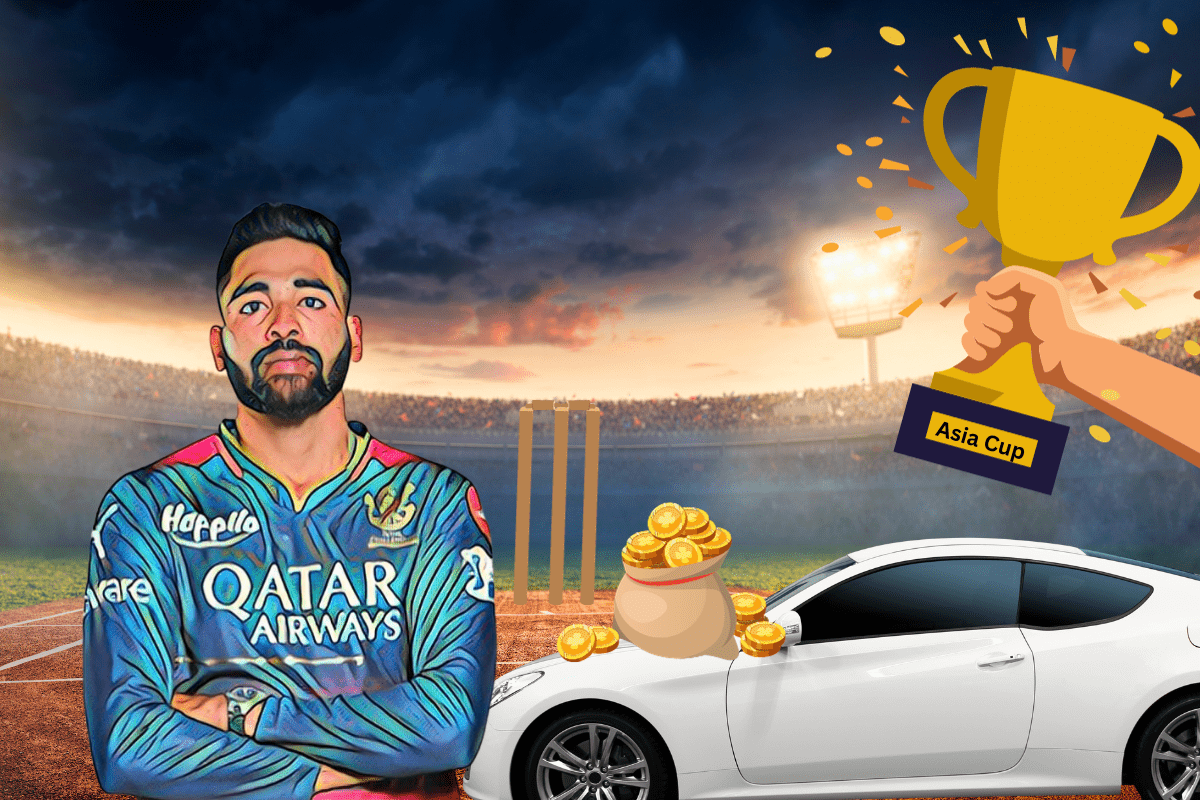 Mohammed Siraj, a prominent figure in Indian cricket, has gained significant attention for his mastery with the ball. His journey from rags to riches has not only earned him several accolades but also a substantial financial standing. In this article, we will explore Mohammed Siraj net worth, his annual salary and the house he owns.
Mohammed Siraj Wiki
Mohammed Siraj, an Indian international cricketer, made his entry into the Indian national cricket team in 2018, showcasing his prowess as a right-arm fast bowler. He is a key player for the Royal Challengers Bangalore in the Indian Premier League and represents Hyderabad in domestic cricket.
Birth Date and Age
March 13, 1994; 29 years
Birthplace
Residence
Hyderabad, Telangana
Education
Safa Junior College, Nampally
Debut Matches

Test: Against Australia (26 December 2020)
ODI: Against Australia (15 January 2019)
T20I: Against New Zealand (4 November 2017)

Best Bowling Figures

Test: 5/60
ODI: 6/21
T20I: 4/17

Accolades
Player of the Match, Asia Cup Final, 2023
Mohammed Siraj Net Worth, Annual Salary, House
Mohammed Siraj, a name that resonates with cricket enthusiasts worldwide, has emerged as a formidable force in the world of professional cricket. His journey from humble beginnings to the international stage is nothing short of inspiring. With unwavering determination and a passion for the game, Siraj has etched his name in the annals of cricket history.
| | |
| --- | --- |
| Net Worth | $6 million |
| Monthly Income | Rs. 60 lakhs |
| Yearly Income | Rs. 7 crores |
| Wealth | Rs. 47 crores |
| Properties Owned and their Valuation | – |
| Miscellaneous Assets and their Valuation | Rs. 8.50 crores |
Source: Mohammed Siraj Net Worth
Personal Life
Mohammed Siraj, born on March 13, 1994, hails from a lower-middle-class family in Hyderabad, with parents Mohammed Ghaus and Shabana Begum. His father worked as an auto rickshaw driver, while his mother devoted her time to being a homemaker. Mohammed Siraj has an elder brother named Mohammed Ismail.
Coming from a financially challenged background, Siraj's parents made significant sacrifices to support his cricketing aspirations. His educational journey extended up to the 12th grade, completing his schooling at Safa Junior College in Nampally, Hyderabad. Despite an engineering path taken by his elder brother, Mohammed Ismail, Siraj opted for a cricketing career to pursue his dreams.
Career
Siraj commenced his first-class journey on November 15, 2015, with Hyderabad in the 2015–16 Ranji Trophy tournament, under the guidance of coach Karthik Udupa. His Twenty20 debut came on January 2, 2016, during the 2015–16 Syed Mushtaq Ali Trophy tournament. During the 2016–17 Ranji Trophy, he emerged as the highest wicket-taker for Hyderabad, claiming an impressive 41 wickets at an average of 18.92.
In February 2017, Sunrisers Hyderabad acquired him for Rs. 2.6 crores in the 2017 Indian Premier League. Later, in January 2018, Royal Challengers Bangalore secured his services during the 2018 IPL auction. Notably, during the 2017–18 Vijay Hazare Trophy, he showcased his skills, emerging as the leading wicket-taker with 23 dismissals in seven matches. A significant milestone was achieved on October 21, 2020, when he became the first bowler in IPL history to bowl consecutive maiden overs in a single match.
In October 2017, he earned a spot in India's Twenty20 International squad for their series against New Zealand, marking his T20I debut on November 4, 2017, and making an impact by taking the wicket of Kane Williamson. In 2018, his remarkable performances led to selections in India's T20I, Test, and ODI squads for various series. Notably, his ODI debut came against Australia at the Adelaide Oval on January 15, 2019.
In 2020, Siraj was named in India's Test squad for the Australia series, ultimately making his Test debut on December 26, 2020, and securing his first Test wicket off Marnus Labuschagne. A significant achievement unfolded in January 2021 during the series against Australia, where he clinched his first five-wicket haul in Test cricket. Another notable contribution came in January 2023 during the India vs New Zealand ODI series, where he played a crucial role by taking 4 wickets in the first ODI, aiding the team's victory.
On January 21, 2023, Siraj attained the top spot among ODI bowlers in the ICC ODI Rankings. Later, on August 21, 2023, he was named in the 15-man squad for India ahead of the 2023 Asia Cup. During the Asia Cup final on September 17, 2023, he displayed exceptional bowling prowess, achieving a career-best figure of 6/21 and becoming the joint fastest bowler to secure a 6-wicket haul in ODIs. Remarkably, he also became the first Indian to claim 4 wickets in a single over.
Also Read: Rishabh Pant Net Worth, Income, IPL Salary
Mohammed Siraj Net Worth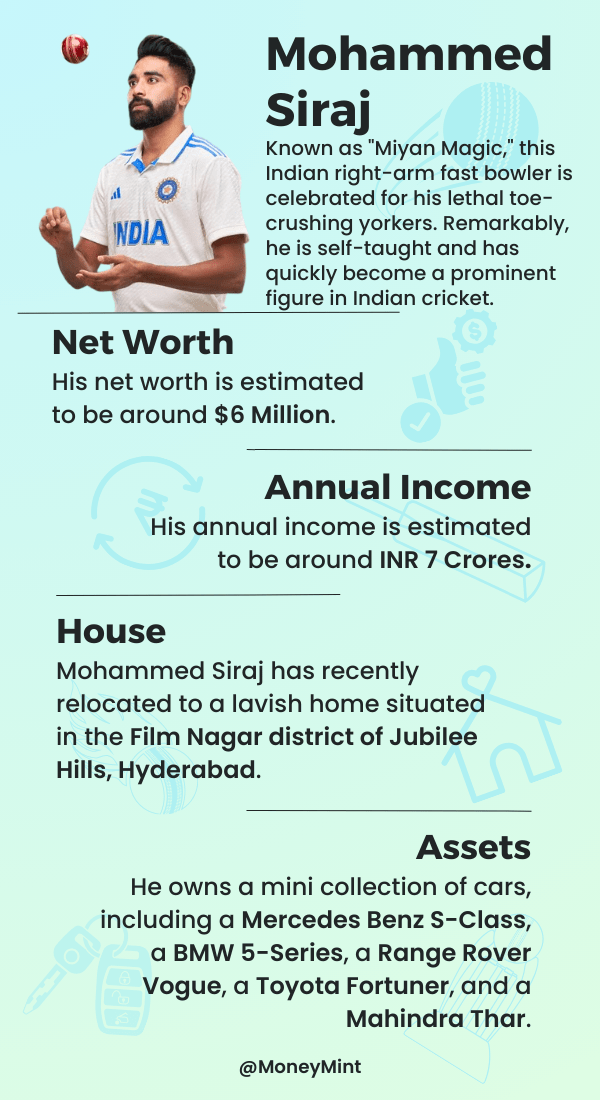 Mohammed Siraj has amassed a substantial net worth of around 6 million USD, equivalent to approximately Rs. 47 crores. This impressive wealth has been accumulated through earnings from his BCCI salaries, lucrative IPL contracts, and successful ventures in the private business sector.
Mohammed Siraj Income and Salary
As per the player contracts released by the Board of Control for Cricket in India (BCCI) for the 2022-23 season, Mohammed Siraj holds a Grade B player status, ensuring annual earnings of Rs. 3 crores. His salary is estimated at around Rs. 60 lakhs per month, culminating in an annual income of Rs. 7 crores.
Mohammed Siraj was acquired by Royal Challengers Bangalore during the 2018 IPL auction and has since been a consistent presence in the team. Remarkably, during the 2023 auction, he was retained for an impressive sum of Rs. 8 crores. Siraj has actively participated in six IPL seasons, accumulating a total earning of Rs. 20 crores through his engagements in the league.
Mohammed Siraj House
Mohammed Siraj possesses an opulent designer house in Film Nagar district of Jubilee Hills, Hyderabad. Additionally, he has investments in several real estate properties across various regions of the country.
Assets
Mohammed Siraj boasts an impressive array of luxury automobiles in his possession. Among his remarkable car collection are:
Mercedes-Benz S-Class, valued at Rs. 1.80 crores,
BMW 5-Series, a German luxury sedan with a price tag of Rs. 68.90 lakhs,
Toyota Fortuner, valued at Rs. 50.74 lakhs,
The iconic Range Rover Vogue, a prized possession worth Rs. 4.17 crores.
Toyota Corolla, priced at Rs. 20.19 lakhs which he purchased from his inaugural IPL earnings.
A special addition to his set of wheels is a Thar SUV, a gift presented to him by Anand Mahindra in recognition of his outstanding performance for Team India during the Test series against Australia in 2021, valued at Rs. 16.94 lakhs.
In addition to his exceptional cars, Siraj's passion extends to motorcycles, including the Yamaha R1, a high-end bike valued at Rs. 20.39 lakhs, and the Ducati Panigale V4, an exhilarating ride priced at Rs. 69.99 lakhs.
Achievements
In the 2023 Asia Cup Final, Mohammed Siraj showcased an outstanding performance, earning him the player of the match award for his exceptional ODI bowling figures of 6/21. This remarkable display propelled him to reclaim the coveted Number 1 spot in the ODI bowling rankings. Notably, his excellence was also acknowledged in the ODI series against South Africa in 2022, where he dazzled, securing the well-deserved man of the series award.
Also Read: Kuldeep Yadav Net Worth – Annual Income, House
Philanthropy
On September 17, 2023, Mohammed Siraj exhibited a generous gesture by donating his Player of the Match cash prize of USD 5,000 to the hardworking Sri Lankan ground staff who persevered diligently during the rain-affected Asia Cup.
Mohammed Siraj net worth reflects his success in the world of professional cricket. His earnings have undoubtedly grown over the years, due to his talent and hard work.
Source: Mohammed Siraj House