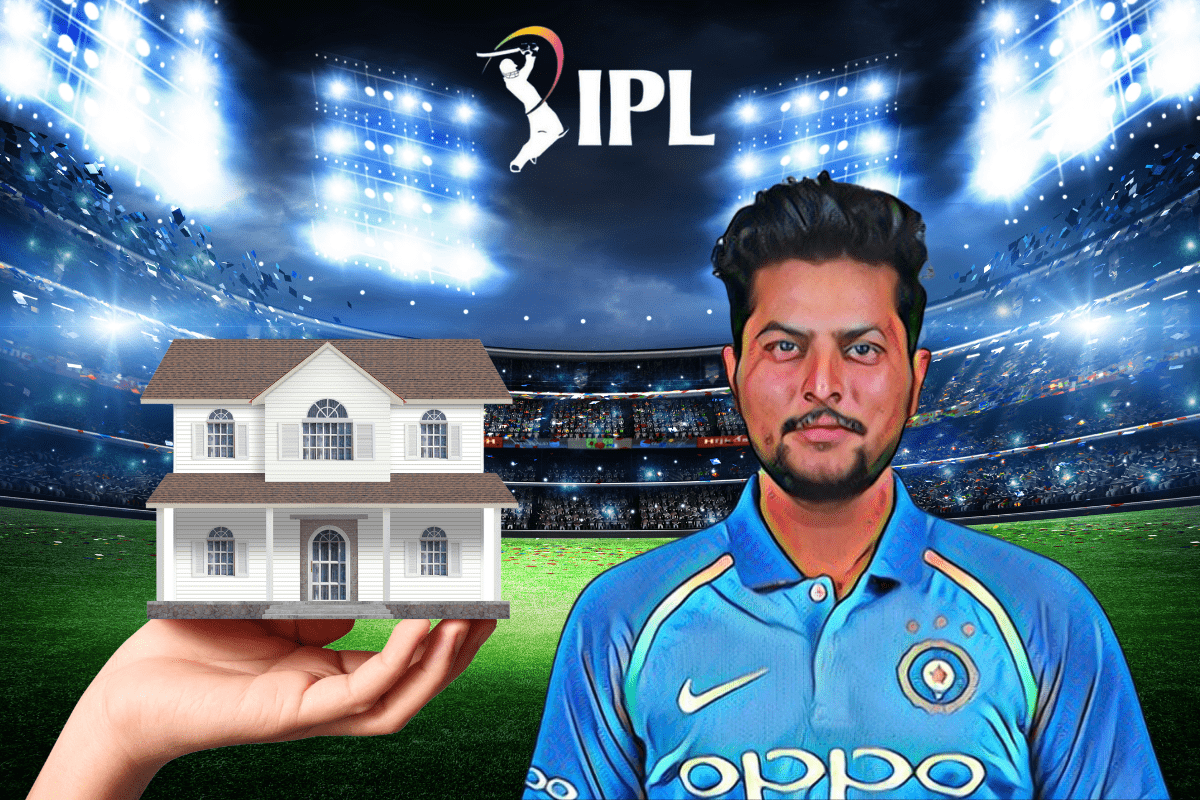 Kuldeep Yadav, the accomplished cricketer, is known for his bowling prowess in the world of cricket. His journey has not only earned him recognition and accolades but also a strong financial standing. In this article, we will explore Kuldeep Yadav net worth, his annual income and the property he owns.
Kuldeep Yadav Wiki
Kuldeep initially began his cricket journey as a fast bowler at the academy level but transitioned into a slow left-arm unorthodox or chinaman bowling style. His breakout moment came during the 2015 ICC Under-19 Cricket World Cup when a hat-trick propelled him into the spotlight. Since then, Kuldeep has consistently showcased his talent on the international stage across various formats of the game, proving his mettle and leaving a lasting impression.
Birth Date and Age
14 December 1994; 28 years
Birthplace
Unnao, Uttar Pradesh
Residence
Kanpur, Uttar Pradesh
Education
Karam Devi Memorial Academy World School, Kanpur
Debut Matches

Test: Against Australia (25 March 2017)
ODI: Against West Indies (23 June 2017)
T20I: Against West Indies (9 July 2017)

Best Bowling Figures

Test: 5/40
ODI: 6/25
T20I: 5/24

Accolades
Player of the Series, Asia Cup, 2023
Kuldeep Yadav Net Worth, Annual Income, House
Kuldeep Yadav, a name synonymous with the art of spin bowling, has made a mark in the world of cricket with his exceptional talent and determination. His journey from humble beginnings to international prominence is a testament to his dedication and skill.
| | |
| --- | --- |
| Net Worth | $4 million |
| Monthly Income | Rs. 75 lakhs |
| Yearly Income | Rs. 5.8 crores |
| Wealth | Rs. 32 crores |
| Properties Owned and their Valuation | – |
| Miscellaneous Assets and their Valuation | Rs. 67 lakhs |
Source: Kuldeep Yadav Net Worth
Personal Life
Kuldeep Yadav's early life was marked by modest beginnings. Originally hailing from Unnao in Uttar Pradesh, he later relocated to Kanpur in pursuit of superior training facilities. His father, Ram Singh Yadav, makes a living as a brick businessman, while his mother, Usha Yadav, is a homemaker. Kuldeep comes from a family of five, including his three sisters, Madu, Anita, and Anushka.
In terms of education, Kuldeep attended Karam Devi Memorial Academy World School in Kanpur. During his school years, Yadav dedicated himself to his studies and excelled academically. It was his father who initially introduced him to his first coach, Kapil Pandey. This introduction proved to be transformative for Yadav, as Pandey recognized his promising talent in spins and variations, deciding to guide him on the path of becoming a skilled chinaman bowler.
Career
Kuldeep Yadav commenced his domestic cricket journey with the Uttar Pradesh squad in 2014, showcasing his exceptional talent as a Chinaman spin bowler. Initially a part of the Mumbai Indians team in 2012, he later joined the Kolkata Knight Riders in 2014, featuring in the 2014 Champions League Twenty20 as well. His journey continued with KKR when they reacquired him in the 2018 IPL auction. In a notable move, he was picked up by the Delhi Capitals in the 2022 season auction, marking a new phase in his IPL career. During the 2022 season, Yadav stood out, earning the player-of-the-match award on four occasions, the most by any player in that season.
Kuldeep Yadav made a significant mark in international cricket, debuting in Tests on March 25, 2017, against the Australian cricket team, making history as the first left-arm wrist spin bowler to represent India in Test cricket. Shortly after, he made his ODI debut against the West Indies, demonstrating his prowess by taking three wickets in the next match of the series. He also made his T20I debut against the same team in July 2017.
September 21, 2017, marked another milestone as Yadav became the third Indian bowler to secure a hat-trick in an ODI. He continued to break records, becoming the first left-arm wrist-spin bowler to claim wickets in a T20I inning and only the third bowler to achieve a five-wicket haul in a T20I during July 2018. Notably, he secured his maiden five-wicket haul in an ODI that month, setting the record for the best bowling figures by a left-arm spinner of any kind in an ODI.
In his maiden Test against West Indies in October 2018, Yadav secured his first five-wicket haul in Tests, joining an elite group with five-wicket hauls in all three formats, alongside Bhuvneshwar Kumar. Further, he climbed to the second position in the T20I Bowlers Rankings on February 11, 2019. He was a vital part of India's squad for the 2019 Cricket World Cup. During a match against West Indies on December 18, 2019, he achieved a historic feat by becoming the first bowler of Indian origin to take two hat tricks in an international match.
Kuldeep Yadav's journey continued, and in 2023, he was included in India's ODI squad for the tour of the Caribbean. After struggling with form following the 2019 World Cup, he made a strong comeback, impressing with seven wickets at an exceptional average of 8.71. This performance earned him a spot in the squad for the Asia Cup later that year.
In the Asia Cup, Yadav made a significant impact. In the match against Pakistan, he delivered outstanding figures of 5/25, becoming the fifth Indian bowler to claim a five-wicket haul against Pakistan and contributing to India's 228-run victory. In the subsequent match against Sri Lanka, he once again shined, securing 4/43 and achieving the distinction of being the quickest Indian spinner to reach 150 ODI wickets in terms of matches played (88), surpassing Anil Kumble. Ultimately, India emerged victorious in the tournament, and Yadav's exceptional performance earned him the title of the Player of the Tournament.
Also Read: Ravindra Jadeja Net Worth, IPL Salary, House
Kuldeep Yadav Net Worth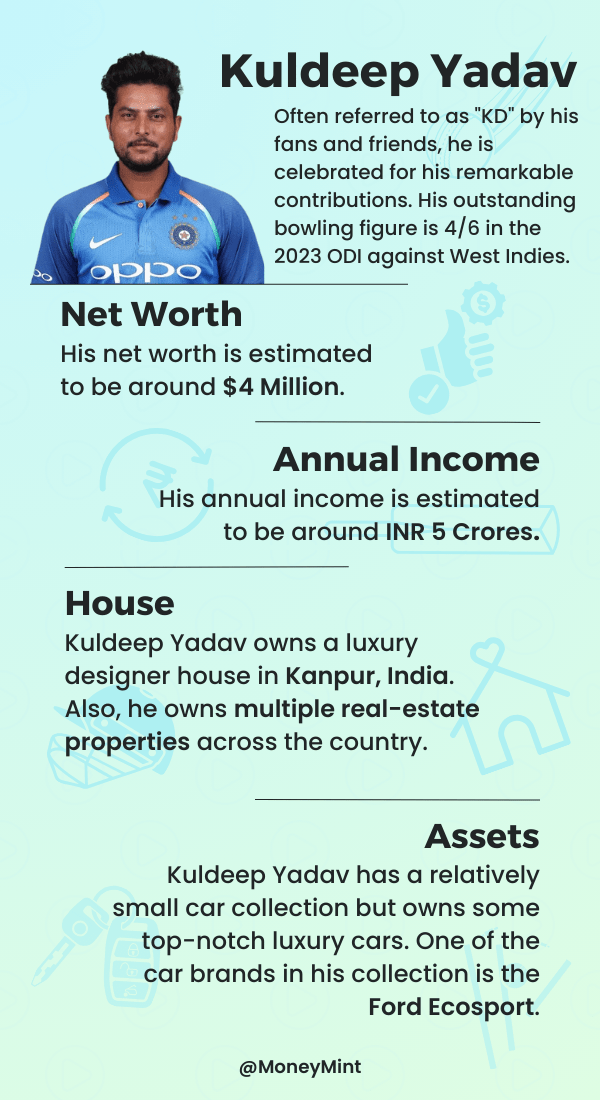 Kuldeep Yadav net worth is estimated to be $4 million, which is approximately Rs. 32 crores. He enjoys a substantial brand value and is highly regarded globally, making him one of the most respected players in the cricketing world. It is worth noting that his wealth has seen a remarkable 40% increase in recent years, accompanied by a corresponding growth in his income.
Kuldeep Yadav Income and Salary
Kuldeep Yadav predominantly derives his income through his cricketing endeavors. He receives an annual retainer of Rs. 1 crore from the Board of Control for Cricket in India (BCCI) as part of the Grade C category. His earnings substantially increase through participation in both international and national cricket matches, as well as the lucrative Indian Premier League (IPL), where he commands a salary of Rs. 2 crores as a leg-spinner for the Delhi Capitals.
On a monthly basis, Kuldeep Yadav income ranges from around Rs. 75 lakhs, contributing to an estimated yearly earning of Rs. 5.8 crores. Additionally, he capitalizes on his popularity by endorsing multiple brands, charging a significant fee for these endorsements.
Kuldeep Yadav House
Kuldeep Yadav possesses an opulent designer residence in Kanpur, India. Additionally, he has investments in several real estate properties spanning various locations in the country.
Assets
Kuldeep Yadav possesses a collection of top-tier luxury automobiles, including the Ford EcoSport valued at approximately Rs. 12 lakhs and the Audi A6 priced at Rs. 55 lakhs.
Achievements
Kuldeep Yadav was honored with the Player of the Series award for his exceptional performance, claiming 9 wickets during the Asia Cup 2023, bringing home a prize of $15,000. Additionally, in the December 2022 first Test against Bangladesh, the spinner showcased his brilliance and was recognized as the Player of the Match.
Philanthropy
Despite accumulating significant wealth, Kuldeep Yadav has stayed humble, consistently dedicating a portion of his earnings to charitable endeavors. His active involvement in various philanthropic causes underscores his dedication to making a positive impact on society, showcasing his character's nobility and adding an altruistic dimension to Kuldeep Yadav's career.
Also Read: Rishabh Pant Net Worth, Income, IPL Salary
Kuldeep Yadav's popularity and wealth have undoubtedly increased due to his skills and contributions to Indian cricket. Overall, his earnings indicate his dedication and hard work in the sport.
Source: Kuldeep Yadav Salary