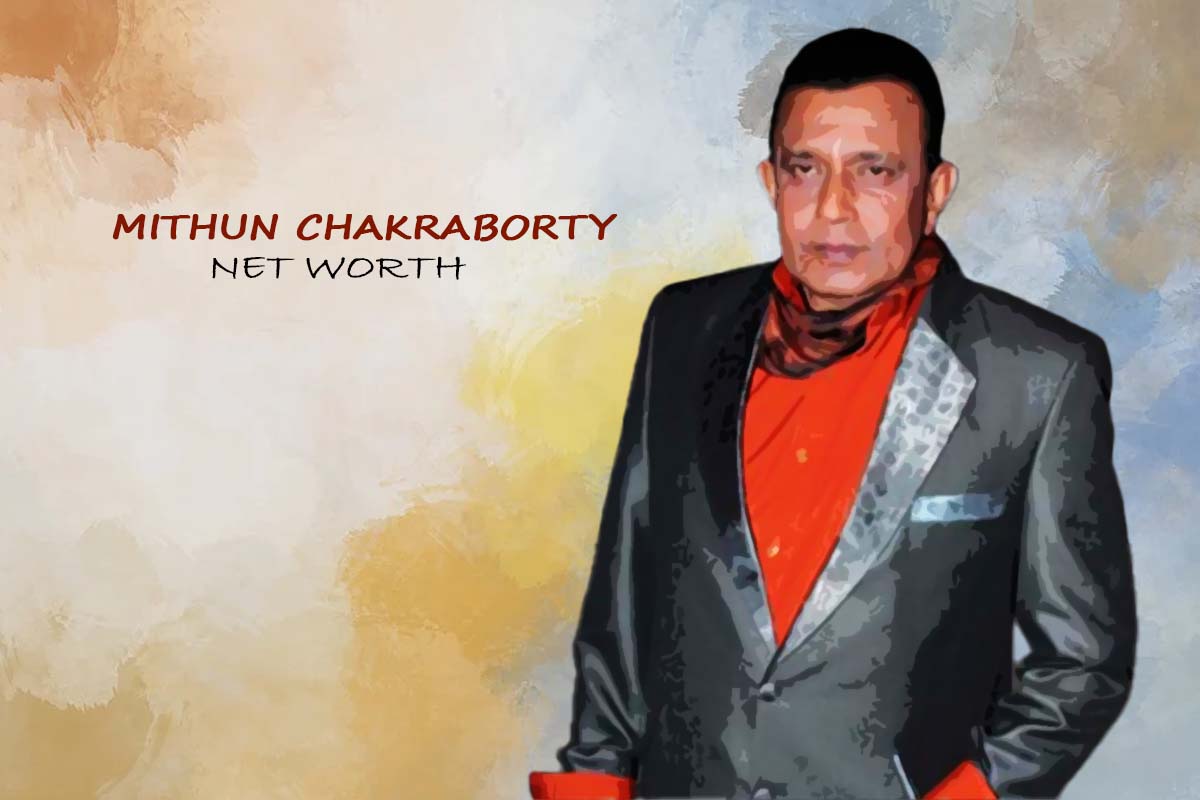 Ever since his performance in the evergreen song I am a Disco Dancer, Mithun Chakraborty became a megastar in Bollywood. Over the decades, he has left a lasting impact with his acting skills and amazing dance moves. His contributions to Indian films have earned him not only fame but also financial success. In this article, we will explore Mithun Chakraborty net worth, his monthly salary and the properties he owns.
Mithun Chakraborty Bio
Mithun Chakraborty, an acclaimed Indian film actor, social activist, and entrepreneur, has garnered recognition with a National Film Award. Primarily active in the Hindi and Bengali film industries, he has also served as a Member of Parliament in the Rajya Sabha.
Birth Date and Age
June 16, 1950; 73 years
Birthplace
Kolkata, West Bengal
Residence
Mumbai, Maharashtra
Education

Oriental Seminary, Kolkata
Scottish Church College, Kolkata
Film and Television Institute of India, Pune

Debut

Film: Mrigayaa (1976)
TV: Dance Bangla Dance (2009)

Most Popular Appearance

Mrigayaa
Disco Dancer
Dance Dance
MLA Fatakeshto
The Kashmir Files

Accolades

Best Actor, National Award (1976, 1992)
Best Supporting Actor, Filmfare Award (1991)
Best Supporting Actor, National Award (1995)
Best Villain, Filmfare Award (1996)
Mithun Chakraborty

Net Worth,

Monthly Salary

, House
Mithun Chakraborty, a renowned Indian actor, has left an indelible mark in the world of entertainment. With a career spanning several decades, Mithun Da, as he is affectionately called, has captivated audiences with his versatile acting skills. His early life was marked by humble beginnings, but his determination and talent paved the way for success.
| | |
| --- | --- |
| Net Worth | $50 million |
| Monthly Income | Rs. 2 crores |
| Yearly Income | Rs. 25 crores |
| Wealth | Rs. 400 crores |
| Properties Owned and their Valuation | Rs. 290 crores |
| Miscellaneous Assets and their Valuation | Rs. 5.12 crores |
Mithun Chakraborty

's Personal Life
Mithun Chakraborty, originally named Gouranga Chakraborty, was born on June 16, 1950, into a Bengali Hindu family in Calcutta, now known as Kolkata, West Bengal, India. His parents were Basanta Kumar Chakraborty and Shanti Rani Chakraborty.
Mithun's educational journey led him to Oriental Seminary, followed by the attainment of a B.Sc. degree in Chemistry from Scottish Church College in Kolkata. Subsequently, he pursued his passion for the film industry by graduating from the Film and Television Institute of India in Pune. Before venturing into films, he had a brief association with Naxalism. However, a tragic incident, the electrocution and death of his only brother in a freak accident, prompted Mithun to leave the Naxalite movement, despite the potential risks to his own life.
In 1979, Mithun Chakraborty's first marriage to actress Helena Luke ended after just four months, leading to their separation and subsequent divorce. He then tied the knot with actress Yogeeta Bali in the same year. The couple has four children—Mimoh, Ushmey Chakraborty, Namashi Chakraborty, and an adopted daughter named Dishani Chakraborty. During the 1980s, he was romantically linked to actress Sridevi, with rumors circulating about a possible marriage between them.
Mithun kept a total of 38 pet dogs in his residence in Bandra, Mumbai. Additionally, his hotel in Ooty had 76 dogs. However, the current count is 12. Interestingly, not only does he have a variety of dogs, but he also possesses rare species of birds.
His Career
Mithun Chakraborty embarked on his Bollywood journey with Mrinal Sen's acclaimed film Mrigayaa in 1976. Initially, he took on minor roles until he found success in the 1978 film Mera Rakshak. The turning point in his career came with the low-budget spy movie Surakshaa, catapulting him to stardom. Throughout the '80s, he starred in over 110 releases, including notable films like Disco Dancer, Tarana, Humse Badhkar Kaun, Pyar Jhukta Nahin, and Ghulami.
The musical hit Disco Dancer in 1982 solidified Mithun's superstardom, making him a household name not just in India but also in Russia. He continued his success with cult musical films like Kasam Paida Karne Wale Ki, Dance Dance, and Commando. The blockbuster Pyar Jhukta Nahin in 1985 reaffirmed his status as a superstar. Simultaneously, he made his mark in Bengali cinema with successes like Nadi Theke Sagare, Kalankini Kankabati, Troyee, and Anyay Abichar.
In the 1990s, Mithun's Bollywood career took a backseat, and he focused more on Bengali films, delivering hits like Agneepath, Shandaar, and Gunahon Ka Devta. Despite a brief hiatus, he made a mainstream Bollywood comeback in 2005 with Elaan. Noteworthy performances in films like Chingaari and Guru earned him critical acclaim. The mid-2000s saw Mithun's success with blockbusters like MLA Fatakeshto and its sequel Minister Fatakeshto. He continued to diversify his roles with films like Kaalpurush, Shukno Lanka, and Target: The Final Mission. His foray into Bhojpuri and Odia cinema with Bhole Shankar and Ae Jugara Krushna Sudama further showcased his versatility.
Mithun's filmography expanded to include hits like Mujhe Insaaf Chahiye, Ghar Ek Mandir, Swarag Se Sunder, and Pyaar Ka Mandir. His presence in films like Golmaal 3, OMG – Oh My God!, Khiladi 786, Entertainment, and The Tashkent Files continued to resonate with audiences. In the current decade, Mithun has featured in diverse projects, including the horror film 12 'O' Clock, the web series Bestseller, and the Bengali film Projapoti. His Hindi film The Kashmir Files, released in 2022, achieved blockbuster status at the box office and is an official Oscar entry.
Following the triumph of the Bengali competitive dance reality show Dance Bangla Dance, Mithun Chakraborty conceptualized Dance India Dance, an Indian dance competition series. Not only did he serve as the Grand Master of Dance India Dance Li'l Masters, but he also took on the role of host for the reality show Dadagiri Unlimited for a period.
Chakraborty later assumed the hosting duties for the Bengali version of Bigg Boss and Rannaghore Rockstar. Venturing into television acting, he made his debut with the comedy show The Drama Company. His presence as a co-judge extended to shows like Dance Dance Junior and Hunarbaaz: Desh Ki Shaan. In 2023, he made a return to the sets of Dance Bangla Dance on Zee Bangla, reprising his role as Mahaguru.
Beyond the realm of entertainment, Mithun Chakraborty took on the responsibility of a Member of Parliament, having been nominated for the Rajya Sabha Member of Parliament elections by West Bengal Chief Minister Mamata Banerjee, representing the All-India Trinamool Congress (TMC). However, in 2016, he resigned from his position as a Rajya Sabha MP. His political journey took a turn in 2021 when he joined the Bharatiya Janata Party (BJP).
Mithun Chakraborty

Net Worth
Mithun Chakraborty boasts a net worth of $50 million, equivalent to around Rs. 400 crores. Despite his substantial wealth, he remains highly engaged in both the film industry and politics.
Also Read: Shaheer Sheikh Net Worth – Annual Income, House
Mithun Chakraborty

Income and Salary
Mithun Chakraborty earns over Rs. 2 crores on a monthly basis. He earns a significant income through various channels, including acting, production, and business ventures. He commands a fee of Rs. 2-3 crores per movie. In addition to his film career, Mithun Da's engagements in television shows, stage performances, brand endorsements and public appearances play a crucial role in enhancing his financial position. Mithun Chakraborty salary is estimated to be over Rs. 25 crores per annum.
Mithun Chakraborty

House
Mithun Chakraborty boasts an impressive real estate portfolio, with a total valuation of Rs. 290 crores spread across various locations in India. He initially purchased a stunning apartment in the upscale Bandra area, featuring a spacious terrace. Subsequently, he constructed an extravagant bungalow spanning 1.5 acres on Madh Island near Mumbai, with a reported cost of Rs. 45 crores and 73 lakhs. Mithun is also the owner of a lavish farmhouse-style home nestled in the picturesque town of Ooty and a house in his hometown, Kolkata.
Mithun Chakraborty

Hotels and Properties
Mithun Chakraborty is at the helm of The Monarch Group of Hotels, where he oversees hotels in Ooty, Masinagudi, Mysore, Siliguri, and Kolkata. Alongside The Monarch Hotel, he also constructed Mithun's Dream Factory, an Indian film studio located in Ooty. Mithun Chakraborty property also includes the Monarch Safari Park in Masinagudi, featuring a range of accommodations such as 16 houses, 14 twin lofts, and four standard rooms. Guests can take part in horseback riding and exhilarating jeep safaris, ensuring a memorable stay.
Mithun Chakraborty Car Collection
Mithun Chakraborty has a passion for cars and boasts an impressive collection of luxury vehicles, including:
Mercedes Benz worth Rs. 3.30 crores,
Volkswagen valued at Rs. 35.17 lakhs,
Ford Endeavour priced at Rs. 36.25 lakhs,
Toyota Fortuner costing Rs. 51.44 lakhs,
Eicher Truck with a price tag of Rs. 59.29 lakhs.
Also Read: Boman Irani Net Worth – Annual Salary, House
Achievements of

Mithun Chakraborty
Mithun Chakraborty achieved recognition throughout his career, securing several prestigious awards:
His stellar performance in Mrigayaa earned him a National Award, with the 1976 Best Actor honor.
The Bengal Film Journalists' Association (BFJA) Awards celebrated his acting prowess by awarding him Best Actor for the same film in 1977.
In 1991, he clinched the Filmfare Award for Best Supporting Actor in Agneepath.
Mithun subsequently won National Awards in 1992 for Best Actor in Tahader Katha and 1995 for Best Supporting Actor in Swami Vivekananda.
This was followed by a couple of victories in 1996, when he clinched the title of Best Villain, given by Screen Awards and Filmfare Award for his role in Jallaad.
In 2022, he secured the Best Actor award by BFJA and Best Actor in a leading role by Filmfare Awards Bangla for his role in Projapoti.
Mithun Chakraborty's net worth is a result of his hard work and talent. His financial achievements reflect the popularity and influence he holds in the world of cinema.
Source: Mithun Chakraborty Property