After a gap of more than five years, CRISIL – India's leading agency for microfinance ratings has released it's updated list of the top microfinance companies in India titled "India's 25 Leading MFI's" for the years 2014 – 2015.
The previous ranking of Microfinance Institutions was released in 2009 and was titled India's Top 50 Microfinance Institutions.
CRISIL has been associated with the Indian Microfinance Sector for more than a decade and its ratings and reports about MFI's and the sector are highly valued by microfinance practitioners, analysts, and the general public. As of June 2014, CRISIL has ratings or gradings outstanding on more than 60 Indian MFI's which account for more than 70% of the loans outstanding in the Indian Microfinance Sector.
Since the last report was released, the microfinance sector in India has been turned upside down with many of the top MFI's from the 2009 list missing from the 2014 list, these are mainly MFI's based in the state of Andhra Pradesh who bore the brunt of the Indian Microfinance Crisis and no longer figure in the top 25.
The publication also carries an opinion piece by CRISIL on the near to medium-term outlook for the microfinance sector in India. The report also includes an overview of the top 25 companies in Indian MFI space along with CRISIL's analysis of the key strengths and challenges faced by the different microfinance institutions in India.
The report ends with a list of top 25 emerging microfinance companies in India who still have a small asset base and portfolio compared to the top 25 but could scale up in the long run to join the league of big MFI's.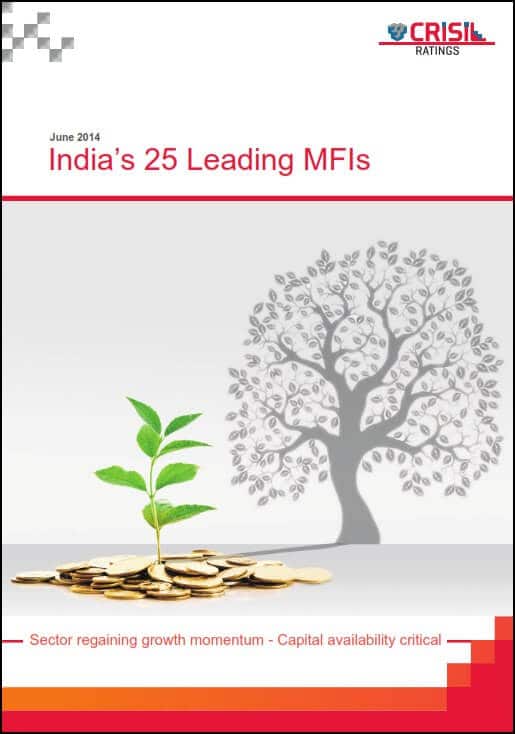 TOP 25 MICROFINANCE INSTITUTIONS IN INDIA 2014
Download the full report "India's 25 leading MFI's" at the link below:
Top-microfinance-companies-india-2015.pdf
As per the report, the top 25 Microfinance Companies in India are as follows.
Annapurna Microfinance Pvt Ltd
Arohan Financial Services Pvt Ltd
Asirvad Microfinance Pvt Ltd
Bandhan Financial Services Pvt Ltd
BSS Microfinance Pvt Ltd
Cashpor Micro Credit
Disha Microfin Pvt Ltd
Equitas Microfinance Pvt Ltd
ESAF Microfinance and Investments Pvt Ltd
Fusion Microfinance Pvt Ltd
Grama Vidiyal Micro Finance Ltd
Grameen Financial Services Pvt Ltd
Janalakshmi Financial Services Pvt Ltd
Madura Micro Finance Ltd
RGVN (North East) Microfinance Limited
Satin Creditcare Network Ltd
Shree Kshetra Dharmasthala Rural Development Project
SKS Microfinance Ltd
S.M.I.L.E Microfinance Ltd
Sonata Finance Pvt Ltd
Suryoday Micro Finance Pvt Ltd
SV Creditline Pvt Ltd
Swadhaar FinServe Pvt Ltd
Ujjivan Financial Services Pvt Ltd
Utkarsh Micro Finance Pvt Ltd
OTHER EMERGING NEW MFI'S IN INDIA
Watch out for these MFI's in the coming days as they go head-on with the big boys of India's Microfinance Sector.
Adhikar Microfinance Pvt Ltd
ASA International India Pvt Ltd
Belstar Investment & Finance Pvt Ltd
Chaitanya India Fin Credit Pvt Ltd
Future Financial Services Ltd
Growing Opportunity Finance (India) Pvt Ltd
Humana People to People India
IDF Financial Services Pvt Ltd
Indian Cooperative Network for Women Ltd
M Power Micro Finance Pvt Ltd
Mahasemam Trust
Margdarshak Financial Services Ltd
Pahal Financial Services Pvt Ltd
Rashtriya Seva Samithi
Sahara Utsarga Welfare Society
Sahayog Microfinance Ltd
Saija Finance Pvt Ltd
Samhita Community Development Services
Sanghamitra Rural Financial Services
Sarala Women Welfare Society
Shikhar Microfinance Pvt Ltd
Uttrayan Financial Services Pvt Ltd
Vedika Credit Capital Ltd
Village Financial Services Pvt Ltd
YVU Financial Services Pvt Ltd