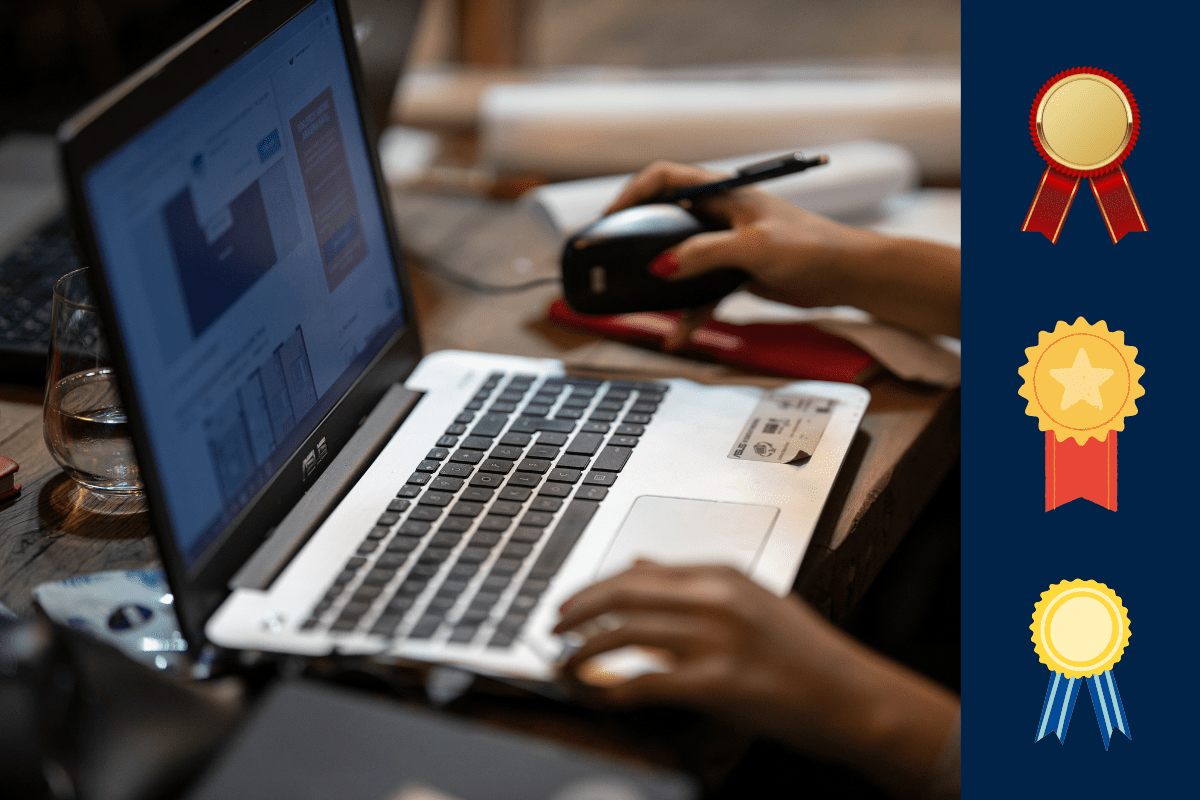 In today's competitive job market, owning digital badges is a great way for employees to showcase their skills and achievements. Apart from adding credibility to an employee's profile, they motivate employees to keep learning and improving. In this article, we will inform you about the best digital badge platforms, such as AWS digital badges and Skillsoft digital badges.
What are Digital Badges?
Think about your school days, do you recollect a class monitor being given a badge? The badge said the words monitor. Or think of an office where you might have worked and come across something known as an employee of the month.
These were ways to recognize the quality of certain people and their contributions. Now while in a physical environment, physical badges were used, today when everything is moving online the transition to digital is happening. And so these badges are also now digital where you can see such badges on the profile of a company's employee or a service provider.
Today your food delivery guy, taxi driver, hair stylist, etc. all have ratings and reviews given to them which get them tags like safe driver, quickest delivery person, but hair stylist in the area, etc.
These tags started getting used against their name on the internet and that is what a digital badge is. Now moving on to naming some top digital badge platforms, keep reading to discover those.
14 Best Digital Badge Platforms to Buy Badges
When choosing a digital badge platform, it is important to consider the features and benefits that the platform offers. Look for a platform that allows you to customize badges, uses secure encryption methods and has reliable customer support. Let us begin our list of best digital badge platforms.

One of the best platforms for digital badges out there is BadgeList. Humans want recognition and that is where this website can help you. Go ahead and create a custom badge using this platform to reward them with this recognition. Be it an employee, student, or any other learner you can reward just about anyone when you create badges via this platform.
A badge can be useful for the person getting it since they can then show it around and attract potential employers or just showcase their skills to the world.
You can create a custom badge using this platform but also add them to your resume to add weight to it, verify the badge, and also make it trackable. In its 6+ years of existence, the website has 3 million plus badge views from a learning community of 8,000 people.
Based in the US, Badgr is yet another good platform to make and distribute digital badges. The platform stores data from the part of the world where the data originated from.
You just need to sign in to your account or you can create one using your Facebook, Twitter, Google, Microsoft, LinkedIn, or Temenos account and can start creating digital badges which you can then share with your employees, students, or pretty much anyone.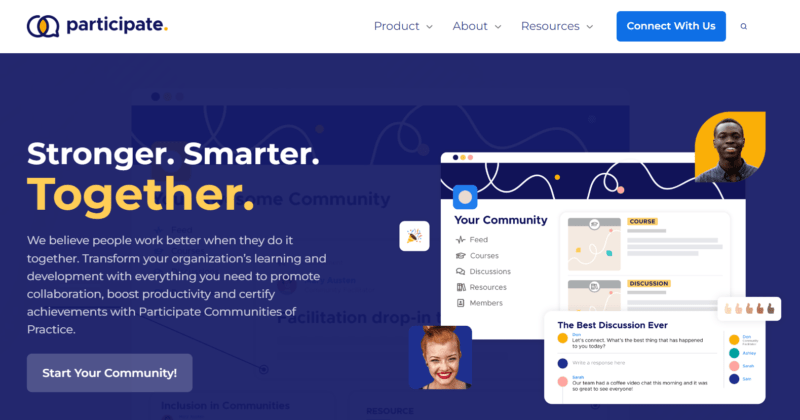 If you are looking to build a work community then Participate might be the right platform for it. You can promote development and collaboration using this platform and also boost productivity as you use this platform to create digital badges to give to your employees that get them the much-deserved recognition that they crave.
This is a US-based platform. Their product offering and purpose make them one of the top digital badge platforms around.
Digital badges and digital credentials are an important part of any successful organization today and that is where OpenBadges step in. They can be said to be the pioneer of the digital credentials system and today are leading players in it.
The company was developed by Mozilla but today is managed by IMS Global Leading Consortium. Partners of this website include names like The National Skills Academy, cdisc, CAL POLY, and more.
With this platform, you can design badges, manage users, provide a rich backpack for badge recipients, issue badges in multiple ways, monitor and report badge-issuing activities and customize the badges as per your need.

Founded in 2015 this Europe-based company is another great platform for digital badges. Using this platform you can get an International standard open badge which you can then give out to your employees or pretty much anyone you wish to.
The badges are not only personal but also safe, open, shareable, digital, and international. Badges made and shared via this platform can be used to share on social media, be added to your CV, can feature on your digital portfolio or you can also publish on your website.
Also Read: Best Online Course Platforms with Certificate
This multi-purpose platform is based in the US and Europe and happens to be one of the nicer digital badge platforms. You can't just issue digital credentials via this platform but also educate your employees.
This platform also has uses like providing you with workforce insights, helping you plan strategically for your workforce in advance, and also helping with intelligent recruiting.
More than 3,000 certification, assessment, and training providers have issued their credentials here via this platform. So far, 60 million plus credentials have been earned and managed on Credly and 650k digital credentials get shared every month. Credly's Net Promoter score is 75 which is above the industry average.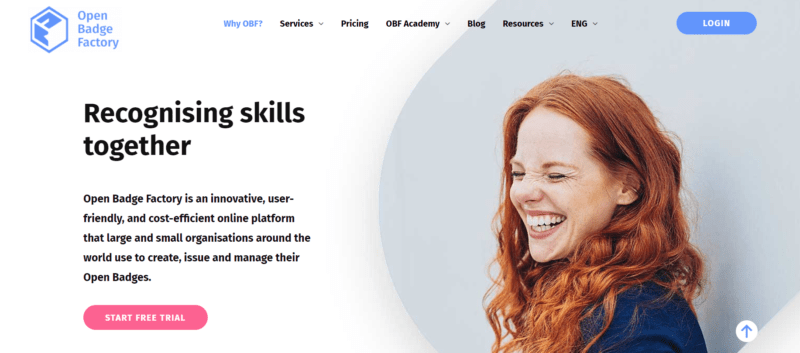 If you are looking for a 3 in 1 digital platform then you need to check out Open Badge Factory which is an innovative, user-friendly, and cost-efficient platform.
They are used not just by big companies but by small ones too for purposes of creating, issuing, and managing Open Badges.
The users have the option of choosing from one of the four plans available. This platform comes with a handful of versatile tools and the badges created using this platform can be given out to school students, employees, companies, associates, etc.
If you are looking to give away digital badges that are shareable, easily verifiable, and in blockchain format then you must be looking for Learning Machine.
Due to the use of blockchain technology, this company is a unique name on this list. The company has well and truly transformed the way that digital credentials are issued and not many platforms can come ahead and say the same for themselves.
Federation of State Medical Boards became the first professional medical organization to use blockchain-based records.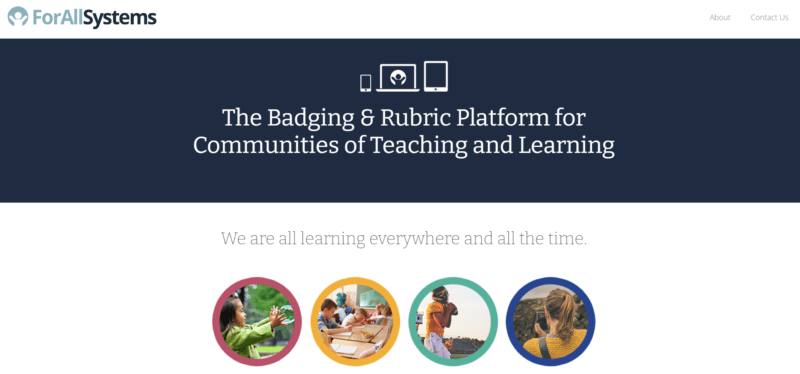 ForAllSystems is an open badge platform and it is easily one of the best digital badge platforms around. The platform has more than one use as it connects the community, helps put the focus on teaching, and more.
It is a US-based platform and surely deserves to be considered in the future whenever you are looking to sign up for a digital badge-issuing platform.
Also Read: Best LinkedIn Practices for Business Professionals
Over 1,800 companies use this platform which should tell you how great it is. With this platform, you can issue, manage, track, and verify any kind of digital badge or certificate which is also quicker than you would be able to do on any other platform.
G2 ranks Accredible number 1 when it comes to being the best Enterprise Digital Credential Management software. More than 57.1 million digital credentials have been issued, managed, and verified using this platform and the platform has been used in no less than 160 countries in the world.

Used in more than 170 institutions in 21 countries BCdiploma is a big name in the digital badge market. What's more is that they are again ahead in the game as they use blockchain to issue digital credentials making the badge more reliable and trustworthy, and their work more efficient. It easily makes a case and gets a shout for being one of the best platforms of its kind out there.
If you want to issue or manage digital credentials or badges, then you might want to try out the CanCred platform. It is without a doubt one of the best digital badge platforms out there on the market. You can use this platform in English or French language.
They also have a secure cloud service trusted by companies to help them with micro-credentials and digital badges. While they also have a system in place for individuals to use digital badges or micro-credentials.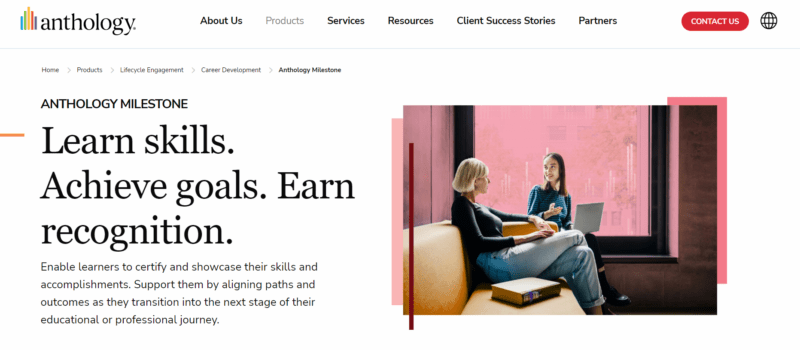 Be it earning your recognition or getting to learn a skill either can be done on this platform. You can use the platform for personal career goal setting, competency assessment, guided skill progression, and more purposes.
What's better is that you can request to get a demo of this platform before you go ahead and make a commitment and that should help make your decision easier to pick this website.
RedCritter Teacher is another one of those nice digital badge-providing websites out there. Students can get digital recognition or even CritterCoin on this platform. What makes this website even better is that it is free forever to use and if that doesn't convince you then we don't know what will.
What are AWS Digital Badges?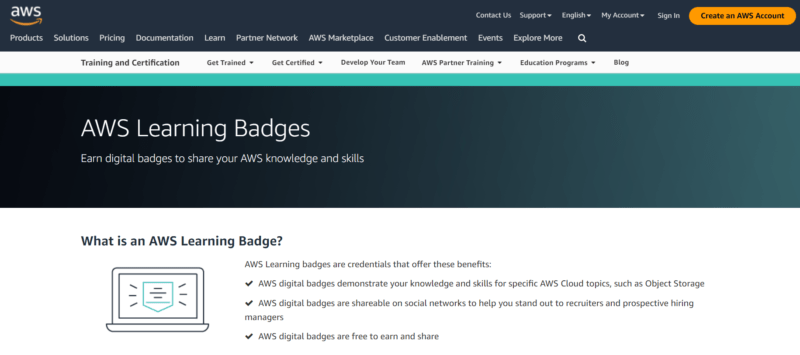 AWS stands for Amazon Web Services it is an IT service management company. Under the AWS training and certification program you can sign up for getting certified in certain skill areas which will get you respective badges that showcase your skill and knowledge in a particular field.
These badges can then be used by you to build your credibility while boosting your confidence. These badges can show an employer the skills you have which can then help you bag a job. There are 86 AWS digital badges that you can get your hands on which we will now have a look at.
Types of Badges
You have an Amazon Web Services Training and Certification program that goes by the name AWS Certified Cloud Practitioner for which you have a grayish-blue badge that you stand to be awarded.
Next up you have AWS Certified Solutions Architect – Associate badge which is a navy blue color badge that is hexagon-shaped badge like the previous one.
Next up is the AWS Academy Graduate – AWS Academy Cloud Foundations badge which is light gray and is a pentagon-shaped batch.
We again have a navy blue hexagon-shaped AWS Certified Developer – Associate badge followed by a light gray hexagon-shaped AWS Partner: Accreditation (Technical) badge.
After that, there is a sea-green hexagon-shaped AWS Certified Solutions Architect – Professional badge.
The next hexagon-shaped badge is the navy blue-colored AWS Certified SysOps Administrator – Associate badge.
We then return to having a light gray hexagon-shaped badge for AWS Partner: Cloud Economics Accreditation.
AWS Academy Graduate – AWS Academy Machine Learning Foundations' badge is a light gray badge with a pentagon shape.
After that, we have a purple-colored hexagon-shaped badge for AWS Certified Security – Specialty.
The next badge on AWS which is one of the top digital badge platforms is the hexagon-shaped light gray colored Migration Ambassador Foundations (Business) 2022 badge.
After that, we have a light great colored pentagon-shaped AWS Academy Graduate – AWS Academy Introduction to Cloud Semester 1 badge.
Sea green colored Pentagon shaped AWS Academy Educator badge is next on the list after which there are three silver colored pentagon shaped badges which are AWS Academy Graduate –AWS Academy Data Center Technician, AWS Educate Getting Started with Storage and AWS Educate Introduction to Cloud 101.
AWS Certified Big Data – Specialty badge is again a purple colored hexagon-shaped badge after which there are again three light gray colored pentagon shaped badges which are AWS Educate Getting Started with Compute, AWS Academy Graduate – AWS Academy Introduction to Cloud Semester 2, and AWS Academy Graduate – AWS Academy Cloud Operations badges.
AWS Partner: SAP on AWS (Business) badge is a hexagon-shaped light gray color badge which is followed by two pentagon-shaped light gray colored badges that are AWS Academy Graduate – AWS Academy Cloud Security Foundations and AWS Academy Graduate – AWS Academy Cloud Developing badges.
To find more information you can check the AWS website which has a lot more badges to offer which are not mentioned here.
Skillsoft Digital Badges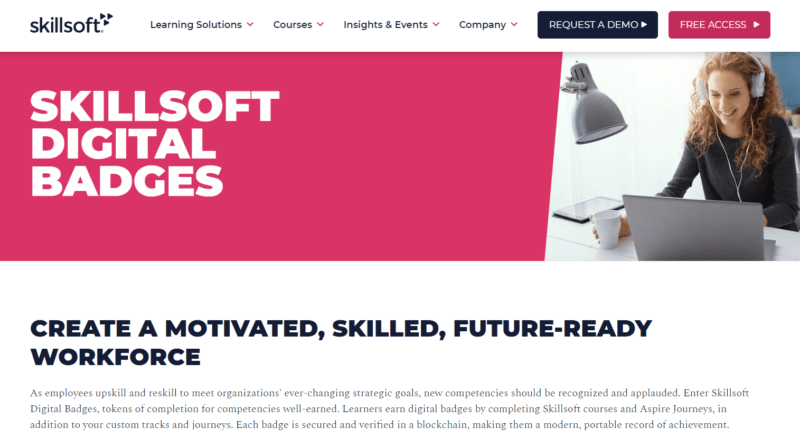 Your company can be a startup or an established one but that makes little difference to the fact that most organizations are dynamic and their goals and strategies are always changing. Here comes the need to adopt and grow your skill set to make sure that you are not left behind and that is where Skillsoft digital badges come into the picture.
On this platform, you can take up various courses which get you a digital badge that might go a long way in helping your career grow.
The badges earned from Skillsoft are validation and proof of your hard work and achievement. They are secured by using blockchain and so your badge belongs to you and can't be stolen. Also, these badges can be shared with your employer or on social media platforms and that makes them very potent.
Types of Badges
The three types of badges that can be found on Skillsoft are course completion badges, track completion badges, and journey sharing badges. There are 210 badges that you can get from Skillsoft and some of them are mentioned below.
Server 2016 – Identity (v.1), Accounting and Finance Essentials, Accounting for Non-Accounting Majors, A+: Core Hardware, Agile for Software Development, AI Apprentice to AI Architect, ANSI C Programming (SKIL200522), A+ Operating Systems Technologies.
Skillsoft which is one of the top digital badge platforms also has badges like Business Finance (SKIL200503), Business Operations: Six Sigma and Lean Manufacturing (SKIL200501), Business Writing Essentials (SKIL200507), CAPM PMBOK 5th Edition Aligned, CCNA Cloud – Understanding Cisco Cloud Fundamentals (CLDFND)(v.1), Certified Associate in Project Management (CAPM)(v.1) and Certified Ethical Hacker (CEH) v8.
Some other certificates include Certified Ethical Hacker (CEH) v8(v.3), Certified Ethical Hacker v10 (v.1), Certified Information Security Manager (CISM), Certified Information Security Manager (CISM) 2012, Certified Information Security Manager (CISM) 2013 and Certified Information System Security Professional (CISSP). This list goes on and on.
Also Read: List of Useful Quick Certifications that Pay Well
These are just some of the Skillsoft Digital Badges that we have mentioned above. This should give you an idea about the range of badges that one can expect to come across when they use the wonderful platform that Skillsoft happens to be.
We saw some of the AWS digital badges and Skillsoft Digital Badges that are out there for people to grab. There is a combined total of 300 badges available for you to lay your hands on and so with that, we bow out. With that, we come to the end of the list of digital badge platforms. We mentioned some of the best online platforms out there for you to choose from and now the ultimate choice to make lies with you.