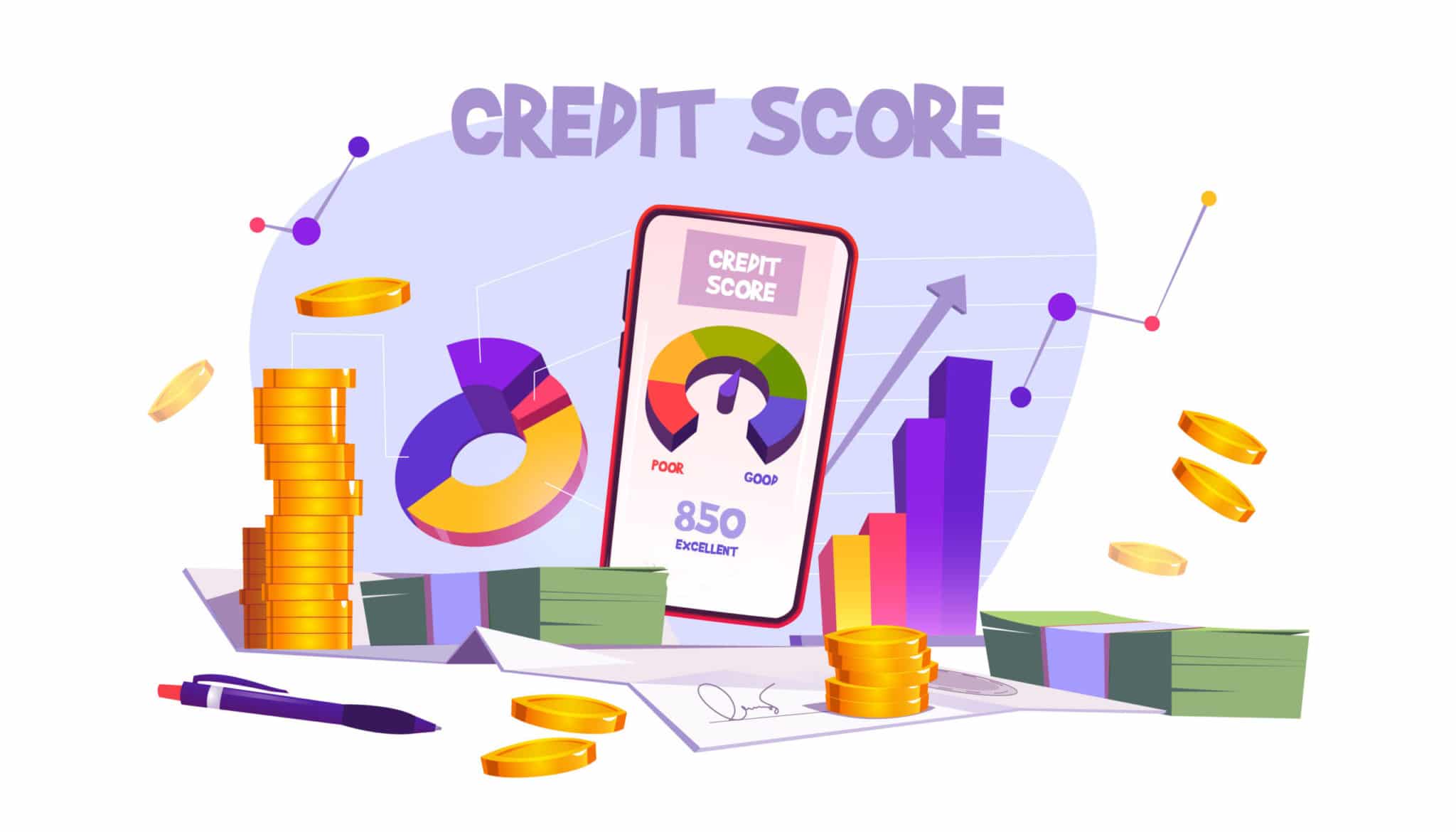 Called as the TransUnion CIBIL, it is short for Credit Information Bureau (India) Limited. It provides credit-related services like providing credit scores and credit reports to citizens. Established a decade ago in the year 2000, the institution has been gathering and recording important credit information of Indian citizens. All the banks and NBFCs (Non-Banking Financial Company) are supposed to send information about loans and credit requests they receive or fulfil. In return, the organization uses this data, processes it, and produces a credit score and credit report.
Banks and NBFCs use these reports of individuals, provided by CIBIL, to assess an applicant's credit history. They use this data to decide if the applicant is liable for the credit or loan he/she has requested. This proves that CIBIL is an important element of India's financial system.
Known to be India's oldest Credit Information Company (CIC), as per the latest records, CIBIL is connected with over 2600 institutions, including public and private sector banks, financial institutions, housing finance, and non-banking financial companies (NBFCs). In 2017, CIBIL launched its MSME (Micro, Small, and Medium Enterprise) rank system. This ranking system helped the lenders analyze and list down the loan requests from applicants. Primarily, the CIBIL score is helping the financial institutions to reduce lending risks and the number of bad loans.
As per the current Reserve Bank of India (RBI) guidelines, the effective interest rate that will be charged on loan taken by the borrower will be calculated as follows:
External Benchmark Rate + Spread (Margin) charged by bank + Risk Premium
The criteria based on which banks assess and determine the risk are varied. Some banks have their own setups for assessment, while others consider the credit score of the borrower.
How to Check Your CIBIL Score For Free
The Process 
There are some Credit Bureaus present in the market right now like, TransUnion CIBIL, Experian, Equifax, and similar. These credit bureaus help you in generating your credit score and credit report. Many bureaus charge money to keep you updated about your credit status, credit score, and other details. However, the RBI guidelines have asked the bureaus to provide credit reports and credit scores for free at least once a year. Some bureaus provide one free report and charge to keep you updated for reports all over the year, whereas others are free eternally. Therefore, you can obtain a CIBIL score and credit report for free, but only once a year.
Steps to calculate the Credit score
Step 1: Go to the 'My Score' page on the CIBIL website
1. You will have to create an account with CIBIL; you can do it on this page.
2. While creating an account, make sure you insert all the authentic information like your username, password, first name, last name, email address, and mobile number.
3. Your account is now registered with the CIBIL website.
Now, we proceed to the second step of the process.
Step 2: More information about you
On this screen, you are required to provide more details like your date of birth, gender, address, and identity proof.
Currently, the only identity proofs that are acceptable at CIBIL are:
PAN number
Passport number
Voter ID number
Driving License
Ration Card
It is recommended that you read through the terms and conditions mentioned at the bottom of the screen. After giving a thorough read to the terms and conditions, click on the checkbox 'I accept and continue ', if you agree with all the terms and conditions and want to continue with the process.
Step 3: Verification of your identity 
1. Here you will receive an OTP (One time password) on the mobile number registered with the identity proof you have provided.
2. Enter the OTP received in the space provided and click on 'Continue'.
3. The process verifies your identity and ensures that it provides the forthcoming information to the very same person.
4. Next, you will land on a screen which has written confirmation of your enrollment on the website, and a button saying 'Go to dashboard' – Click on it.
CIBIL Dashboard Overview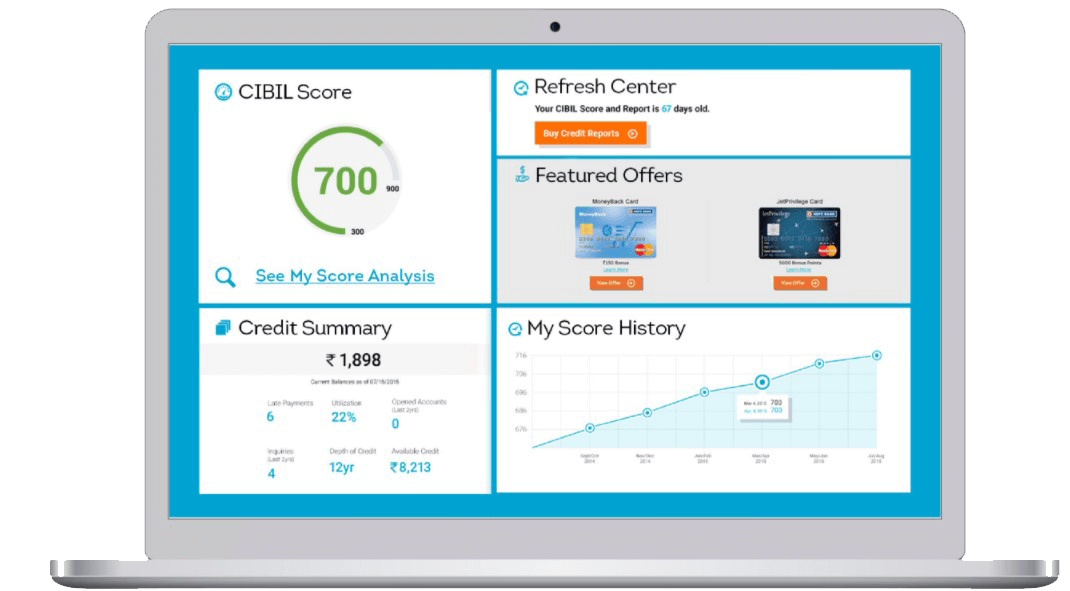 This is the page that displays your CIBIL credit score. The CIBIL score will appear on your screen in the range of 300-900. You will also find a tab reading 'Credit Report' on the screen. You can also click on the tab – Credit Report to view the following information.
1. Personal Information
This report contains details like the PAN number and ID numbers of any other identification proofs that you have provided to banks, such as passport number, voter ID, or other.
2. Contact Information
This section will show the list of the addresses, telephone numbers, and email addresses that you have provided to banks and other financial institutions in the last 10 years. A maximum of 4 addresses will be mentioned.
3. Employment Information
This will display your employment status and history from the last 10 years.
4. Account Information
This section will display all your financial details. For example, all the loans are taken by you, credit cards owned by you in the past, and all the overdraft accounts you have had, from your first credit.
5. Enquiry Information
This will show the number of times your credit report was requested, the bank/ financial institution's name, which requested a report, the date, and the amount for which the request was made. This provides a history of your past report requests for all the times that you applied for a loan or credit card. Each of these times, the respective financial institution or bank accesses your CIBIL report.
If you find that any of the data displayed in the Credit Report is incorrect, you can file a dispute by clicking on Dispute Center. You will have to select the particular information you want to raise a dispute and click Submit.
These are the steps to obtain a free credit score from CIBIL.
You can also obtain additional reports from the website, but only after paying some fee. The other reports that CIBIL can provide you are –
Credit score analysis
Unlimited access to credit reports
Credit summary
Score history
Financial accounts considered to calculate your CIBIL score are; your loan accounts (personal loan, home loan, education loan, car loan, or any other loan), overdraft accounts, and credit cards to calculate your credit score. CIBIL uses its own software to calculate a person's credit score. However, the specific, individual factors that affect your CIBIL score are still unknown.
Also Read: How to Maintain a Good Credit Score
Factors Affecting Your Credit Score
1. Loan repayment history
If you fail to fulfil your EMIs or make late payments, this will affect your CIBIL score in a bad way.
2. Credit Mix
Having an equal number of equilibrium of unsecured and secured loans positively affects your CIBIL score. However, a large number of unsecured loans like credit cards and personal loans may prove to be harmful and presents you as a risky borrower.
3. Duration of Credit History
The time for which your credit history is recorded, until now also impacts your score. The disciplined payments for a credit card or a loan for a long period of time will boost your analysis.
4. The number of Hard Inquiries
If you are planning to apply for a loan, you might as well know that the prospective establishment will make an inquiry about you to the CIBIL. The enquiries made by lenders are called hard enquiries. The more the number of hard inquiries, the more negative the CIBIL score, as it might portray you hungry for credit.
5. Credit Utilization Ratio
The credit utilization ratio is the ratio between the amount of credit you use, and the amount of credit allotted to you. A higher credit utilization ratio indicates that you will be a liability to the bank on the matters of credit, and a potentially risky borrower, which can prove to have a negative impact on your credit score. Whatever amount of money in your bank sums up to, if your repayment history is poor, no bank will approve loans.
6. Guarantor/ Co-borrower for loans
If you take the financial guarantee of a person, his credit related short-comings will also impact your credit score. Therefore, take caution while taking financial responsibility for anyone.
Also Read: 10 Questions to Ask Before Applying for a Credit Card
Analysis of your Credit score
If your credit score is in the range of 750-900
It is the best CIBIL score. Banks would not hesitate to give you a loan, and they will be happy to provide you with the credit you need. They might also provide you with their best offers.
If your credit score is in the range of 600-750
It is a decent CIBIL score. While banks will approve your loan and provide you with the credit you need, you might not be benefited with their best offers.
If your credit score is in the range of 450-600
This comes under the category of an average CIBIL score. This score may or may not get you a loan. Even if you get a loan, you will be categorized under a high-risk borrower. You will not be supplied with offers from the bank. Moreover, the loan will be given to you with additional terms and conditions.
If your credit score is in the range of 300-450
It is categorized under a fairly low and poor CIBIL score. With this score, any bank will rarely approve your loan or fulfil your credit request.
Sometimes, your CIBIL score could be displayed as 0 or -1. This may surprise you, but there's nothing to worry about.
If your credit score counts out to 0, it simply means that there is absolutely no credit track for the borrower.
If your credit score counts out to -1, it means that the borrower's credit track record available is less than 6 months. If such a case arises, it is suggested to wait for some time after availing of a loan or credit card.
A good credit score of 700+ will help you easily obtain loans and at cheaper rates as well.
Tips to Improve your Credit Score
1. Clearance of your credit card dues
Keep a check and clear all your EMIs and dues on time. Long due, outstanding debts increase bank interest and lower the score. It is suggested to borrow money or take a loan from friends or family to pay the outstanding amount.
2. Avoid late repayment or EMI cheque bounces
Repay all your loan EMI dues on time. If you have decided to issue a cheque for EMI, make sure that there is enough account balance between fulfilling the check.
3. Obtain a small loan or entry-level credit card
Apply for an entry-level credit or get a secured credit card on a fixed deposit. Use the card with care and repay dues on time. It will be helpful for you to make a good credit score over time. You can also take a small loan from banks by submitting your payslips or ITR.
4. Use a credit card with a long term usage for history 
Old credit cards are helpful to showcase evidence of your repayment histories. A credit card that has recorded repayments dating back to over 3-4 years helps in improving your credit score.
5. Avoid applying for repeated credit requests
A large number of requests to CIBIL for a credit score from you might decrease the credit score. Applying for loans multiple times indicates that you are desperate for money. It is suggested to wait for at least 6 months before applying for another credit request.
Recommended: 10 Ways to Improve your Credit Score
Where can you check your CIBIL score for free?
Here is the list of website where you can check your CIBIL score for free depending on the current offers:
We hope this guide was helpful and you were able to check your CIBIL score for free. If you still have some queries or feedback then feel free to use the comment section to reach out.