Everyone wants to make money from their blog, and an extra source of income wouldn't hurt y'all, right? So, here we present 12 best CPM Ad Network for Indian traffic and earn more. 
Making big money from a small blog is also possible if there is you are getting huge traffic from India or other Asian countries. What if this high-traffic lets you earn more money with the help of CPM ads? This sounds really great as it can help you earn a good amount of money every month.
Except some of the good advertising companies such as AdSense, but if you think that you are not getting paid much from it and you want to consider some of the other options, then do not worry, there are loads of companies that can pay you well for it.
If you are a beginner, then CPM can be the most reliable and best way to earn money with your blog.
First, let us understand in brief what does CPM ad means?
What are the CPM ads?
CPM stands for cost per thousand impressions. These advertisements are a wonderful way to earn extra revenue with your blogs. They would pay you as per the impressions received in an advertisement. So, its calculation is really simple-
CPM= Cost/Total Impressions *1000
Here, the impression means that one instance of an advertisement appearing on the website. This would mean that the visitors do not click on the blog ads; you would still get paid for it. But, you should always make sure that for earning better from CPM ads, you would have to place the ads in a prominent position.
CPM ads are specifically great for bloggers who have high traffic on their website. If you have loads of people visiting your blog every day, then you can earn a decent amount of money from these ads.
Usually, the CPM ad networks pay you around $1 to $10 as per one thousand impressions. The payment depends on certain factors depending upon the company and its requirements.
12 Best CPM Ad Network for Indian Traffic
If you are interested in making money by CPM ads, then we have prepared a list of some of the most reliable and top CPM companies which you can join without any second thought. We have prepared this list after a lot of research and reading the reviews of people who have already worked with them.
So, here is the list of CPM ad networks which would offer you with the highest payout and are completely genuine
1) Infolinks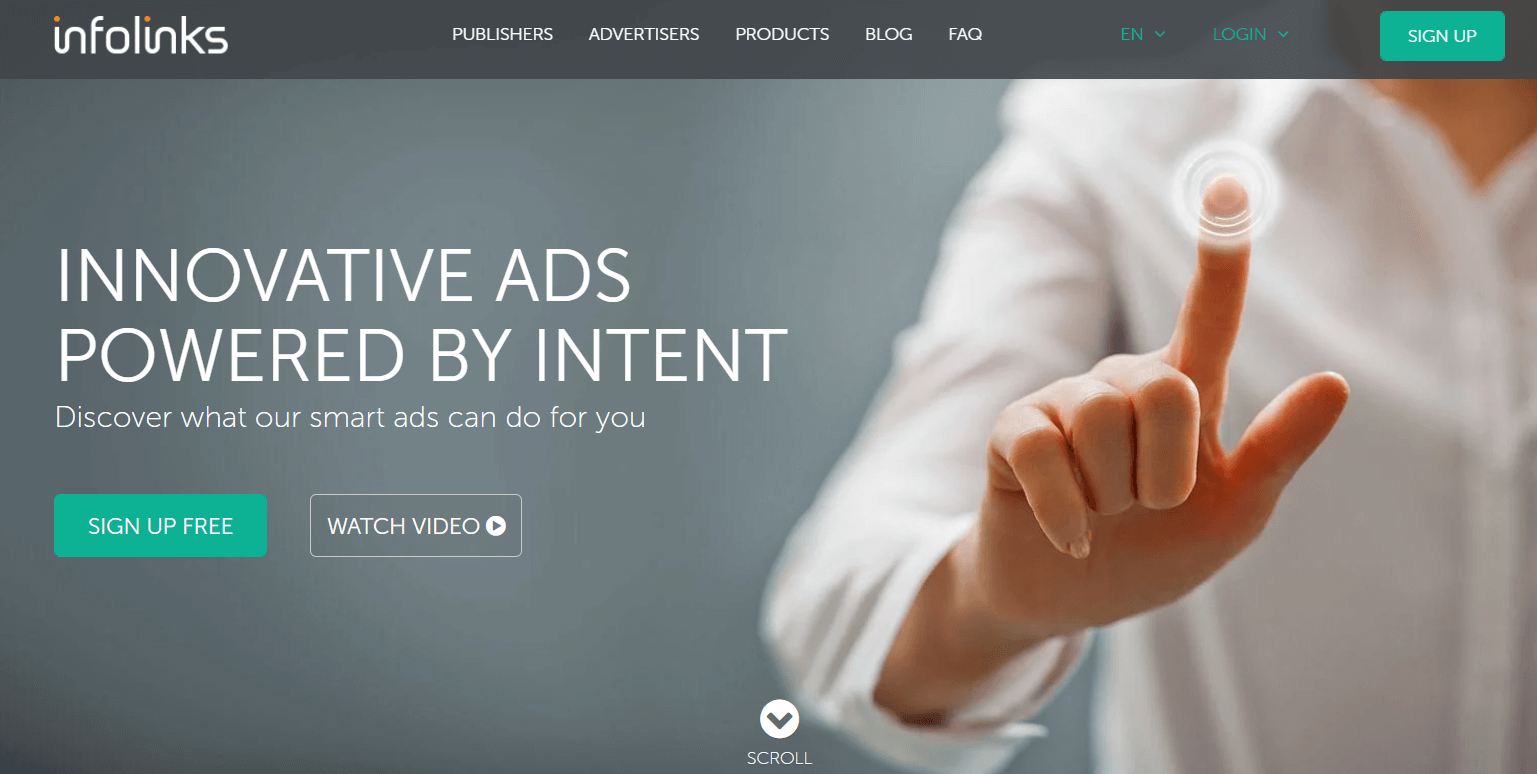 Infolinks is considered as one of the most profitable CPM Ad networks for Indian traffic, especially for small publishers. It possesses many free ad units like Intext (text link ads), Inframe (banner ads in margins and frames), Infold (overlay ads), In-screen (smart interstitial ads), and tag (tag cloud ads).
With the help of these innovative ad units, you become eligible to earn brownie points from your users as you will not face any intrusion and experiencing seamless SEO compatibility. Through Infolinks, you can utilize your website's space better than ever before.
Primarily, Infolinks finds a relevant text in content and converts them into the ad links. It is recommended to be used with other ad networks such as Revenuehits, AdSense, and many others, as it offers entirely different types of ads. Infolinks reviews and approves a blog within 2 days.
They take up to 45 days to release the payment and pay through PayPal, Western Union, ACH, Payoneer, eCheck, wire, etc.
Pros
No minimum traffic required for approval

The shares of the publishers for getting the revenue cut is 70%

Composed of unique ad types

Consists of easy to hold ads

Offers a multitude of user and SEO friendly ad formats

Partnership with the big players in the ad network industry such as Amazon, Microsoft, eBay, Facebook, etc

Its network is very vast and is spread over in 130 countries and has more than 2,00,000 publishers
Cons
Not user-friendly experience

Provides irrelevant ads sometimes
Visit Now
2) Media.net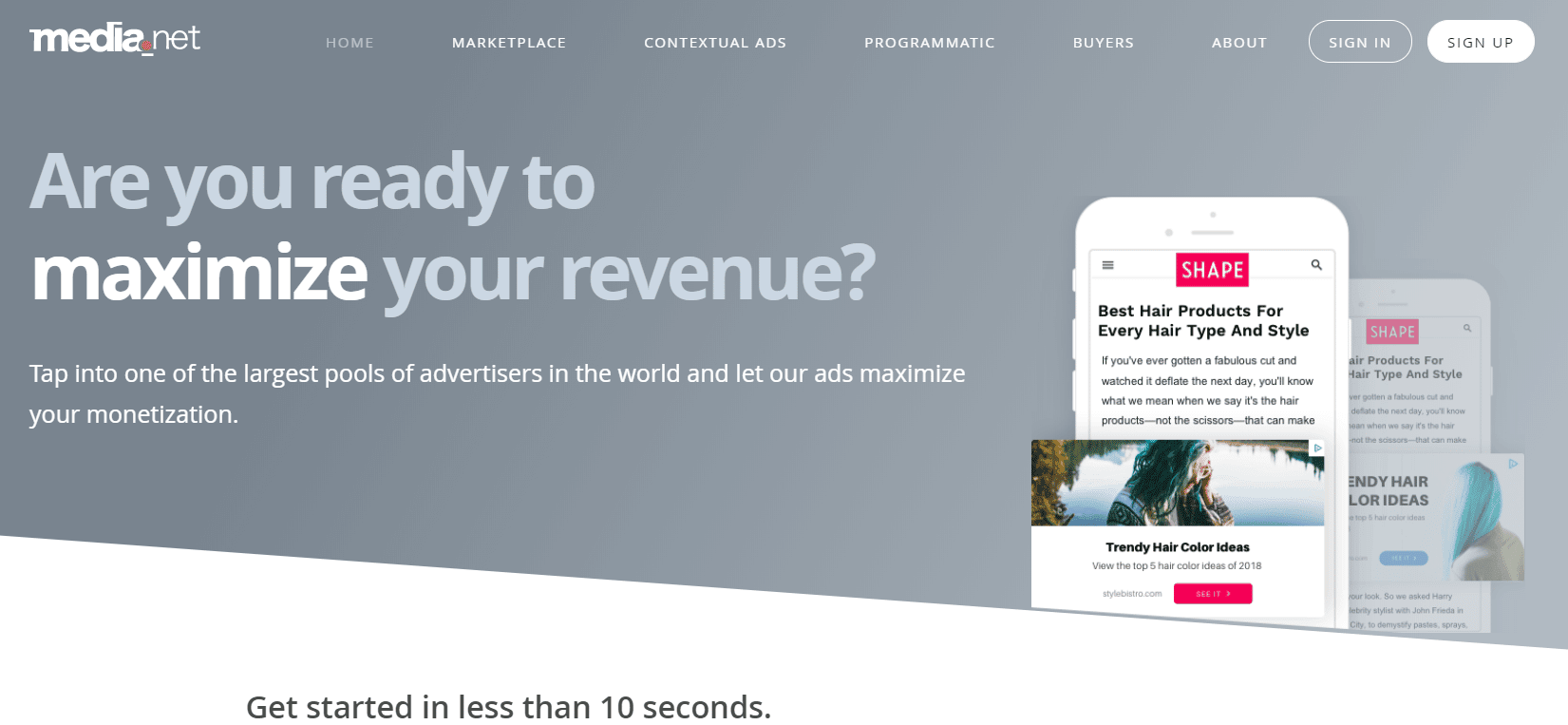 It is another leading tech ad network with premium partnerships along with a global presence. It is a renowned platform for earning money for both publishers and advertisers. They have a huge network spread across the world in countries, including the US, India, Switzerland, UAE, etc.
They are comprehensively known for providing the track record that facilitates the long-tail publishers to boost their CPM's.
The business is required to have the original content to get approval from Media.net. Also, the original content must be updated recurrently, and one has to ensure that intellectual property rights are not violated by the third party in carrying out this process.
Media.net holds the second-ranking, in contextual ads program that runs worldwide. Some of the reliable publisher clients of contextual ad programs are Yahoo, MSN, Forbes, The Street, NY Daily News, Ziff Davis, Kiplinger, and many others.
They provide the payment within 30 days and uses Paypal, Western Union, and Wire Transfer option.
Pros
Get assistance from personal Account Manager

All the ads are compatible with Google Adsense

No minimum traffic requirements

Real-time reporting

Contextual ads with high payouts

robust customer care

Numerous types of ad types such as Display ads, Interstitial ads, Contextual ads, In-content ads, and Mobile docked.
Cons
Minimum payout is comparatively higher than other ad networks

Majority of the network is needed from tier 1 countries

Some of the ads require a double click
Visit Now
3) Adbuff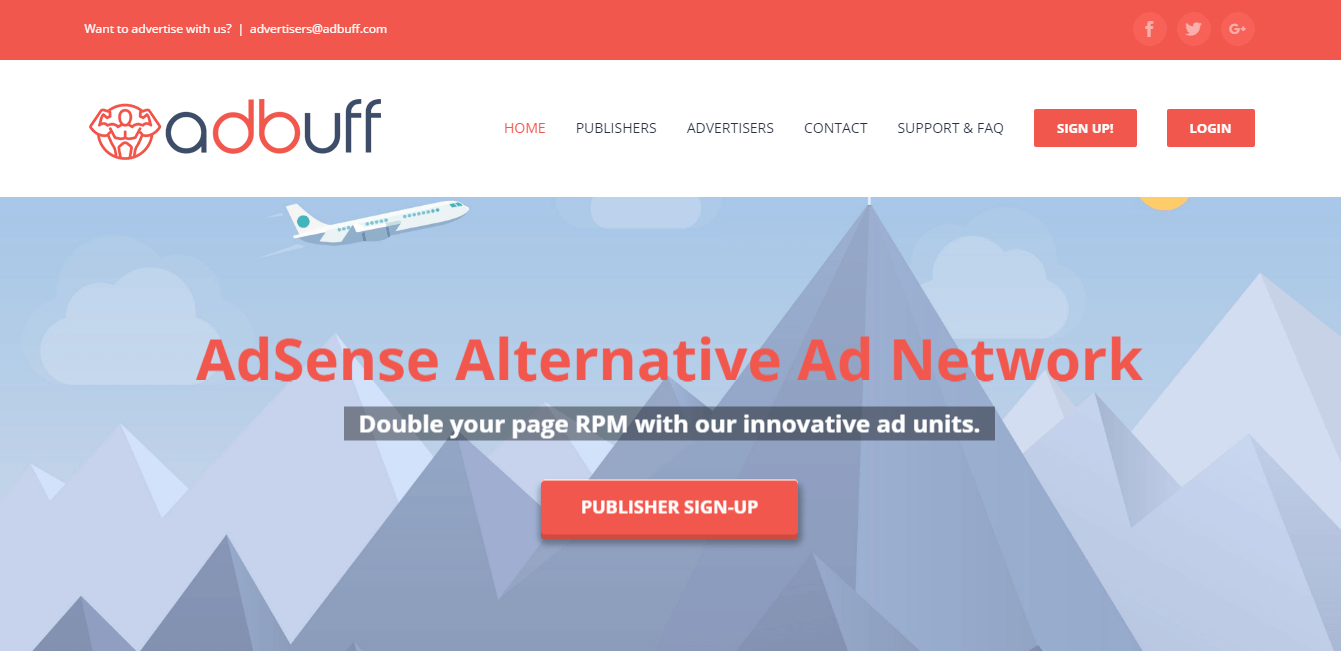 It uses a unique technology that is RTB (Real-Time Bidding) to boost CPM's and is one of the best Ad-sense alternatives.
Through this platform, the advertisers from all over the world can bid against one another for publisher sites. The publisher who gets the highest bid rates get the advantage of earning with high CPM rates.
This network has laid off rigid policies and is against the advertisers and publishers who are always looking for freebies.
In order to get approval, you need to have a minimum of 2000 visitors every day, which further takes 5 to 7 days to get approval. You also get a $25 signup bonus, which they pay you through PayPal and Western Union. They follow a 45 days payment schedule.
Pros
Signup and Weekly Bonus

One of the highest CPM's as compared to all other ad networks

personal account manager for every publisher

Advanced real Time Bidding dashboard that provides real-time supports

Accept the publishers only with original content and tier 1 traffic, that provides certainty about the ads to be relevant and verified
Cons
Do not follow the monthly payment pattern

2000 unique visitors per day which is not that easy to achieve
Visit Now
4) Propeller Ads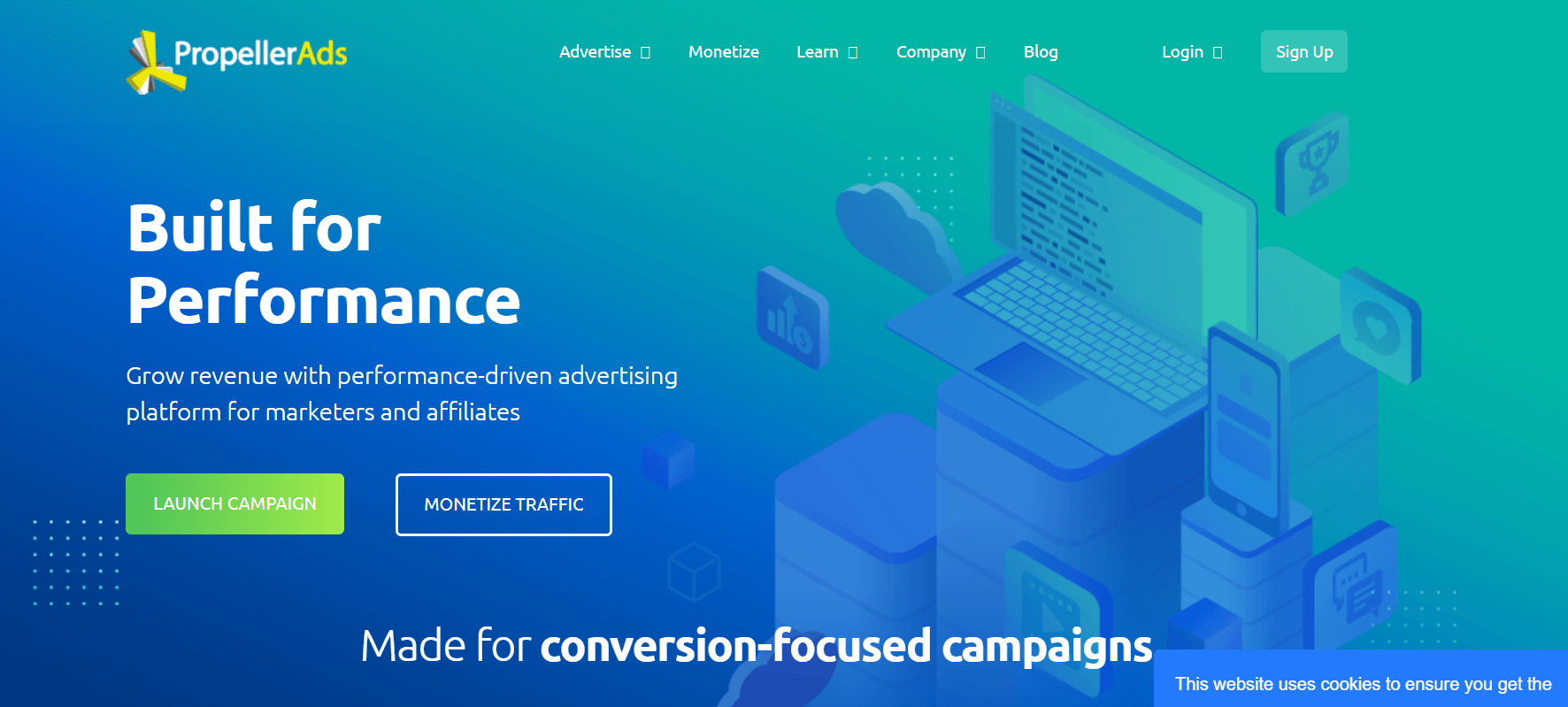 Propeller ads offer ads for all screen types due to which it has become widely known among webmasters. It is a user-friendly ad network in which you need to create your account, add your domain, and certify ownership.
For desktop and mobile visitors, it has proven out to be successful in providing more than 650 million ad impressions per day. Propeller Ads has become a renowned ad network among the streaming and downloading sites. They offer ample of ad products such as Interstitial ads, Pop-under ads, Dialog Ads, and Standard banner ads.
It is a highly profitable CPM Ad network that was established in 2011 and due to which many bloggers and website owners are enjoying high visitor rates.
Propeller Ads pay through Wire Transfer and Payoneer at a duration of 30 days.
Pros
Real-time reporting

User-Friendly

80% of the revenue is distributed among publishers

CPM rates are higher

Myriad ads are compatible
Cons
PayPal method is not supported

The reader is not able to see full-screen ads. The user experience is not very seamless
Visit Now
5) Exponential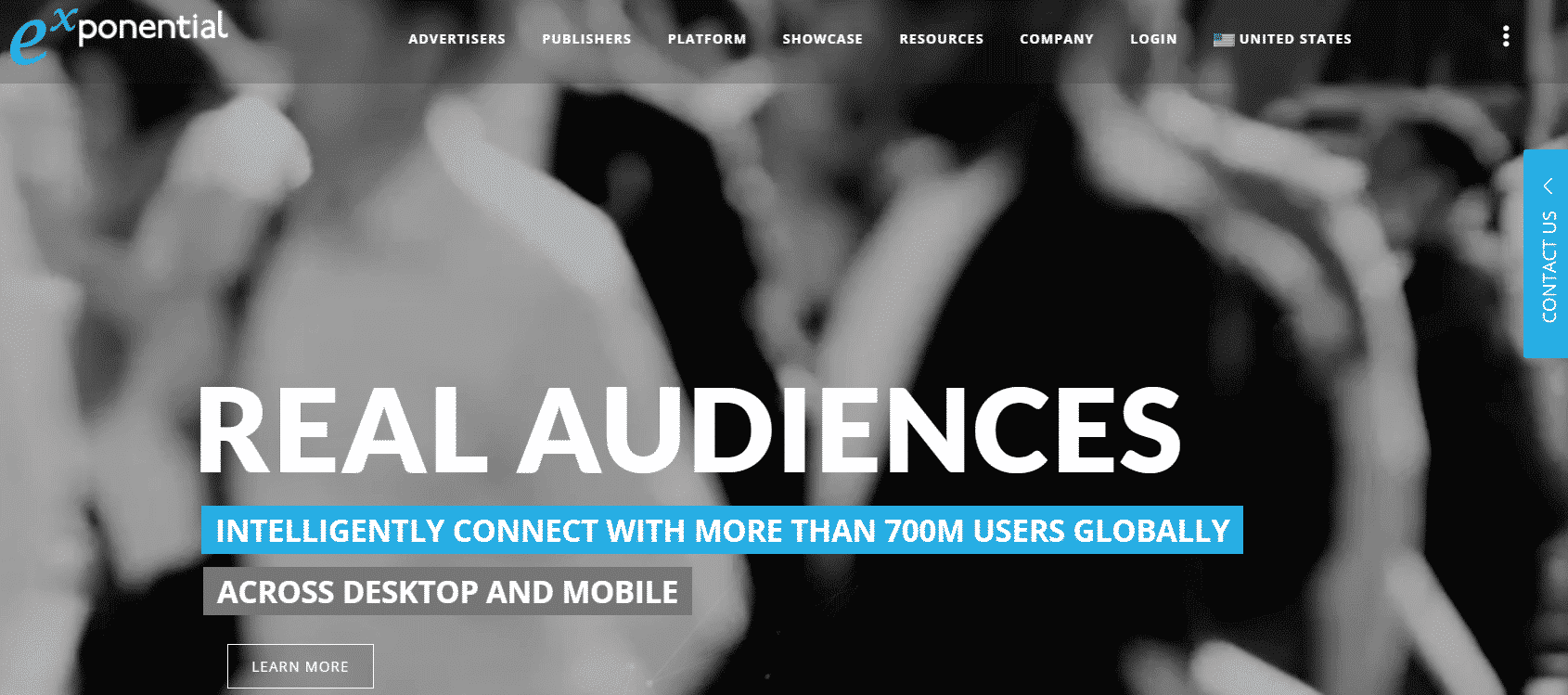 Exponential was formerly known as Tribal Fusion and it is one of the best CPM Ad Network for Indian traffic sites. This ad network required a minimum of 5000 unique daily visitors to get approval. The CPM amount is considerably high for Exponential.
Numerous users for more than 230 million are using this ad network per month and serving 20 million monthly impressions. The results are delivered by them through advanced technology and expert advice by offering channel wide, site-specific, and run of network placements.
Exponential is strict, especially for upcoming or intermediate bloggers, as they have certain policies that are difficult to abide by.
You might be thinking it is quite challenging to get approved for this ad network, but once you are able to crack it, you can earn well. In fact, it is one of the best sources through which publishers can maximize the value of their highly targeted content.
The payment is paid through PayPal or cheque method to the publishers and pays at a regular interval of 45 days.
Pros
Provides tremendous CPM and CPA rates

Minimum payout threshold is $50

An array of ads options are available

Extremely highly targeted ads make it easy to earn huge revenues

High-quality ads

The increased sales force at minimal cost

Free proprietary ad-serving solution
Cons
Very difficult to get approval

Strict policies
Visit Now
6) Conversant Media

It is one of the oldest & best CPM Ad Network for Indian Traffic sites. This renowned ad network is carrying out its operations for more than 20 years. They select only top-level domains, which makes it a high profile ad network. They have got many premium publishers and comprise of a varied portfolio.
Conversant Media is the company that is working with the affiliated network of Commission Junction.
It offers mobile-optimized sites, monetization for websites, and even mobile apps. You need to achieve a minimum of 3000 impressions per month to get approval for your site.
The scope of earning is wide as it offers a high CPM price. Furthermore, it also offers extensive types and sizes of advertisements. They make payment through PayPal and cheque.
Also Read: Top 24 MLM & Network Marketing Companies In India
Pros
Minimum payout threshold is $25

Compatible with Google Adsense

Although the company has 60 days payment model, many users claim that they have received the payment within 25 days

Extensive range of ads are available as per your needs such as InVue, half-page, flexible banner, in-text links, interstitials, pop-unders, etc
Cons
The website is not in English

Ignore low traffic websites as you can only extract better results for high traffic website
Visit Now
7) RevenueHits

This company is owned and operated by Intango Ltd, which is the world's leading media tech company. You just need to sign up with their publisher's account, and your blog is approved. This is an amazing company that serves over 2 billion ad impressions every day.
They also claim that they have a 200% fill rate across all the geographical locations. You must be amazed to know that they are new to the ad tech ecosystem; still, they serve all their publishers smoothly because of their self-serving model. Their in-house technology gets the publishers to clean ads and safe demands.
They basically deal with display and mobile ads. If you are a publisher, then you would also get access to loads of ad formats, and you can fill the mobile impressions. They have a real-time multi-tracking reporting system where the publishers can easily track their clicks and impressions.
They are excellent when it comes to making payments, but their payment terms are different based on the location and revenue of the publisher. They pay through Bitcoin, PayPal, Wire Transfer, and Payoneer.
Pros
Self-serving platform

It uses CPM and CPA models both

They have an optimization system to help you search for the best paying ads
Cons
You would find no or less information on demands

Lack of information on technology
Visit Now
8) HilltopAds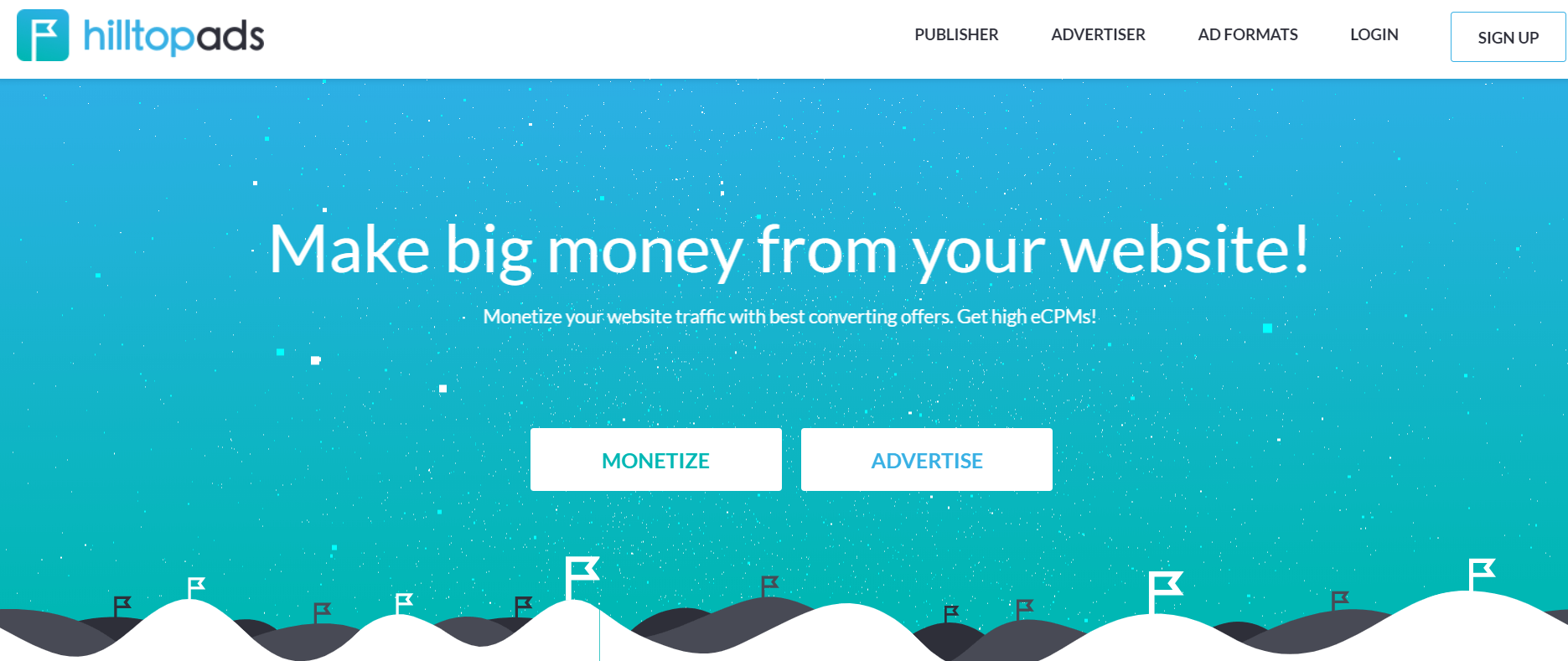 This is one of the best CPM Ad Network for Indian Traffic sites, particularly for long-tail and mid-market publishers. They matched both the publishers and advertisement so that both parties can benefit. They serve over 12 million traffic, and they directly deal with the precise targeting options. The reason behind it is that their interface is very modern and easy to use.
They offer an internal ad server and a clean interface, which lets you start earning money. Additionally, if you want, you can also use its real-time optimization system for increasing eCPM. Their self-service platform enables the publishers to track the performance of their stock for different placements.
They are different from others because of their anti-ad blocker technology, which makes sure that you get money for most of your traffic. They provide publishers with different kinds of ads such as video ads, push notifications, native ads, and display ads.
You would be glad to know that they have one of the fastest approval networks which provide Net-7 payment terms along with a threshold of $50. Their payment networks are Bitcoin, PayPal, Wire Transfer, Web Money, ePayment, Paxum, and Epay services.
Pros
Round the clock support

User-friendly

Offers a wide variety of ad types

Real-time optimization
Cons
Comparatively new to digital advertising space

Fewer ad formats
Visit Now
9) RhythmOne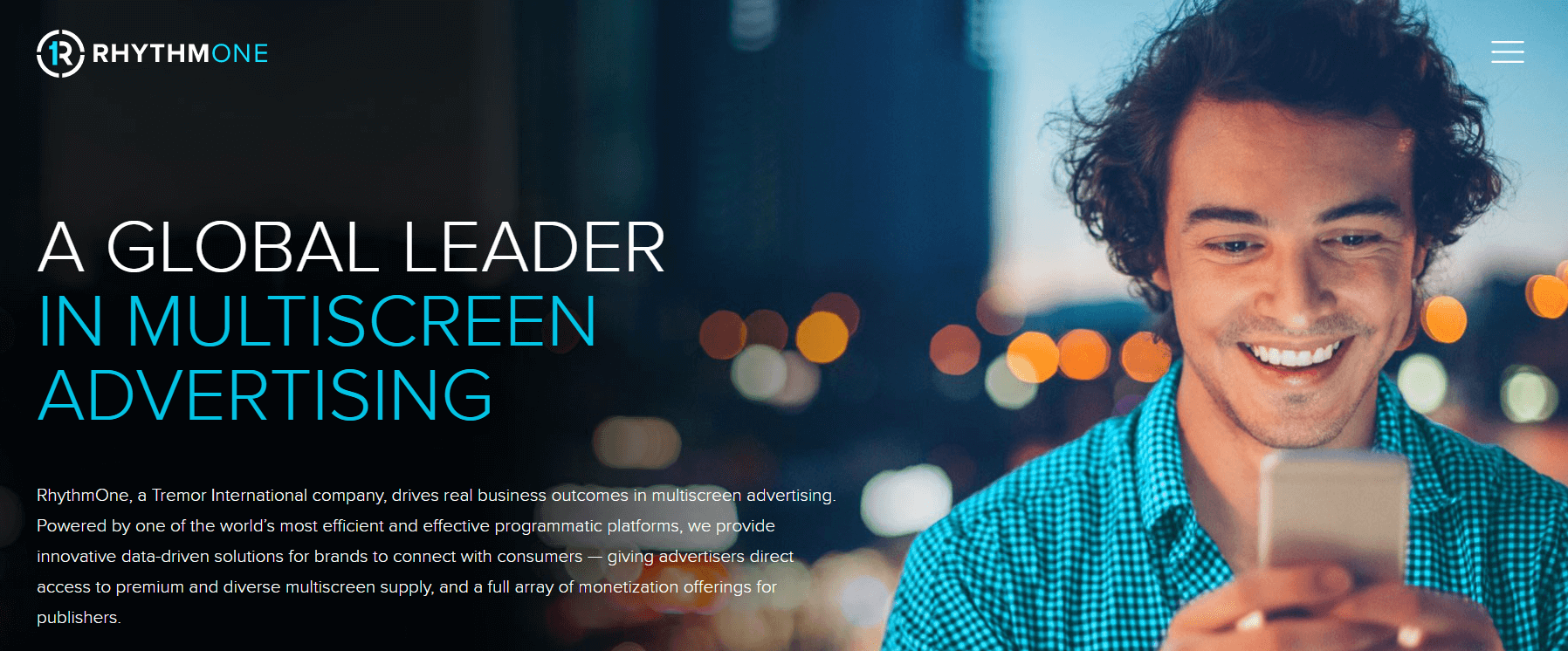 It is a public advertising company which was founded in the year 2004 and had a fully integrated monetization platform for the publishers. The name of this Ad network company changed two times. Initially, it was called Blinkx, and then it changed to RadiumOne, and now it is RhythmOne.
This company is one of the leading ad networks in the world and provides an array of ad formats such as rich media ads, display, mobile, native, and video ads. The nice part of this ad network is that it has the demands to fill your mobile impression.
RhythmOne provides RTB, private marketplace, direct deals, and header bidding solutions from various demand sources.
They also offer SDK solutions for app publishers. The unique thing about them is that they provide cross-platform ad format along with the real-time dashboard and numerous analytics for publishers to understand their inventory better.
If we talk about their payment system, their payment term is Net-60, and the threshold is $100. They pay through ACH, PayPal, and Wire Transfer. They have strict payment rules and have integrated their technology in such a manner that they deliver higher CPM and yield.
Also Read: Online Jobs from Home Without Investment in India
Pros
High CPM rates

User-Friendly

Extensive range of ads

Availability of demands and Ad formats

RTB based buying and selling
Cons
60 days payment schedule

Minimum payment threshold is high that is $100

Requires 5000 number of visitors each day
Visit Now
10) Revcontent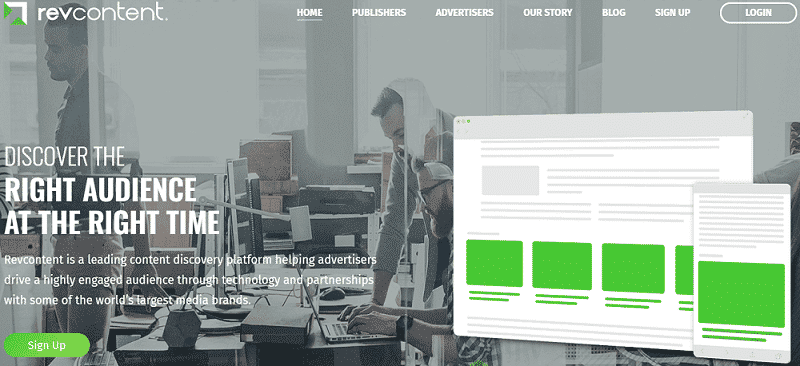 This ad network was established in 2013 and is particularly a content recommendation network. They thrive in the native advertising but have also initiated with display ads as well. They opt for websites that are of high quality and get at least 50,000 visitors per month.
The good news for the publishers is that they claim to provide 30-50% rates as compared to other networks; additionally, they offer better publisher control and user-interface. According to their audience engagement strategy, they use the audience insight feature to get better CTR and profit.
They have a completely customizable widget that enables the publishers to create their sponsored content feed. Their payment terms are great as they use Net-30 with a threshold of $50. They provide a good CPM rate to the publishers.
All in all, if you are searching for a native ad network and good quality traffic with better CPM, then you should opt for Revcontent.
Pros
It can modernize your mobile sets as well

They have an excellent support team

Offers real-time reporting dashboard

Offers with premium CPM worldwide
Cons
Difficult to join because they reject numerous applicants because of quality issues

High minimum traffic needs
Visit Now
11) Criteo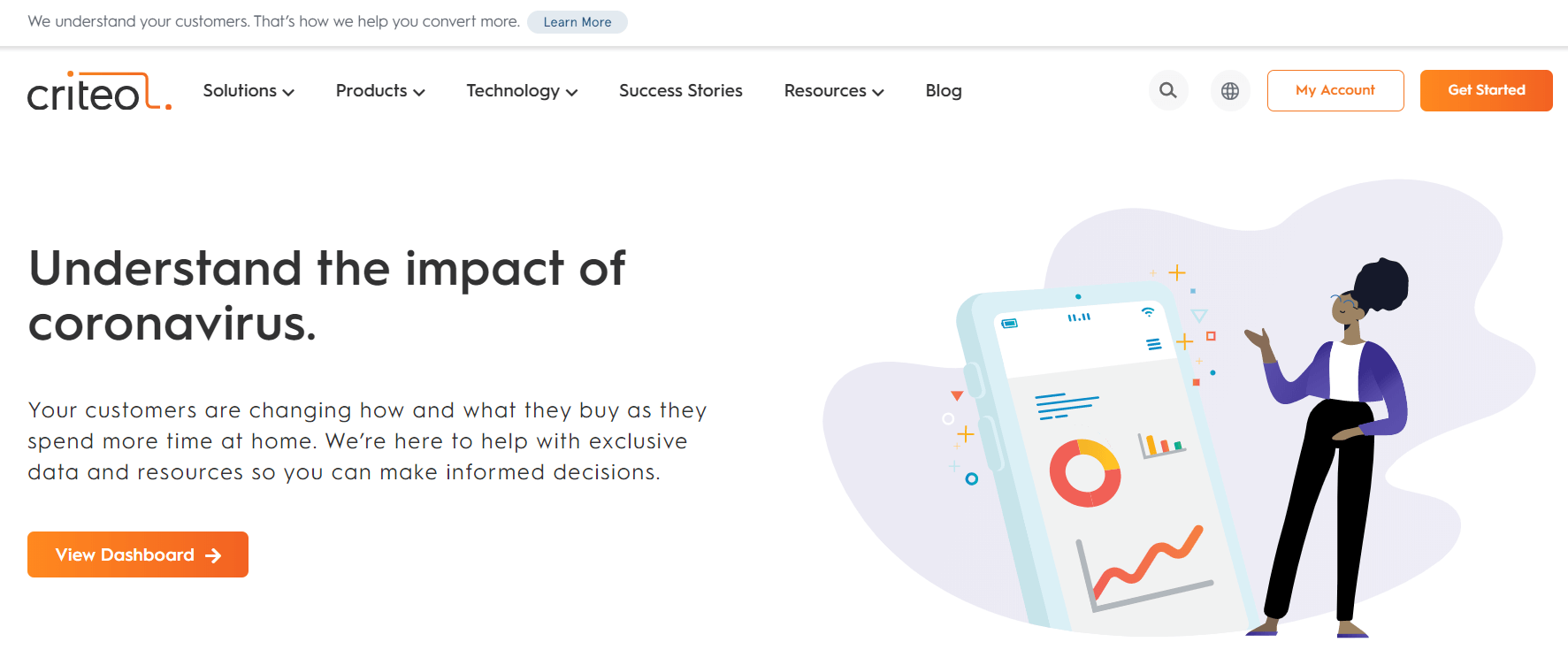 This CPM ad network runs an advanced marketplace that is dedicated to publishers with more than 16,000 retail and brand demands. In my opinion, it is one of the best CPM Ad Network for Indian websites. In a short time, they have gained traction and have become one of the top earners for site owners. In the year 2014, they served over 740 billion ads and more than 7800 advertisers globally.
The unique thing about this website is that you can set a floor price and get the payment that you deserve. In case if the buyer does not pay that much amount, then it gets passed on to some other ad networks. Thus, they offer website owners with ads that have high CPM and excellent conversion.
As it has an ability to generate revenue for its client, thus more than 90% of its clients renewed the service agreements. Thus, this ad network provides more earnings for people who get perpetual benefits from more revenues as compared to what competitors offer.
Pros
Approval is quite easy

Various ad formats

Competitive CPM rates

Its algorithm shows the right products for the readers
Cons
Their minimum threshold for payment is $150, that is pretty high

They do not use the renowned payment methods

Their customer support is available through email only
Visit Now
12) BuysellAds

It is considered to be an ideal option for you if you are a fresher or recently ventured into your blog or website. It is very easy to get approval for this ad network as there are no minimum traffic requirements, which is its best aspect.
You can start earning money as soon as you are ready to run ads and got approval. Our platform is used by the advertisers to buy impressions on your website. Let's understand this better with the help of an example, an automobile industry can select any automobile-oriented website and chose payment terms that are solely based on impressions. They can either wait or switch until the ongoing campaign is finished if it is not available.
They have a payment schedule for 45 days. However, if you request for the instantaneous payment, you will receive it within 2-3 days. You can do this twice a month. They pay through Paypal, cheque on your mail address, and Online Wire.
Pros
High quality, relevant, and targeted ads available that can be customized to suit your requirements

The minimum payment threshold is $20

Receive the payment with 2-3 days, on special request that is allowed twice a month

Compatible with Google Adsense

Offers 75% of the revenue to the publishers that they receive from advertisers
Cons
25% of the revenue earned by you is taken by them, which is higher than the market standard rate.

Offers non-negotiable price

CPM rates are quite low
Visit Now
Summing It up
We have prepared this list of reliable ad networks after painstakingly reviewing the publishers and advertiser's experiences. Although there is no one-size-fits-all solution as the best will come up from your personal experience. However, this will help you in choosing the appropriate ad networks which are worth experimenting with.
Benefits of CPM advertising for publishers and developers
CPM can be very profitable, particularly for publishers, as they just need to place ads on their website and get paid for it. It is comparatively very easy as compared to getting the users to click on the ad or interacting with it. A publisher can only benefit from CPM if there is huge traffic on the blog as CPM rates are not as high compared to other metrics, in order to get huge profits.
If we talk particularly about the game publishers and game apps, it can be used to calculate the potential profit made by putting the ad in their apps. The various estimations that can be made are daily active users count, the average number of served impressions.
Then it can be combined with a particular network metrics like CPM to know how much profit they can generate by placing ads in the games or mobile apps.
When CPM is best for advertisers?
CPM can be the best step for advertisers when they want to create their target audience and create brand awareness among them. For this, as an advertiser, you would have to place your ads on different demographics and then compare where you get better results from and then plan your future strategy accordingly.
CPM advertising is one of the best ways to introduce a new product to the market as it not only lets people know about your brand but also creates trust with potential customers. As if people have never heard about the brand, they might hesitate to buy it, but if they know about the brand, it makes them confident while purchasing it.
In short, the major benefits of CPM to advertisers are-
To increase brand awareness.

For discovering best audiences

To get cheaper traffic than CPC, CPL or CPA.
Test, measure, and optimize and then start with any of the above CPM ad networks. For any further questions or suggestions, you can post them in the comments box below.
Happy earning!