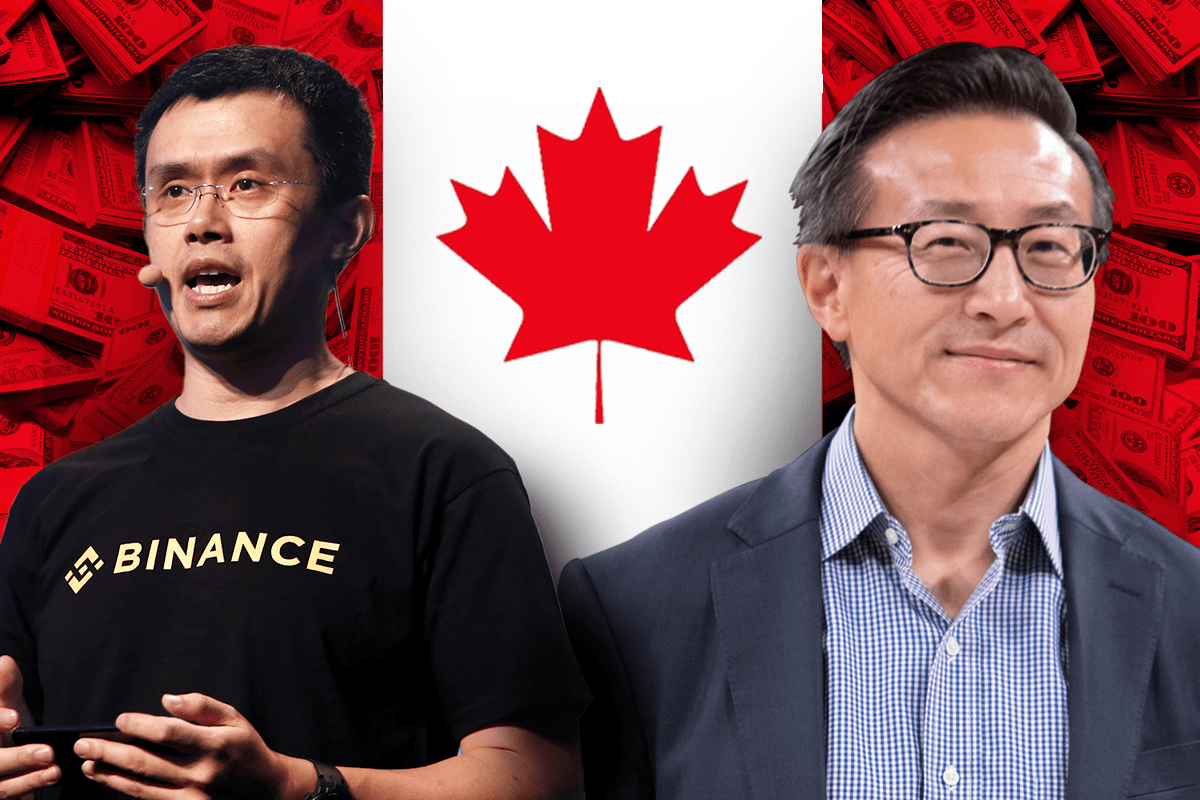 In the developed economic landscape of Canada, several individuals have achieved extraordinary success in their respective fields. Their success and capital have propelled them to prominent positions within the nation as well as the world. In this article, we have conjured a list of the wealthiest people in Canada – from business owners to experienced professionals. These individuals represent the diverse sectors that contribute to the country's economic growth.
List of Wealthiest People in Canada
Canada boasts a diverse array of wealthy individuals, each with a unique story of success and accomplishment. Their stories are a testament to the country's vibrant business environment and the opportunities it offers for those with vision, determination, and innovation. Below is the complete list of Canada's richest people.
1. David Thomson and Family
Net Worth: $54.4B
Age: 66
David Thomson and his family are influential figures in the media and publishing realm, tracing back to the legacy of his grandfather, Roy Thomson. Their primary asset is an extensive ownership of over 320 million shares in Thomson Reuters, a company where Thomson holds the position of chairman. When his father died in 2006, David Thomson took over this post in Thomas Corporation and adopted his father's title, Baron Thomson of Fleet. He was appointed chairman of Thomson Reuters when the company was acquired by Reuters in 2008. He is currently a media tycoon in Canada.
In 2018, Thomson Reuters made headlines by selling a significant share of Refinitiv, a notable financial data provider, to Blackstone for a whopping $17 billion. Additionally, the Thomson family has notable stakes in Bell Canada, a prominent telecom giant, and are proud owners of the well-known Globe and Mail newspaper based in Toronto. He is one of the wealthiest people in Canada.
2. David Cheriton
Net Worth: $11.4B
Age: 72
Professor David Cheriton of Stanford University is relatively affluent now because of a $100,000 investment he made in Google while the company was still in its infancy. He teamed up with Andreas von Bechtolsheim to start three successful ventures: Arista Networks, which went public in 2014, Granite Systems, later acquired by Cisco in 1996, and Kealia, which was sold to Sun Microsystems in 2004. Cheriton stepped down from Arista's board in March 2014 and has gradually been selling off his shares.
Following the acquisition of his company Apstra in 2021, Cheriton took on the role of Chief Data Center Scientist at Juniper Networks. He is an authority on distributed computing and computer networking and knows how to spot significant market opportunities and develop the architectures required to take advantage of them. He has invested in at least 20 businesses and donated around $25 million donation to promote graduate courses and research in computer science. He rightfully earned his place among the richest men in Canada.
3. Changpeng Zhao
Net Worth: $10.2B
Age: 46
Changpeng Zhao, also known as CZ, is the mastermind behind Binance, the world's largest cryptocurrency exchange. He has a background in coding and honed his skills by creating high-frequency trading systems for the finance world's fast-paced players. Zhao took the plunge and established Binance in July 2017, kickstarting the venture with a successful initial coin offering that garnered an impressive $15 million. He is one of Canada's richest people.
By 2022, Binance had achieved a remarkable feat, facilitating spot trades valued at a staggering $5.3 trillion. This represented a significant majority, over two-thirds, of the total volume handled by centralized crypto exchanges. However, Binance has not been without its fair share of challenges. Regulatory scrutiny and investigations have been a prominent issue, spanning across Europe, Asia, and the United States. Concerns have been raised regarding potential involvement in money laundering and wire fraud. Binance, on the other hand, firmly denies any such allegations and maintains its stance of operating within legal bounds.
4. Anthony von Mandl
Anthony von Mandl, the mastermind behind popular ready-to-drink alcoholic beverages like White Claw Hard Seltzer and Mike's Hard Lemonade, founded these beverages under his company, Mark Anthony Brands. Forbes approximates that his business in the U.S. raked in an impressive revenue of nearly $4 billion in 2022, based on analyst assessments.
Mr. von Mandl initiated his professional journey in the Canadian wine sector as an importer during the 1970s, kicking off his career at a young age of 22. Presently, he holds ownership of five wineries in Canada, including the esteemed Mission Hill Winery situated in the picturesque Okanagan Valley of British Columbia. No wonder he became one of the wealthiest people in Canada.
5. Jim Pattison
Jim Pattison is at the helm of an expansive conglomerate encompassing 25 diverse divisions, ranging from packaging and food to entertainment. His entrepreneurial journey began in 1961 with the acquisition of a GM dealership, marking the genesis of his business ventures.
As a Canadian billionaire, Pattison holds sway over more than 40% of the publicly traded forest products company Canfor. Within the realm of entertainment, his portfolio boasts renowned entities like Guinness World Records, the Ripley's Believe It Or Not! chain, and the Canadian franchise rights of Great Wolf Lodge. No wonder he appears in our list of the richest Canadians.
Also Read: Richest Athletes in the World
6. Joseph Tsai
Joseph Tsai holds the position of vice chairman and is one of the founders of Alibaba Group. He holds the second-largest share in the company among individual shareholders, right after Jack Ma. Back in 2018, he acquired 49% ownership of the Brooklyn Nets, an NBA team, and later completed the purchase of the remaining 51% in the subsequent year. Tsai, originally from Taiwan, holds Canadian citizenship and has two degrees from Yale University—a bachelor's in economics and East Asian studies, as well as a law degree. He is one of the wealthiest people in Canada.
7. Alain Bouchard
Alain Bouchard, alongside others, started Alimentation Couche-Tard, a convenience store conglomerate, with a single shop in Quebec back in 1980. Presently serving as the executive chairman, Bouchard continues to guide this mammoth $63 billion company, which owns or franchises over 14,000 stores across the globe. Bouchard is the visionary who rapidly expanded the business by acquiring various competitors. Although he stepped down as president and CEO in September 2014, his influence remains substantial.
Couche-Tard made significant acquisitions over the years, including the Circle K chain in 2003 and later the Holiday Stationstores and CST Brands chains in 2017. Notably, the company attempted a major move by proposing a $20 billion acquisition of the French food retailer Carrefour in early 2021. However, this deal faced opposition from the French government and did not materialize. He rightfully earned his place among the richest men in Canada.
8. Arthur Irving
Arthur Irving, originally from New Brunswick, holds full ownership of Irving Oil, a company engaged in gas stations and oil refineries. This ownership is facilitated through the Arthur Irving Family Trust, highlighting his deep-rooted connection to the business. The Irving legacy traces back to his grandfather, James Dergavel Irving, who established the family enterprise during the late 1800s.
Following in this lineage, Arthur Irving's father, Kenneth Colin (K.C) Irving, expanded the family's business to include oil operations in the 1920s. After K.C. Irving's passing in 1992, Arthur and his two brothers undertook the task of dividing the family empire. Notably, Arthur's brother James Irving, also a billionaire, assumed leadership over a diversified conglomerate spanning shipbuilding to forestry.
Another significant member of the Irving family was John Irving, affectionately known as Jack, who led the family's construction operations and held a stake in Irving Oil. Unfortunately, Jack passed away in 2010. In 2018, a pivotal development occurred when The Arthur Irving Family Trust made a strategic move, acquiring the ownership stake from Jack Irving's family. This acquisition marked a significant shift, resulting in Arthur Irving and the trust's assumption of complete control over Irving Oil. He is one of Canada's richest people.
Cross-Reference: Alain Bouchard Success Story
9. Chip Wilson
Dennis Chip Wilson founded Lululemon and served as its CEO, starting with a single store in Vancouver back in 2000. He led the company to go public in 2007 but later stepped down as chairman in 2013 and completely exited the business in 2015. Despite not being involved in Lululemon's day-to-day operations, Wilson remains a major shareholder, holding an 8% stake.
Currently, Wilson, along with his wife and five sons, runs a holding company called Hold It All. This company is involved in investments spanning apparel, real estate, and private equity. In terms of investments, Wilson has stakes in Anta Sports, a Chinese activewear company, as well as Amer Sports, the parent company of renowned brands like Salomon, Arc'teryx, and Wilson. No wonder he became one of the wealthiest people in Canada.
10. James Irving
James Irving is the owner of J.D. Irving, a diverse conglomerate encompassing more than two dozen businesses ranging from frozen foods and retail to shipbuilding and transportation. One notable facet of the conglomerate is its timber and forestry operations based in New Brunswick, which have seen the planting of over a billion trees since 1957.
The roots of this family empire trace back to the 19th century when James Irving's grandfather left Scotland to establish a general store and delve into lumber and farming enterprises. Over time, their fortune expanded, notably in the 1920s when James' father diversified into oil operations. Following his father's passing in 1992, the assets were divided among the three brothers: James, Arthur, and John.
A crucial division of J.D. Irving, known as Irving Woodlands, stands as the sixth-largest landowner in the United States, boasting an impressive 1.25 million acres of land. James Irving's sons, Jim and Robert Irving, now serve as co-CEOs, overseeing the extensive J.D. Irving empire, which includes being a major player in Canada's shipbuilding industry. No wonder he appears in our list of the richest Canadians.
Also Read: Top 10 Richest Women in India
11. Mark Scheinberg
Mark Scheinberg, alongside his father Isai, co-founded PokerStars and successfully transformed it into the largest online poker company globally, ultimately selling his majority stake in the parent company, Rational Group, in 2014. This strategic move earned Scheinberg a staggering sum exceeding $3 billion. Beginning at the age of 28, he played a pivotal role in launching PokerStars in 2001 and rode the wave of the poker boom that quickly swept across the United States and the rest of the world.
Following the sale, Scheinberg wisely directed some of his gains into luxury hospitality ventures through his real estate investment entity, Mohari. Among his notable real estate ventures are investments in the Ritz-Carlton Yacht Collection, a historic hotel in Madrid, and a lavish resort located in Costa Rica. He is one of the wealthiest people in Canada.
12. Tobi Lutke
Tobi Lutke, a co-founder and the CEO of Shopify, a Canadian e-commerce company specializing in helping businesses establish and manage online stores. Lutke holds approximately a 6% stake in Shopify, which became a publicly traded company in 2015. In 2021, Shopify boasted sales totaling $4.6 billion and was utilized by around two million businesses, including well-known brands like Kylie Cosmetics, Allbirds, and Rothy's.
Lutke's journey began in Germany, where he cultivated his coding skills at a young age, starting at just 12 years old. At 16, he opted to leave formal education to embark on a computer programming apprenticeship. The idea for Shopify emerged when Lutke and a friend encountered challenges while attempting to launch an online snowboard shop—they struggled to find suitable software for their venture. He rightfully earned his place among the richest men in Canada.
13. Carlo Fidani
Carlo Fidani is the head of Orlando Corp., a prominent real estate firm in the Toronto area, which he assumed control of after his father passed away in 2000. The company holds a stake in construction and development, and also oversees an impressive portfolio of approximately 46 million square feet, encompassing industrial, office, and commercial spaces.
The roots of the enterprise trace back to Carlo's grandfather, who established the venture as Fidani and Sons in 1948. Following his father's demise, Carlo stepped into the leadership role. Notably, Fidani was honored with the distinction of being named a Member of the Order of Canada in September 2018, recognizing his noteworthy contributions and dedicated service to the nation. He is one of Canada's richest people.
14. Daryl Katz
Daryl Katz made a significant fortune in the pharmacy industry by acquiring the Canadian rights to the U.S. franchise Medicine Shoppe in 1991. He later expanded his reach by acquiring the struggling Canadian drugstore chain Rexall and ventured into the U.S. market. Katz, whose family background was in drugstores, eventually transitioned his focus to real estate and entertainment, selling off all his pharmacy operations.
One notable project he's been involved in is the development of a massive $2 billion, 25-acre complex in downtown Edmonton. This ambitious project will encompass various amenities, including offices, condos, and retail spaces. Additionally, Katz is the proud owner of the NHL team in his hometown, the Edmonton Oilers. No wonder he became one of the wealthiest people in Canada.
15. Emanuele (Lino) Saputo and Family
Emanuele Saputo, often referred to as Lino, steered his family's namesake dairy enterprise from 1969 until his retirement in August 2017. Following his departure, his son Lino Jr. assumed the roles of chairman, president, and CEO, a position he had been serving in since 2004. The dairy company, established by Giuseppe Saputo in 1954 with just $500 and a bicycle for deliveries after immigrating from Sicily to Canada, prospered under the leadership of Lino, expanding its reach and offerings over the subsequent decades.
A significant milestone was the company going public in 1997. Presently, their dairy products are distributed in over 40 countries, showcasing the global success of the business. Moreover, the Saputo family has invested in Major League Soccer's Montreal Impact, showcasing their diversified interests beyond the dairy industry. No wonder he appears in our list of the richest Canadians.
16. Peter Gilgan
Peter Gilgan, the founder of Mattamy Homes in 1978, has an impressive track record of constructing over 100,000 houses. Growing up in a middle-class family with six siblings, he started his career as an accountant before transitioning into the world of building.
Motivated by the principles of the New Urbanism movement, Gilgan envisioned suburban homes that departed from the monotony and lack of character often seen in typical developments. This vision led him to establish Mattamy Homes, with the name derived from a combination of his two eldest children's names, Matt and Amy.
Beginning in 1986, Mattamy Homes embarked on the ambitious journey of designing and constructing planned communities from scratch. Despite the growth and success of the business, with revenues amounting to $3.6 billion, Gilgan continues to hold the positions of chairman and CEO, steering the company forward. He is one of the wealthiest people in Canada.
17. Leonid Boguslavsky
Leonid Boguslavsky, the founder of RTP Global, initially established as ru-Net in 2000 in Russia, has made a significant mark in the venture capital scene. One of his early and notable investments was in Yandex, a Russian search engine firm, where his exit yielded a remarkable 400-fold return on his initial investment.
Over the years, RTP Global, under Boguslavsky's guidance, has invested in a total of 90 companies. Impressively, five of these ventures—Yandex, EPAM, Delivery Hero, RingCentral, and Datadog—have blossomed into multibillion-dollar public enterprises.
Boguslavsky's journey in the tech and business world traces back to the early 1990s when he successfully built one of Russia's leading IT solutions integrators. He eventually sold this venture to PwC in 1996, where he continued as a senior partner, showcasing his acumen and strategic prowess.
Furthermore, Boguslavsky's earlier partnership with Boris Berezovsky in the 1980s involved a Russian-Italian joint venture called LogoVAZ, adding another layer to his diverse and impactful career. He rightfully earned his place among the richest men in Canada.
18. Bob Gaglardi
In 1963, Bob Gaglardi embarked on a remarkable entrepreneurial journey, establishing Northland Properties with just a $5,000 loan. Four years later, he proudly opened the first Sandman Inn hotel in British Columbia, setting the foundation for a successful venture. Over time, Bob's vision and determination led to the growth of Sandman Inns across Canada, and he didn't stop there. He ventured into real estate and the restaurant industry, broadening the scope of Northland Properties.
In a significant milestone in 2011, Bob and his son, Tom, made a historic move by acquiring the struggling Dallas Stars NHL team in a transformative $240 million deal. Their journey is a testament to the power of resilience and passion in the world of business and sports. He is one of Canada's richest people.
Also Read: Top 30 Richest Families in the World
19. Lawrence Stroll
Lawrence Stroll, alongside his business partner Silas Chou, played a pivotal role in orchestrating the highly successful initial public offering (IPO) of Michael Kors in 2011. This strategic move significantly bolstered Stroll's financial standing, as he eventually sold off the last of his shares in the American fashion brand in 2014.
In August 2018, Stroll led a consortium of investors in the acquisition of the Formula One racing team, Force India, for a sum of €90 million, additionally assuming €15 million in debt. Subsequently, in early 2020, he spearheaded a substantial investment of $235.6 million (€182 million) into Aston Martin, subsequently taking on the role of executive chairman within the automotive company.
This investment led to a rebranding of Stroll's Formula One team, Racing Point, which was transformed into the Aston Martin Team, marking a significant milestone as the iconic brand made its return to Formula One after a span of 60 years. Notably, Lawrence Stroll's 23-year-old son, Lance Stroll, emerged as one of the youngest competitors in Formula One and currently drives for Aston Martin. No wonder he became one of the wealthiest people in Canada.
Cross-Reference: How did $3.6 billion worth of Aston Martin F1 boss Lawrence Stroll build his fortune?
20. Barry Zekelman
Barry Zekelman took the reins of his family's steel enterprise at the young age of 19 and transformed it into a prominent steel pipe and tube manufacturing giant in North America. After selling the company to the Carlyle Group in 2006 for a substantial $1.2 billion, Barry stayed actively involved in its operations. In 2011, he and his family orchestrated a successful buyback of the business.
Presently, Barry, along with his brothers Clayton and Alan Zekelman, collectively holds 100% ownership of the thriving firm, now named Zekelman Industries, boasting impressive revenues of $4.2 billion. Notably, Barry made waves in 2018 when he was caught on a secret recording during a Trump donor dinner, passionately discussing steel industry matters with the former President.
A subsidiary of Zekelman Industries, Atlas Tube, played a role in producing steel used for segments of the border wall in Arizona, garnering attention and contributing to the company's significant ventures. No wonder he appears in our list of the richest Canadians.
21. Garrett Camp
Garrett Camp, along with Travis Kalanick, co-founded the ride-hailing startup Uber in 2009. Through the Uber mobile app, users can request a ride, and the app connects them with a driver-contractor for pick-up, with Uber taking a portion of the fare as their commission. Garrett Camp holds approximately 4% ownership in Uber. The company went public and listed its shares on the New York Stock Exchange on May 10, 2019. Prior to Uber, Garrett Camp created the web discovery tool StumbleUpon, which he sold to eBay in 2007 for a notable $75 million. He is one of the wealthiest people in Canada.
22. Stephen Smith
Stephen Smith is the visionary behind First National Financial, a Canadian mortgage lending institution. He embarked on this journey in 1988, a mere four years after facing personal bankruptcy. Remarkably, he steered the company to go public in 2006. Notably, Smith holds a significant share in Canada Guaranty Mortgage Insurance Company, owning about half of the company. Additionally, he has a stake in the publicly traded Canadian bank EQB.
In a display of philanthropy, Smith made a generous contribution of $50 million to Queen's University in 2015. As a result, the university's business school proudly bears his name, a testament to his commitment to education and giving back to the community. He rightfully earned his place among the richest men in Canada.
23. Jacques D'Amours
Jacques D'Amours was a key figure in establishing the Canadian convenience store giant, Alimentation Couche-Tard, back in 1980. After his retirement as the Vice President of Administration in 2014, he still holds a significant role as a board member and is the company's second-largest shareholder.
Couche-Tard has experienced immense growth by strategically acquiring competitors, such as Minnesota-based Holiday Stationstores, for a substantial sum of $1.6 billion in December 2017. Today, the company proudly achieves remarkable annual sales of $63 billion and operates an extensive network of over 14,000 owned or franchised stores worldwide. He is one of Canada's richest people.
24. Mark Leonard and Family
Mark Leonard, the founder of Constellation Software, has been at the helm as chairman since its inception in 1995. This Canadian tech company, commonly known as CSI, specializes in acquiring, managing, and developing software businesses. Leonard, along with his family members, holds a substantial 7% ownership stake in the company, which is publicly listed on the Toronto Stock Exchange.
He embarked on his entrepreneurial journey after completing his MBA at the University of Western Ontario, initially gaining valuable experience in venture capital over an impressive 11-year span. No wonder he became one of the wealthiest people in Canada.
25. Ryan Cohen
Ryan Cohen, the former CEO and co-founder of Chewy, an online pet supplies store established in 2011, successfully expanded the business to achieve an impressive $3.5 billion in annual revenues. He eventually stepped down from his role in 2018, following the sale of Chewy to PetSmart for a notable $3.4 billion in 2017.
In a strategic move at the close of 2020, Cohen made headlines by investing approximately $76 million to acquire a 13% stake in GameStop. His investment was accompanied by a call for management to restructure the struggling brick-and-mortar company. This move showcased his keen interest in reshaping the direction of GameStop.
Ryan Cohen further solidified his involvement in GameStop by joining the company's board in January 2021. This decision proved immensely lucrative for him, as Reddit traders orchestrated a significant surge in GameStop's stock price during the same month. As a result, Cohen's fortune experienced a remarkable upturn.
Born to a teacher and a glassware importer, Cohen displayed entrepreneurial spirit from a young age. At just 15 years old, he embarked on his entrepreneurial journey by starting his first business, which involved earning fees through referrals to e-commerce websites. No wonder he appears in our list of the richest Canadians.
26. Jean Coutu and Family
The man known as the billionaire in the iconic white lab coat is Jean Coutu, the brains behind the renowned Canadian drugstore chain that carries his name. Back in 2017, Coutu made a significant business move, agreeing to sell his publicly traded company to the European supermarket giant Metro for a whopping $4.5 billion, a deal comprising both cash and stock.
Growing up as the son of a pediatrician, Coutu developed a deep-rooted understanding of healthcare and decided to venture into the pharmacy business. In 1969, he took the leap and opened his very first pharmacy. His approach was simple yet effective: offering customers competitive prices, excellent service, and extended operating hours.
Coutu wore different hats within his company over the years. He held the position of chief executive during two significant periods, initially until 2002 and later from 2005 to 2007. Under his guidance, The Jean Coutu Group expanded its footprint by acquiring numerous competitors, solidifying its position in the industry. Interestingly, The Jean Coutu Group was once a major shareholder in the U.S. drug store operator Rite Aid. However, by 2013, they had divested their entire stake in the company, marking a strategic shift in their investment portfolio. He is one of the wealthiest people in Canada.
Also Read: Top 20 Richest Country Singers in the World
27. Serge Godin
Serge Godin, the founder of CGI Group, a prominent Canadian tech firm, took the initiative at a young age. Raised in a large family of nine siblings, he began working alongside his father in their family's sawmill when he was just 12 years old, despite his father's limited education.
Driven by a passion for technology, Godin pursued a course in computer science and later obtained an MBA from Université Laval in Quebec. He then ventured into the consulting world, honing his skills and knowledge. In a bold move, he used his $5,000 in savings to kickstart CGI, a decision that marked the beginning of an incredible journey.
Over the years, Godin's dedication and strategic vision have propelled CGI to remarkable heights. Initially serving as the President and CEO until 2006, he now holds the position of chairman for the company, which boasts an impressive $13 billion in revenue. Notably, he orchestrated over 70 acquisitions, with the 1998 acquisition of Bell Sygma significantly amplifying the company's size and influence at the time. He rightfully earned his place among the richest men in Canada.
28. Bruce Flatt
Bruce Flatt might not be a household name, but in the world of investing, he's a big player. He's at the helm of Brookfield Asset Management, a colossal $800 billion alternative investment firm that deals in real estate, infrastructure, and private equity.
Originally from Winnipeg, Bruce began his career at an accounting firm after college. He later took a job at the struggling Canadian conglomerate Brascan. Through shrewd real estate deals, he played a pivotal role in turning Brascan around after it teetered on the edge of collapse. In 2002, he assumed the position of CEO and transformed Brascan into the now prominent Brookfield Asset Management.
Bruce Flatt's success story is marked by astute business moves, including significant acquisitions like Olympia & York in 1996 and London's Canary Wharf in 2015. He also orchestrated a successful recapitalization of General Growth Properties in 2010, solidifying his reputation as a savvy investor. He is one of Canada's richest people.
Cross-Reference: Brookfield Billionaire Flatt Reveals Secret Behind 3,700% Return
29. N. Murray Edwards
N. Murray Edwards amassed a significant portion of his wealth through investments in Canadian oil and mining companies. His major holdings include Canadian Natural Resources, a company involved in oil sands mining, Magellan, an aerospace firm, and a partial ownership of the NHL's Calgary Flames. No wonder he became one of the wealthiest people in Canada.
Originally a lawyer, Edwards transitioned into the business world at the age of 28, driven by a promise to a terminally ill friend to follow his passions. His foray into business began with the establishment of a merchant bank in the late 1980s. However, a significant setback occurred when they invested a considerable portion of their initial capital in drilling a natural gas well, only to find it barren. Undeterred, Edwards pivoted his approach, moving away from exploration and focusing on investing in existing oil and gas assets to diversify his portfolio.
30. Charles Bronfman
In the year 2000, Charles Bronfman and his nephew Edgar Bronfman Jr. made a significant decision to sell their family's massive spirits and alcohol company, Seagram, to Vivendi for a whopping $30 billion. This move marked a major transition for the Bronfman family. Their father, Samuel Bronfman, had emigrated from Russia to Canada and started a modest distillery in 1924. Over time, he managed to acquire Seagram, a competitor in the industry, setting the stage for the family's eventual prominence in the business.
Following the sale of Seagram, Charles, who had once served as co-chair of the company, shifted his focus towards philanthropy. He authored two books on the subject and committed to The Giving Pledge, a promise to donate a substantial portion of his wealth to charitable causes.
Charles Bronfman directed much of his philanthropic efforts, totaling at least $350 million, toward promoting Canadian culture and fostering stronger connections between the Jewish community and Israel. As for the Bronfman legacy, Charles's son, Stephen, has taken the helm of Claridge, the private investment firm based in Montreal that Charles himself founded back in 1987. No wonder he appears in our list of the richest Canadians.
31. Mitchell Goldhar
In the early 1990s, Mitchell Goldhar established SmartCentres, a real estate firm that saw significant growth over the next two decades with the development of more than 265 shopping centers. Then, in May 2015, he made a substantial move by selling most of SmartCentres' assets to SmartREIT (formerly known as Calloway REIT) for a substantial sum of approximately $880 million, comprising shares, cash, and assumed debt.
Goldhar, now the chairman of SmartREIT, continues to be a prominent figure in the real estate landscape, also having significant holdings across Canada through his private enterprise, Penguin Investments. One notable joint venture is a stake in the expansive Vaughan Metropolitan Centre, a meticulously planned 100-acre development situated north of Toronto, in collaboration with SmartREIT.
Beyond his real estate ventures, Goldhar has diversified interests. He holds ownership of the Israeli soccer team, Maccabi Tel Aviv FC, a team that achieved victory in the Israeli club league in 2019. Personally, he enjoys staying active by engaging in various sports such as squash, tennis, and hockey. He is one of the wealthiest people in Canada.
32. Alex Shevchenko
Alex Shevchenko, along with fellow Ukrainian entrepreneurs Max Lytvyn and Dmytro Lider, co-founded the widely used grammar checking tool, Grammarly, back in 2009. Before this venture, they collaborated on a previous startup called My Dropbox, focusing on plagiarism detection.
Originally conceived to aid students with their writing by improving grammar and spelling, Grammarly has evolved to serve a vast user base, boasting over 30 million daily users. In a significant milestone, the company secured a substantial investment of $200 million at a valuation of $13 billion in November 2021, with support from notable investors such as Baillie Gifford and BlackRock. He rightfully earned his place among the richest men in Canada.
33. Max Lytvyn
Max Lytvyn, along with Alex Shevchenko and Dmytro Lider, co-founded the widely used grammar checking tool Grammarly back in 2009. Presently, Max holds the position of head of revenue at the company. Before Grammarly, this trio of Ukrainian-born entrepreneurs collaborated on a previous venture called My Dropbox, which focused on a plagiarism detection service.
Their inspiration for launching Grammarly stemmed from a desire to create a subscription-based product that would assist students in improving their grammar and spelling. Over time, the company evolved its model to freemium. Nowadays, Grammarly has a massive user base, claiming to reach over 30 million individuals daily. It's noteworthy that esteemed organizations like Zoom, Cisco, and Dell count among their prominent clients.
In a significant financial move, Grammarly secured a substantial investment of $200 million in November 2021, valuing the company at an impressive $13 billion. Investors such as Baillie Gifford and BlackRock were part of this funding round. He is one of Canada's richest people.
34. Clayton Zekelman
Clayton Zekelman, along with his billionaire brothers Barry and Alan Zekelman, collectively owns a significant share in their family's steel enterprise, Zekelman Industries. This company, boasting revenues of $4.2 billion, stands as a major player in the North American steel pipe and tube manufacturing sector. Notably, Zekelman Industries was sold to the Carlyle Group in 2006 for approximately $1.2 billion, but the Zekelman brothers successfully reacquired the business in 2011.
A subsidiary of Zekelman Industries, Atlas Tube, played a role in supplying steel for segments of the border wall in Arizona, underscoring the company's involvement in major infrastructure projects. Additionally, Clayton Zekelman has diversified his investments, being the owner of two telecommunications companies based in Ontario. No wonder he became one of the wealthiest people in Canada.
Also Read: Top 20 Richest Game Show Hosts
35. Chulong Huang
Huang Chulong is the head of Galaxy Group, a private enterprise situated in the bustling city of Shenzhen in southern China. The company's diverse ventures include hotels, shopping centers, office rentals, parking lot management, and real estate development.
Galaxy Group has crafted a self-improving system, placing industry at the forefront, finance as the catalyst, real estate as the core, business as the support, and property management as a complementary element. This integrated approach enables active involvement in the urbanization process, engaging in land operations, commercial endeavors, industrial initiatives, and capital ventures. No wonder he appears in our list of the richest Canadians.
36. Larry Tanenbaum
Larry Tanenbaum serves as the chairman of Maple Leaf Sports & Entertainment, a notable conglomerate owning multiple sports franchises like the Toronto Raptors in the NBA, the Toronto Maple Leafs in the NHL, and Toronto FC in MLS. Back in 1968, he completed his studies at Cornell University, obtaining a degree in Economics.
In the business realm, Tanenbaum heads Kilmer Van Nostrand, a company with diverse interests spanning infrastructure, electronics, publishing, food processing, gaming, and more. This enterprise has been under the ownership of the Tanenbaum family since the 1950s. He is one of the wealthiest people in Canada.
37. Bill Malhotra
Bill Malhotra, a notable figure in Ottawa's real estate scene, holds the prestigious positions of founder and CEO at Claridge Homes, a prominent real estate development company. Established in 1986, Claridge Homes, under Malhotra's guidance, has successfully constructed over 14,000 diverse properties ranging from condominiums and houses to retirement homes.
Hailing from India, Bill Malhotra pursued civil engineering during his college years. At the age of 22, he made the life-changing decision to relocate to Canada in 1971. Initially, he worked at an engineering firm, setting the stage for his impressive career trajectory.
In the years spanning from 1977 to 1986, Malhotra served as the chief structural engineer for the city of Ottawa, contributing significantly to the city's development during that period. Following this, he embarked on a new chapter by establishing Claridge Homes, a venture that has since become synonymous with quality and innovation in real estate. He rightfully earned his place among the richest men in Canada.
Cross-Reference: Meet Canada's richest Indian, know his net worth, business details
38. Robert G. Miller
Robert Miller, a Canadian entrepreneur, played a pivotal role in the establishment of Future Electronics in 1968, a company specializing in electronics distribution. In 1976, he took a significant step by purchasing his business partner's stake for $500,000, solidifying his position within the company. Over the years, this Quebec-based company has grown into one of the world's major players in electronics distribution, boasting an impressive $5 billion in revenues generated from operations spread across 44 countries.
Their product range encompasses adapter boards for LED screens, microcontrollers, and LED lighting, reflecting their diverse offerings in the electronics realm. However, in February 2023, Robert Miller made the decision to step down from his position as CEO amidst allegations involving payments to underage girls for sexual activities. Miller staunchly denied these allegations, which marked a significant and controversial chapter in his tenure with the company. He is one of Canada's richest people.
39. Alan Zekelman
Alan Zekelman, alongside his billionaire brothers Barry Zekelman and Clayton Zekelman, holds a significant stake in their family's steel enterprise, Zekelman Industries. The company, boasting impressive revenues of $4.2 billion, stands as one of the foremost steel pipe and tube manufacturers in North America. In a strategic move, they collectively owned 100% of Zekelman Industries.
A notable chapter in their business history saw them selling the company to the Carlyle Group in 2006 for a substantial sum of approximately $1.2 billion. However, their entrepreneurial spirit and dedication to their enterprise led them to repurchase the business in 2011, marking a pivotal return to their roots.
Within the Zekelman Industries umbrella, Atlas Tube, a subsidiary, played a role in providing steel for segments of the Mexican border wall in Arizona, adding a unique dimension to the company's portfolio. No wonder he became one of the wealthiest people in Canada.
40. Zhang Ning
Zhang Ning is at the helm of Red Avenue New Materials Group, a chemicals supplier listed on the Shanghai stock exchange. Back in May 2020, the company made headlines by revealing their plans to manufacture a compostable polyester in collaboration with the German company BASF. Zhang Ning, who resides in Shanghai, holds Canadian citizenship and has achieved a doctorate in global financial business management from Arizona State University. No wonder he appears in our list of the richest Canadians.
41. Richard Fortin
Richard Fortin, a key figure in Alimentation Couche-Tard, holds the role of a co-founder and board member within the Canadian convenience store giant known for its Circle K chain. With an impressive annual revenue of $63 billion generated from over 14,000 stores, Couche-Tard stands as a significant player in the market.
Beyond his business endeavors, Fortin enjoys pursuits such as golf and fishing. Notably, he also has investments in the National Bank of Canada and Transcontinental, a Canadian company engaged in packaging and publishing. Additionally, Fortin, along with Lise Fortin, is actively involved in philanthropy through the Fondation Lise et Richard Fortin, supporting causes aimed at aiding the elderly and providing services for children who are survivors of sexual assault.
It's worth mentioning that Alimentation Couche-Tard has seen remarkable success, elevating not only Fortin but three other co-founders—former CEO Alain Bouchard, Jacques D'Amours, and Réal Plourde—into the billionaire status due to the chain's impressive growth and operations. He is one of the wealthiest people in Canada.
42. Pierre Karl Péladeau
Pierre Karl Péladeau, the son of Quebecor's founder, holds the largest individual stake in the media company, notably overseeing Le Journal de Montréal. He has held the position of CEO for about two decades, taking a brief hiatus from 2014 to 2017. During his tenure, he played a crucial role in expanding the company's reach into various sectors, including telecom, sports, and entertainment.
In 2015, Péladeau assumed leadership of the separatist Parti Québécois and led the party for almost a year before stepping down in May 2016. Upon his return as CEO in February 2017, Quebecor experienced remarkable growth, with shares surging by an impressive 70% during his temporary departure for politics. He rightfully earned his place among the richest men in Canada.
Adding a layer of complexity, Péladeau faced a legal challenge from his sister Anne-Marie regarding a two-decade-old agreement involving the buyback of her shares. This ultimately led to a court judgment in 2020, awarding Anne-Marie a significant sum of $36 million.
Also Read: The Top 10 Richest Women in the World
43. Hal Jackman
Hal Jackman and his family hold the major shares in E-L Financial Corporation, a company based in Toronto that focuses on investments and insurance holdings. Hal's father, Harry Jackman, who was a former member of Parliament, established a significant financial services empire. Hal played a crucial role in expanding this empire during his many years at the helm.
Presently, his son, Duncan, is at the helm as the CEO, president, and chairman of E-L Financial. Hal also followed in his father's footsteps by venturing into politics, where he served as the 25th lieutenant governor of Ontario from 1991 to 1997. He is one of Canada's richest people.
44. Jay Hennick
Jay Hennick, the CEO and major stakeholder of Colliers International, a real estate investment firm based in Toronto, began his entrepreneurial journey back in 1972 as a young teenager. At that time, he started a modest company focused on managing commercial swimming pools, starting with a $1,000 loan from his father. Fast forward to 1989, and Hennick transformed this venture into FirstService, a real estate services company. Taking it public on the Toronto Stock Exchange in 1993 marked a significant milestone.
In 2010, he orchestrated the merger of FirstService with Colliers, blending their strengths. Notably, five years later, Hennick guided the spin-off of Colliers as an independent publicly traded company on the NASDAQ. Beyond his roles in the real estate sector, Hennick's family investment firm, Hennick & Co., holds interests in Foster & Partner Architects and Canada's Haventree Bank. No wonder he became one of the wealthiest people in Canada.
45. Pan Dong
Pan is at the helm of the Blue Moon Group, a company that specializes in liquid detergent and soap. She is not only the leader but also the wife of Luo Qiuping, the founder and CEO of Blue Moon. Pan initially served as a technical consultant before officially taking on the role of Chief Technology Officer in 2003. Blue Moon, the brainchild of Luo Qiuping, was established in the southern Chinese city of Guangzhou in 1994. No wonder he appears in our list of the richest Canadians.
46. Jack Cockwell
Jack Cockwell, originally from South Africa and a skilled accountant, gained renown as a prominent dealmaker in Canada. During the 1970s to the early 1990s, he was instrumental in developing the Edper conglomerate for the Bronfman family, strategically acquiring substantial stakes in real estate, forestry, and mining. Over time, Edper evolved into the colossal Brookfield Asset Management, one of the globe's largest financial management firms.
In 2002, Cockwell entrusted the leadership to fellow billionaire Bruce Flatt, transitioning the reins of the organization. His affluence primarily stems from a significant ownership in Brookfield shares, much of which is held in partnership with other esteemed board members and management. Aside from his financial ventures, Cockwell is actively engaged in the academic and cultural spheres. He holds a position on the board of governors at Ryerson University and serves as a governor for the Royal Ontario Museum. He is one of the wealthiest people in Canada.
47. Terence (Terry) Matthews
Terence Matthews, also known as Terry Matthews, holds citizenship in both the United Kingdom and Canada. He amassed his wealth through successful ventures in the telecommunications sector, notably with Mitel and Newbridge Networks.
In December 2018, he stepped down from his position as Chairman at Mitel, a company he co-established with Michael Cowpland, following its acquisition for a substantial $2 billion. Matthews' journey in the industry began in 1986 when he founded the data networking enterprise Newbridge Networks. Later, he orchestrated its sale to Alcatel in the year 2000, a transaction that amounted to an impressive $7.1 billion.
Matthews takes pride in his involvement with over 100 companies, many of which he either initiated or generously funded through his investment firm, Wesley Clover, based in Ottawa. While residing in Canada, he has diversified his investments and real estate holdings, including a notable U.K. property portfolio that features the prestigious Celtic Manor Resort, an establishment that notably hosted the 2010 Ryder Cup and the 2014 NATO Summit. He rightfully earned his place among the richest men in Canada.
48. Stephen Jarislowsky
Stephen Jarislowsky amassed a significant portion of his wealth as the leader of Jarislowsky Fraser, the investment management firm he established in 1955. While he relinquished the CEO position in 2012, he maintains the role of chairman emeritus and president of the Jarislowsky Foundation within the company.
In April 2018, the Canadian bank Scotiabank acquired Jarislowsky Fraser for approximately $750 million through a mix of stock and cash. Beyond his business ventures, he is an avid art collector, predominantly focusing on Canadian art but also incorporating Chinese jade and French impressionism into his sizable art collection. He is one of Canada's richest people.
49. Brandt Louie
Brandt Louie is at the helm of H.Y. Louie, a grocery retail giant, and oversees the operations of London Drugs, a prominent drug store chain. Headquartered in Vancouver, his holding company, H.Y. Louie, ranks as the third-largest private firm in British Columbia, boasting an impressive estimated revenue of $4.2 billion.
The Louie family's journey in business traces back to Brandt's grandfather, Hok Yat Louie, who made the significant move to Vancouver from China in 1896. Starting as a farm laborer, Hok Yat persevered and saved diligently, eventually establishing a modest general store in the heart of the city's Chinatown in 1903. Brandt Louie followed in his family's entrepreneurial footsteps, stepping into the family business in 1972 and assuming the role of president in 1987. No wonder he became one of the wealthiest people in Canada.
Cross-Reference: Brandt Channing Louie Success Story
50. Guo Zhenyu and Family
Guo Zhenyu is at the helm of Yunnan Botanee, a skincare products supplier based in China. He completed his bachelor's and master's degrees at Yunnan University before earning his doctoral degree from the University of Western Ontario. In his early professional years, Guo Zhenyu shared his knowledge as a teacher at the University of Montreal and George Washington University.
Also Read: Richest Cricketers in the World
With this, we come to the end of the list of the richest Canadians. Their financial prosperity highlights the nation's economic success, influencing both domestic and global markets.
Source: Canada's richest people