You must have heard about the podcasts a lot of times, but do you know what they actually are? A podcast is a suite of digital audio files available for the public to download or listen to through the internet. One particular audio recording is said to be a podcast episode. Usually, the podcasts are hosted by a person or group of persons who start a conversation, report news, provide updates or share stories. The person who creates these podcasts are called podcasters. There are a lot of podcasters who are earning a huge amount by creating podcasts. Want to know about the top 10 richest podcasters and how they reached the top? you might also be wondering about biggest podcast in the world. Let's get started to learn more about these things! But before that, let us know why people start a podcast.
Why Should You Start a Podcast?
There can be various reasons why people feel like starting a podcast. Here are some of the significant reasons:
For expressing personal thoughts or feelings
Helps you build a personal brand
To get connected with social media influencers
Relatively easy platform to create content
Minimal start-up cost
An alternate revenue source
Get joy connecting with others
How to Start a Podcast?
If you are also planning to start a podcast, there are a few things that you should follow to become a successful podcaster and create one of the biggest podcasts in the world:
1. The first thing you need to do is to know why you are starting a podcast and who your target audience will be.
2. Listen to various podcasters and note down what unique you will do so that the listeners get attracted to your content.
3. Once you select the niche and content type, pick a unique name for your podcast.
4. The next thing you need to decide on is the frequency of releasing the podcast: weekly or twice a week, etc.
5. Select the format type for your podcasts and create a catchy name for every episode.
6. Invest in good recording tools and editors to create high-quality content.
7. Practice before you start recording the final podcast.
8. Record the podcast and submit it to directories.
9. Launch your first episode.
Top 10 Richest Podcasters
Previously, podcasts were released on radio stations or TV networks, but things have changed with the advent of the internet. Now, podcasters have the option to publish their podcasts on multiple platforms such as Google Podcasts, Apple Podcasts, Spotify, iTunes, etc. Creating a podcast involves a lot of hard work as you need to choose a topic, create a script, record & edit it, and then share it on different platforms. Let's learn about the richest podcasters in the world and see what they do differently.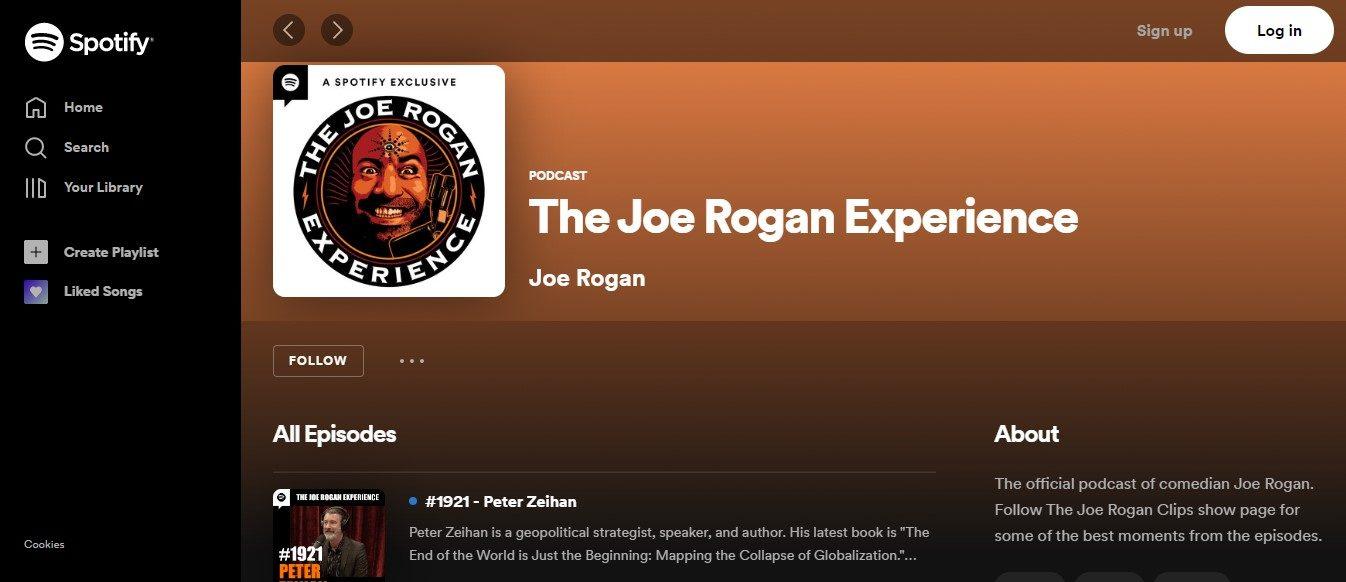 Even if you do not hear podcasts, still, you must have heard his name. He is the host of The Joe Rogan Experience Podcast. In this show, which one of the biggest podcast in the world, he calls celebrities, politicians, sports persons, etc., and converses with them about philosophy, science, humor, politics, etc. Some of the well-known people he has interviewed are Elon Musk, Kevin Hart, Mike Tyson, etc.
You will be amazed to know that his net worth is more than $100 million, and he has made all this money with his podcasts. Before he started his show, he was a successful TV actor, comedian, and commentator for mixed martial arts.
He has more than 9 million followers, and this number is increasing every day. He is one podcaster who has the largest audience in the world. Joe brings different inspiring people on his show to talk about their life, success stories, projects, goals, etc.
Don't get surprised to know that he earns around $75,000 for his one episode. Also, he does 3 episodes in a week, making $900,000 a month and $10.8M a year. Moreover, he also makes money from ads, sponsorships, etc.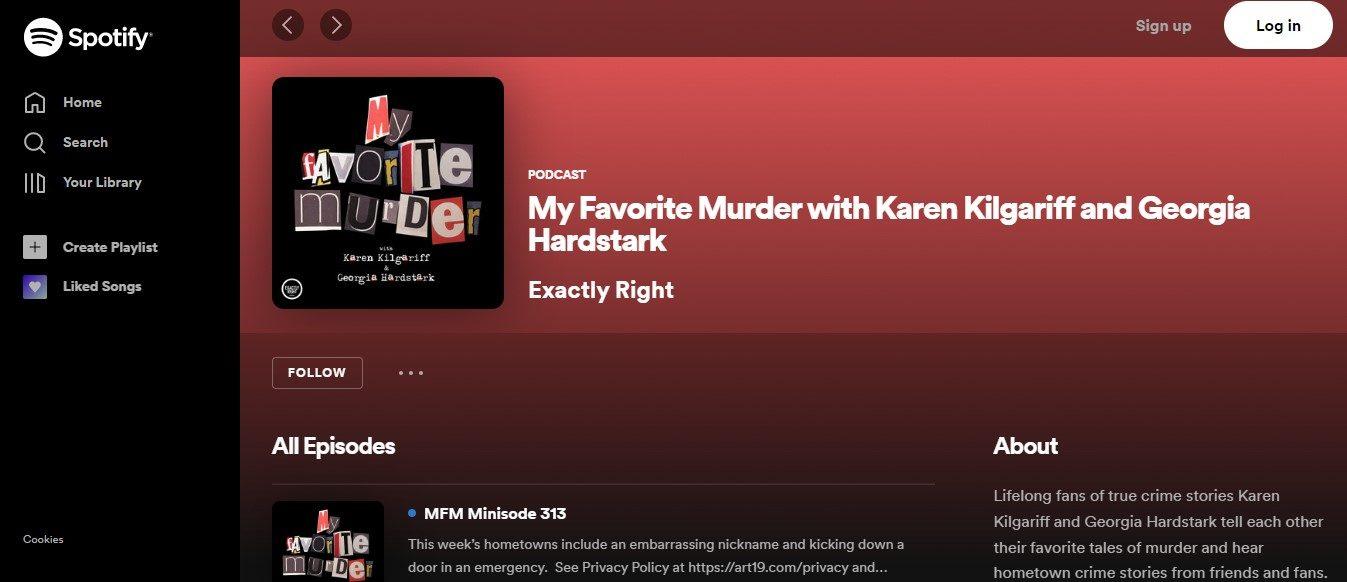 These are the two richest podcasters, as their net worth is more than $40 million. Karen is an actress, comedian, writer, and television producer. They met for the first time in 2015 at a party and immediately got connected to each other because of their mutual interest.
In 2016, Karen started the well-known true-crime podcast called My Favorite Murder with Georgia. Since then, they have been creating podcasts on true crime stories with a dash of humor, making it one of the biggest podcasts in the world. In fact, they wrote a pretty interesting book, i.e. Stay sexy & don't get murdered, that was launched in 2019.
After that, their popularity on podcasts increased tremendously as they have more than 35 million downloads to date. In fact, lately, they have also commenced a new podcast network called Exactly Right. It has been estimated that they earn $15 million and have a net worth of $20 million each. They have recently signed a development deal of $10 million with Stitcher.
You will be amazed to know that, as per the 2022 data, Dave Ramsey is one of the highest-paid podcasters. The name of his podcast is The Dave Ramsey Show, and he majorly talks about financial issues in his show. The way he talks and advises people has helped get him a lot of fame which is why he has more than 13M listeners every week.
He talks about how you can easily get out of debt, the importance of small investments, making economically sound decisions, and much more. People trust him and follow his advice as he also has a good record in the financial sector. He possesses a degree in finance and real estate, and with the help of that, he has created a financial counseling company.
You will be amazed to know that his broadcasts are podcasted on more than 600 radio stations, and he has published 10 books so far on finance and how to handle them better. If you listen to his content in his finance podcast, you will know that the advice he gives is not nonsense. In fact, it is efficient that can actually help you.
As per the data by Forbes, he earns around $10 million just from his podcast, and the rest is additional. So, this should surprise you as to why we have included him in our top 10 richest podcasters list.
Also Read: 50 Richest YouTubers in the World
Along with being the famous podcaster, he is also the founder and CEO of the sports-related media network called The Ringer, which was launched in 2016. He established a website called The Boston Sports Guy, which helped him gain a lot of popularity. Later, he was contacted by ESPN to become a commentator. Then, he also became a TV host, sportswriter, analyst, author, and podcaster.
In fact, for a short while, he also wrote for Jimmy Kimmel as well. Bill also analyzed NBA for 2 years. But, then later, he started his own podcast called The B.S.Report, one of the biggest podcasts in the world. In the past two years, his show has been ranked amongst Apple's Top 25 and is now joined by more than 35 shows on the network.
In his podcast, he usually invites Hollywood celebrities, sports people, his friends, family members, and other personalities who can inspire society. He earned $7 million from his podcasts last year, making him one of the richest podcasters in the world. His net worth is estimated to be around $100 million so far. In addition, there was news that he is selling his podcast for $200 million, and Spotify is looking to acquire the network.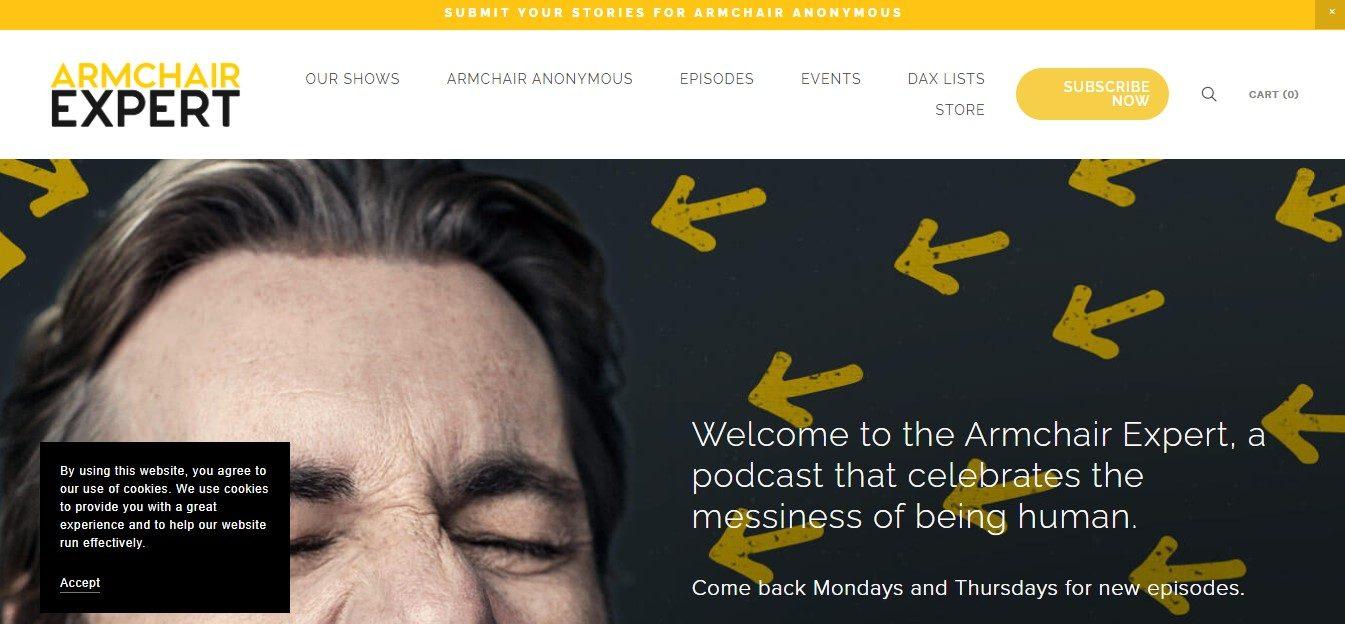 He is an American actor, comedian, director, writer, and podcast host, born on January 2, 1975. His podcasts are so interesting that more than 20 million people listen to his podcast every month. In fact, Dax was pretty famous before he started podcasts for his role in famous movies and TV series, like Parenthood (2010 to 2015), Employee of the Month (2006), Let's Go to Prison (2006), etc.
The name of his show is Armchair Expert, and it was launched in 2018. The first guest he called on his show was his wife, Kirsten Bell and it became one of the best comedy podcasts. People love these well-paid podcasts because of his style and the type of questions he asks as they are usually emotional and from touching instances.
So far, he has interviewed various famous people such as Drew Carey, Will Arnett, Claire Danes, and many more. His live show has an audience of more than 4000, which in itself proves his fan following. He is one of the richest podcasters, with a worth of around $40 million, making us include it in our top 10 richest podcasters.
It is one of the most intriguing podcasts that is centered around American politics. Five members host this podcast: Will Menaker, Felix Biederman, Amber A'Lee Frost, Matt Christman and Virgil Texas. It was started in 2016, and it is full of humor, more casual, and usually vulgar.
They have been in the headlines since the time they started their podcast. Lately, in 2020, they were called a touting political rally. They called out various political candidates of elections such as Joe Biden, Elizabeth Warren, and many more, to which NY Times referred to them as Bernie Sanders supporters. Because of various reasons, they were also banned from Twitch and Reddit in 2020.
Chapo Trap House also published a book called The Chapo Guide to Revolution in August 2018 and gained a position of number 6 on the New York Times Best Seller List list. They release a weekly episode on Spotify, iTunes, and SoundCloud. And the best part is they are absolutely free. They also have premium podcast content on Patreon.
Chapo Trap House make money majorly from patrons, because of the fans who support their premium podcasts. They have more than 35,000 patrons who donate more than $1.5 million every year. As a result, their net worth is over $1 million, making them the richest podcasters in the world and the Chapo Trap House one of the biggest podcasts in the world.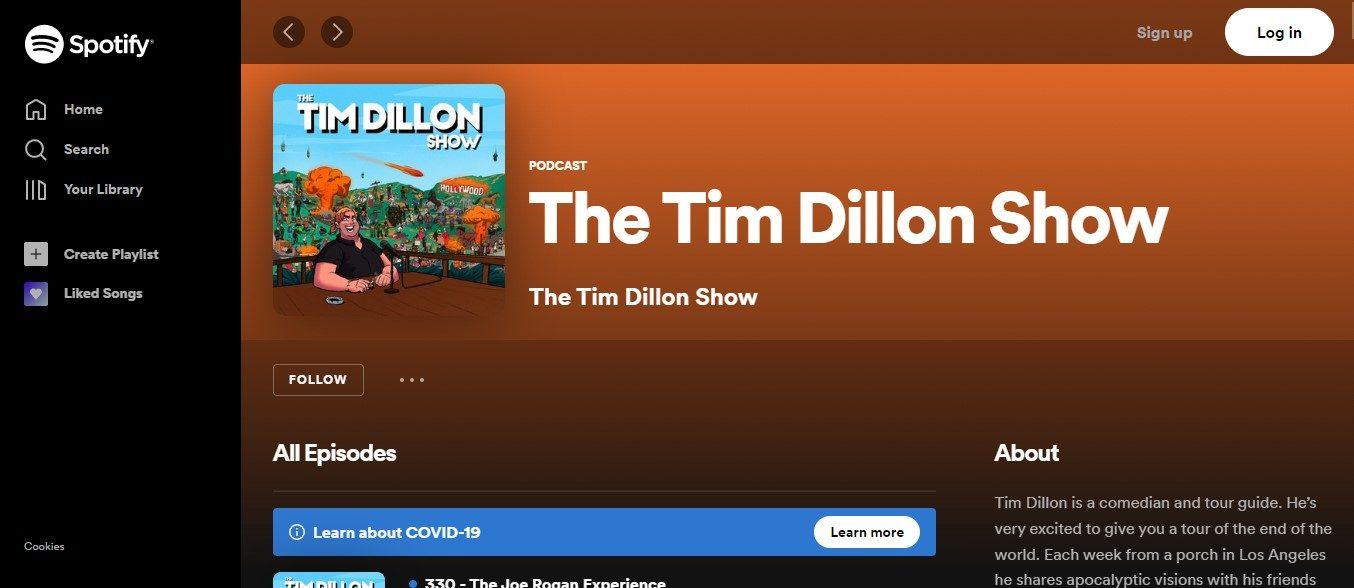 Tim Dillion is next in our top 10 richest podcasters list as he is one of the best podcasters in the world. He creates hilarious content that focuses on solving the world's most challenging problems and talks about some of the darker concepts of humanity with great humor.
In fact, Tom has an amazing success story that is worth knowing. In 2008, he was a mortgage salesman. Slowly, he tried his hands at comedy and became a stand-up comedian. He struggled but did not give up on making funny content on the most complex issues.
Tim started his first podcast and named it Going to Hell. Initially, he started this podcast with his friend Ray Kump, but now he does it alone. He releases his show every week on YouTube plus regularly comes as a guest on the Joe Rogan Experience.
His shows play on numerous sites, but his foremost platform is Patreon. He has more than 41,000 paid subscribers on this platform, making him one of the richest podcasters, with earnings of around $2.4M yearly.
He is one of the most famous podcasters, and he hosts Smart Passive Income, which is available on numerous platforms, such as YouTube and Apple Podcasts. As the name of the podcast suggests, he talks majorly about finance.
He releases one podcast weekly and interviews economy experts on his show to talk about making money ideas, issues, growth, expansion, creating their own online business, and much more.
You will be amazed to know his career path as he started his career as an architect. But there was a financial crisis in 2008, so he left the job and started an online business. He started writing blogs about his architectural studies and everything related to it. And gradually it got a lot of success as he had 10,000 visitors within no time.
He got confidence from it and gathered all this information, and started writing an ebook, which was his first passive income. Later, he got the idea of starting podcasts to help and motivate people to start their own businesses. So, his knowledge and skill in the finance field made him one of the biggest podcasters and got him into our top 10 richest podcasters list.
He shares his own experiences in his podcasts and interviews business owners who share their knowledge and struggle. Today, he is one of the richest podcasters making $1.2 million yearly.
Also Read: 30 Best High Income Skills to Learn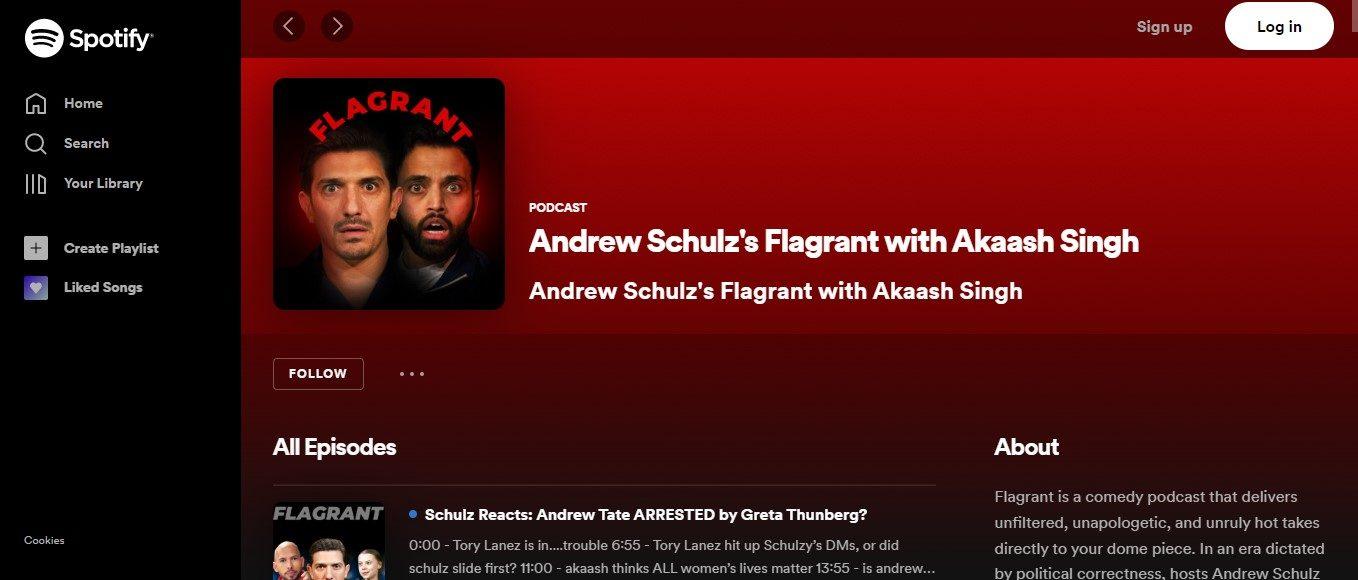 Andrew Schulz and Akaash Singh are among the highest-paid podcasters, with around $1.2M yearly income. They are the host of Flagrant 2 which is a Patreon-related podcast that provides three tiers of accessible content to its subscribers. Moreover, they feel happy and proud that they are honest on their show, and for this, they are absolutely unapologetic.
Before starting the podcast, they made a career as stand-up comedians. In fact, they also appeared on the show on MTV by the name, Wild 'n Out. Schulz has also worked in Guy Code of MTV2 and Schulz Saves America by Netflix.
Their podcast is doing really well as they focus majorly on hot-button topics and call celebrities like Alex Jones on their show, who are already famous for controversies. In addition, they have created a Patreon-exclusive podcast well and talk about various trending topics for their subscribers. This podcast is also considered one of the biggest podcasts in the world.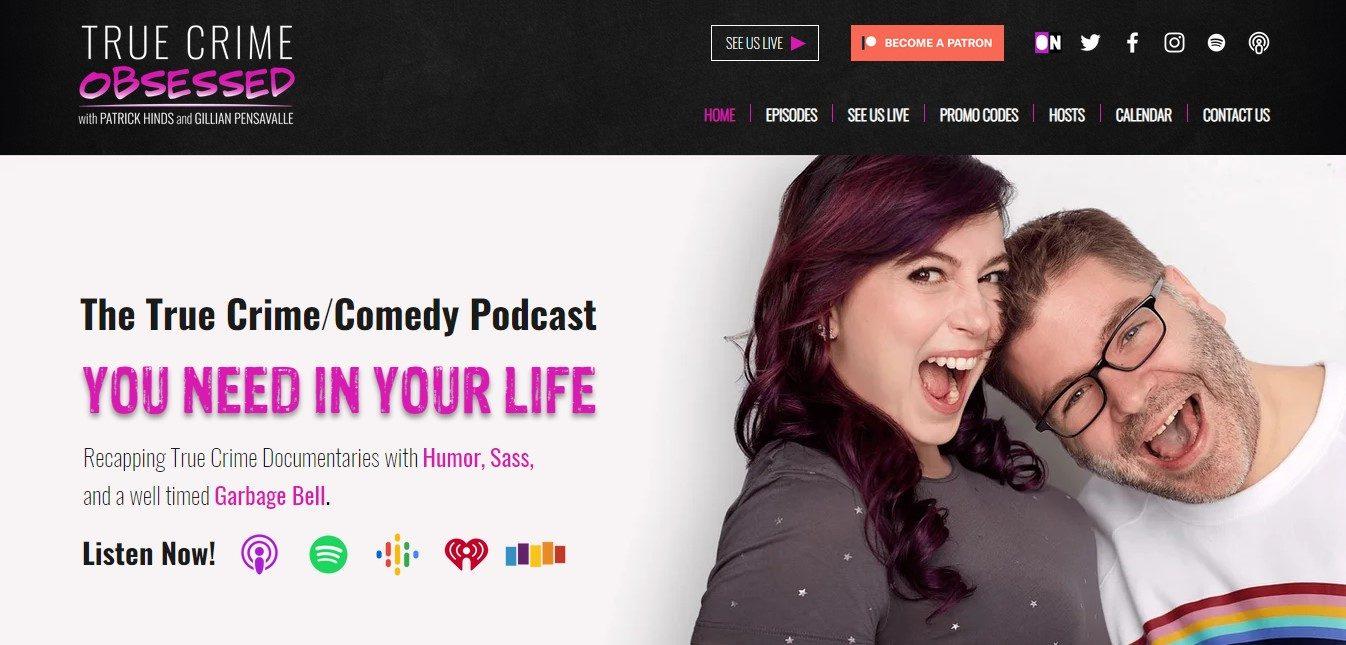 They are hosts of yet another well-known crime podcast called True Crime Obsessed. In our list of the top 10 richest podcasters, this podcast is last but not the least at all. They are one of the highest-paid podcasters, with a net worth of more than $1.8 million annually.
It is not easy to become successful in the field of crime podcasts as you need to use a unique style and create engaging stories, especially when there are numerous crime podcasts available. They create podcasts on the most disturbing and scary crime stories, yet they can generate humor in them.
For quite a few years, Patrick has been a podcaster, and you must have heard about his famous shows, like Theater People and Broadway Backstory. Gillian was the co-creator and lead of the famous comedy show, The Residuals. Together they make a great combination for creating podcasts.
They have more than 44,000 subscribers on Patreon, and this number is increasing every day as people love their style of narrating these stories.
Is Starting a Podcast Worth It?
Many people have this question in mind: Is starting a podcast worth it? Well, becoming successful takes time, irrespective of the business type. The same goes for podcasting as well. Initially, you might not get an overwhelming response. But if you keep the quality of your content unique, informative, and entertaining, you will be able to earn a good amount of money through it within no time.
It has been observed that within the last couple of years, there has been a huge growth in the podcasting industry. As per the recent data by Apple Worldwide Developers Conference, there were more than 55,000 active podcasts hosted and 18.5 M episodes released.
How Much Money Can You Make from Podcasting?
You now know the income of the richest podcasters in the world. So obviously, it will take time to reach there, but you can make decent money through it initially. Podcasters make good money from various other sources apart from just podcasting. The more subscribers or audience you have, the more money you can make as you get sponsorships, ads, etc. This also results in your podcast being termed as one of the biggest podcasts in the world, helping you make more money.
Also Read: 20 Best Ways to Invest $100 to Make $1000 a day
How Do Podcasters Make Money?
Well, you must think that other than launching premium episodes on Patreon, what are the other ways of making money? There are numerous ways you can include along with your podcasting to make money, such as:
Affiliate Marketing
Book sales
Sponsors and Advertising
Public Speaking
Online Courses
Physical Products
Services
Coaching & Consulting
Crowdfunding & Donations
Premium content
Events
With new podcasts being released every day, the list of top 10 richest podcasters will continue to change. If you also want to start your podcast, do not think too much and begin today, as it does not take a lot of money to access podcasts. In fact, there are numerous free podcasts available in the market which are also one of the biggest podcasts in the world. Initially, you can begin with the free ones and later upgrade to the premium version if you get a good response. Good Luck!