Sanjeev Kapoor has become a household name in the world of Indian cuisine. If you are a cooking enthusiast, you must have got creative in the kitchen and cooked along with him at least once. Through his entrepreneurial mindset and culinary expertise, he has built a strong financial standing. In this article, we will explore Sanjeev Kapoor net worth, his monthly income and valuable assets.
Sanjeev Kapoor Wiki
Sanjeev Kapoor, a prominent Indian celebrity chef and entrepreneur, is renowned for his culinary expertise and television presence. He boasts an impressive portfolio of being an author with over 150 best-selling cookbooks, a successful restaurateur, and a recipient of numerous prestigious culinary awards.
Birth Date and Age
10 April 1964; 59 years
Birthplace
Residence
Mumbai, Maharashtra
Education

St. Thomas School, Meerut
Kendriya Vidyalaya, Meerut Cantt
St. Mary's Academy, Saharanpur
Government School, Rajauri Garden, Delhi
Institute of Hotel Management Catering & Nutrition, Pusa, New Delhi

Debut Ventures

TV Show: Khana Khazana (1993)
Restaurant: Khazana, Dubai (1998)

Best Ventures

Restaurant: The Yellow Chilli
TV Show: Khana Khazana

Accolades

Mercury Gold Award (1993)
Best Executive Chef of India Award (1995)
ITA Award for Popular Chef and Entrepreneur (2015)
Padma Shri Award (2017)
Entry in Guinness Book of World Records (2017)
National Award for Best Chef of India (2018)
Sanjeev Kapoor Net Worth, Monthly Income, Assets
Sanjeev Kapoor's journey has left an indelible mark on the world of Indian cuisine. His story is one of passion, innovation, and relentless dedication to the culinary arts.
| | |
| --- | --- |
| Net Worth | $140 million |
| Monthly Income | Rs. 2.5 crores |
| Yearly Income | Rs. 25 crores |
| Wealth | Rs. 1165 crores |
| Properties Owned and their Valuation | Rs. 16.6 crores |
| Miscellaneous Assets and their Valuation | Rs. 1500+ crores |
Source: Sanjeev Kapoor Net Worth
Personal Life
Chef Sanjeev Kapoor was born on 10 April 1964 in Ambala, Haryana. His father, Surinder Kapoor, was employed at the State Bank of India, while his mother, Urmila Kapoor, was a homemaker. Sanjeev Kapoor has a brother named Rajeev Kapoor, who is a Chartered Accountant by profession, and a sister named Namrata Kapoor. Their family moved to various places like Meerut, Saharanpur, and Delhi due to his father's transfers. Sadly, on February 22, 2004, Sanjeev Kapoor's father passed away.
During his early years, Sanjeev studied at St. Thomas School in Meerut until the 5th grade. Later, he continued his education at Kendriya Vidyalaya, Punjab Regimental Centre in Meerut Cantt. He completed his eighth-grade year at St. Mary's Academy in Saharanpur, after which his father was transferred to Delhi. Sanjeev, being academically inclined, faced no challenges in securing admission to a good school in Delhi. He resided in Rajauri Garden and attended a Government School nearby.
His venture into the hospitality industry began in 1984 after successfully completing a Diploma in Hotel Management from the Institute of Hotel Management Catering & Nutrition, Pusa, New Delhi. Sanjeev Kapoor is happily married to Alyona Kapoor, who is actively involved in their joint business. The couple is blessed with two daughters named Kirti and Rachita.
Career
Sanjeev Kapoor, after completing his studies, began his culinary journey in esteemed five-star hotels across India. His career trajectory reached a pinnacle when he achieved the distinction of becoming the youngest Executive Chef at Centaur Hotel in 1992. This significant achievement marked the onset of his esteemed reputation as a highly regarded chef in India. Beyond his culinary success, Kapoor ventured into the creation of various food products, encompassing ready-to-eat meals, spices, and a range of kitchen equipment. Additionally, he is the proprietor of numerous restaurants and boasts an array of prestigious awards.
In 1993, Kapoor made a significant move by initiating and hosting his television show, Khana Khazana, which evolved into India's longest-running cooking program. This venture propelled him into the limelight, garnering millions of followers who eagerly watched his show every week, both within India and internationally. His cookbooks have also received notable acclaim; for instance, in 2011, his book titled How to Cook Indian was recognized as the Summer Cook Book of the Year by The New York Times.
Further establishing his influence, Kapoor founded the world's first 24X7 food and lifestyle channel, Food Food, in January 2011, in collaboration with Kartik Gaikwad and Mogae Consultants. He assumed a role as a judge in MasterChef India Seasons 3 and 4 in 2013 and 2015, sharing the panel with Vikas Khanna and Ranveer Brar. Kapoor's expertise extends to being a sought-after speaker at various global events, where he imparts his vast knowledge and experiences.
Kapoor is lauded for his significant contributions to Indian cuisine, credited with modernizing it by infusing regional and international elements into traditional dishes. His inventive culinary creations harmoniously blend traditional Indian flavors with contemporary cooking techniques. Beyond his culinary and entrepreneurial triumphs, Kapoor advocates strongly for healthy living, emphasizing vegetarianism and clean eating. His impact as a culinary maestro and entrepreneur solidifies him as an iconic figure within the Indian food industry.
Sanjeev Kapoor Net Worth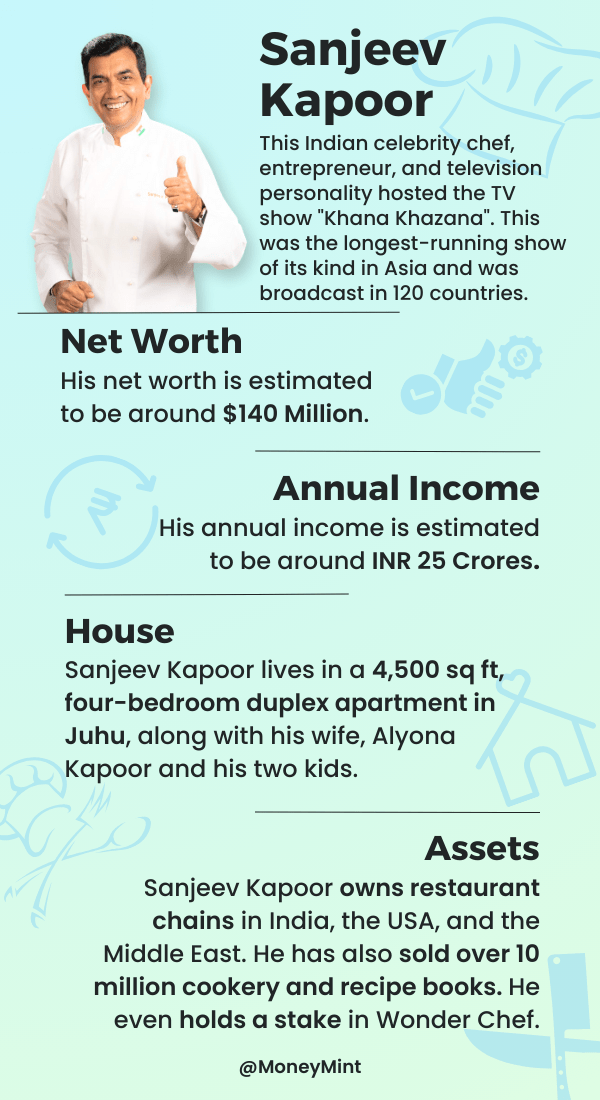 Sanjeev Kapoor boasts an estimated net worth of approximately $140 million, translating to a staggering Rs. 1165 crores. This wealth has been amassed through a diverse portfolio, including television shows, literary works, endorsements, and successful business ventures.
Sanjeev Kapoor Income and Salary
Sanjeev Kapoor has achieved remarkable success as one of India's most accomplished chefs. He reportedly earns a monthly income exceeding Rs. 2.5 crores. He has authored numerous cookbooks, headlined his own cooking shows, and successfully established multiple restaurants. With over 10 million copies of his cookery and recipe books sold, he has accumulated a revenue of approximately Rs. 80 crores.
Besides his culinary ventures, he also earns a significant income through brand endorsements and advertising campaigns for renowned brands, charging approximately Rs. 50 lakhs for each endorsement. His food channel rakes in an impressive annual revenue exceeding Rs. 50 crores. It's estimated that Sanjeev Kapoor salary surpasses Rs. 25 crores per annum.
Also Read: Ishan Kishan Net Worth – Annual Salary, House
House
In 2007, Sanjeev Kapoor, along with his family—comprising his mother, wife Alyona, and two teenage daughters—relocated to an opulent four-bedroom duplex apartment in Juhu, Mumbai, spanning an impressive 4,500 square feet. The lavish abode is valued at approximately $2 million, equivalent to Rs. 16.6 crores.
Sanjeev Kapoor Assets
Sanjeev Kapoor boasts ownership of an array of luxurious automobiles, including a Mercedes Benz S Class valued at Rs. 1.80 crores, a BMW worth Rs. 2.60 crores, and a Porsche Cayenne priced at Rs. 1.93 crores. Additionally, he cherishes a selection of classic cars in his impressive collection.
Kapoor is a major stakeholder in Wonderchef, an appliance brand raking in an annual revenue of around Rs. 700 crores. Additionally, he is the proprietor of restaurant chains not only in India but also in the USA and the Middle East. These include esteemed establishments such as Signature by Sanjeev Kapoor, Khazana, Hong Kong, The Yellow Chilli, and Sura Vie. The collective revenue generated by these restaurants exceeds Rs. 200 crores, with an impressive valuation of Rs. 750 crores.
Achievements
Sanjeev Kapoor exudes an immense passion for his craft and boasts a collection of numerous awards throughout his illustrious career. In 2017, he was honored with the prestigious Padma Shri Award by the Government of India. Recognizing his fame and significant contributions to Indian cuisine, he was bestowed with the National Award for Best Chef of India in 2008. Additionally, in 2015, he was honored with the ITA Award for Popular Chef and Entrepreneur for his work. Kapoor serves on the committee of the Ministry of Tourism.
The cooking show Khana Khazana, hosted by Sanjeev Kapoor, consistently clinches the title of the Best Cookery Show at the Indian Television Academy (ITA) and Indian Telly Awards. Furthermore, he ranked 73rd and 34th on Forbes' list of the top 100 Indian celebrities in 2016 and 2017 respectively. Notably, he has prepared meals for esteemed dignitaries, including the Honorable Prime Minister Shri Narendra Modi.
Sanjeev Kapoor has also been awarded the prestigious Best Executive Chef of India Award by Food Service India (1995), as well as the esteemed Mercury Gold Award in Geneva, Switzerland by the Indian Federation of Culinary Associations (1993). Notably, he holds a significant role as a key member of the International Culinary Panel of Singapore Airlines. Sanjeev Kapoor, with the assistance of over 50 volunteers, cooked an astonishing 918 kilograms of Khichdi, securing a coveted spot in the Guinness Book of World Records at the World Food India fair.
Philanthropy
Sanjeev Kapoor, in addition to being a renowned chef, is deeply engaged in philanthropic endeavors, particularly aiming to enhance the wellbeing of underprivileged children. His dedication goes beyond the culinary domain, as he strives to make a meaningful difference in society.
Sanjeev Kapoor has built a huge culinary empire through his skills and hard work over decades. His financial success is a testament to his influence in the food industry.
Source: Sanjeev Kapoor Assets