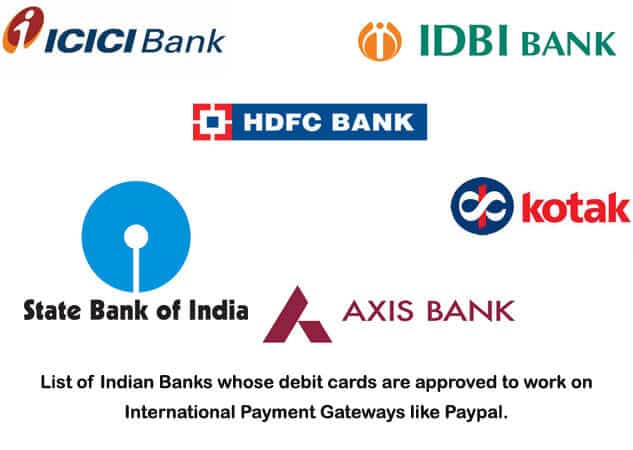 All freelancers who work online in India for foreign clients and companies need to receive payments for the work they complete. PayPal is an international service available in more than 200 countries that helps you receive money online and transfers it to your bank account.
Many analysts have speculated about how many PayPal users are there in India. Globally it had 180 million active users at the start of 2016, out of which Indian users accounted for less than 5%. So the best estimate would be that there are less than 10 million active Indian users.
If you are looking for a review of PayPal or online payment gateway alternatives then check out these articles :
Get Instant Cash Loan Online
In 2016, PayPal tied up with HDFC Bank and ICICI Bank to ensure that their customers can easily sign up without any problems. Last year in May 2015, State Bank of India too announced that it had entered into an exclusive partnership with PayPal to make it easy for SBI Debit cardholders to verify and create an account. They had even created a joint committee to implement steps to make it easy for SBI's client to transact on PayPal but there have been no public announcements after that meeting.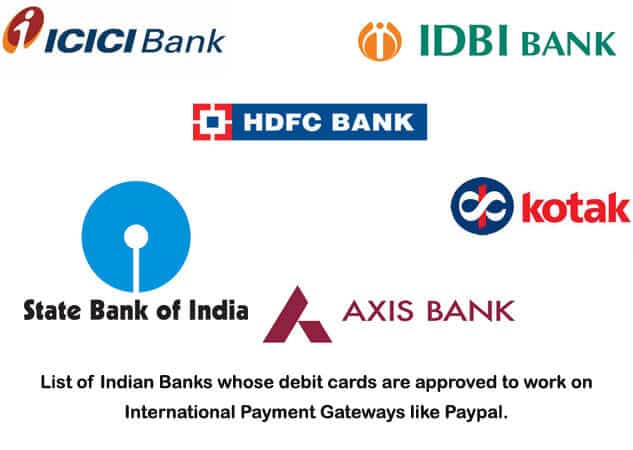 Open Paypal Account With Debit Card in India
PayPal only supports bank debit cards issued by Visa, MasterCard, Discover, and American Express. Maestro Debit cards are not accepted by PayPal in India. Some of the major banks whose cards are accepted are given below:
ICICI Bank
HDFC Bank
Axis Bank
IDBI Bank
Kotak Bank
Indian Bank
State Bank of India (SBI)
The debit cards issued by Punjab National Bank, Karur Vysya Bank, State Bank of Hyderabad, State Bank of Travancore and State Bank of Mysore will not work because they are by default disabled for international payments.
Adding SBI Debit Cards to PayPal Accounts
To prevent fraud and misuse, most domestic SBI debit cards are disabled from international payments. Before adding your debit card inquire with your bank branch to find out if your card is enabled for international payments. You might need to place a written request with your bank to allow you to use it with PayPal. If you have an International SBI Debit card then it might work without the need for approval.
The easiest way to resolve this issue is to open a bank account with private banks like ICICI and HDFC Bank who provide better customer service and care about your needs.
Follow the Steps Outlined Below To Open Your PayPal Account
1. Visit the PayPal India Signup Homepage at https://www.PayPal.com/in/home
2. Towards the Upper Right Corner you will find the Sign Up Button. Click on it.
3. You will then be taken to the screen below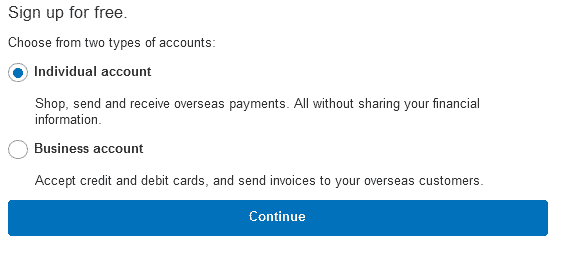 Choose a Business Account only if you are registering it as a proprietorship. Business accounts have higher transaction limits and are useful for Small and Medium Enterprises (SME's) looking to receive payments from International clients. Most users opt for an individual account, you can upgrade to a Business account only if you are a sole trader.
The next screen will ask you for your email id and password for your account. Fill these in and click continue. The screen that comes next asks for more detailed personal information such as full name, address, and mobile number. Once this is completed you can click on the Agree and Create Account Button.
Complete this if you have your debit or credit card with you. Verified PayPal accounts have higher limits on receiving and sending money. To make purchases online, you will need to add a debit or credit card to your account.
4 Steps to be completed to receive payments online into your PayPal Account
Provide PAN Details – The PAN information furnished is checked with government records to ensure they are accurate. So do not furnish fake PAN information as your account will then be suspended. You cannot open a PayPal account without a Pan Card or Debit Card.
Confirm Your Email Id – This is one of the easiest steps involved, go to the inbox of the email id you provided and open the PayPal email. Click on the verify account link.
Add Bank Account – By adding a bank account to your PayPal account, you can start receiving funds from abroad.
Purpose Code – The purpose code is used to determine the nature of business for which you are receiving payments into your account. All you need to do is select the option that best fits your profile from the drop-down menu.
Limitations of a PayPal Digital Wallet
Your account has 2 main limitations.
You cannot use the money received into your account to make online purchases. The payment received has to be first credited into your bank account and only then can be used to make purchases through your debit card. Before 2010, this restriction did not apply for Indian users.
You cannot make payments to other Indian PayPal Account holders because of RBI restrictions. That is why PayPal is focused on International cross border remittances.
Account Opening Charges
It is free to open a new account. When you make a purchase there is a small conversion fee for foreign currency transactions. There is no monthly or annual renewal fee for PayPal accounts. PayPal charges a flat fee of 4.4% of the total sale price + US$ 0.30 on all transactions. If you receive US$ 100 into your account then you will be charged $ 4.4 + $ 0.3 = $ 4.7. The amount that will be transferred to your bank account is $ 95.7.
Since the dollar needs to be converted to rupees before being credited into your account, there will be an additional fee that varies depending on foreign exchange market conditions. Thus you can say that you will lose roughly 4 – 4.5 % of the sale amount as fees. This is quite high but most other payment gateways also deduct around the same amount. From April 2016, Small merchants and freelancers are eligible to receive a 1% rebate on currency conversion charges.
What is the PayPal purpose code?
For regulatory requirements, all PayPal users living in India need to specify a purpose code that is issued by the Reserve Bank of India to all exporters and importers. The different purpose codes come under the following categories: Journalism, IT, Licensing of Creative Works, Travel, Exports, and Other Services. You will need to select the option for which you intend to use your account from the drop-down menu on the website.
Minimum Withdrawal and Payment Limits for Indian Users
All withdrawals to your Indian bank account are free and there is no limit on withdrawal You can withdraw the entire amount that you receive into your account. However, there is a return fee of Rs 250 charged if your bank account information provided is not correct and the amount is sent back to PayPal by an Indian bank.
There is a limit of US$ 10,000 per transaction for receiving payments for Indian Account holders. This limit is not valid for International users, so if you want an account with no limits you can request your relatives living abroad to open an account on your behalf.
PayPal as a Payment Gateway
Because of all these limitations caused by RBI guidelines most startups and E-commerce websites in India are yet to start accepting PayPal. In the last one year, PayPal has tied up with Shopmatic and OYO rooms to expand its services in India. It is yet to gain traction as a payment option as most Indians nowadays use PayTM or Instamojo to send and receive money online.
Toll-Free Customer Care Number
If you are a PayPal customer, then you can contact them directly at 1-800-212-3852 from 9:00 am to 9:00 pm to resolve any issues affecting your account. Do let us know in the comments if we missed out on any information required by you.