Yo Yo Honey Singh, a renowned figure in the world of Indian rap music, has achieved popularity and fame over the years. His career has been marked by numerous hit songs and collaborations that have made a substantial impact on his financial standing. In this article, we will discuss Honey Singh net worth, his annual income and the house he owns.
Honey Singh Wiki
Yo Yo Honey Singh, a versatile artist in the Punjabi and Hindi music scene, is recognized as a Punjabi singer, rapper, actor, and music composer. He commenced his career as a session and recording artist and swiftly evolved into a notable music producer specializing in bhangra and hip hop. Renowned for fusing pop melodies with hip hop beats, Yo Yo Honey Singh stands as a pioneering force in the Indian rap music landscape.
Birth Date and Age
March 15, 1983; 40 years
Birthplace
Hoshiarpur, Punjab
Residence
Delhi, India
Education

Guru Nanak Public School, Delhi
School of Trinity, London

Debut

Begani Nazar, 2006 (as an independent singer)
Punjaban, 2010 (as a music composer in a Punjabi film)
Shakal Pe Mat Ja, 2011 (as a music composer in a Bollywood film)
Mirza – The Untold Story, 2012 (as an actor)

Most Popular Song
Dheere Dheere (2015)
Accolades

PTC Punjabi Film Award, Best Music Director, Mirza – The Untold Story (2012)
Most Entertaining Singer (Male), BIG Star Entertainment Awards, Lungi Dance (2013)
Listener's Choice Album of the Year, Mirchi Music Awards, Sonu Ke Titu Ki Sweety (2018)
Honey Singh Net Worth, Annual Income, House
Honey Singh has left an indelible mark with his unique contributions. His journey through the world of music has been a fascinating blend of talent, innovation, and controversy. Known for his chart-topping hits and distinctive style, he has captivated audiences worldwide. In this biography, we will explore the life and career of this enigmatic artist.
| | |
| --- | --- |
| Net Worth | $25 million |
| Monthly Income | Rs. 1 crore |
| Yearly Income | Rs. 12 crores |
| Wealth | Rs. 205 crores |
| Properties Owned and their Valuation | Rs. 22+ crores |
| Miscellaneous Assets and their Valuation | Rs. 20.82 crores |
Source: Honey Singh Net Worth
Personal Life
Honey Singh, born Hirdesh Singh on March 15, 1983, in Hoshiarpur, Punjab, India, was brought up in a middle-class Punjabi family. His parents, Sardaar Sarabjit Singh and Bhupinder Kaur, along with his sister Sneha Singh, provided the familial backdrop for his upbringing. Driven by an early passion for singing, Honey Singh was determined to make a mark in the music world.
Having completed his high school education at Guru Nanak Public School in Pitampura, Northwest Delhi, India, Honey later set his sights on London, where he pursued a degree in music at the School of Trinity. This phase of his life, marked by formal education and exposure to a variety of musical influences, significantly shaped his trajectory toward a successful career in the music industry.
In a discreet ceremony on January 23, 2011, Honey Singh tied the knot with his childhood sweetheart, Shalini Talwar. He publicly introduced his wife for the first time on the Indian television show India's Raw Star.
Career
The artist, who expresses his musical talents predominantly through Hindi and his native Punjabi, as opposed to English, embarked on his musical journey as an independent singer and composer, producing numerous solo tracks. His inaugural composition, Begani Nazar in 2006, was sung by fellow Punjabi rapper Badshah. In the same year, he reimagined the hit Chamak Challo, also lending his own vocals alongside J-Star.
Honey Singh's foray into the film industry began in 2010 with the Punjabi movie Punjaban, where he took on the role of music director. The following year saw him composing music for his maiden Hindi film, Shakal Pe Mat Ja, as well as the Punjabi film Jihne Mera Dil Luteya. In 2012, he co-directed the music for Mirza – The Untold Story alongside Jatinder Singh Shah, marking his acting debut in the same film. Subsequently, he contributed his vocal talents to hit songs like Main Sharabi in the blockbuster movie Cocktail, Rani Tu Mein Raja in Son of Sardaar, Lonely Lonely in Khiladi 786, and Kikli Kalerdi in Luv Shuv Tey Chicken Khurana.
The year 2013 witnessed Honey Singh's monumental success with the chart-topping Lungi Dance from the movie Chennai Express, starring Shah Rukh Khan and Deepika Padukone. Another hit from that year was Party on My Mind from Race 2. The following year, he assumed the role of one of the music composers for Yaariyan and contributed his vocals to two songs in the film. His other superhits included Chaar Botal Vodka, Aata Majhi Satakli in Singham Returns, Birthday Bash in Dilliwali Zaalim Girlfriend, and Aankhon Aankhon in Bhaag Johnny.
In 2013, Honey Singh ventured into his first significant acting role in the Punjabi comedy film Tu Mera 22 Main Tera 22. His Bollywood acting debut occurred in 2014 with the musical-thriller film The Xpose. Notably, his 2016 release included Vinnil Markan's Punjabi film Zorawar, considered one of the most expensive Punjabi films ever produced.
Subsequently, Honey Singh continued to churn out numerous hit songs and albums, including Desi Kalakaar (2014), Lak 28 Kudi Da (2011), Brown Rang (2011), High Heels (2012), Break Up Party (2012), This Party Gettin' Hot (2012), Blue Eyes (2013), Dheere Dheere (2015), Urvashi (2016), Makhna (2016), and most recently, Gur Nalo Ishq Mitha (2019).
Honey Singh Net Worth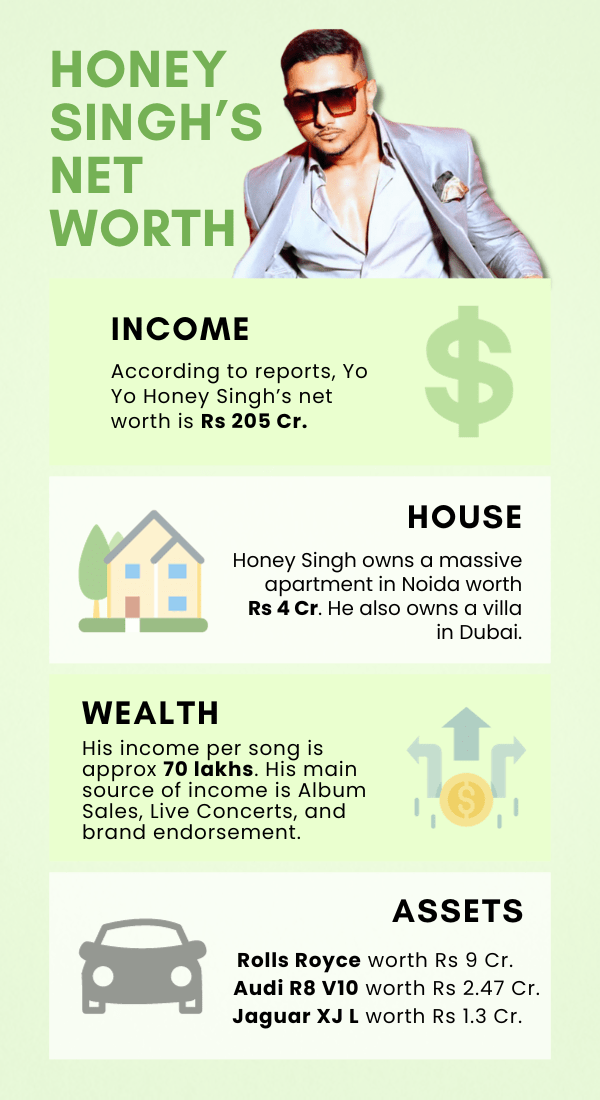 Honey Singh, a prominent figure in the Bollywood music scene, possesses a net worth of $25 million, translating to approximately Rs. 205 crores. Renowned for his prowess in the rap genre, he stands as one of the most financially reliable artists within the Bollywood industry. It's noteworthy that Honey Singh net worth is a result of not only his singing career but also lucrative brand endorsement deals.
Honey Singh Income and Salary
Honey Singh, a prominent Indian musician, commands a monthly salary of approximately Rs. 1 crore. The major chunk of his earnings comes from his music compositions and extensive brand endorsements. For each song featured in movies, he charges a substantial fee, often exceeding Rs. 70 lakhs. Additionally, his appearances in live concerts or shows fetch him a fee ranging from Rs. 15 to 20 lakhs.
In addition to his successful music career, Honey Singh serves as the brand ambassador for various renowned brands, including American Swan. His endorsement value per brand surpasses one crore rupees. In total, Honey Singh salary is estimated at Rs. 12 crores per annum.
Honey Singh House
Honey Singh possesses two opulent residences in Mumbai and a prestigious property in Gurgaon, known for its affluence in the Delhi-NCR region. He currently resides with his family in this house, which is valued at over Rs. 15 crores.
Having roots in Punjab, Honey Singh's parental abode is expansive, earning him recognition as a respected Jatt of Punjab. The present valuation of this home stands at approximately Rs. 3 crores. Additionally, he owns another property in Noida, valued at Rs. 4 crores. He also owns a villa in Dubai.
Assets
Honey Singh boasts an impressive car collection, featuring notable vehicles like:
Nissan GT-R valued at Rs. 2.4 crores,
Rolls Royce Ghost priced at Rs. 9 crores,
Mercedes S-Class with an estimated worth of Rs. 1.9 crores,
Range Rover Evoque valued at Rs. 64 lakhs,
Audi R8, a high-end car costing around Rs. 2.47 crores,
Audi Q7 priced at Rs. 69 lakhs,
Audi A6 with a value of Rs. 57 lakhs,
Jaguar XJ, a luxury car with an estimated value of Rs. 1.3 crores,
BMW 5-Series valued at Rs. 55 lakhs.
Honey Singh possesses an impressive collection of watches valued at Rs. 1.7 crores. Among his cherished timepieces is a Patek Philippe worth Rs. 90 lakhs, which stands out as one of his favorites.
Achievements
Honey Singh, a prominent figure in the music industry, has garnered well-deserved recognition for his remarkable contributions. Notable awards and nominations in his name include:
In 2012, he secured the PTC Punjabi Film Award for Best Music Director for the movie Mirza – The Untold Story.
The year 2013 saw him as the co-winner of the Most Entertaining Singer (Male) at the BIG Star Entertainment Awards, honored for the track Lungi Dance.
In 2014, Singh was acclaimed with the International Icon Male award at the Zee Cine Awards.
His excellence was further acknowledged in 2018 when he won the Listener's Choice Album of the Year at the Mirchi Music Awards for Sonu Ke Titu Ki Sweety.
Controversies
Honey Singh has found himself embroiled in various controversies:
Following the horrific 2012 Delhi gang rape case, Singh faced backlash due to the explicit and violent themes concerning women and rape portrayed in some of his song lyrics. This sparked public outrage, resulting in a formal complaint being filed against the rapper, citing offensive lyrics.
Furthermore, Singh's song Party All Night featured in Akshay Kumar's movie Boss became the epicenter of a different controversy. Producers of the film were compelled to submit a plea in the Delhi High Court, asserting that they had 'muted' an alleged vulgar word in Honey Singh's song. However, it was later revealed that the Censor Board had misunderstood or misheard the word, falsely categorizing it as obscene when it was not.
Philanthropy
Despite his substantial wealth, Honey Singh is not averse to his civic responsibilities; in fact, he ranks among the highest taxpayers in the country. Beyond his financial contributions, he actively supports the NGO Dream for You, which is dedicated to women's safety. Additionally, he generously performs in live concert shows for charitable causes.
Also Read: Raghav Juyal Net Worth – Annual Income, House
Honey Singh has earned significant wealth through his successful music career. His financial achievements are a testament to his lasting influence on the entertainment industry.
Source: Honey Singh House and Assets