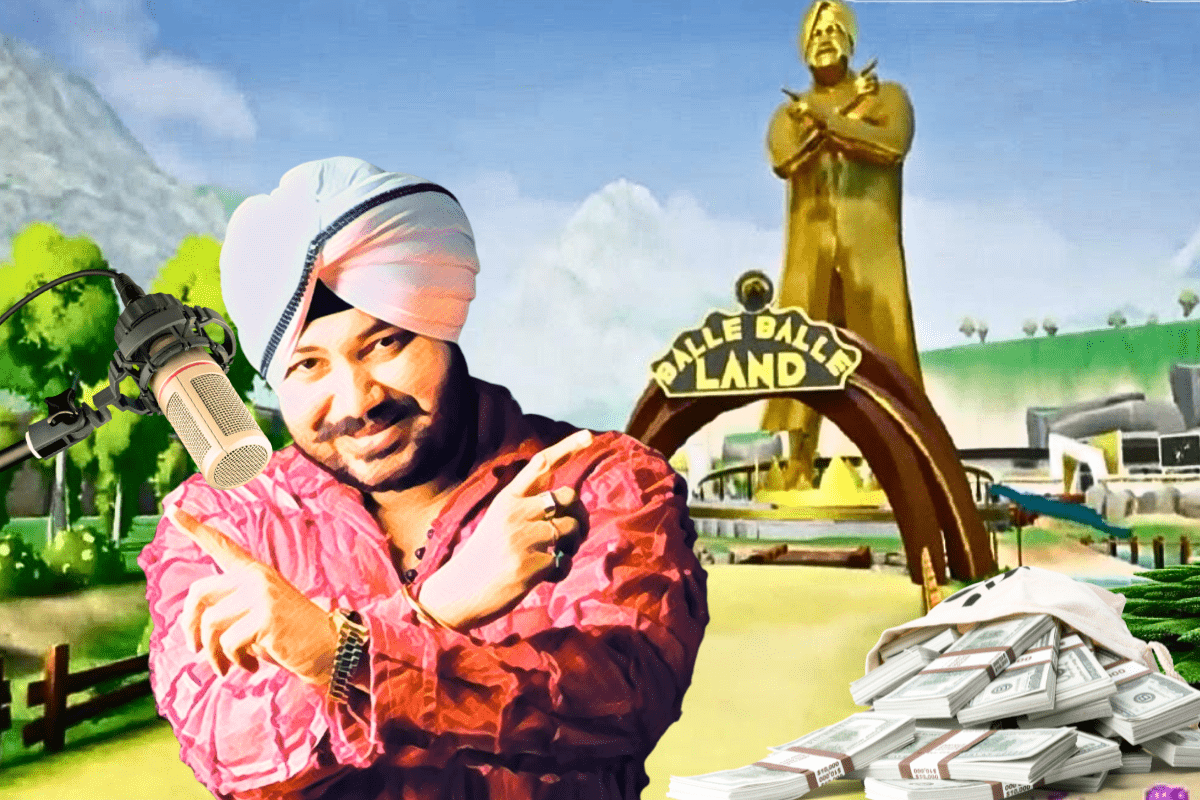 You must have vibed to the tunes of the famous Bhangra song Tunak Tunak Tun by Daler Mehndi at least once in your lifetime. He is a renowned name in the world of Indian music who has popularized Hindi and Punjabi pop music with his unique style. Due to his immense popularity and influence, people often wonder about his financial accomplishments. In this article, we will look at Daler Mehndi net worth, his monthly income and the property he has recently purchased.
Daler Mehndi Wiki
Daler Singh, widely recognized as Daler Mehndi, is a prominent figure in the Indian music scene, acclaimed for his roles as a singer, songwriter, author, and record producer. His contributions have played a pivotal role in spreading the popularity of bhangra music on a global scale. His trademark features include his electrifying dance tracks, distinctive vocal style, iconic turban, and his fondness for long, flowing robes.
Birth Date and Age
August 18, 1967; 56 years
Birthplace
Patna, Bihar
Residence
New Delhi, Gurgaon
Debut
Bolo Ta Ra Ra (1995)
Most Popular Songs

Bolo Ta Ra Ra
Dardi Rab Rab
Balle Balle
Tunak Tunak Tun

Accolades

Winner of Voice of Asia International Ethnic and Pop Music Contest (1994)
Best Indian Male Pop Artist, Channel V (1995)
Best Music Director, Filmfare Awards (1999)
Bharat Sewa Ratna Award (2016)
Daler Mehndi Net Worth, M

onthly

Income, Property
Daler Mehndi is a name that resonates with music enthusiasts around the world. His journey through the realm of music has been nothing short of extraordinary. His impact on the music industry is undeniable, and his story is one that continues to inspire and entertain millions.
| | |
| --- | --- |
| Net Worth | $15 million |
| Monthly Income | Rs. 40 lakhs |
| Yearly Income | Rs. 15 crores |
| Wealth | Rs. 124 crores |
| Miscellaneous Assets and their Valuation | Rs. 9.36 crores |
Source: Daler Mehndi Net Worth
Daler Mehndi's Personal Life
Daler Mehndi, whose birthdate is August 18, 1967, hails from Patna, Bihar, India. His father, the late Ajmer Singh Chandan, was a talented musician and a farmer, while his mother, Balbir Kaur, excelled as a state-level boxer. Daler has five brothers, among whom three are noteworthy figures in the music industry: singers Harjeet Mehndi, Mika Singh and music director Samsher Mehndi.
Daler began his musical journey at the tender age of six, guided by his parents who instilled in him the intricacies of ragas and Shabads from the Guru Granth Sahib. At the age of fourteen, he dedicated three years to honing his vocal skills and mastering musical instruments like the tabla, dholak/dhool, harmonium, and tanpura under the tutelage of the late Ustad Raahat Ali Khan Saheb from Gorakhpur. Following this training, Daler ventured to San Francisco, United States, where he briefly worked as a cab driver. In 1991, he returned to India and founded his own band. Initially, he showcased his talent by singing ghazals inspired by the works of poets like Qateel Shifai and Firaq Gorakhpuri.
Daler Mehndi was initially married to Amarjeet Mehndi and is currently wed to Taranpreet Kaur. The couple is blessed with four children: Gurdeep Mehndi, Ajit Kaur Mehndi, Prabhjot Kaur Mehndi, and Rabaab Kaur Mehndi. Notably, his daughter Ajit Kaur Mehndi is married to Navraj Hans, the son of renowned Punjabi singer Hans Raj Hans. Gurdeep Mehndi tied the knot with NRI model Jessica Singh in 2016.
Daler Mehndi's birth name is Daler Singh, given to him by his parents, who drew inspiration from a movie featuring a dacoit named Daku Daler Singh. The surname Mehndi is a tribute to the acclaimed singer Pervez Mehndi, as Daler was an ardent admirer of his work and often covered his songs. It was his brother who decided to christen him Daler Mehndi.
His Career
Daler Mehndi signed a three-album contract with Magnasound Records, spanning three years. His debut album, Bolo Ta Ra Ra, was a massive hit in 1995, selling over 20 million copies and catapulting him into pop stardom. Following this success, he released his second album, Dardi Rab Rab, a year later, which even surpassed the sales of his debut. In 1997, he dropped his third album, Balle Balle, which, like its predecessors, achieved multi-platinum status. That same year, Mehndi ventured into Bollywood, creating and performing the popular track Na Na Na Re for the film Mrityudata, where he shared the screen with the legendary Amitabh Bachchan. The film's soundtrack album sold 1.5 million units in India.
In 1998, he released Tunak Tunak Tun, along with a music video that broke records with a budget of Rs. 25 million, equivalent to Rs. 113 million ($1.08 million) when adjusted for inflation. The song and video not only became a sensation in India but also propelled Mehndi to international stardom. In the same year, Coca Cola signed him for product endorsements, and he performed in 30 concerts across India. In 2000, Mehndi introduced his album Ek Dana in collaboration with TIPS Music, featuring a diverse mix of genres, including folk, rock, and pop. Some of the standout tracks from the album include Sajan Mere Satrangiya and Kala Kauwa Kaat Khayega.
In 2003, Daler Mehndi ventured into playback singing for films, starting with the song Ru-Ba-Ru in the movie Maqbool. He went on to lend his distinctive voice to several other popular songs, including Nach Le, Rang De Basanti, Aasma Ko Chukar, Bhootni Ke, Karle Baby Dance Wance, Aila Re Aila, Zor Ka Jhatka, Lena Dena, Vande Mataram, Dangal, Jagga Jiteya, and Garda. In 2014, he composed and recorded his rendition of the 'Hanuman Chalisa' overnight in his Delhi studio, releasing it on Navratri. He also unveiled Aaja Mere Twitter Te in September 2014, urging users to visit his Twitter account and Facebook page.
Mehndi's musical journey has taken him around the world, performing at various concerts and events, such as the YouFest festival in Spain, the closing bell ceremony at the NASDAQ Stock Exchange in New York, the National Indian American Public Policy Institute Azadi Diwas (NIAPPI) celebrations, a concert organized by the Indian Cultural Society (ICS), and even participating in the world's largest Prabhat Pheri in Ulhas Nagar.
Daler Mehndi Net Worth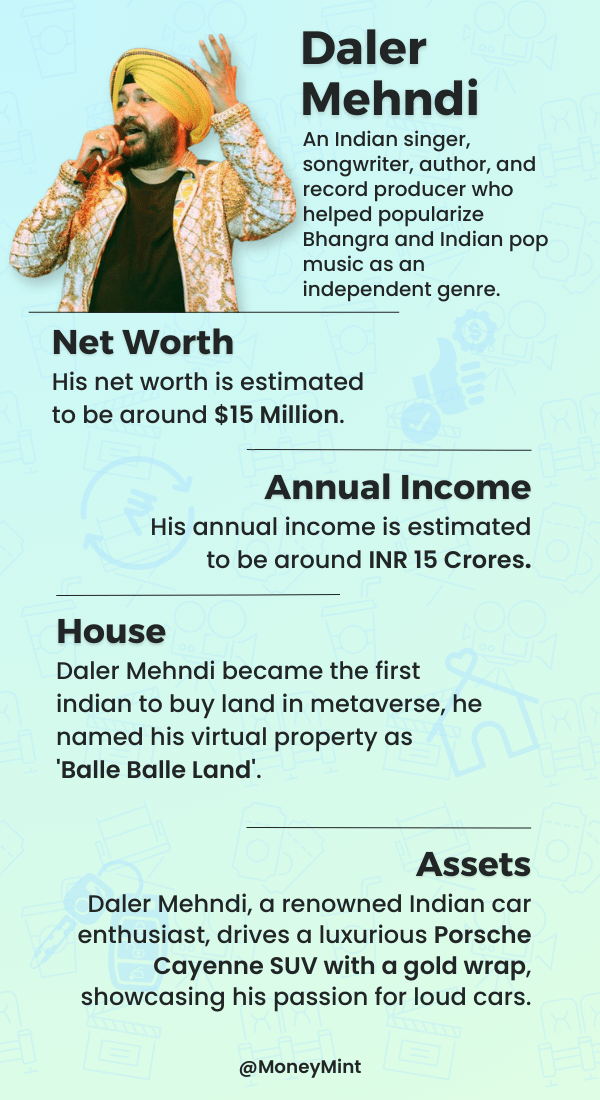 Daler Mehndi net worth stands at an impressive $15 million, equivalent to a substantial Rs. 124 crores. Notably, his wealth has seen a noteworthy 25% increase in recent years.
Daler Mehndi Income and Salary
Daler Mehndi salary amounts to Rs. 40 lakhs per month, while he rakes in an annual salary of Rs. 15 crores. His primary source of income is derived from his singing career, encompassing live performances, album sales, concerts, and contributing songs to movies. His income per song stands at Rs. 6 lakhs. Additionally, he actively engages with his audience on social media, where his distinctive singing style and unique fashion choices have earned him high praise from his followers. With a substantial Instagram following of around 4.9 million, he ranks among India's top celebrities.
Also Read: Jass Manak Net Worth – Annual Income, Assets
Daler Mehndi Property
Daler Mehndi possesses a splendid farmhouse that stands on approximately 1.5 acres of land, near the picturesque Damdama Lake in Sohna, within the Gurgaon district of Haryana. He recently made a digital investment in the Indian Metaverse platform PartyNite by acquiring a virtual property, which he fondly named Balle Balle Land.
Daler Mehndi Car Collection
Daler Mehndi cruises around in a stunning gold-wrapped Porsche Cayenne SUV, a luxury vehicle that costs a whopping Rs. 1.93 crores. It's worth mentioning that this vehicle is India's very first gold SUV. His impressive car collection doesn't stop there; it also includes:
BMW 5 Series valued at Rs. 68.90 lakhs,
Mercedes Benz S Class worth Rs. 2.17 crores,
Range Rover Vogue, which comes with a price tag of Rs. 4.17 crores.
Daler Mehndi's passion for wheels extends beyond cars; he's also an avid motorcycle enthusiast. Among his prized possessions is a Harley Davidson motorcycle, which comes at a cost of Rs. 40.49 lakhs. In the year 2000, Daler Mehndi established his very first record label, which he named DRecords.
Daler Mehndi's Achievements
Daler Mehndi has received numerous accolades throughout his career, showcasing his exceptional talent:
His exceptional talent was recognized on the international stage in 1994 when he won the Voice of Asia International Ethnic and Pop Music Contest.
In 1995, he was honored with the Channel V's Best Indian Male Pop Artist Award for his song Bolo Ta Ra Ra.
The following year, in 1996, he clinched the Channel V Best Indian Male Artist Award for his hit Dardi Rab Rab.
Daler Mehndi's contribution to the music industry was further acknowledged when he received the Best Indian Pop Album award at the 1998 Screen Awards for his iconic track Tunak Tunak Tun.
His versatile skills were acknowledged with two Filmfare Awards, one for Best Male Playback Singer in 1998 and another for Best Music Director in 1999.
In 2016, he was presented with the Bharat Sewa Ratna Award, a testament to his outstanding contributions.
Daler Mehndi's exceptional contribution to playback singing and Punjabi music earned him an exclusive honor from the World Book of Records, London, in 2018.
More recently, in 2020, he was recognized with the Punjabi Music Best Music Video of a Religious Song (Non-Traditional) Award, underlining his continued influence in the music world.
Daler Mehndi is renowned for pioneering the unique music genre known as Rabbabi, which blends elements of Thumri, Sufi, and rock music. He has also invented the innovative Swar Mandir instrument, a fusion of inspiration from the Rabab, Swarmandal, and Tanpura.
Philanthropy by Him
Daler Mehndi has played a significant role in promoting environmental conservation in Delhi through his initiative, the Daler Mehndi Green Drive. He has shown his commitment by generously contributing Rs. 85 million to support this noble cause. Additionally, he has made substantial donations of Rs. 12 million to Carlyle charities and has actively participated in humanitarian efforts, such as building 16 houses in Gujarat for earthquake survivors.
Mehndi's altruism extends beyond borders, as he organized a concert series in Pakistan to raise essential funds for victims of the devastating earthquake. He has also been instrumental in aiding the rehabilitation of those affected by the Orissa cyclone and supporting street children in Kenya.
With such a huge list of achievements to his name, Daler Mehndi has secured his place as a prominent figure in the world of music. He has made a tremendous impact on Indian songs, and his net worth is a reflection of his success.
Source: Balle Balle Land of Daler Mehndi