NGO may be defined as an association having a definite cultural, educational, religious, or social program registered with the Central Government. The full form of NGO is Non-Governmental Organization, NGO's are also referred to as Non-Profit Organisations (NPO's) sometimes.
WHAT IS AN NGO IN INDIA?
NGO's are nor "owned" by anyone and cannot distribute profits through the form of dividends as such. Whatever profits they may earn from economic activities are reinvested or spent on appropriate non-profit activities.
The typical sources of revenue for non-governmental organizations are donations, funding grants from unilateral and multi-lateral agencies, membership fees, miscellaneous sources and interest and dividends on investments.
Given below are some NGO's which are doing exemplary work around the world: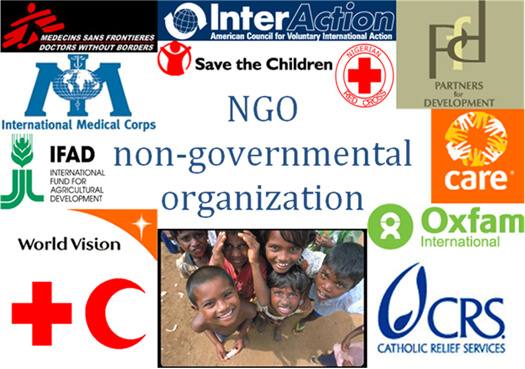 THE FOLLOWING FORMS OF ASSOCIATIONS MAY ACT AS NGO :
a. A trust of two or more persons as Trustees therein. The Trust may be registered under the Indian Trusts Act, 1982.
b. A company registered u/s . 25 of Companies Act, 1956. Usually, clubs, associations of professionals get registered under this provision of the Companies Act, 1956.
c. A society of persons registered under the provisions of the Societies Registration Act, 1860 with the Registrar of the Societies, with aims and objects and a structure as laid down in the said Act.
d. A statutory body consisting of membership of persons constituted by or under a stature, having a structure as laid down in the statute by which it is constituted.
e. A charitable trust constituted under the Charitable Endowments Act, 1920.
f.  Any other organization is akin to society.
Thus an NGO in India can either be registered as a trust, society, or as a company under sec 25.