Zerodha Review: A discount stock broker, offering low rates on the intraday trading and zero brokerage on the equity deliveries.
Zerodha Demat account provides services at very low rates, which include equity investing, mutual fund investing, and so on. Incorporated in 2010 and operated by SEBI, Zerodha is India's first broker by growth and volume.
Customer's pay brokerage while buying or selling stocks through Zerodha. It is the first broker to offer direct mutual fund investing, and charge no fee for investing in it and on top provides an additional saving over 2% yearly to the investors. By offering these free services, it sure does attract a large number of traders and investors automatically. Initially, the major challenge this company has faced was the credibility owing to its very low charges.
Here we can see how it offers 0% brokerage on the delivery of stocks and ₹20/trade.
Zerodha Review 2022: How Good is Zerodha?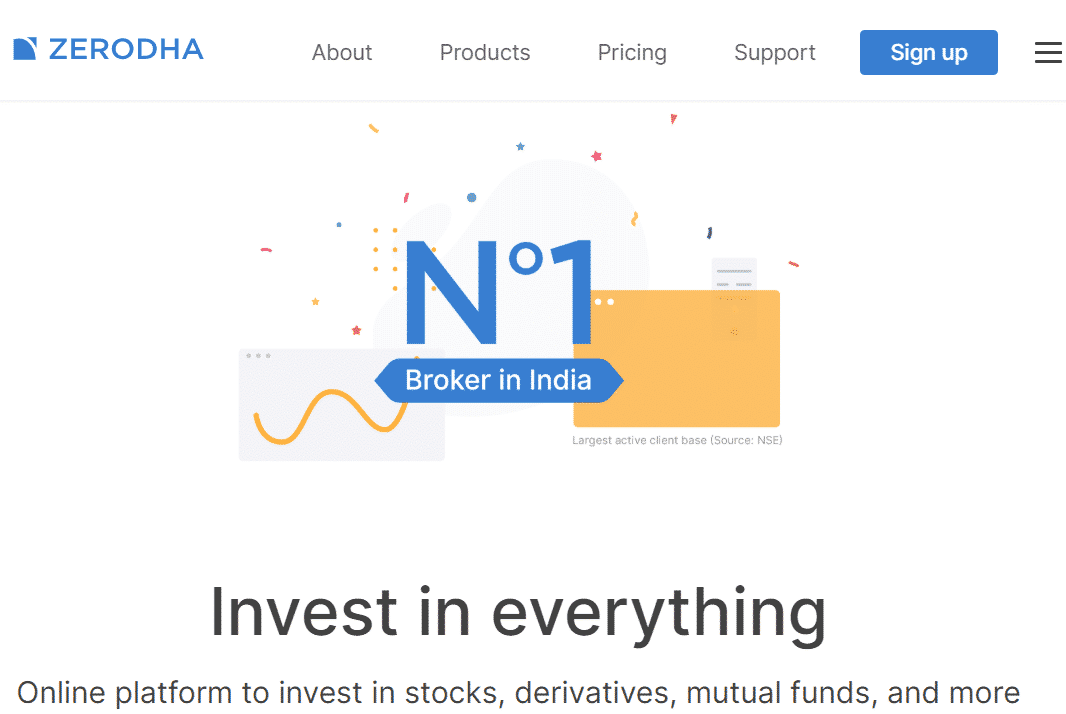 Zerodha Account opening charges
Trading account charges: ₹300
Demat account charges: ₹100
Trading account maintenance charges: ₹0
Demat account maintenance charges: ₹300
Zerodha charges and fee structure:
Securities transaction tax: Charged on selling side for the intraday and on both the respective sides for delivering the trades in equity.
Stamp duty for all states in India and NRI: It is based on the state where the individual is residing.
GST: 18% of the total cost of brokerage along with transaction charges.
SEBI charges: charged at ₹ 10/crore.
Other Charges (Needs to be mentioned)
| | | | | |
| --- | --- | --- | --- | --- |
| Zerodha Charges | Equity Delivery | Equity Intraday | Equity Features | Equity Options |
| Brokerage | Zero Brokerage | 0.01% or Rs. 20 per order whichever is lower | 0.01% or Rs. 20 per order whichever is lower | Rs. 20 per order |
| STT/CTT | 0.1% on buy and sell | 0.025% on sell side | 0.01% on sell side (on premium) | 0.005% on sell side (on premium) |
| Transaction Charges | NSE: 0.00325%      BSE: 0.003% | NSE: 0.00325%      BSE: 0.003% | Exchange transaction charge: 0.0019% | Exchange transaction charge: 0.05% |
| GST | 18% on (transaction and brokerage charges) | 18% on (transaction and brokerage charges) | 18% on (transaction and brokerage charges) | 18% on (transaction and brokerage charges) |
| SEBI Charges | Rs. 10/Crore | Rs. 10/Crore | Rs. 10/Crore | Rs. 10/Crore |
​ 
Zerodha takes up various educational initiatives which are undertaken by their team for pen interaction with their customers; they are:
Zerodha Varsity: This is an investor education initiative in which the customers are educated on topics over trading and investment. This platform covers over 10 modules of courses and also analyses trading as a whole.
Trading QandA: It is an open, community-driven forum where the customers ask questions regarding their queries on trading and investment, and representatives answer them from time to time.
In 2019, Zerodha has become the largest stockbroker in India. The brokerage structure offered here is simple to interpret. It is technologically quite advanced and also includes various trading platforms that are used by their users for trading benefits.
Kite 3.0: Kite is a web-based trading platform for mobile by Zerodha, where the trading performance of the investors can be monitored and optimized. Zerodha always gives its best to make it's web services user-friendly.
Kite mobile: Using this mobile application, the users can trade on the go with efficient speed and enhanced user experience.
Sentinel: This platform provides users with market alerts over attributes like open interest, price, volume, etc.
Zerodha PI: This installable, terminal software is utilized by the users for trading purposes. It is user-friendly due to its high performance and the tips provided by the trade advisors.
Other additional products by this trading corporation include
Coin: Used for the purchase of direct mutual funds from the companies with zero commission.
Coin mobile: It is the same as the Zerodha coin except for the fact that coin mobile can be downloaded as a mobile application in Android and iOS platforms.
Kite Connect API: Useful for those who have a start-up, this platform makes use of their user-friendly HTTP/JSON APIs.
Console- Acts as a back-office platform, letting the users keep track of the debit and credits in their trading account via account statements. Users can also request for withdrawal, downloading marginal statements, contract notes, etc.
Partner products
Zerodha gives the customers access to trading tools by other companies using the Zerodha platform. The Zerodha partners are-
Smallcase: It is a thematic investment platform that allows the customers to invest in ready-made portfolios. Users can find various choices in Smallcase, such as electric mobility, top 100 stocks, etc.
Streak: A cloud-based creative platform for all retail traders to construct different algorithms without any further coding.
Sensibull: It is a trading platform suggesting different trading strategies to traders. Using this platform, traders can compare various strategies, evaluate profitability, understand the risks evolved, etc.
StockReports+: It offers diversified comprehensive research on various stocks and their linked industries.
Zerodha Review: Pros and Cons
Advantages: 
Popular Broker – Zerodha is now a leading broker in terms of the active number of clients and increasing trading volume.
A variety of trading tools– Coin, Smallcase, Streak, Sensibull, Console, Kite, Varsity, Sentinel, and GoldenPi are the set of tools provided by Zerodha.
Brokerage free Equity Delivery Trades – No brokerage is required while one is buying shares using the cash-and-carry feature of the platform. The delivery trade-off comes with no leverage costs at all.
Cheapest broker in India – They offer services under a very simpler and effectively cheaper model with 0.01% or ₹20/order, whichever is lower.
Self-Clearing Broker – Zerodha has become the first self-clearing broker platform in India.
Margin against shares- The customer actually gets a collateral margin for their trading in the Equity segment. Over 1000 approved securities are available in the given platform.
IPO application using UPI- the customers can now apply directly to the initial public offering through a Zerodha account.
Zerodha GTT orders- one can target their stock investments and stop losses.
No minimum brokerage- There is no brokerage with small trades where 0.01% brokerage [one side] is applied.
No minimum balance- There is no compulsion of minimum balance applied for opening this account.
No hidden charges- There are no charges for the usage of this software.
Easy SIPs with E-mandates- Investing in Zerodha actually enables that all the SIPs by the customers are funded on time.
Zerodha does not charge a commission on the deliveries of equity and hence is pretty transparent in its trading process.
Also Read: 12 Best Stock Market Trading Apps In India
 Disadvantages:
Zerodha does not provide banking facilities, and hence, the three in one trading account is not available here. A customer may choose to link any online bank he likes to the Zerodha account.
Goods till day and goods till cancelled are only available when a customer is involved in commodity trading.
For the settlement that is done weekly, stop losses are not provided.
Margin's availability against shares is not provided in the equity segments provided to the customers. 
Lifetime free provision of Demat planning is not available.
Trading and calls are not provided for free of cost.
The minimum deposit required is dollar zero or no minimum amount. However, there is a minimum percentage of fees charged for opening Demat and Trading account.
The 7 steps required in order to open a Demat account are:
Get your account registered by giving our mail address.
Then enter your Permanent Account Number (PAN).
Make the payment. (Account opening fees).
Then link all your identification details through the Online Government Website (Digi Locker Facility).
Then upload your bank statements in the provided fields.
Provide a Webcam IPV (In-Person Verification) along with your digitally signed documents.
Lastly, mail the required documents to the Zerodha headquarters.
Documents needed for opening the account:
Photograph of the individual
Adhar card of the individual
Pan card of the individual
Bank statement.
Sign of the individual.
Sign Up Now
Latest Zerodha News
January 2019- The turnover trading and the increased volume in the number of customers make it India's number #1 stockbroker.
March 2019- Zero clearing charges are provided to the customers by Zerodha, and it becomes the first self-clearing broker ever.