The Government of India last week launched the official website for the Pradhan Mantri Jan Dhan Yojana, the website which is accessible in both English and Hindi was launched by the secretary of the Department of Financial Services, G S Sandhu in the national capital. The event was attended by personal of the Ministry of Financial Services, RBI officials and representatives of leading public and private sector banks.
Pradhan Mantri Jan Dhan Yojana Statistics
The Ministry has also released the latest enrollment figures for Jan Dhan Yojana which shows that a whopping 1 Lakh bank accounts are being opened every day since the scheme was launched in the month of August 2014.
The press release from the government also claimed that more than 6.5 crore bank accounts have been opened and these newly opened bank accounts have managed to garner more than Rs 5000 crore as deposits to date.
A total of 4 Crore Rupay Debit cards have also been issued to date to the account holders who have opened their bank account under the PMJDY scheme.
PMJDY Inquiry Number launched
Two new Toll-Free numbers providing comprehensive details about Pradhan Mantri Jan Dhan Yojana have also be launched. Anybody who wants detailed information about Pradhan Mantri Jan Dhan Yojana can contact these toll-free numbers:
1800 11 0001
1800 180 1111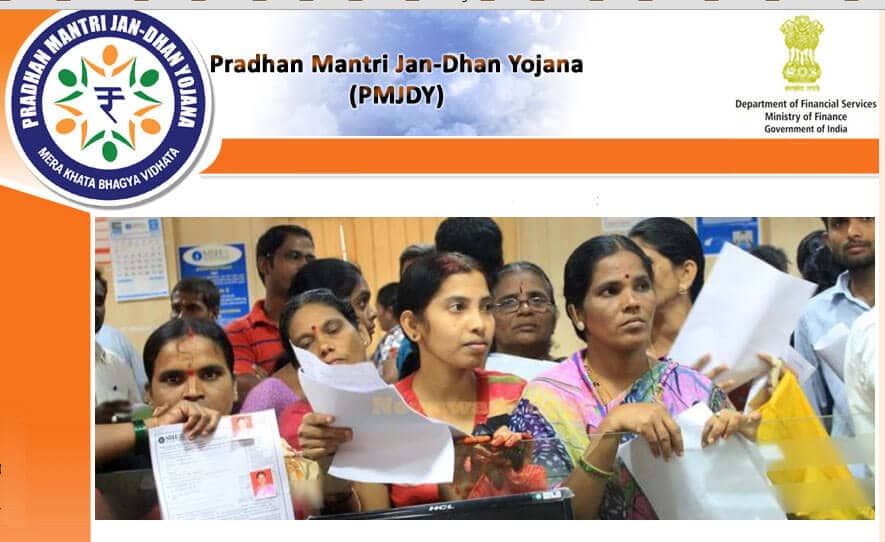 Standardized Application form for PMJDY released 
To overcome the shortage of applications faced by citizens desirous of opening new bank accounts, a standardized application form has been released. This form can be be downloaded online and a print-out can be used to open a bank account in any public or private bank. The Hindi version of the bank account opening form can also be downloaded from the official website.
PMJDY – Pradhan Mantri Jan Dhan Yojana (Accounts Opened until the 1st Week of November 2014) Latest Information
S.No
No Of Accounts
(In Lacs)
No Of Rupay Debit Cards
(In Lacs)
Balance In Accounts
(In Lacs)
No Of Accounts With Zero Balance
(In Lacs)
Rural
Urban
Total
1
Public Sector Banks
305.48
258.73
564.2
352.25
437753.42
425.06
2
Regional Rural Banks
98.41
17.33
115.74
11.81
59318.03
91.38
3
Private Banks
9.41
9.78
19.19
5.03
32338.7
13.1
Total
413.30
285.84
699.13
369.09
529410.15
529.54
Bank Account Balance under Jan Dhan Yojana
It has also been determined that while the newly opened accounts have managed to attract deposits of more than Rs 5000 Crore, more than 75% of accounts opened under the scheme are yet to witness any deposits.
Statewise Account Opening Weekly Statistics As on 29.10.2014
| | STATE | RURAL | URBAN | TOTAL | AADHAAR SEEDED | % AADHAAR SEEDED |
| --- | --- | --- | --- | --- | --- | --- |
| 1 | Andaman and Nicobar Islands | 15784 | 6156 | 21940 | 4811 | 21.93% |
| 2 | Andhra Pradesh | 1805277 | 1419748 | 3225025 | 2164082 | 67.10% |
| 3 | Arunachal Pradesh | 25768 | 7095 | 32863 | 1450 | 4.41% |
| 4 | Assam | 1506766 | 503274 | 2010040 | 67166 | 3.34% |
| 5 | Bihar | 3062329 | 1255886 | 4318215 | 385270 | 8.92% |
| 6 | Chandigarh | 17190 | 115896 | 133086 | 72109 | 54.18% |
| 7 | Chattisgarh | 967776 | 646045 | 1613821 | 168232 | 10.42% |
| 8 | Dadra and Nagar Haveli | 13901 | 4314 | 18215 | 4655 | 25.56% |
| 9 | Daman and Diu | 8969 | 2163 | 11132 | 3293 | 29.58% |
| 10 | Goa | 56016 | 18699 | 74715 | 40887 | 54.72% |
| 11 | Gujarat | 1407922 | 1174887 | 2582809 | 591107 | 22.89% |
| 12 | Haryana | 1119445 | 944503 | 2063948 | 804981 | 39.00% |
| 13 | Himachal Pradesh | 394359 | 51835 | 446194 | 244020 | 54.69% |
| 14 | Jammu & Kashmir | 280975 | 93885 | 374860 | 42366 | 11.30% |
| 15 | Jharkhand | 950608 | 515159 | 1465767 | 852759 | 58.18% |
| 16 | Karnataka | 2457829 | 1398724 | 3856553 | 2003844 | 51.96% |
| 17 | Kerala | 566320 | 506983 | 1073303 | 501511 | 46.73% |
| 18 | Lakshadweep | 3369 | 85 | 3454 | 2099 | 60.77% |
| 19 | Madhya Pradesh | 2216547 | 2366238 | 4582785 | 1663932 | 36.31% |
| 20 | Maharashtra | 2098514 | 2297616 | 4396130 | 2637584 | 60.00% |
| 21 | Manipur | 86593 | 77761 | 164354 | 21297 | 12.96% |
| 22 | Meghalaya | 46023 | 28755 | 74778 | 1232 | 1.65% |
| 23 | Mizoram | 16885 | 30865 | 47750 | 1926 | 4.03% |
| 24 | Nagaland | 22893 | 21295 | 44188 | 4372 | 9.89% |
| 25 | National Capital Territory of Delhi | 152135 | 1301669 | 1453804 | 793536 | 54.58% |
| 26 | Odisha(Orissa) | 1491142 | 644540 | 2135682 | 484369 | 22.68% |
| 27 | Puducherry (Pondicherry) | 35196 | 32334 | 67530 | 39097 | 57.90% |
| 28 | Punjab | 1611310 | 1107675 | 2718985 | 1401504 | 51.55% |
| 29 | Rajasthan | 2621661 | 2009729 | 4631390 | 1838158 | 39.69% |
| 30 | Sikkim | 33345 | 5730 | 39075 | 27545 | 70.49% |
| 31 | Tamil Nadu | 1932836 | 1479412 | 3412248 | 726374 | 21.29% |
| 32 | Telangana | 1591620 | 1235228 | 2826848 | 1734024 | 61.34% |
| 33 | Tripura | 110772 | 51319 | 162091 | 75308 | 46.46% |
| 34 | Uttar Pradesh | 7287305 | 4375028 | 11662333 | 1283699 | 11.01% |
| 35 | Uttrakhand | 532397 | 281848 | 814245 | 98666 | 12.12% |
| 36 | West Bengal | 3325505 | 1628857 | 4954362 | 788068 | 15.91% |
| | Total | 39873282 | 27641236 | 67514518 | 21575333 | 31.96% |
For more information about Pradhan Mantri Jan Dhan Yojana, Frequently asked questions, Bank account opening form and latest news visit the official site at the link below :
The official website can be accessed at http://www.pmjdy.gov.in/