WWB has announced the launch of its first annual Excellence in Leadership Award.
WWB's Excellence in Leadership Award
The award will recognize a member of the WWB network that demonstrates excellence in financial and social performance, principled leadership and a commitment to gender diversity in leadership and the organization's workforce. The Award has been designed to celebrate and promote the strong synergies between these three institutional priorities that are core to the WWB network.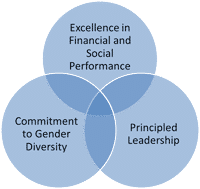 WWB's vision for this Award is to inspire a transformation in the microfinance industry: to shift the perspective towards gender diversity from an elective initiative to a fundamental requirement for sound and sustainable institutions.
The Award process will include two phases: a quantitative and qualitative review, followed by a review of the top five finalists' initiatives or strategies to support gender diversity and women's leadership.
The Award winner will receive a monetary prize of $25,000, to be utilized in the advancement of gender diversity in leadership and gender equality.
The CEO of the winning institution will be invited to WWB's Global Dinner in New York on March 21, 2011, to receive the award.  WWB will cover travel and accommodation costs for the CEO to attend the award ceremony and WWB will feature the institution throughout the year of the Award in WWB communications and public fora.
Know more about WWB and Center For Microfinance Leadership